Are you looking our for the creative stage decoration ideas? If so, then we have got you covered. Decorating a stage can add a touch of glamor and a bunch of joy to any special occasion. So, If you're looking for elegant and creative stage decoration ideas or simple stage decoration ideas for your next special occasion, you're at the correct place. Be it a birthday celebration, anniversary, reception, engagement, graduation ceremony, or corporate event, a stunning stage setup not only sets the perfect atmosphere for the event but also provides a great backdrop for capturing unforgettable photographs and videos.
However, you don't need to spend a fortune on stage decorations to make a statement. Unleash your creativity and employ the best decoration ideas to effortlessly transform any occasion into a mesmerizing space that will leave a lasting impression on your guests. So, let's explore some easy and simple stage decoration ideas that can elevate your special occasion to the next level.
Purpose of the Blog
The purpose of this article is to provide you with the best ways to celebrate your special occasion with simple stage decoration ideas that are budget-friendly, elegant and fabulous at the same time. We've also got you covered with DIY decoration ideas that you will love. Take a look below!
Best Stage Decoration Ideas for your Special Occasions
Stage Decoration for a Grand Birthday Bash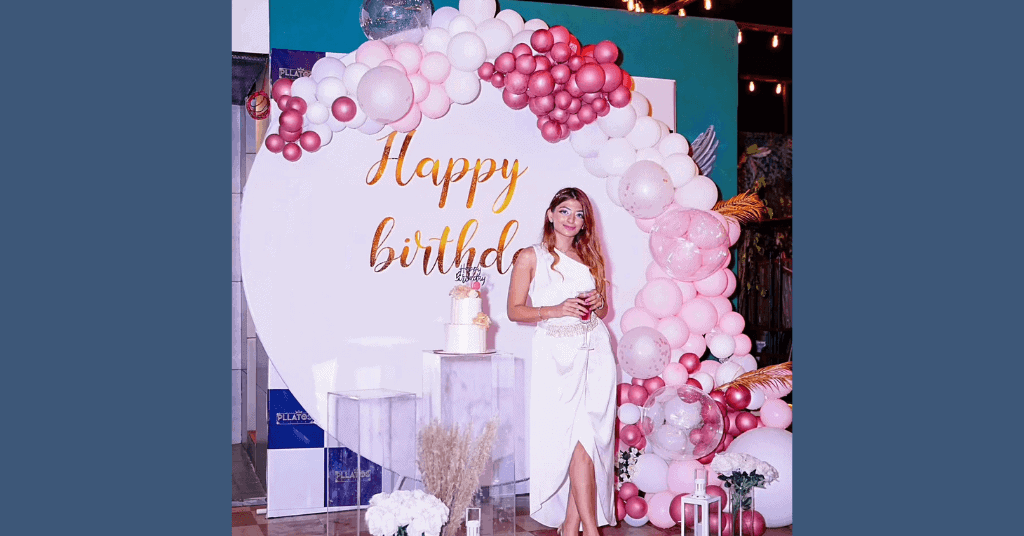 How about enhancing the decor of your birthday stage by incorporating these exquisite rose gold decorations? It's one of the elegant birthday stage decoration ideas.The delicate rose gold balloons, coupled with soft pastel-colored balloons arranged in a circular stand, are sure to impart a sense of beauty and refinement to your celebration. The addition of large golden chrome leaves further elevates the overall aesthetic of the stage. Consider placing cylindrical vases with lanterns in front of the backdrop for a boho-chic vibe. You can also keep it simple and classy with plain sticks. This is stunning, yet one of the simple stage decoration idea with balloons. Additionally, you can explore other options such as a rainbow balloon wall or experiment with balloon color combinations that complement well to create an exclusive backdrop.
DIY Decoration Ideas for a Birthday Party
Balloon Photo-Booth Bomb
Once you have settled on your stage decoration concept, you can move forward with crafting a balloon photo booth using only balloons and a hula hoop. This creative idea brings a playful and fanciful element to your occasion, enabling guests to take pictures and have a good time. It's one of the beautiful DIY decoration ideas.
Simple Decoration Idea To Create a Tassel Garland
If you're on a budget, you can still achieve a charming tassel effect with minimal decoration. By crafting your own tassels out of various colored papers and attaching them to a thread, you can create a unique and personalized look. It's one of the cutest and simple decoration ideas.
Baby Shower Stage Decoration Ideas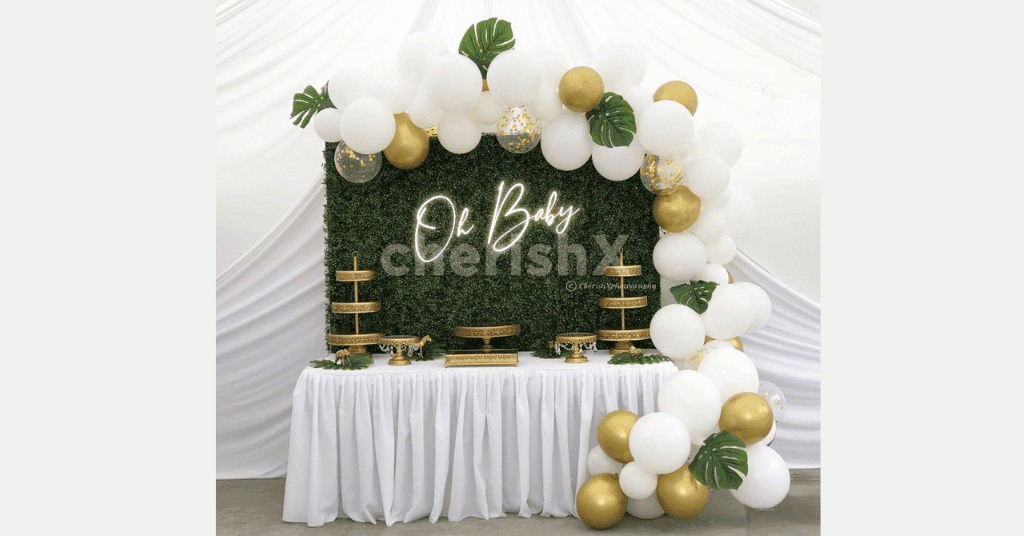 The combination of a lush green board backdrop and white draperies is truly breathtaking. Adding a neon light to the green backdrop and a table covered in white cloth can elevate the setup even further. To enhance the overall look, decorating the corner of the backdrop with white and golden balloon backdrops would give a lovely touch. The table can be used for cuisine display, making it a practical addition. The white, golden, and green backdrop is a popular choice as it creates a regal ambiance and adds a charming effect to the overall environment. Moreover, you can also add a blessing board for people to write something for the mama and baby as well. It's one of the most sober and elegant baby shower stage decoration ideas you can check. It's one of the low budget stage decoration ideas that you can even curate by yourself. So, do consider this low budget stage decoration.
DIY Simple Decoration Idea for Baby Shower
Baby Shower Crate
Take a look at this adorable DIY decoration idea that you can easily create yourself and use as a centerpiece for your occasion. This prop also makes for a great photo opportunity for your guests. It's for sure one of the cutest DIY simple decoration ideas for you to check out.
Wishes for Baby – Simple Paper Decoration Idea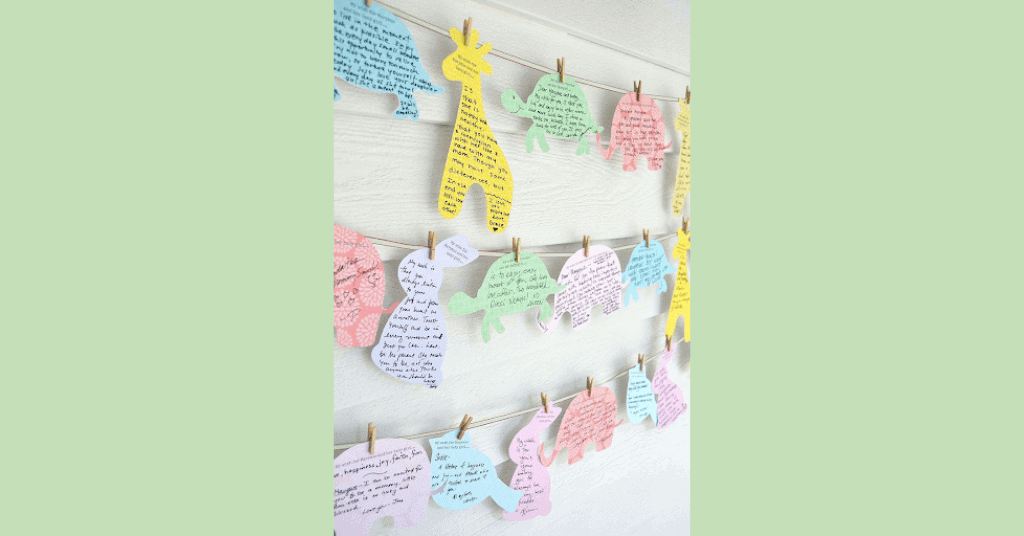 Image Credits: CountryLiving
Create paper animal cut-outs where your guests can write lovely blessings and well wishes for the expectant mother and baby.
Treat Section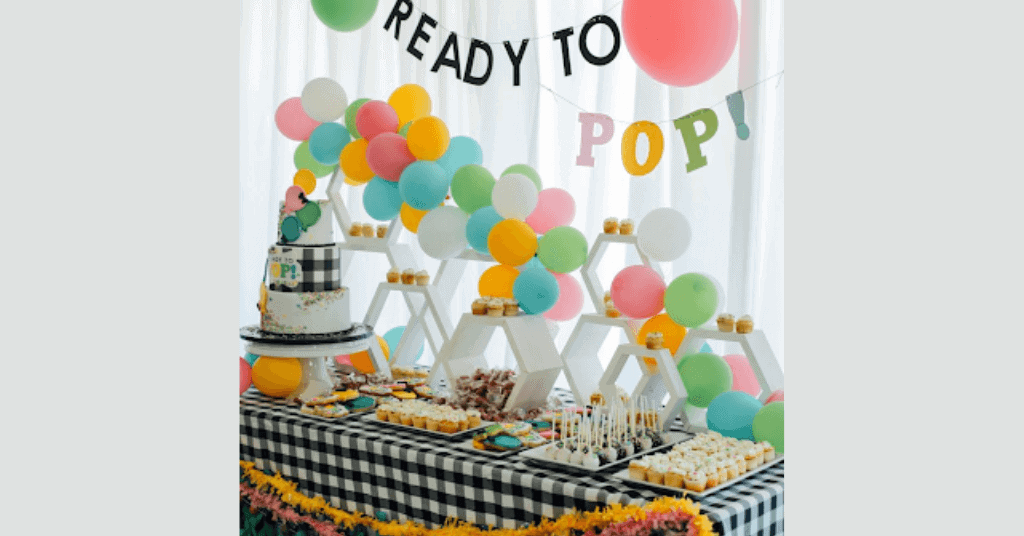 Image Credits: CountryLiving
Create a dessert buffet corner and keep the decor simple with only balloons and simple table covers. The balloons will provide enough decoration on their own. Display all your sweet treats on the table for guests to enjoy. Isn't this a great diy stage decoration ideas?
Suggested Read: 10 Best Venues to celebrate your Birthday in Delhi NCR
Anniversary Simple Stage Decoration Ideas
When it comes to creative stage decoration ideas, the aim should be to go minimalistic with the decoration. If you're looking for a simple and sophisticated idea for an anniversary decoration, look no further than this stunning golden chrome backdrop. Just picture it: a gorgeous arch of white and rose gold balloons, expertly arranged with a sprinkle of artificial leaves nestled in between. It's elegant and understated, yet undeniably eye-catching. Also, it's a versatile decor and you can also take inspiration for engagement stage decoration ideas.
For added formality, place two seats in front of the arch. And if you want to make it more appealing, a neon light message that reads "Happy Anniversary" will certainly do the trick. Scatter some balloons on the floor and include a welcoming board, and voila! You've got yourself a stunning setup for a breathtaking and simple stage decoration ideas that will make your parents' or your anniversary truly special. This is a perfect low budget stage decoration idea for you to check out!
DIY Simple Decoration Ideas for an Anniversary Party
Green Backdrop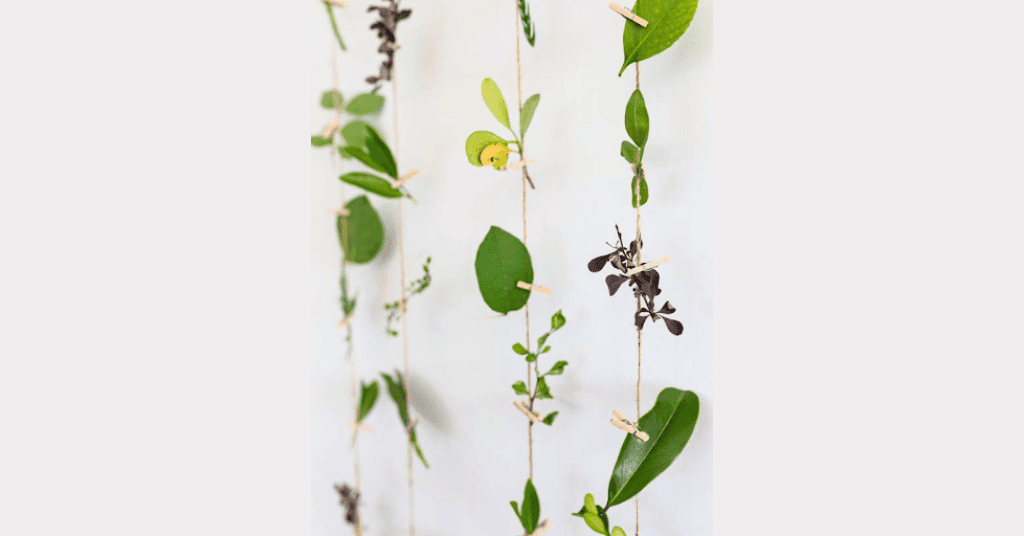 Image Credits: By HGTV
Easily fashion a captivating backdrop by utilizing real leaves and a string. Use the beauty of nature to create an enchanting display.
Function Decoration Ideas With DIY Photo Display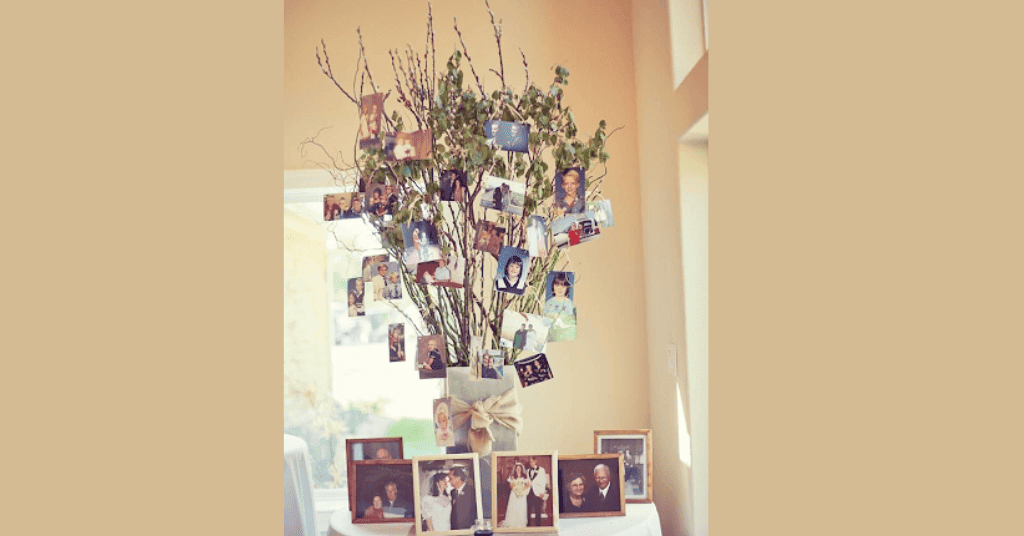 Image Credits: Pinterest
For a unique and creative display, create a photo tree by hanging old pictures from a tree branch. Your guests are sure to be amazed by this beautiful and personal touch. It's one of the most creative DIY decoration ideas you can use.
Table Centerpieces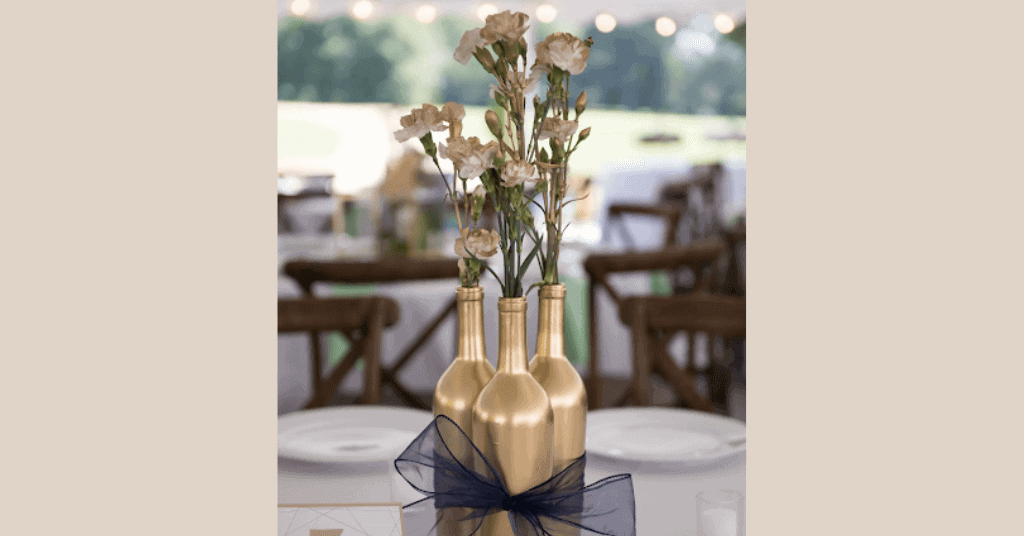 Transform your old and unused bottles into a beautiful centerpiece with the help of a blue ribbon and acrylic gold paint. Paint the bottles and tie them with the ribbons, then finish the look by adding fresh flowers to enhance the beauty of the arrangement.
Suggested Read: 10 Best Venues to celebrate your Birthday in Delhi 8 Extraordinary Ways To Make Your First Anniversary Absolutely Breathtaking in Delhi
Ideas For Naming Ceremony Stage Decoration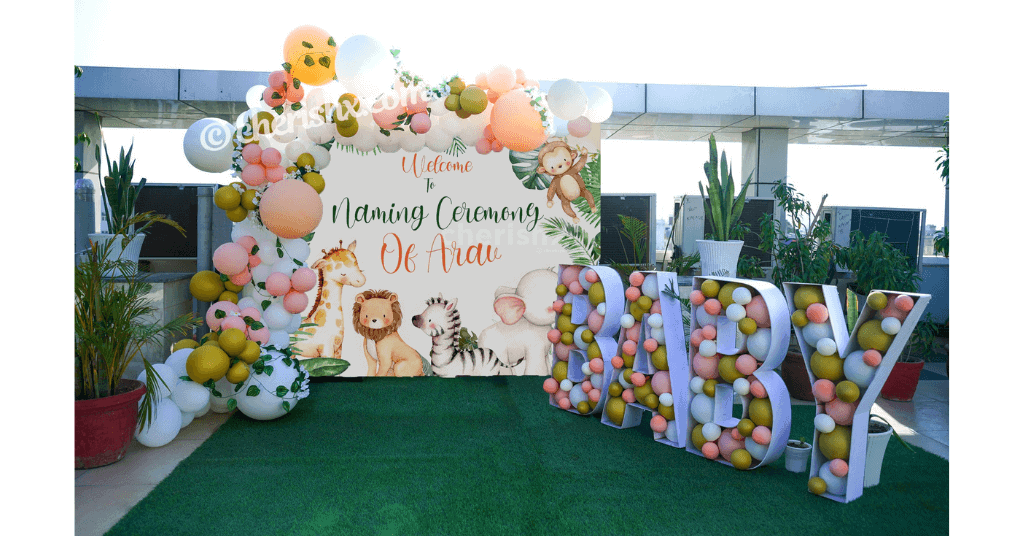 Get ready to swing into the wild with the ultimate jungle-themed naming ceremony party! And what better way to bring the jungle to life than with some incredible and creative stage decoration ideas? The customized flex board is adorned with vibrant balloons that perfectly capture the essence of the jungle. Leaves attached to the balloons give an extra touch of authenticity, transporting your guests straight into the heart of the wilderness. But that's not all! The centerpiece of the decoration is the mosaic letters that spell out "BABY", filled to the brim with colorful balloons that create the perfect backdrop for all your Instagram-worthy photos. With a dazzling array of peach, yellow, and white balloons, the stage will be transformed into a stunning visual spectacle that will leave your guests in awe. It's a perfect backdrop stage idea.
DIY Decoration Ideas for Naming Ceremony
Corner Naming Ceremony Backdrop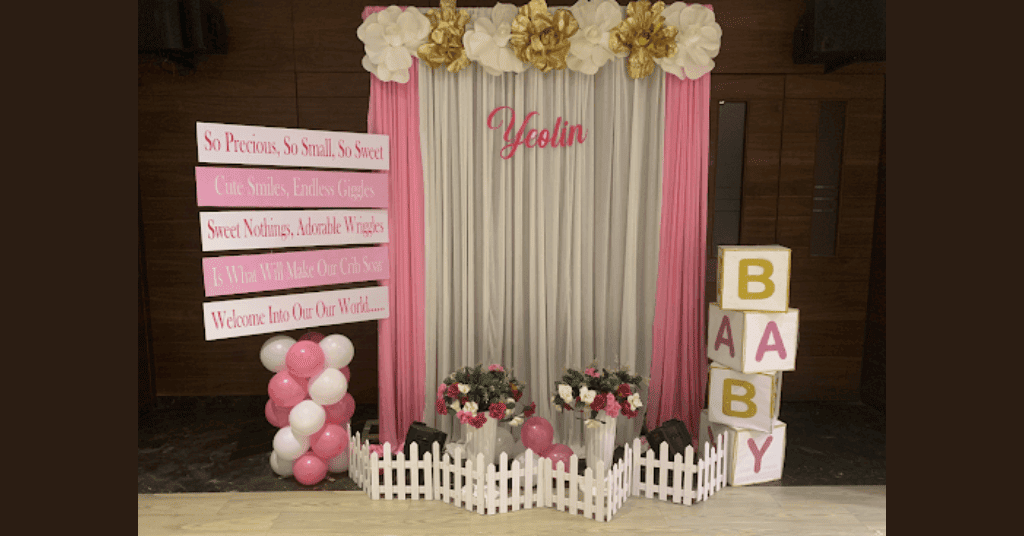 Isn't this one of the cute DIY stage decoration ideas for the naming ceremony? Create a photography backdrop by repurposing old white and pink drapes and adding a personalized name sign. To add a creative touch, make your own flowers using DIY techniques and use cardboard boxes as a base for attaching paper cut-outs of letters. Additionally, you can include cardboard messages, balloons, and bouquets for extra decoration. Another low budget stage decoration ideas that you can try out.
DIY Cradle
Create a cradle for your little kid with paper-cut-outs and drapes.
Suggested Read: Decoration Guide for New Mama and New Daddy to plan little one's First Birthday Party!
Birthday Stage Decoration Ideas for Bachelorette Party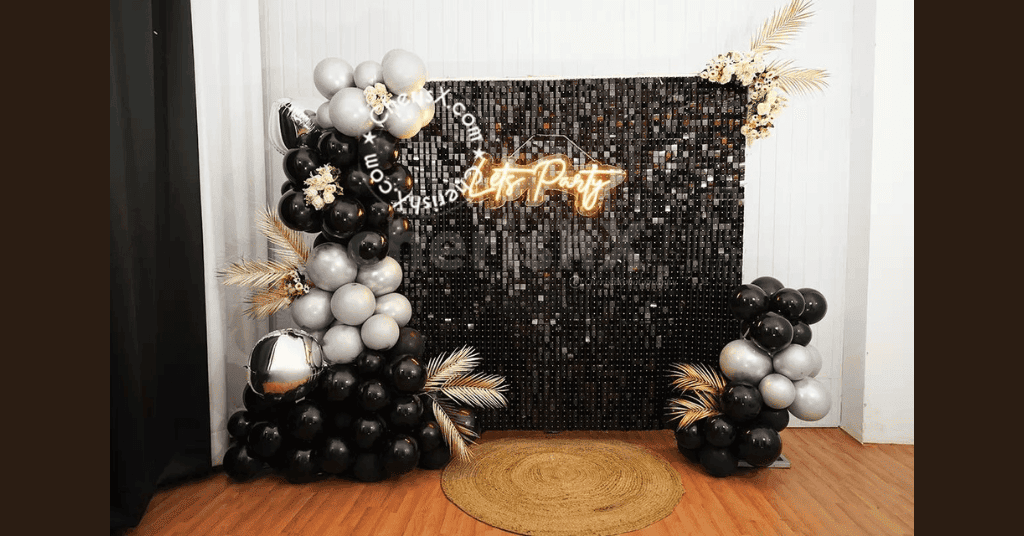 Get ready to be blown away by this dazzling sequin backdrop that comes paired with stunning black and silver balloon bunches. The bouquet nestled at the corner of the backdrop and in between the balloons adds that perfect touch of glamour. And let's not forget about those lush leaves that bring a whole new level of party vibes! The color black has never looked more regal, and the overall effect of this bachelorette backdrop is simply mesmerizing. It's the perfect decoration for any stage, effortlessly capturing attention with its understated yet captivating beauty. Go get this beauty because it's one of the best stage decoration ideas.
DIY Decoration Ideas for a Bachelorette Party
Drinks Corner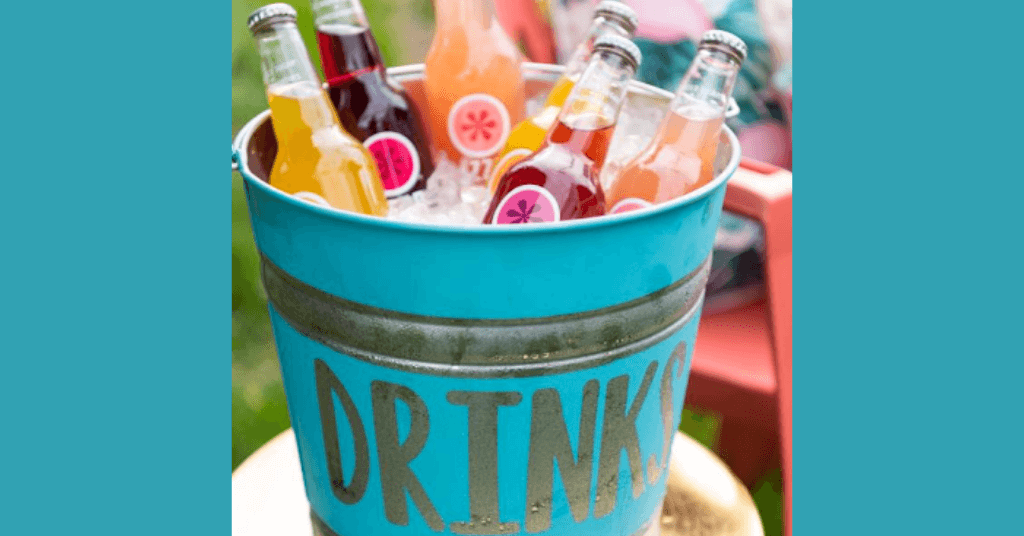 Image Credits: HGTV
A bachelorette party is the perfect occasion for a fun-filled drinks session with your pals. Take an old bucket, paint it in a vibrant hue, and fill it up with a variety of beverages to get the party going!
Party Pins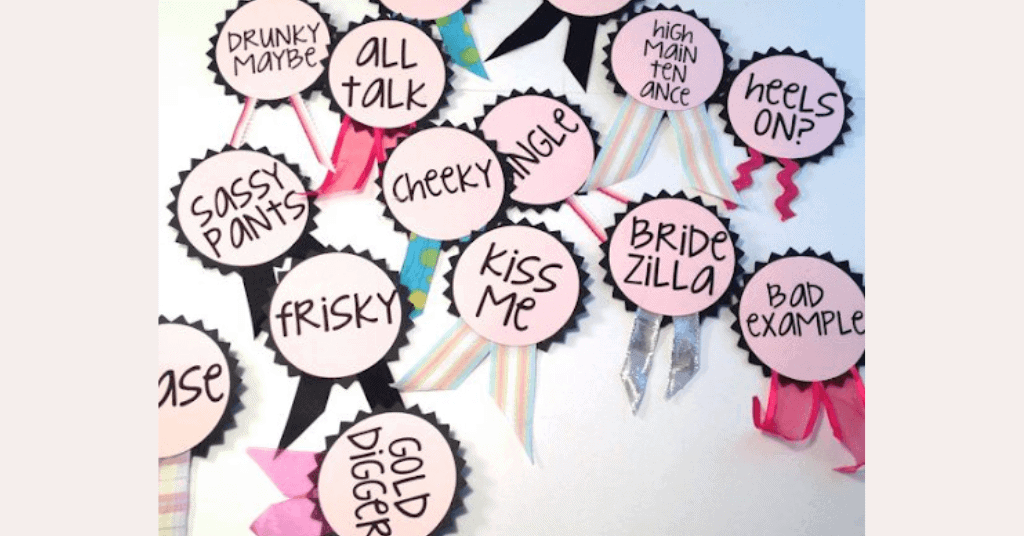 Image Credits: Pinterest
Make funny name tags for your friends and pin them up for the night.
Bubble Balloons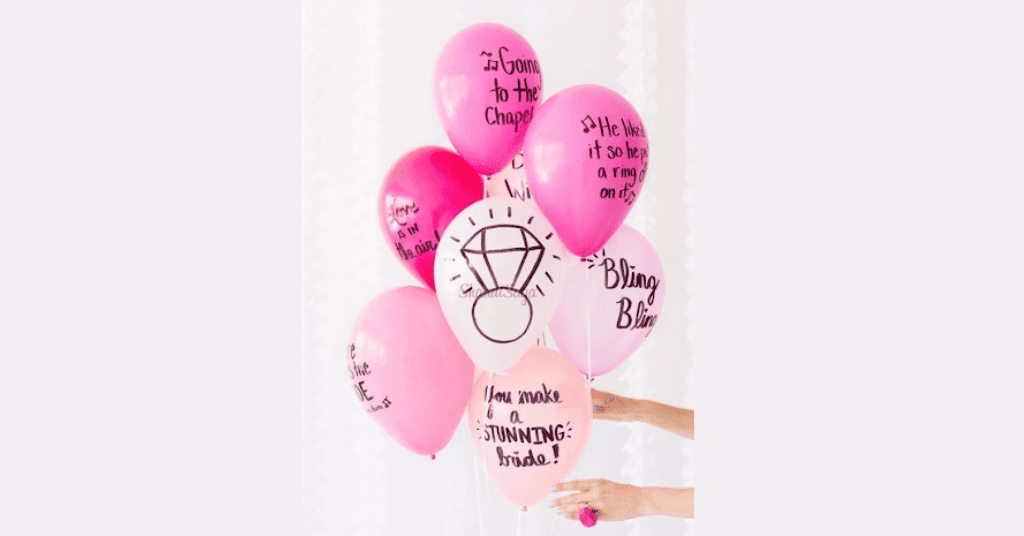 Image Credits: Cute DIY Projects
Suggested Read: Budget-Friendly Party Theme Ideas for Your Special Celebration (2023)
It's easy to create a festive atmosphere with balloons! Purchase a pack of colorful balloons or opt for clear ones and fill them with confetti for an extra special touch. Write cute messages for the bride-to-be and watch as the balloons add a touch of whimsy to the celebration.
Simple Haldi Stage Decoration Ideas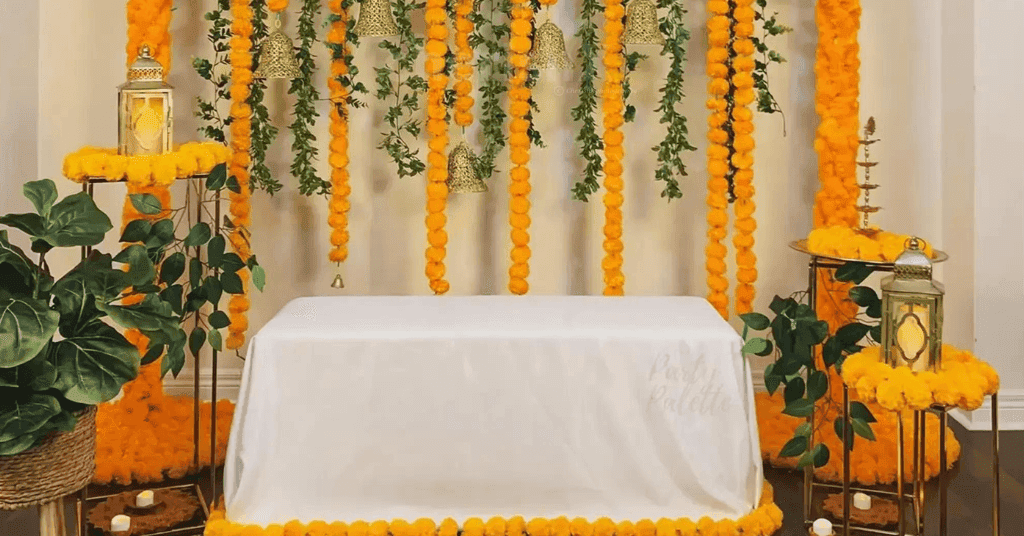 The orange and green garland blend splendidly to create an exquisite Haldi backdrop. Marigold flowers, known for their purity and divinity, are a perfect choice for an enchanting display. This is one of the uncomplicated and simple stage decoration ideas that promise to infuse joy and vivacity into your celebration. The golden bells incorporated into the backdrop add to its allure. Furthermore, the presence of plants and lanterns culminates in a truly breathtaking ambiance. It's one of the Haldi stage decoration ideas.
DIY decoration Ideas for Haldi Ceremony
Photo Backdrop
Image Credits: Building & Interiors
Creating a tassel backdrop is a simple and fun way to add color to your event! Using pink, yellow, and green paper, tie the paper together with string and arrange them in a beautiful display to create the perfect backdrop for your occasion.
DIY Photo Booth
Image Credits: Shadiwale
Create a photo booth using cardboard cut into a rectangular shape. After painting the board, adorn it with marigold flowers and pink roses to add a charming touch to the booth.
Suggested Read: Haldi Decoration Ideas To Make Your Occasion Special
Low Budget Wedding Simple Stage Decoration Idea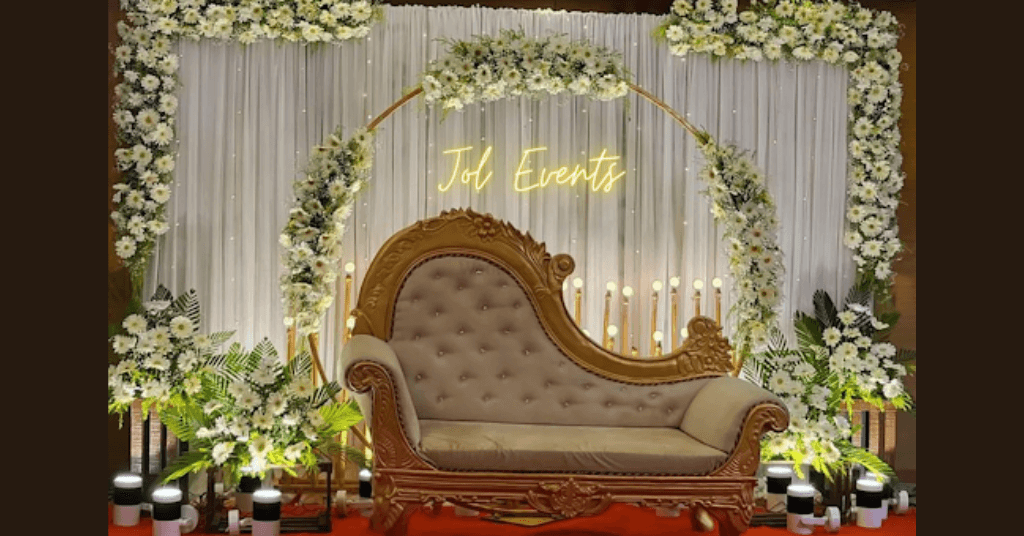 Image Credits: Jolevents
If you're looking for a simple wedding stage decoration, then you can check out this beautiful flower stage backdrop. A simple and elegant stage decoration is one of the most important features of a wedding celebration. The sight of the beautiful flowers arranged in bunches and bouquets, along with the white drapery background, is sure to leave you in awe. The colors of the flowers blend seamlessly, creating a soothing effect that can instantly put you in a good mood. But what sets this decoration apart from the rest is the addition of neon lights. The bright neon lights add an extra layer of charm and grace to the already beautiful backdrop.
DIY decoration Ideas for Weddings
Flower Centerpiece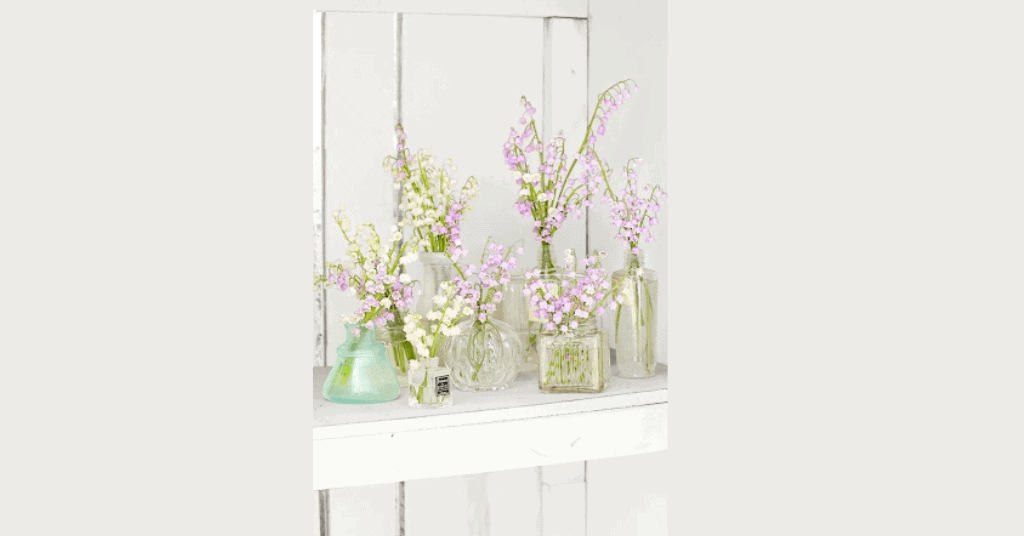 Image Credits: Countryliving
If you're on a tight budget for wedding decor, consider repurposing empty perfume bottles after thoroughly cleaning them. Fill the bottles with your favorite flowers and display them in a creative arrangement for a unique and affordable decor option.
A Date Idea or a Wish Jar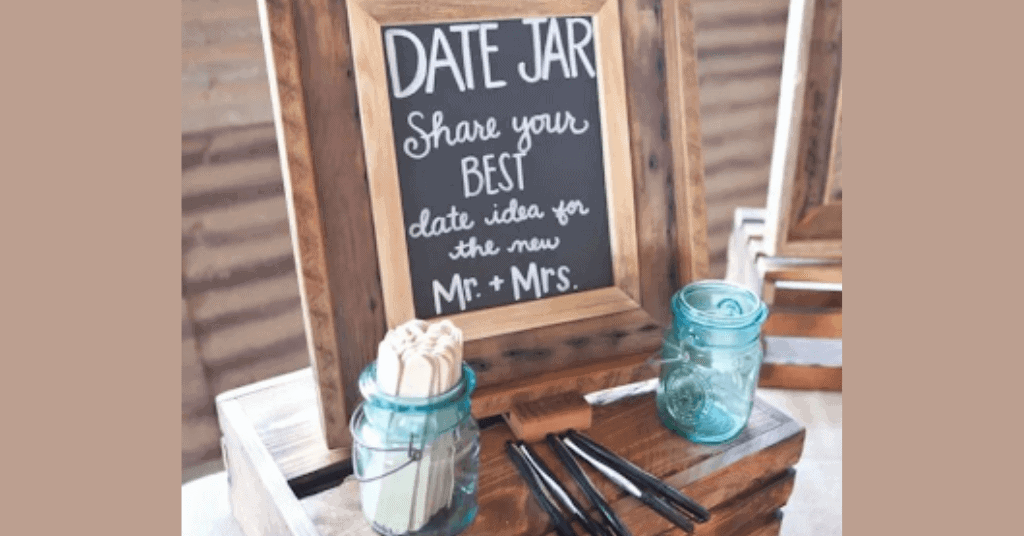 Image Credits: Countryliving
Create a special corner for a date jar or wishes jar. Set up a blackboard and decorate it to your liking, then provide ice-cream sticks or chits along with pens nearby for guests to write their wishes or date ideas.
Photo Display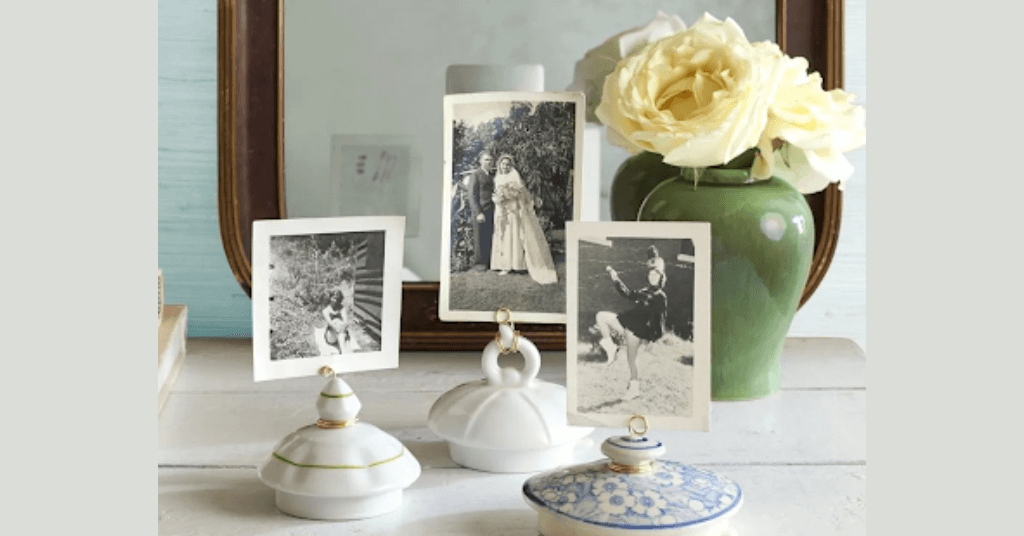 Image Credits: Countryliving
Transform a corner of your space into a personalized photo display with your beloved! Pin your favorite photos to jar lids and showcase them in a creative way that is sure to impress your guests.
Suggested Read: Awesome Ideas to throw a House Party for any occasion
Reception Stage Decoration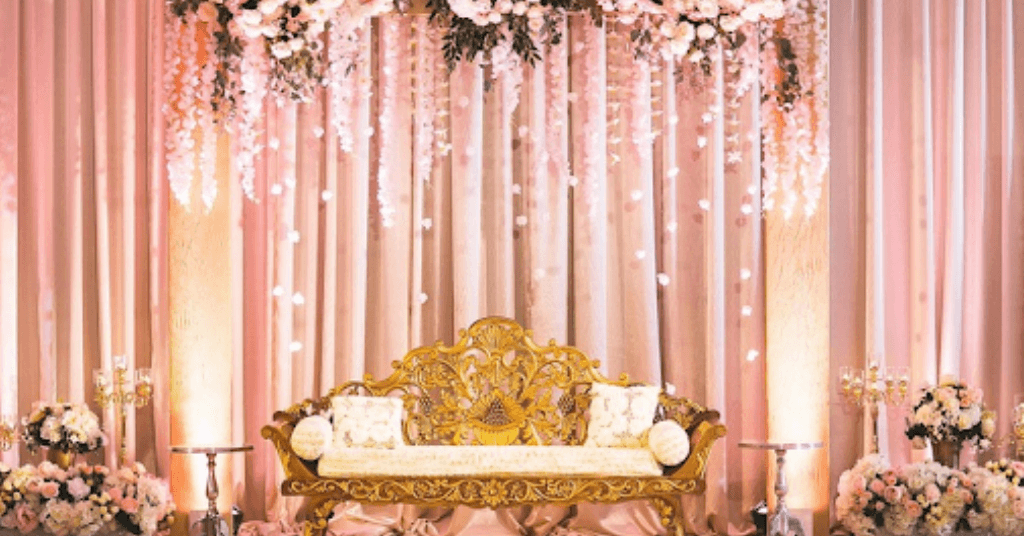 Have a look at the most mystical and simple stage decoration which is absolutely dreamy. With its delicate blend of pink hues and beautiful bouquets of pink and white flowers, this decoration is the epitome of harmonious beauty. The soft, romantic tones of the flowers create a sense of warmth and intimacy, making it the perfect backdrop for your special day. But that's not all – the magnificent drapes and hanging garlands that adorn the backdrop are truly a sight to behold. Moreover, they will highlight and accentuate the beauty of the reception party. It's simple yet absolutely stunning, and will make your special day feel like a fairytale come to life!
DIY decoration Ideas for Receptions
Photograph Wall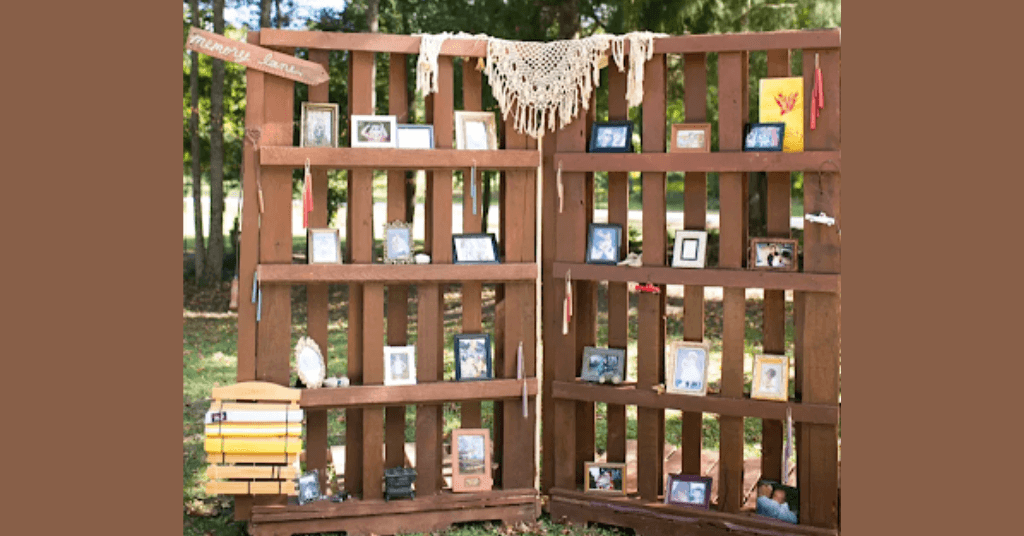 Image Credits: The Knot
Add a touch of vintage charm to your decor by using a wooden frame to display photos of couples and loved ones. Take it a step further by adorning it with dream catchers or mandala sheets for a bohemian-inspired look that will add a unique and personal touch to your celebration.
Dessert Display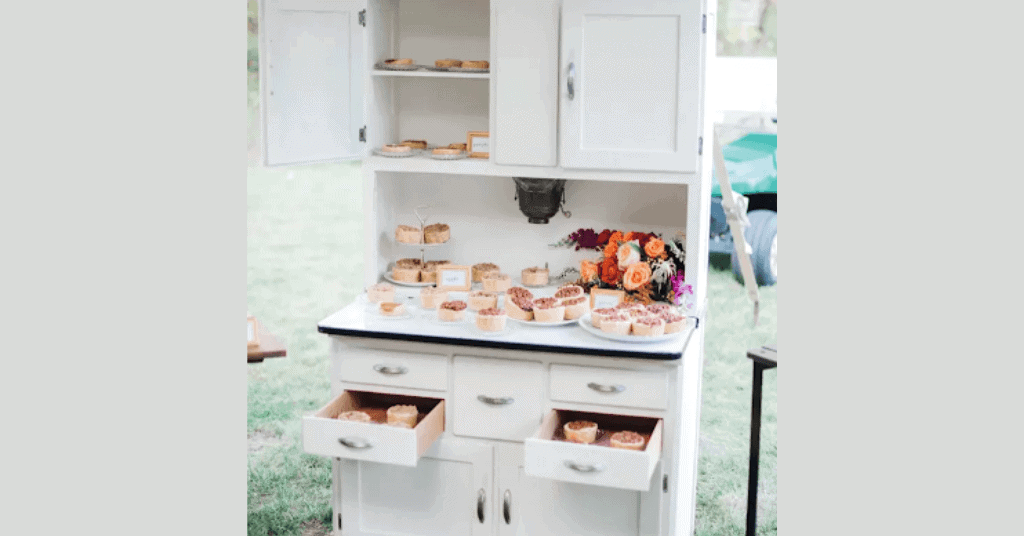 Image Credits: The Knot
Add a creative touch to your reception by repurposing an old cabinet to showcase your desserts and sweets! No need for fancy corners or expensive rentals – just find an old cabinet and give it new life as a unique display for your treats.
Suggested Read: 10 Beautiful Wedding Decoration Ideas for Your Big Day!
Mehendi Stage Decoration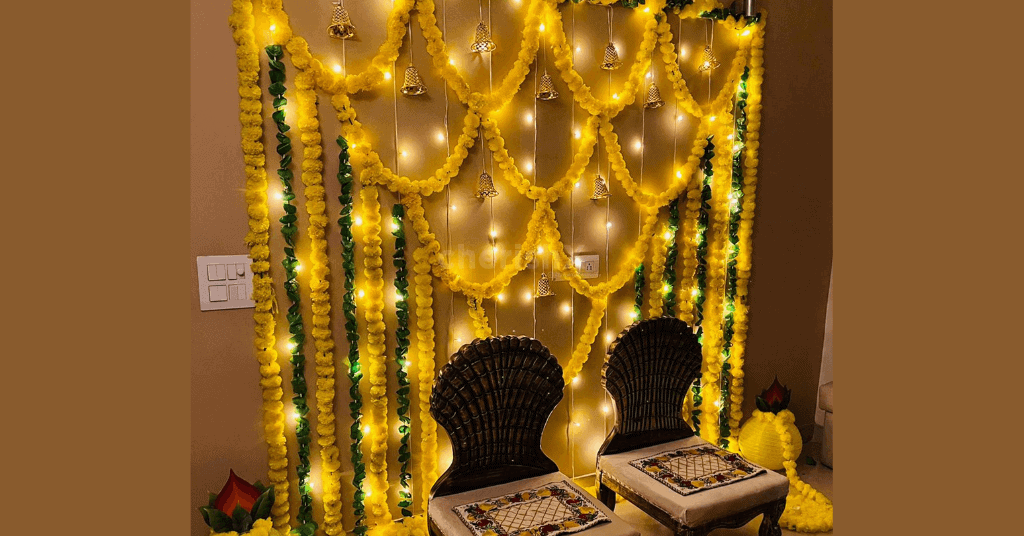 Step into the boho-themed Mehendi stage decoration. The combination of beautiful patterns of marigolds and fairy lights is truly a sight to behold. And nestled within this beautiful setting is a cozy seat arrangement for the bride-to-be, which is the perfect spot to relax and enjoy her special day. But what sets this decoration apart are the stunning floral arrangements that adorn it. The hanging flowers and bells are artfully arranged to create a truly stunning visual spectacle. And let's not forget about the yellow pot that adds a touch of whimsy and texture to the whole setting. It's one of the most beautiful and creative stage decoration ideas to opt for your indoor mehendi function. This is one of the another simple stage decoration ideas.
DIY decoration Ideas for a Mehendi Function
Sign Boards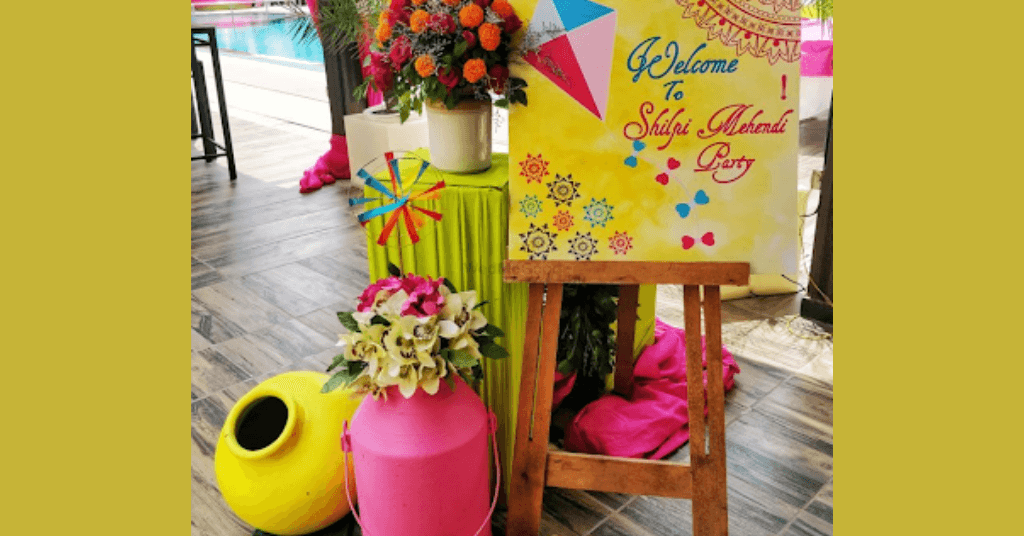 Image Credits: seymywed
Make your sign boards with chart paper and arrange them on a wooden stand alongside centerpieces like pots and flowers to add a personal touch to your decor. Along with a Haldi backdrop stage decoration, you can incorporate these sign boards as well.
Canopy Set-up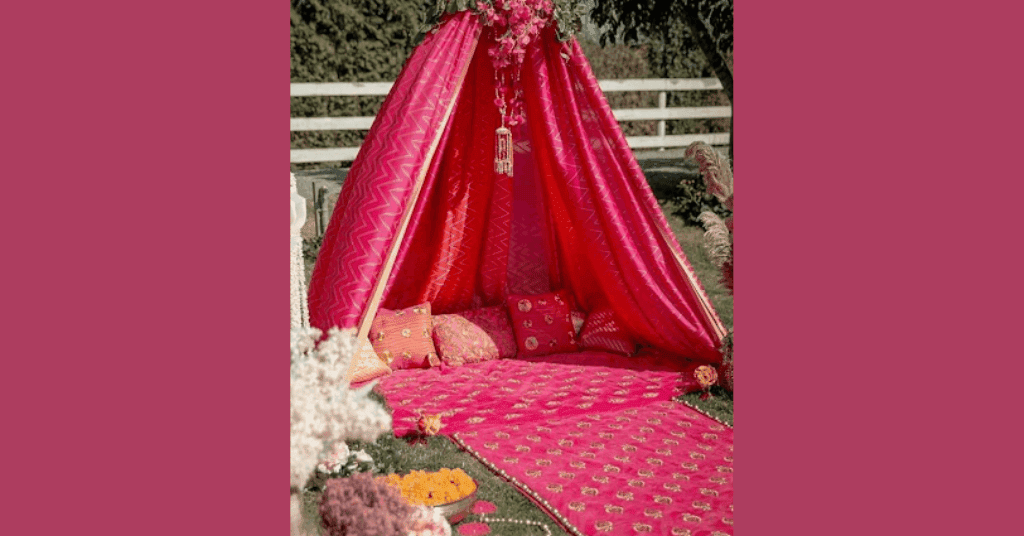 Image Credits: Pinterest
Transform your terrace or backyard into the perfect mehndi celebration space by creating a beautiful canopy with old and discarded sarees. Use pink dupattas and sarees to create a cozy corner for guests to take photos and participate in songs and mehndi rituals. Create unforgettable memories on your special day! So, if you're looking for a canopy style DIY stage decoration ideas, then this is the one for you!
Suggested Read: Easy Mehendi Function Decorations That Will Wow Your Guests
Low Budget Engagement Stage Decoration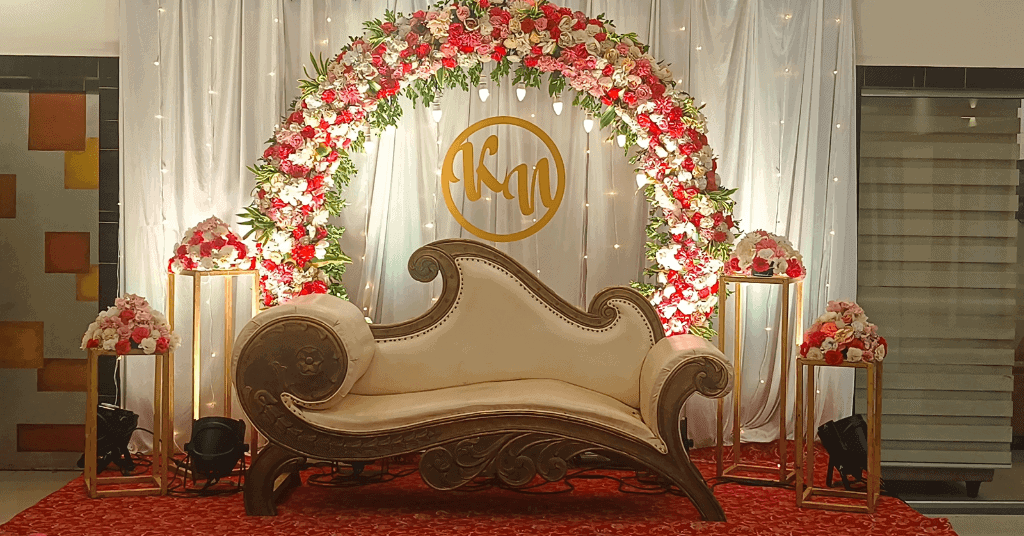 Image Credits: Takerentpe
Are you in search of a simple yet stunning stage decoration that will transport you and your guests to a place of whimsical wonder? Look no further than this gorgeous ring decor that is sure to take your breath away. This is an adorable low budget stage decoration adorned with a plethora of multi-colored flowers in shades of white, red, pink, and peach, this decor is a sight to behold. The way the flowers are arranged to create a stunning floral ring is nothing short of magical. And let's not forget about the artificial green hangings that add an extra touch of elegance to this stunning setup. To make this decoration pop, it's best to set it against a backdrop of white drapery embellished with fairy lights. This creates a truly dreamy ambiance that is sure to make your special day feel even more magical.
Guruji Darbar Decoration Ideas for His Birthday
If you're looking for simple to creative Guruji Darbar decoration ideas, then you can get multiple options on our website. This darbar decoration idea comes with a marigold wall backdrop, lanterns, and a blend of LED lights to give a warm glow. This decor also comes with artificial flower bunches. We have also got you our special Madana Guruji Darbar decoration which comes with a Mandala flex adorned with yellow garlands and warm LED lights. We have also kept special umbrellas and extra pots with flowers to enhance the overall divine aura of the place.
DIY Decoration Ideas for an Engagement Party
A special message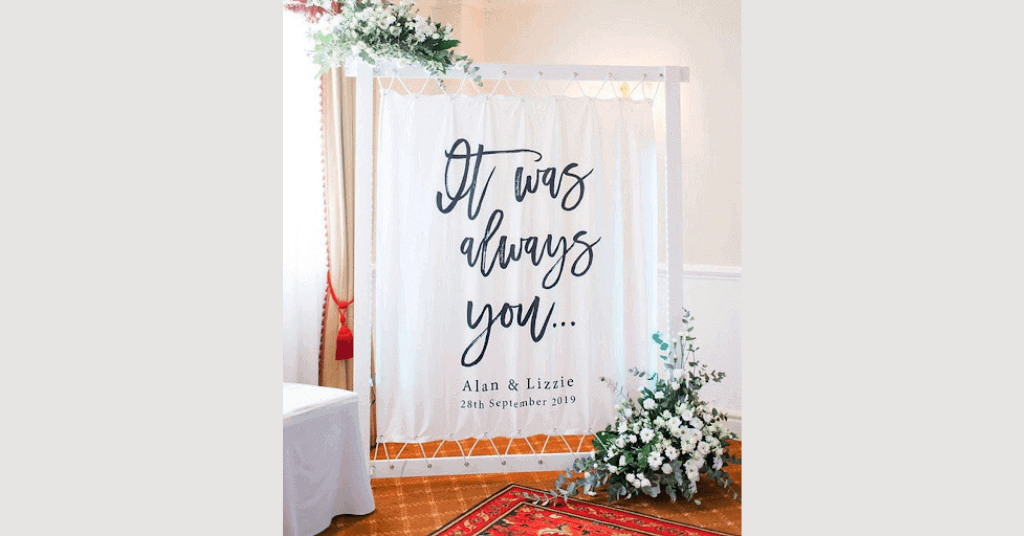 Image Credits: Weddingwire
Using a white cloth and markers, you can easily create a personalized message for the couple by including their names.
Natural Centerpieces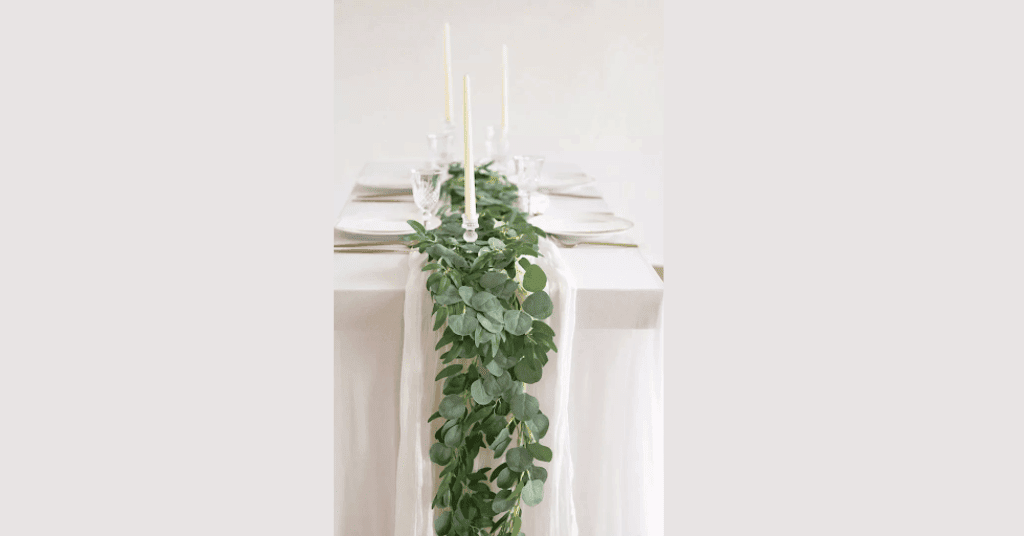 Image Credits: Brides.com
To decorate your table, opt for a simple yet chic boho setup with a white tablecloth, decorated with a lot of leaves and candles on top. It's an easy DIY decor idea that is sure to impress your guests.
Suggested Read: 6 Best and Most Unique Romantic Surprise Proposal Ideas
Simple Stage Decoration Idea for Farewell Party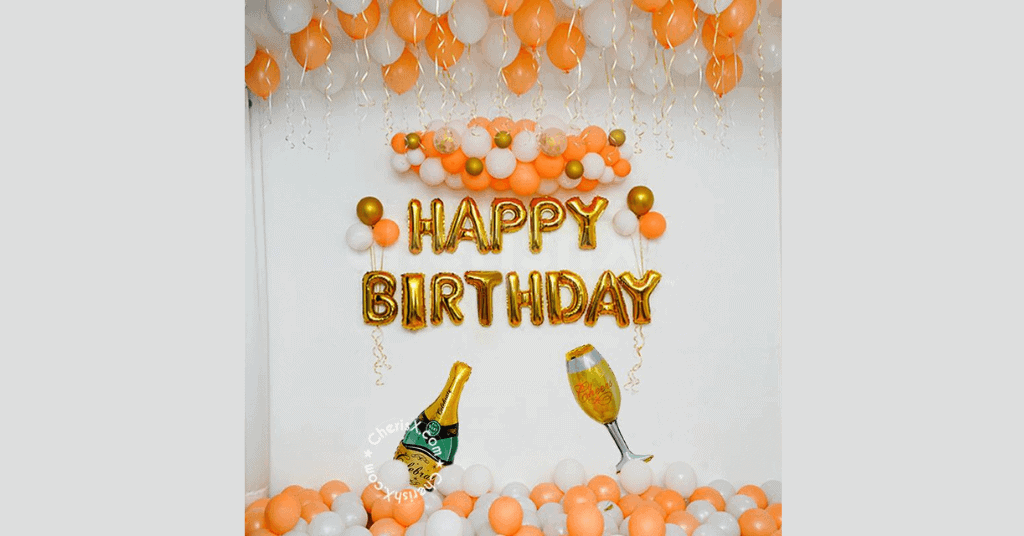 Looking for a simple yet stylish stage decoration idea for your upcoming farewell party? Look no further than this stunning combination of peach and white balloons, along with glass foil balloons and champagne bottle foil accents. Whether you're planning to host your farewell party at a house or a rooftop venue, this decoration is sure to enhance the charm and aura of the space. The combination of soft peach and crisp white balloons creates a peaceful and soothing ambiance, perfect for bidding farewell to a dear friend or colleague. It's one of the simple stage decoration with balloons. Moreover, you can also curate this farewell stage decoration look on your own by getting DIY decoration items from FrillX.
DIY Farewell Stage Decoration Ideas
Welcome Board
Image Credits: Pinterest
For a more formal decorative appearance, you may write your message on black paper and then enclose its edges with white.
Moving Boxes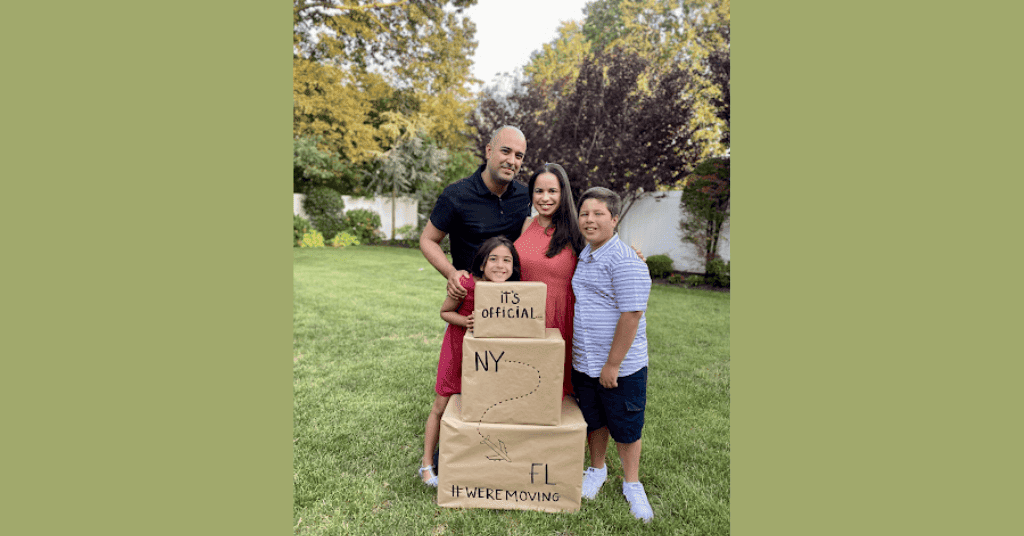 Image Credits: Crafts & Sparkle
No matter where your loved one is relocating to, you can make such boxes for them to pose with, creating a memory that will last forever.
Special Messages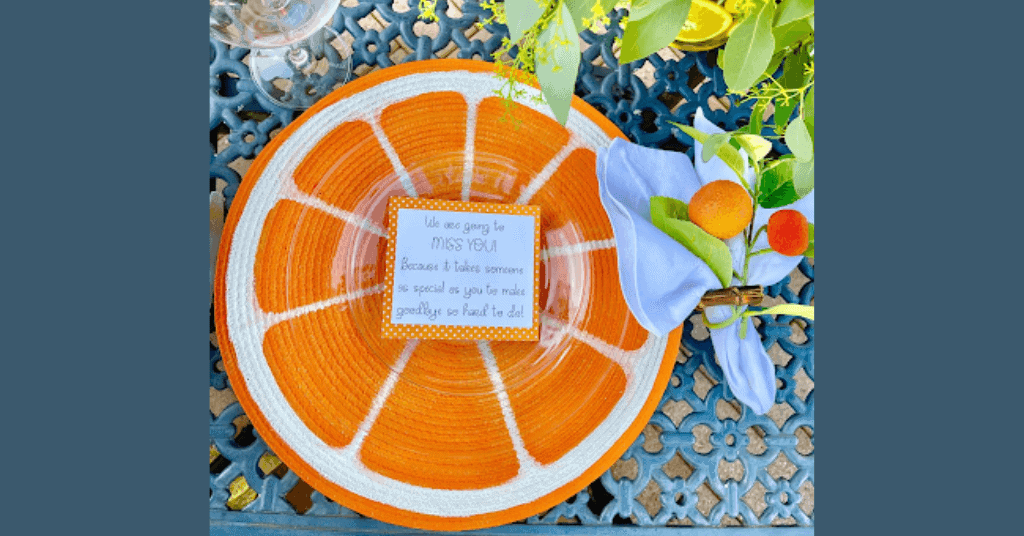 Ask all their friends and family to write a personalized message for them. Moreover, get them laminated for your loved ones to keep them safe.
Suggested Read: 15 Affordable Balloon Decoration Ideas for Your Birthday
Not To miss a Cake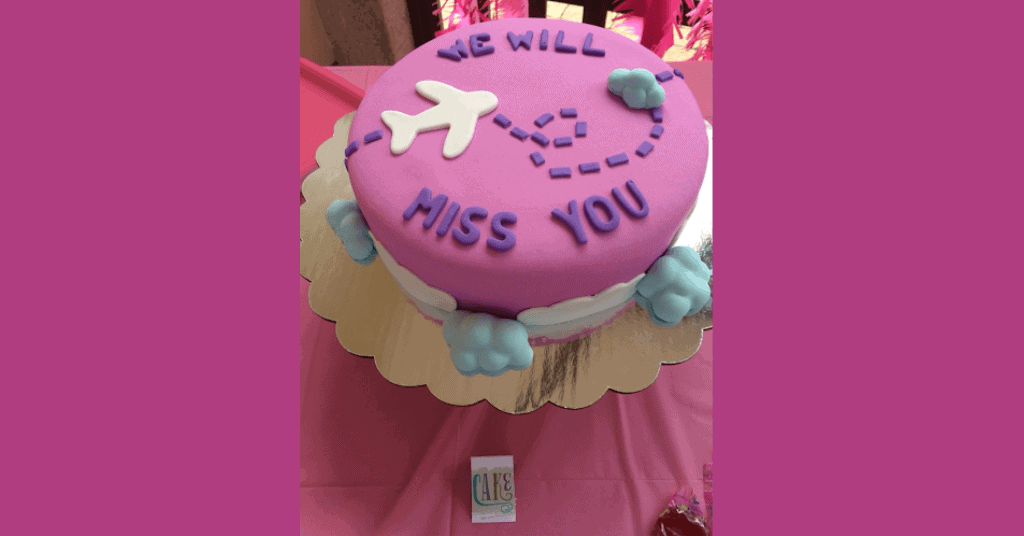 Image Credits: Pinterest
You can get a customized cake for sweet endings and happy beginnings.
Conclusion
These are numerous creative and simple stage decoration ideas that you can easily incorporate into your event to add a personal touch. These backdrops and ideas will enhance the vibe and energy of the occasion. Moreover, every occasion requires some fun and DIY decoration ideas to make an event budget-friendly, exclusive and memorable. From getting backdrops to using old and discarded items to make unique decor pieces, there are endless possibilities to explore. By using these ideas, you can make your event even more memorable and create an atmosphere that your guests will cherish. So, unleash your creativity and start planning your next event with these simple yet stunning decorations and DIY ideas.
FAQs
Why is decoration important?
Stage decorations are important as they set the tone and ambience for any party or event. Regardless of the occasion, these decorations infuse a delightful touch of happiness and excitement. They create a visually captivating environment that enhances the overall experience for both guests and hosts alike. From simple stage decoration ideas to DIY fun, these elegant backdrops add that extra layer of charm and enjoyment to every celebration.
How to decorate a venue?
To decorate a venue, start by setting a theme or concept that aligns with the occasion. You can visit CherishX.com and find exclusive and budget-friendly backdrops for your events. Moreover, if you want to opt for DIY decoration ideas, you can visit FrillX and get all the DIY decor. Create a captivating backdrop or stage decor as a focal point, and add eye-catching centerpieces and table decor that match the theme of your party. Pay attention to aesthetics and host the best party ever.
How can I decorate my party venue on a budget?
Incorporate natural backdrops like lush plants and grass for a refreshing touch.
Utilize candles and white fabrics against a green backdrop to create an enchanting ambience.
Install a DIY photo booth to capture fun memories.
Brighten up the space with vibrant fresh flowers.
Enhance the atmosphere by renting an old cabinet for a decorative buffet.
Add a personal touch by creating a customized bar set-up.