We all know that baby's first birthday is the most momentous one! As parents, who only witnessed the transition from Baby to Toddler. So, why not give this special day a grand celebration with sweets and fun and surround yourself and your child with friends and family who feel like there's no way it's already been a year? 
Commemorate your little "one" in style with impertinent First Birthday Party Themes that fits their likes and your aesthetic. Make sure to pick a theme that your child can enjoy. Although he/she won't be able to remember this birthday at least photos will have a memory. And, all kiddo loves cartoons and characters, and particularly colors attract them in any way. So, say goodbye to those simple and boring parties and celebrate your kiddo's first year with beautiful and unique theme decorations.
Here are some of the cutest and most creative first birthday party theme decoration ideas.
Cocomelon Ring Birthday Decor
A unique and amazing Cocomelon Ring Birthday Decoration that consists of a big size ring stand covered with cocomelon characters and a birthday boy/girl name. Also, a beautiful arch of blue, green, red, orange, yellow, purple, and light blue balloons. cocomelon foil balloons, one bus sun board, and traffic are additional parts of the decorations.
Colourful First Birthday Decor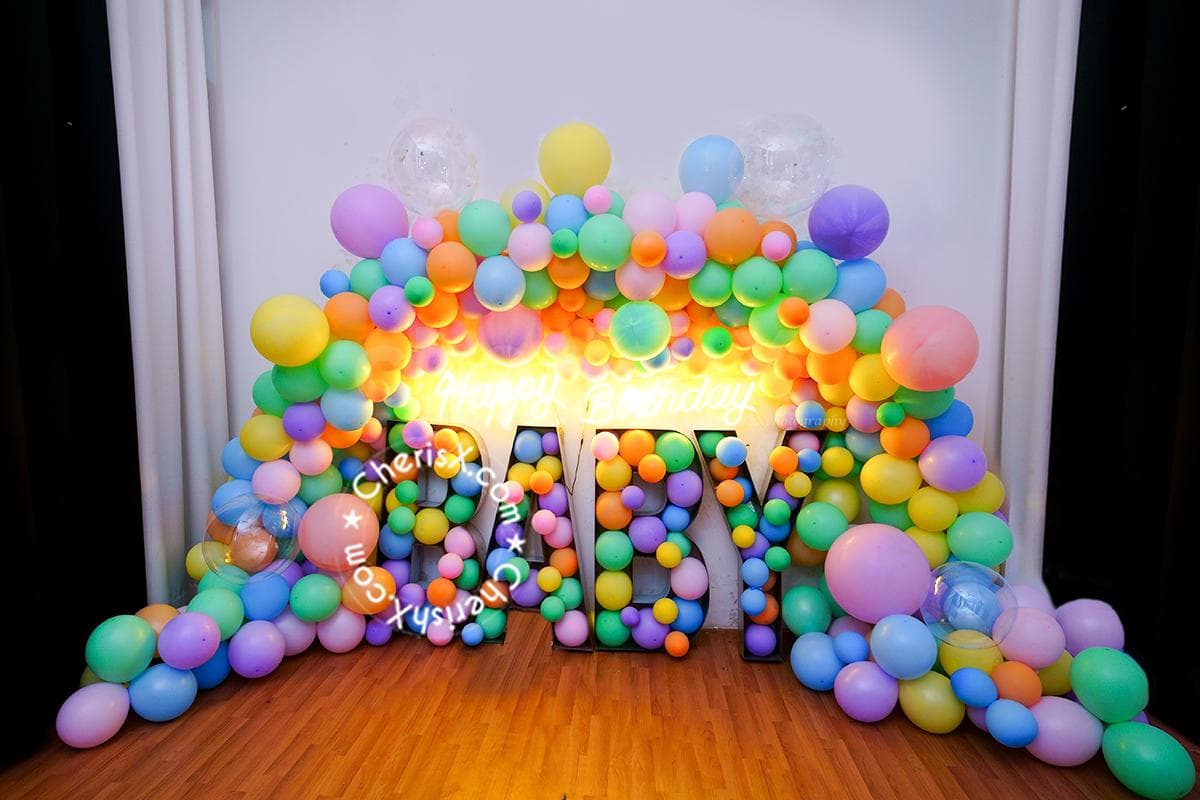 Let your little one explore the world of colours this birthday. Celebrate your little one birthday with Colourful First birthday decor and make a grand celebration. In this package, you will get a BABY mosaic letter filled with pastel balloons, happy birthday neon signage, and pastel balloons of different colours like pink, yellow, purple, green, and blue. Also, the transparent and bubble balloons are part of it. Further, add some additional items to make it more memorable for you.
Blue theme First Birthday Decor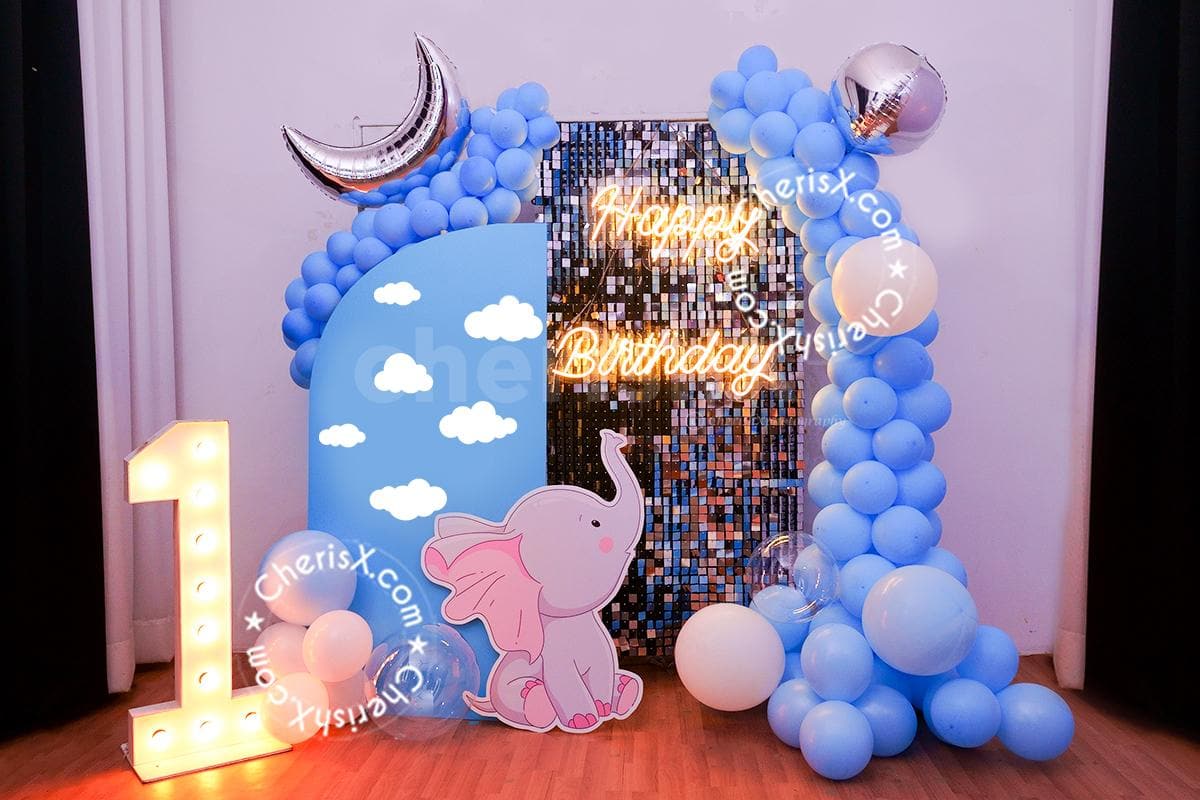 Celebrate the precious day of turning your child into one with this awesome Blue theme first birthday decor. This shimmer birthday decoration is hot with parents these days and includes items like a silver sequin panel backdrop, a happy birthday neon signage, it's a boy blue panel placed with its stand, and digit led. Besides, get an arch of balloons, silver4d balloons, an elephant sun board cutout, and a moon-shaped foil balloon. Further with this, get customization as per your needs.
Pink Theme First Birthday Shimmer Decor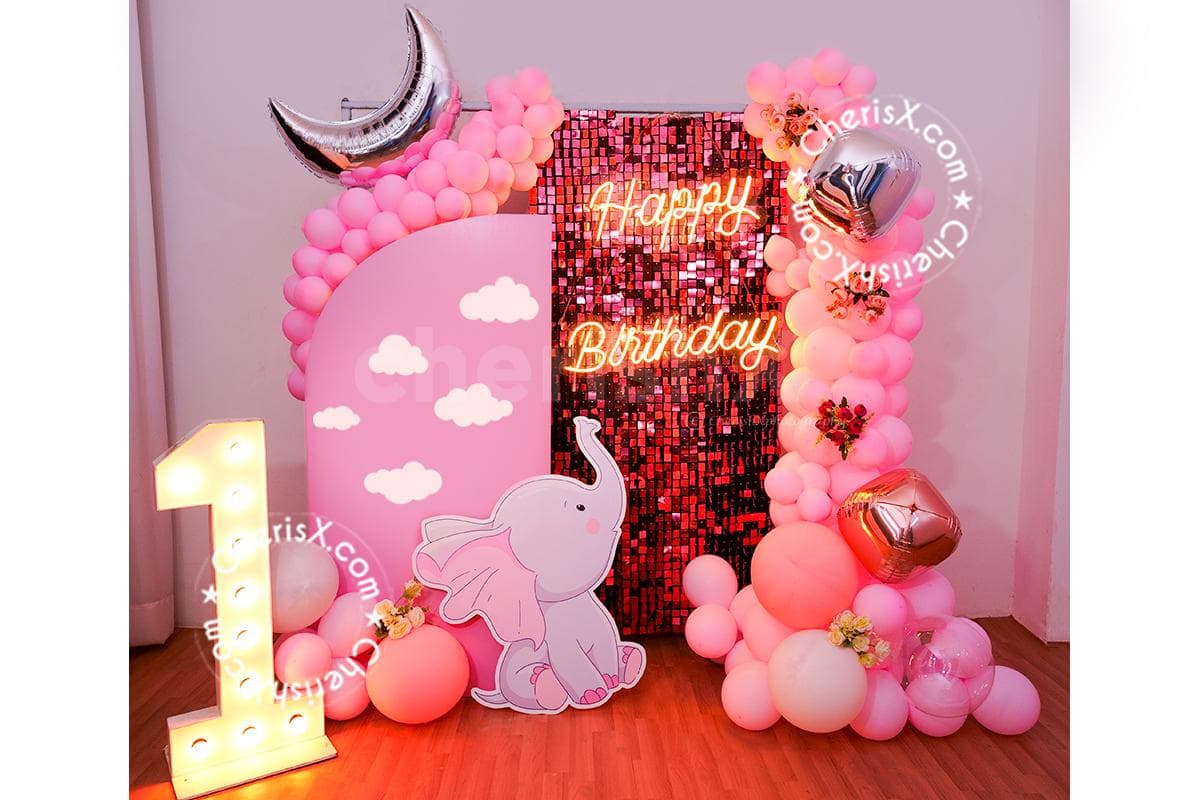 Celebrate a milestone of your little girl with the shimmering pink theme first shimmer decor by CherishX. It entails decorating items such as a rose gold sequin panel backdrop, a happy birthday neon signage, it's a girl pink panel placed with its stand, and a digit led. Besides, get an arch of balloons, silver4d balloons, an elephant sun board cutout, artificial flower bunches, and a moon-shaped foil balloon. Further with this, get customization as per your needs.
Shimmer Silver Sequin Unicorn Decor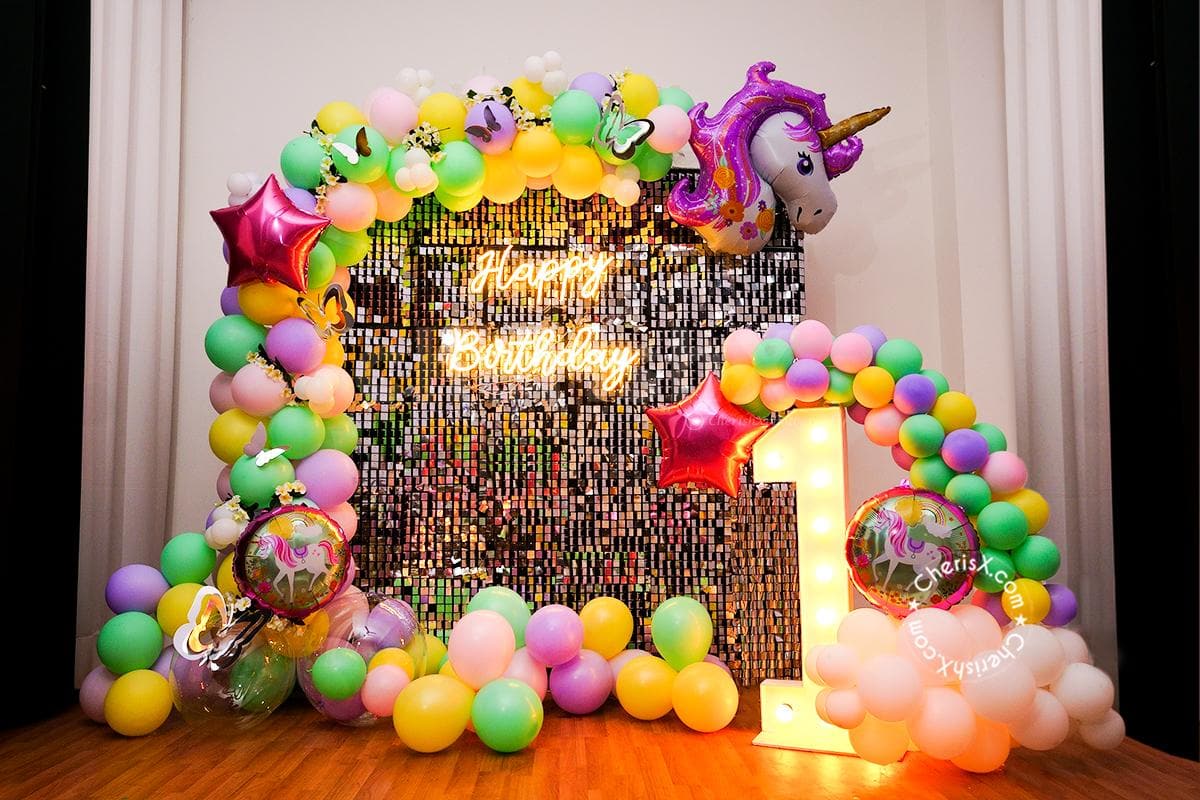 Our kids always adore sparking things whether it's sparking pens or decorating stuff, so why not give this shimmer silver sequin unicorn decor to their birthday party? For this glorious celebration, opt for a silver sequin panel, unicorn theme balloon, neon signage, and LED shimmering lights. Besides, floating balloons, bubble balloons, silver butterflies, and artificial flower strings all together make your child's birthday memorable for you.
Shimmer Golden Sequin Jungle Decor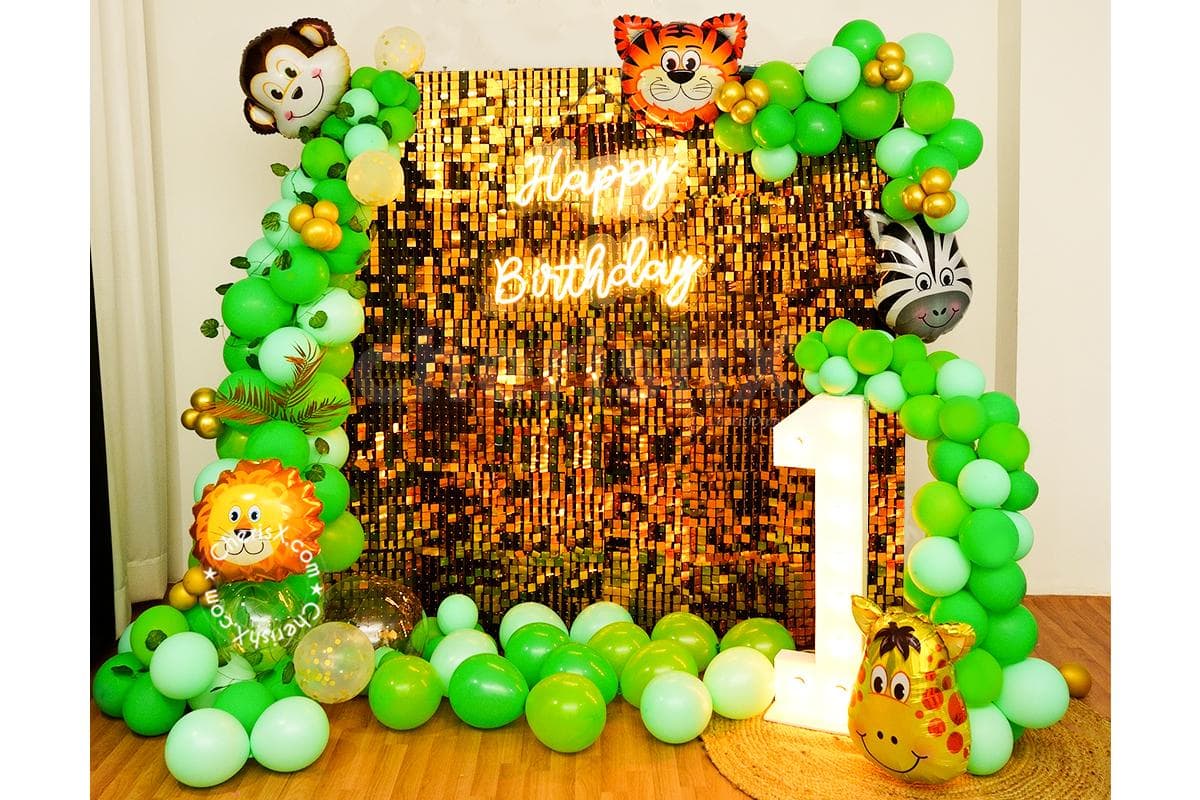 Are you looking for an elegant yet fun-filled jungle theme for your child's next birthday celebration? Then opt for this Shimmer Golden Sequin Jungle Decor that gives perfect jungle vibes to your kid and guests. This includes a rectangle stand, golden sequin panel, happy birthday neon signage, digital LED decorated with balloons, animal face foil balloons, floating balloons, and an arch of balloons in shades of green, yellow and golden. Besides, golden leaf sticks and money plant bells are added to this theme to give a memorable experience.
Shimmer Silver Sequin Barbie Decor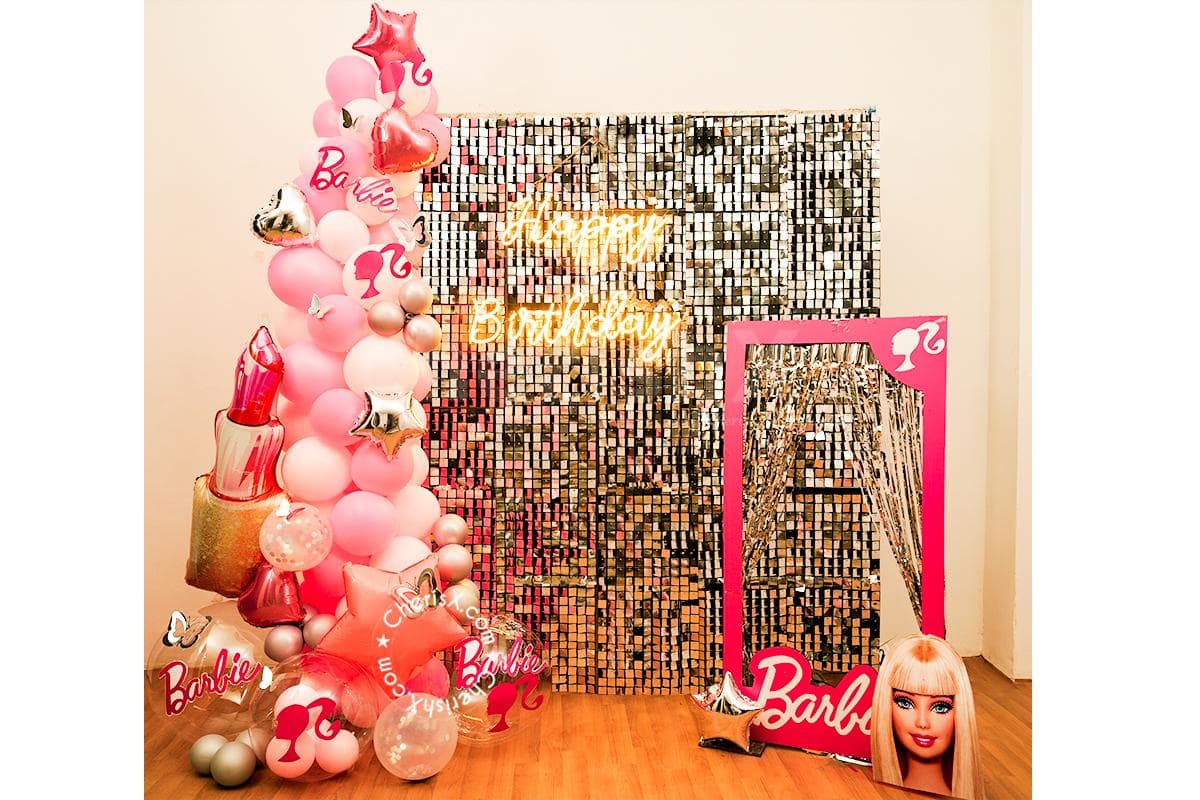 Your daughter will fall in love with this Shimmer Silver Sequin Barbie Decor on her coming birthday. Filled with all sparkles and shimmers, this decor includes a rectangular stand, a sequin backdrop, and a beautiful arch of balloons in shades of pink and silver. Also, get a bubble balloon, lipstick foil balloon, silver star-shaped foil balloon, pink heart-shaped foil balloon, pink star-shaped balloon, Barbie theme paper cutouts, and a pink photo booth decorated with a silver frill curtain. Surprise your baby girl with this perfect Barbie theme birthday decoration and make a memorable birthday for your child.
First Birthday Decoration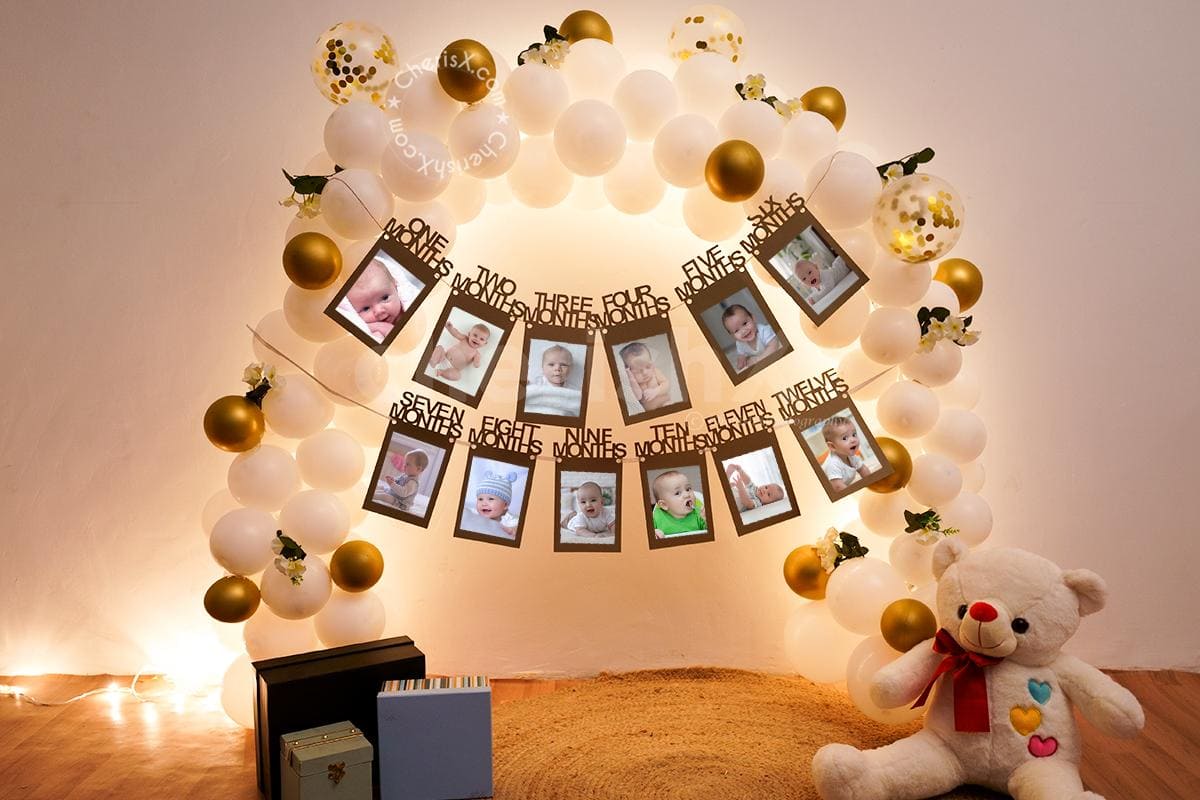 Make your child's first birthday worth it with the top-notch first birthday decoration by CherishX. The elegant white and golden mix decoration will surely be going to create unforgettable memories. This elegant decor is curated with an arch of white latex and golden chrome balloons. Along with this, you will get white artificial flowers, 1-12 months of photo bunting, floating balloons, and an arch of golden chrome balloons over the photo bunting. Further, you can customize this decoration as per your requirements.
Pastel Butterfly Theme Decor
If it is your child's first birthday, it's ought to be special as you only know how this one year has quickly gone with your venture. Now, let's celebrate your baby's first birthday with pastel butterfly theme decor. This decor includes a happy birthday banner, a three-inch foil balloon with the letter one, and pastel pink and purple balloons. Also, get star led curtain, butterflies, and white net cloth for the backdrop.
Premium Boss Baby Customizable Theme Decor
If your child acts like a Boss Baby, then throw the best birthday party ever with the boss baby theme. Inspired by the Disney movie Boss Baby, avail of this Premium Boss Baby Customizable Theme Decor and get a personalized theme backdrop, boss baby cutouts, and entrance balloon arch. Besides, a balloon arch as the backdrop and balloon bunches on the ceiling. Also, this theme contains a photo booth with a personalized backdrop, a theme wooden stand, and balloons in a variety of blue, white, and golden chrome.
Star and Moon Theme Customizable Birthday Decor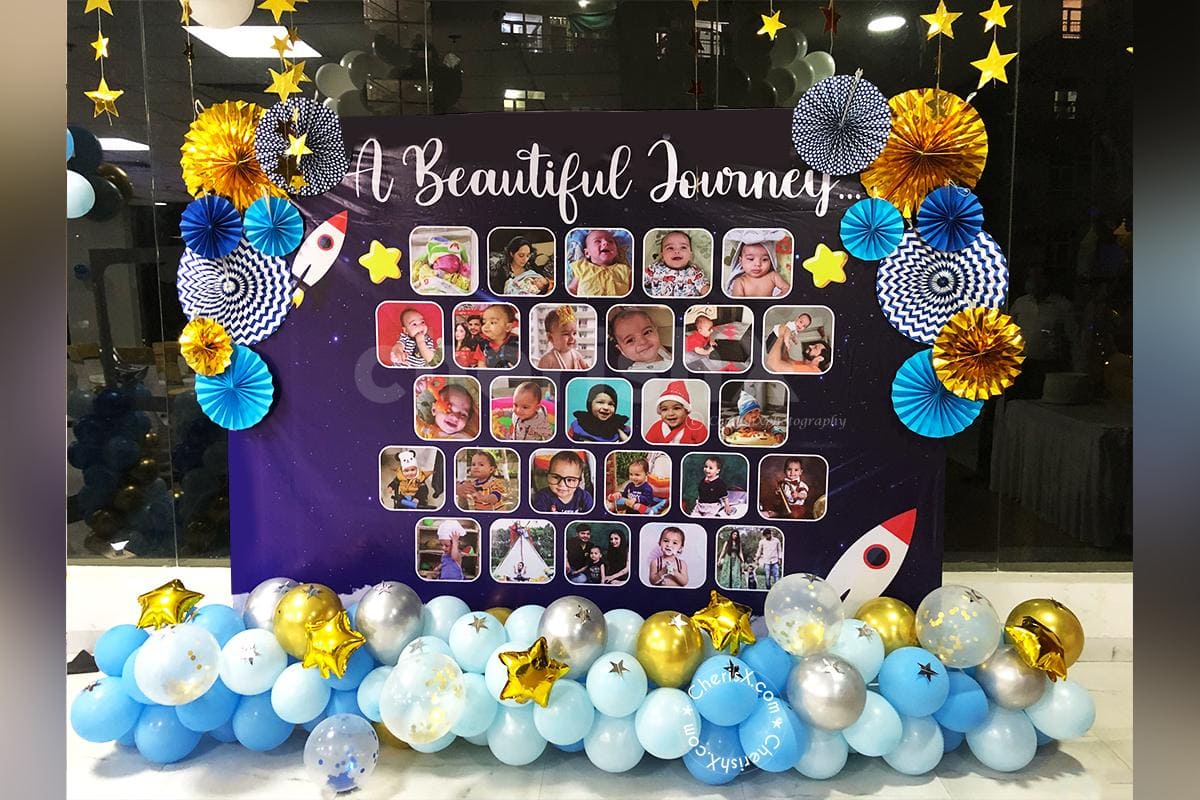 Celebrate your child's first birthday in the most beautiful and fun way with this star and moon theme customizable birthday decor. This decor is a combination of beauty and splendor and thus includes a personalized backdrop with a moon cutout, a personalized photo easel board with an easel stand, and a ladder decorated with A3-size alphabets, and balloons. White latex balloons form a cloud on the ladder, star strings, mixed free-floating balloons, personalized journey flex, and rosettes decorate the flex. Along with this, an arch of balloons, an entrance arch of theme balloons, star & moon-shaped foil balloons, a welcome board, a cake table decor, a white net, led lights, and star hangings.
Also, do check out the 40+ first-theme birthday decorations that can be customized as per your requirements.
Things to Keep in Mind for the First Birthday Party Theme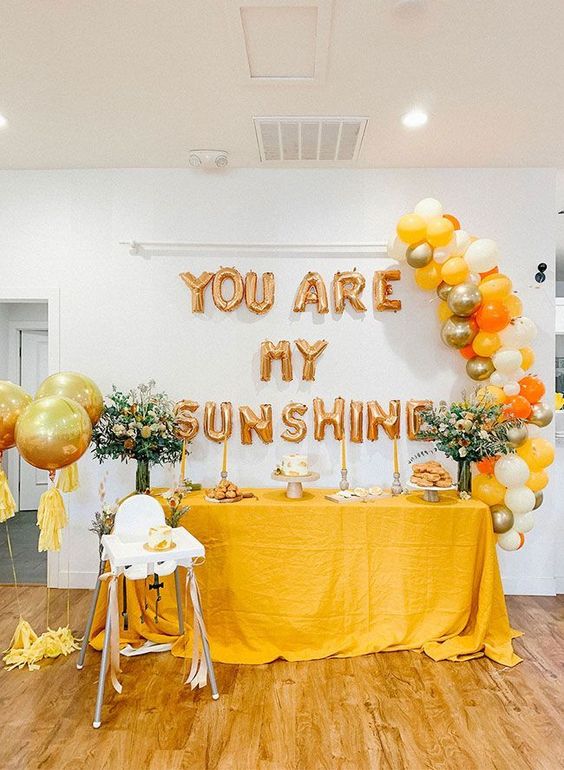 We are all well-versed in how much 1st birthday party themes and 1st birthday party decorations are important for throwing an unforgettable party. However, there are a few other necessities that you can leave while planning a successful birthday party. Checkout Easy DIY First Birthday Decoration Kits and Party Props for Home
Here, dig down and keep these little things in mind before planning any birthday party for your little one.
Keep Budget in Mind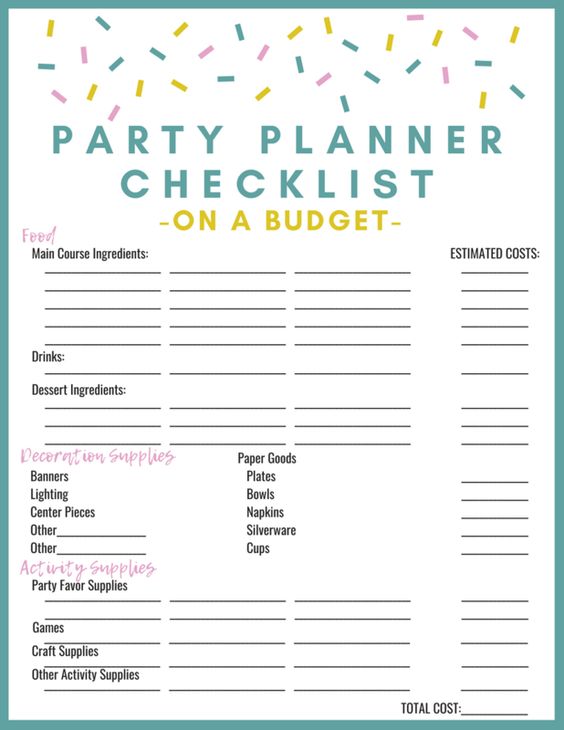 Being one of the fundamental things, budget is the most vital aspect before planning any birthday party. How much you want to spend on your kid's 1st birthday party is your decision only. Settle for a thoughtful decision and make a budget plan and then look forward to other requirements.
The Venue, Guest List, and Invitation
After that, you have quoted your budget, book the venue according. Moving ahead select the perfect day and then guests whom you would want to invite.
After guest lists, try to share a gorgeous invite for your guests. Your invitation must have your child's name, the name of the child you are inviting, the date, start and end time, and the location of the party. Also, you can convey some additional information they might require ahead of time.
Costumes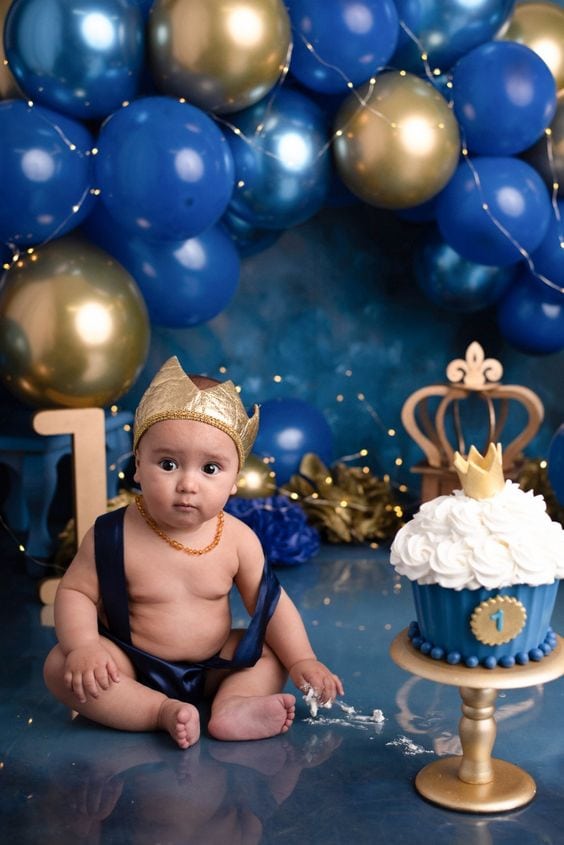 Apart from decorating your space, your showstopper the birthday boy/girl also requires particular attention. Then, why not customize their dress with the birthday theme? Not just you, but even your guests will go in awe at seeing your cute toddler in that costume. Shop first Birthday Dresses on Etsy
Yes, you can buy the costume online or at any market near you. Go for a soft and high-quality headband, body suit, gloves, and boots.
Food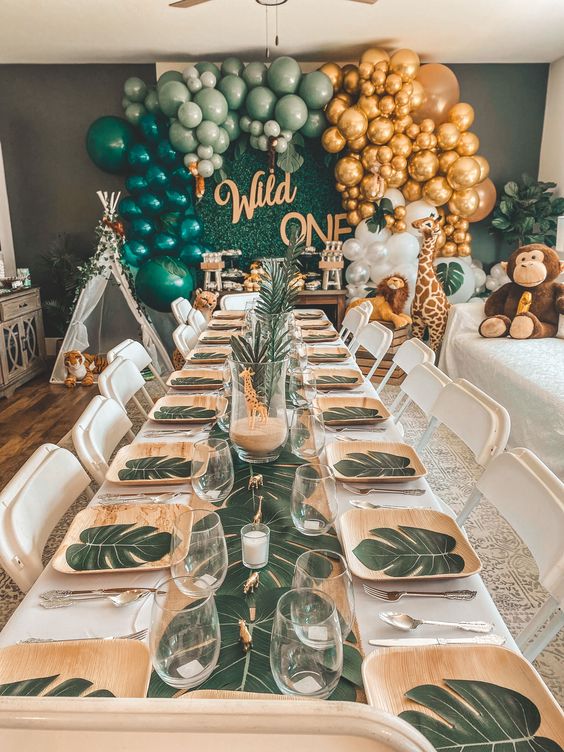 Food is the top thing that guests look for even before the decorations. As it is your little one's memorable day, try counting delicacies that are their favorite. Get the menu that also possesses kids favorite food. Make it easy and tasty so that your guests enjoy it. You may hire a caterer, cook yourself, or order from a good restaurant according to your budget.
1st birthday theme party decoration
The most significant planning that ought to be thought to make your kid's 1st birthday party is the regard of the decoration. There are so many party requirements such as banners, balloons, pompoms, photo booth props, foil curtains, lights, themed-based Welcome Boards, and many more.
Go for the party decoration that matches your decided party theme. Add poms as they are vibrant and look super cool & adaptable too! Make your kid's 1st birthday decoration ideas while adding some pompoms to the chairs and tables with other decoration items. They are comfortable hanging and look lavish.
Another thing you can execute is the fairy lights that have been outlined in every celebration, event, and festival. Make your kid's 1st birthday decoration shine as luminous as the versatile lights. Add them to windows, inside party spaces with balloons and banners, and in your sitting spaces.
Addition of activities and music
No party is interesting if the party is without any entertainment. The day calls for enjoyment and pleasure and there is no likelihood that you can miss anything. Consider counting some entertaining activities, games for kids and adults, and also music to jazz up. You can also put a separate and safe play zone for kids. Book these Fun-Filled Entertainment Activities for your Kid's Birthday Party with a Tap from CherishX
To keep your guests entertain, organizing some fun activities and games is a great idea. For that, you can plan as many games as you want, just keep in mind to retain easy and fun games.
1. Smashing bubbles – An effortless game in which kids need to make a big bubble and then enjoy catching and cracking them.
2. Free painting – Little ones love to paint so, give them this freedom to paint. For this, start a special play area spread with all waste sheets and cardboard boxes. Also, give them aprons made of plastic bags so they don't spoil their clothes.
3. A treasure hunt is a fun-filled party idea. Share with the kids a treasure map and a few clues to solve the problems. Hide cutouts of their favorite cartoon character around the party hall and send the kids to find all of the hidden secret characters.
Birthday cake
The next crucial aspect of any birthday party is the cake! Your kid's first birthday party demands a unique cake. Go for a cake customized as per your kid's theme party. You can order the cake before to be on the safer side. Although your baby will presumably drop cake more on the floor than in their mouth, still you will recognize your baby's first cake forever. It's totally up to you whether you make the cake at home or hire a professional or pick one up from the supermarket.
But whatever you decide, be determined to choose from the abundance of options out there to make your baby's first birthday a superior one. Get Unique Cake Toppers to level up the fun from FrillX
Return gifts
Last but not least, returning gifts is essential too! If your budget permits, you can compose some return gifts for kids and adults as well. It is a token of memory or a keepsake.
Small, meaningful return gifts for your guests are much more suitable for a 1st birthday party. You can select great options from theme bouncing balls to a fun puzzle set, to stickers, tattoos, and bubble wands.
Mickey Mouse coloring books, pencils, and stickers are all fun-filled notions for kids of all ages.
Besides, you can gift wrap the package in your chosen theme. You can comprise sunglasses, beads, jewelry, and other goodies for the girls to get glammed up. While the bouncing balls, army men, dinosaurs, and squirt guns will keep the guys delighted.
Also, a choice of candy, cookies and other sweet treats are ideal gifting alternatives.
Tips for Throwing a First Birthday Party 
When we talk about first birthday parties, many parents feel that it is a cumbersome task. However, we suggest with small children, it's best to keep it concise, specifically because they presumably won't remember much of it. Limiting your party hours is an ideal plan to shoot for. This gives you abundant time for some games, opening presents, and serving the cake.
It is better to avoid planning a party near your child's naptime. You must want your little one to be happy and attentive and not cranky and throwing tantrums. So, plan your party accordingly.
Try to limit your guests as well ( if possible). Too many people could make your little one shy or uneasy, which can result in tantrums and breakdowns. Also, if you are inviting kids of diverse age groups, plan small activities like drawing or painting to keep them entertained and busy.
Have lots of pretty photos of the birthday boy/girl, so the good idea is to plan picture time at the commencement of the party. Maybe even before the guests come. Then that's out of the way, and your little one can enjoy the party. But be sure to take momentous photos throughout the party as well.
Choosing a theme can also keep you organized and have a clear image of the decorations and what you desire. Even deciding the color of the theme, food, and your child's dress is also crucial in advance.
Your baby's first birthday can be a touching and fierce deal. Just remember the day they were born and their first year- full of tears, dirty diapers, and lots of love and kisses. Tap here to see more ideas on how to Arrange a Perfect First Birthday Party at Home
Why Choose CherishX for First Theme Birthday Party?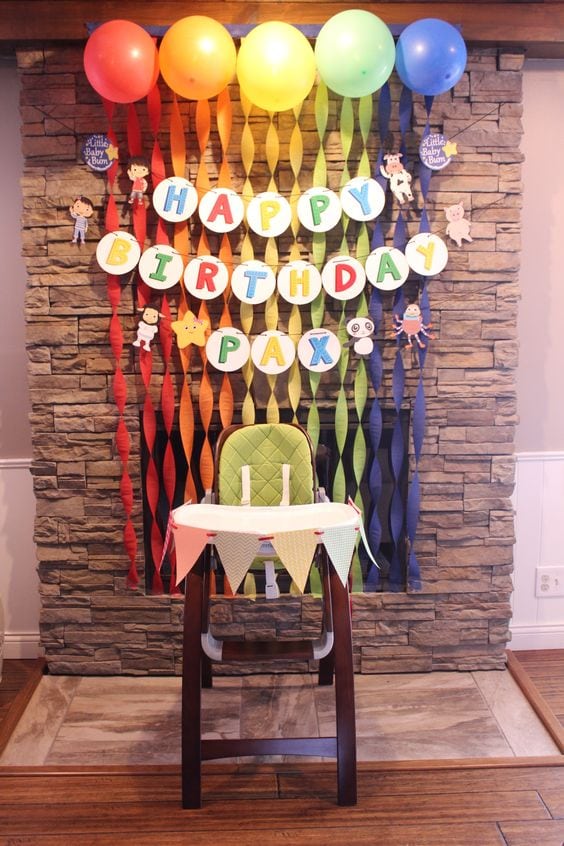 Our sole principle is to sell top-notch products and services that are to be established successfully. We ensure to make your special occasion grand and this is why we have stood so far to make your promising day a memorable event. We put our customers in every loop of everything we provide. We are proud that we are categorized among the most promising to provide a massive variety of 1st birthday party decoration collections at a reasonable price.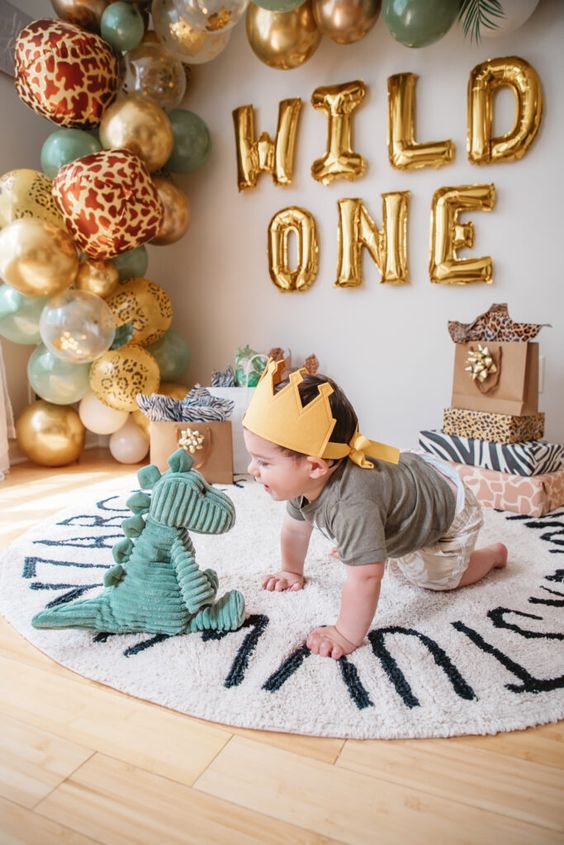 For more information or to know more about services and products, just visit our official website or ring us at +91-8010679679.
FAQs
How to make my child's first birthday memorable and unique?
To make your child's first birthday unique, opt for some creative and beautiful birthday party themes that range from cartoon characters to colorful amongst others.
What will be the best time to host a birthday party for a child?
It is recommended to host a first birthday party in the evening when your child just wakes up after a nap. In this way, he/she will be fresh enough to enjoy the party to the fullest.
Can I book a hot air balloon theme decoration for my child's first birthday from CherishX?
Yes, we at CherishX offer 50+ unique and wonderful birthday decoration ideas that you can easily book by visiting our website. Just pick your preference, select the date and time and make the payment. Also, we provide customization decoration as per your needs.