If you're preparing for your upcoming Mehendi function decorations and searching for mhndi function decoration ideas, you have come to the right place. We are here to assist you in finding the perfect decorations for your event, whether you are hosting it at home or outdoors. From gorgeous decoration concepts to the perfect outfits and footwear, we have got you covered. Our goal is to make your Mehendi function decoration unforgettable and leave a lasting impression on your guests. Let us guide you through the process of creating a magical and memorable event.
The Mehendi celebration is the most enjoyable ceremony, with vibrant colors, upbeat music, and fascinating decor. Making this ceremony fun for your guests will ensure that it is a memorable one. These will involve everyone in the room and are a wonderful way to strengthen relationships with your loved ones. We have compiled a list of fun mehendi decoration ideas and amazing engagement ideas that are simple to plan and will be a hit with all of your guests.
The mehendi ritual is always spiced up with extra joy, color, and whimsy. With these Mehendi function decoration ideas, you can give your guests a little entertainment.
Stunning Mehendi Function Decorations
One of the most significant wedding customs that has been passed down through the generations is the mehendi ceremony. Henna is said to have cooling and calming effects, so the ritual goes beyond the surface. This enables the bride to feel calm and collected before beginning a new chapter in her life. The mehendi ceremony is an integral part of every wedding celebration because it is also believed to be a sign of happiness and good health. The ceremony is typically performed by the bride's family the day before the wedding so that the bride can benefit from the healing powers of the henna just before the nuptials. So, let's scroll and know more details about Mehndi function decoration ideas here.
Suggested Read: Haldi Celebration Guide: Everything You Need to Know about the Occasion
Easy and Stunning Mehndi Function Decoration Ideas
The mehendi ceremony is undoubtedly one of the most enjoyable wedding events for friends and family. It's the perfect pre-wedding function that sets the tone for the wedding celebrations. And let's not forget about the stunning mehndi function decoration that will add to the lively atmosphere of the event. From vibrant colors to chic decor, every element comes together to make the ceremony even more special. So, If you're looking for a unique way to elevate your mehendi function decor, consider this wooden frame adorned with marigold flowers. Not only will it add a touch of elegance to your event, but it will also make for incredible photo opportunities. With such charming and thoughtful decor, your guests are sure to be wowed and create memories that will last a lifetime.
You'll also need to ensure that everyone else who isn't a part of this is having a good time while you, your bridesmaids, and all the other women in the house are busy getting intricate designs tattooed on their palms. Therefore, careful event planning is essential to ensuring that everyone has fun. So, to make your "mehendi ki raat" memorable for everyone, add some additional enjoyable components in addition to the customary naach and gaana.
Modern & Traditional Mehendi Function Decorations
If you want to go organic with your mehendi function decorations, then you can completely make use of the banana leaves and embellish them with marigold garland. You can also make use of brass vessels and more flowers. The green and yellow color combination will make your decor a hit. Here are some mehendi decoration suggestions that are popular with guests and will make you look good in their eyes. Even at other people's ceremonies, they won't be able to stop mentioning them.
Suggested Read: Lohri 2023 Celebration Guide: History, Tradition, Awesome Decoration Ideas
Amazing Mehendi Theme Ideas & Floral Mehendi Setup
To make your mehndi function decoration grand and exclusive, opt for this alluring, captivating floral mehendi setup by CherishX. This will add elegance and a touch of beauty to the celebration by using flowers. You will get pixel lights, artificial flowers, cushions, a rug, golden fabric, brass lamps, lotus pots, and a mehendi mdf board.
Colorful Hangings Backdrop For Haldi and Mehendi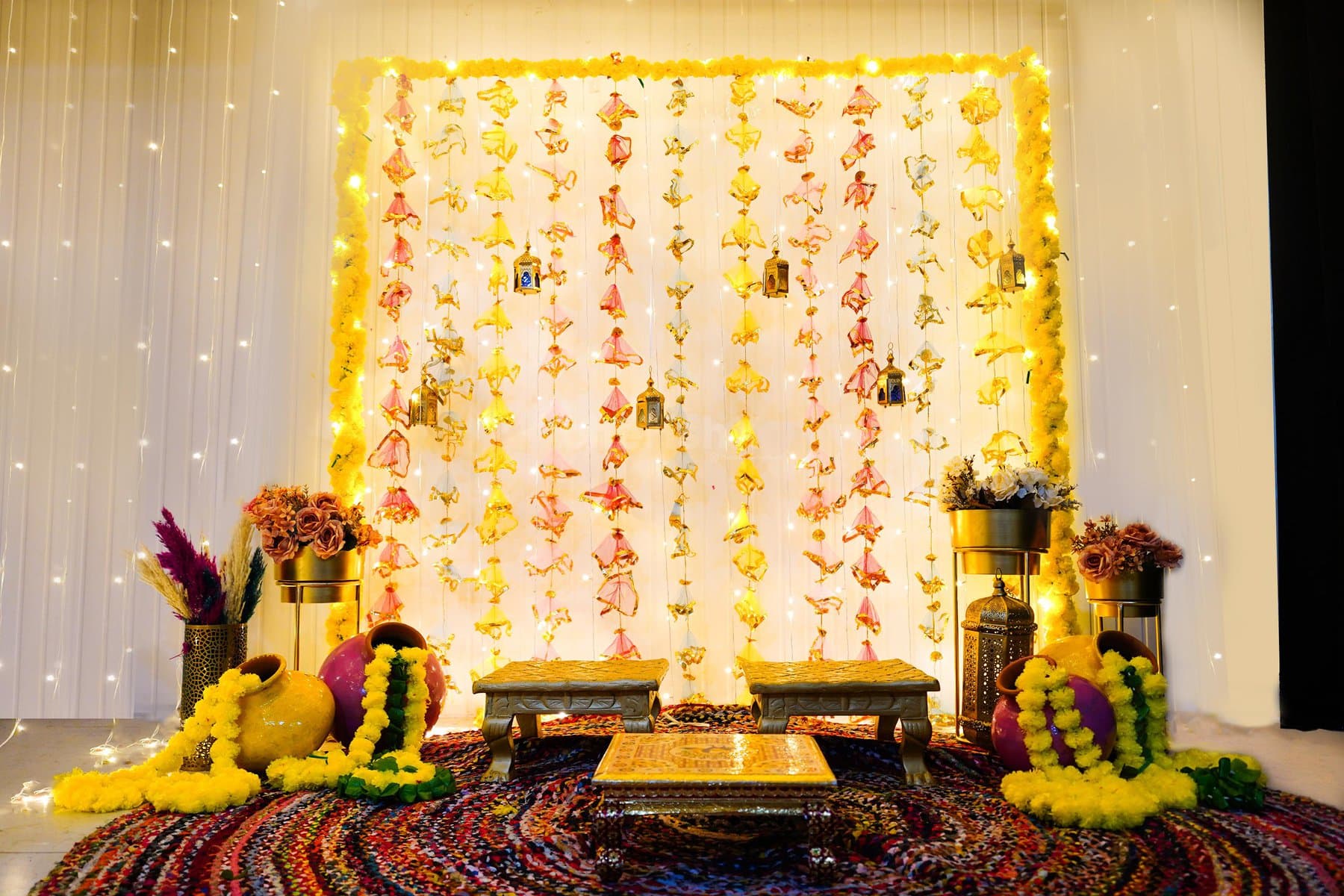 Choose this wild and vibrant hanging mehendi decoration from CherishX. A rectangular stand covered in pixel lights and fake yellow garlands is part of this setup. Additionally, purchase a multicolored rug, small brass lamps, golden brass pots, a large brass lamp, and multicolored hangings for stunning mehendi photos.
Yellow Theme Haldi and Mehendi Backdrop
This is one of another mehndi decoration ideas to grab your attention! It's full of marigolds. Grab this beautiful mehndi function decoration that can enhance the joy and happiness of the occasion. The simple yet elegant, yellow theme haldi/mehendi backdrop promises a stunning celebration. This includes colorful tassels placed in the center, and a rectangle stand draped with artificial yellow garlands in a crossed pattern.
Golden Ring Mehndi Decoration Idea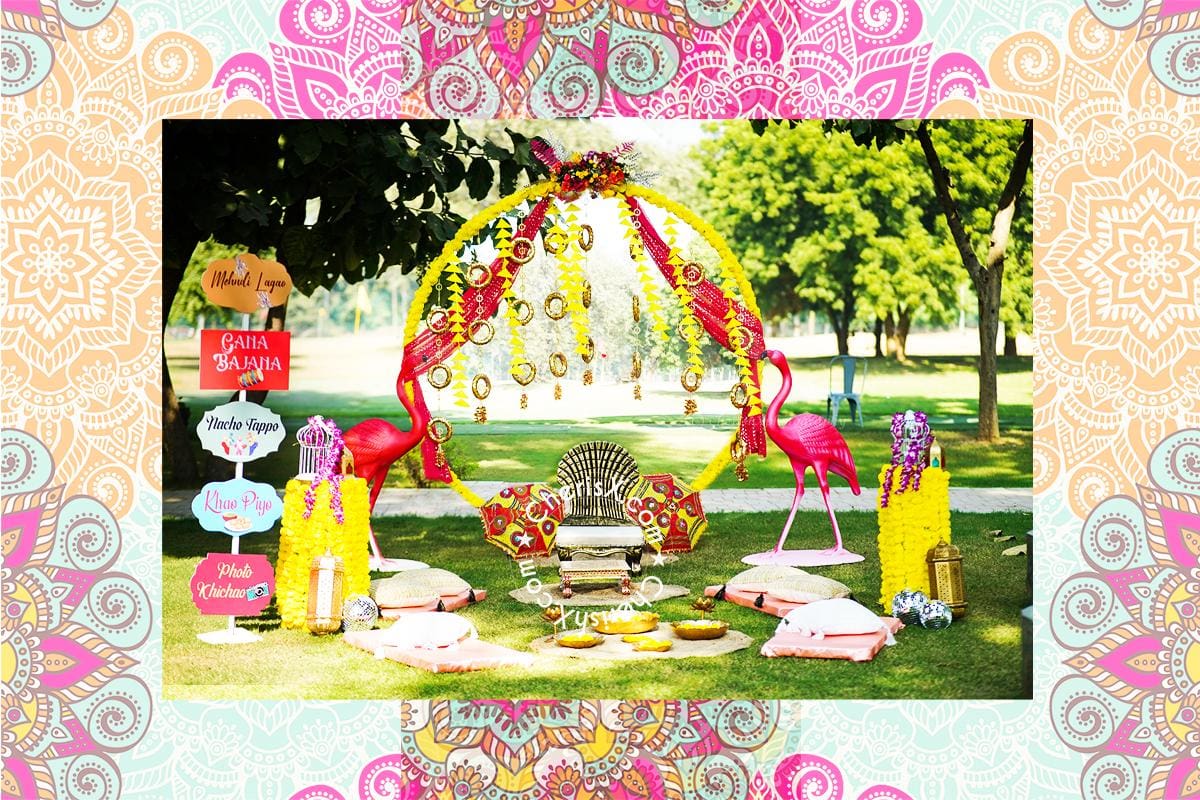 Get this cheery mehndi function decoration display that features a stunning golden ring decor. This includes vibrant hues of pink and golden rings and dazzling flowers and accessories. This decor adds a touch of luxury and grandeur to any occasion. With garlands, pink paper tassels, a low-seating sofa, lamps, candles, mirror balls, umbrellas, and a mehendi theme direction board, make your event memorable. These are one of the stunning Mehendi theme ideas.
Suggested Read: 10 Tips to Plan a Welcome Baby Celebration
Vibrant Mehndi Function Decoration
Make your event extraordinary with this vibrant mehendi decoration setup. A visually appealing backdrop of a ring stand decorated with artificial flower bunches and pixel lights. Also, get multi-color tassels, lamps, colorful rugs, and flower pots, making it a perfect spot for mehendi photographs.
Fashionable and Dapper Mehendi Outfit Ideas
Pick A Perfect Mehendi outfit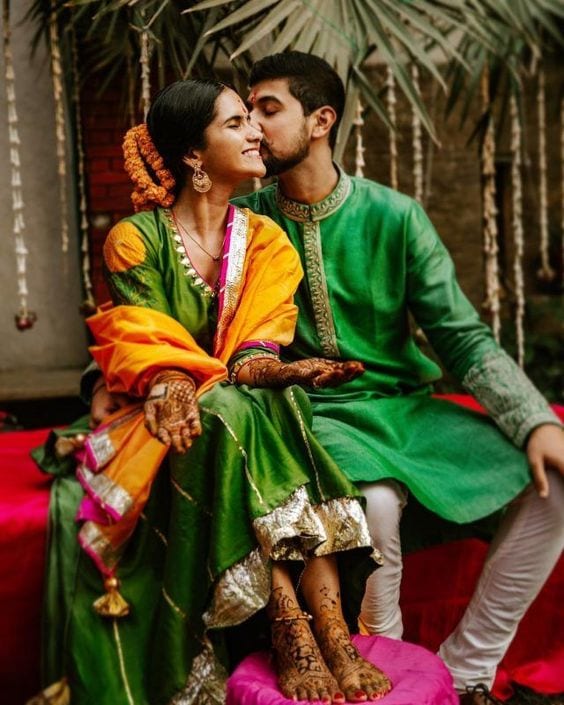 Apart from the mehendi function decorations, you can also check out the outfits for the function. Whether your outfit is designer or not, be sure to choose a vibrant color that stands out! You stand out from the crowd because of how lovely it looks! One of the mehndi decoration ideas is to wear something lively on your mehendi ki raat to look the prettiest!
Achkans in distinctive styles and colors are one of the preferred groom mehndi outfits due to their elegance and sophistication. You would undoubtedly stand out if you wore coordinated outfits because they are all the rage. One of the most popular choices among grooms is this Sabyasachi kurta and Nehru jacket set, which features crazy bright colors and a kurta. One of the best options for groom mehndi attire is to wear simple kurtas in various colors or patterns. Both women and men enjoy floral designs! To fit the Mehendi theme, dress your men in pretty floral jackets or kurtas.
See more: 45+ Brides Who Wore the Prettiest Outfits for Mehendi Ceremony
Food and Drinks Items to Include in Mehendi Celebration
Take inspiration for the food & drinks
Here is one of another Mehendi theme ideas that you can consider. To please all the foodies, think outside the typical buffets and include inventive food pairings and stations. Feature live teppanyaki stations, sushi bars, build-your-own pizza stations, a chocolate fountain, a customizable waffle station, and gourmet popcorn to satisfy the crowd's preferences and unmet expectations. Including nostalgic childhood favorites like cotton candy, Barf ka Gola, Bhelpuri, and the like at a Mehndi function is one of the foolproof Mehndi function ideas. Good food is always a good choice.
Read more: 13 Fun Food Menu Items To Include In Your Intimate Mehndi Ceremony!
Create a Perfect Playlist for Mehendi Celebration
Create a Perfect Playlist
Mehndi function decoration also features cheery BOLIYAN. We can't miss it! The elderly women of the house have a place where they can enjoy singing the traditional wedding geet and boliyan. You can request that your visitors form groups. After that, you can pit the groups against one another. You can request that the groups perform Antakshari. You could even ask them to sing a hit song from a movie starring one of the stars they see in pictures. This can encourage conversation and encourage the visitors to interact. The Mehndi ceremony will be more lively if there is a nice dance performance or a captivating voice. The charisma of live performers is always admired, and they aid in involving all of the attendees in the event. Some of the popular songs of Mehendi that can be included are "Mehendi hai rachne vali, Mehendi laga kar rakhana, and Yeh to Mehendi hai," amongst others.
Check this out: Perfect List of Hindi Songs for Mehndi Night
Fun and Creative Mehendi Activities
The majority of guests might only be there to eat. Give them a ton of food then. Hold an eating contest. Have a golgappa-eating contest or a contest to see who can consume the most sweets. Even the least interested guests will undoubtedly find this entertaining. Technology's development has made it simpler to create new competition. Invite your guests to use their cell phones to take pictures. The winning image will be chosen as the best.
Bring every man and woman in the house to the stage, then start the epic dance battle. It will undoubtedly energize the entire mehendi ceremony. Find the hands is the second and most eccentric game on our list. In this mehndi game concept, the groom must locate his bride's hands among the multitude of hands protruding from the bedsheet that has various holes in it. Start with a tug of war going on for future memories. Although there are countless variations of this game, the most humorous one is the simplest. Placing two players across from one another and instructing them to pong the balls simultaneously is the best way to begin a game of beer pong.
Don't miss out: 13 Unique And Fun Mehendi Games To Keep Your Guests Entertained
Affordable Mehendi Return Gifts
Isn't this one of the newest Mehendi theme ideas to consider? You can also include quirky return gifts as a part of mehndi decoration ideas. Favors and gifts in return are always delightful. These actions show your friends that you appreciate their company and are happy they attended your mehndi ceremony. Get everyone a small memento. Either make them unique so that everyone receives something they enjoy, or keep it fair by giving everyone the same gift. To commemorate the day, mehndi doodles can be added to the wraps. Another entertaining option is to hide the gifts and play a game where everyone has to find them. Put the name of the intended recipient, in mehndi of course, if they are personalized. This could be anything from chocolates, cupcakes, colorful accessories, jewelry, potli bags, or crackers. The vendors can arrange a table for the gifts. Isn't this one of the newest mehndi function decoration idea?
Shop: Return Gifts for Mehendi Function
Venue Suggestions for Mehendi Function Decoration
Apart from the home mehendi celebration, you can book a banquet hall or nearby hotel to celebrate the event. But, before booking any venue, it is recommended to follow and check certain pointers like car parking, bike parking, valet parking, a centralized ac hall, a separate dining hall, a lift, a wheelchair, a power backup, dress changing rooms, and guest rooms. For the mehendi function, try to book an outside area, as this gives plenty of space to dance and enjoy.
Quick to Explore: Awesome Mehndi Function Venues in Delhi NCR with Prices
Best Mehendi Ceremony Poses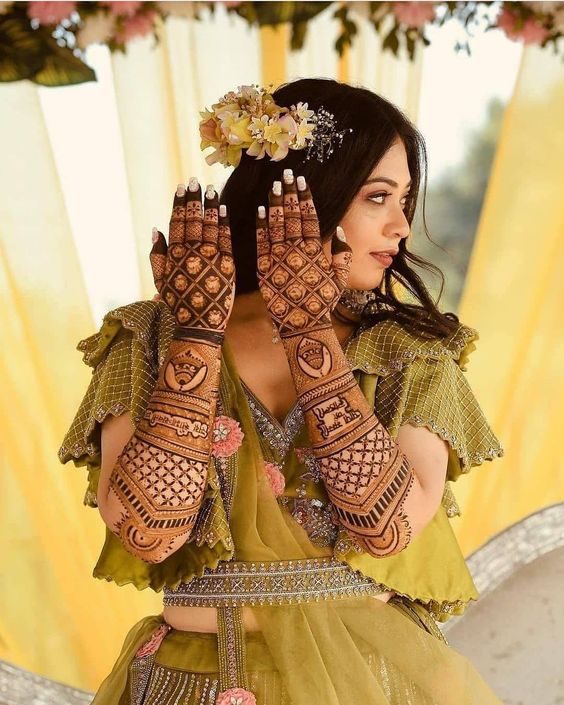 If you're planning a mehendi photography session, we advise doing your research and looking for some lovely, imaginative, and distinctive poses. And don't worry if you're unsure of how to pose as a bride or for a photo with Mehendi. Choose one of these poses for your mehndi function photos to stand out in your wedding album. Would you like to capture your mehendi design or unguarded moments with friends? Or do you need portrait close-ups for those Instagram-worthy pictures?
Check this out: Trending Mehndi Poses To Flaunt Your Mehndi
Indian Mehendi Footwear Selection For Bride and Groom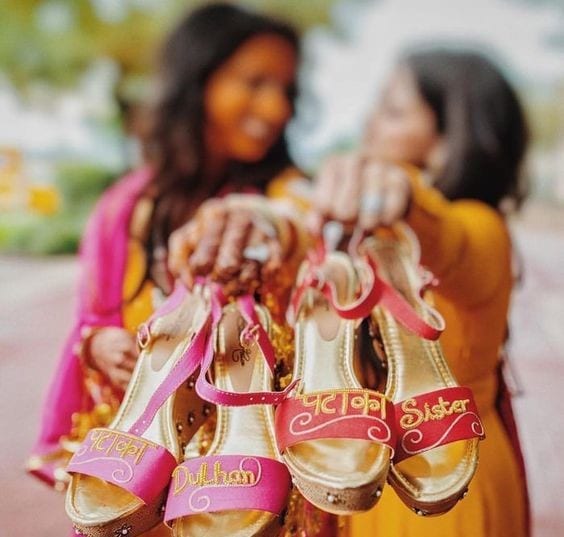 Why not make a roaring statement with a dash of quirk in a sea of blingy, subtle, and elegant bridal footwear options? The "Desi Dulhans" would adore these gorgeous slip-on shoes that have been meticulously handpainted. The fact that brides are openly choosing comfortable sneakers over high heels for their wedding day is nothing new. Your bridal look will be immediately eccentric with butterfly heels!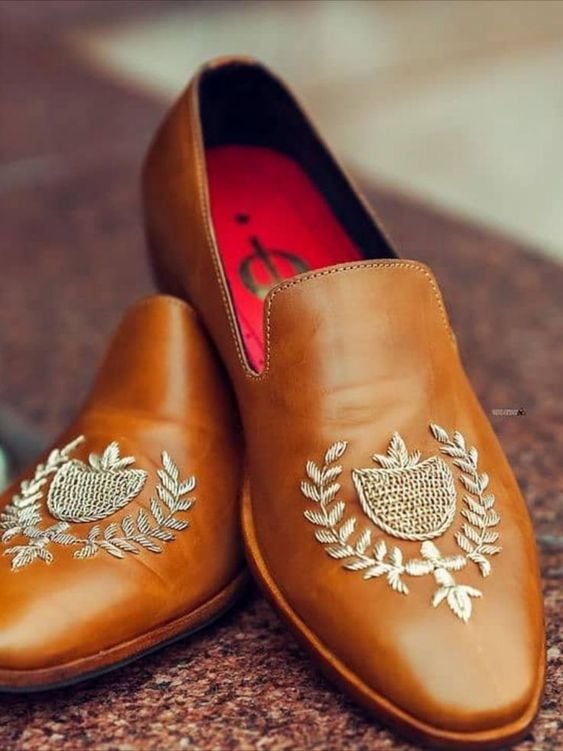 Jutti shoes for grooms are in right now! Juttis with detailed threadwork for a truly traditional and fashionable appearance. Elegant and expertly made, the double silhouette black pair is the epitome of style.
More Details: What Footwear on Mehndi- Explained
Haldi Celebration Cake Designs
Without a cake-cutting ceremony, a celebration isn't complete. Make your mehendi ceremony memorable with stunning and distinctive cake designs. The cake designs can be changed to suit your needs. Additionally, you can place an order and order cake designs online. Obtain mehendi-specific cakes by placing an order.
Make beautiful Mehendi Digital Invites
E-invitations are a great part of perfect Mehendi function decorations. So, you can create personalized e-invitations and send lovely mehendi ceremony invitations for free. To send invitations to a mehndi ceremony via WhatsApp, email, or another chat messenger, pick a design, edit it, and download the free templates. Create a guest list for the event and instantly send each guest an e-invitation to your mehndi ceremony. Guests are able to access your invitation through their emails and RSVPs. You can get a customised e-invite created as a customisation while booking your Mehndi Decor with CherishX. You can also use Canva or any other free website to make an e-invite.
Customized Mehendi Welcome Board
A Perfect mehndi function decoration also calls for a perfect Mehndi Welcome Board. Any home location or outdoor space would benefit from having a welcome board sign. A stunning welcome party board will beautifully greet your friends and family. These are also incredibly simple to hang; simply print them out or write them by hand on sturdy colored paper, then place them at the entrance or in the garden. You can add a beautiful Mehndi Ceremony 30*20 inches Welcome Board to welcome your guest at the venue while booking your Mehndi Decor with CherishX!
Planning a Mehendi Ceremony: Quick Tips
One of the most well-liked activities to incorporate into the mehndi ceremony and to make your Mehendi function decorations great is singing games, which is a surefire way to keep the guests entertained.
Any Indian ceremony will undoubtedly include dancing, but you can make it more entertaining by organizing a contest in which the attendees must move to the rhythm of the drums.
Nothing beats a food competition, particularly one that includes golgappas or sweets.
Simply ask your guests to create lovely flower garlands or decorations for another entertaining activity that you can create using only flowers.
Create a photo-taking area for your guests that includes a variety of frames, props, humorous signs, and lovely backdrops. Order mehendi decoration items from Amazon. You can even arrange for Polaroid cameras to capture those priceless moments for immediate printing. One of the popular Mehndi event suggestions that are available is this one.
Don't let the guest list get out of hand. Just stick with your near and dear ones.
Most people prefer to host Mehendi ceremonies at home, however you should choose an outdoor venue based on the expected guest count.
See more: 10 Best Poolside Wedding Venues in Delhi/NCR
Consider the allocated budget when making all of your plans. So, budget for everything on paper.
Ceremony logistics are very important. If you are holding the ceremony at a banquet, make sure you have all the necessary parking and transportation in place in advance.
Give family, friends, or hired professionals the task of making the arrangements. Work with a mehendi artist who can stick around for tattoo designs and additional henna for friends. A certified massage therapist can help you relax. If you want everyone's nails to be flawless, you can also hire a professional nail artist. Your decision is yours. However, the only required for your mehndi party is the mehndi artist. You can also plan out other Mehendi events with your friends.
Have you begun brainstorming ideas for your engaging and enjoyable mehndi function decoration? Please share your thoughts in the comments section.
FAQs
What type of celebration is a mehendi ceremony?
Traditionally, people plan the mehendi night the night before the wedding to reduce the bride's anxiety. They apply green mehendi paste to the bride's hands and feet, which contain the body's nerve endings, to help her relax.
What should I do at a mehendi ceremony?
A mehendi party is a fun evening filled with plenty of food, entertainment, and dancing. The bride would customarily have intricate henna designs painted on her hands and feet during the ceremony. Modern brides frequently choose to have a henna artist visit their residence before the actual mehendi party.