Want to know 6 Valentine's Day Gifts That Won't Break The Bank? Well you have landed on the right article!
Love is definitely in the air with the festival of romance- Valentines Day coming closer! Valentine's Day is not only about roses and chocolates. It's also about figuring out how to create memorable moments and meaningful celebrations. As a couple, this festival of romance gives the perfect time to do whatever makes you feel happy, romantic and of course, in love.
While clichéd heart-shaped chocolates or a bouquet of red roses make cute gifts, you might want to try something a little more one-of-a-kind and personalized. We've figured out ways to make your Valentine's Day gifts more exclusive, thoughtful and romantic.
So, if you want to try something different- without burning a hole in your pocket these options will surely leave your partner mesmerised and thrilled!

If you're looking for a creative and unique Valentine's Day gift for your partner, a curated memory frame is a great way to let the nostalgia kick in. A collection of your photographs decorated with cute strings in a charming wooden frame makes a memorable Valentine's Day gift. This one will truly be a unique gift full of cherishable memories that you'll both remember for years to come!
Our pro tip will be to add a romantic message on the frame along with the photographs. You could also add a cute element by writing the date, time and location where you would give this gift, behind the frame.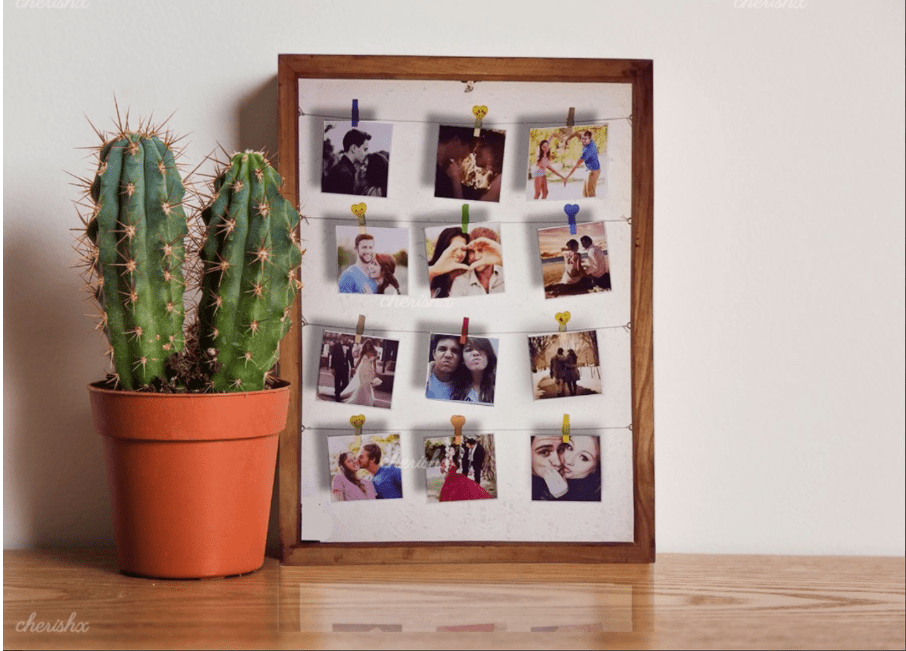 While balloons are classic when it comes to Valentine's Day gifting, personalised balloons are sure to be gifts that would add a great element of excitment to make your special someone feel extremely loved. Whether you're a pro or a newbie to the arena of love, this gift will spice up your Valentine's Day celebrations by adding an element of fun and surprise!
What makes for an even cuter experience, is the inclusion of your most cherished memories along with the personalised balloon. Whether you're taking your partner out for a romantic Valentine's Day date or celebrating at home, you could start your celebrations with this gift to make sure your partner feels extra special.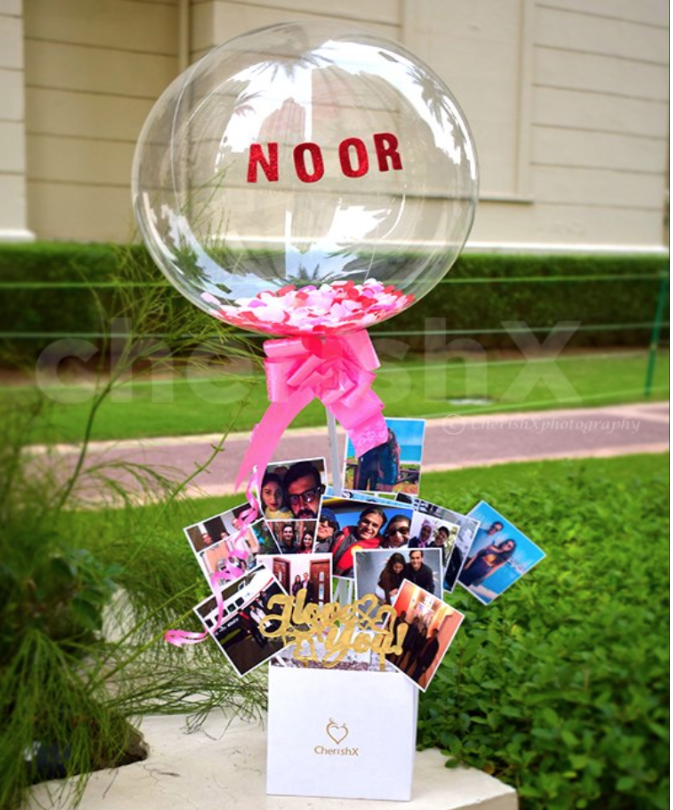 Valentine's Day Movie
This one will surely be the most heart touching Valentine's Day gift if you're looking to personalise things this year. Grab all your old photographs and videos and turn them into a Valentine's Day Romantic Movie. You just need to creatively arrange these into a video and include a background song that you both love. You could add cute captions and messages in the movie to make it extra special for your partner.
Our pro tip would be to screen this movie on a wide projector along with some candles and Valentine's Day decor to make the surprise even more romantic and memorable.
Tired of the typical, cheesy romantic Valentine's Day options that you find in the card store? To make your Valentine's Day grand and personalised we've found the perfect gift to say 'I Love You'.
This Valentine's Day gift is carefully curated to include an enormous amount of mini pictures to create a final picture for your romantic Valentine's Day gift. A great way to create this would be to include all of your fun, happy, serious and funny photographic memories of the past and generate your grand Valentine's Day gift from these cute memories of the past.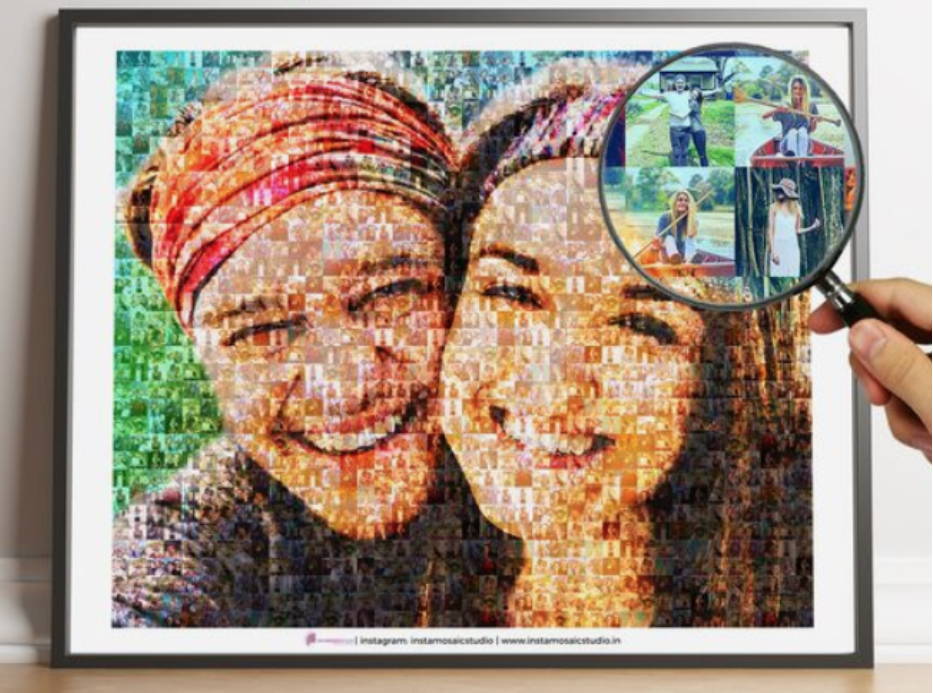 Ditch the boring Valentine's Day cards from the gift shop near you to create personalised wooden Valentine's Day Card. Just choose a photo you both love and it will be covered into an engraved greeting card. This one's the perfect gift to surprise your partner on the eve of Valentine's or even wake your partner up with this card.
If you're in a long-distance relationship or away from your partner valentine's sending your warmest wishes to your loved one with this card is the perfect way to melt your special someone's heart. A great addition to this gift would be a handwritten letter listing down 10 things you absolutely love and adore about your partner to make them feel extra special.
Put a smile on someone's face by leaving them stunned by personalised Valentine's day decor. This one's perfect if you want to spice up your V-day celebrations at home. Besides this, who doesn't love Valentine's Day decor? Surprise your partner with a Valentine's Special Balloon decor. Decorate the room with Valentine's day themed balloons along with some classic red and white balloons.
Light some candles and play some romantic music to set the mood for your Valentine's Day celebrations. To add the perfect personalized surprise element hang some cute handwritten messages and photographs to the balloons. Each balloon could either have a message or a photo attached to it to create your Valentine's Day surprise at home.
Make sure you start planning your big V-Day gift for your special someone so that you have time to make it extra special and personalised. Happy Valentines, lovers!
I hope you liked our article on 6 Valentine's Day Gifts That Won't Break The Bank, if you have any comments or suggestions do share them in the comments below.