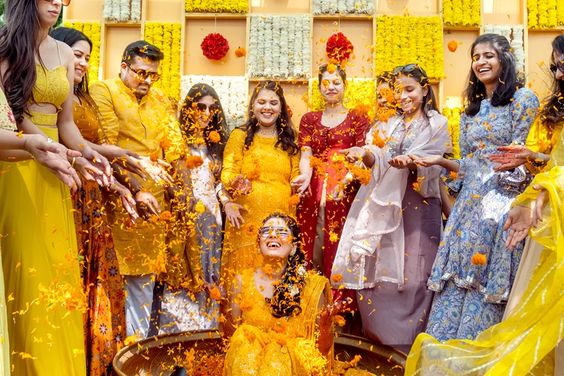 We all know that Indian weddings are loaded with festivities that go on for days. Among the most significant events of the wedding is the haldi ceremony. More often than not, it is the haldi day that begins the wedding celebrations. So, in this blog, you will get to know about the Haldi decoration ideas.
Haldi Decoration Ideas, Customs, & Rituals
Haldi Decoration Ideas – Play With Flowers
The Haldi ceremony, also known as the Pitti ceremony, is a common traditional ritual in which both the bride and groom are given turmeric baths. Turmeric (haldi), oil, and water are mixed together and applied to both the bride and groom by married women. The ceremony takes place on the morning of the wedding. This blend is considered to bless the couple before marriage. Regardless, the reason behind this tradition is to detox and bring a glow to your skin. So, one of the best Haldi decoration ideas is to start playing with marigolds. The Haldi is usually celebrated at home or in a small hall. Check out the beautiful Haldi decoration ideas at home and small setup ideas that can be drawn off on a budget.
Budget-Friendly and Stunning Haldi Decoration Ideas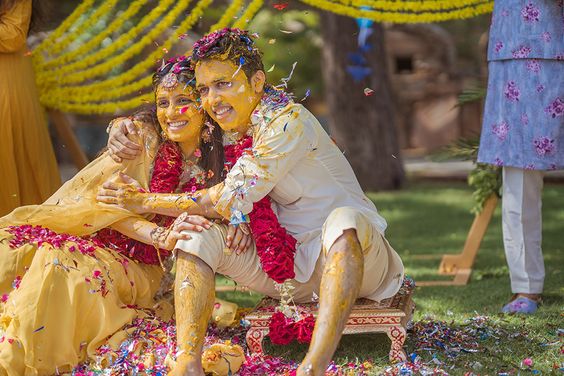 Haldi's function is all about wearing good haldi theme outfits, unique venue decorations, appealing invitations, pictures, and much more. Thus, we have shared the Haldi celebration guide, which you cannot skip at all.
Modern & Traditional Haldi Decoration Ideas & Trends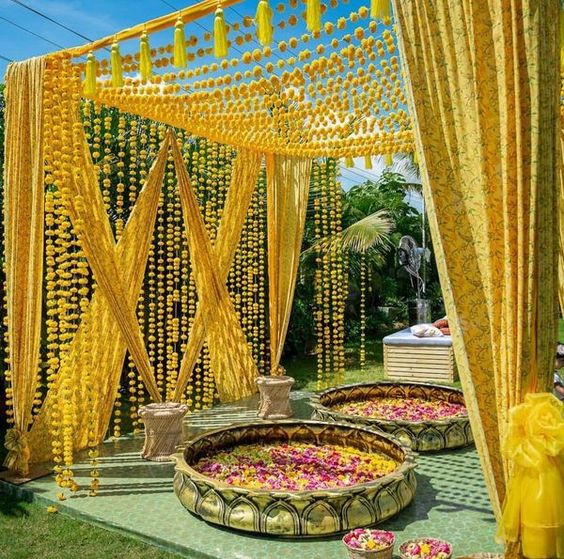 Having good haldi decoration is essential as pictures make it to the photo album and you don't want them to be not eye-catching. So, pick any of the top-notch haldi decorations from CherishX. Brass vessels filled with roses and marigold is one of the best Haldi decoration ideas.
Mandala and Flower Haldi Setup
Create an inviting atmosphere with this traditional mandala and flower haldi setup decoration. This decor has everything from vibrant colors to unique designs for mesmerizing moments. An increasingly popular trend includes mandala theme flex with flower arrangements, haldi MDF board, low seating sofas, and golden chowki. Also, to add charm it offers lotus brass pots, a table covered with garlands, white flower pots, small brass lamps, and lotus candle stands with cushions. The best part if that you can also install this Haldi backdrop at home. So, it's one of the pretty Haldi decoration ideas at home.
Boho Theme Mehendi and Haldi Decoration Ideas
Grab this outstanding and distinctive boho theme haldi decor that creates the perfect vibe and mood for the celebrations. An excellent background that includes bright pink and white textured backdrop with pampas grass and artificial flower bunches. It provides an earthy and natural vibe with a stylish and elegant look. The mirror balls are placed on the sides for an attractive look. Customization is available as per your requirements. This is one of the pretty Haldi decoration ideas that you can check out.
Elephant Theme Colorful Haldi Decor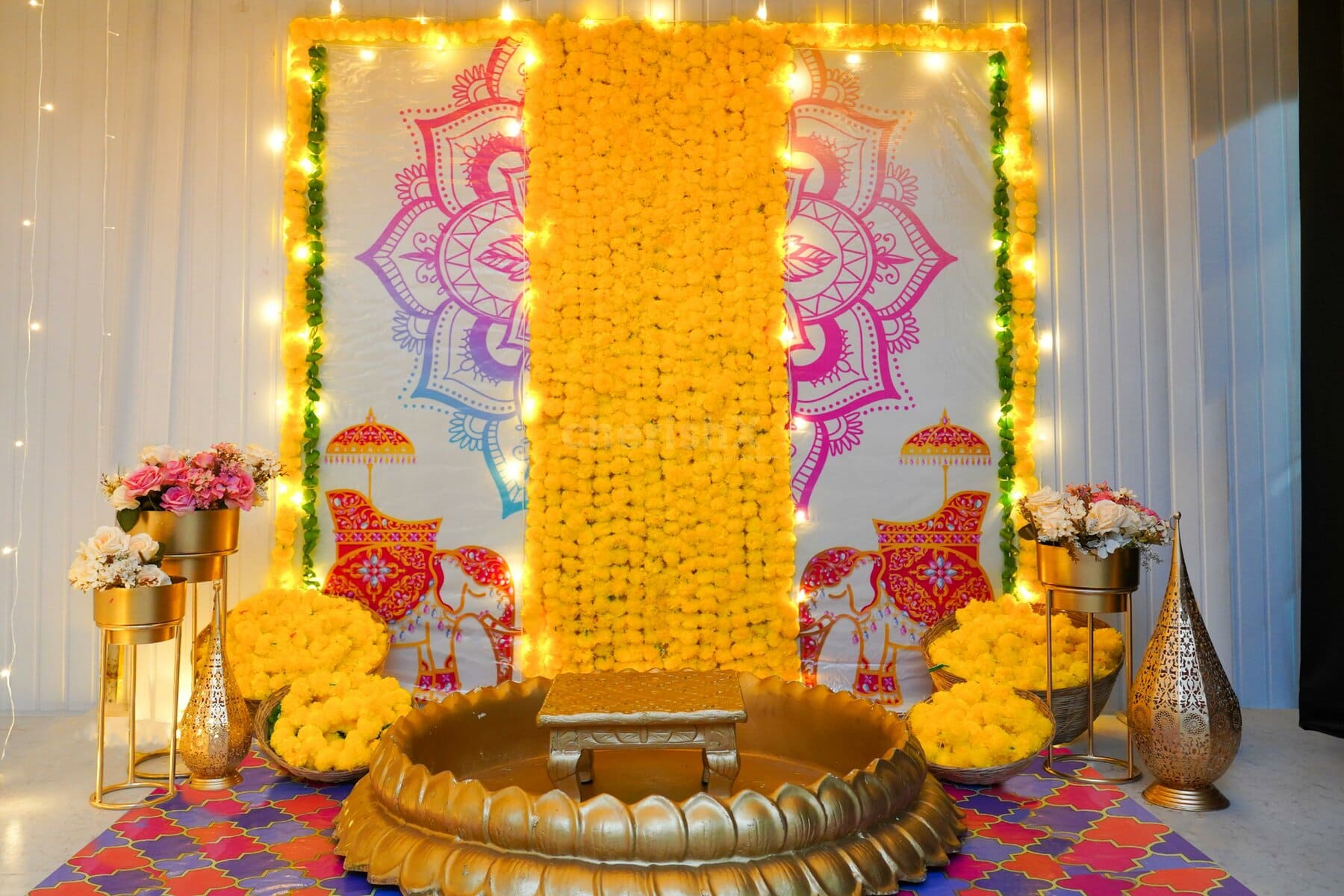 Make your guests relaxed and create a happy atmosphere with this colorful elephant theme colorful haldi decor. A perfect background of the mandala and elephant flex along with artificial yellow and green garlands and pixel lights. For a traditional look, we add cane baskets filled with garlands, golden pots filled with flower bunches, and brass lamps.
Floral Haldi Backdrop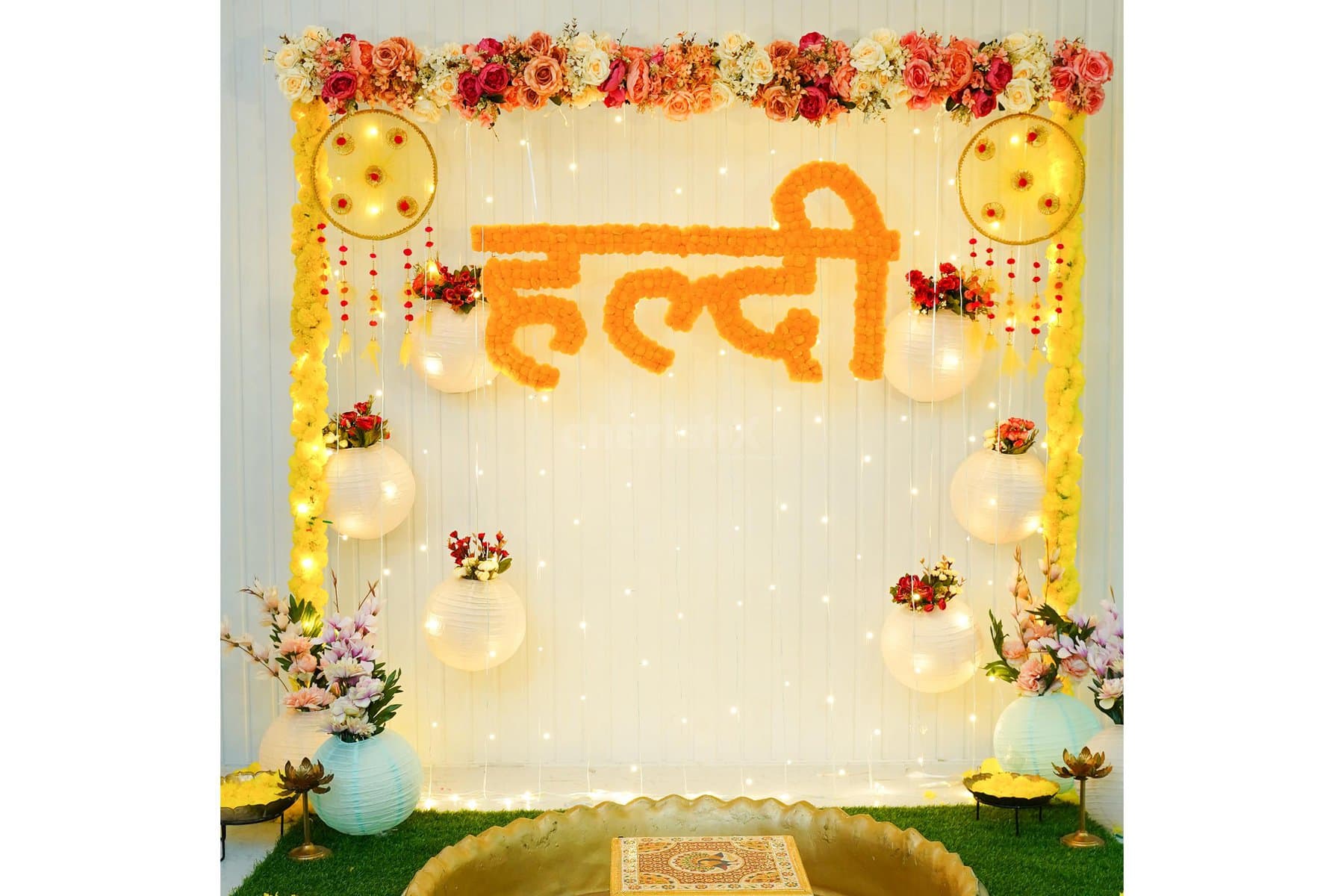 Modern times demand haldi celebration in a picturesque setting. It's one of the most vibrant and beautiful Haldi decoration ideas. Thus, you can opt for a floral haldi backdrop that includes a decorative arrangement of flowers, lanterns, lights, and more. A pleasing decor that will amaze all your guests, and you won't stop taking pictures of the decoration.
Colorful Hangings Backdrop For Haldi and Mehendi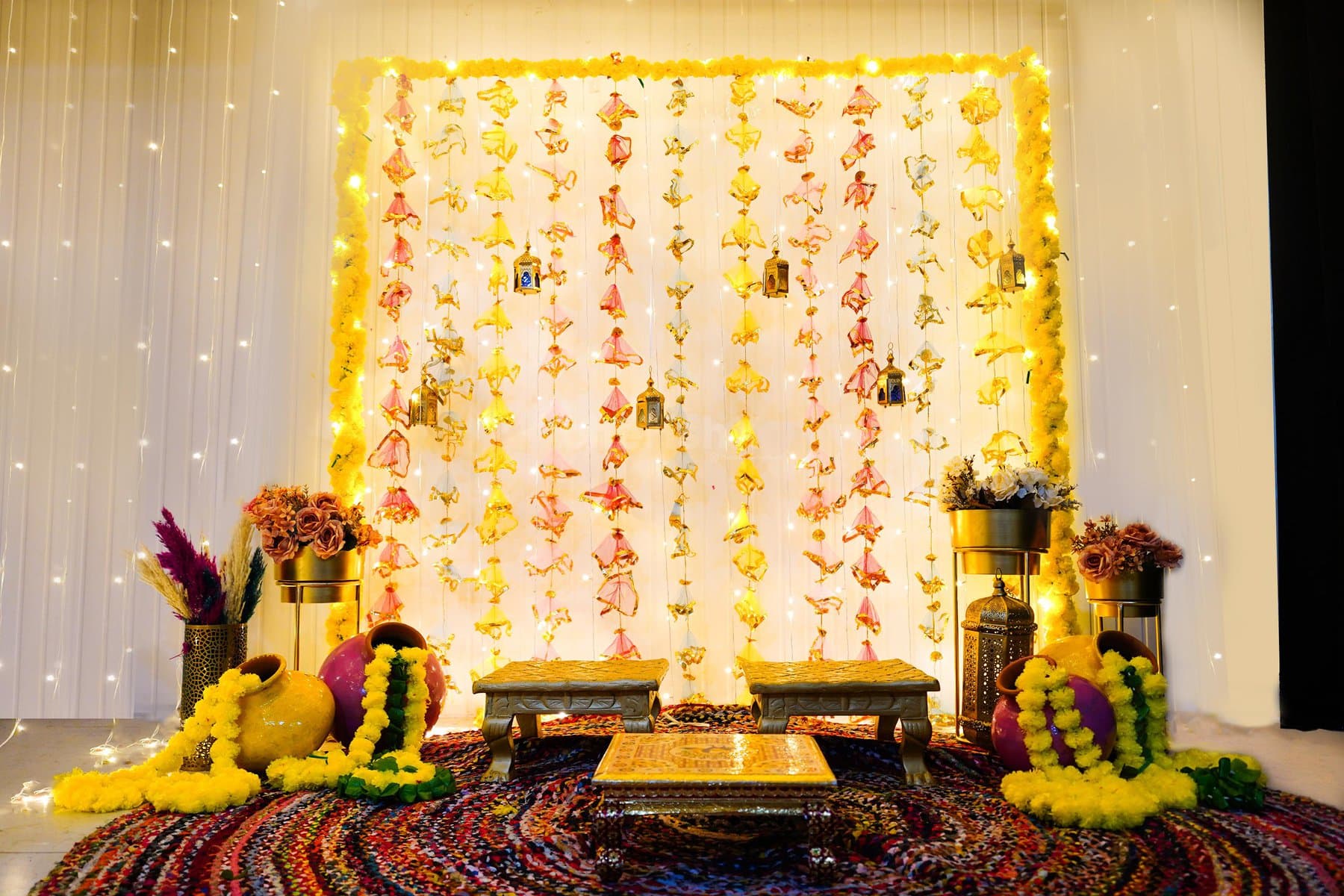 Pick this crazy and colorful hanging backdrop haldi decoration by CherishX. This setup includes a rectangle stand draped with artificial yellow garlands and pixel lights. Also, get multi-color hangings, small brass lamps, golden brass pots, a brass big lamp, and a colorful rug for flawless haldi photographs.
Pink and Yellow Haldi and Mehendi Flamingo Theme Decor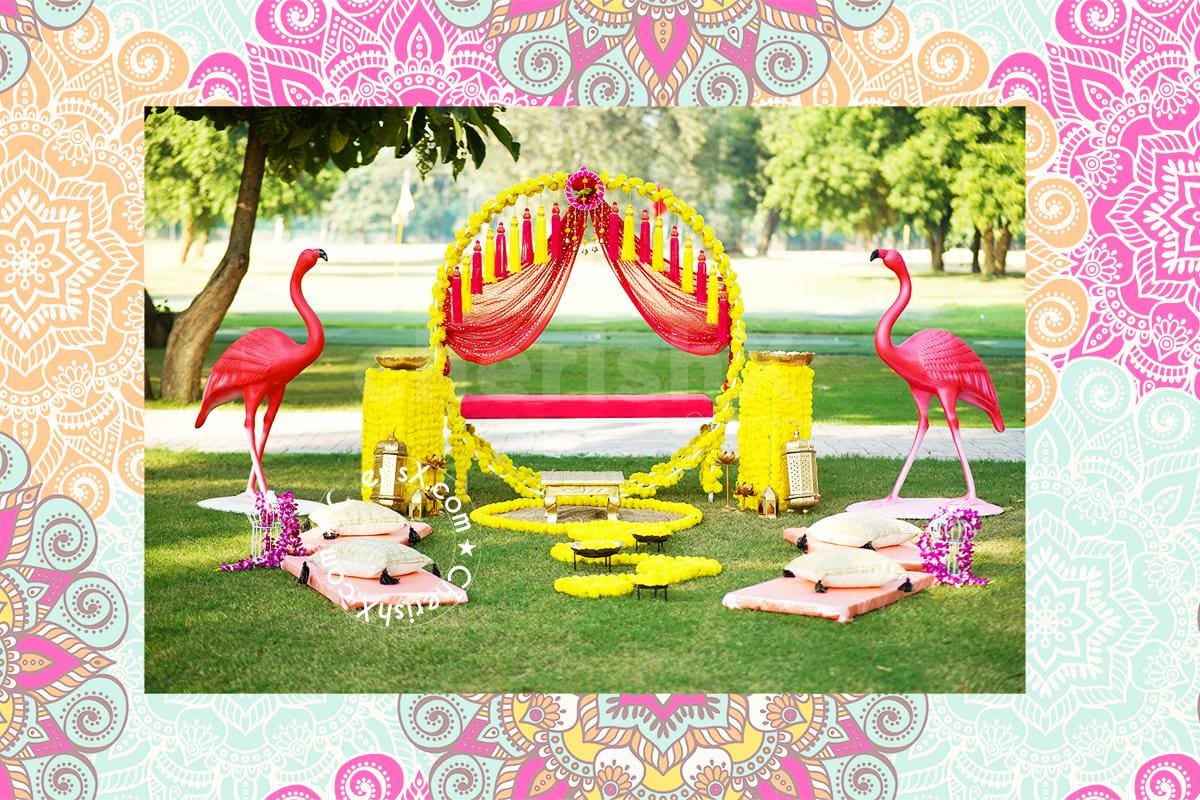 For a stylish modern touch-go for this pink and yellow haldi flamingo theme decor. This decor includes a haldi jhula decorated with artificial yellow garlands, pink fabric, pink and yellow tassels, and a parrot hanging in the center. Also, it entails a golden chowki, lotus brass pots, tables covered with garlands, flamingo statues, lotus candle stands, cushions, jute mats, and yellow garlands to form a pattern.
Check out our other haldi decorations trends ideas
Colorful Traditional Dress Inspiration for Haldi Ceremony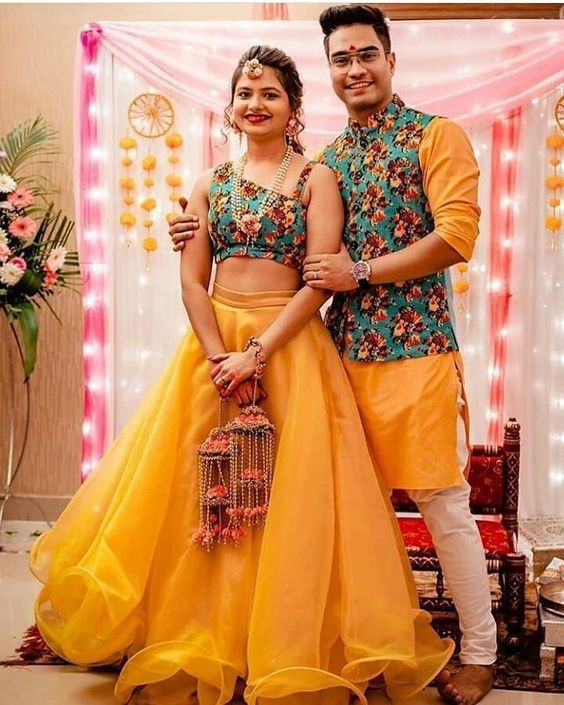 Everyone has their preference for what dress they want to wear at ceremonies. But if you say or request that everyone dress in colorful dresses, then it will be a bit more distinct, fun, and photogenic. For the bride and groom, stick with the yellow part only, and for guests, let them dress in colorful. For the bride, you can opt for a yellow saree, dress, or suit salwar with matching accessories. Moreover, for the groom- you can invest in a yellow kurta and white pajama set or a yellow western dress.  Use a suitable combination that should not look clumsy too. 
Decide your Haldi Ceremony Menu: Food and Drinks
Amidst all the Haldi decoration ideas, don't miss to finalize your menu. Although this function does not generally have a large meal or a buffet, you can go for non-alcoholic mocktails such as virgin Mimosas and spiced pumpkin juice, mango, and passionfruit coolers that will rejuvenate them in seconds! If you wish to incorporate some yellow-hued appetizers to delight your guests without running their appetites for lunch, then sweet corn chaat and Khandvi bites are also great ideas. For sweets- mini jalebis, lemon jello shots (devoid of alcohol), and even zesty lime macarons or traditional motichoor laddoos are perfect for brightening up this ceremony.
Haldi Theme Music and Entertainment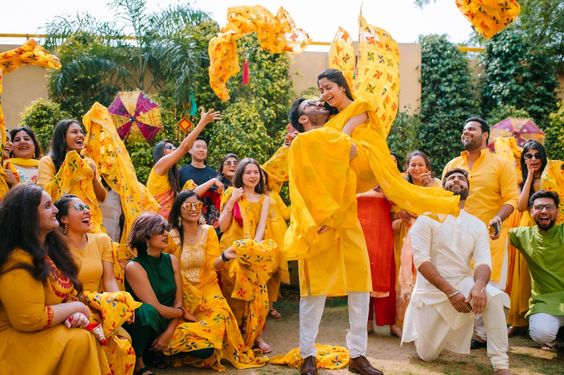 Include Bollywood songs and western ones too; make such an amazing playlist that everyone loves to dance to them. Take the finest songs from everywhere. Remember, it is about the beat guys that make you swing, and yeah, keep your elders in mind, even the oldies. Let everyone enjoy the Haldi ceremony. Some song suggestions are- "malang Sajna, nacche de saara, dil choori sada ho gaya, kala chasma, zingatt, abhi to party shuru hui, badtameez dil, pyar hota kahi baar. Besides, do not forget about the oldies, play some old Bollywood music for them to enjoy the haldi ceremony. Such as- aye mere zohra jabeen, maahi ve, badan per sitaare and like more.
Unique Activities for Haldi Celebrations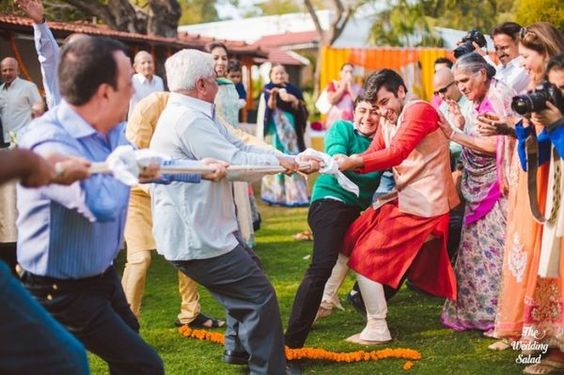 Make some fun and love games, keeping in mind both the bride and groom's families, including the bride and groom too. The games must be unique and cool. Go for musical chairs, and reveal some secrets about the bride and groom. You can play tug of war, dumb charades, pass the parcel, test your partner, and untie the knot. Test your partner is the ideal game for all the couples to express their love for each other. Include the bride and groom also in this game to augment the enjoyment.
Additional Favors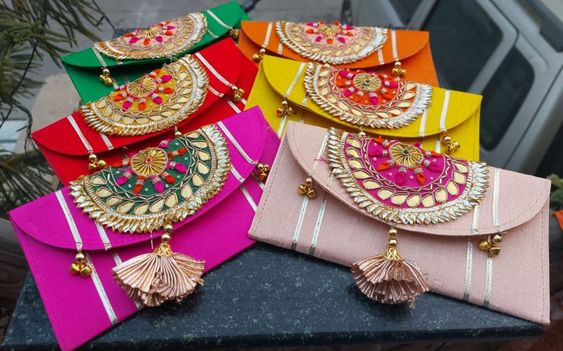 A simple and vibrant dupatta or small potli handbag for girls. For boys, you can opt for a classy dupatta or unique bracelet. Also, you can go for some creative, innovative gifts for your guests. Along with this, opt for some hand-crafted decoration pieces or invest in some lightweight crockery. Apart from this bedsheet is also a great option for gifting.
Unique and Stunning Venue Suggestions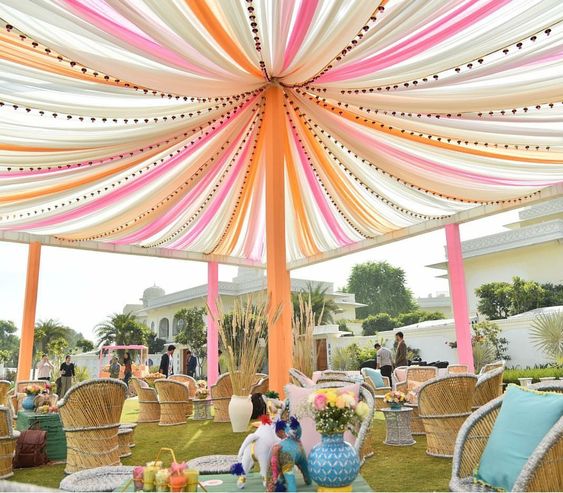 It is your Haldi ceremony; decorate your venue according to the colors you are wearing. Make it according to the Haldi theme. Be it outside or inside, do not forget the yellow and orange garlands, brass pots, and lamps. These add charm and a happy atmosphere to the ceremony. Besides, before choosing the venue, it is important to check certain things like hall size, decoration, lighting, and sitting space.
Photoshoot Ideas for Bride to Be & Groom To Be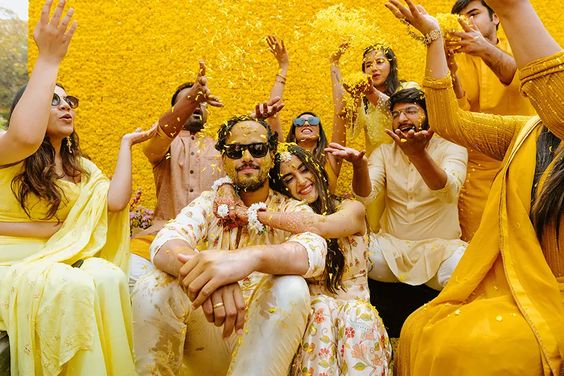 Haldi's pose looks stunning in pictures because it has yellow in it. And that is why it must be amazing and incredible. For that, take a variety of single pictures of the bride and groom with their respective families, friends, and relatives. Capturing the natural and fun moments of haldi is also essential.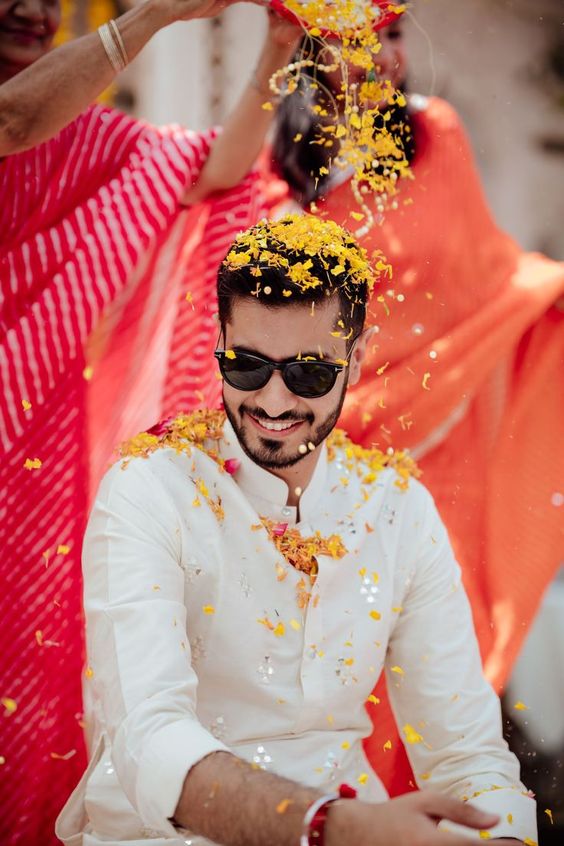 See more: Haldi Photography Ideas for your pre-wedding ceremonies
Haldi Celebration Footwear Selection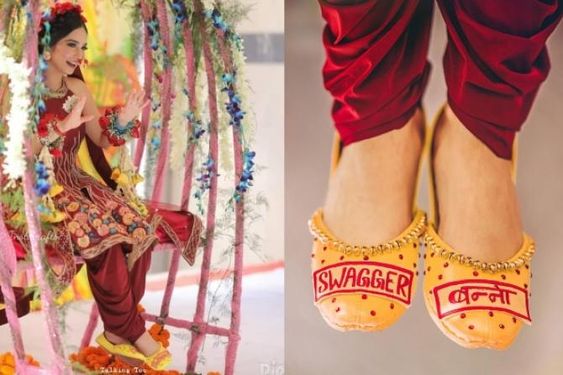 From head to toe, everything about the bride is exceptional. Whether it's the wedding lehenga or bridal footwear, it ought to be designed. You must decide on the ideal footwear for you to make sure you are relaxed in it and stand out from the crowd. From bizarre Kolapuri slippers and vibrant-colored Juttis to some refined heels and sleek sandals
For men, pick out some jutties or black/ brown sandals that match the outfit.
Don't Miss Out: 15 Quirky Bridal Footwear Options for Haldi Ceremony
Haldi Celebration Cake Designs
Any occasion is incomplete without a cake-cutting ceremony. Let's make your haldi ceremony special with beautiful and unique cake designs. Yellow will be the ideal choice for the haldi cake. You can customize the cake designs as per your demands. Also, you can order cake designs and place an order online. Place an order for haldi-customized cakes!.
Check out this Special Haldi Ceremony Cake from Yummy Cakes.
Trendy Haldi Digital Invites
Nowadays, most individuals choose digital invitation cards. Because it is suitable, people can efficiently send it to their guests. Create gorgeous Haldi invitation cards, videos, and GIFs online and make the ceremony more appealing. You can choose a traditional one, a digital floral one, a caricature style, or a kitschy or quirky one.
Don't worry, you can add it as additional customization while booking the Haldi Decoration from CherishX.
Haldi Welcome Board
Welcome board is also one of the important part of Haldi decoration ideas. A Haldi party feels incomplete without a fun-packed wedding board. Immersed in yellow, Decorated with jamandis or wrapped in party poppers, you choose! There is nothing more fun than putting up a haldi board. Lampshades, clay utensils, and agarbattis can be utilized in your prop arrangements to light up the Haldi board curation. You can easily order it in a tap as additional customization while booking the Haldi Decoration from CherishX.
Useful Tips for Planning a Haldi Ceremony
The Haldi is a private ritual where your family and loved ones bless you for your wedding day and married life ahead. So keep it that way. Here are some tips that you should keep in mind:
Keep the guest list under control. The bride, groom and their loved ones should be able to take in both the fun and sentimental aspects of the day, and they shouldn't mind getting a little messy.
Depending on the number of guests, choose an outdoor location, though the Haldi is frequently held at home.
See more: 10 Best Poolside Wedding Venues in Delhi/NCR
Yellow is the best color for daytime events, photos, and the mood of the day, but feel free to experiment when choosing your decorations, accessories, and color scheme.
Making a Haldi playlist Bollywood and Indipop songs can be added in any number. These will establish the mood for the event and heighten its playful atmosphere.
Keep it light and focus on beverages with the Haldi menu
Your elders should be given responsibility for organizing the customary ceremonies because they are the most knowledgeable about family traditions.
Plan the ceremonies to take up the first half of the event, leaving plenty of time for dancing, entertainment, and music to follow.
Consult your makeup artist about the amount of Haldi application that is acceptable for your wedding makeup.
Plan everything keeping the assigned budget in mind. For that, it is recommended to write down the budget for everything.
Logistics play a crucial role in ceremonies. Check-in advance all the parking requirements and transportation if you are hosting the ceremony in some banquet.
The Haldi ceremony is one of the most eagerly anticipated pre-wedding rituals because it promises an unending riot of joy and laughter. Have you not been waiting your entire life to attend your haldi ceremony so you could cover her in the turmeric paste? Certainly have! Use these fantastic Haldi decoration ideas and suggestions as inspiration to improve the quality of your work. We assure you that it will be a ceremony that none of your guests will soon forget. Break the rules and enjoy yourself!
Have you started writing down ideas for your exciting and fun Haldi ceremony? Feel free to comment below with your ideas.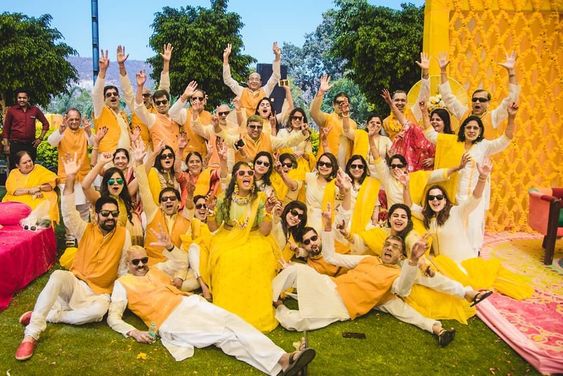 FAQs
What cost-effective ways are there to manage haldi decoration at home?
By using some fresh flowers, such as marigolds and jasmine, and brightly colored drapes, you can create easy and affordable haldi decorations at home.
Which way should we construct the stage for the haldi decoration?
According to Vastu Shastra, the bride, and groom should be facing east when they are seated in front of the haldi decoration stage.
What color is preferred in haldi decoration ideas?
Yellow, orange, and green are the ideal colors for haldi decoration ideas. However, if white or pink better fits your overall theme, you can make those selections as well.