If you're looking for the best Diwali outfit ideas in 2023, then you're at the right place. The festival of lights, Diwali, is just around the corner, and it's time to light up not only your homes with best Diwali decorations, but also your wardrobe with stunning ethnic ensembles. Diwali is the perfect occasion to showcase your fashion flair, and with a myriad of outfit options available, you'll be spoilt for choice. In this blog, we're presenting over 30 trending Diwali dresses ideas that will make you fall in love with traditional Indian fashion.
Diwali Dress Ideas 2023
Make sure to look your best this Diwali. With these Diwali outfit ideas 2023, you can mismatch an outfit or even choose from these only and don't forget to click your pictures!
1) Lilac Sharara Diwali Dress 2023
Let's kick off our list with a breathtaking lilac sharara dress that's perfect for Diwali. This is one of the Diwali outfit ideas that feature silver borders with delicate silver ribbons that add a touch of elegance and charm. The lilac color exudes a soothing vibe, making it a great choice for the festival of lights. This ensemble is a harmonious blend of contemporary design and traditional aesthetics, ensuring you'll shine brightly during the festivities.
2) Plain Festive Gown With Work On Chest
If you prefer something simple yet stunning, consider a plain yellow-colored trending Diwali outfit with intricate work on the chest area. The contrast between the plain yellow fabric and the dazzling chest embroidery creates a captivating look. It's one of the beautiful Diwali dresses ideas that is the perfect blend of minimalism and elegance that will make you stand out in the crowd.
3) Sharara Cum Suit
For those who love vibrant colors, a green and orange sharara cum suit set is a splendid choice for Diwali. The contrasting hues of green and orange radiate energy and festive spirit. The sharara style offers comfort and style, making it a popular pick for the celebrations. It's one of the beautiful Diwali dresses 2023 which you can consider!
4) Blouse With Choli
Yellow is a color that instantly uplifts your spirits and this color and style is one of the perfect diwali dress ideas. A yellow lehenga blouse with charming flower sleeves and an orange choli creates a cheerful and lively look. The color combination is delightful, and the design is a fusion of tradition and contemporary style. This is the most trending Diwali outfit to consider in 2023.
5) Indo-Western Festive Outfit
If you want to break free from traditional norms, consider an Indo-Western festive outfit. This ensemble features a stunning green crop top paired with flowy pants and a trendy jacket. The breezy silhouettes and the rich festive color combination create a perfect ethnic vibe.
Suggested Read: 9 Navratri Outfits Ideas Coordinated with the 9 Theme Colors
6) Ethnic Top Pant Set With Embroidery Work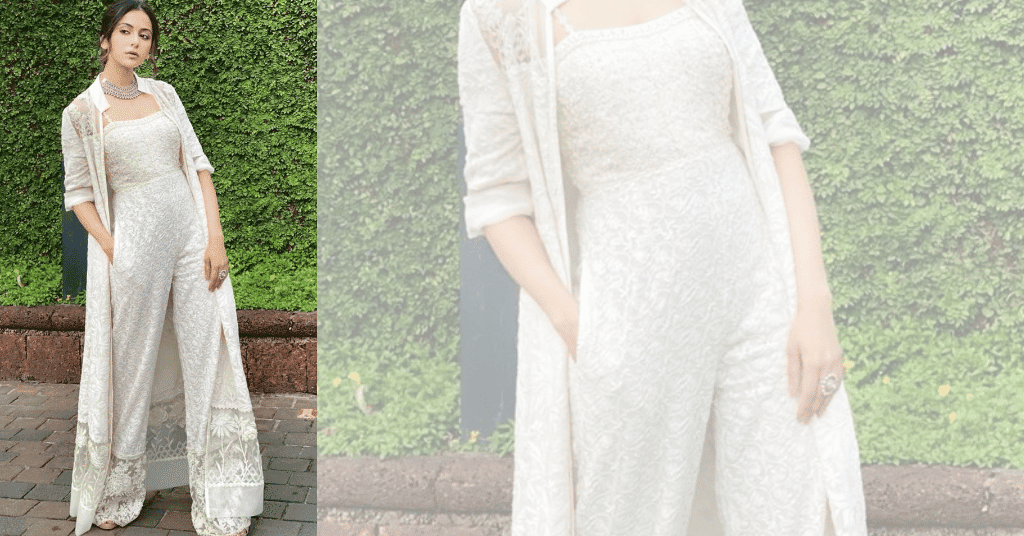 It's an another trending Diwali outfit to consider if you want to wear nude shades this Diwali 2023. For those who prefer a jumpsuit-style look for Diwali, an ethnic top pant set with white embroidery work is a fantastic choice. The white color stands out in a sea of vibrant hues, giving you a unique and elegant appearance. Also, it's one of the most beautiful and traditional Diwali outfit ideas.
 7) Chaniya Choli Diwali Dressing Style
A Chaniya Choli is a classic choice for Diwali. Also here's one of the Diwali fashion tips for you – If you don't want to buy a new set, you can easily pair your crop top with a Chaniya in a complementary color. Accessorize to complete your festive look. So, here's your perfect traditional Diwali outift!
8) Anarkali Kurti Suit With Pants
Pink is a timeless and evergreen choice for Diwali. An Anarkali Kurti suit in pink, paired with a chuni, exudes grace and beauty. It's a traditional yet one of the fashionable diwali dress ideas that's perfect to wear. Moreover, you can also choose to wear this for any festive occasion.
9) Olive Green Anarkali Gown
For those who adore suits, an olive green Anarkali gown with subtle prints is a simple and elegant choice. The flowy design adds a touch of sophistication to your Diwali look. So, if you're looking for subtle and graceful Diwali dress colour then olive green is your color this time.
10) Indo-Western Festive Set – Trending Diwali Outfit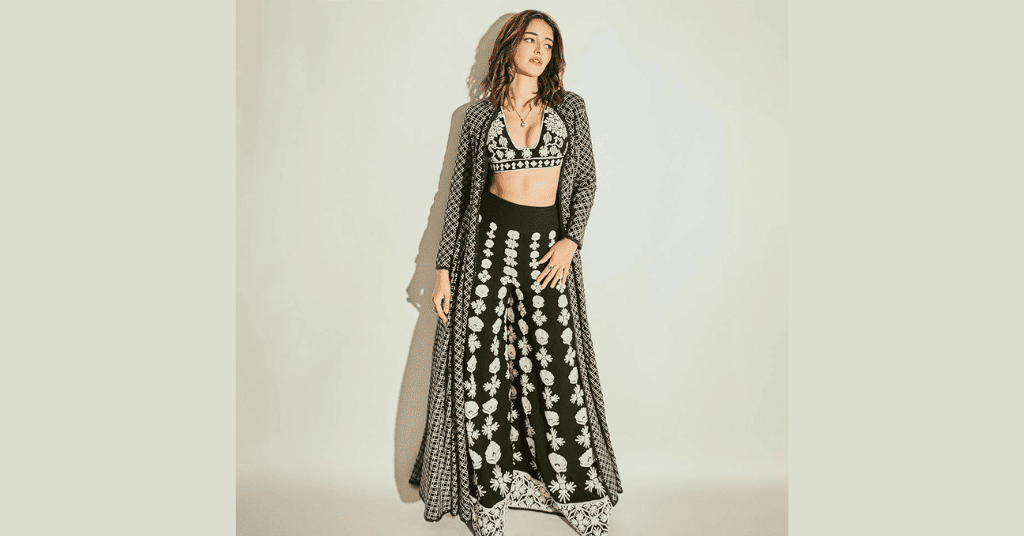 If you're a fan of black and desire a distinctive appearance, consider one of the Diwali outfit ideas inspired by Ananya Pandey. This starry look includes a crop top blouse, flowy pants, and a long jacket with exquisite embroidery. It's a showstopper that will leave everyone in awe.
 11) Festive Lehenga – Diwali Trending Dress 2023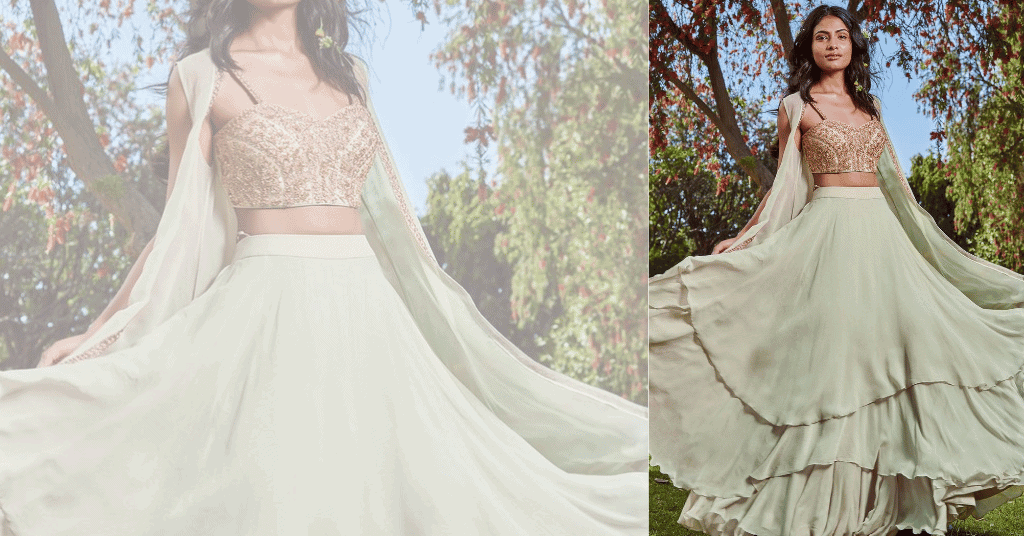 Light green is a refreshing choice for Diwali. A beautifully crafted lehenga with a heavily worked blouse and a flowy choli with add-on sleeves creates an enchanting and pretty look. It's a fusion of tradition and style. It's one of the unique and sexy Diwali outfit ideas 2023.
Suggested Read: Top 12 Diwali Decoration Items For A Festive Makeover At Home
 12) Printed Shararas – New Diwali Dress Ideas 2023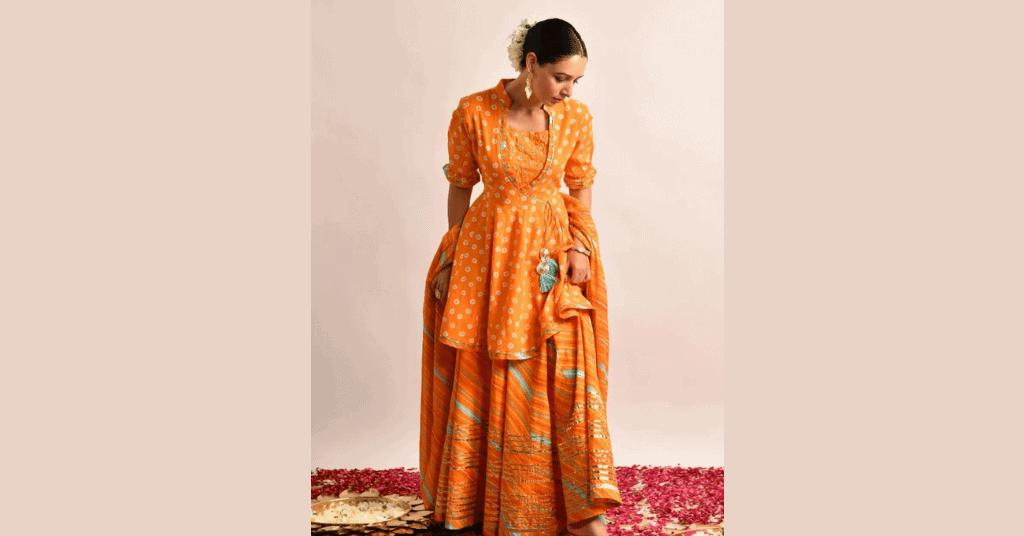 If you're looking for outfit ideas for Diwali, then you must know that Shararas and ghararas never go out of style. Moreover, they are timeless Diwali outfit ideas. Pair them with a bun adorned with gajra and heavy jhumkas to achieve a beautiful and enchanting look that's perfect for Diwali.
13) Diwali Dress Up With Saree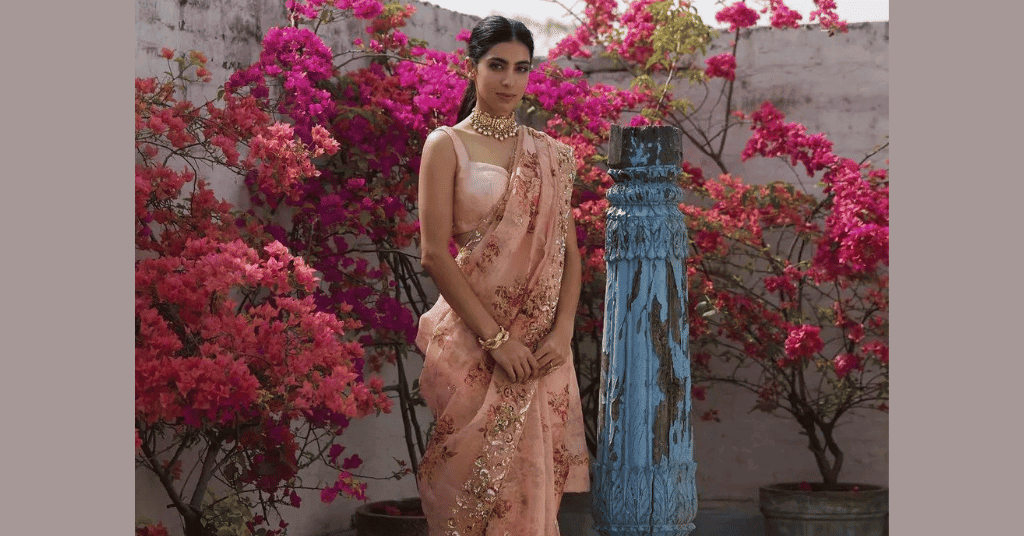 A saree is timeless and never goes out of style. So, this Diwali 2023, go with perfect Saree Diwali dress up. If you have a love for sarees, opt for a sober and elegant pink peach saree with glitzy borders. It's a classic choice that will always be in vogue.
14) Printed Turtle Neck Kurti – Diwali Outfit Ideas For Girl 2023
For an elegant, comfortable, and stylish look, consider a kurti with pants that feature intricate prints. This outfit offers both comfort and style for your Diwali celebrations. It's also one of the most stylish and elegant Diwali outfit ideas to consider.
 15) V Neck Long Kurti –
Kurtis are always a beautiful choice and one of the perfect Diwali dresses ideas. Get one stitched before Diwali with borders on the neck and cuffs for a simple yet elegant appearance that's perfect for the festivities. It's for sure a trending Diwali outfit for women to consider this Diwali 2023!
A Red Saree For Diwali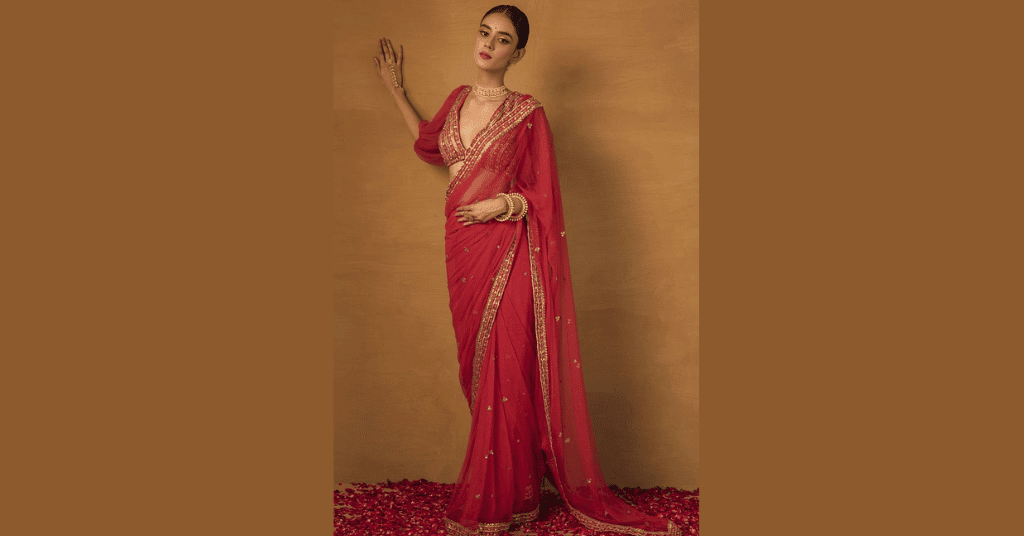 Image Credits: Pop-Up Shop
If you have an affinity for the color red because of its vibrant charm and wish to flaunt it this Diwali, then feast your eyes on this exquisitely beautiful red saree. Also, it's one of the sophisticated diwali look ideas. You have the option to have it tailored to your exact specifications, even allowing you to personalize the blouse according to your preferences. A red saree is hottest and one of the best Diwali dress ideas for you to check out!
Long Silk Kurti For Diwali
Image Credits: Malaika's Instagram
Are you looking for elegant Diwali dress ideas for womens? For those who want to forgo the conventional silk sarees this Diwali, let's take a moment to admire this stunning customized silk long kurti. It's truly magnificent. If you're not in the mood for a saree, this red silk kurti exudes a traditional and aesthetic appeal that's simply beautiful. So, if you go with this elegant outfit for Diwali, you will look dope.
Plain Cream Suit With A Vibrant Dupatta – A Trending Diwali Outfit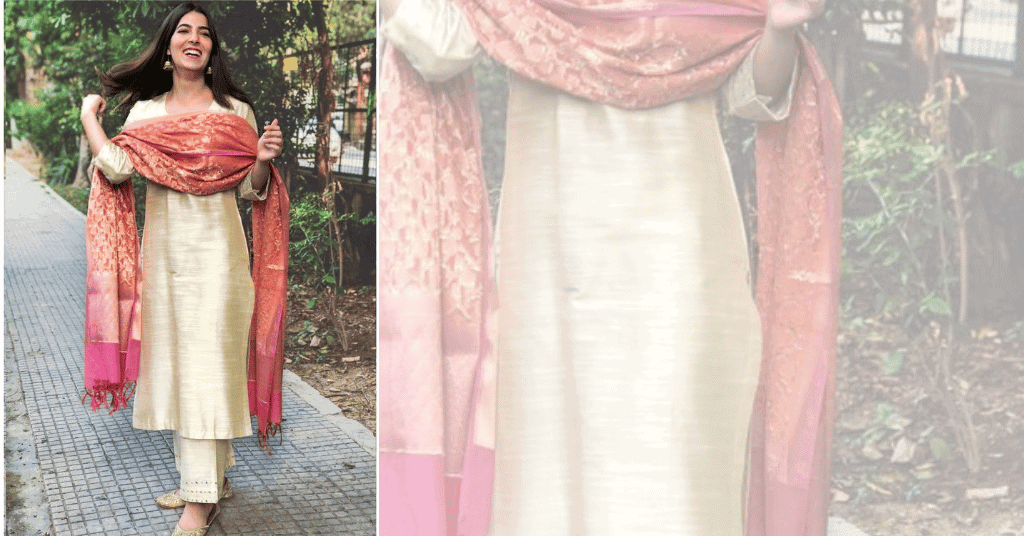 Image Credits: Myshopprime
If your style leans toward understated elegance, consider this beautiful silk suit paired with a vibrantly red dupatta. Moreover, it's surely a trending dress for Diwali! This combination presents a look of sheer sophistication and beauty. This is also a perfect Diwali outfit for office. Isn't it? So, get this elegant outfit for Diwali. Moreover, you can also wear this for an office Diwali party or during Laxmi pooja.
Kurti Sharara For Diwali Outfit Ideas 2023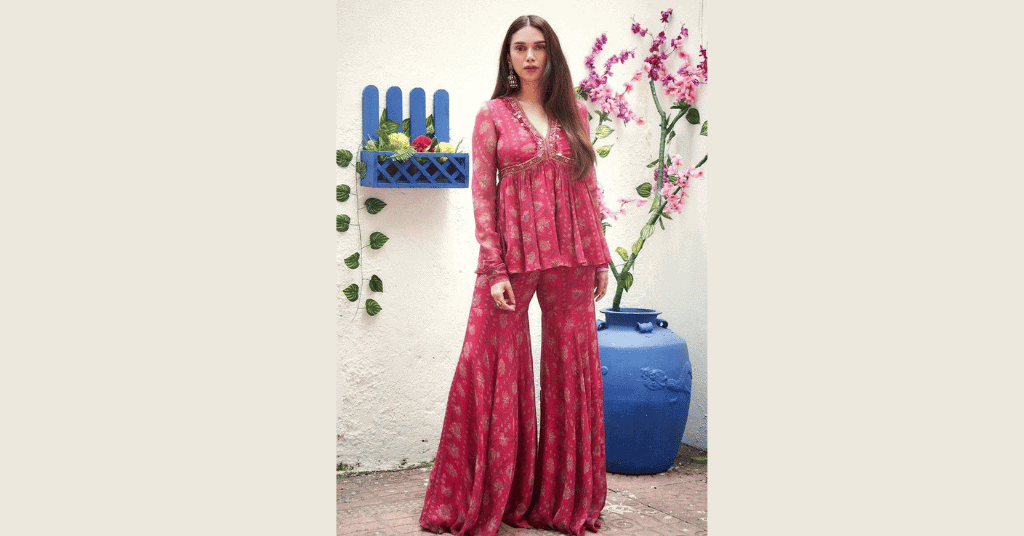 Image Credits: Pinterest
For all the pink enthusiasts out there, this pink kurta Sharara makes for a delightful Diwali outfit choice that's bound to win your heart. This is also a trending dress for Diwali! The dress showcases a flowing silhouette that exudes elegance and grace. If you really want to wear a Sharara this year, then this is actually one of the beautiful Diwali dresses for women. Isn't this one of the pretty Diwali look ideas?
Sharara Set In Purple – Best Indian Apparel for Diwali.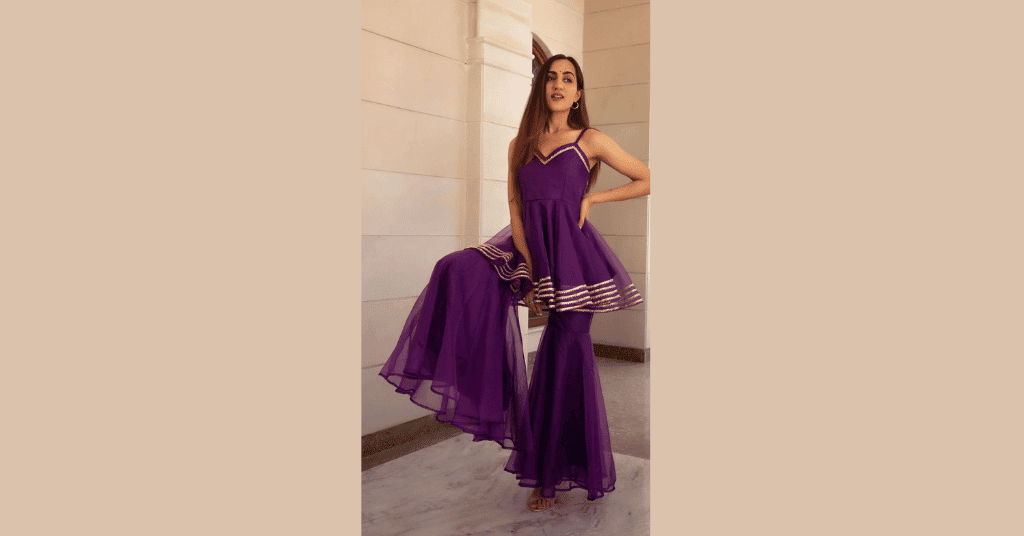 Image Credits: Pinterest
Now, for this unembellished purple sharara set with gracefully flowing pants – it's simply awesome. This ensemble epitomizes simplicity and chic style, making it a fantastic addition to your Diwali wardrobe. Also, this color is in this year and one of the beautiful Diwali dress ideas.
Dhoti Kurta Diwali Dress 2023
Credits: Myntra, Libas
If you want to go with a comfortable and bold look this Diwali, then plan on with this dhoti Kurti outfit. It's the amalgamation of Indo Western blend that looks bomb for a Diwali party at home or even during the pooja.
Suggested Read: 15 Unique Diwali Office Party Ideas- Decorations, Games, Activities, Culinary
Conclusion
With these 15 Diwali outfit ideas, you'll be all set to dazzle during the festival of lights. After adorning your house with Diwali decorations, it's time to plan our the Diwali dress up 2023. Whether you prefer traditional, modern, or fusion looks, there's something for everyone in this list of Diwali fashion trends. So, get ready to celebrate Diwali in style and make it a fashionable affair to remember with these Diwali dress ideas. Moreover, with these outfit ideas for Diwali, You can also get them stitched if you can't find them online. So, these were the pretty styles of Diwali dresses this season 2023! Go Book it as Diwali is just around the corner! Also, tell us in the comments that which traditional or modern Diwali outfit ideas you loved the most!
Do You Want To Check Out The Best Diwali Decorations? If so, then
FAQs
How Should I Dress For Diwali 2023?
Dressing for Diwali is all about embracing the festive spirit while showcasing your personal style. Traditional Indian attire like sarees, lehengas, or Anarkali suits is always a safe bet attire for Diwali. For a modern twist, consider Indo-Western outfits or fusion ensembles. The key is to choose vibrant and colorful outfits that reflect the joy of the festival. Accessorize with statement jewelry, and don't forget to complete your look with a radiant smile. However, check out the Diwali outfit ideas above to get more inspiration for the Diwali dress ideas.
How Can I Look Good in Diwali?
To look your best during Diwali, focus on Diwali dress colour that complement your body type and skin tone. Choose colors that make you feel confident and bring out your natural beauty. Ensure that your attire is well-fitted and comfortable. Accessorize thoughtfully with traditional jewelry, and pay attention to hair and makeup. The most important element is to carry yourself with confidence and a positive attitude; that's the ultimate key to looking good. Also, explore above and choose the best traditional attire for Diwali.
What is Diwali Fashion 2023?
Diwali fashion in 2023 is all about embracing the rich and vibrant colors of the festive season. Traditional Indian attire for Diwali is still very much in vogue, with a focus on intricate embroidery and beautiful fabrics. Indo-Western fusion outfits are gaining popularity, offering a contemporary twist to traditional wear. Expect to see a mix of classic and modern attire for Diwali, with a strong emphasis on comfort and elegance.
Which Colour Suits for Diwali?
Diwali is a festival of lights and colors, so bright and vibrant hues are the best choices. Some traditional favorites include red, maroon, deep blue, green, and bright pink. Gold and silver are also popular for their association with prosperity and wealth. Ultimately, the color that suits you best and makes you feel confident is the right choice for your Diwali outfit.
Which Dress is Best for Diwali for Girls?
The best Diwali dresses ideas for girls varies according to personal style. Moreover, young girls can opt for colorful lehengas or frocks with intricate embroidery. Teenagers might prefer Indo-Western outfits with crop tops and skirts. Women can choose from a wide range of options, including sarees, Anarkali suits, or gowns. The key is to select an outfit that aligns with your style and makes you feel comfortable and confident. Don't forget to accessorize with traditional jewelry to complete the look.