Are you hunting for the best budget-friendly party theme ideas to host an extraordinary party? Throwing a party doesn't have to break the bank! Isn't it? You can host a memorable celebration without spending a fortune.
In 2023, budget-friendly party themes are becoming more popular than ever, as people look for ways to entertain guests without overspending. From fun and festive decorations to creative food and drink ideas, there are countless ways to plan a party that's both enjoyable and affordable. So, if you're looking for some inspiration for your next event, then check out these budget-friendly party theme ideas of 2023 that are sure to impress your guests and make your day memorable!
For any party's needs and preferences, we have a solution. You can find something here for any event, be it birthday party ideas, bachelorette party ideas, retirement party ideas, anniversary parties, and so much more.
Importance Of The Party Theme Ideas
Party themes are an essential aspect of any occasion. Due to corporate or domestic stress, life is already in the blues. But occasions are the perfect excuse to add some confetti and mirth to the atmosphere that can be enjoyed by you and your nearest pals. Moreover, party themes create excitement and unforgettable memories for life. Moreover, party theme ideas can also help guide the planning process, from decorations to menu items, themes can create a cohesive event. Whether you're hosting a birthday party, bridal shower, or holiday gathering, choosing the right party theme can take your event to the next level.
Purpose of the Blog
The purpose of this blog is to provide readers with budget-friendly party theme ideas. Planning a party can be an expensive endeavour, and it's easy to get caught up in the excitement and overspend. This blog will provide readers with multiple ideas for party themes that can be executed on a budget. Each theme will be accompanied by tips and suggestions for decor, food, drinks, and entertainment.
Find Creative Party Theme Ideas for Your Special Celebrations
Hawaiian Theme Party
If you're looking for a party theme that brings a touch of the tropics to your event, a Hawaii theme party decoration might be just what you need. This fun and festive theme is perfect for a summer gathering with tropical balloons, wines, and flowers. With the brightest of hues, you can get the Hawaiian party theme touch at home or on your terrace. It's one of the most-loved party theme ideas by adults for their birthday and bachelorette parties.
Image credits: The Spruce
Decorations: For birthday decoration at home, you can hang string lights for an evening party and use DIY decorations like paper flowers, plants, balloons, and cardboard surfboards to add a fun tropical touch without breaking the bank. For the Hawaiian theme, if you will stick to the more natural backdrop, then it will look more captivating for sure.
Image credits: Printable crush
Food and Drinks: Embrace the Hawaiian culture with food like poke bowls, grilled pineapples, coconut shrimp, mushrooms, and more. For drinks, you can prepare tropical fruit smoothies or juice rather than expensive pina coladas. You can also ask guests to bring a dish to share to create a potluck-style tropical feast. You can also fill a glass jar with fresh juice. Rather than alcoholic drinks, you can cut on the budget and prefer keeping fresh juices.
Image credits: The Spotlight
Entertainment: You can simply play some Hawaiian-inspired music and encourage guests to dance the night away. A photo booth with props like grass skirts, leis, and sunglasses can add to the festive atmosphere.
Suggested Read: Trending Barbie Theme Party Ideas for your Daughter's Surprise Birthday Party
Casino Theme Party
A casino theme party is a great way to bring the excitement of Las Vegas to your event. This theme is perfect for a birthday party, bachelorette party, or even a corporate event. The jolly atmosphere and fervour of playing cards with your pals is just the next level of joy. It's one of the great party theme ideas for spending a great evening. Also, if you're hosting a Diwali party, then it's one of the best theme party ideas.
Image credits: funjoin
Decorations: For birthday decoration at home, you can simply create a likewise casino-themed backdrop. Apart from that, you ask any one of your friends to come up with a casino game and cards as well. Hang up black and red streamers and balloons to create a casino-like atmosphere. The shimmery sequins, balloons, neon lights, and card cutouts will create a casino theme.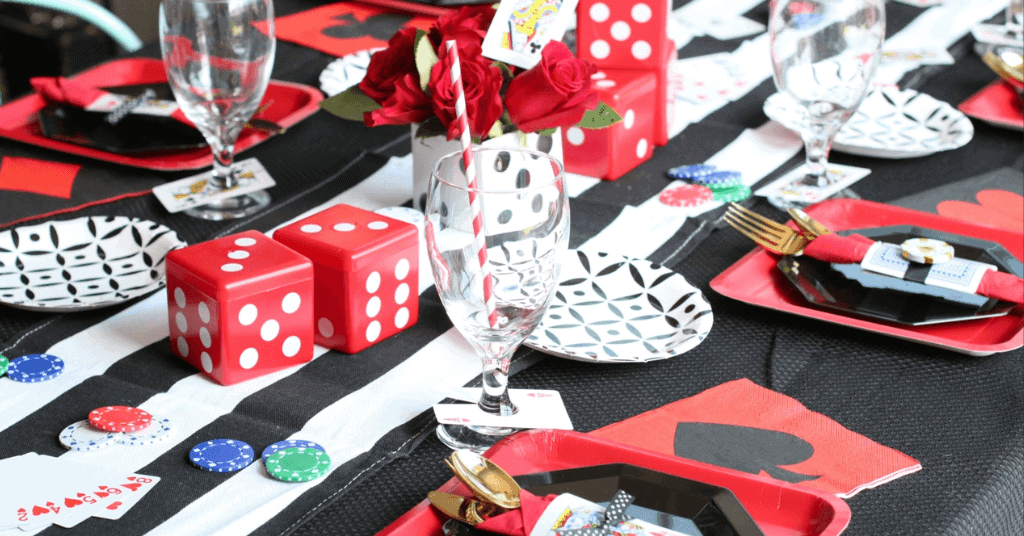 Image credits: Fun365
Food and Drinks: Serve up some classic casino-inspired food like sliders, cup cakes, burgers, chips and dip, and hot dogs. For drinks, you can serve beer and wine. A dessert table with themed treats like dice-shaped cookies or chocolate can add to the festive atmosphere. An added tip for this is to keep it a snack party. You can enjoy playing with cards and enjoy drinks and music.
Image credits: Greenvelope
Entertainment: Set up classic casino games like blackjack, roulette, and poker. If any of your friends have a poker game, ask them to bring it with them. Moreover, it's great to invest in this game. So, you can cut on some budget for the decorations but do have this game for the party to add a flair of fun and joy.
Suggested Read: Awesome Ideas to throw a House Party for any occasion
Classy Black & White Party Theme
If you're looking for a party theme that exudes elegance and sophistication, a black-and-white party might be the perfect choice. This classic theme is versatile and can be tailored to fit any occasion, from a formal dinner party, or bachelorette party to a birthday celebration.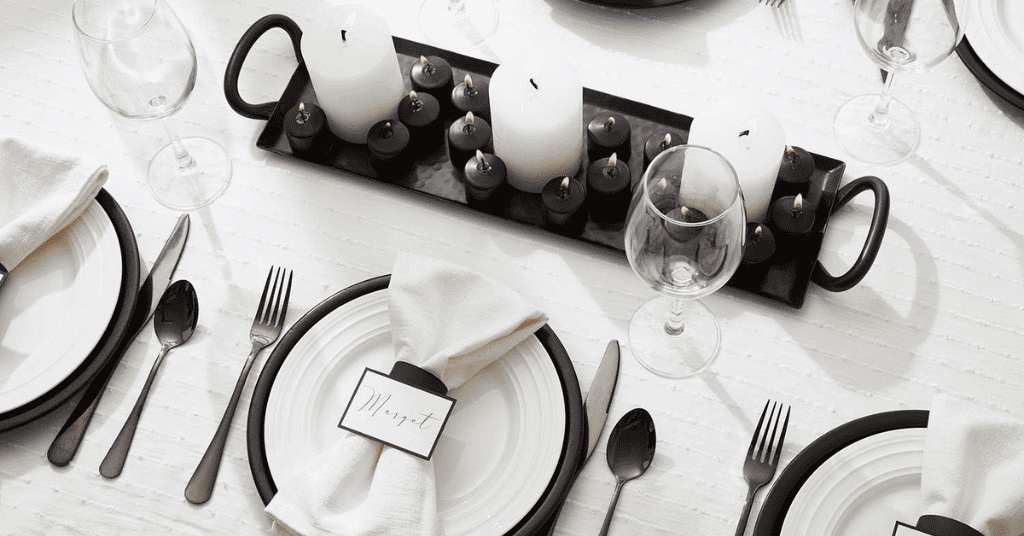 Image credits: TwinkleTwinklelittleparty
Decorations: For birthday decoration at home, keep it simple and elegant with black and white decorations like balloons, streamers, and tablecloths. Also, don't forget to keep black and white candles because they can add a creative glow to your celebration. Add a touch of glamour with gold balloons and a champagne bottle. For the DIY decorations, you can add paper cut-outs and decorate the table with bottles. Moreover, you can also decorate the wall with a black and white collage of your photos.
Food and Drinks: Keep the food and drinks simple with classic black-and-white options like popcorn, tortilla chips with dips, baked potatoes and chicken. For drinks, serve up according to you.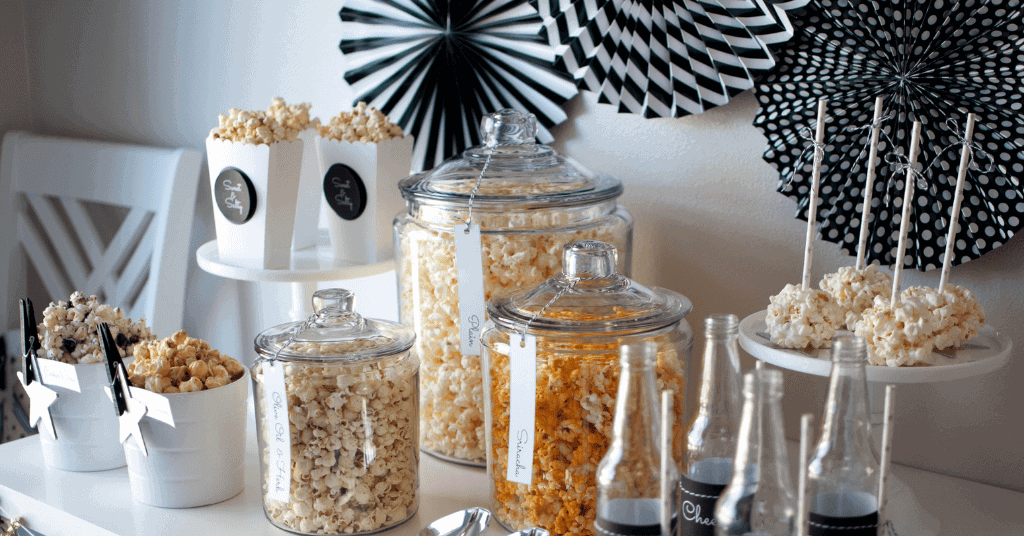 Image credits: Twinkletwinklelittleparty
Entertainment: Having a dress code of black and white attire will not only add to the classy atmosphere of the party but also make it easier for guests to participate without having to spend extra money on new outfits. Additionally, playing old songs can create a timeless feel and add to the sophistication of the party. You can also consider hosting a black and white-themed costume contest to encourage creativity and add a fun element to the event. Overall, the entertainment options for a black-and-white party are endless, and with a little creativity, you can create a memorable and stylish event without breaking the bank.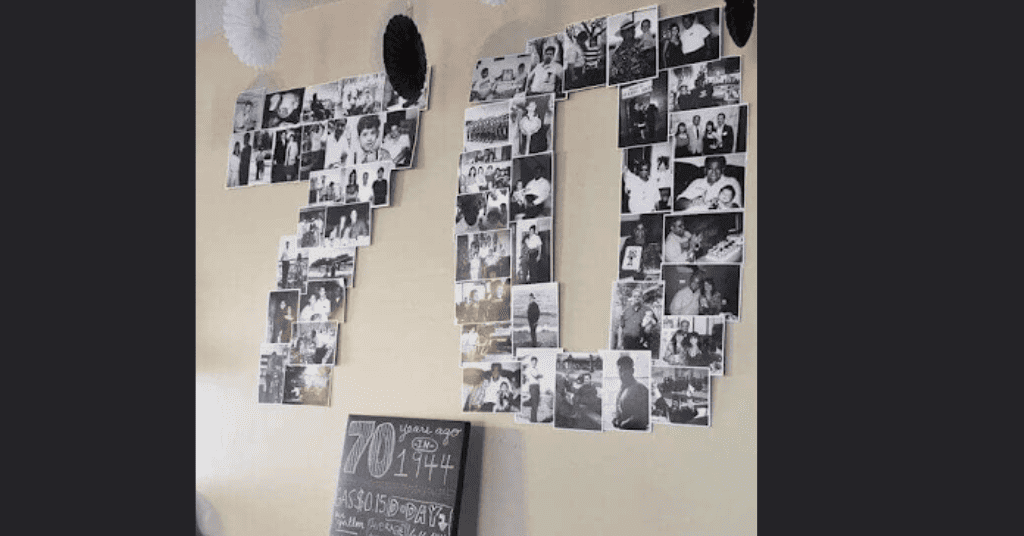 Image credits: Spaceships & laserbeams
Suggested Read: What are the items needed for birthday decoration?
Red Romantic Theme
If you're hosting a surprise party for your loved one, then what can be better than a red romantic theme? As red is the colour of love and this theme is all about balloons, lights, flowers and some petals. Moreover, the rest is on the energy of the couple to create a beautiful and romantic environment. This is a versatile theme for anniversaries and birthdays as well.
Decorations: For birthday decoration at home, purchase a package of red, gold, and white balloons as well as some fabric or thick red sheets, you may keep the cost of this theme low. Alternatively, you can cut out red hearts from these materials and hang them on the wall. Moreover, you can also buy rose petals and a candle to add a romantic flair to it. You can arrange petals on the table. However, you can also get this backdrop from CherishX directly.
Image credits: Cherishx.com
Food and Drinks: Keep the food and drinks simple, if this is a theme for just two, then you can just order dinner from outside and if you have a guest list, then you can choose to prepare simple dishes at home.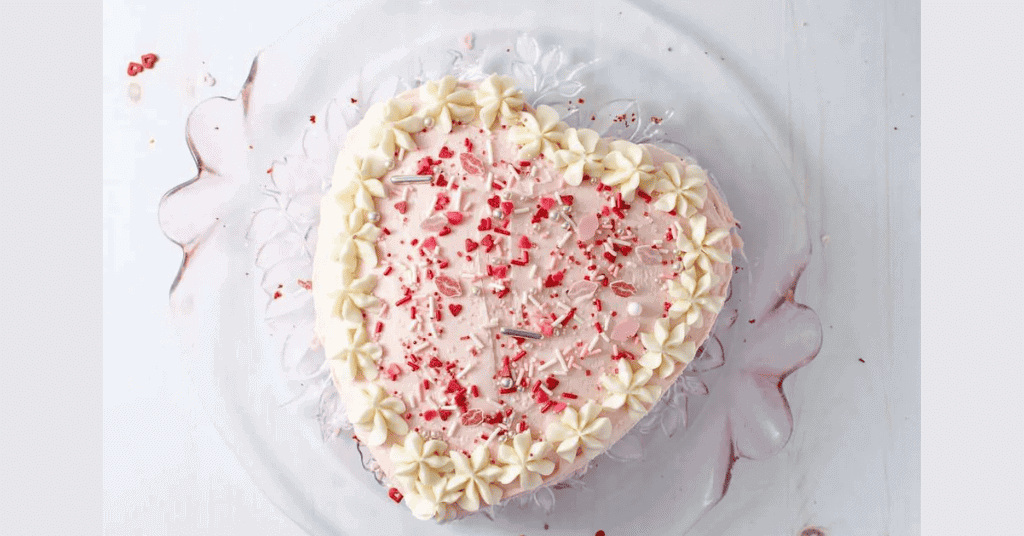 Image credits: Craftingafamily
Entertainment: To spice up the birthday party, you can play romantic Bollywood songs, engage in couple dance and get into a deep couple conversation.
Suggested Read: Stunning Balloon Wall Backdrops to have in your next Birthday Party
Car Boot Party Theme
A car boot party theme is one of the original, low-cost party theme ideas. You must have seen the birthday surprise at the car boot, but let's make it into a theme for a party. This is the greatest birthday party theme if you just have five close pals and a 6-seater car. In addition to eating good food, you can embrace each other's presence, engage in a lot of talks, and sway to the best music. For you and your pals, it might be a perfect time for a relaxed party.
Decorations: If you're throwing a surprise party for someone, you can either get the customized birthday decoration at home from the outside since these decorations will fit inside your budget, or you can also do it on your own. The car boot can be decorated with balloons, paper cutout heart strings, and foil initials, and you can also hang photographs of the person in the vehicle. And Yes! You're done.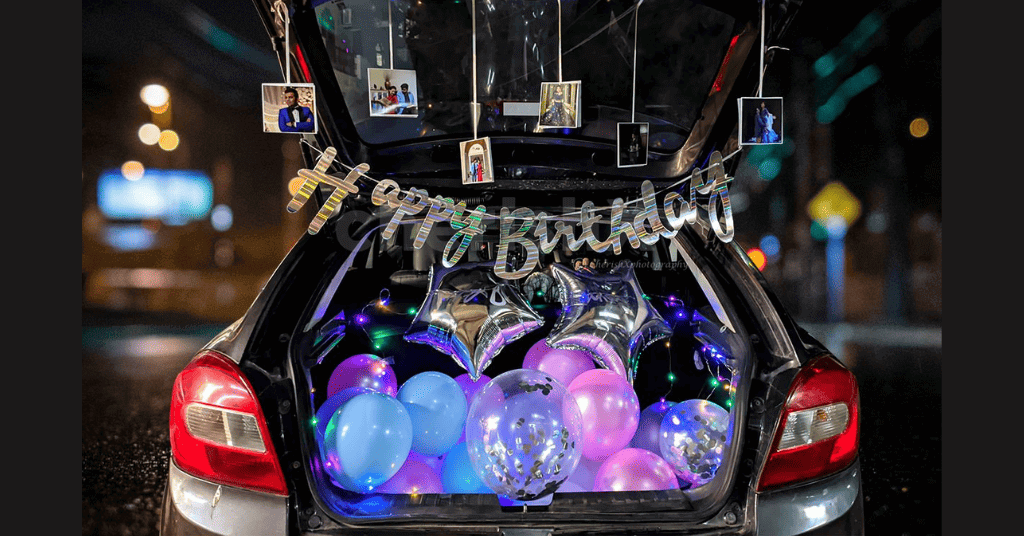 Image credits: CherishX.com
Food and beverages: You can order and collect food and beverages from any of the local markets or eateries. Additionally, remember to order drinks based on your preferences and requirements. And don't forget to keep a birthday cake! Moreover, you can also arrange food and cake like shown in the picture below.
Image credits: Pinterest
Entertainment: Simply turn on the music, move to the beats, and participate and engage in a lot of buddy conversations.
Suggested Read: How to Plan and Execute a Grand Kids Birthday Party in a Banquet Hall
Drinks Theme Party
A party with a drink theme is ideal for someone who just wants to enjoy good booze and music with their friends. It might be one of the ideal party theme ideas for a low-key, enjoyable get-together with friends. This entertaining drinks theme is all about munching on appetizers and drinks while getting somewhat tipsy.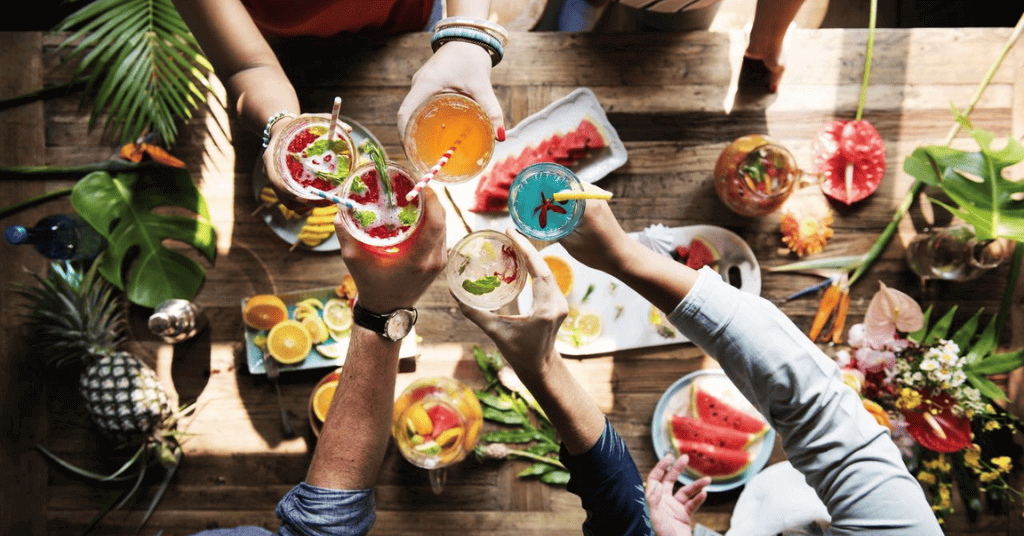 Image credits: Barschool
Decorations: For birthday decoration at home, beer and whisky-shaped foil balloons are appropriate for a party with a drinking theme. Add some balloons and glistening sequins to the celebration. If you don't want to invest any money or decor, you can just adorn the table with all the whisky and beer bottles and hang shimmering sequins against the wall. You'll adore this decorative backdrop, we are sure of it.
Food and Drinks: Since this is an alcohol-themed party, you can choose drinks that fit your budget and, to make it more social, you can ask your friends to bring bottles of alcohol to the gathering. In addition, you can plan a barbecue night to save even more, and you're all set for a budget-friendly party. Additionally, you can incorporate ice-cream pop-ups into the drinks to give them a more elegant and artistic appearance. This won't break the bank. Additionally, grilling is cheaper than ordering food, so you should definitely host a barbeque night instead.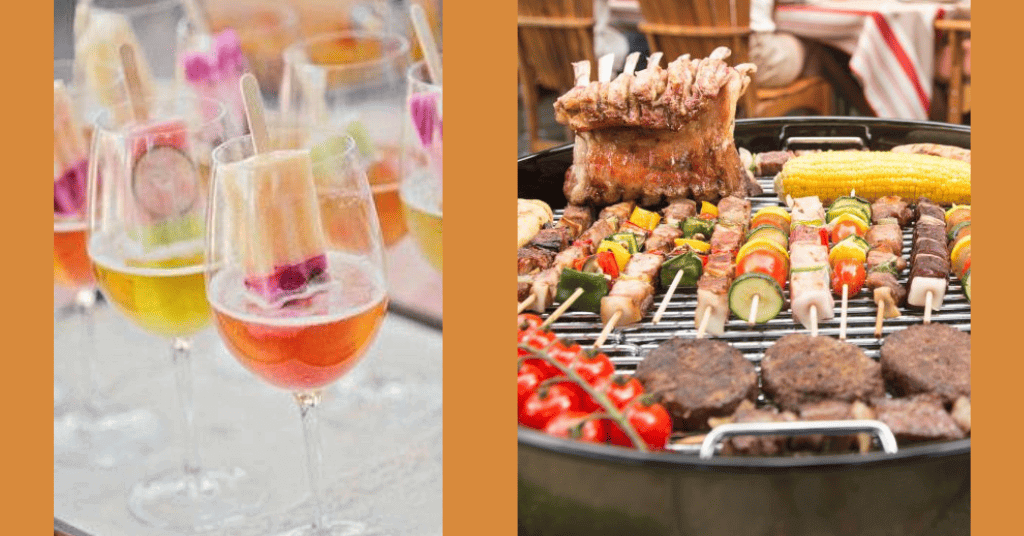 Image credits: Partyideasbyapro & marketplace.ada
Entertainment: You can play old Bollywood music, dance, and sing songs together.
Suggested Read: 15 Affordable Balloon Decoration Ideas for Your Birthday
Carnival Theme Party
A carnival party theme is an exciting way to celebrate your occasion with full fervour, vibrant colours, and whimsical flair. The environment of a carnival theme is entertaining and playful just like any other carnival out there. It's one of the popular birthday theme ideas but it can be more of a versatile theme that it can get fit to other occasions as well. This theme is expensive, but let's learn to make it more budget-friendly.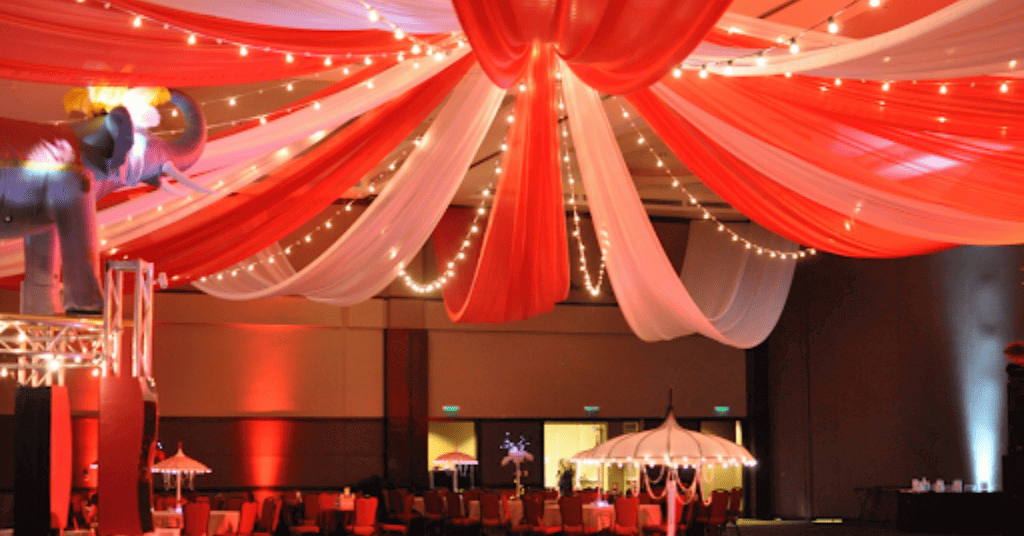 Image credits: Pinterest
Decorations: You can opt for your outdoor space or hall as decorations. But to cut more on your budget, you can use your house terrace as well. To make wacky ceiling draperies, you can utilize abandoned red and white textiles or even hire them. To add a touch of fantasy, you can also hang fairy lights from the draperies. Additionally, you can keep a jar filled with sweets and add a pop of carnival energy while using various papers such as yellow, red, and blue paper cutouts.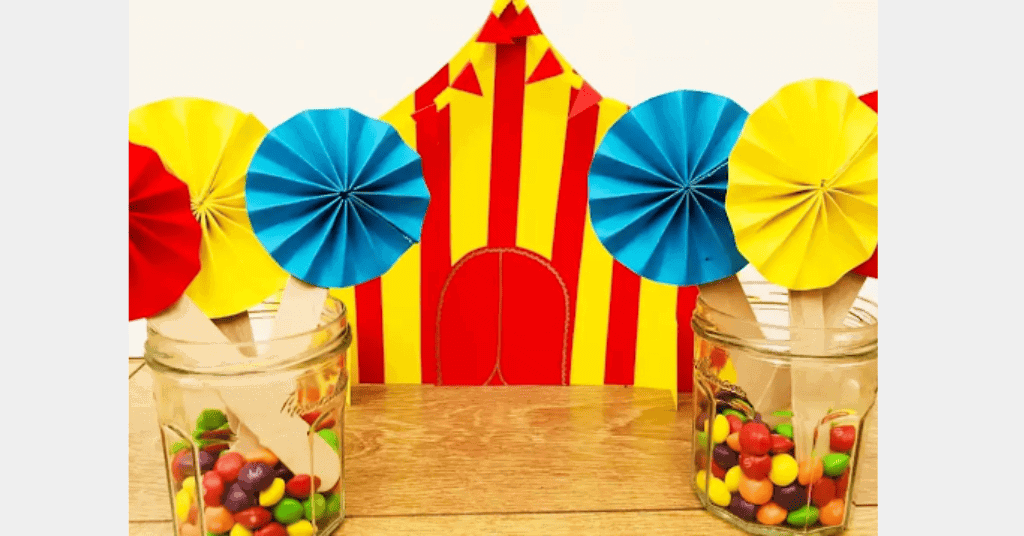 Image credits: Mas & Pa
Food and Beverages: You can just get inexpensive snacks like popcorn, cotton candy, Bombay sandwiches, and hot dogs. By combining various sodas and fruit juices, you can also make your own distinctive beverage for the party. Just provide a nice fruit cake as a sweet snack.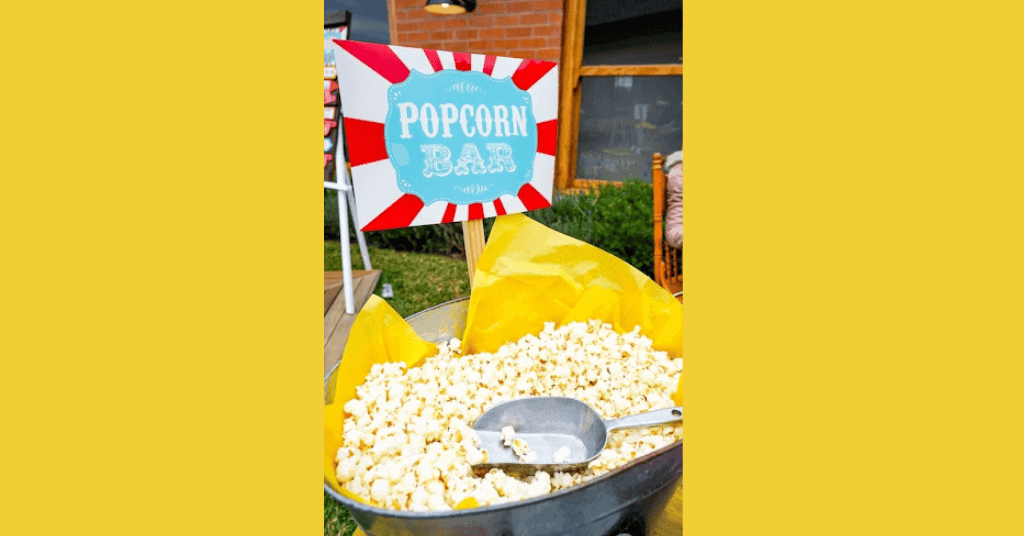 Image credits: By pretty my party
Entertainment: Make a playlist of lively funfair music for entertainment. You can simply spend money on a dartboard game as entertainment. Additionally, you could add a balloon game that you would put up against the wall and play with pins to burst them rather than darts. Finally, you may play games of rings while having a pack of cool beverages, beers, or fruity snacks nearby. The pack will be led by whoever correctly swings the ring.
Suggested Read: How do you make a Balloon Arch?
Disco Theme Party
If you and your friends are one of the dance freaks, then no one can stop you from opting for the disco theme party. In the 1970s, the disco era is known for its flashy and funky style. So, get down there and design your own budget-friendly disco-theme party. Moreover, it's also one of the best party theme ideas for people who just love to dance.
Decorations: If you want to host a party on a tight budget, your room or rooftop is the perfect place to use this theme. Additionally, if you don't want to host your party at home, you can just reserve a space or a cafe that has a dance floor, disco ball, and other party-related amenities. Furthermore, no further additional decorations are necessary for this theme. However, you can use disco lights for the fun-disco party theme.
Food & Drinks: You can offer finger sandwiches, fruit skewers, potato or cottage cheese plates, and other finger foods. Make a disco-themed punch with vibrant colors and fruit slices as garnishes for the beverages. To cut down on budget, you should keep finger foods so that your guests can pick anything and keep on swaying to the best beats.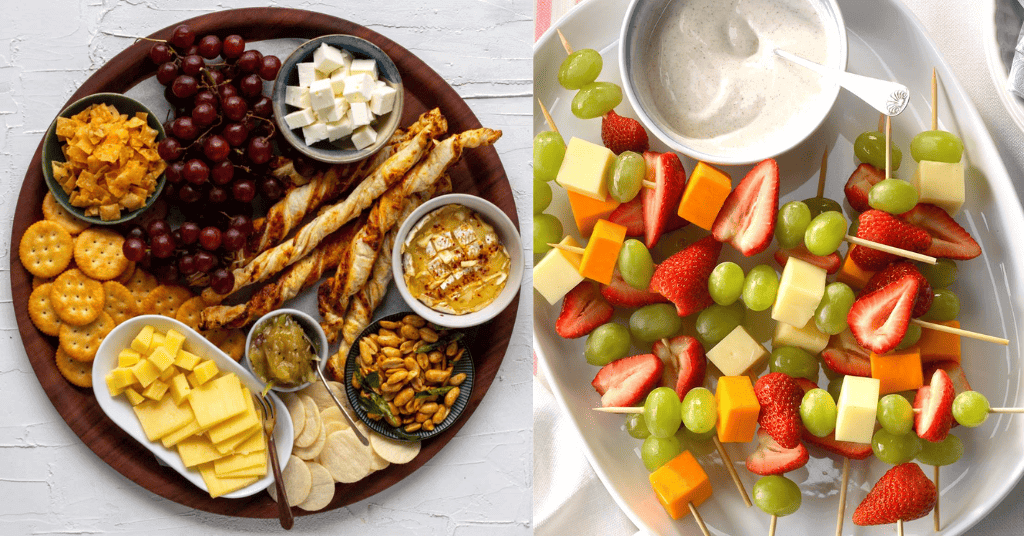 Image credits: Mirchitales & Taste of Home
Entertainment: The disco theme itself is entertainment. So, just enjoy the moment, dance to the best beats with your pals and have a great time. However, to add a flair of fun, you can set a dress code such as bell bottoms, disco shorts, and sparkly shoes. You can make DIY eye masks to add more mirth to this party theme.
Suggested Read: How do you stick balloons to the ceiling?
Tropical Theme Party
If your spirit calls for a peaceful and spirited birthday theme, then a tropical party theme is a perfect idea to bring some warmth and sunshine energy to your celebrations. It is also one of the budget-friendly party theme ideas that can be executed easily at home, garden, or rooftop as well. The tropical theme is all about vibrant colours with a touch of nature.
Decoration: The decorations play an important role if you want to create a tropical theme. However, you can decorate the venue with tropical-coloured balloons such as orange, yellow, pink and some pastels of your choice. You can also use tropical flowers, and some large leaves as well. In addition, you can also add some beach balls, plants, and fairy lights to add to the ambience. However, this is completely optional.
Image credits: The spruce
Food & Drinks: For a tropical theme party, serve foods that are light, fresh, and colourful like fruits, grilled pineapple, tropical salads, mushrooms, and chicken. For drinks, serve up some tropical cocktails like Pina Coladas, juices, and more.
Image credits: Wanderlust beauty dreams
Entertainment: You can get a customized photo booth and participate in some games like hula hoops and capture the best memories ever. So, try out this birthday decoration at home.
Suggested Read: Ultimate Terrace/ Rooftop Decoration for 18th Birthday
Neon Theme Party
A neon theme party is a fun and colourful way to bring a vibrant atmosphere to any gathering. Here are some ideas to make your neon party stand out. It's also one of the newest and most unconventional party theme ideas that you can opt for a birthday party.
Decoration: Start by setting the right mood with neon-coloured decorations. Hang neon balloons, streamers, and banners. Consider adding black lights to enhance the neon effect.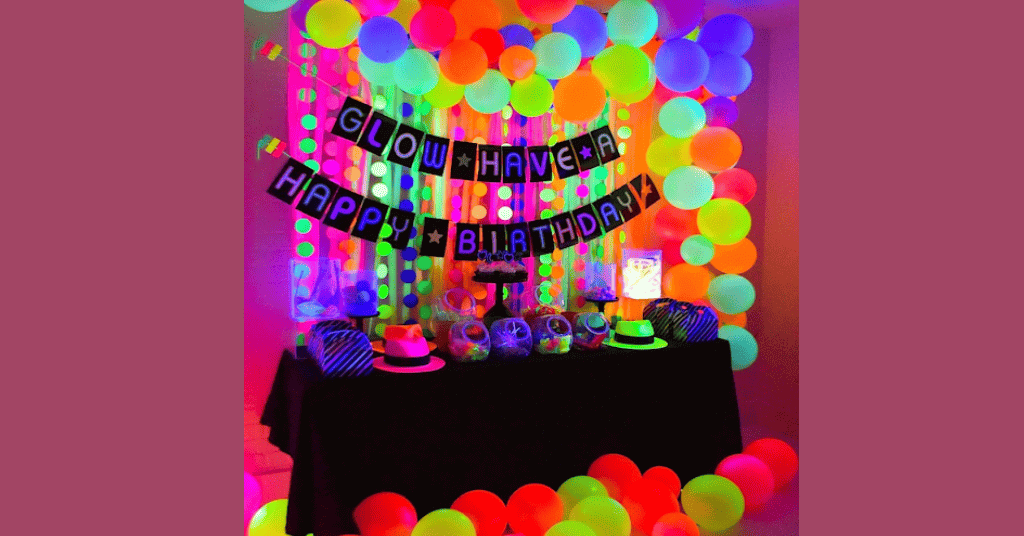 Image credits: Pinterest
Food and Drinks: For food, you can serve mushrooms, chicken lollipops, and as per your preferences and needs. Serve up some refreshing neon-coloured drinks like lemonade, watermelon slushies, pink grapefruit cocktails, and more.
Entertainment: Keep the party going with some fun neon-themed games like glow-in-the-dark bowling, neon paint splatter, and black light twister.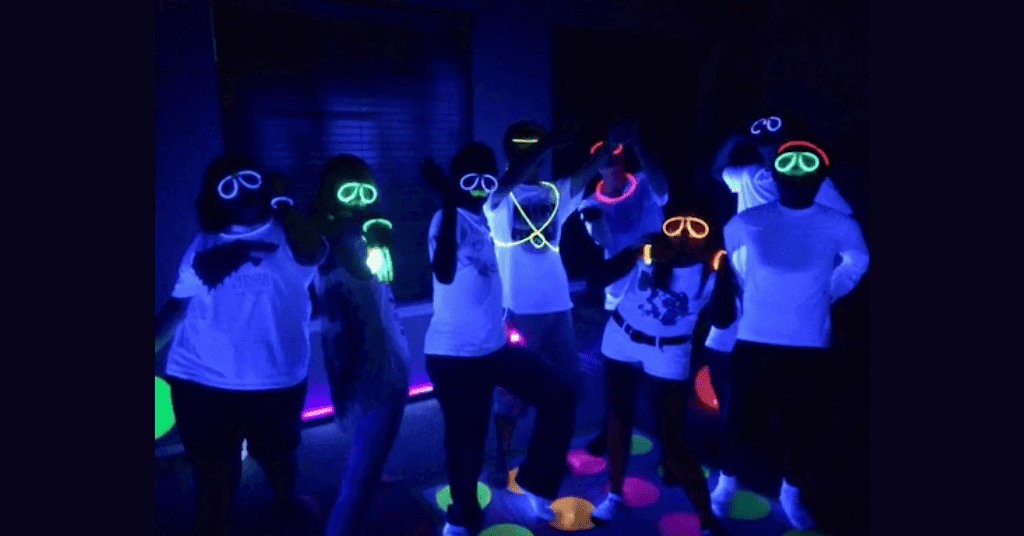 Image credits: Frosted events
Suggested Read: Trending Romantic Decoration Ideas for Indoor/Outdoor Venue
Rainbow Party Idea
Rainbow party themes can add so much vibrancy and appeal to the space of any occasion. Be it an anniversary, birthday or bachelor party, you can select this pretty rainbow theme idea. The colourful balloons will add a flair of festivity and mirth.
Image credits: Peerspace
Decoration: You can choose the balloons of all seven rainbow colours and attach them to make a rainbow backdrop. You also use fairy lights or neon lights with an occasional message. For a rainbow theme, the best part is to keep the decor fine and light. You can also natural sunlight and some balloons as part of a budget-friendly decoration.
Image credits: Pinterest
Drinks and Food: You just can't miss keeping a rainbow sandwich for this theme as it's super-yummy and easy to make as well. Moreover, you can prepare cuisines at home and keep lays for the snacks. Moreover, you can do Potluck style, where you can ask your guests to bring a dish or drink to share. This not only helps with the budget but also ensures a variety of food options for everyone.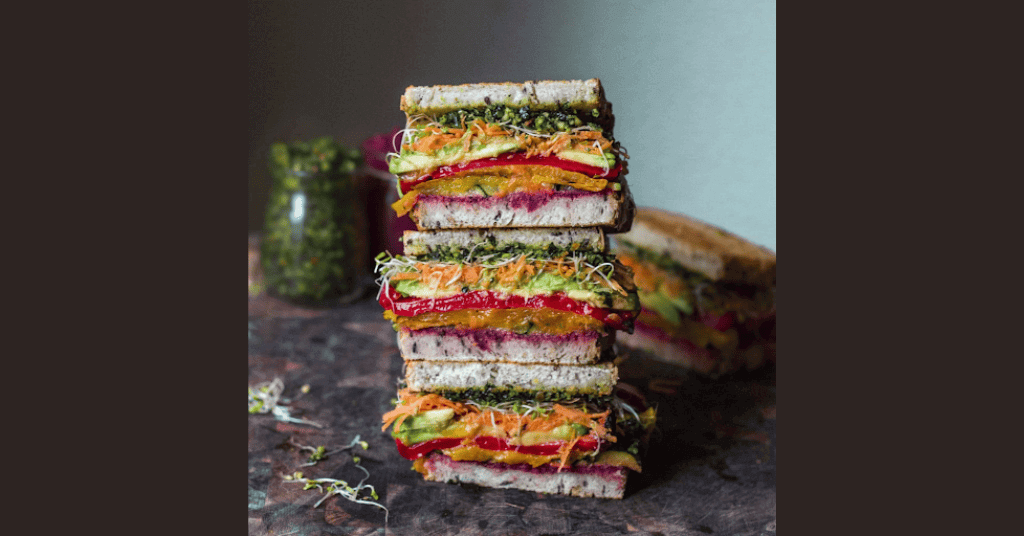 Image credits: Rainbow nourishments
Entertainment: For this theme, we would recommend you engage in some crafts, dance, and have fun.
Suggested Read: These Floral Wedding Mandap Decors are Goals!
Pink Pastel Party Theme Idea
A Pink pastel theme will bring a pop of vibrancy to your celebration. Pastels are soft colours and it's perfect for a house birthday party or a rooftop party, and more. The pastel balloon backdrops will suit any of your walls and or rooftop. This theme doesn't require many add-ons, and just the balloons will work.
Decoration: Balloons are important, and more than that, you can also hang pink and white streamers from the ceiling for a whimsical touch. However, it's on you if you only want to add just balloons. Just add some pink roses and it is good to go.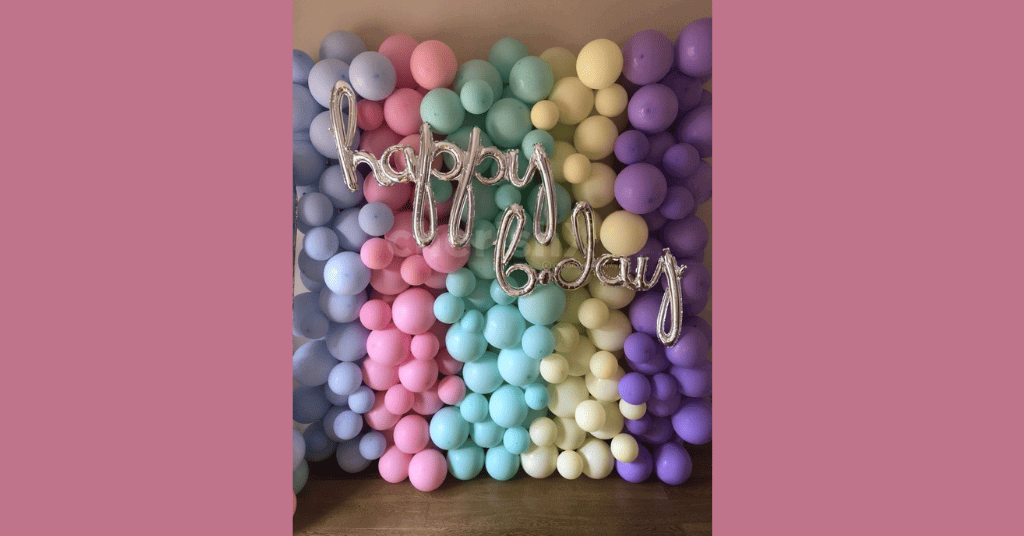 Image credits: CherishX.com
Food and Drinks: To make your party more engaging, you can keep glass jars filled with jellies, marshmallows, chocolates, cupcakes, and just finger sandwiches will work. For drinks, you can cut the budget and serve sparkling water to your guests. You can also place a jar and fill them with candies and chocolates of all colors to make it look more vibrant.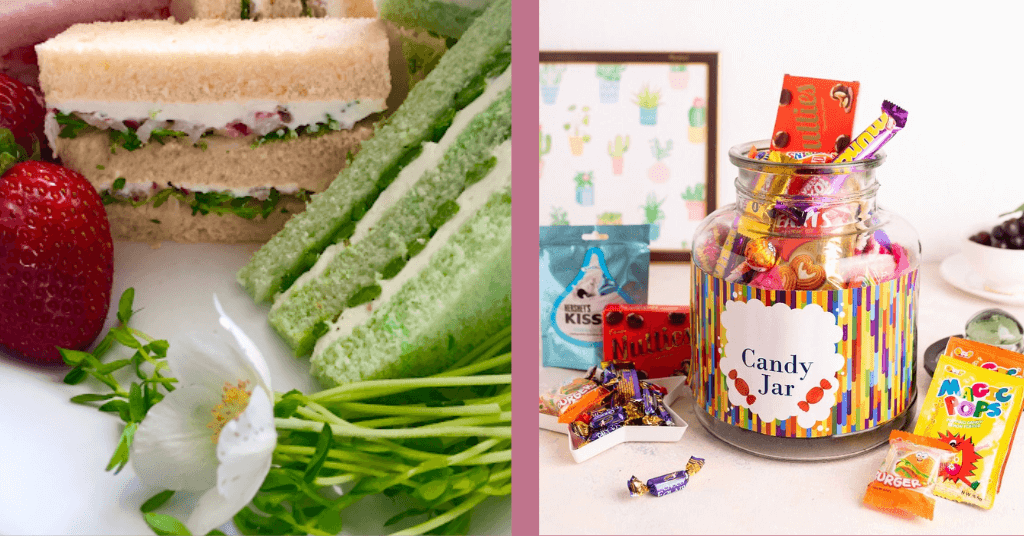 Image credits: Great taste buds & thedotted.in
Entertainment: Make a playlist for your guests and play games such as tambola or dumb charades as well. If you don't have tambola, ask one of your guests to bring it if they have one. However, dancing and charades are always engaging options.
Suggested Read: How to Inflate / Deflate your Balloons and Setup your DIY Balloon Decorations
Bollywood Party Theme
Are you a Bollywood buff? Are you a big-time sucker for Bollywood movies and songs as well? Then how can you miss the perfect Bollywood theme party? It's one of the fun and budget-friendly party theme ideas.
Decoration: Transform your space into a feast for the senses with Indian-inspired tapestries, enchanting fairy lights, and eye-catching paper lanterns in shades of red, gold, and purple. Create lasting memories with your loved ones by setting up a photo booth with black and white paper, giving a nostalgic touch to the event. Let the Bollywood magic take over and enjoy an unforgettable night filled with joy and laughter.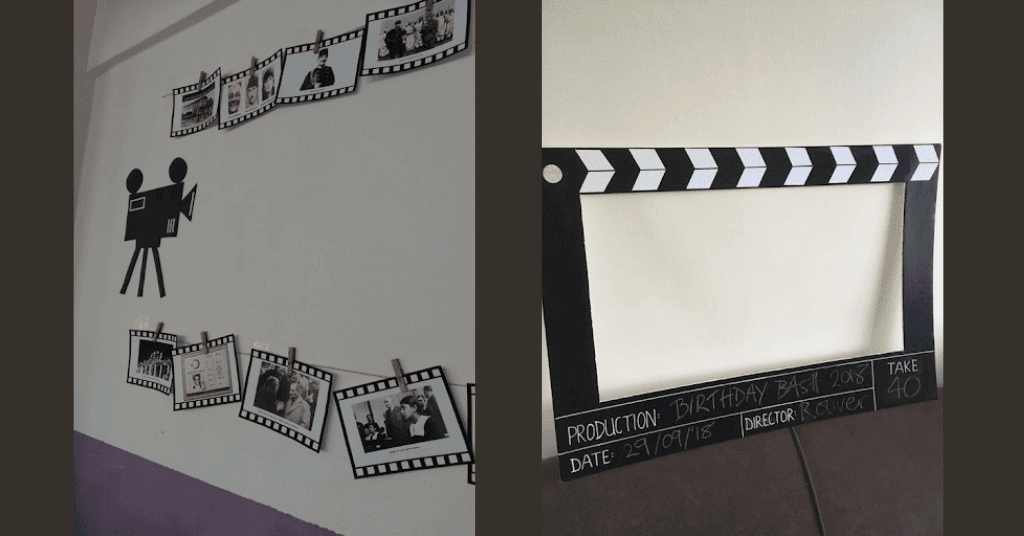 Image credits: Pinterest
Foods and Drinks:
A budget-friendly menu plan can be to serve Indian snacks like samosas, pakoras, and gol-gappa, chaat for a budget-friendly yet delicious menu. For drinks, offer classic Bollywood-inspired cocktails like a mango lassi or juices.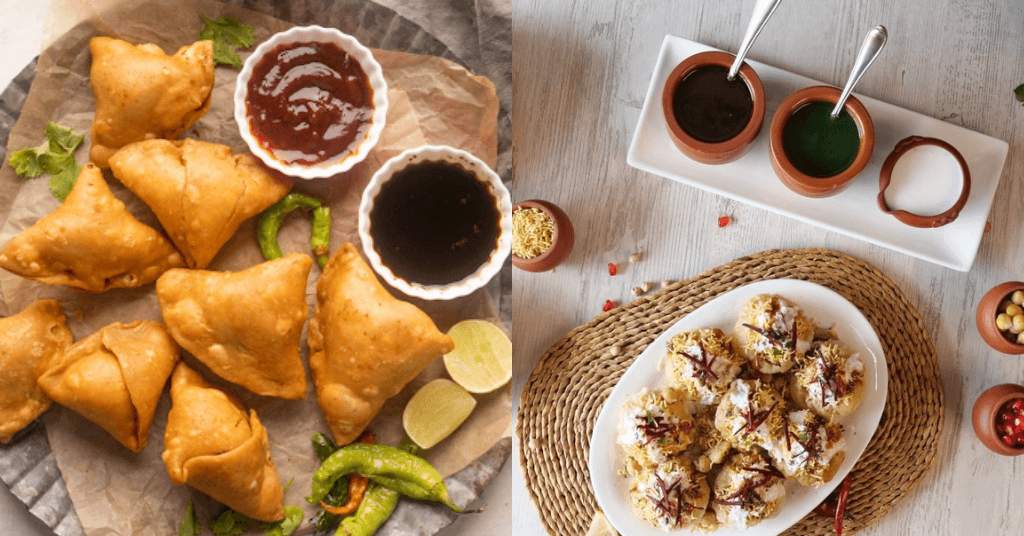 Image credits: My food story
Entertainment:
Set up a Bollywood dance playlist to get everyone grooving, and provide props like colourful scarves and bangles for guests to wear while dancing. You can also have a fun photo booth with Bollywood-themed props like cutouts of famous movie stars. Moreover, to add more flair to the Bollywood party theme, you can keep theme costumes where people can wear sarees just like Bollywood.
Suggested Read: Awesome Pet Birthday Decorations Launched at CherishX
Superhero Themed Party
Superhero-themed parties are always a hit with kids and adults alike. Are you fascinated with any of the super-hero? If so, then this is a perfect theme for you. You can host an amazing superhero-themed party on a budget with some creative ideas which we are going to discuss below. For a budget-friendly venue, you can choose a backyard or park, which won't cost anything or a community centre that can be rented for a small fee. Moreover, the rooftop will also work.
Decorations: The best and budget-friendly way to decorate the space is to get cut-outs of your favourite superheroes such as Batman, Superman, Thanos, Hulk or Iron Man. You can also get strobe lights on rent and use them to add more life to your superhero decoration.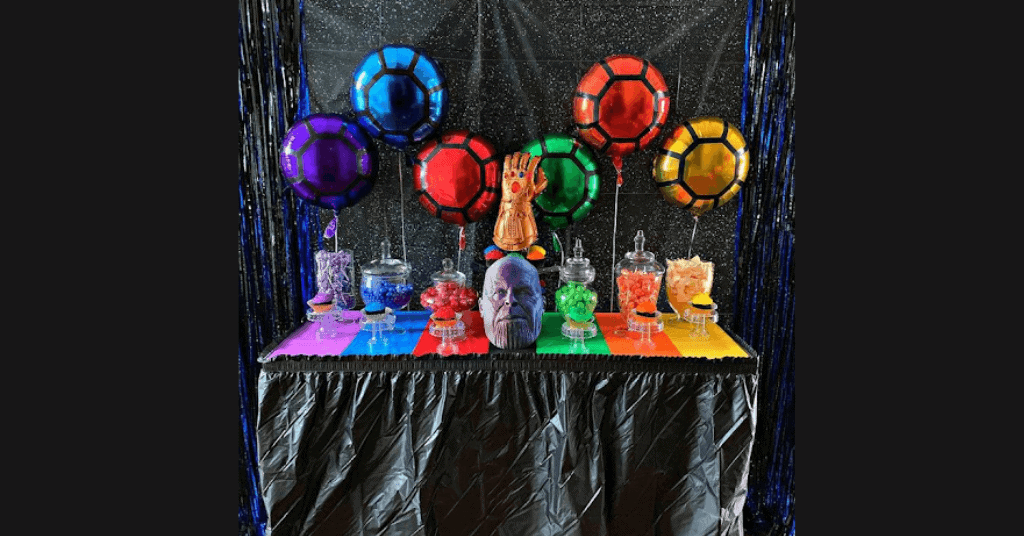 Image credits: Pinterest
Food & Drinks: For this, you can simply keep sandwiches, burgers, pizza, nachos, and more. You don't have to delve into the main course for it because snacks, beverages, cold drinks, vodka or beers will work. It completely depends on you what you want to keep on the menu. Lastly, to get a vibe of infinity stones, you can fill four jars with different colored candies.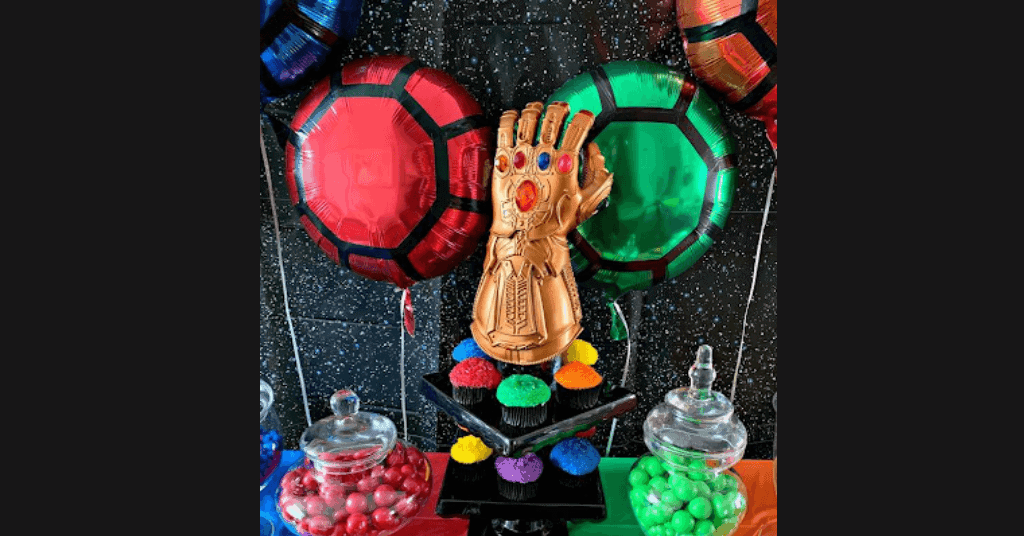 Image credits: Pinterest
Entertainment: For entertainment, you can have a superhero costume contest. You can also create a DIY photo booth with superhero props like capes, masks, and shields. Moreover, for music, you can play Pink Floyd, songs from The Dark Knight Rises, and more. However, it depends on you.
Movie Party Theme
Are you looking to host a fun party for a special occasion but on a tight budget? Look no further than a movie party theme! It is one of the best party theme ideas. You can host it easily with your friends. Get cosy and comfortable while watching your favorite movies back-to-back followed by engaging discussions and games.
Decorations: When it comes to decoration, keep it simple yet elegant. Use fairy lights and white and golden balloons to create a festive atmosphere. If you're hosting the party on a terrace or backyard, you can use white sheets as screens for the movie projection.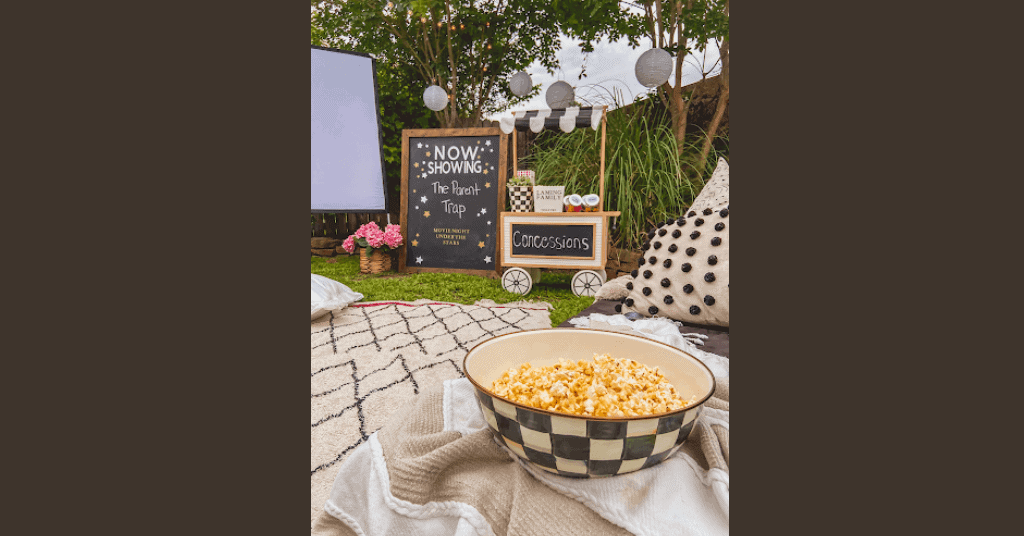 Image credits: Life by Leanna
Food & Drinks: For food and drinks, traditional movie snacks like popcorn, nachos, and sandwiches are always a hit. Add some beer and a few packets of chips to the mix for an extra level of entertainment.
Image credits: The spruce
Entertainment: When it comes to entertainment, movies, food, and drinks are more than enough. However, if you want to add a bit of spice to your party, try hosting a movie trivia game or a game of movie charades. With minimal decorations and affordable food and drink options, a movie party is one of the best budget-friendly party ideas to try out.
Suggested Read: Mind-blowing Anniversary Decoration Ideas to surprise your Partner in 2023
Best Hacks & Tips To Host a Budget-Friendly Party
Sure, here are some hacks and tips to host a budget-friendly party:
Set a budget:
Before planning your party, set a realistic budget and stick to it. Make a list of everything you need, from decorations and food to drinks and entertainment, and try to stay within your budget. For party shopping, make sure to explore wholesale shops to get the best rate for the decor and more. You can also check out a store – FrillX to get all the party supplies at your doorstep.
Host the party at home:
Instead of booking a venue, host the party at home. Moreover, a terrace or your backyard is also one of the best alternatives for hosting a budget-friendly party. This will save you a significant amount of money on rental fees, and you can use that money for food and decorations.
Use DIY decorations:
Unleash your creativity and craft your own DIY decorations. Balloons, streamers, sequins, and paper decorations, plates, cups, and more are great options to create a lively ambience without straining your wallet. However, if you are short on time, consider exploring affordable party backdrops that are available online. Just make sure it fits within the budget you have set for the party. Don't hesitate to invest in them if it saves you time and energy.
Plan the menu carefully:
Hosting a party can get expensive, especially when it comes to food and drinks. But with some smart planning, you can keep the costs down without compromising on taste. Start by carefully curating your menu with simple and easy-to-make dishes that don't require pricey ingredients. To further save on expenses, ask your guests to contribute a dish or beverage to the party. Cooking at home can also be a great way to cut down costs, but don't forget to check out some of the local cafes that offer tasty and budget-friendly food options. You might even find a hidden gem that will become your go-to spot for your party.
Shop smart:
When shopping for party supplies, shop smart and look for deals and discounts. You can find great deals on party supplies at discount stores.
Choose budget-friendly entertainment:
Instead of hiring a professional entertainer or DJ, opt for budget-friendly entertainment options like playing songs from a speaker, DIY photo booth, karaoke, board games, and more.
Hosting a party doesn't have to be expensive. With a little creativity and careful planning, you can host a fun and festive party on a budget.
Conclusion
When it comes to hosting a party, you don't have to break the bank to make it a memorable one. With the above-mentioned budget-friendly party theme ideas, you can have a great time with your loved ones without worrying about the cost. These versatile party themes can fit any occasion and taste. Additionally, if you're looking for affordable party decorations and supplies, be sure to check out our website for some great budget-friendly options. The key to hosting a successful and budget-friendly party is to plan, make a list of what you need, and do your research to find the best deals. So, go ahead and have fun while saving some money!
FAQs
How do you party on a low budget?
Here are 7 budget-friendly party theme ideas:
1) Keep your guest list small
2) If you want to send invitations, remember to send E-invites.
3) Go for DIY decorations.
4) Pick a theme in which you think that you can arrange for decorations easily.
5) Ditch a venue and arrange it at your rooftop.
6) Keep it a snack party with a lot of games and activities.
7) Prepare food at home or opt for a potluck party.
What is a good party theme?
The top 3 best party themes are:
1) Black and white party theme.
2) Bollywood party theme
3) Casino party theme
What is a good 21st-party theme?
The carnival party theme and casino party theme are the best themes.