Always wanted your wedding to exude style? But for a newlywed couple, putting together everything can be a daunting challenge, especially with a never-ending wedding to-do list to deal with. These modern wedding decoration ideas range from beautiful white themes to bold, bright hues, so you'll be sure to find something that fits your style and makes its way into your phone's photo gallery. It's time to get to work!
Shimmer Pastel Pink Floral Ceiling Decor
Weddings are a once-in-a-lifetime event. Your wedding needs a setup that is memorable and reminds your partner and you of your sacred vows to each other, and of course, so the guests remember it too. This beautiful floral wedding decoration idea is made of thousands of pastel pink flowers hanging from the ceiling and a bright cool lighting setup. The entire setup is so over-the-top that it's hard to forget.
Sunset Orange Theme Wedding Decoration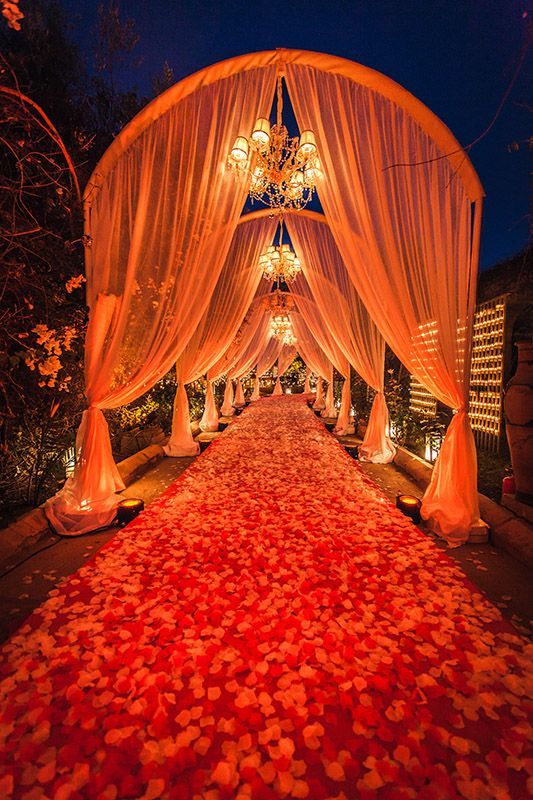 I have looked at this dreamy decor at least a hundred times and still cannot decide which part of the decor is more beautiful than the other. From beautiful white drapes to the illusionary floor and the warm orange lights over the rest gives this decor an exotic touch.
Modern Floral Round Open Roof Mandap
A wedding mandap is a place where you commit yourself completely to your partner. It is a witness to your everlasting vows. So, you cannot afford to compromise on the beauty of your mandap decor. This modern round mandap with bronze seats is the perfect mandap that combines traditional art and modern Instagram aesthetics.
White Theme Floral Indoor Mandap Decor
This small indoor royal mandap setup combines traditional bronze art with modern floral and light decoration. The mandap is perfect for an in-hotel wedding event. You simply cannot miss this wedding decoration idea.
White & Pastel Backdrop Wedding Stage Decor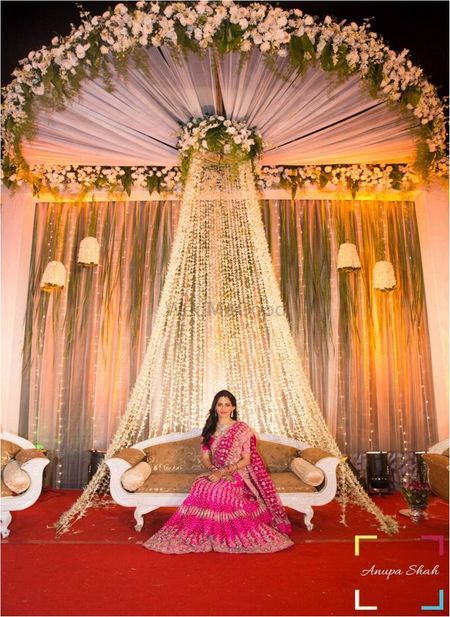 Now if you'll excuse me, I have to click some pictures too! Can you imagine missing a chance to click pictures against this beautiful backdrop? With the jasmine floral curtain tied from the roof to the floor in a beautiful arc shape with warm lights and the drapes behind, this decor is just something not to miss at a wedding event.
Floral Round Outdoor Mandap Decor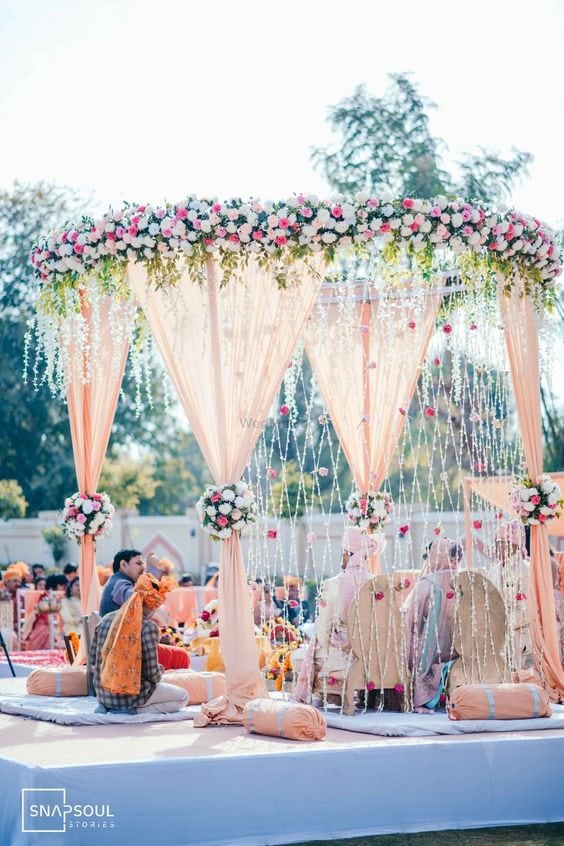 This picturesque round mandap will tighten the wedding between you and your other half. Also, add some warm white LED lights to make the scenery exotic under the moonlight.
Looking for more mandap decoration ideas? These Floral Wedding Mandap Decors are Goals!
Beige & Pink Theme Wedding Stage Decoration
This minimalist beige and pink floral wedding decoration are for couples who don't feel to be required to announce their love with a grand celebration. When you want to keep it simple yet beautiful, blindly go for this decor. The pink flower setup also gives the decor an exotic feel in a minimalist fashion.
Exotic Outdoor Wedding Decoration with Rajasthani Umbrella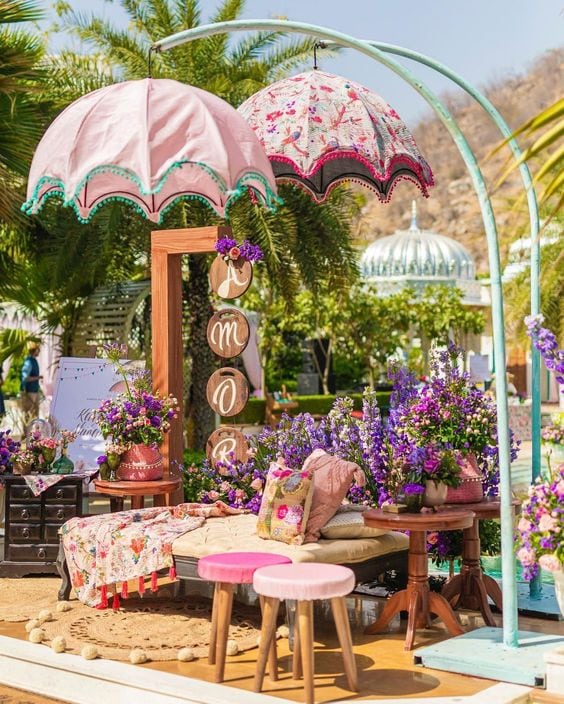 This exotic outdoor setup is perfect for a destination wedding in the hills or against a mountain view. Also, the decor combines different elements, from traditional Rajasthani umbrellas to flowers and beautiful wooden furniture, into one beautiful setup.
Colorful Traditional Art Wedding Stage Decor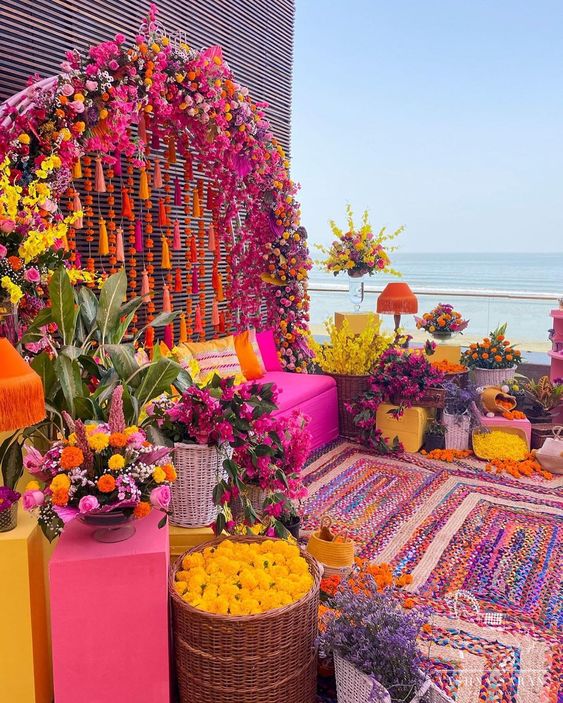 I have never seen so many colors together that was so pleasing to the eyes. This beautiful rainbow decor combines traditional rugs popular in North India and thread art with colorful flowers into a beautiful wedding stage. Also, did you know people in some villages in North India sew the rugs you see on the floor to use them as an alternative to mattresses?
Bold Red & White Theme Royal Wedding Stage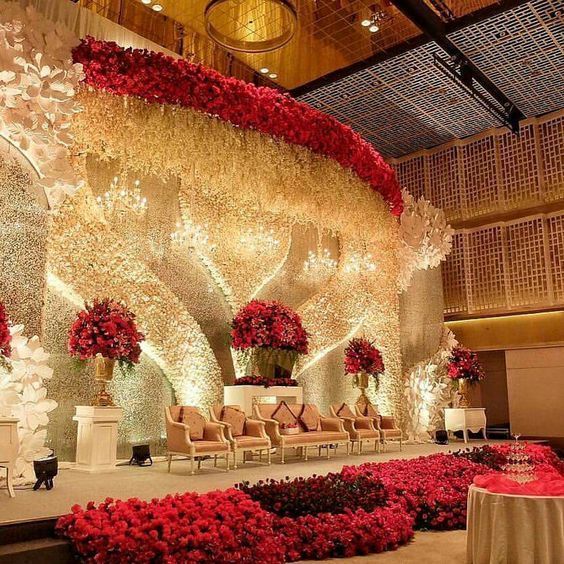 Words can't do justice to this beautiful grand and exotic stage decor. I don't where to begin! The entire backdrop is made of white, probably jasmine, flowers, and red roses with LED lights that bring the backdrop to life. The stage is also huge which gives the setup a truly royal feel.
So, that's all the wedding decoration ideas for you.
Just kidding! I have a bonus you cannot miss.
Bonus: Dreamy Aqua-Hued Mehndi Theme Wedding Decoration Idea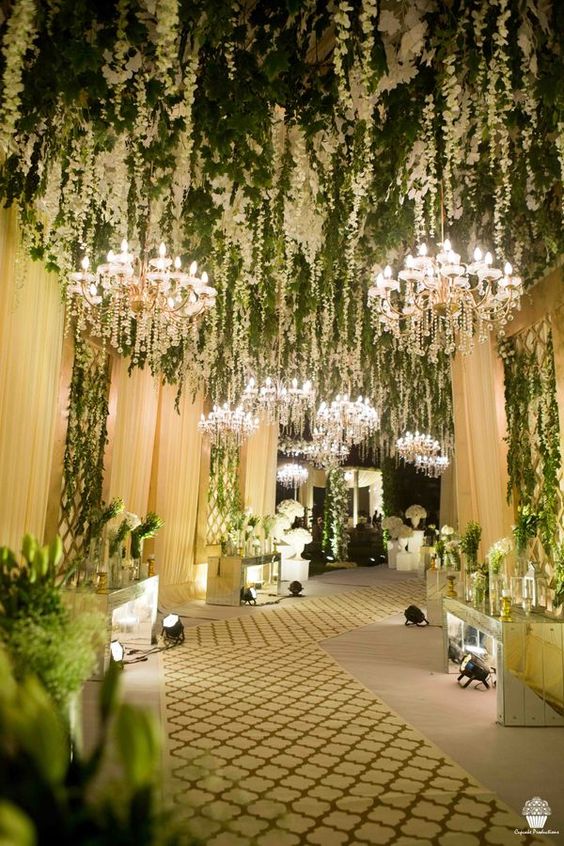 My heart skipped a beat or two when I first saw this unbelievably beautiful wedding decoration. The concrete ceiling is entirely invisible with white and mehndi green flowers covering it all. The cool white light jhoomars don't only light the indoor venue but also give a romantic touch to it. Also, the flashlights on the floor help bring the wall to life. I can imagine all the guests clicking pictures at every corner and in the middle at your wedding venue with this kind of dreamy setup.
FAQs
What are the latest wedding decoration trends?
Some latest wedding decoration trends are as follows:
Floral jhoomar that covers the ceiling
Pastel theme decors
Destination wedding at a river bank, near mountains, or at a hill station
Round mandap
Outdoor wedding venue
Jasmine floral curtains
LED lights, mostly warm lights
How can I make my wedding look expensive?
Budget weddings don't need to look cheap too. A minimalist exotic decoration would ensure that you wed in style on a budget.
How do you do a simple elegant wedding?
Follow these steps for some simple and elegant wedding decoration ideas.
Cherry-pick your friends and relatives for the guest list.
Get married near a river, at a beach, or in the mountains!
Schedule multiple rasams on the same day.
No dress code! Allow your guests to wear what they like to your wedding.
Ditch those over-the-top wedding decors for a minimalist mandap.
Remember the wedding bills don't define the love that you two share.
How can I decorate my own wedding?
DIY wedding decoration is difficult but doable if you follow these steps.
Choose a color theme.
Order the necessary decor items e.g., flowers, balloons, frills, LED lights, jhoomars, cloth drapes, and other decoration items.
Start by weaving flowers in a thread and decorate the reception hall.
Create a beautiful stage backdrop with jasmine flowers, leaves, red roses, and some LED lights.
Add some translucent white curtains with white LED lights behind the stage.
Make use of furniture and items you find at your venue.
How can I decorate my outdoor wedding?
You cannot miss these ideas for an outdoor wedding venue.
Chandeliers
Natural setups like a river bank, a beach, or simply a garden
Chalkboard signs
Rajasthani umbrella roofs
A round open-roof mandap
Flower petal aisle
Some lounge furniture and swings
Lanterns
String lightings
Vertical gardens