We know 18th is a milestone and if you're looking for 18th birthday decoration ideas, then we have got you covered with the best ideas. Turning an adult calls for a grand celebration! Your 18th birthday has to be the most lavish and memorable birthday of your life. You're going to need a large venue for your birthday. We suggest a terrace or rooftop for that. Now, choose from these 18th birthday setup and decorations for 18th birthday for an ultimate birthday bash!
18th birthday decoration ideas
Premium Rosegold 18th Birthday Decoration Idea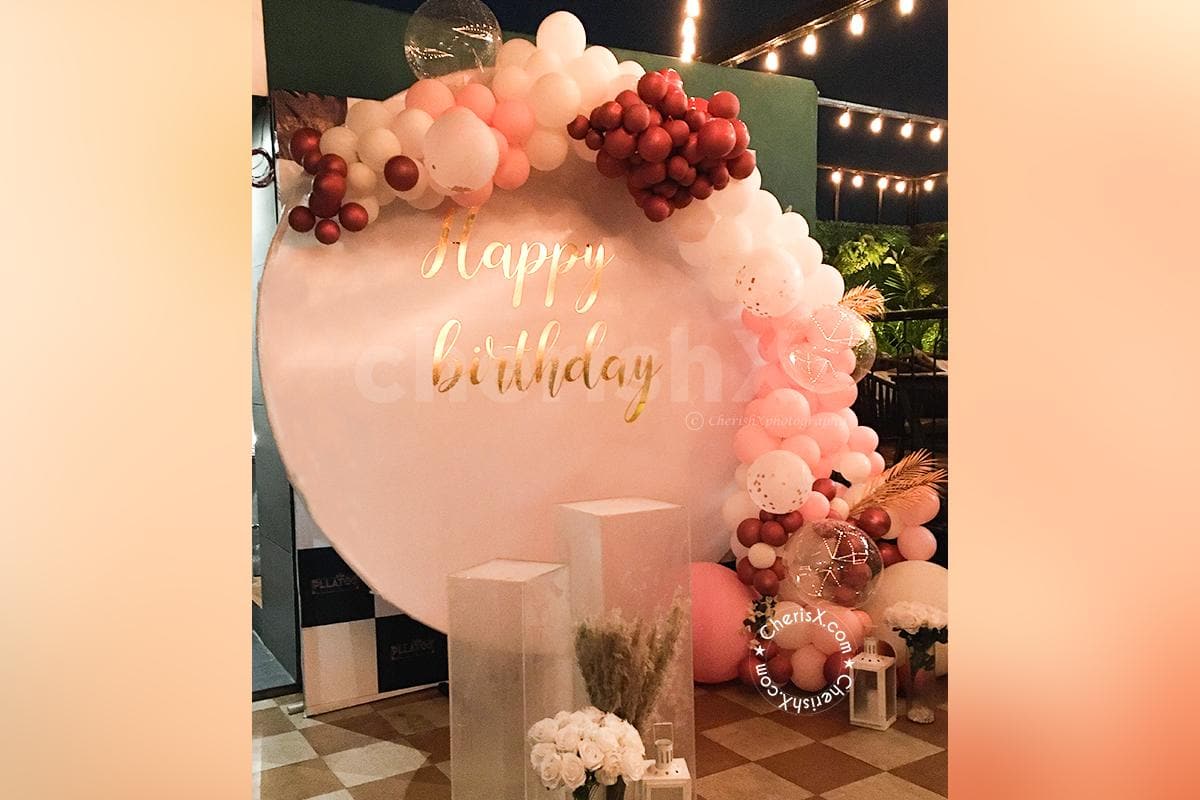 Have a grand 18th birthday celebration? You don't want to miss this once-in-a-lifetime chance to boast about it on your Instagram. Get this Premium Rosegold Birthday Décor for a picture-perfect backdrop. It;s one of the premium 18th birthday decoration ideas.
Sparkling Birthday Neon 18th birthday decoration Ideas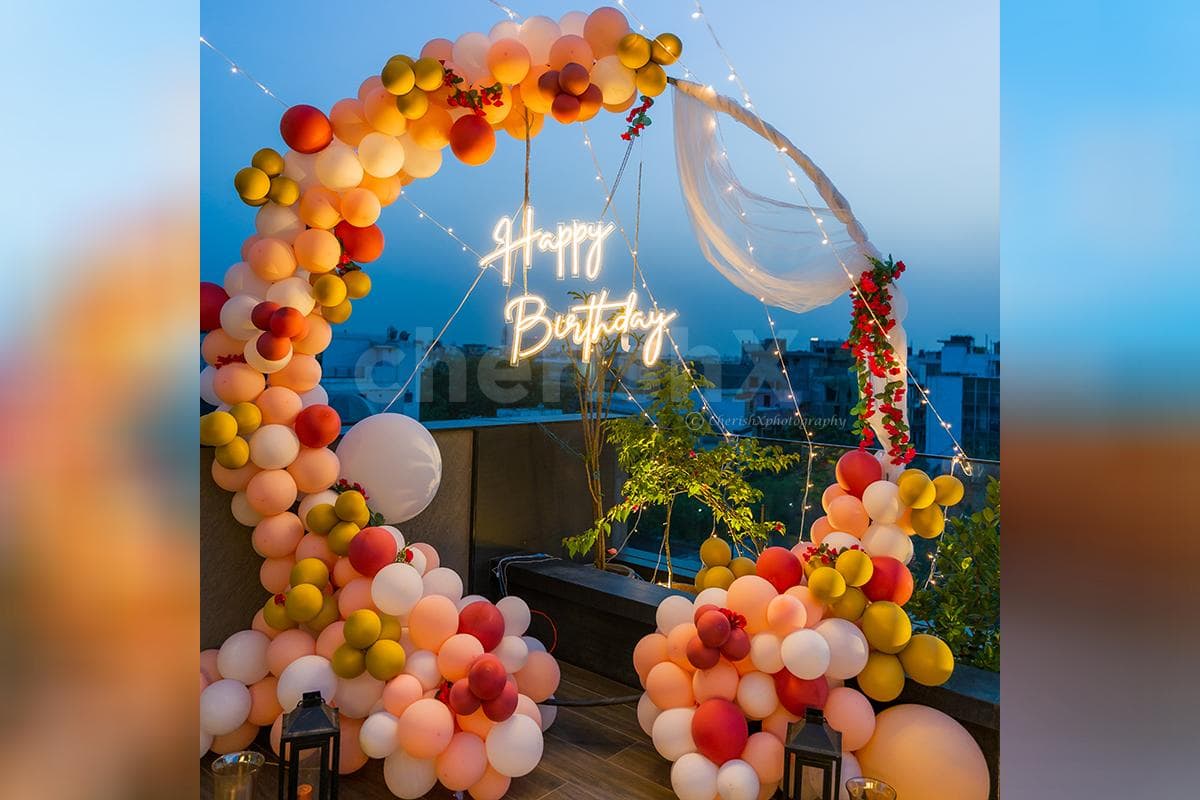 This is our most popular terrace/ rooftop decoration for birthdays. This Sparkling Birthday Neon Lights Décor puts all the trends in one mesmerizing setup. It uses a Ring Stand decorated with colorful balloons and a Neon Happy Birthday Signage with fairy lights tensed across the stand. You don't want to miss out on one of the 18th birthday decoration ideas. Also, if you're looking for terrace decoration, then this is the perfect one for you.
Terrace Decoration For 18th Birthday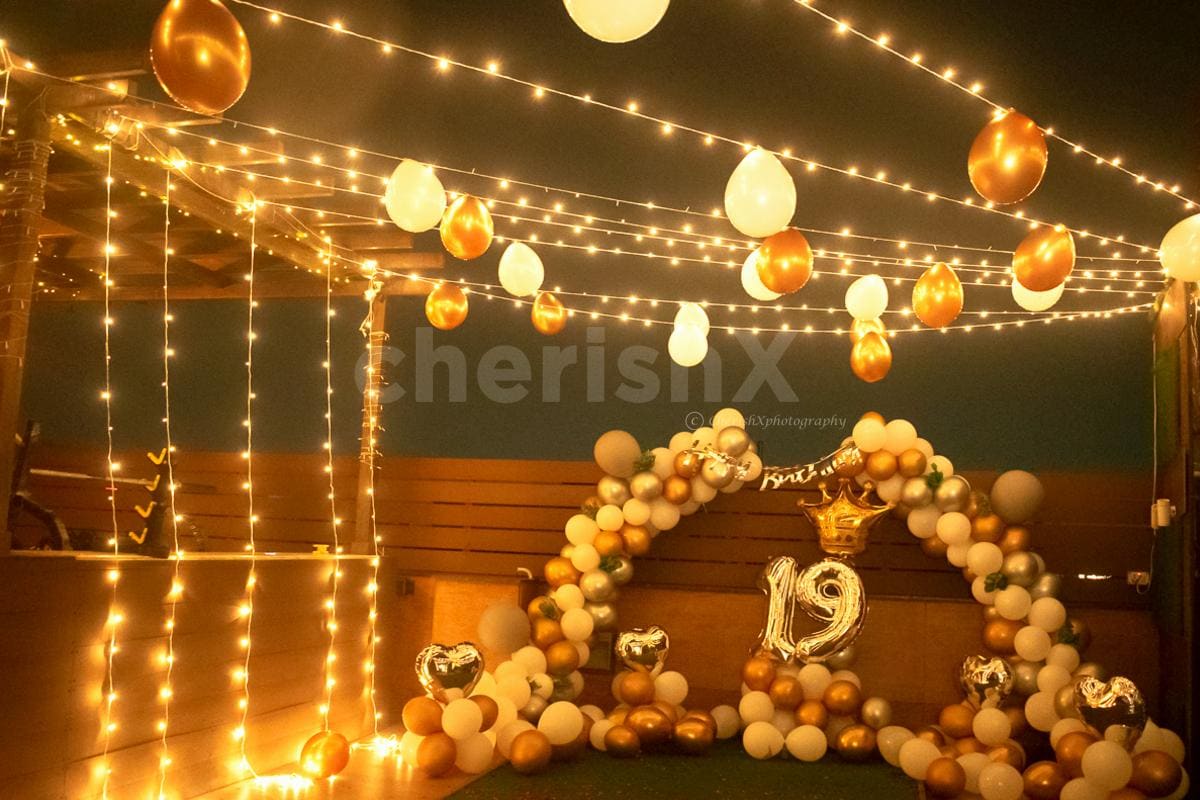 This trendy Terrace Birthday Decoration is for all homies who love a good lot of lights. The entire setup comprises 13 strings of LED lights and 300 balloons: some to make an arc like the one in the picture, some to fill the floors and some to hang from the light strings.
Boho 18th birthday setup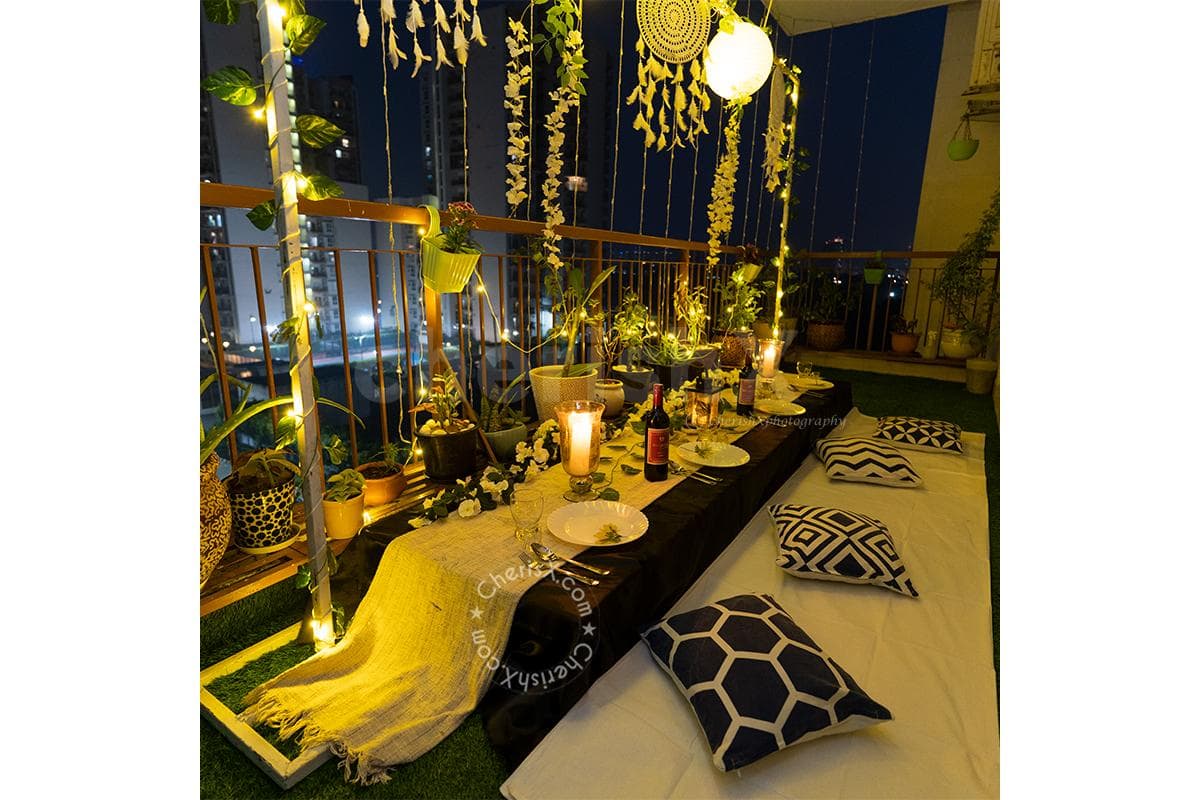 Some of us like a more intimate celebration with our loved ones. But, that doesn't mean you can't have a memorable birthday celebration. This Bohemian Style Dinner Setup is sure to make your turning-adult moment a memorable one. It's one of the most beautiful 18th birthday decoration ideas.
Golden Sequin Shimmer Decorations for 18th Birthday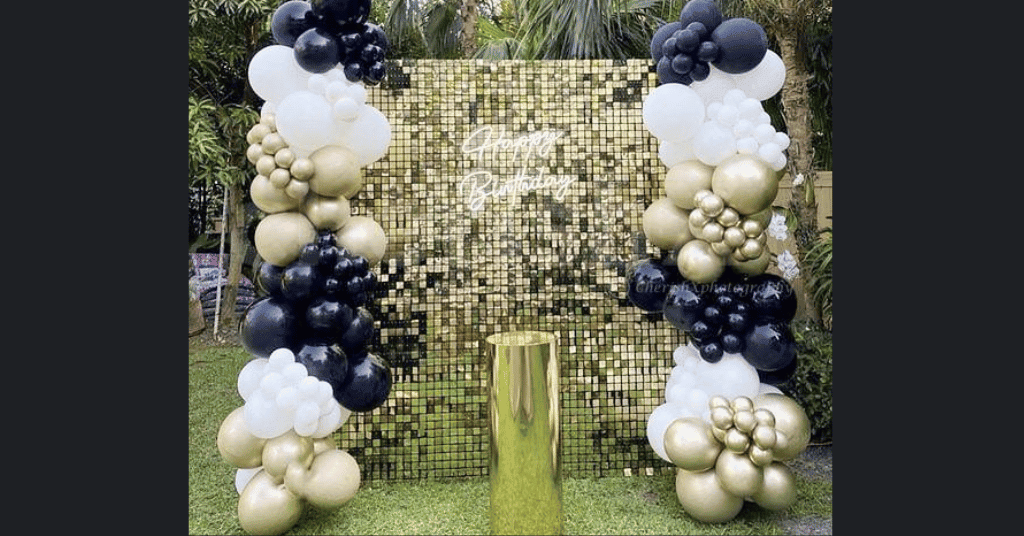 Add a touch of class to your birthday with this Golden Sequin Shimmer Décor. This shiny décor comprises a large sequin stand, a bright cylindrical base for the cake, and two pillars made of balloons of different sizes and colors. All this makes for a bunch of perfect Instagram selfies and portraits. It's one of the perfect 18th birthday decoration ideas.
Pastel Purple & White Mesh 18th Birthday Setup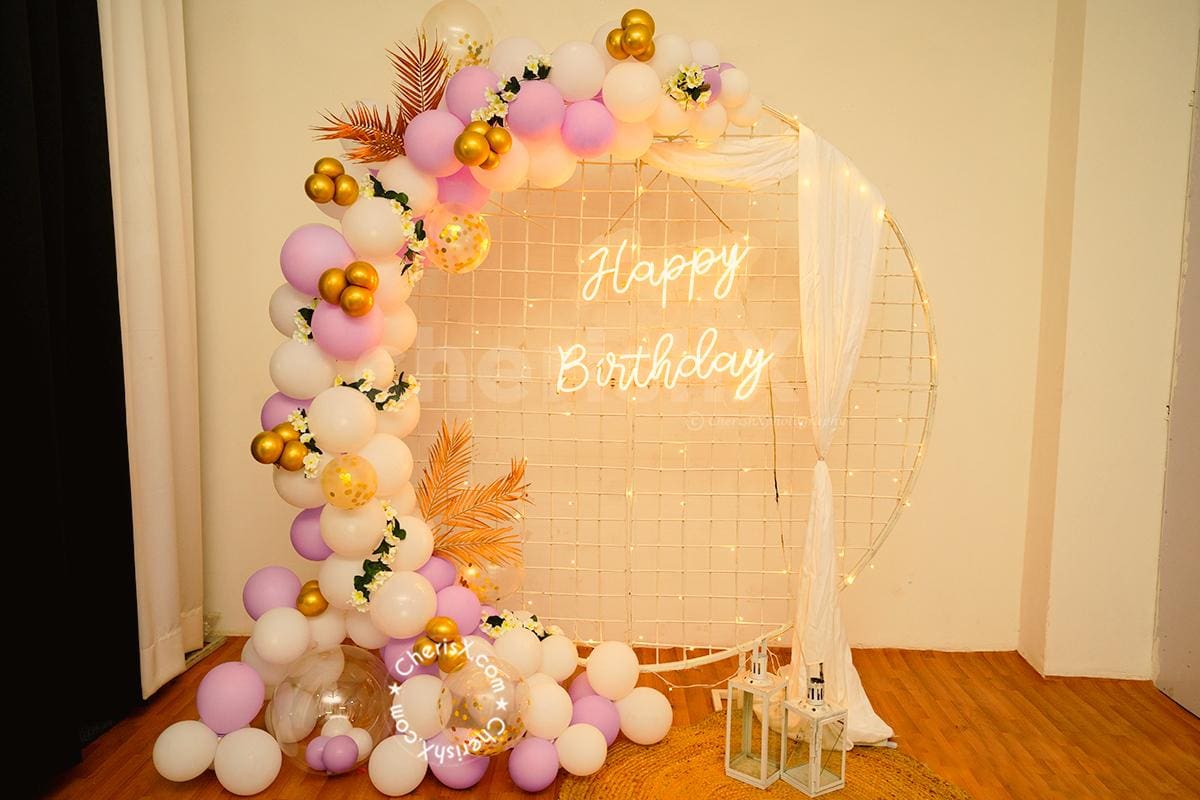 This Gorgeous Pastel Purple and White Mesh Birthday Décor wrap a net mesh around a circular ring stand with neon birthday signage hanging within it. The net mesh is decorated is light strings and white fabric and half of the stand is covered in beautiful latex purple and white balloons. The entire setup adds a mesmerizing charm to the event. If you looking for ring decorations for 18th birthday, then just go for this one!
Premium Purple & Silver 18th Birthday Setup
This Premium Purple and Silver Birthday Décor are for balloon lovers. In fact, it's a backdrop wall made entirely of purple, silver, pink and red balloons with a neon Happy Birthday sign stuck to it.
Dreamy Pastel 18th Birthday Balloon Backdrop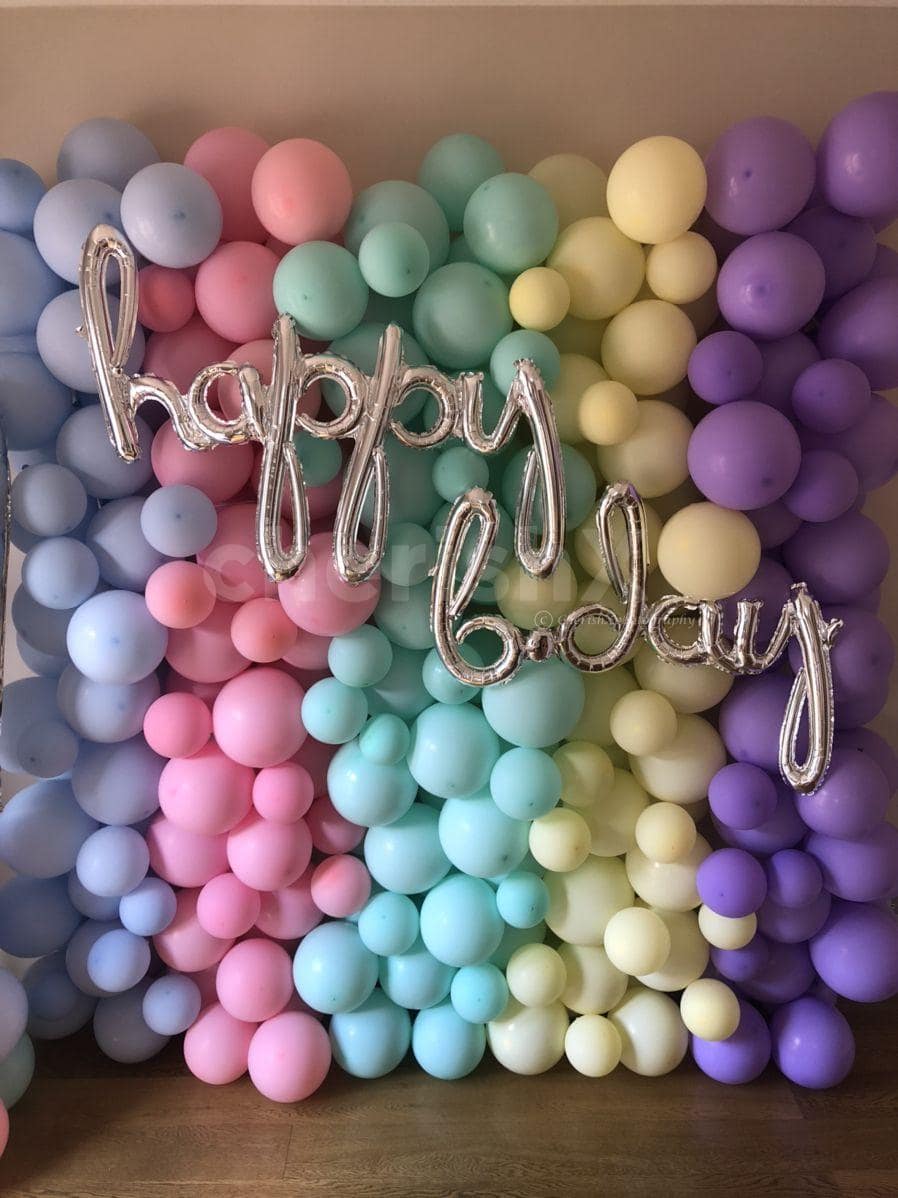 No birthday is complete without some fun pictures. This Dreamy Pastel Birthday Balloon Wall will make sure you have dozens of pictures of your 18th birthday to remember for life. If you love pastels, then it is one of the unique 18th birthday decoration ideas.
Final Words
Your 18th birthday calls for a grand celebration. So, explore our 18th birthday decoration ideas, and book one for yourself or your friend. Whether or not you're planning a big party with a long list of guests, you can always make it more special with a bit of wind in your hair and some fairy lights to top the show. Choose from hundreds of terrace/ rooftop decorations only at CherishX.
FAQs
How do you decorate a rooftop?
You'll need some outdoor rugs to cover the floor, some sort of lighting setup, and lots of balloons to decorate the rooftop.
How do you decorate a rooftop patio?
Your rooftop is like a large living room. Put in some lighting, rugs, and cushions to make it one. Now, add a touch of trends with trendy rooftop decorations.
What does an 18th birthday signify?
Your 18th birthday marks the end of your childhood and restrictions that we all have hated as a teenager. Now that you're an adult, you can vote, drive, drink, and take your own decisions. Isn't that exciting?
What special we can do on the 18th birthday?
Call for a grand celebration, go for a hike, or celebrate your 18th birthday in a pub. Whatever you do, make sure your turning-adult moment is a memorable one. Why? Because you only turn adult once.