A kid's birthday is more exciting for parents than their own. If you're celebrating the 1st birthday of your child then definitely it's something bigger that you would want to go for! 
Planning for your kid's birthday can be a big task for you but once you get on it, you'll find yourself in a much more exciting place. 
Nowadays, there are a lot of kid's themed birthday party decorations in the market that people like to have for arranging their child's birthday party. Whether it's a 1st birthday, half birthday or any other milestone, birthday parties become more fascinating when there are decorations added to them. 
There are many things that you need to list for a grand birthday party. To help you plan and execute a grand birthday party for your kids, here are the things you need- 
How to Plan a Grand Kid's Birthday Party?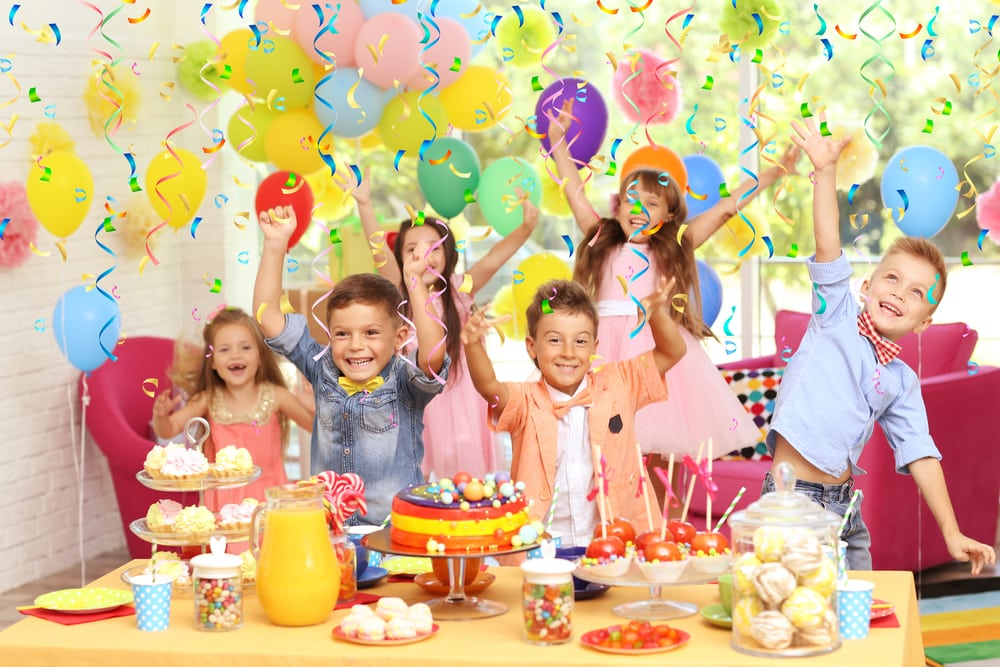 For planning a birthday party you need to take care of some things and by that, it means that you need to make a list of all things you want at your child's birthday party! 
What are all those things you need to list? 
Check out the Best Banquet hall 
The first thing that you need to do is select a wonderful banquet hall. If you know where you want the party to be then it becomes much easier for other things. You can decide on a venue for grand banquet hall decorations and then you can decide on different things such as decorations, food, guests and more. 
Decide on Decorations
You can decide on wonderful Kid's themed decorations for your baby girl or baby boy. Celebrate your child's 1st birthday, half birthday or any other milestone with decorations that will make your celebration much grander. You can find a variety of Kids themed decorations in Hyderabad. Some of the best decoration ideas you can find later in this blog. 
List Your Guests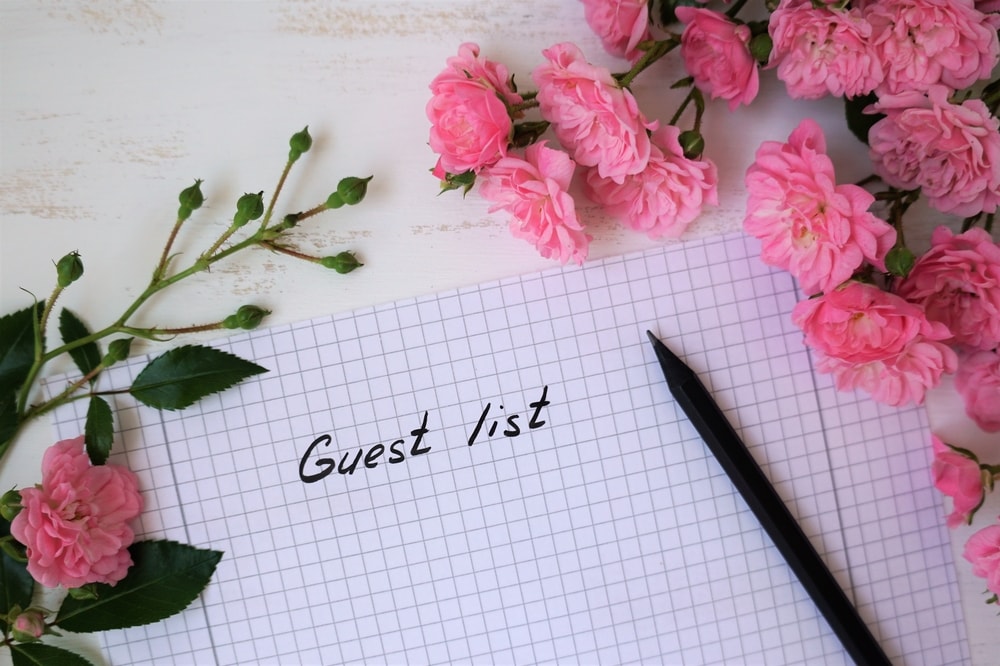 Listing your guest is surely an important part of planning a grand celebration. You should know how many people must be coming to attend the party. This way you'll get to know the number of food plates you need and the seating arrangement you should have. 
Select Food Items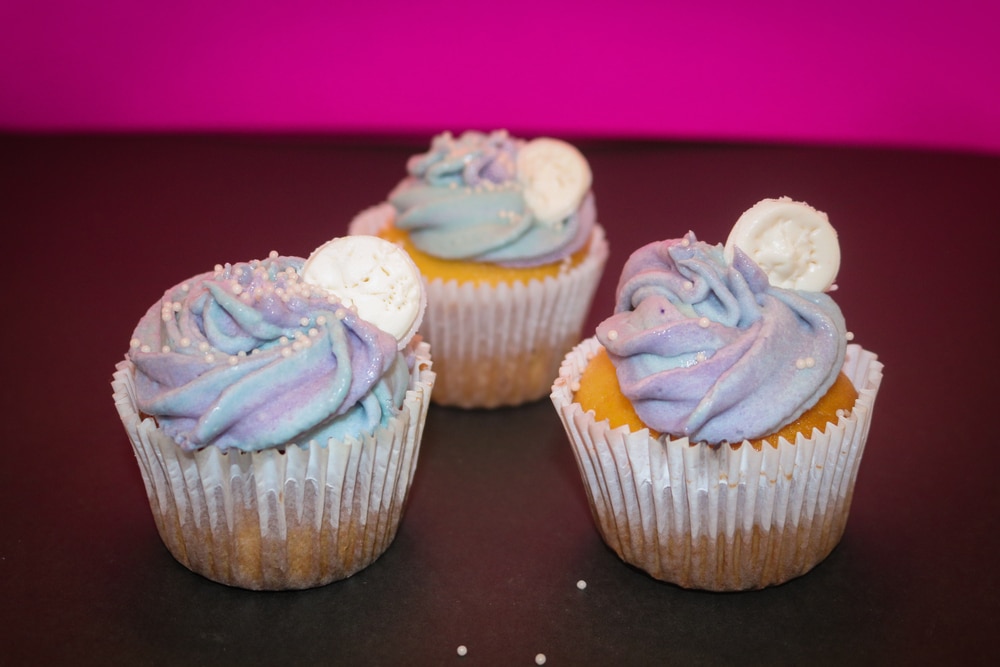 Don't forget to choose the food items you need. Know what your child likes and be ready to surprise him or her with their favourite food. You can also go for themed food items; whatever the theme decor you have, same themed food items you can add to the party. It would be fun for the kids as well as for the adults.
Make a Kid's Playlist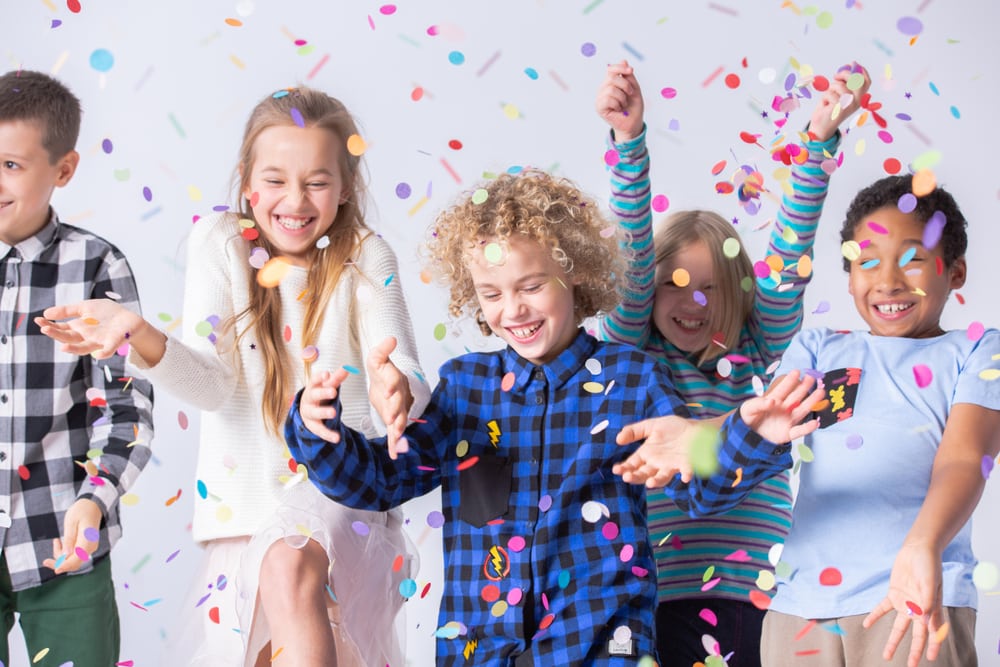 Music is definitely important for a party. So, let the kids have fun! Make a perfect playlist of songs, rhymes and more for the kids to enjoy. Add songs that they are familiar with so that they can sing and dance to them. 
Add Games 
Games must be the highlight for the kids. It doesn't matter if it's a party for a boy or a girl. You can add some of the most fun games for kids. You can add Mickey Mouse Jump House, basketball games and more to make the party fun. 
How to Execute a Kid's Theme Birthday Party?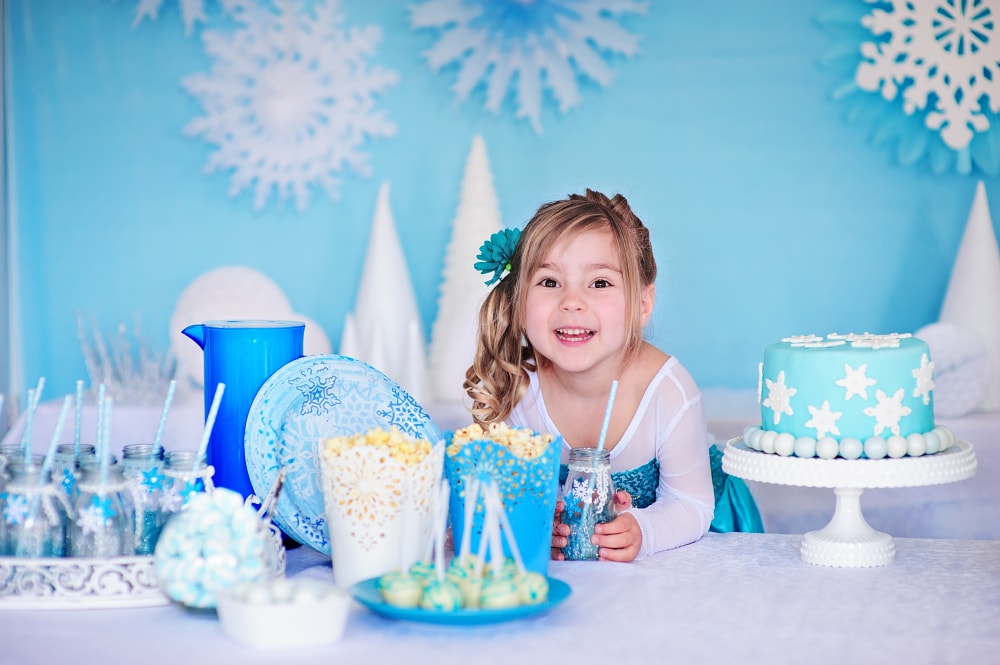 Execution is very important. If you have planned it well and are not able to execute it then your planning is just going to go to waste. So, make sure that you take every step to execute your plan perfectly. 
Here are some of the things that you should be concentrating on-
Check up on all the things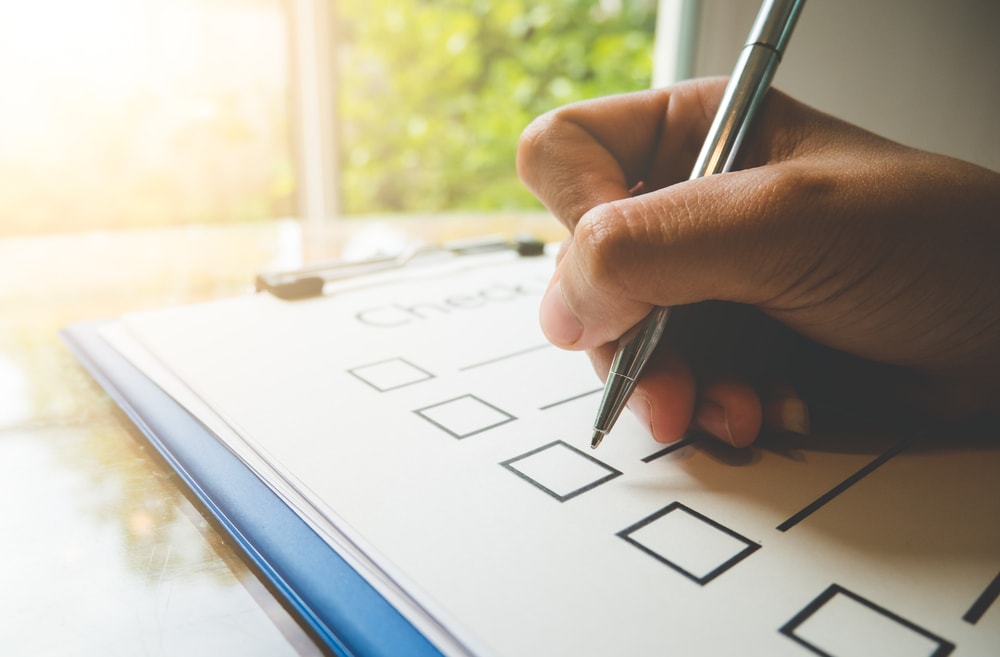 Whether it's food, music, decoration or invitations, you need to make sure to take care of everything. You should check that everything is ordered or not. There shouldn't be anything lacking that makes it look like the party is missing something! Make a check list and mark whatever is done so that it's easy for you track everything!
Be in coordination with all the Vendors
Coordinating with the vendors is surely important. You need to track the services that you're receiving. When will the items reach the location, when the decoration will start, when will the food be ready, at what time the music system will be installed? All these things are very important and you need to keep them on the right track! 
Best Kids Birthday Party Decoration Ideas in Hyderabad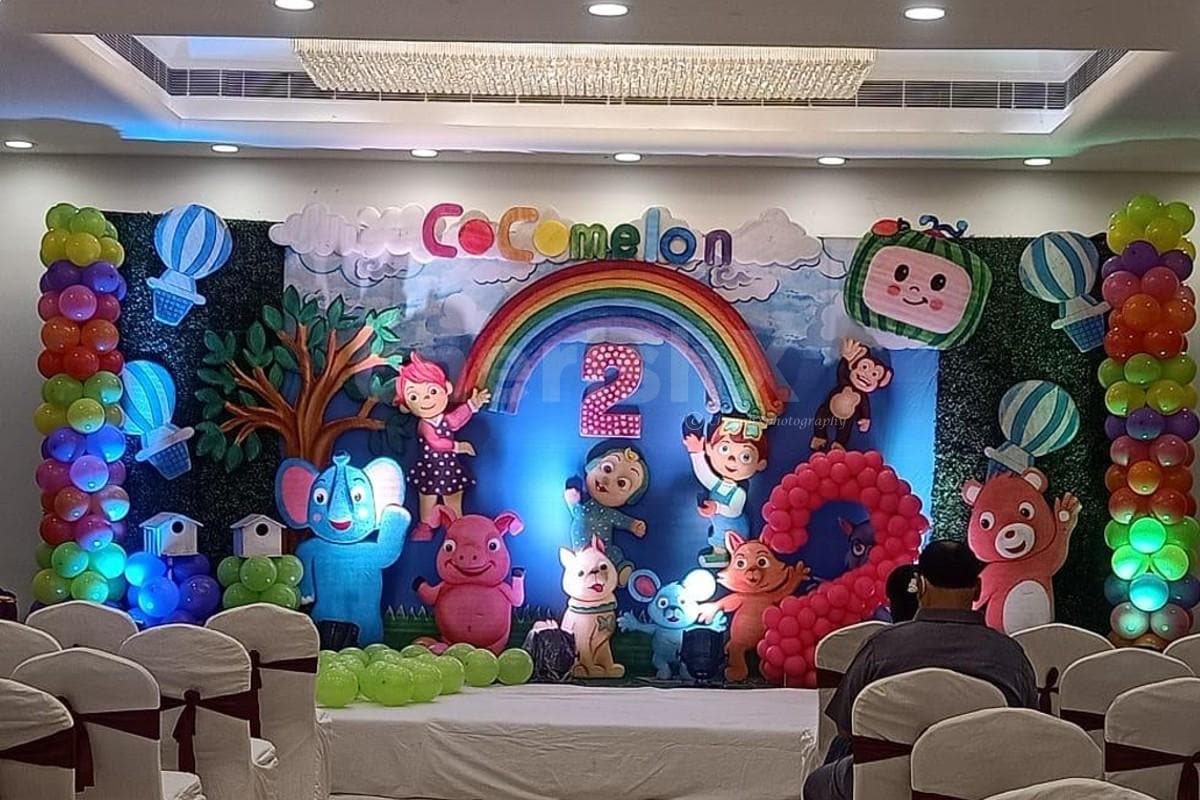 Plan a grand birthday party for your kid with these Best Kids Birthday Decorations in Hyderabad. Your child is likely to be surprised by these fascinating themed birthday decorations-
Baby Boy Birthday Decoration Ideas
For your baby boy's 1st Birthday Party or any other, you can find a variety of themed balloon decorations. You may go for different themes such as these-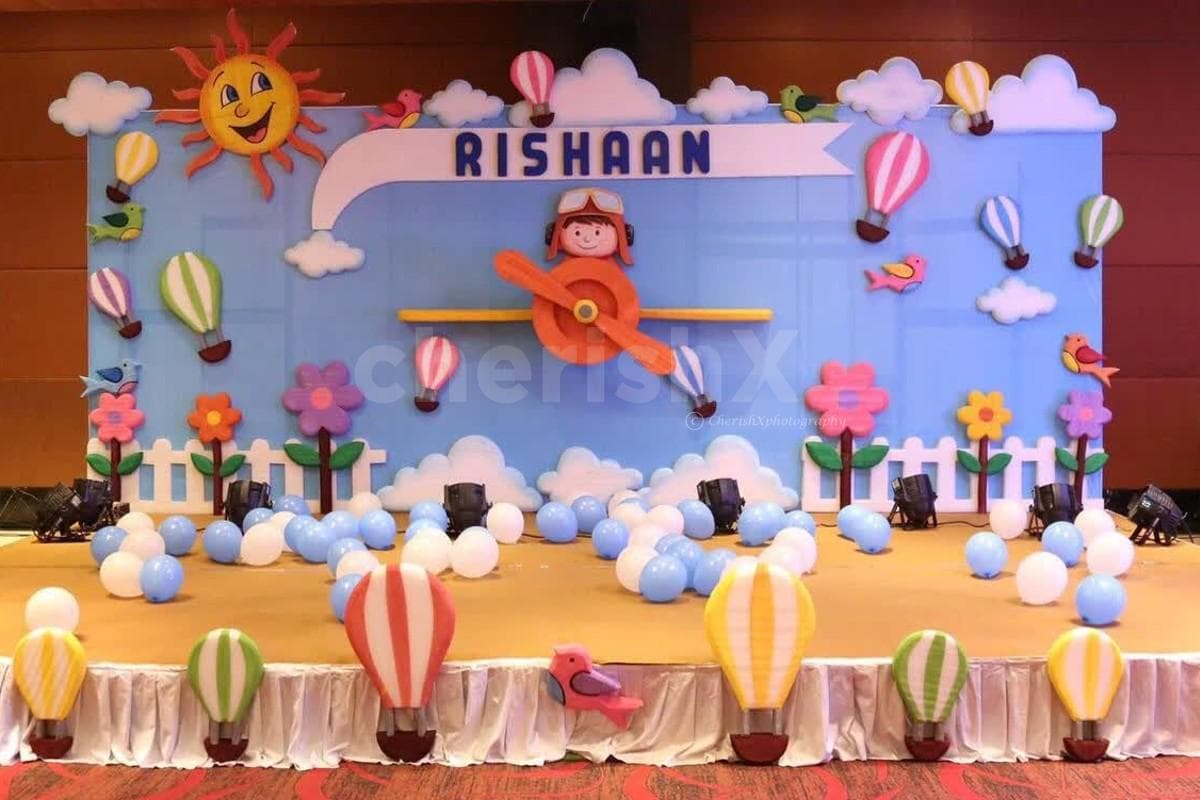 Hot air theme balloon decorations are a lot in trend which is why having it for your baby boy's birthday is sure going to make the celebration awesome. It's a grand decor by CherishX that will make the party memorable. The kids are likely to have a lot of fun. 
This Grand decor includes wonderful decor items such as Hot Air Balloon Cut-outs, small bird form cut-outs, sun form cut-out and more. 
Classy Baby Boss Theme Decoration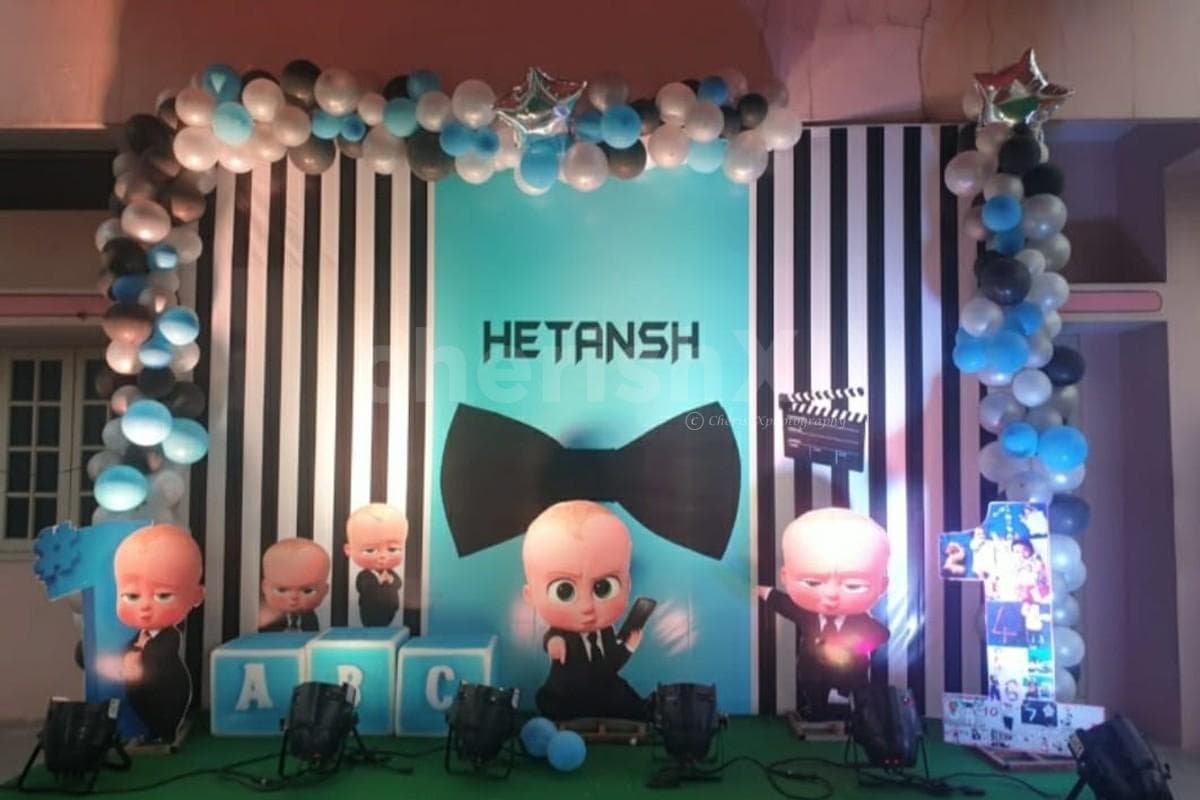 The Boss Baby theme is loved by not only children but adults as well. The portrayal of the movie in the decor surely fascinates everyone which is why adding it to your party will make it much more attractive. 
The Classy Baby Boss Theme Decor includes Theme Flex stand, balloon arch, Cake Table Decoration and more. You can make the party grand with this grand kid's theme decoration. Whether you're celebrating your child's 1st birthday or half birthday, this decor is likely to suit your occasion! 
Celebrate your baby boy's birthday with a Royal Prince theme decor. Make him feel like a prince on his birthday. This Grand decor is elegant and makes your celebration look grand. 
It includes a grand backdrop, silver crystal hangings, theme cut-outs, Royal Prince form cut-out, and more themed items to add to the decor!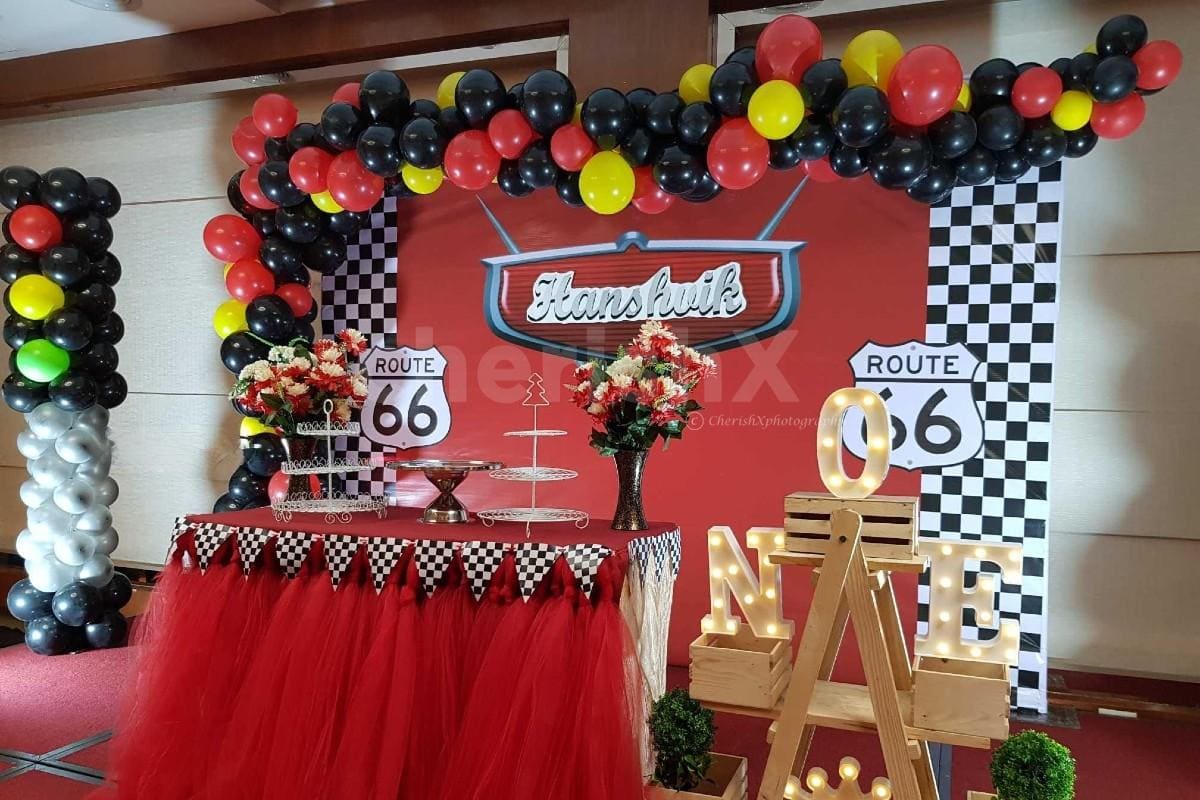 Boys surely love cars so why not surprise your baby boy with a Car Theme decoration. Celebrate his birthday beautifully with a Grand Car Theme Decor. 
The Fascinating decor includes Flower Bouquets, Balloon Arch, theme banner, theme cut-outs and more. You can easily find this grand decoration in Hyderabad Online. 
You can find more themes such as Prince Theme Decoration, Harry Potter Theme Decoration and more.
Baby Girl Birthday Decoration Ideas
For your baby Girl's 1st Birthday Party or any other, you can find a variety of themed balloon decorations. You may go for different themes such as these-
Surprise your baby girl on her birthday with a Unicorn theme decoration idea. Make her birthday special by getting this grand birthday decoration in Hyderabad.
This Grand Unicorn theme decoration includes a lot of decorative items such as balloons, LED par lights, Unicorn form stands, Crafted flowers, a blue colour theme backdrop and more. 
Disney Princess Theme Decoration
Disney Princesses are loved by all. You can not deny the fact that the princesses have stolen the hearts of many. This is why this decor is something you'd surely like. 
Give your daughter a princess feel with these Grand Disney Princess Theme Decor. It includes a variety of decoration items such as flex backdrop, balloons, LED Par Lights, Theme Cut-outs, balloon arches and more. Nothing could be better than surprising your daughter with the grand decor! 
Colourful Princess Theme Decoration
Children love colours and putting them together creates a perfect joyous look that fascinates your child. This is why this decor is an attraction that you need in your baby girl's 1st birthday party or any other. 
It includes things such as Multi-colour paper fans, Balloon arch, thermocol letters, par light, a personalised kid photo cut-out and more decorative items. All of these things make the decor look elegant and colourful! 
Elegant Frozen Theme Decoration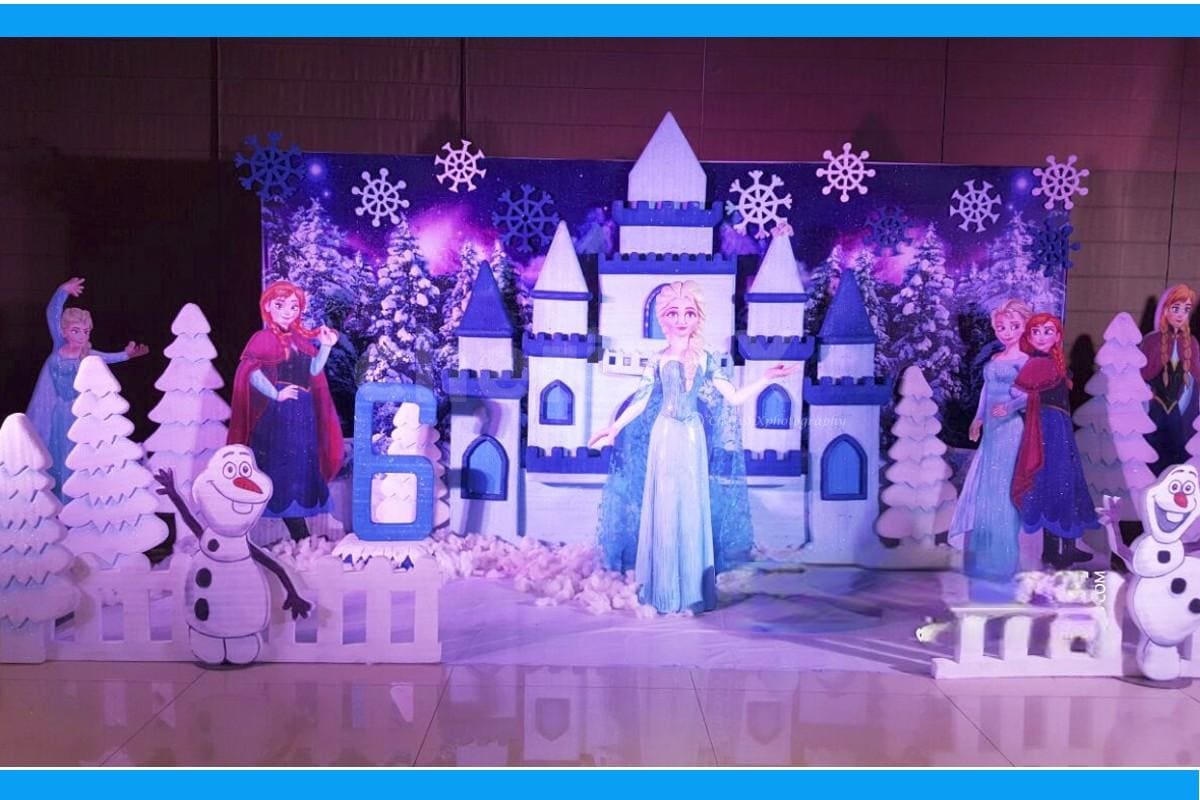 If your daughter loves Elsa and Anna then you can definitely go for this decor! It creates the whole aura of the castle of Elsa and Anna. 
With decorative items such as Snowflakes, Castle form cut-out, Paper snow type cut-outs, Olaf form cut-outs, the Frozen movie is brought to life. So, get one for your baby girl and make her feel special! 
Every girl while growing up has played with one or the other barbie dolls so making the Barbie doll come out alive in your decoration might be the best thing to do! 
Your daughter will surely love the barbie theme decor. You can take adorable pictures of her at her birthday celebration. The decor is wonderful and includes a draped backdrop, paper flowers, paper crafted mirror frames, baby name thermocol letters and more items for a perfect decoration! 
You can find more themes such as Tinkerbell theme, Princess theme decor, Beautiful Butterfly theme decor and many more.  
If you have planned to make your kid's birthday party a blast then these are things that you should keep in mind. Don't forget to add wonderful decorations, great food and music to make your party lit! 
With these above Grand Kid's Birthday Party Ideas, your party will surely be an unforgettable event. So, get ready to rock and roll on your kid's birthday. 
You can check out the Grand Decorations at CherishX and can get them right at your selected venue.