The New Year is here but still, the Era of Covid doesn't seem to end! Couples are under the impression that if the Government says for Lockdown then their celebration on Lover's day is not going to happen the way they want!
But, we don't think you need to worry that much!
Valentine's Day is special for every couple. Whether it's your first Valentine's or any other, every time the day seems to bring warmth and love to your heart's door. This is why celebrating it with your special one makes it all the more beautiful.
The Era of Omicron and Covid is existing but it doesn't mean you can't have fun the way you have thought! You can celebrate this Valentine's Safely at home with your special one with full zest if you follow these wonderful Ideas-
Plan a Playdate At Your Home
It might sound strange as people usually take a play date as children playing together but here we don't mean that. Planning a playdate with your husband, wife, boyfriend, girlfriend is definitely a great idea. Dates like these bring happiness and you get to enjoy much more. You can act childlike and have a healthy competition in gaming. You can play great games such as Taken 5, Call of Duty, and many more.
If your man likes playing video games then going for this idea can be perfect! On the other hand, most of the girlfriends don't like video games, so introducing them to her might be a great idea for your play date!
Get Your Bedroom Decorated for a Loving Surprise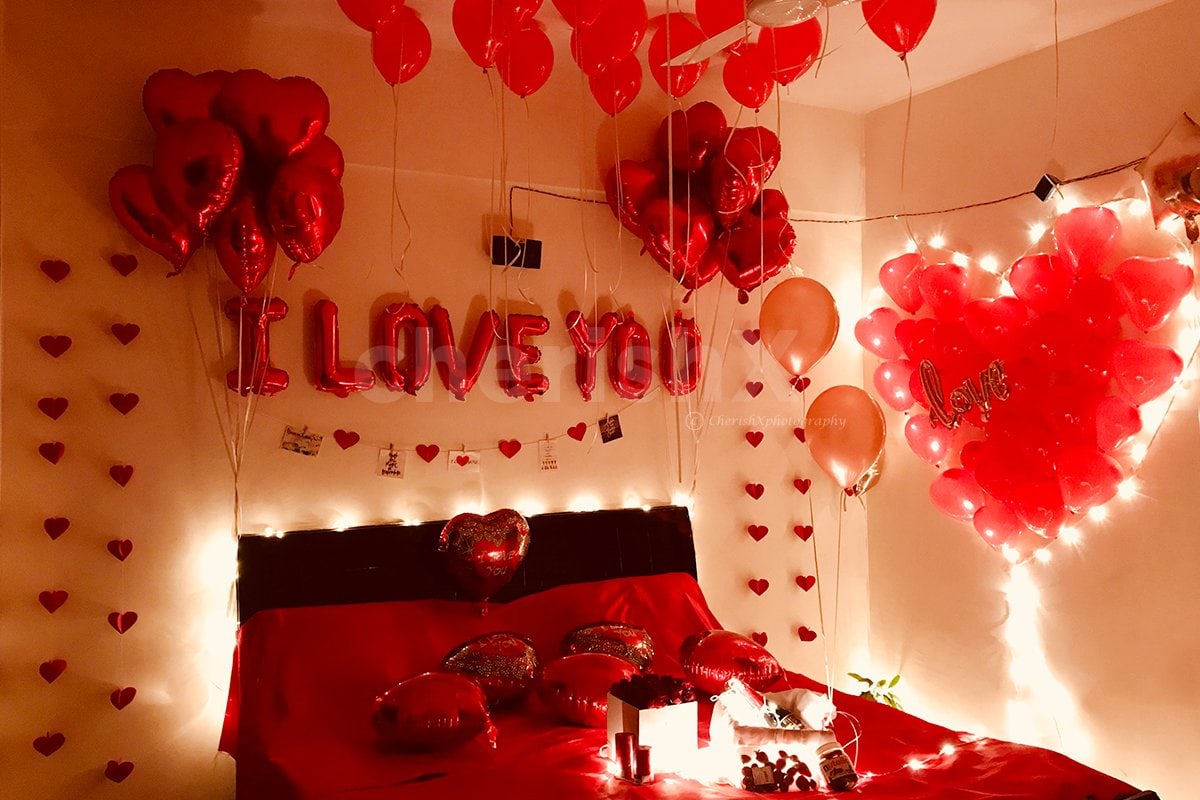 A Valentines Decoration surprise is sure to make the day special for your husband, wife, Boyfriend or Girlfriend. Everyone likes a surprise that has been planned way before and is executed beautifully. The efforts put in planning a decoration is what attracts the most!
Valentines Day Home Decoration will make your room look gorgeous and will also spread the vibe of love all around the house. So, getting your home decorated with wonderful decorations won't hurt, right?
Moreover, you can choose to surprise your special one with a love decoration with red balloons or have a proposal decoration to ask for marriage. This Valentine's, get a lot more romantic!
You can check out some most romantic decorations to surprise your partner-
Romantic Love Valentine's Decoration Ideas
Includes: This Valentine's Day decor will be with silver frills on the walls of wherever you want the decor to be. On it, a Silver Foil Balloon letter will be placed with a wish. There will also be a 'LOVE' Silver Foil Balloon attached with bunches of red and white balloons on the floor. Moreover, the decor will include two packs of white and red rosette and fairy lights. Overall, the balloons will be around 50 which will make the room look dazzling. Your celebration will be unforgettable with this beautiful decor.
Includes: The wall of your room will be decorated with Cursive rose gold 'love' foil balloon, bunches of heart-shaped foil balloons of silver, red, rose gold & Pink colour with I love you written on them, rose gold and pink pastel balloons and "XO" silver letter foil balloon (30 inches). There will also be some balloons spread on the ground adorned with fairy lights. All of the things will be decorated to give your room a bright look. Your date will be much more exciting with surprisingly exquisite decor.
Includes: This surprise proposal decoration includes a 7ft Canopy decorated with a White Net, Red Artificial strings, LED lights and White Dream Catcher to give a Boho touch, an arch of Balloons with colours Rose Gold and White to decorate the canopy, a table runner placed on the table, a White Bed Sheet, Rose Gold Love Cursive foil balloon, LOVE boxes filled with balloons and Led lights, Low Dining Table decorated with LOVE Led letters and Mrs & Mr Marquee letters, Jute Rug placed below the table, an Easel Stand with "Will You Marry Me" text Easel Board decorated with Led Lights, Floor lamps filled White Led Tea Lights, Small Easel Stand with A5 size Creative placed on the table. All of this together creates an elegant decor for your wedding proposal. You can easily surprise your special one with this amazing decor.
Romantic Proposal Valentine's Decoration Ideas
Includes: Filled with gorgeous balloons, this decor is likely to look perfect in a room and a hall. This romantic marriage proposal decor includes Heart Shaped Red Foil Balloons on the ceiling, the backdrop of "Will You Marry Me" Foil Balloons, a Personalized Photo Easel Board with Easel Stand, 2 Cages decorated with Red Roses, Floor Lamps filled with Led Lights, Floor Lamps filled with Led Lights, Bunches of Red Roses, Glass Vase, Candles for decorating the floor, Rose Petals for forming the heart and for decoration. All of this together brings an attractive and elegant outcome.
Includes: This romantic set up includes MARRY ME Led Letters, 1.8x6ft Stand draped with 6 mts of white net decorated with a Led light, Fresh rose petals to form a heart and to decorate the floor, Fresh white flowers to form a path that leads to the heart, Led Lights on the path, Tea Light candles placed in candle glasses, Transparent LOVE boxes filled with led battery lights and metallic rose gold balloons. All of this together will make your proposal more romantic.
You can have these wonderful Valentine's Decorations at Home. For more, you can check out Valentine's Home Decoration Surprises at CherishX! You can get decorations easily at home with CherishX as they keep it safe for you and your family with Covid Guidelines in mind.
Send Valentine's Gifts To Make it Romantic
Valentine's Gifts for him and her is a perfect way to keep it romantic and safe. Whether your partner is far from you or sitting just in another room, giving Valentine's Gifts to them will always make them feel special.
Knowing the safe packaging and keeping in mind the Covid Guidelines, you can find many Valentine's Gifts for Boyfriend, Girlfriend, Husband and Wife.
Here are some of the best-
Go with a Balloon Bouquet Gift and make your partner feel special and loved. Try this new bucket surprises for your better half. Amaze your love with this beautifully curated Valentine's Day Bucket. It includes all the lovely things that will make your partner's heart filled with love for you!
Includes: This cute bucket consists of a "Happy Valentine's Day" Foil balloon, Heart-shaped chocolates, Silver raisin chocolate, Ferrero Rocher, Red Rosette, and 1 silver small heart foil balloon. Also, there is Valentine's day special message for your loved one. Moreover, this all will be decorated with one battery operated light. So, surprise your partner with this delightful and cute bucket. Shower love on your partner and make him/her feel important.
Pictures capture our most unforgettable moments. Through these beautiful pictures, we go back in time and relive our fondest memories. And these amazing moments shouldn't be locked inside a closet. Instead, they should be displayed in this beautiful Heart Photo Frame.
Includes: The A4 size frame is black in colour and can display 22 pictures. The collage-style grid of the frame lets you put pictures of different sizes. This frame is a great way to make your loved ones feel special. Hang it on a wall and add a nice touch to your home with this amazing designer photo frame and celebrate special occasions like anniversaries, birthdays and gift this to your boyfriend, girlfriend, husband, wife, and make them feel loved.
The Enchanted Rose in a Dome signifies the magic of love, the charm of eternity and the bond of togetherness. This classic gift is the perfect way to make your partner feel that you will treasure, appreciate and love them for a lifetime. The charming Rose in a Dome makes for the perfect Rose Day charm highlighting the eternity of love and togetherness.
Includes: This Enchanted Rose in a Dome comes with an elegant glass bottle along with LED fairy lights to make it dreamy and charming. It is an eye-catching addition to any room of your home as well. Further, this signature gift becomes a memoir of your love and romance, something that you could preserve forever.
Give a 7 Days of Valentine's Week Hamper
Willing to Gift your partner a gift every day of Valentine's Week? Well, that surely is a great idea! Make your boyfriend or girlfriend feel special with a gift every 7 days of Valentine's Week.
You can go for some great Valentine's Day Hampers & Gifts and get them delivered every day to your partner or all at the same time.
Here is what CherishX offers you-
This 7 days of Valentines Hamper gives you gifts for each day of Valentine's Week. It's a perfect gift to give to your special one. This beautiful hamper is designed and curated to create the most heartfelt, romantic and beautiful memories for your partner. This serves as the everlasting reminder of the vows you make to each other also making it a beautifully crafted gift for your Valentine's Day Celebrations.
This 7 days Valentines Combo Consists of wonderful gifts for your Valentine's Week. You can surprise your special one with a Name Initial Letter in Rose Bucket, Propose day photo frame, Personalized Chocolate card: 4 Feet big Cute Teddy, Promise Messages, Rose Gold Helium Filled Confetti Balloons with Promise Messages, Personalized Led cushion, Kiss me Balloon Bucket with Kiss shape chocolates, and a Happy Valentine's Love Decoration surprise. All of these things together will surely make your special one happy.
Go For a Candle Light Dinner at "Safety Kept in Mind" Hotels
No matter what you do, the impact of Candlelight dinners cannot be underestimated. Couples love to spend romantic time together and if you are one of them then nothing could be better than surprising your partner with a Romantic candlelight dinner on Valentine's Day.
Even in Covid times, you can take your partner on a dinner date. Make sure to check out the best hotels and restaurants that keep the safety of their customers as a priority! You can go for a Poolside dinner, Rooftop Candle Light Dinner date,
Here, you can explore these Candle Light Dinner Experiences by CherishX that follow all the safety measures for Covid-
Express your love this year with a new style by going for something unique. Let your loved one feel the love in the air and the romance in you. Surprise him/her with a gift full of Warmth with this Private Dinner at Caspia. Light up their day with this wonderful dining setup filled with a lavish buffet meal, decorated table and welcome drinks. Don't forget to add your love! This is one of the best experiences that you can go for at Caspia with Candle Light Dinner Experiences.
Head to Jaypee Siddharth in Rajendra Place – almost central Delhi. This experience is about old school charm and for foodies! The live kitchen across the glass of the restaurant is appetizing and the assortment of food that the chef prepares for you is sumptuous! For your valentines celebrations, you can add cake, flowers, and stay at the hotel. Jaypee Siddharth has 4 restaurants and Paatra is its fine-dining restaurant that takes you on a culinary journey from Amritsar to Lahore (i.e. Punjabi Cuisine). Different 'paatras' (i.e. utensils) determine the unique cooking methods that conserve the flavours of your food. Paatra had a mix of retro and contemporary looks. The chandelier in the middle has the back in the day charm, while the chefs behind the glass wall offer some nice appetizing views! Overall, an elegant restaurant that promises to deliver a good food experience! Moreover, it takes care of all the safety measures of Covid. So, going for this one will definitely give you a great experience!
Plan Movie Date in Pajamas
If you are looking for something calm at the same time fun, then a movie date at home is perfect in Covid times. You can get a Movie screening set at your home with a beautiful and comfy cabana set up for a romantic night. You don't need to go out, you can enjoy your time with your partner at home. A Comfy and romantic Valentine's Movie Date with Decoration can be something to have this Valentine's 2023!
Get Love Hampers Delivered
Valentine's Celebration in Lockdown and Covid times may seem difficult but you can send your love in more than one way! Send your boyfriend or girlfriend, husband or wife, a wonderful Love Hamper! A Love hamper consists of all the things that will make your partner feel loved. You can get love letters, Key to the heart and a lot more loving things!
Sending Valentine's Day hampers is not only loving but also safe for you and your special one!
Here are some of the wonderful ones to go for-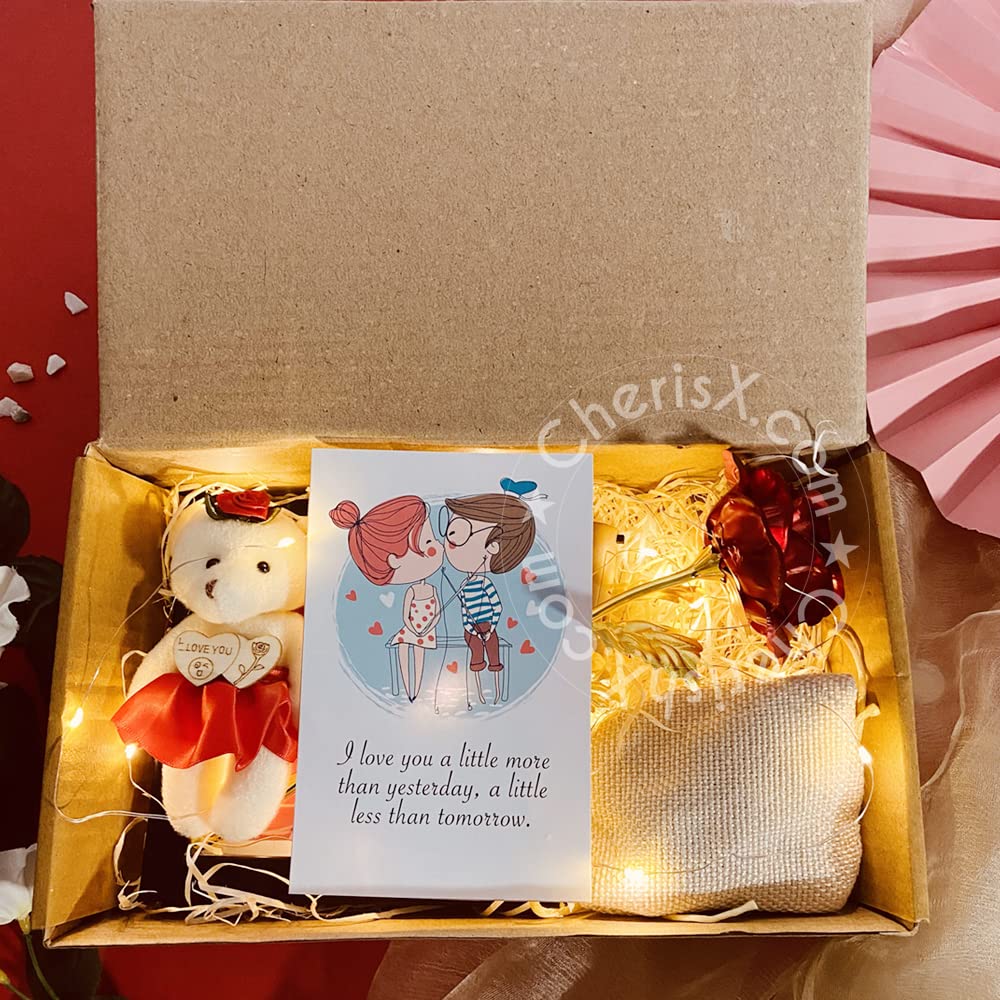 Leave a lasting impression on your special ones by sending them this loving hamper. Filled with wonderful things, this hamper reaches directly to your heart! This cute hamper includes a Teddy, Heart Shaped chocolates and Candles, a Frame, Metal Rose, Cork Light, and a Card Creative. It's surely a loving Valentine's Day Gift for him and her to make the celebration all.
If you want to do something different and fun, then this Love Contract is what you need! Gift your partner this contract and let them rule your heart! It has 3 Sheets of Printed Contract, Brown Packing with jute thread, a Stamp Sticker, and a Logo Sticker. Gift your special one this Valentine's Day a Love Contract to indulge in some fun activity.
You can find more hampers and gifts like these at PartyStore.
Celebrating Valentine's Day in this Omicron and Covid era is not as difficult as it seems. It's all about you being creative and bringing out some amazing ways to celebrate it! This time, you can go for these wonderful ideas and ways to have that perfect Valentine's Day Dinner Dates and Celebrations.
So, embrace this dinner date and Valentine's Gift Ideas in 2023.