[fusion_text columns="" column_min_width="" column_spacing="" rule_style="default" rule_size="" rule_color="" hide_on_mobile="small-visibility,medium-visibility,large-visibility" class="" id=""
Ganesh Chaturthi or Vinayaka Chaturthi is one famous festival celebrated all across India though majorly in Maharashtra. The festival is celebrated with full zeal and zest. So, it becomes important to know how one should celebrate Ganesh Chaturthi at home.
How to Celebrate Vinayaka Chaturthi?
In this blog, you will get to understand a detailed way to celebrate Vinayaka Chaturthi.
Preparing for the Pandal for Ganpati 2023 
The first thing that you need to do is prepare for the pandal. Have a Ganesh Chaturthi Pandal Decoration for your Ganesh Chaturthi Celebrations. The idol of Ganpati will be placed in the middle of the Pandal. So, it's important to decorate the place beautifully. It's one of the beautiful Ganpati decorations at home. 
The place can be decorated with flowers, colorful papers, thermocol cut outs, attractive paper cut outs, festoons and buntings amidst all the fun, banter and chit chatting. 
If you want the same or similar Ganesh Chaturthi decoration done by Professionals, then click here!
Samagri for the Ganesh Chaturthi Puja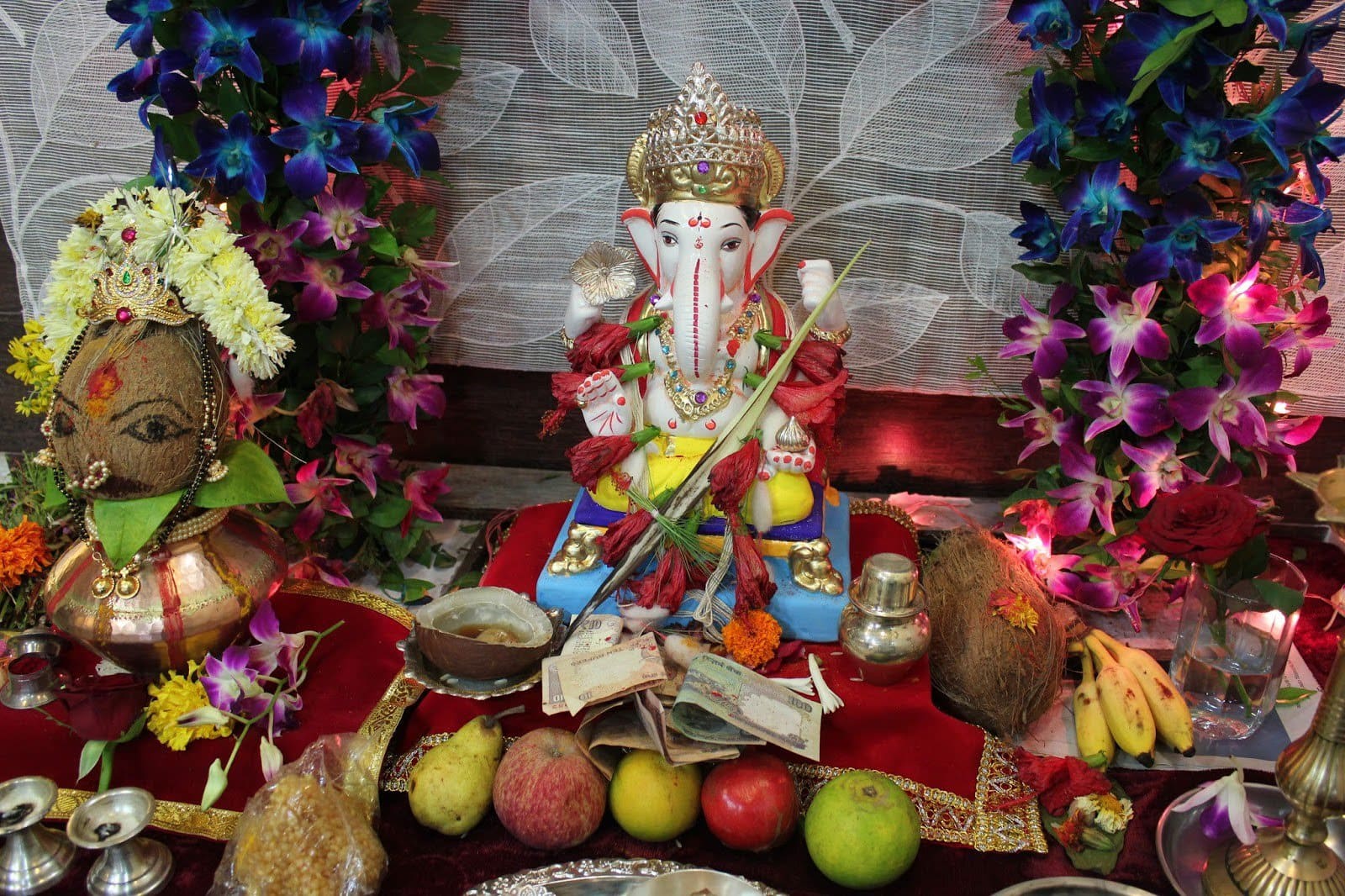 For vinayaka chaturthi celebrations at home, there is a ritual of offering durva (thin blade grass), modak, jaggery, coconut, red flowers, red sandalwood and camphor while worshiping. The dishes made during these festival days are without onion and garlic. 
The lunch on the first day is usually served on a banana leaf. People usually sit down in a cross legged pose in rows. The lunch comprises of chapati, any sabzi like potato / cauliflower / beans, matki, usal, tomato saar, amti (daal), varan (pigeons peas), rice, green chutney, cucumber salad, masale bhat, curd.
The main attraction on this day is steamed modaks (the sweet stuffing consists of freshly grated coconut and jaggery / palm sugar while the outer covering is made from rice flour.  The modaks are said to be the favorite of the Ganesh Ji.
Selective Sweets for Ganpati
Apart from modaks, the sweets made during the festival are shrikhand, puran poli, sheera, karanji. All these are traditional marathi sweets which are a treat for the tastebuds, rishi panchami falls on the day after the ganesh chaturthi. This day marks the traditional worship of sapta rishi. 
Also, check out how Bollywood celebrated Ganesh Chaturthi last year!
The Procedure of Ganpati Visarjan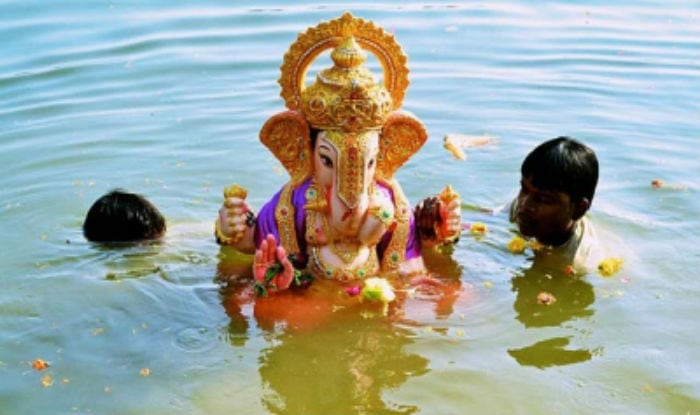 The last day of the Ganesh Chaturthi is known as ganpati visarjan which falls on anant chaturdashi. On this day, one usually prepares kairi dal (raw mango dal) and fried modaks. The visarjan process is a heavy hearted one as it means adieu to lord ganesha and wishing that he continues to shower on people his love and blessings and returns soon next year. The colorful and musical processions for the idol visarjan take place amidst glamor and chants like "ganpati bappa moraya pudhchya varshi lavkar ya (come back soon next year o lord)."
How to celebrate Ganesh Chaturthi at Home have been the questions of many. So, to resolve it we thought of answering it in a blog so that everyone can read and know how people all across Maharashtra celebrate it. The excitement is sure never-ending so light up the festive atmosphere by preparing everything according to the procedure mentioned above. From Ganpati decorations at home to puja preparations, we have covered you with all. 
Do share it if you think it's useful.