Rose Day, in Valentine's Week, is one such day that people celebrate with Roses. But what if your man or lady doesn't like them? Even if they like Roses, do they like the lovable "Red Roses"? Well, this definitely puts you in a difficult position. 
Want to know the Top 10 Balloon Bouquet Gift Ideas for Rose Day? Well, you have landed on the right article!
Celebrating Valentine's Day with Roses is one famous tradition everyone follows. It doesn't mean that you can only gift red roses. There are plenty of different Gift Options other than red roses that you can give to your special ones. 
Balloon Bouquets with a combination of Roses and chocolates is a great Rose Day Gift for a husband, wife, girlfriend, boyfriend and even your mother. So, why not go for something this sweet and heartwarming for your loved one? 
Here are the Top 10 Balloon Bouquet Ideas that you can Gift on Rose Day other than Red Roses-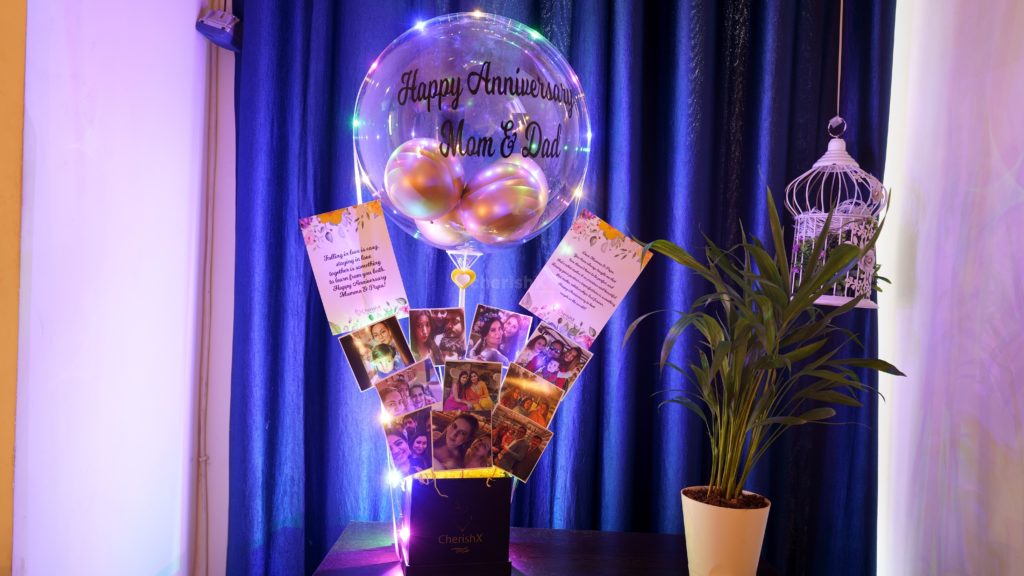 If not Roses, then this is the perfect gift for your girlfriend, boyfriend and more. This gift is perfect for any Rose Day as well as Valentine's Day as it comes with a bubble balloon with Golden balloons inside, customizable vinyl printing, a picture bucket with 10 pictures, and two customizable message cards. Along with that, there is a battery-operated light to make the bucket look prettier. 
The bucket is unique and will make your moments much more memorable. It's one of the great Rose Day gifts online to book for your special ones. 
This beautiful White Love Rose Day Bucket that was curated specially for you is a loving and all the more perfect gift to give on Valentine's Day Rose Day! If you are not ready to give Red Roses, go for some red carnations! 
Valentine's Week is full of love. Each day is a celebration. So, express your love the best way you can with a heartwarming balloon bucket! Whether you are gifting your man or your lady, this gift will make your person feel loved and appreciated. It's also a perfect Valentine's Gift for a Boyfriend, Girlfriend, Husband and wife!
Bucket gifts have become a trend so why not follow it? It is designed with a White Heart-shaped foil balloon of "I love you", Small Red heart-shaped foil balloons and a Bucket of Red carnations or red roses as per your choice. Moreover, you get 4 rose-shaped chocolates and a perfectly beautiful message for your loved one. So, why wait? Get it at CherishX!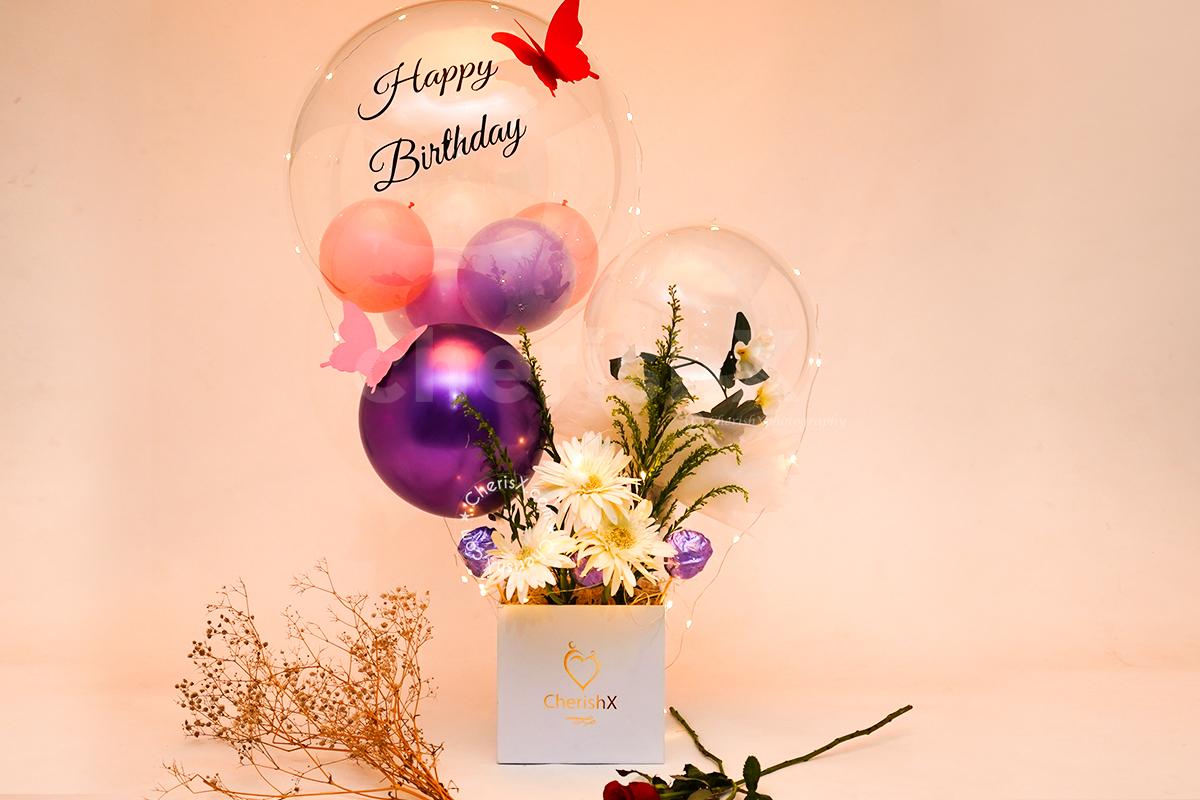 Involving a gift makes a celebration memorable and who doesn't like to think of the good old days, right? Keeping that in mind, let us introduce to you this amazing bucket to make your moments special! The bucket is named Luxury as it shows off elegance and attracts people wherever you put it. 
This Classy balloon bouquet stand is curated with a Customizable Vinyl Printing Message on the bubble balloon, a Big sized Bubble Balloon filled with White Latex, Pastel Purple and Pastel Peach Balloons, a small-sized Bubble Balloon filled with artificial Flower Strings, a White box filled with Gerberas and Purple Rose shaped chocolates. The bucket further has a Purple Chrome Balloon and a Battery Operated Light. All of this put together creates this beautiful piece of love. Moreover, you get no "red roses" here! 
If your boyfriend or girlfriend, husband or wife likes flowers but not the roses then you can check out these Flower Gift Ideas- 12 Best Flowers to Gift Your Beloved on Valentine's Day
A photo bucket is definitely a unique idea! Putting up your lovely pictures to show how much time you have spent together and so many memories made is sure something to look forward to! It's time to appreciate those moments with this wonderfully curated Rose Day Gift! 
A bucket of warm wishes filled with personalized polaroid pictures, bubble balloons filled with chrome balloons, star-shaped foil balloons and many more items. It may seem difficult to find the perfect gift that suits the recipient's personality and this bucket might be what you're looking for!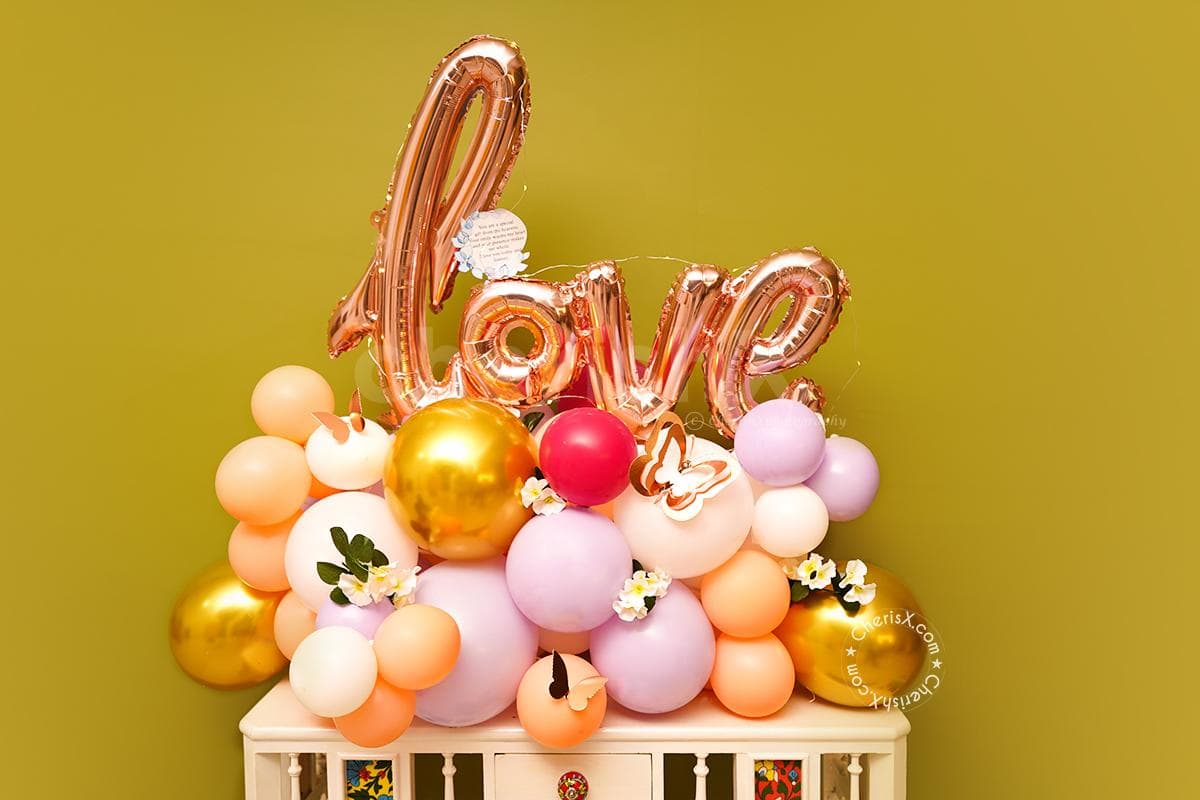 Celebrate the special bond of love by giving your close ones a beautiful balloon bouquet gift. Involve a great deal of fun and fascination with this balloon bouquet, specially designed for the very special Rose Day.
Balloon bouquets are classy gifts that you can give to your close ones on any occasion. This balloon bunch, curated to gift your husband, wife, mother-in-law and your close ones, is perfect for birthdays and anniversaries. If you want to gift something to appeal to the recipient's eyes, then this should be the one! This Radiant Love Balloon Bouquet is curated with a Cursive LOVE Rose Gold Foil Balloon, Bunch of colourful balloons, Rose Golden Butterflies, White Artificial Flowers, Battery-Operated Light and a Card Message. All of this together creates this perfect Valentine's Rose Day Gift to give to your loved ones.
Celebrate the beautiful Valentines Rose Day by gifting your special one this exclusive Premium Feather Bucket. Appreciate the loving bond between you and your partner or your family by making your close ones feel special with this gorgeous bucket gift filled with balloons and chocolates! 
This appealing bucket is curated with a Customizable Vinyl Printing Message on the bubble balloon, a Bubble Balloon filled with White feathers, a Heart Shaped Rose Gold foil balloon, a white box filled with White roses and Silver Cup-shaped chocolates. With this, you also get Rose Gold Butterflies, a Card Message, Photos and a Battery Operated Light. All of this together brings this beautiful bucket as an outcome which means a charming and unique balloon bouquet Gift for your Partner!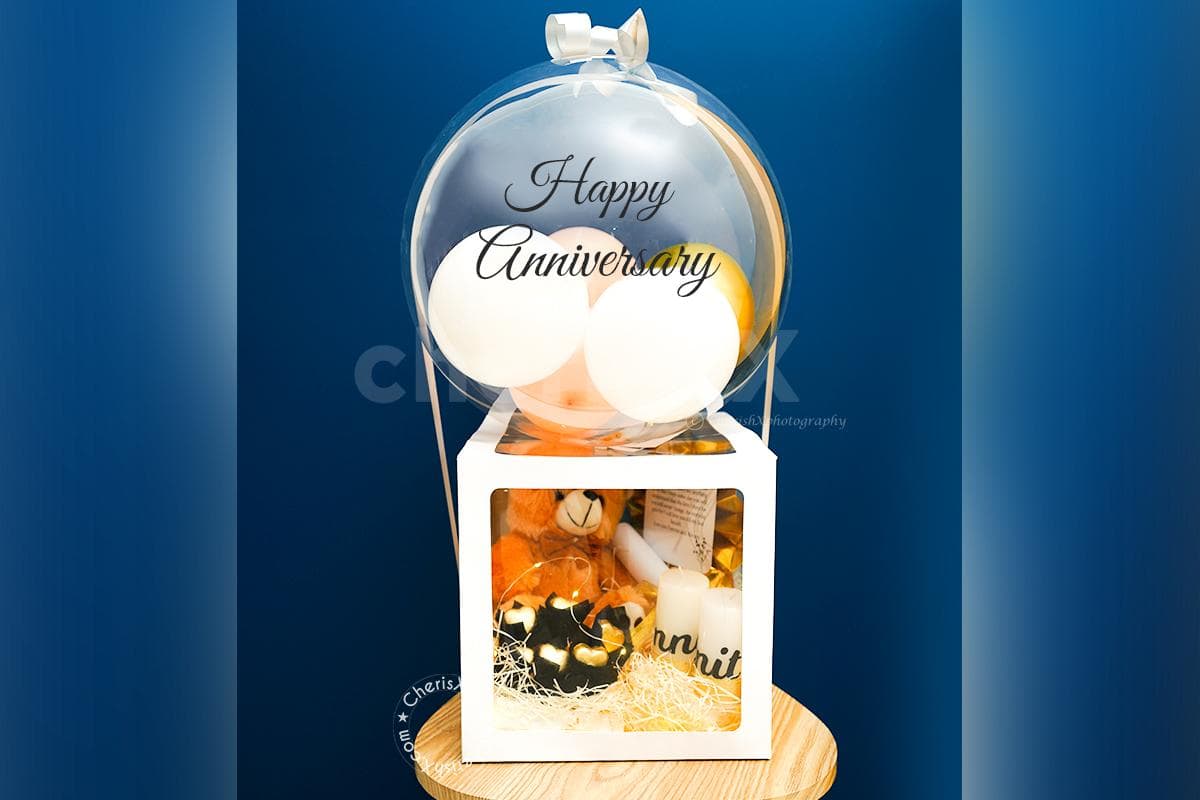 A Romantic Flying Balloon Box seems like a magical gift. Thought and creativity have brought us this beautiful magical piece! You can gift your special one this breathtaking Romantic Helium Balloon Box to make the evening more beautiful. 
Let the magic spread all across the two of you! This Gift brings a whole lot of joy that's hidden beneath the bubble balloon. You can gift your wife or husband and let them unbox the wonder inside. There's a ribbon tied up on the bubble balloon. So, what happens is that when the recipient unties the ribbon, he/she will see the helium bubble balloon flying above the bucket with the pictures (of him/her or you both) attached to it. You will be able to see the photos one by one. So, the best part is they will not even know that the pictures are in there unless they untie the ribbon. This wonderful gift is a transparent Box, one of the most unique and loving gifts that you can give to your special one!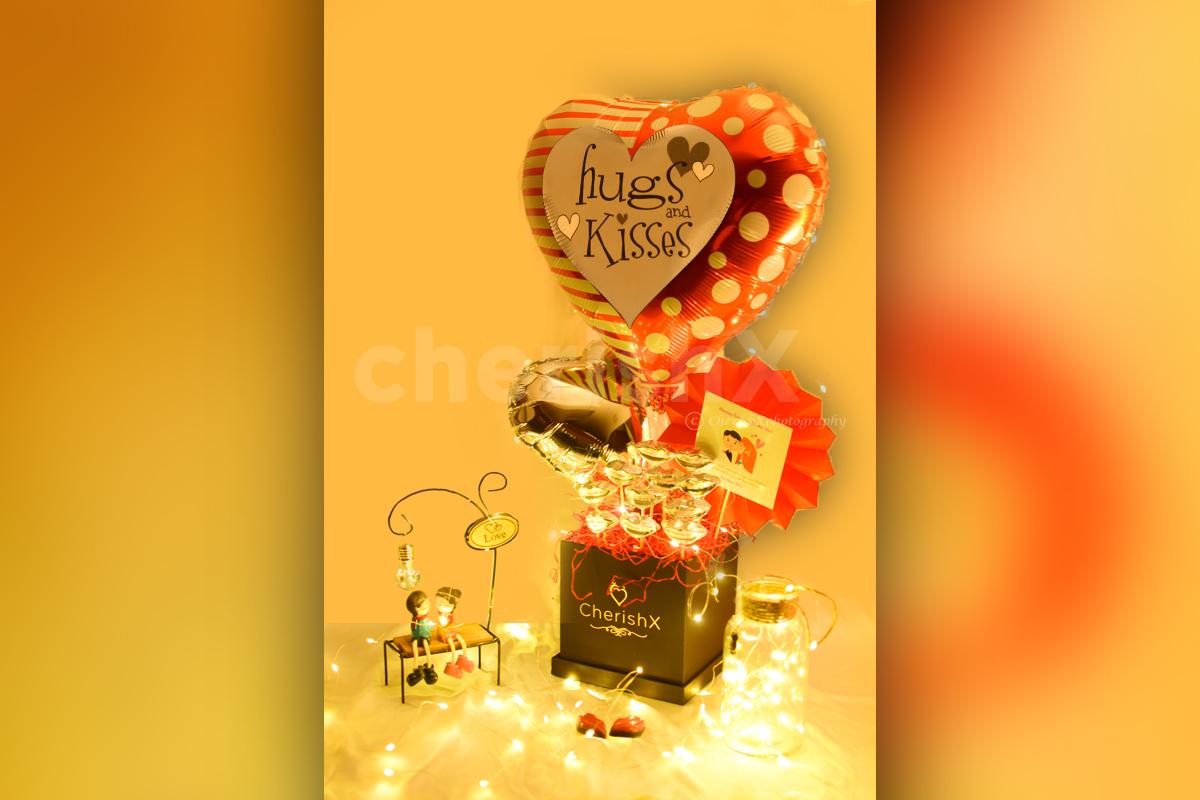 If not a Rose, then send them virtual Hugs and Kisses! Wonderfully curated, this Hugs and Kisses Bucket by CherishX is specially made to deliver the warmth of love and affection to your partner. Let him/her feel the love with a bucket full of chocolates and heart balloons! 
This loving Rose Day gift for him and her consists of a Hug & Kisses Foil balloon, a small silver heart-shaped foil balloon, and Lip shaped chocolates. Moreover, it has Red Rosette with a special message for your loved one and Battery operated light decorating it all. So, light up your partner's heart with this affectionate bucket full of beautiful things!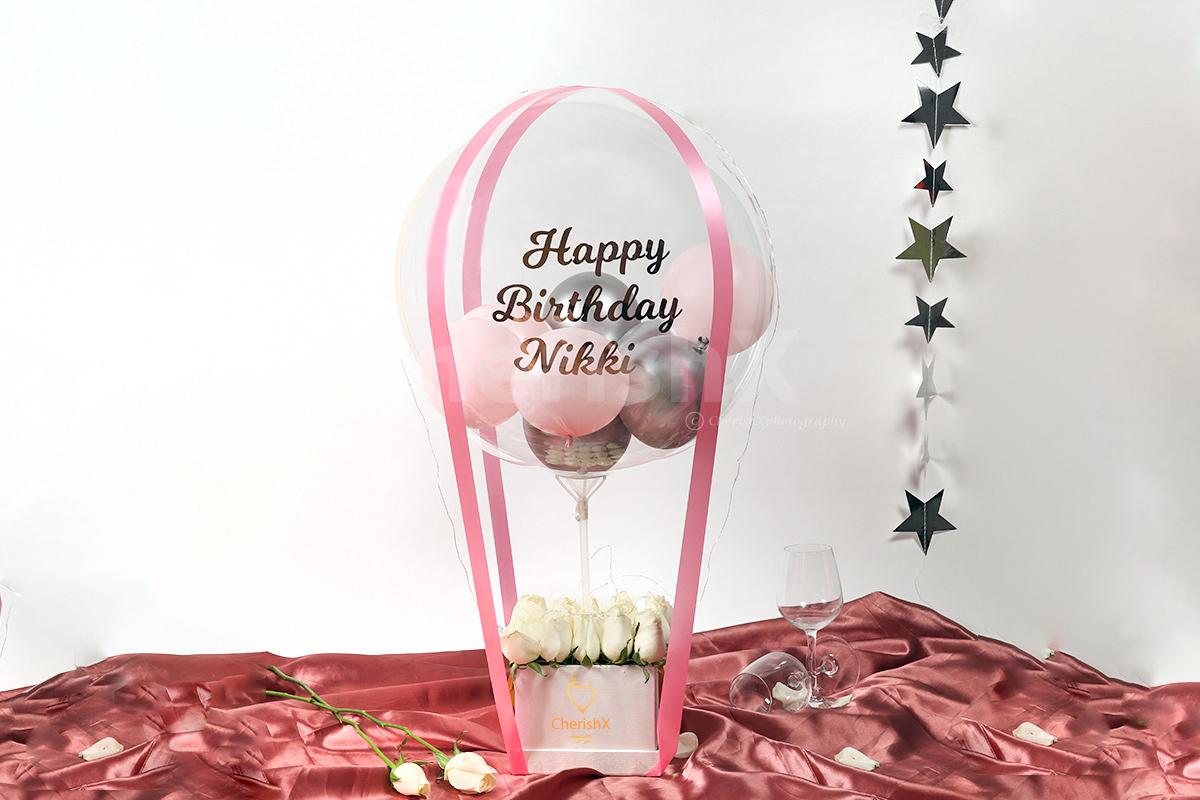 Looking for ways to wish your close one's a Happy Rose Day? This CherishX's Exclusive Pastel Pink Bucket is curated to make your wish special and memorable. With lovely balloons and photos, it's likely to make a long-lasting impression! With this bucket, you can not only wish a Happy Rose Day but you can also wish Valentine's to your close ones!
Yes, this bucket has all the fascinating things that you need to create a perfect gift for your special people! It has silver Chrome Balloons and pastel pink Balloons inside a big Bubble Balloon, white Roses in a bucket, a rose gold vinyl message (which can be customized as per your choice), a Pink Ribbon that ties it all up together and a white bucket that contains all of this. Put a broad smile on their faces and let them glow on a special day. 
Gift a beautiful Pink Pastel and Chrome Balloon Bouquet that'll make your close one's first day better of Valentines Week! Give this charming gift to make her day special! Valentine's Day Rose Day is the time to appreciate the people in your life and make them feel special. Giving your close ones this Pink Pastel and Chrome Balloon Bouquet with Flowers may be the best choice to make. 
A Rose Day Pink Pastel and Chrome Balloon Bouquet is the right way to express your love to your close ones by gifting them this appealing bunch! Make them realize how much support and love you give their way!
All these wonderful gifts are designed to make your Rose Day Celebration Special. Get ready to embrace these and surprise your close ones in Valentines Week 2023. These charming Rose Day Gifts for husband, boyfriend, wife or girlfriend are perfect to gift! If it's your first Valentine's Day after marriage, then choosing among these gifts will make your celebration much more memorable!
I hope you liked our article on Top 10 Balloon Bouquet Gift Ideas for Rose Day, if you have any comments or suggestions do share them in the comments below.
Moreover, you can check out some more amazing Rose Day Gift Ideas without Roses here- How to Celebrate Rose Day Without Roses in 2023?
So, get ready to make the Rose Day Special for your family, friend or Partner with these Rose Day Gifts Online!