The Hindu festival Diwali also known as the Festival of Lights is celebrated every autumn in the northern hemisphere and every spring in the southern hemisphere. Generally occurs between mid-October and mid-November. Diwali celebrations include family feasts, colorful Diwali decorations in homes and temples, and displays of light and diyas.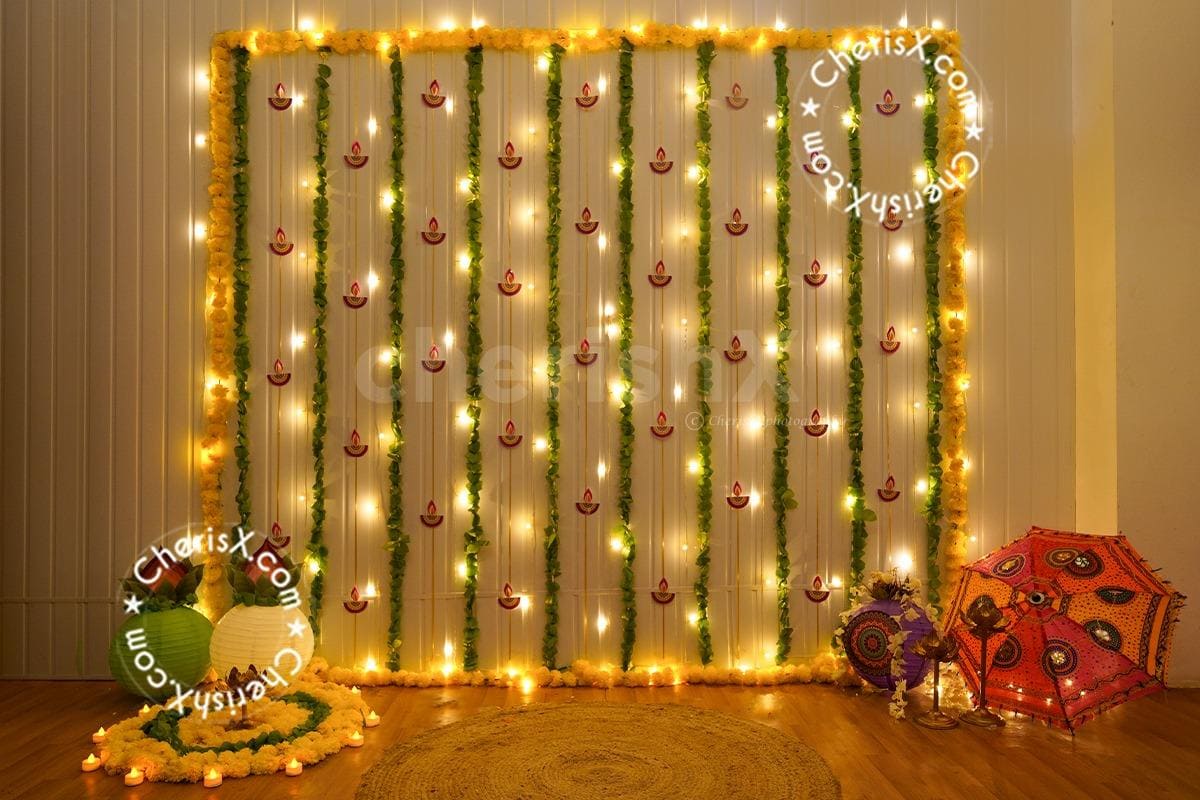 The delightful time of the year has finally arrived and Diwali 2022 is on the 24th of October. Decorating your house with festive illuminations is a great way to embellish your home for Diwali. Dazzle your home with some extraordinary Diwali decorations and not just suit up to the best but also spruce up the house beautifully.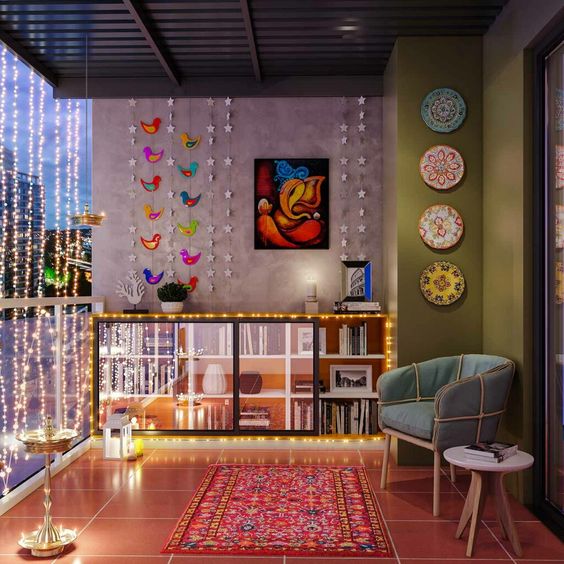 Now that Diwali preparations are in full swing, we here add a little more excitement by lending a helping hand. Deck up your home with these great and easy Diwali decorations ideas shared by experts.
Start with Cleaning & Declutter
Before commencing with the Diwali decoration at home, it is essential to dust, sweep, do the laundry, and clean all the rooms. It's like a tradition to thoroughly clean your home to welcome the Goddess Lakshmi, the Goddess of wealth and fortune.
Also, Diwali marks the beginning of a Hindu new year, thus, getting rid of old clutter and negativity will lead to a fresh start. If you want, you can redecorate and paint your walls, otherwise, for some extra style just sponge-paint your abode or just a single wall.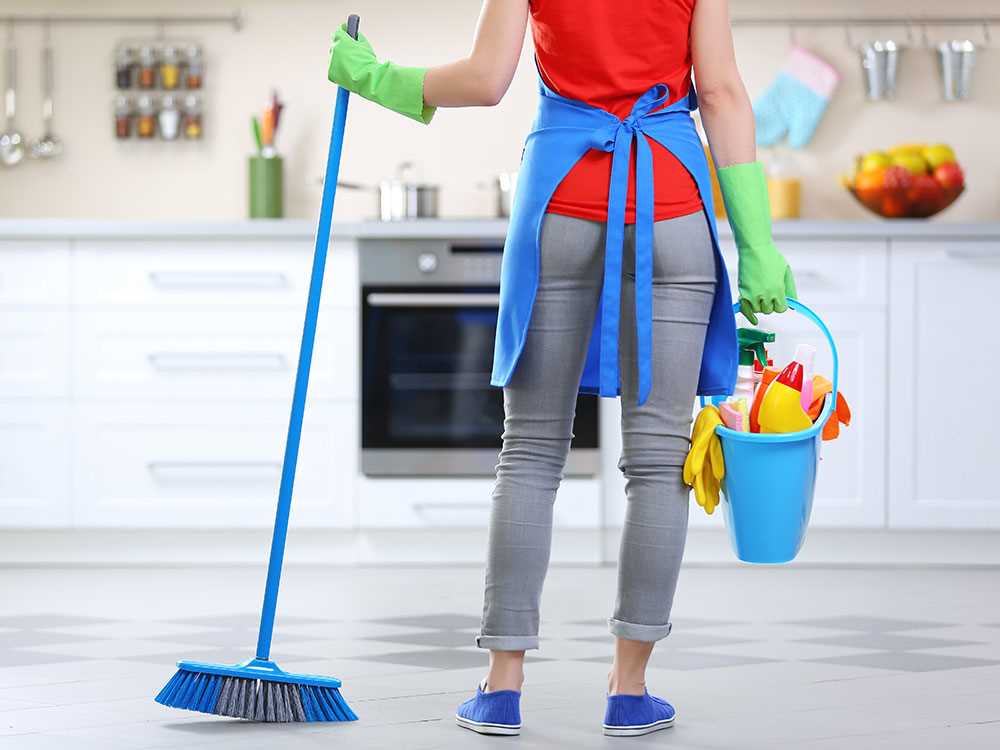 For your living room, take a little extra care to decorate it. Having a clean, aromatic, and well-lit living room will make your guests welcome and astonishing.
Start Decorating With the Pooja Room
Your pooja room or temple in your home is obviously the focus of all the activity during the holy festivities and requires some special attention. Whether your temple is big or compact, decorating it the right way is vital. For your Diwali pooja room decoration, get some antique brass-finished lamps and place them in your mandir. To enhance your Diwali decoration for the mandir, hang vividly colored Tanjore paintings and illuminate them with soft lighting.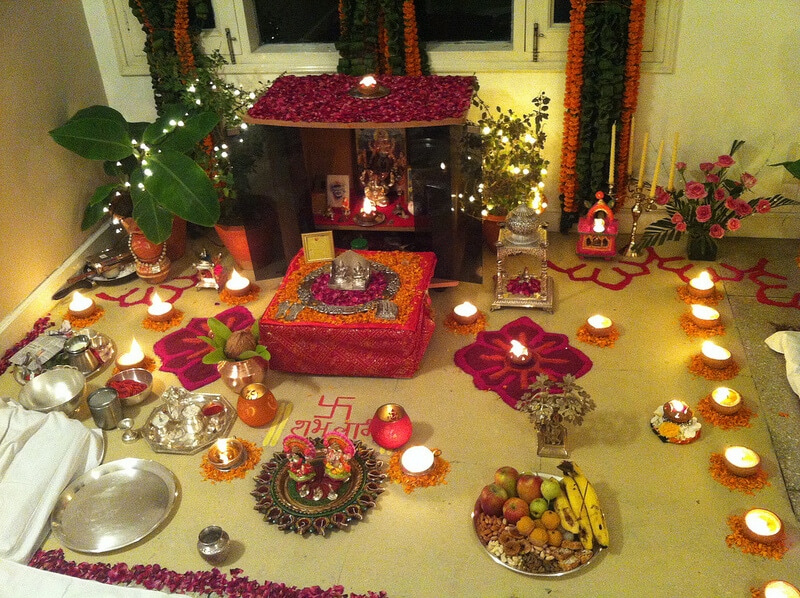 Tanjore's paintings symbolize devotional icons. Thus, handing them, especially for Diwali, they relate to Hindu gods, goddesses, or saints. Also, adding fresh flowers and diyas on all the days leading to Diwali is a great way to add lighting to your decor.
Get Going With Variety of Flowers
Flowers are the perfect way to make your home fragrant and beautiful. With a variety of flowers, you can make a garland, backdrop, or anything you like. Moreover, you can put rose flowers in a glass bowl filled with water and place it on the dining table. Get an exclusive flower vase, and arrange it with aromatic flowers for an excellent centerpiece.
Here are some Diwali decorations ideas for home using flowers.
Festive Umbrella and Flower Garlands Decor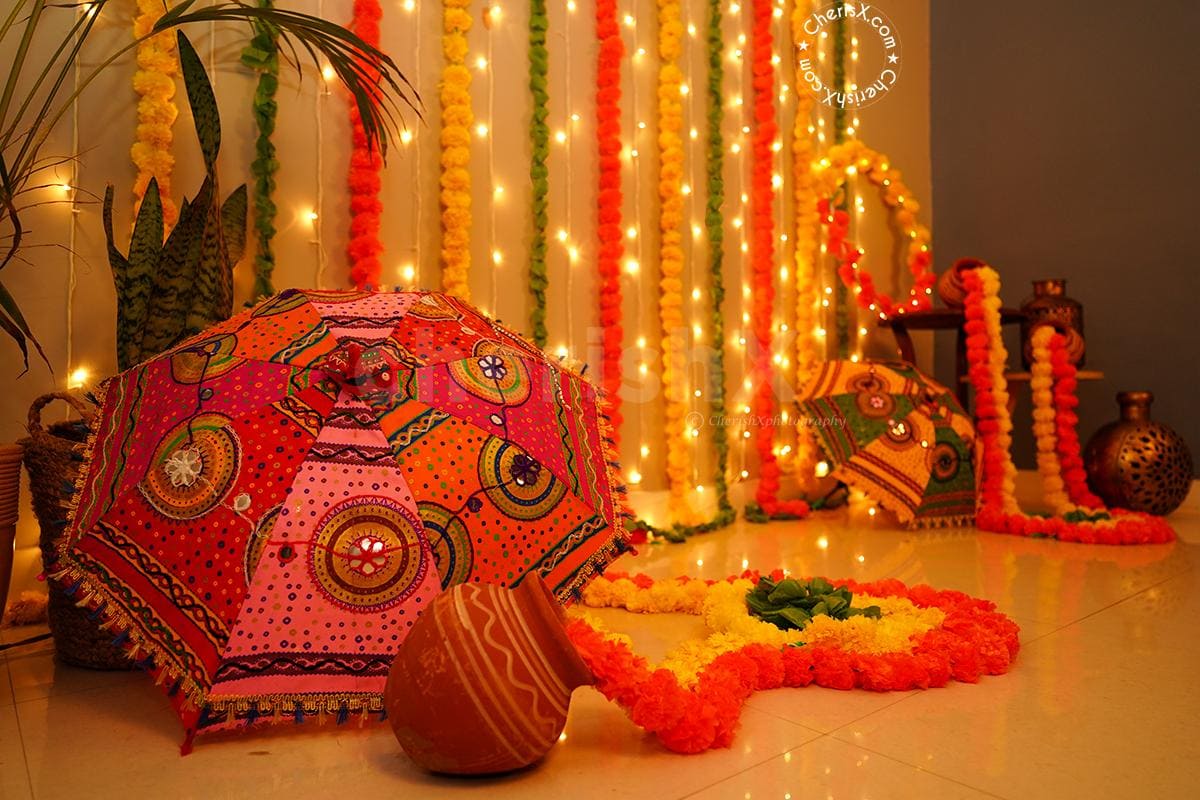 Decorate your house with a festive umbrella and flower garland and place that garland on stair railings, stair handles, and at the house entrance. You can also attach string lights with this floral garland to enhance the beauty of your home decoration.
Make your Diwali decoration elegant with yellow and orange garlands, green leaf strings on the wall, and Rajasthani umbrellas. Furthermore, you can add decorated pots with flower garlands, a photo selfie frame decorated with flower garlands, and one battery-operated light.
Festive Flower and Lantern Decoration
Cherish this Diwali festive vibe by getting this festive flower and lantern decoration for your home. This unique and beautiful festive flower decoration includes white lights in the form of curtains, yellow and orange garlands, a ceiling decorated with orange and yellow paper lanterns, and a rangoli circle formed with yellow and orange flowers. Also, you can add a decorated pot with orange garlands and green leaf strings.
Classy LED Lights and Garlands Decor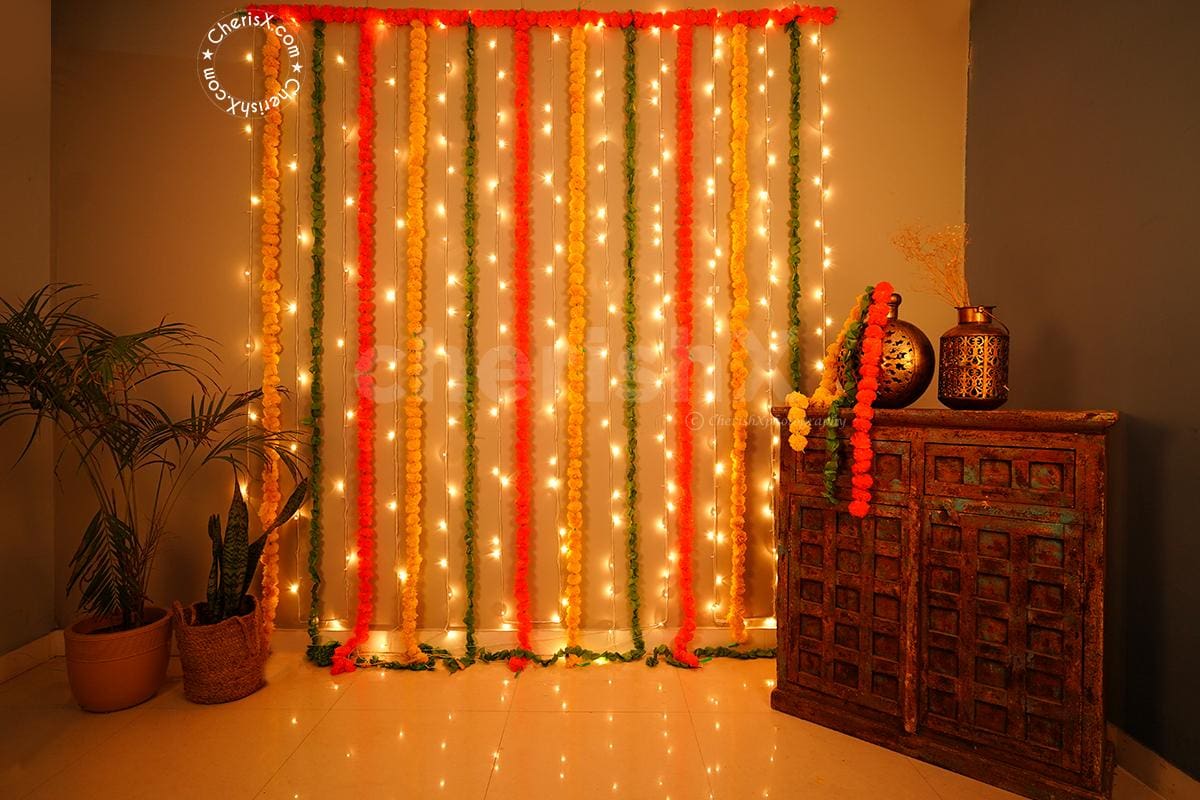 Diwali, a festival of lights is celebrated every year with flowers and lights. Thus, opting for classy LED lights and garland decor for this Diwali celebration is the ideal idea. This breathtaking decoration comprises LED warm lights, orange, and yellow garlands, green leaf strings, and jointers.
Mandala Backdrop Diwali Decoration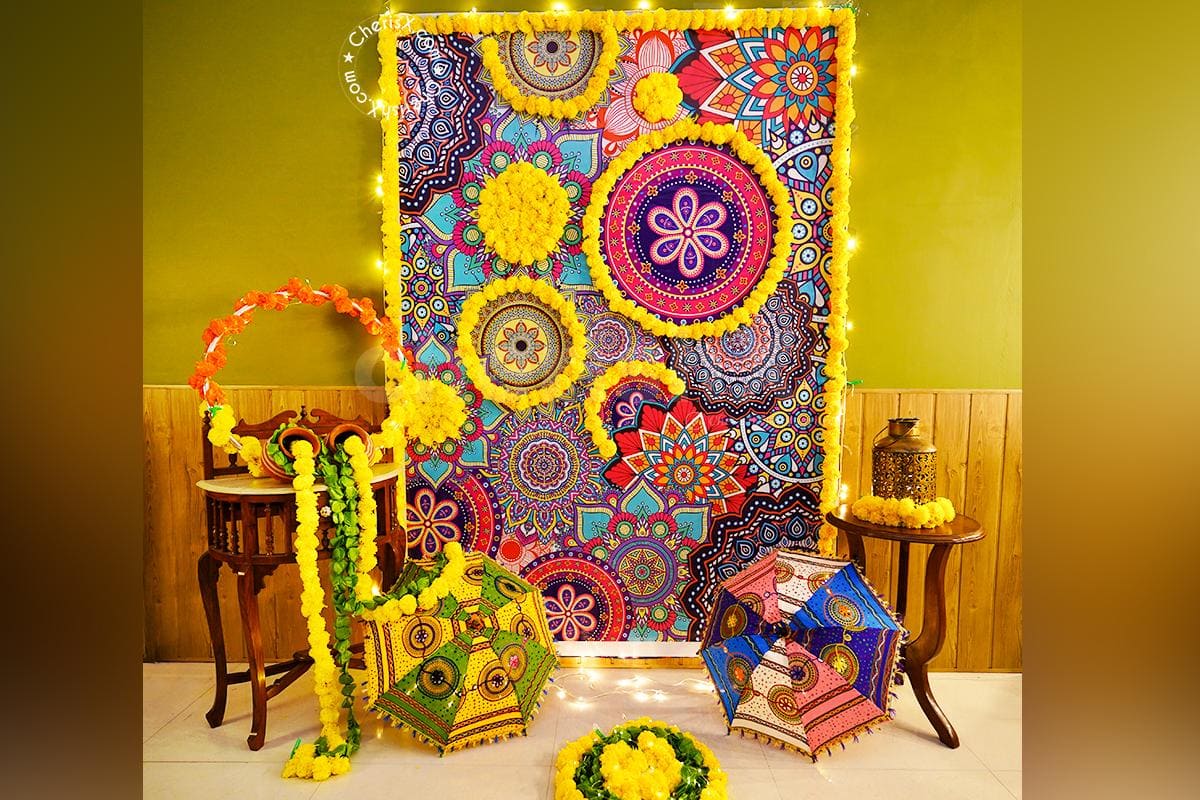 Apart from offering new hope and a beginning, make your Diwali celebration beautiful with a Mandala backdrop for Diwali Decoration. This decoration provides a traditional and festive look to your home and includes a mandala backdrop decorated with yellow garlands, LED warm lights, Rajasthani umbrellas, and a round photo selfie frame with flower garlands. Also, a battery-operated light, beautiful pot decorated with yellow and orange garlands along with a small circle of yellow flowers and green leaf strings. Give your home a warm and vibrant color vibe this Diwali.
Diya and Garland Festive Decor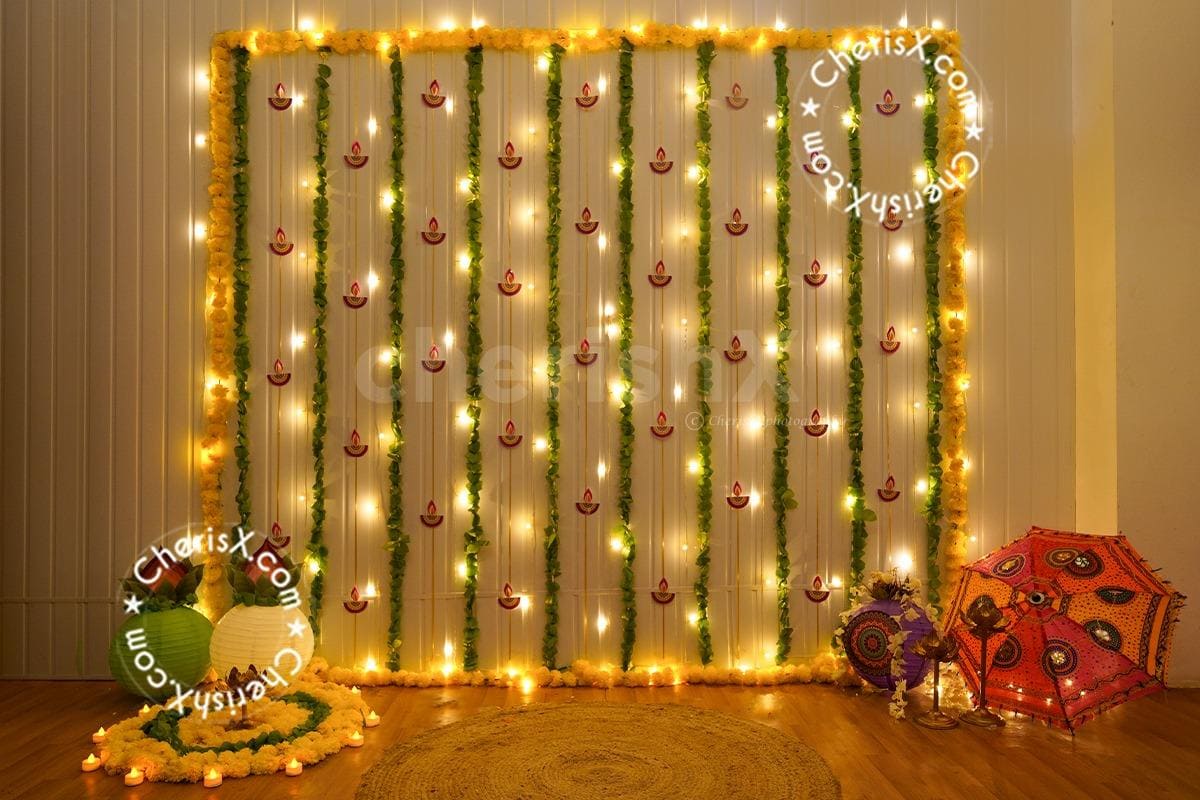 Any Diwali celebration is incomplete without some diyas and garlands decoration. Diyas are mudded tiny lamps which are used traditionally to decorate the household during any festival. Thus, twisting them with garlands will surely going to light up this festival preparation.
This decoration includes diya cutouts, green garlands, and yellow garlands, and to brighten the aura, we added some paper multicolour lanterns, Led Tea lights, and pixel lights. Grab this unique Diwali decor to create a sparkling ambiance at your home.
Festive Golden Bell Decor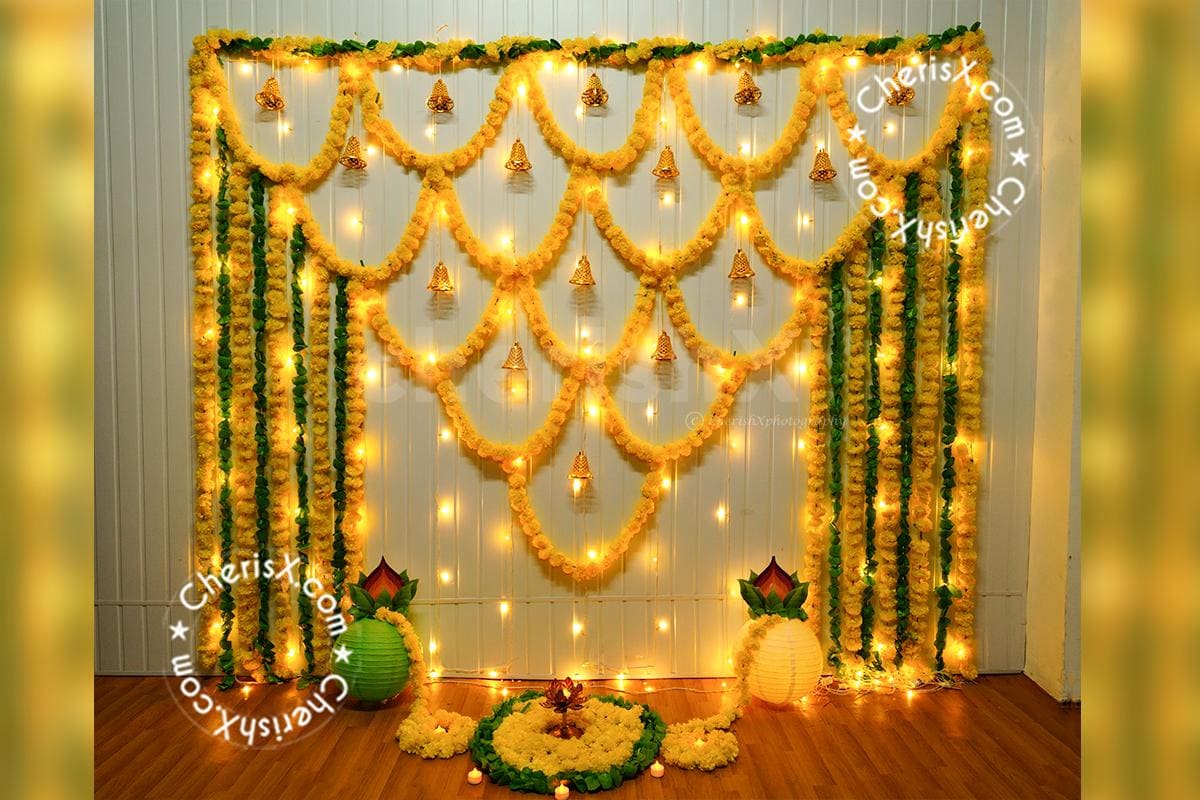 As a part of Indian culture, festivals here are all about sparking decorations, music, dance, delicious dishes, and much more. Also, Diwali being the festival of lights is insufficient without lamps.
So, to add charm to your festive decoration, we present another breathtaking festive golden bell decor. This decor entails golden bells which are a sign of good luck and can be decorated on the doorway, rooms, and windows. Along with this, you will get yellow garlands, green garlands, paper lanterns, pixel lights, and Led Tea lights. This decor will definitely bring a traditional yet modern look to your house. Bring positivity with this decor and celebrate Diwali with great fun.
String up Lights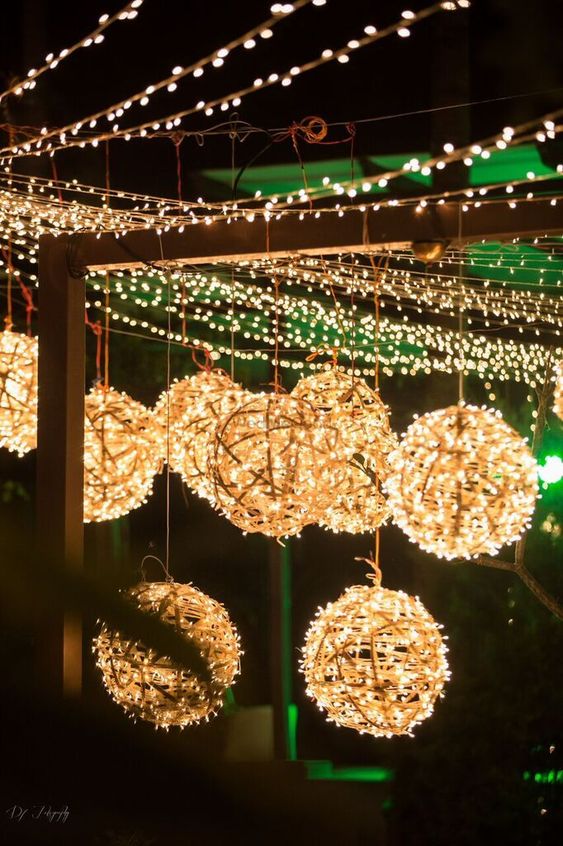 The festival of lights is Diwali. Outside decorative lighting can jazz up your home outlook. , Attract everybody's attention in the neighborhood and make an overall impact of the lighting breathtaking.
Adorn your home with decorative lights like Diya Curtain Light & Waterfall Curtain String Light; put lights on your exterior walls and go for decorative lights, For garden decoration, deck up the big trees with string lights and pillars with flowers and light strings. Also, you can hand a chandelier in your living room to enhance the look.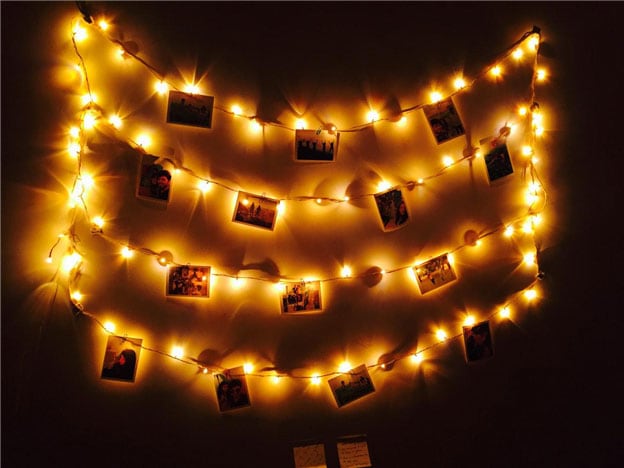 Here are some lights and decorations you can check as well.
Nights Under the Umbrellas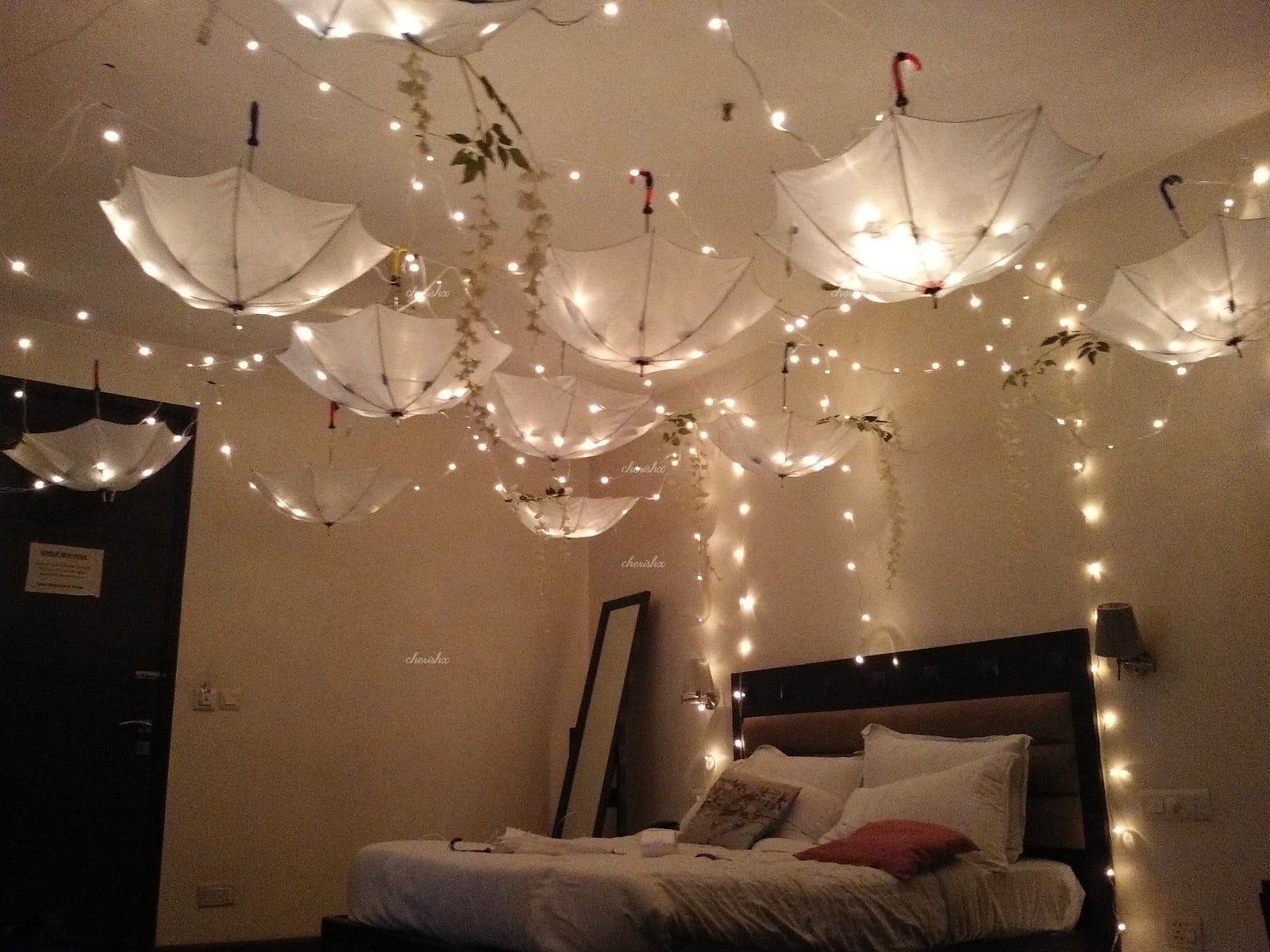 Let your guests experience shimmering stars over their heads. Make this happen with Nights under the umbrellas decor. The beautiful umbrellas with LED lights rose petals, and candles make a beautiful charismatic decor. Make this Diwali extra special for you and your loved ones.
Fairy Lights and Lantern Surprise
Make your guests amazed with these beautiful fairy lights and lantern surprise decor. A decoration full of paper lanterns and bright fairy lights will surely be going to mesmerize your visitors. You can add any other requirements with this decor to suit your best needs.
Deck up the Entrance Door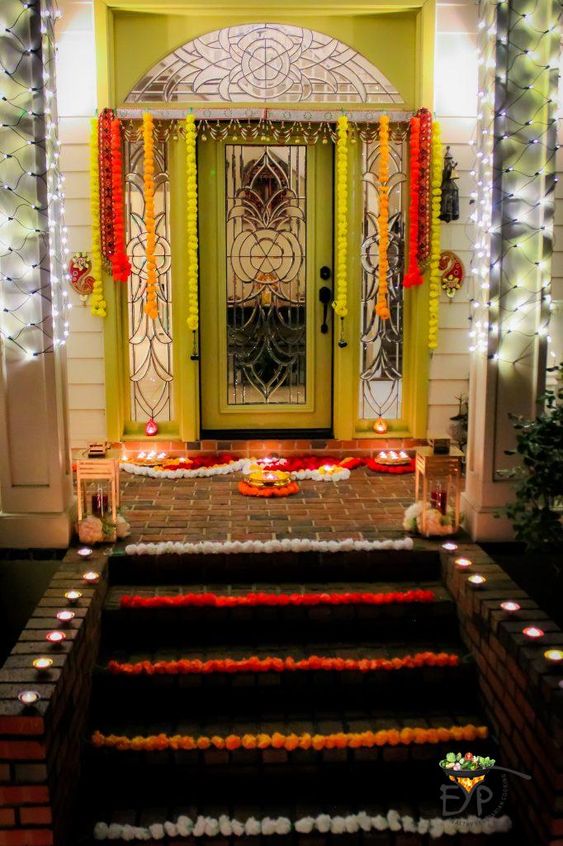 The main door or entrance door has a special significance, particularly in Indian tradition. There are many rituals and customs related to Diwali decorations for the main door. Many Indian traditions perform various ceremonies at the home or pooja room entrance as well.
While decorating the main door for Diwali, get your hands on some pretty torans, which are easily available in various shapes and sizes in the local market. Hanging these torans on the main door for Diwali decoration and even after the festival makes your home feel welcoming throughout the year. Get Exotic Diwali Lights and Diwali Decorative Items for your Home
A variety of torans is used for decorating the main door to welcome guests and Goddess Lakshmi with bright colors and happiness. Also, your main door is the first thing that people see when they enter, and giving a festival vibe will surely going to uplift their spirits more.
Apart from this, pick some beautiful happy Diwali banners or Ganesh wall hangings to be hung on the main door and let your guest compliment you for your creative Diwali decorations ideas and get inspired by you. Additionally, you can place some home-decorated diyas on the main door for positivity.
Entrance Garland Festive Decor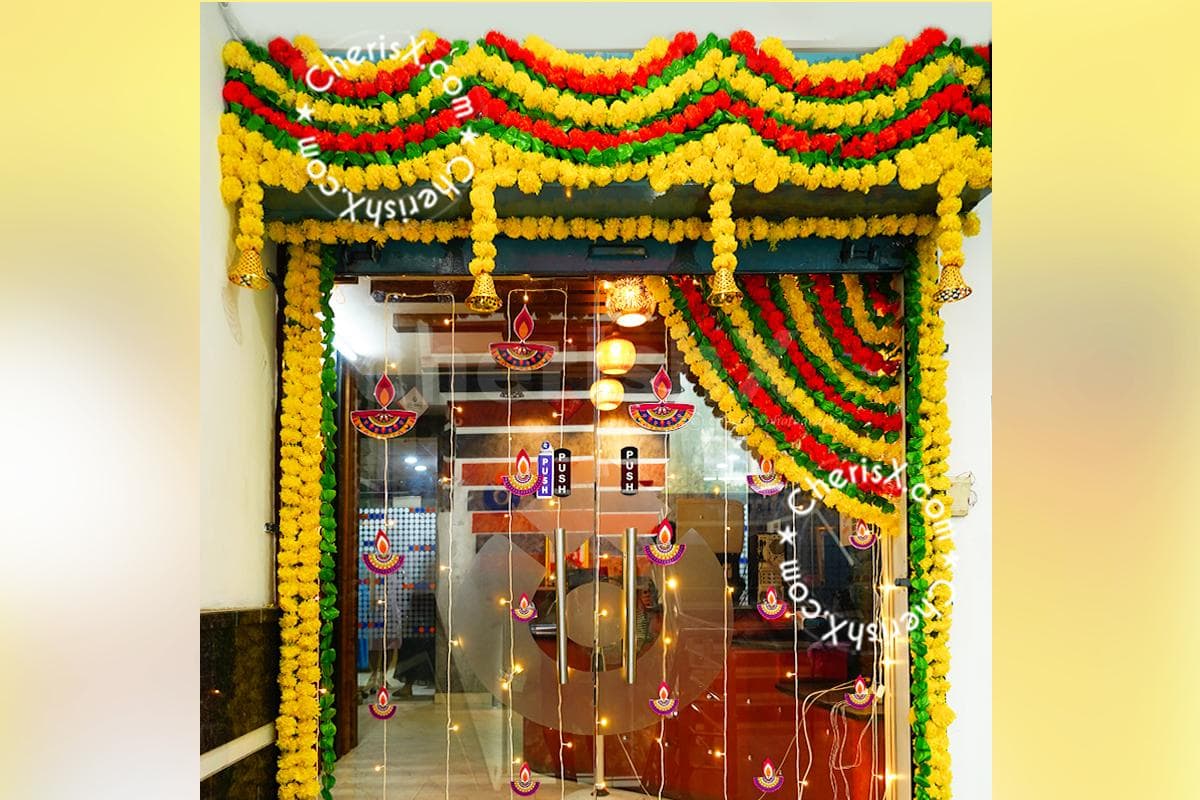 We are all well-versed with the old saying that the first impression is the last impression, and in this case, giving the right decoration feel to our entrance we surely excite our guests further. Thus, opt for this entrance garland festive decor that will fill your home with multicolor flowers including green, orange, and yellow garlands, golden bells, paper lanterns, and different kinds of lights. Also, add diya paper cutouts that are ideal for such beautiful festivals. Add peace and serenity by booking this decor and make your guests feel astonished.
Decorate with Rangoli Designs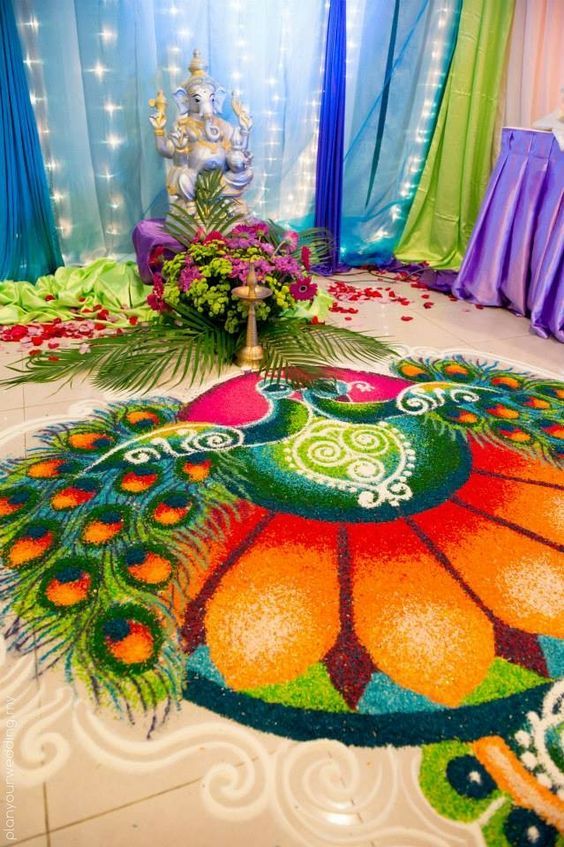 To welcome goddess Lakshmi, rangoli with images and drawings are drafted on the floor. Rangolis can be created with flowers Rangoli powder or even rice. To add uniqueness to it, place designer diyas and pretty clay handicrafts to boost the beauty and level up the traditional Diwali decoration at home.
Designing rangoli as a Diwali house decoration idea on the eve of the festival of lights is a traditional custom that we still abide by. In rangoli, you can go with colorful patterns at the entrance of the main door to welcome guests. Although traditional motifs are a famous design for rangolis, it is advisable to avoid making Swastika and Om symbols on the floor.
Making small footprints from a mix of rice flour and vermilion in the direction of entering the house symbolizes the goddess's entry into your abode.
Other common rangoli designs that you can choose to make are mangal Kalash, Goddess Laxmi's footsteps at the house entrance, lighted Deepak, Shree, etc. The use of flower petals and leaves enhances the beauty of the Rangoli. And, adding some gold and silver glitter on top of your rangoli can offer your home an enchanting look.
Enhance the Look With Diyas & Candles
Hand-made or market decorative candles and diyas are the main aspects of Diwali decoration. With waste cans, you can make candle holders and can wrap this can with colored paper, and put the candles in it.
Place scented candles in your living room to give a cool fragrance touch to your home. In your garden decorate your yard with diyas and candles. Also, add diyas on the wall of the garden and hang candle holders in the garden that will result in an illusion of hanging lights.
The market offers a plethora of beautiful diyas and candles. You can purchase floating diyas which are also available in different shapes. A glass bowl having floating candles and diyas in it looks aesthetic that is placed on the center table in the living room.
Opt for Diwali Card Party Decor Themes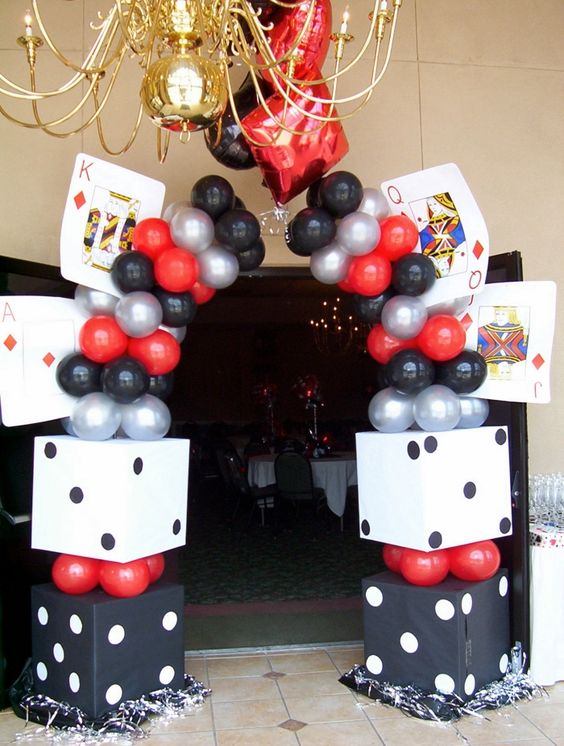 With the new era, organizing a theme party is the latest trend. If you want to ditch some traditional ideas of Diwali decorations, then opt for some marvelous theme decor ideas. Here are some of them:
Premium Card Theme Decor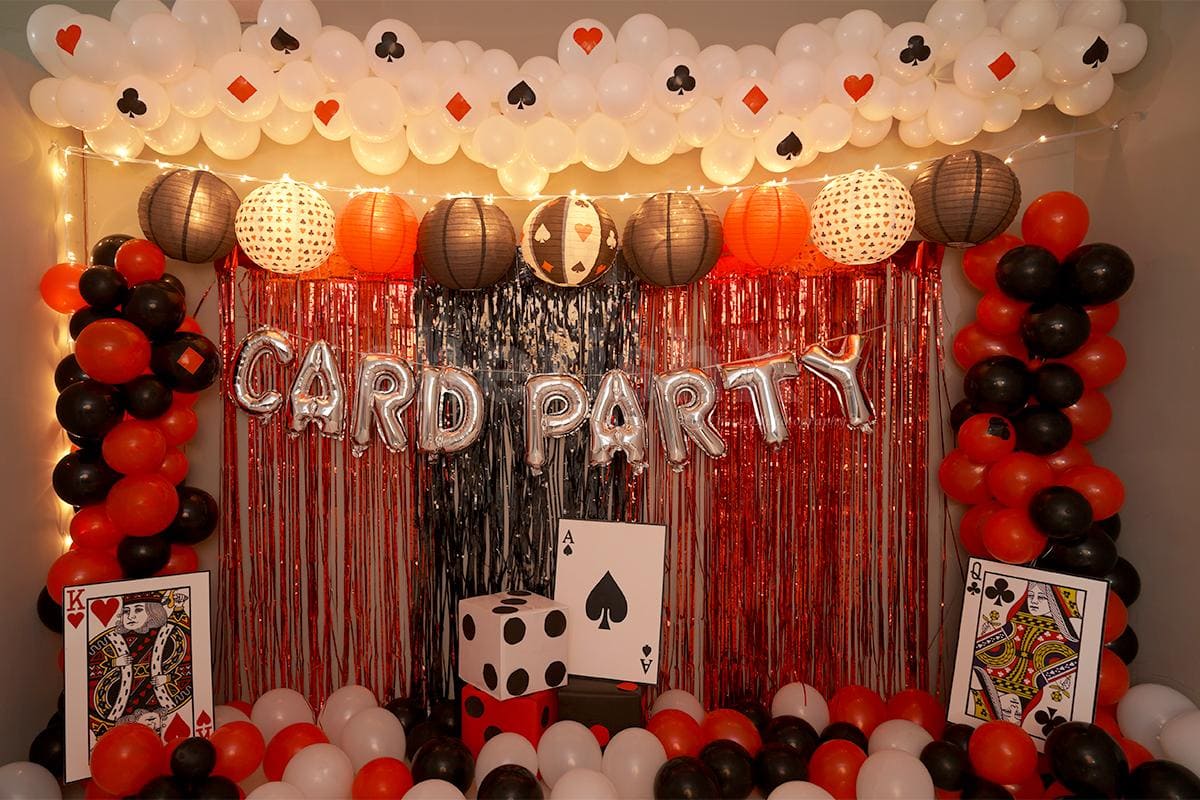 The Diwali decoration comes with grand celebrations and parties. Thus, hosting a "taash party" or premium card theme decor is not a bad idea. As the name suggests, it is a theme of poker and includes many balloons to form an arch of red, black, and white. Frill curtains, poker-theme lanterns, fairy lights, card stickers, cube dice, and paper cutouts of cards complete this look perfectly.
Poker Theme Decor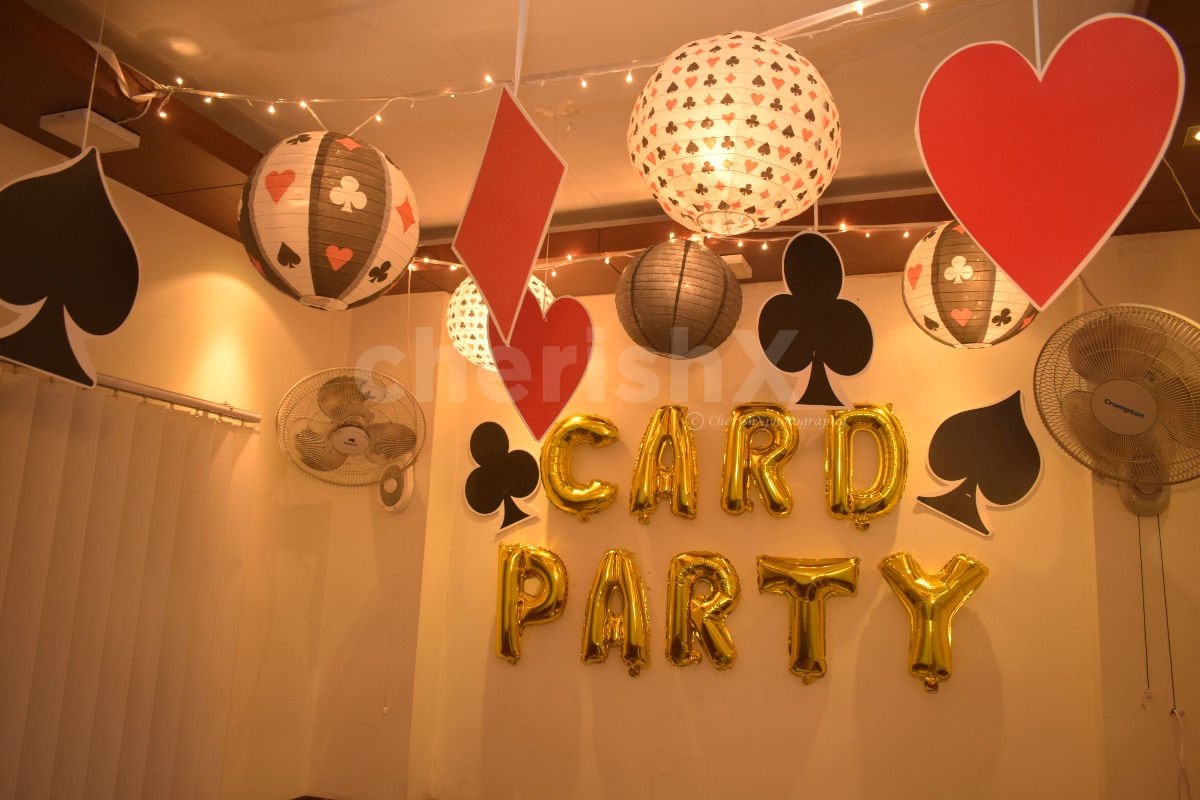 Give your home a trendy look with this poker theme decor. A unique casino theme will definitely be going to impress your guests as this includes lanterns, fairy lights, hanging, and bunting.
Budget Friendly Card Party Decor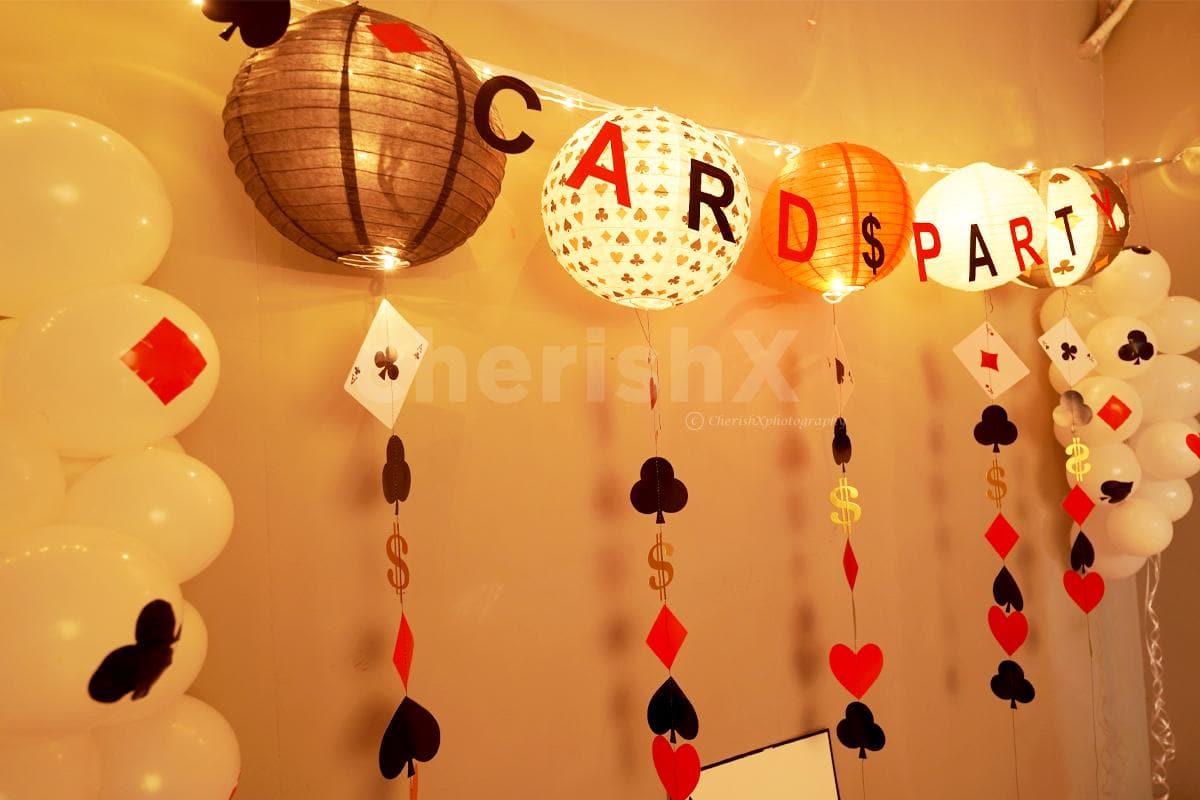 Make an impression among your friends by hosting this budget-friendly card party decor. The theme includes lanterns, balloons, card stickers, led lights, paper cutouts, and unique banners to give an astonishing look to your home. For a more enhanced experience, customize this decor as per your requirement.
Casino Theme Lantern Diwali Decor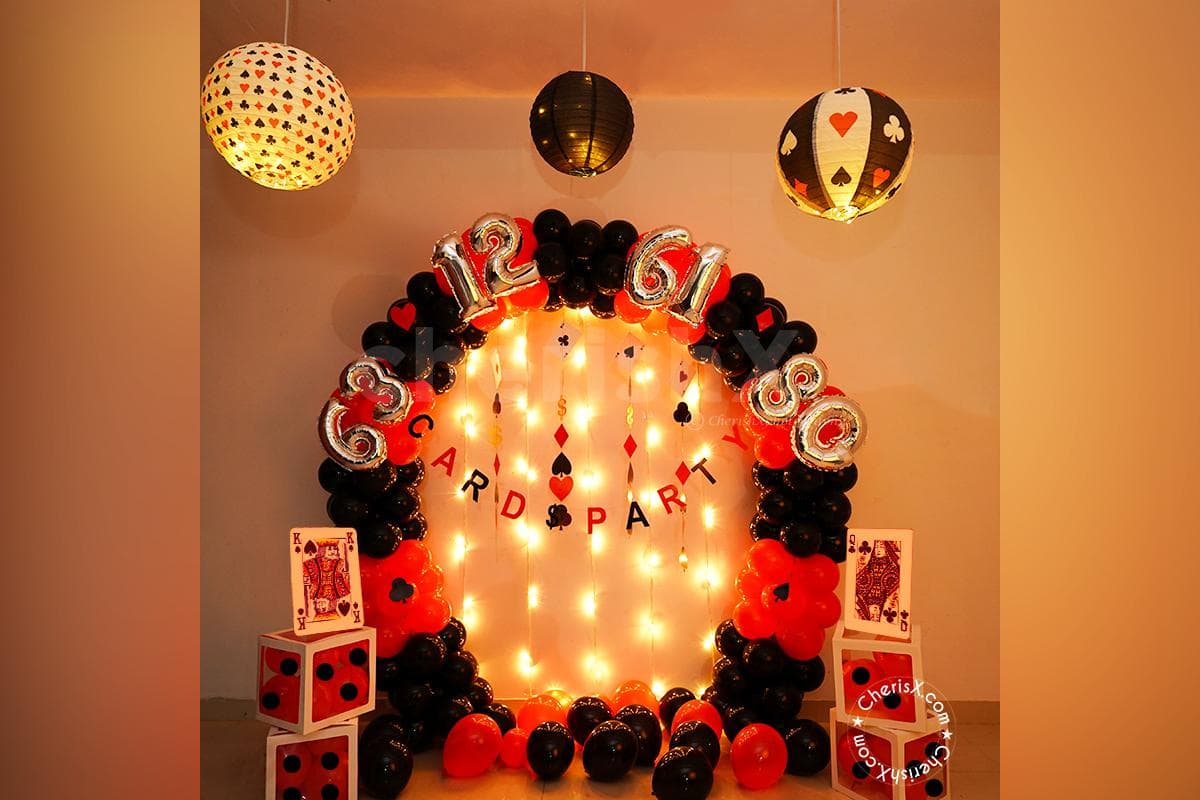 Bring back your gang on this Diwali and cherish those moments again by organizing a casino-theme lantern Diwali decor. This includes balloons, led lights, lanterns, and card stickers. This beautiful and distinctive decor will bring the party vibes and will leave you with tons of memories.
Shimmery Golden Casino Theme Decor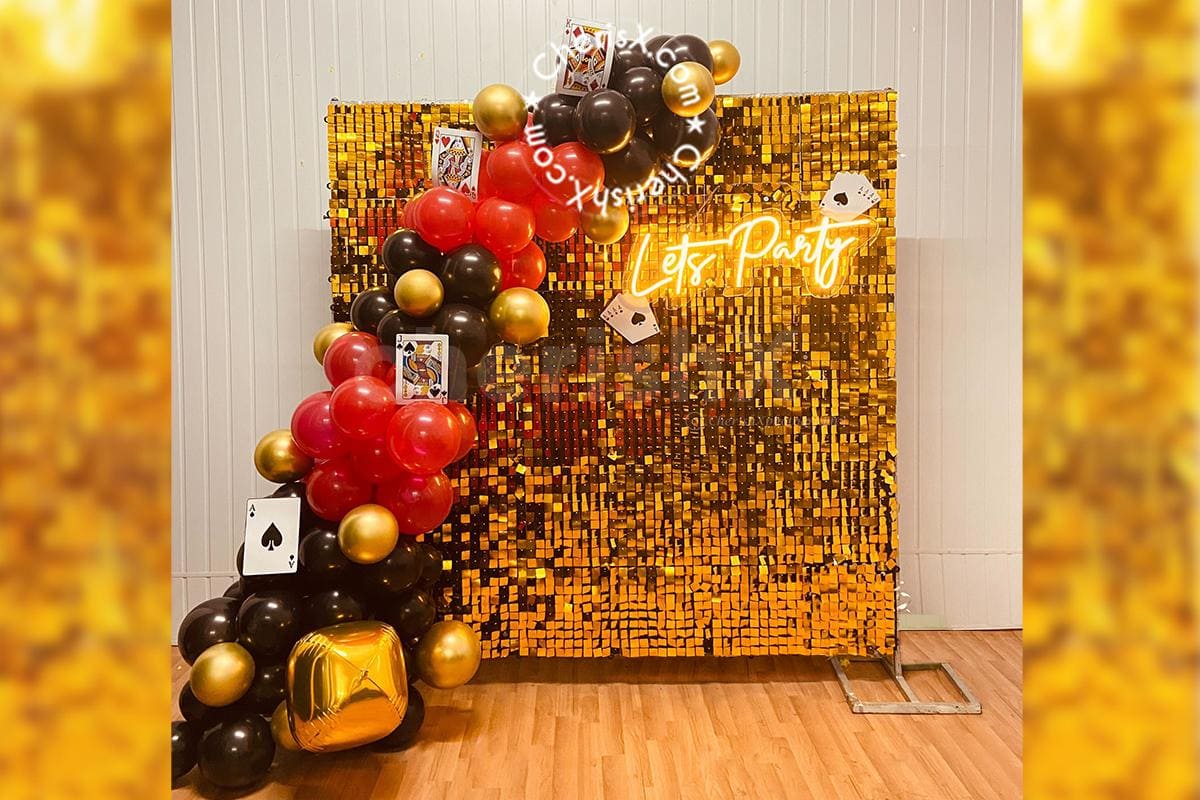 To experience a perfect casino feel on this Diwali 2022, book this shimmery golden casino theme decor to add a jolly atmosphere to your house party. Bring casino vibes with this decor as this includes a golden sequin backdrop, lets party neon light, an arch of balloons, latex balloons, and casino theme paper cutouts.
Excite all your guests with these shiny and glowing decorations to add more charm and extravagance to your party.
Diwali Lantern Theme Decor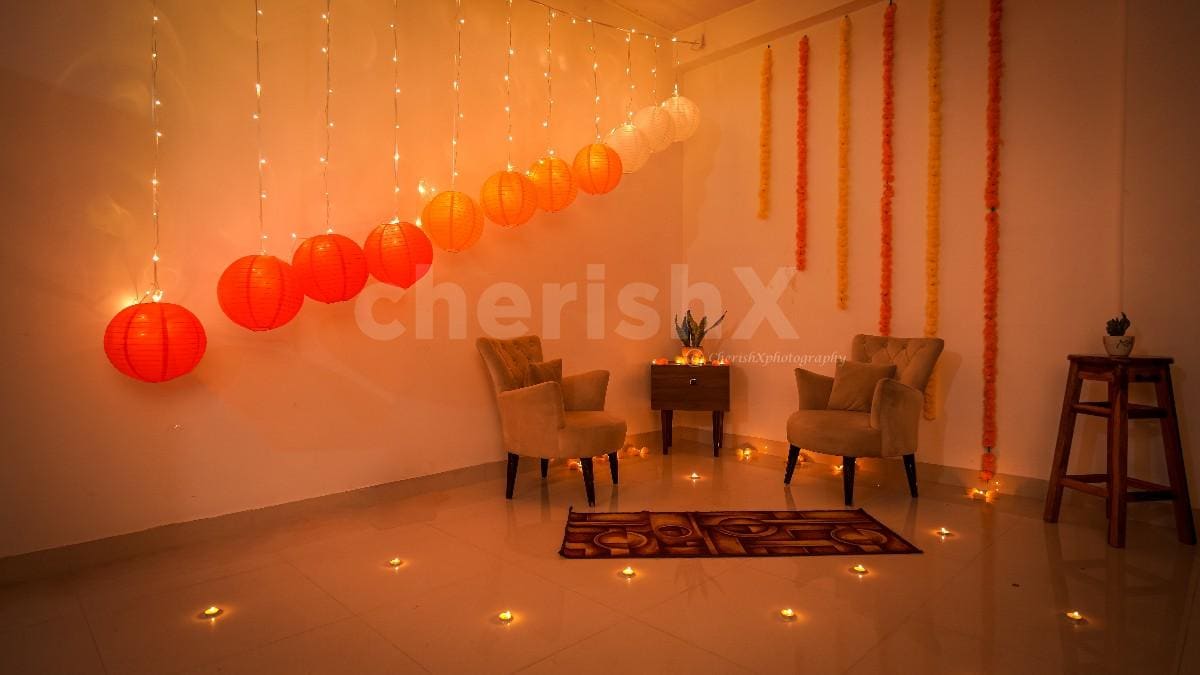 Diwali here comes with lots of celebration and preparations, so why not opt for this Diwali lantern theme decor that will bring positivity, charm, and glow to your abode? This theme of lanterns includes paper lanterns of various colors like orange, white, and red. Also, get fairy lights, artificial garlands, tea lights candles, and a jointer.
Furthermore, you can customize this decor as per your needs and can easily book this decor by visiting the official website of CherishX.
See more on How to host a Diwali Party at Home
How Can CherishX Help You in Diwali Decoration?
We hope you found our Diwali decoration ideas useful and practical. If you are searching for home decoration ideas, then look no further. Book an online consultation with CherishX today. We have breathtaking themes to make your event a grand celebration for you and your loved ones.
We are just a call away and can help you in decorating your beautiful abode with attractive decoration solutions. Our theme decorations will surely inspire your guests and leave you with a bundle of compliments.
So, what are you waiting for more? Call us or WhatsApp us today or drop down your query here and our team will get back to you at the earliest.
FAQs
Diwali decoration Kaise Karen?
For all your queries related to Diwali decoration, just follow the aforementioned ideas. You can even opt for Diwali decoration theme decors from CherishX.
What are some innovative Diwali decoration ideas?
For innovative Diwali decoration ideas, get in touch with CherishX as they have unique and attractive Diwali theme decors that will amaze you and your guests. Pick a budget-friendly theme decor or premium card theme decor, your guests will definitely appreciate your remarkable decoration.
What are some unique Diwali decoration items we can have?
One of the unique and attractive Diwali decoration items can be a coaster and fruit candles. Use paints or artificial mirrors and create intricate designs on your old coasters. For fruit candles, cut the fruit peels into different shapes and place tiny fragrant candles inside them to deliver an awesome experience.
Diwali decoration near me?
To get Diwali decoration theme decorations near you, just get in touch with CherishX. Along with diverse decoration ideas, they have breathtaking Diwali theme decors as well. These decors will add more charm to your party. Also, select some beautiful Diwali decoration items from them like Rajasthani umbrellas, colorful lanterns, and much more.