Are you looking for Diwali decoration ideas for your office? So, check out the Diwali office decoration images and get some ideas! We mostly spend our time in our office or at our place of work and that's why name our office second home. Have a look at the Diwali office decoration ideas. Therefore, decorating our second home this Diwali 2023, is very much crucial. As Diwali is the biggest and most well-celebrated festival for Indians.  As the festival is just around the corner, let's enhance the look of our place of work with some great lighting and decoration setups and easy DIY Diwali Decoration Kits
The hustle and bustle in the markets are already started as Diwali is approaching soon. So, give your office an embrace of a lively and festive look with all the lighted-up buildings all around.
Besides, decorating offices and workplaces on Diwali has a different value in boosting your business. Visitors who come to meet and greet will adore your Diwali office decoration and celebrating Diwali with colleagues will bring positivity and friendliness leading to productivity.
However, opting for a theme-based Diwali will maintain certain decorum and give your workplace a new and festive vibe. Hence the theme of the Diwali office can be kept such that it can go with the nature of the business and will add different charm. So, explore Diwali office decoration ideas.
Workstation Decoration Ideas for Diwali
So, if you're looking for workstation decorations for Diwali, you need to check out these ideas below. Decorate it with paper cut-outs, lanterns, and more.
Office being a working place requires a Diwali decoration with a unique theme than ordinary decoration.
Diwali Decoration Ideas For Office
Bring the spirit of Diwali to life by decorating your office for the festival in a unique way. Also, the decoration furnishes the workplace to set the festive mood, creates a great team bonding moment, and encourages colleagues from different departments to enjoy festivals. Isn't it one of the beautiful Diwali decoration ideas for office?
One of the most prominent festivals, Diwali is around the corner and not all offices go on vacation. Thus, instead of feeling wretched and thinking about how others are celebrating Diwali week at home, it is better to engage in office decoration ideas and devise a shining space.
This is the best way to lift the spirit of the festival and stay happy. That's a win-win situation for both employees and employers. So, it's another beautiful workstation decoration ideas for Diwali 2023.
Now, if you are looking for different Diwali decoration lighting setups for your office, stay with us and explore more.
Let's start with Diwali cubicle decoration ideas first as this is the place you need to spend your entire day. 
Cubicle Diwali Office Decoration With Flowers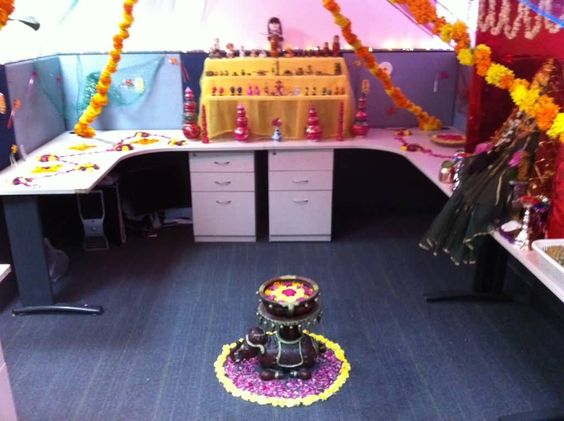 The classic office decoration ideas for diwali with frills and lights can never be wrong. Colorful lights hanging over the cubicles or just wrapped around the cubicles looks attractive and add glow.
Also, you can opt for a Led photo clip string light for an amazing look of the cubicle. No idea can be quick and easy than using different lights. You can hang numerous lights anywhere and everywhere, right from the entrance to the office rooms, conference rooms, and wherever you wish for. Just switch on these lights and experience a charismatic ambiance that everyone will be amazed by.
Theme Diwali Lightning Decoration For Office Reception
Create a wonderful space in your office and get a happy and energetic mood around. In a colorful environment, everyone can have a smile on their face. Also, it is an interesting team-building activity as all people decorate their working space. Also, this is one of the great Diwali decoration ideas for office for the reception.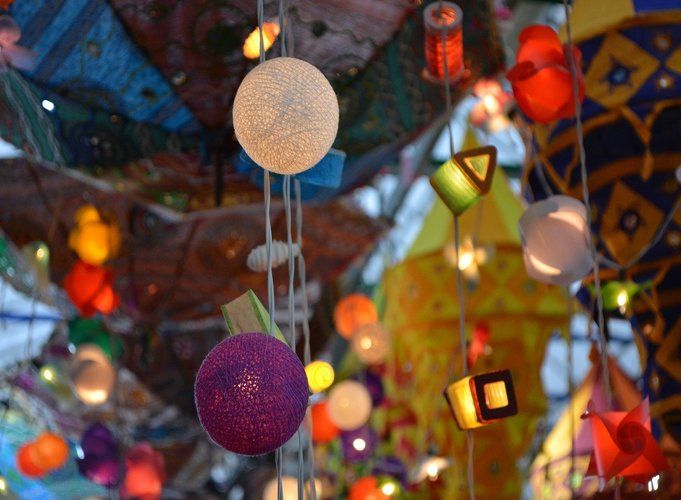 After all, it is Diwali, the biggest festival that can be celebrated with an open heart. If you have still not chosen the right Diwali office decoration setups, then, here are some great and unique decoration setups from CherishX. Decorating the entire office with these Water Fall Curtain String Lights is highly recommended.
Office Decoration For Diwali With Festive Umbrella & Flower Garlands Decor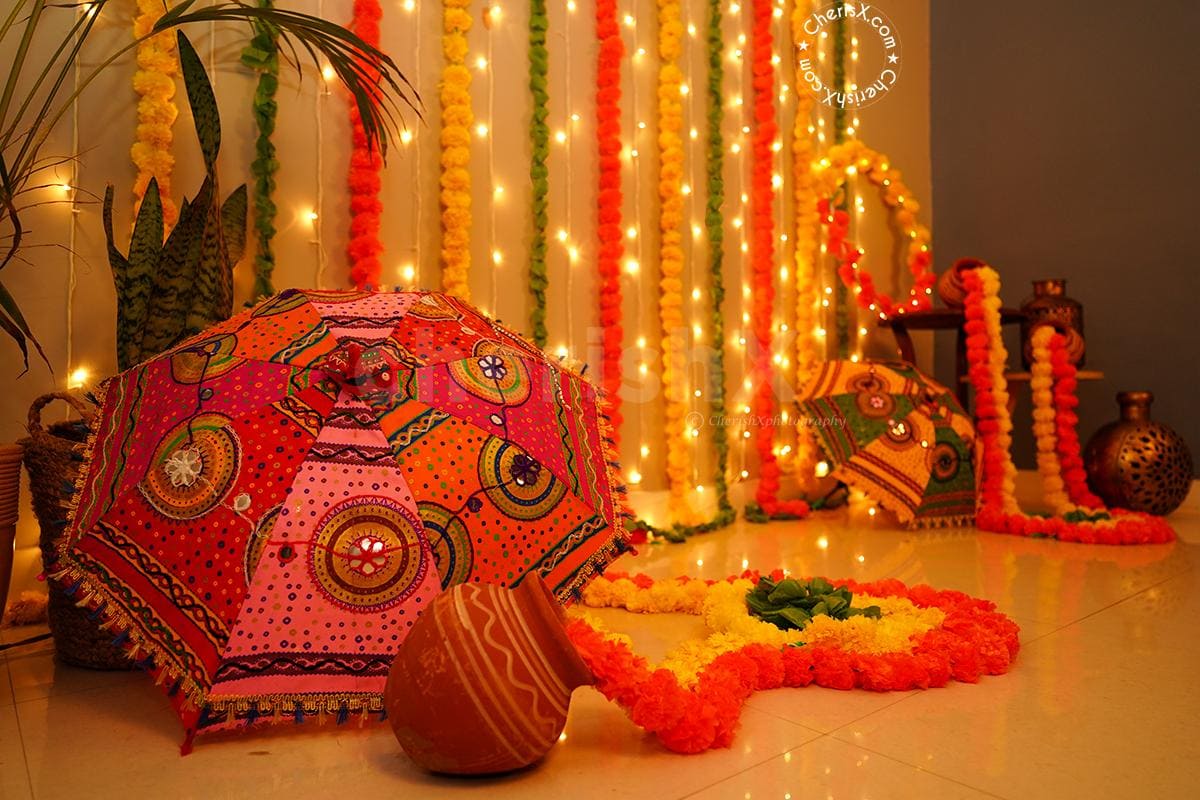 Any Diwali theme decoration is incomplete without flowers and lights, so to decorate your office opt for this festive umbrella and flower garland theme. You can place garlands on stair railings, stair handles, and at the office entrance, near cubicles, or anywhere.
You can also attach string lights with this floral garland to enhance the beauty of your diwali office decoration. Make your Diwali decoration elegant with yellow and orange garlands, green leaf strings on the wall, and Rajasthani umbrellas. Furthermore, you can add decorated pots with flower garlands and a photo selfie frame decorated with flower garlands for your office memories, and one battery-operated light.
Complete this decor by wearing some Rajasthani dresses and boys can pick some traditional wear.
Festive Kalash and Flower Decor For Office Diwali Decoration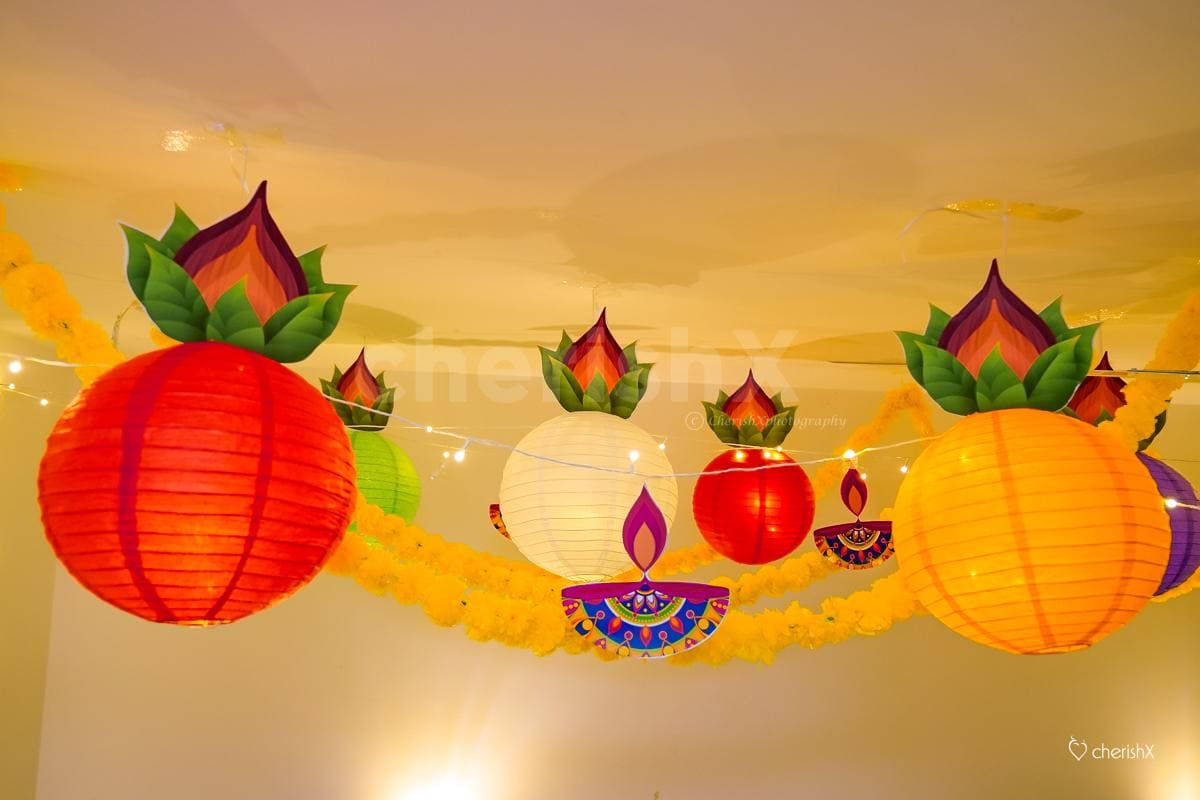 For Diwali decoration ideas, this auspicious Diwali festival is vague without giving the warm welcome to the goddess Laxmi via Kalash. Thus, get this breathtaking festive Kalash and flower decor to add true festival vibes to your Diwali office celebration.
To cheer your mood with this decoration get colorful lanterns, coconut cutouts, diya cutouts, yellow garlands, and pixel lights. The top-notch quality of the products and decoration by experts will surely make your Diwali office party amazing.
For a perfect aesthetic celebration, book this decoration in advance. Also, you can avail customization package as well that can be personalized as per your needs.
Let CherishX turns your office into a stunning Diwali celebration that you and your colleagues will love.
Colourful Lantern Decor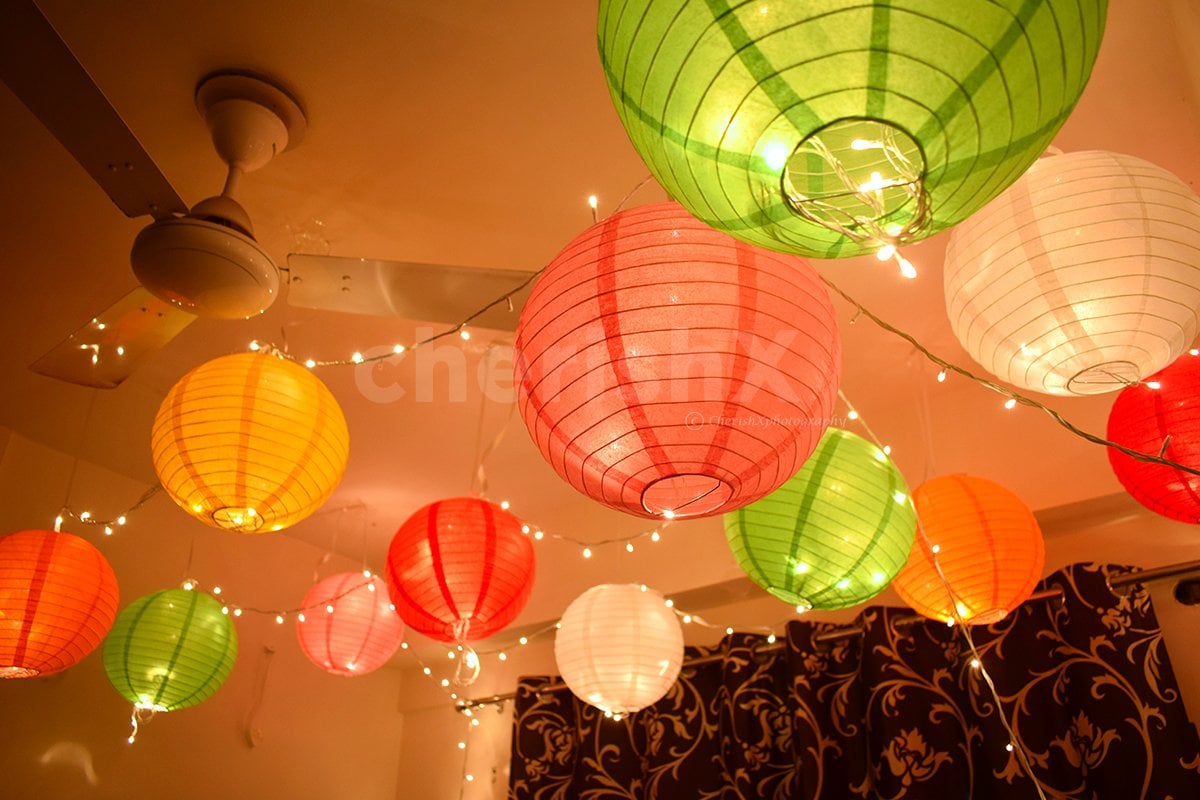 Give your workplace a perfect festive makeover with colorful lantern decor offered by CherishX. This beautiful and vibrant theme of Diwali decor brings all-new dreamy and illuminating charm to your office.
Transform your workplace with this extraordinary decoration and make some unforgettable memories with your office mates. Make a beautiful canopy with these colorful paper lanterns. Further, you can embellish this decor with lovely fairy lights proving a gorgeous illuminating space.
Absolutely stunning decor and works best for decoration and booking, just visit the official website of CherishX and select your slot, and you are done.
Festive Flower & Lantern Decoration
Cherish this Diwali festive vibe by getting this festive flower and lantern decoration for your office decoration ideas. This impressive and exquisite festive flower decoration includes white lights in the form of curtains, yellow and orange garlands, a ceiling decorated with orange and yellow paper lanterns, and a rangoli circle formed with yellow and orange flowers. Also, a decorated pot with orange garlands and green leaf strings is added to this decor for a more enhanced look.
Classy LED Lights & Garlands Decor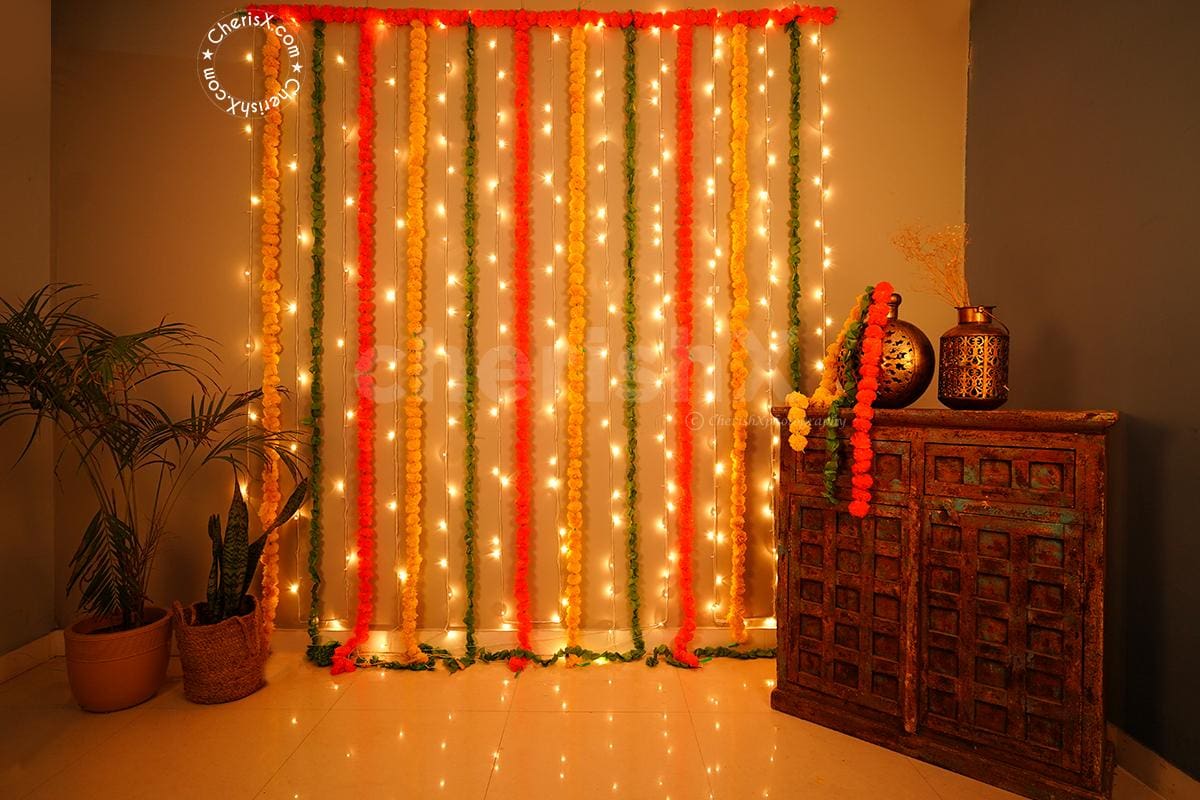 Diwali, a festival of lights is celebrated every year with flowers and lights. Thus, choosing these classy LED lights and garland decor for this Diwali celebration is the ideal idea. This dazzling decoration comprises LED warm lights, orange, and yellow garlands, green leaf strings, and jointers.
This ravishing lighting and colorful decor will make a cheerful and endearing environment for everyone.
Rajasthani Umbrella Decor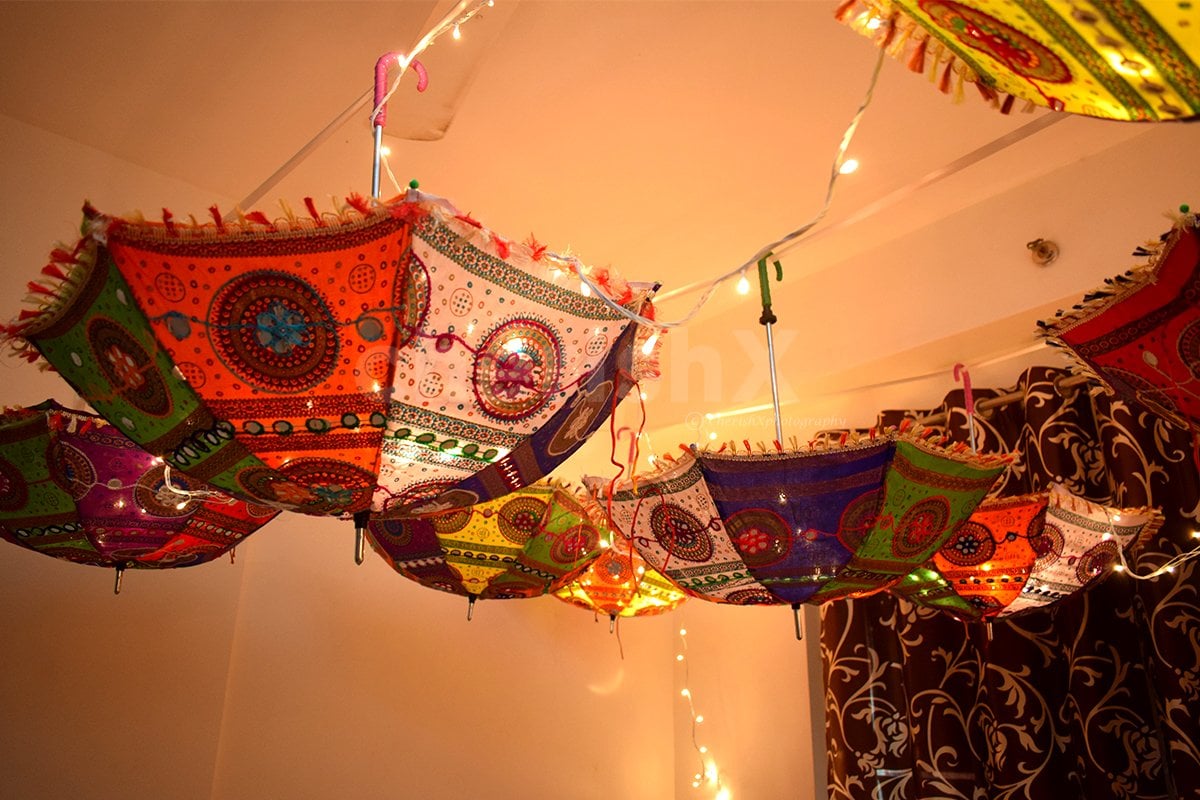 It's one of the different office decoration ideas for Diwali. Make your Diwali decoration extra remarkable by organizing a Rajasthani Umbrella decor for your office. This beautiful, unique umbrella decoration will surely lighten up your guests' mood.
You will adore these incredible Rajasthani embroideries and gorgeous bright umbrellas with strings of LED lights. Everyone will surely have starry eyes after looking at this astonishing Rajasthani decor. Get this great decor effortlessly by booking a slot with CherishX.
You can opt for customization as well with this decor by adding white umbrellas, paper lanterns, or anything further.
Diwali Lantern Theme Decor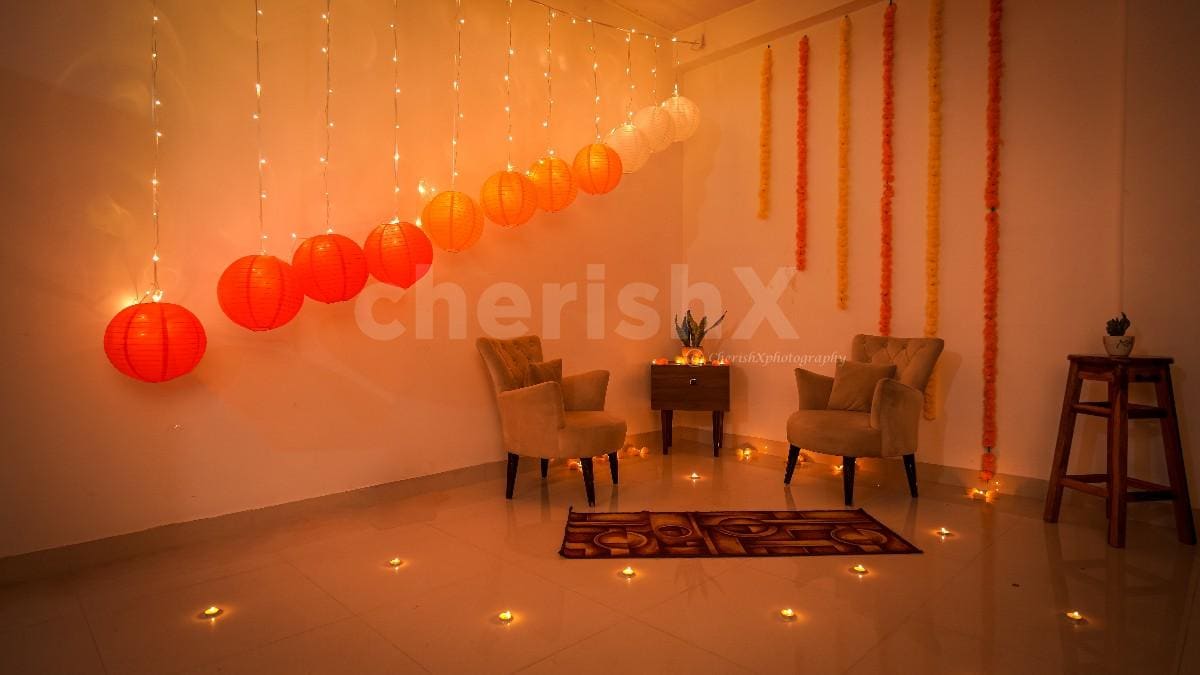 Diwali here comes with lots of celebration and preparations, so why not opt for this Diwali lantern theme decor? Bring positivity, charm, and glow to your workplace as this theme of lanterns includes paper lanterns of various colors like orange, white, and red. Also, get fairy lights, artificial garlands, tea lights candles, and a jointer to enrich the look.
Furthermore, you can customize this decor as per your needs and can easily book this decor with CherishX.
Diwali Decoration Ideas With Lights & Umbrella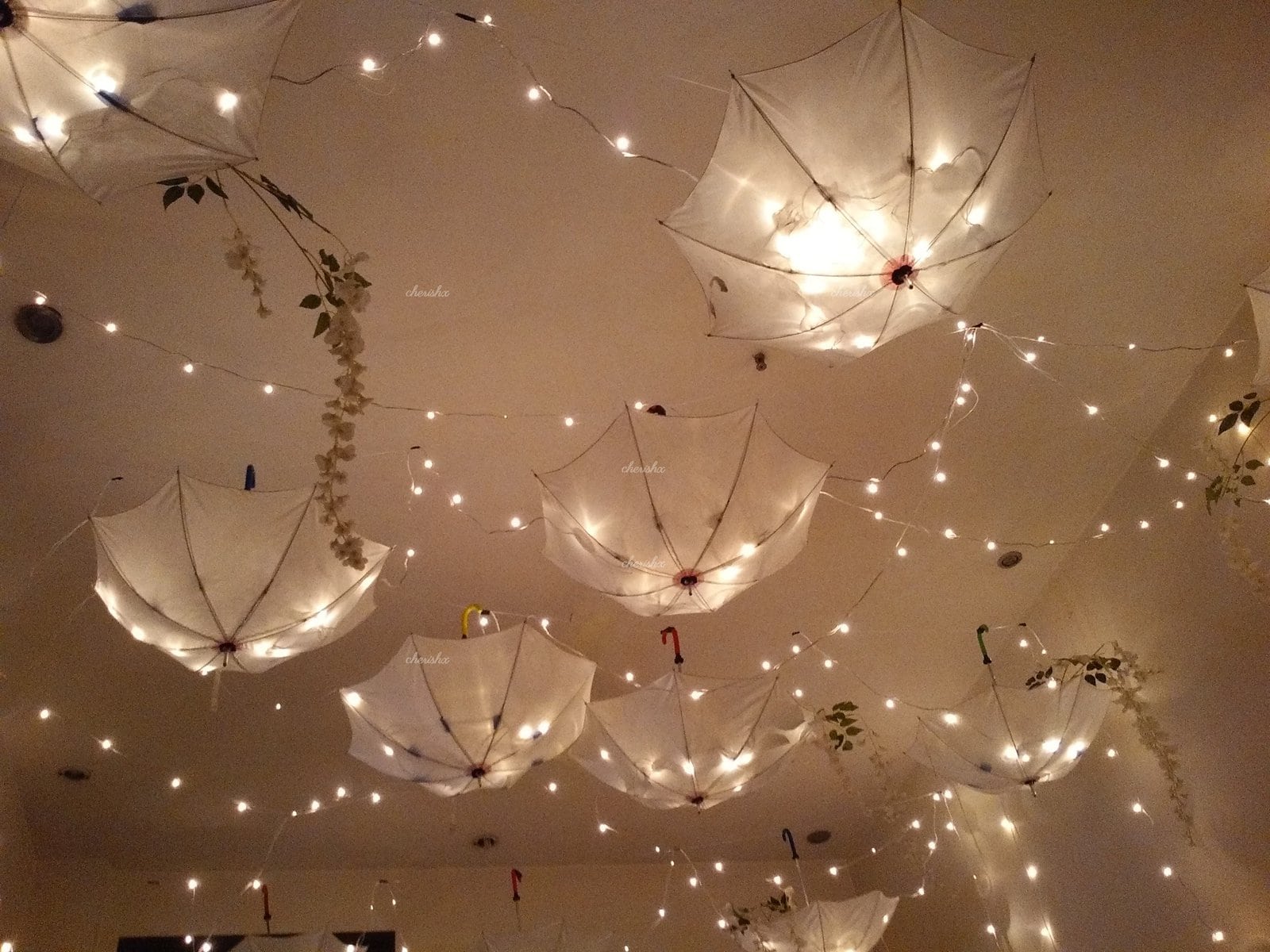 This Diwali experience shimmering stars over your heads. Make this happen with Nights under the umbrellas decor. The beautiful umbrellas with LED lights rose petals, and candles make a beautiful charismatic decor. Make this Diwali amazing for you and your office mates.
Fairy Lights and Lantern Surprise
Get amazed with these beautiful fairy lights and lantern surprise decor. This decoration is full of paper lanterns and bright fairy lights that will surely be going to enthrall your visitors. You can add any other requirements with this decor as per your needs. Get DIY Diwali lights for the Office
Shimmery Diwali Card Party Theme Decorations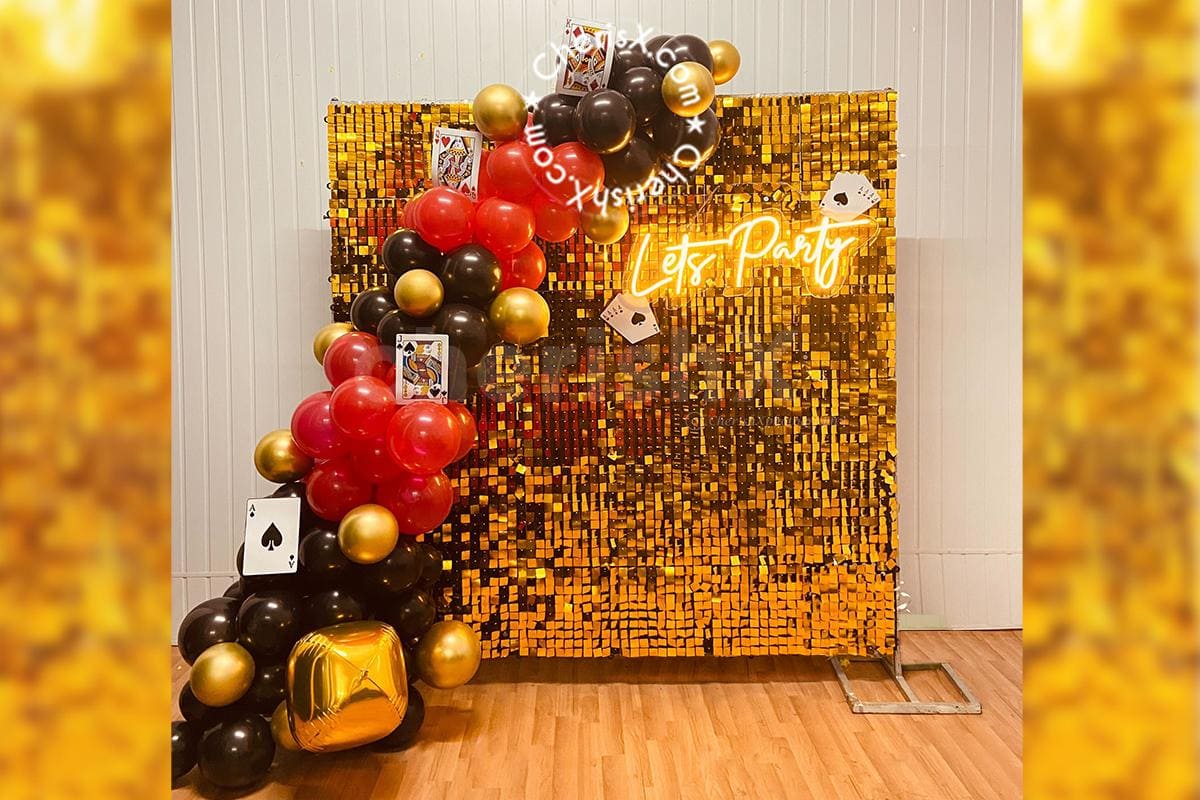 For a perfect casino feel on this Diwali 2023, opt for this shimmery golden casino theme decor to add a jolly atmosphere to your office party. Fetch casino vibes with this decor as this comprises a golden sequin backdrop, lets party neon light, an arch of balloons, latex balloons, and casino theme paper cutouts.
Bring excitement to your Diwali office party with these shiny and glowing decorations to add more charm and extravagance to your party.
Customized Diwali Office Decoration Ideas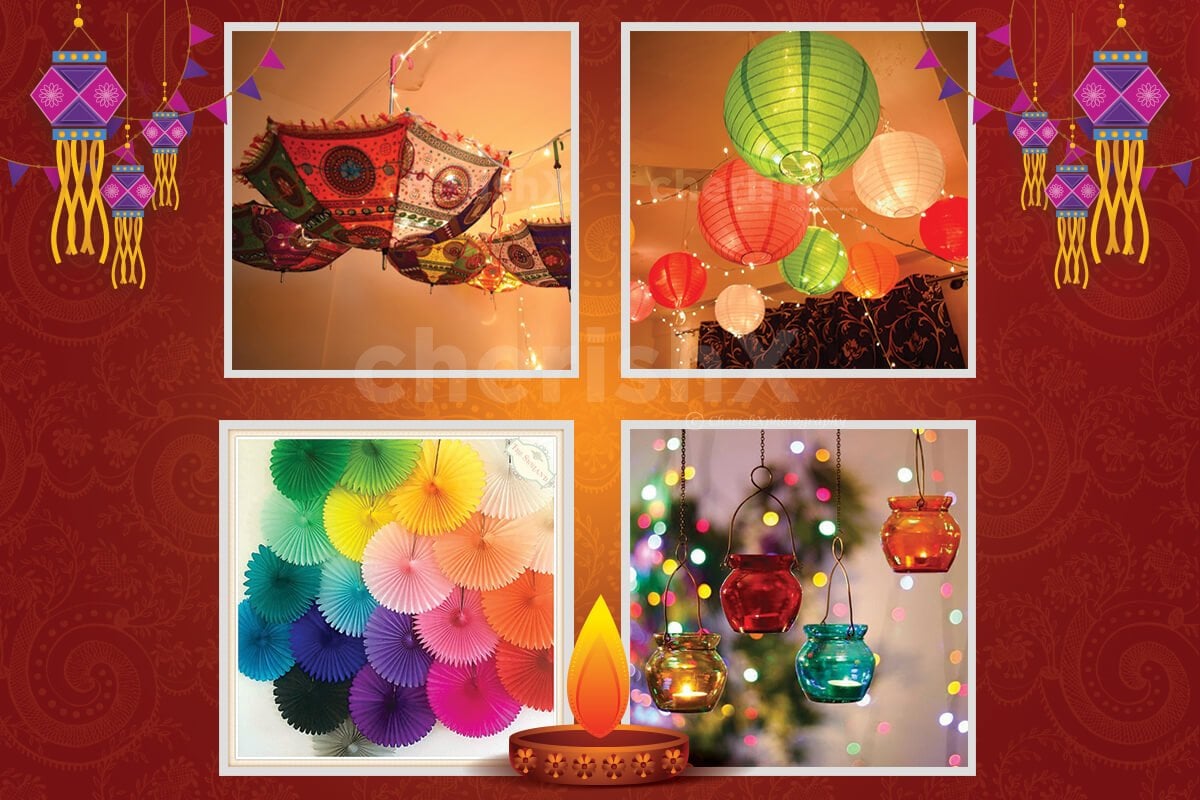 Add a spark to this Diwali celebration with your creativity. Book this customized Diwali decoration and add fairytale lights, lanterns, diyas, and whatever you like. Decorate the wall with multicolor paper rosettes, flower garlands, frills, curtains, Diwali torans, and many more.
Know more about the Diwali Office Decoration
CherishX for the perfect Office decoration
When it's time to decorate your office for the Diwali celebration, opting for any products and services is not a good idea. As you can fall into the trap of over-expensive products and cheap quality products. Thus, you should book experts only like CherishX. Hope you loved the ideas for office decoration for diwali!
With CherishX get classy, vibrant, and joyful decorations along with numerous variety of products and services.
Further, you can avail yourself of personalization with our decorations as a dedicated team can offer top-notch services at economical prices.
So, what are you waiting for more? Come and book with us and make your Diwali office celebration unique and intriguing.
If you want to know more about decorations, Diwali gifts, or cakes, get in touch with our team via call or WhatsApp.
FAQs
What cities does CherishX offer its decoration services?
CherishX provides decoration services in many cities and over the years expanded its reach to new cities. Currently, we are delivering our services in:
Pune
Jaipur
Bangalore
Delhi NCR
Mumbai
Hyderabad
Gurgaon
Why book CherishX for Diwali decorations?
We at CherishX comprehend your emotions and offer our decoration services believing our own event. We have a dedicated team of experts who can deliver the best and most customized decorations for you. Making your event memorable, cheerful, and worth every penny is our motto.
Where should I book CherishX decoration services?
The booking with us is simple and easy, you just have to visit the official website, choose your package, slot, and time, and then make the payment. After that our support team will get back to you!
Can CherishX provide Diwali decorations in offices as well?
Yes obviously, we offer our decoration services anywhere you wish so in the above-mentioned cities at the best prices.