Karwachauth is a one-day festival that is celebrated by married women for the safety, longevity, and prosperity of their husbands. This year it will be celebrated on Sunday, 24th, October 2021.
On the day of Karva Chauth, women fast from sunrise to moonrise and pray for their husbands' well-being. 
Historically, Karva Chauth was celebrated as a prayer for the safe return of soldiers who would leave their wives and children to fight in the war. Today it has become a day to celebrate the undying bond of love between a husband and wife.
Though Karva Chauth is primarily a Hindu festival and is mostly celebrated in Northern India, people from other regions have also started celebrating it.
Unlike the olden days, karva Chauth today is more modern, exciting and fun. Now, husbands also take part in the festivities by keeping a fast for their wives. It's the latest trend that's taking the young generation by storm. 
However, if you are young, newly married or you live away from your family then planning your first karva Chauth can be a little overwhelming. 
But don't worry! We've got you covered. Be it pre-karva Chauth rituals, main pooja, gift ideas, or Post fast surprise—this guide will help you plan a memorable karva Chauth.
How to Celebrate Karwachauth
The important preparations start weeks or days before the Karva chauth as it involves a lot of necessary shopping that needs to be finished at least a few days before Karva Chauth. 
Pre-Karvachauth Rituals
1. Shopping 
According to tradition, women have to dress up like newlyweds. So it's important you wear new clothes, makeup, and jewelry on Karava Chauth. Buy ethnic Indian attires like sari, lehenga, and adornments (shringar), new jewelry and makeup. For the pooja, buy pooja thali, karva lamps, Chalni(sieve), clay lamps. Fresh fruits, flowers, and sweets can be bought on the day of Karva Chauth. 
Material Required for Karvachauth Pooja
A clean area for performing the pooja

Small sculptures of Goddess Parvati, Lord Shiva, Lord Kartik, and Lord Ganesha

Karva Chauth storybook (katha)

Matthi (fried snack) for bhog

Rouli (red chandan)

A strand of red thread (called kalawa/ mouli)

A plate with sweets, glass of water, diya (mud lamp filled with oil and a cotton wick) 

Money for chadawa (offering)

A circular Chalni (sieve)
2. Henna (Mehndi) 
Another integral part of Karvachauth is applying the beautiful Henna. In the past women used to apply henna on the day of karvachauth but now it's usually done a day before the festival. It's much more convenient and saves you a lot of time on the day of the fast.
Things to do on the day of Karvachauth
With your shopping, henna application and necessary preparations all finished a day before, the day of the karva Chauth should be all about enjoying your fast, performing rituals and getting dressed up.
Wake up Before Sunrise for Sargi 
On the day of Karva Chauth wake up before sunrise, take a fresh bath to eat sargi, which is a pre-dawn meal traditionally given as a gift by the mother-in-law to the daughter-in-law. If you live alone, or your mother-in-law lives in another city or country then you can even prepare the sargi by yourself.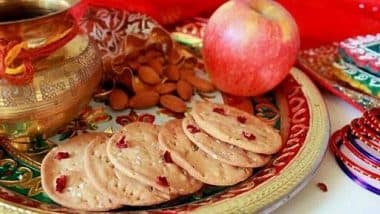 Sargi consists of savory and sweet delicacies, protein-rich dry fruits, milk, fruits, and snacks. You can even include your favorite dishes but make sure the sargi contains food that is high in fat and super nutritious that keeps you energized the whole day. 
After Partaking the Sargi, Dress up and Get Ready for the Evening Puja
The fast begins at dawn and continues till moonrise. During this time the fasting women neither eat nor drink water. After having the pre-dawn sargi, you can take rest and dress yourself up in your new attires and adornments to get prepared for the pooja in the evening. 
Traditionally, fasting women do not do any housework, given the tough nature of the fast. But if you live in a nuclear family, then ask your partner to help you out in the work. 
The Karva Chauth fast has two poojas—one in the evening before sunset and other, later in the evening at the time of the moonrise. 
The Evening Pooja
The evening pooja which is held before sunset is a women-only ceremony. In this ceremony, community women dress up in their finest clothes and gather up around at a particular place to perform the pooja. Participants sit together in a circle with their pooja thalis in their hands. The oldest woman from the group narrates the story of Karva Chauth (called karva chauth Katha) and in the pauses sing the Karwa Chauth pooja song and pass their thalis around in the circle.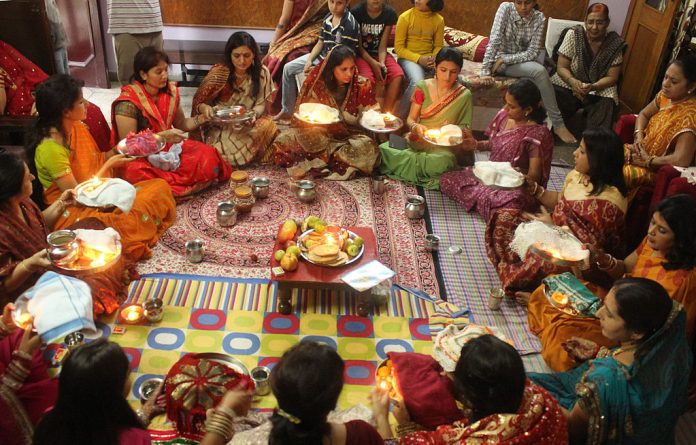 When the story session completes, women pray to the goddess for blessings and touch their elders' feet. 
Once this evening pooja concludes, women patiently await the rising of the moon. 
What Can You Do While Waiting for the Moon
As you know it's customary that women perform no household work on this day. So to pass time after the evening pooja, you can have rest, watch tv, play board games, walk around the park, invite your friends over. 
In the past, karvachauth was quite rigid and women could only idly wait for the moon. But things have changed and women have found ways to keep themselves entertained during the fast.
You can go to the movies with your partner or spend some time at the mall. Watching a movie will provide a distraction and pass time quickly.
Break the Fast at Moonrise
Once the moon is visible in the sky, you can perform your pooja ceremony and break the fast. Prepare your pooja thali beforehand. The thali should have a Diya (earthen lamp), Karwa Chauth pot filled with water, Sieve (Channi), a cloth covering the Karwa Chauth Dhoop, Camphor, Rice, Kumkum, Sandalwood Powder, some sweets & Dry Fruits. 
To perform the ceremony you need a place where the moon is fully visible. Like terrace, lawn or a community garden. 
When the moon rises, lit up the diya and view the moon through a chalni(sieve). Follow it up by offering water(arka) to the moon to secure blessings. If you want you can even say a small prayer for your husband's well-being. 
Then it's your husband's turn to break the fast by offering you some water from the pot. He then feeds you some sweets to conclude the pooja ceremony. 
You and your husband can make the Karva Chauth special by surprising each other with a lovely karvachauth gift. 
Some Thoughtful Karvachauth Gift Ideas for Wife and Husband
Surprise your partner with a beautiful personalized Love Memory String photo frame. Display timeless memories spend together in an aesthetically pleasing Memory String Style and make their Karva Chauth memorable. 
Elegant Rose in a Balloon Bucket
Pamper him or her with an amazing rose in a balloon bucket.
Surprise your wife with an exquisite love wall decor surprise. Have a wall of your living room or bedroom decorated with red heart-themed balloon decorations and surprise her.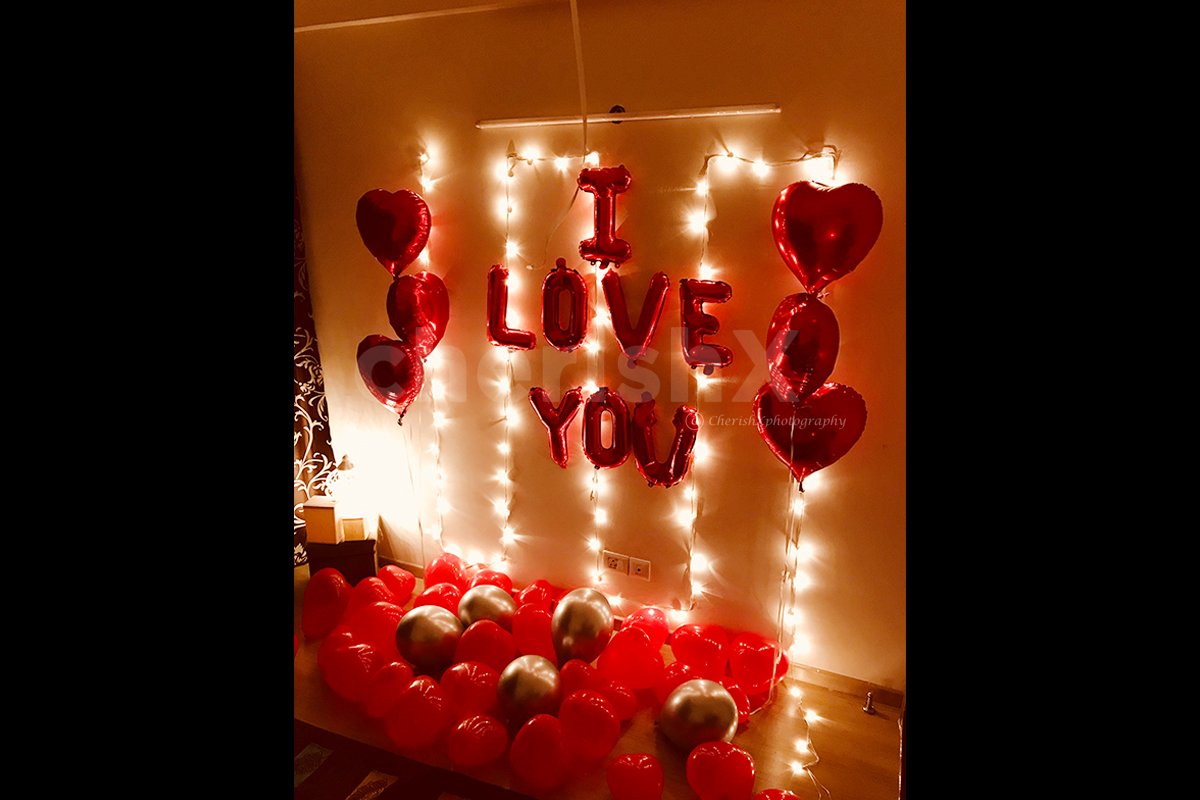 Surprise her with a Romantic Candlelight Dinner
A great way to conclude the karvachauth day is by surprising your wife with a nice romantic candlelight dinner. After a rigorous day of fasting, treat her to some delicious food in a relaxed location to make her karvachauth unforgettable.
Celebrate a post-fast feast with a special date! If words like Grand, Epic and Extravagant rule your vocabulary when it comes to giving surprises to your partner then you are at the right place!  Give them a fantastic surprise with this epic romantic candlelight dinner. 
Enjoy a date set amidst gorgeous trees under the stunning evening sky. The exquisite cabana tastefully decorated with illuminating lights, radiant flower petals, and balloons, offers a fairytale style ambience to sit and feast on a sumptuous meal. 
Location: Dwarka, Delhi
This Karva Chauth elevate your romance and show your partner how much you love them by surprising them with this unique romantic candlelight dinner set on the 28th floor. Savor delicious food while enjoying the stunning skyline and make this Karva Chauth unforgettable.
Feel at the top of the world as the city shines brightly before your eyes. Enjoy refreshing mocktails, quality modern food all while admiring the beautiful city.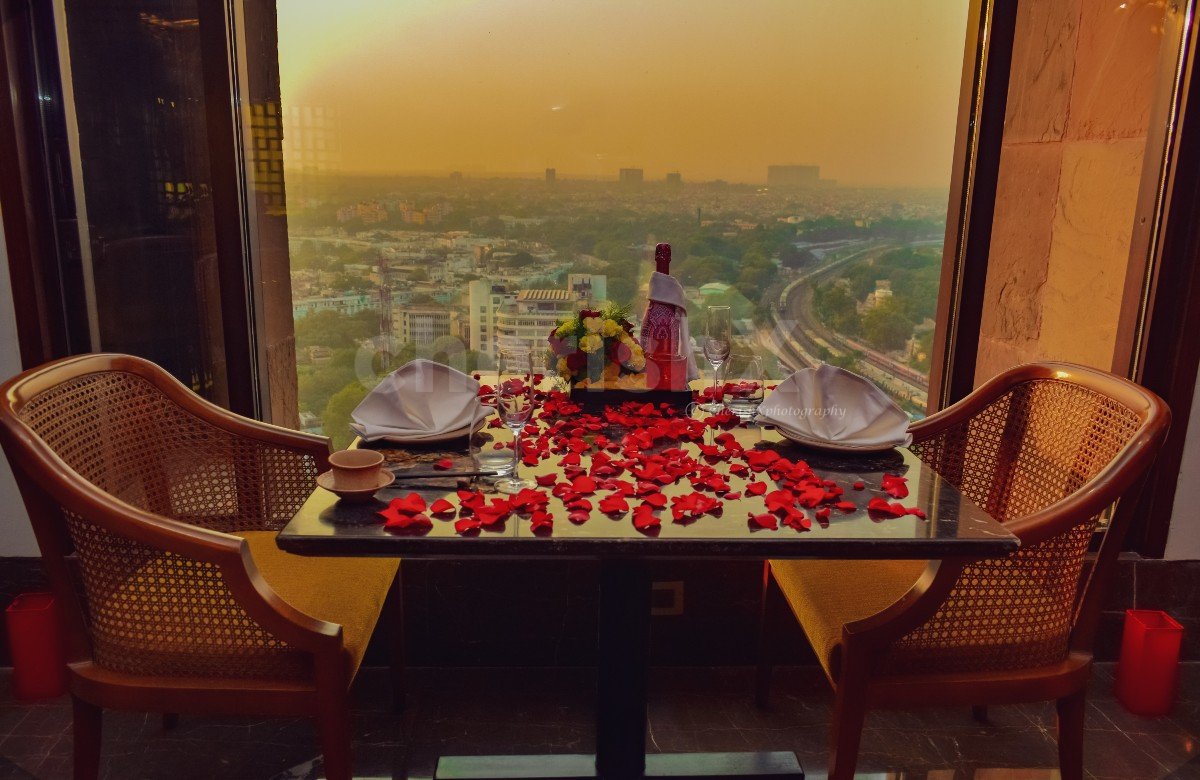 Location: Oko Lalit, New Delhi
Celebrate your Karwachauth with Marriott and escape the monotony by stealing away a few precious moments with your partner with this soothing poolside date. Enjoy the classic Marriott hospitality and dine on some amazing food. The relaxed and tranquil ambiance is perfect for a karvachauth dinner.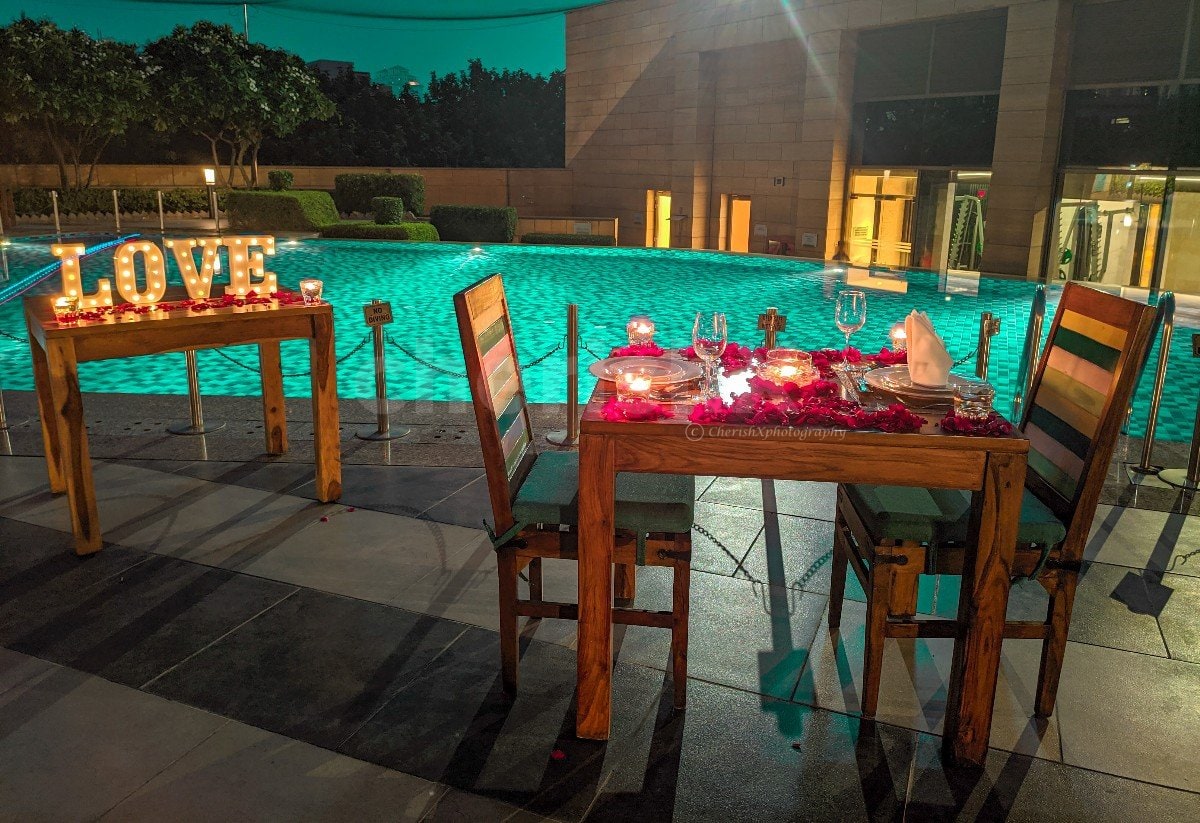 Location: Marriott, Gurgaon
The magic of a rooftop date is unparalleled, especially on a Karvachauth night. If you enjoy cozy romantic candlelight dinners on the rooftop, with the bright moon shining over your head and the light breeze brushing against your skin, then this rooftop dinner is the one for you. 
Location: Dwarka
You can check out more amazing Karva Chauth Candlelight Dinners from an all-new range of Karva Chauth special experiences at CherishX. 
Can you Celebrate Karvachauth if you are not Religious
Yes, you can. Just like all the other festivals like Christmas, Diwali, Easter and Holi are celebrated by people from all walks of life and religion. Karvachauth can also be celebrated by anyone. You don't have to perform all the pooja rituals and ceremonies. You and your partner can just keep a fast for each other, and break the fast with a nice candlelight dinner once the moon rises. 
Fasting together is a great way to connect on a spiritual level with your partner. 
Finally, with proper planning and a little bit of excitement, karvachauth can be a lot of fun for you and your partner. Get creative with gifts, surprise them with a romantic candlelight dinner to make the auspicious day of karvachauth a unique and unforgettable experience.
For more thoughtful Karva Chauth gift ideas, surprise candlelight dinners and home surprises, visit CherishX!