Candlelight dinner dates ideas in Hyderabad to enjoy the time with your partner. Experience the Nawabi vibe of Hyderabad all around the city and surround yourself with the cloud of love. Connecting this aura of elegance with affection prompts a remarkable combination. This city of Pearls has royalty studded everyplace and streams magic into your romantic evening.
Rated as the most promising Indian city to live in, Hyderabad has so much to deliver to its residents and visitors. Ranging from the historic architecture to its museums, the royal palaces and tranquil lakes, and many great restaurants offering amazing food in the country. This is an outstanding city for a romantic evening out.
If you are exploring ideas on where to take your partner for a birthday, anniversary, or just as a treat, then do check out the complete list of romantic places for a candlelight dinner in Hyderabad.
Stunning And Romantic Candlelight Dinner Date Ideas In Hyderabad
Fantastic food, romantic settings, your adored one, and this list; with no deficiency of choice, you are sure to find the excellent place to take your special someone for a romantic dinner in Hyderabad and relish quality time together. Adding elegance and plushness to your stay, this list of the best candlelight dinner date ideas in Hyderabad for couples can be your go-to guide. Let's check it out below:
Rooftop Candle Light Dinner at Ebony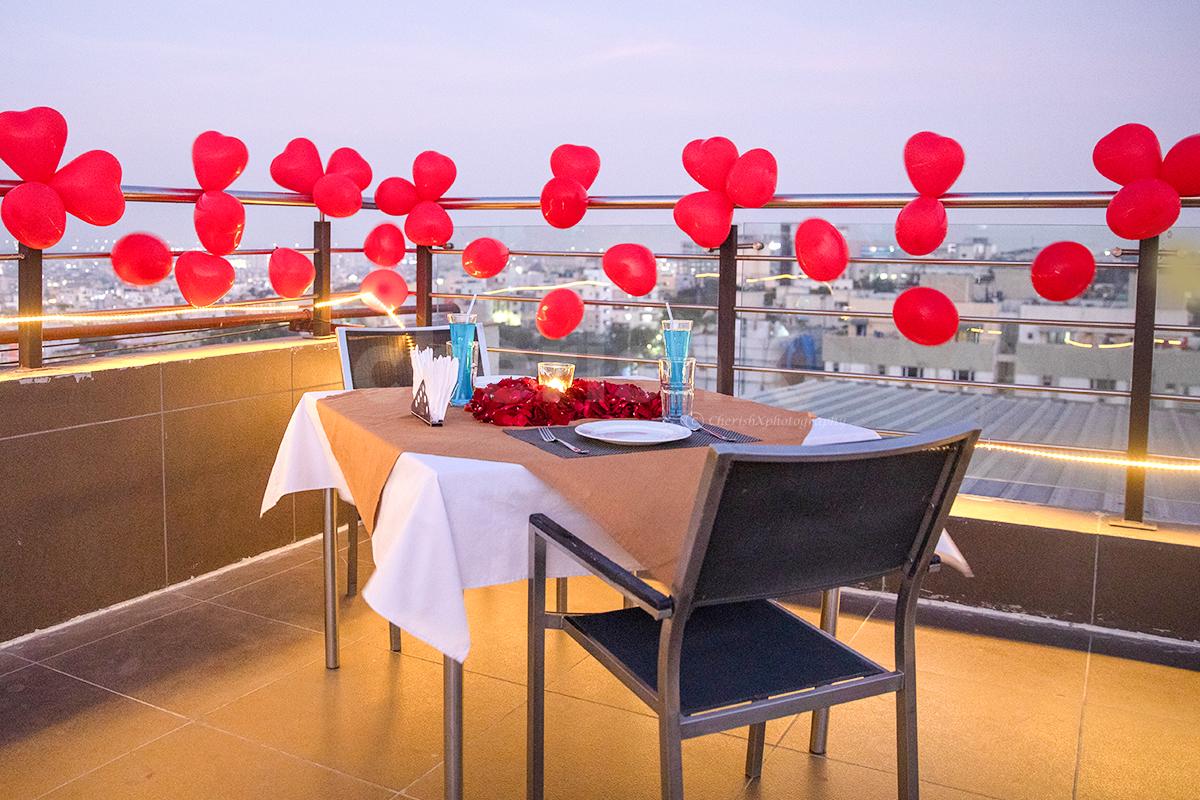 Display your love for your important other by taking them out on a candlelight dinner date. The outstanding way to make your beloved special is to have a rooftop candlelight dinner at Ebony in Hyderabad. Get a wonderful setup on a rooftop, filled with balloons, candles, and petals to add a romantic touch. Add-ons like welcome drinks and a 5-course meal will be available as part of the package.
Open Air Poolside Candle Light Dinner in Hyderabad
Experience an open-air poolside candlelight dinner date at Ellaa residencies with great ambiance, exceptional hospitality, and scrumptious food. Find some of Hyderabad's best and most myriad culinary selections. Make lasting memories as the setup includes welcome drinks, table decorations, a small cake, and a 5-course meal.
Romantic Dinner at Zibe By GRT in Hyderabad
Celebrate your evening at one of the most attractive spots in Hyderabad. This romantic candlelight dinner at Zibe by GRT is sure to spoil your loved one and arouse the romance between the two of you. After seating, ease your senses beginning with welcome drinks to 5 different courses of the meal. Ensuring you perplexing surprises to make your day even more memorable.
Private Dome Candle Light Dinner At Ootea Cafe
Looking for a private dome candlelight dinner in Hyderabad that can make your day a remarkable one? This is it, an accord of a private dome in the natural space made to shower love on your partner. Firstly, luscious mocktail drinks, a private set-up table decorated with lovely flowers, and a sumptuous 5-course meal will be served for the two of you. In the end, a cake to celebrate your significant occasion.
Romantic Stay With Dinner At Zibe By GRT
Bring your partner to this beautiful place and feel love differently. Book this romantic stay with dinner at Zibe by GRT, Hyderabad – a great place to celebrate love. The elegant room setup is graced with an adorning arrangement that helps you spend an unforgettable time with your partner. After that, a multi-course meal, welcome drinks, balloons, and rose petals will add a cherry on top of this heart-melting occasion.
Open Air Candle Light Dinner At Ellaa Hotel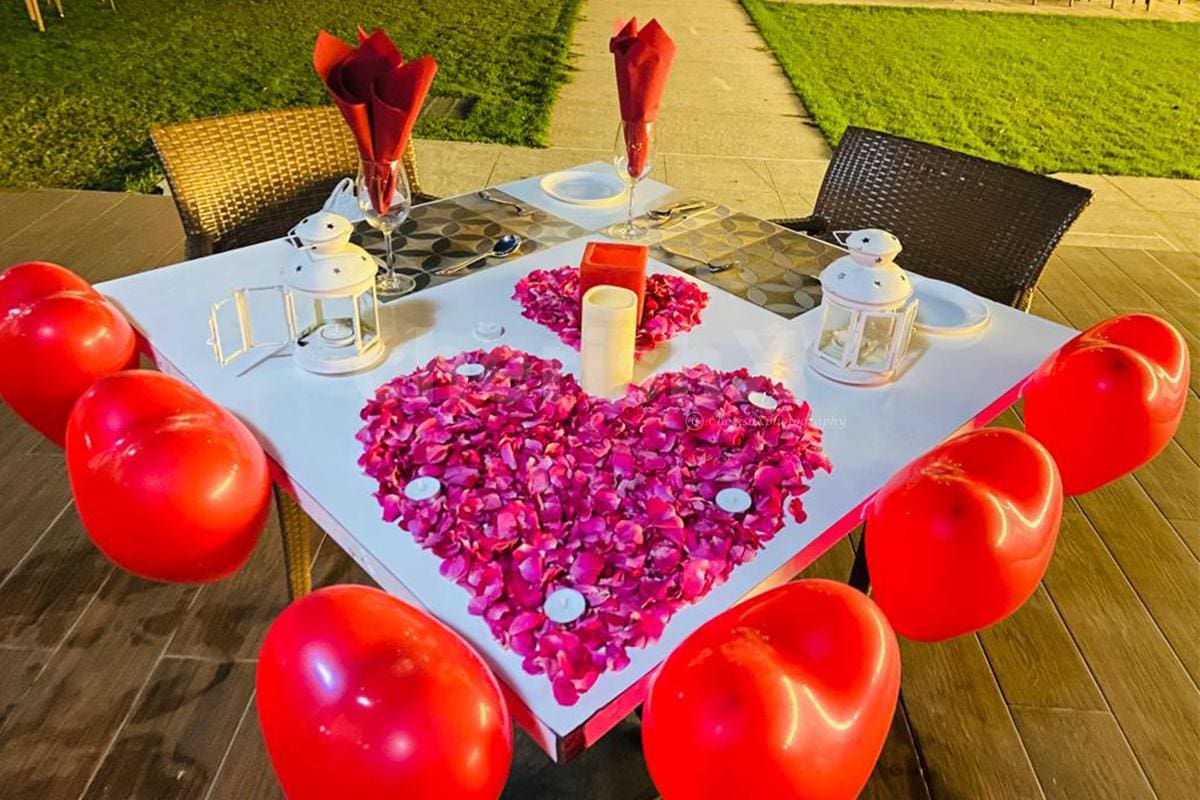 In Hyderabad, dine in the open-air candlelight dinner at Ellaa Hotel for a romantic meal. A fantastic setting for a romantic evening finished with phenomenal service, cuisine, and ambiance. Enjoy a 5-course meal cooked by the chef, followed by an ice cream which is the quintessential combination for a booming date night.
Moon Light Poolside Dinner At Le Meridien
For those seeking an excellent match of tasty food, warm ambiance, and inexpensiveness, this is the right place for you. Moonlight poolside dinner at Le Meridien is a perfect combination of comfort and quality. The food is delicious and the music in the background is premium and includes welcome mocktails and a 4- course menu.
Private Cabin Candle Light Dinner by Ootea Cafe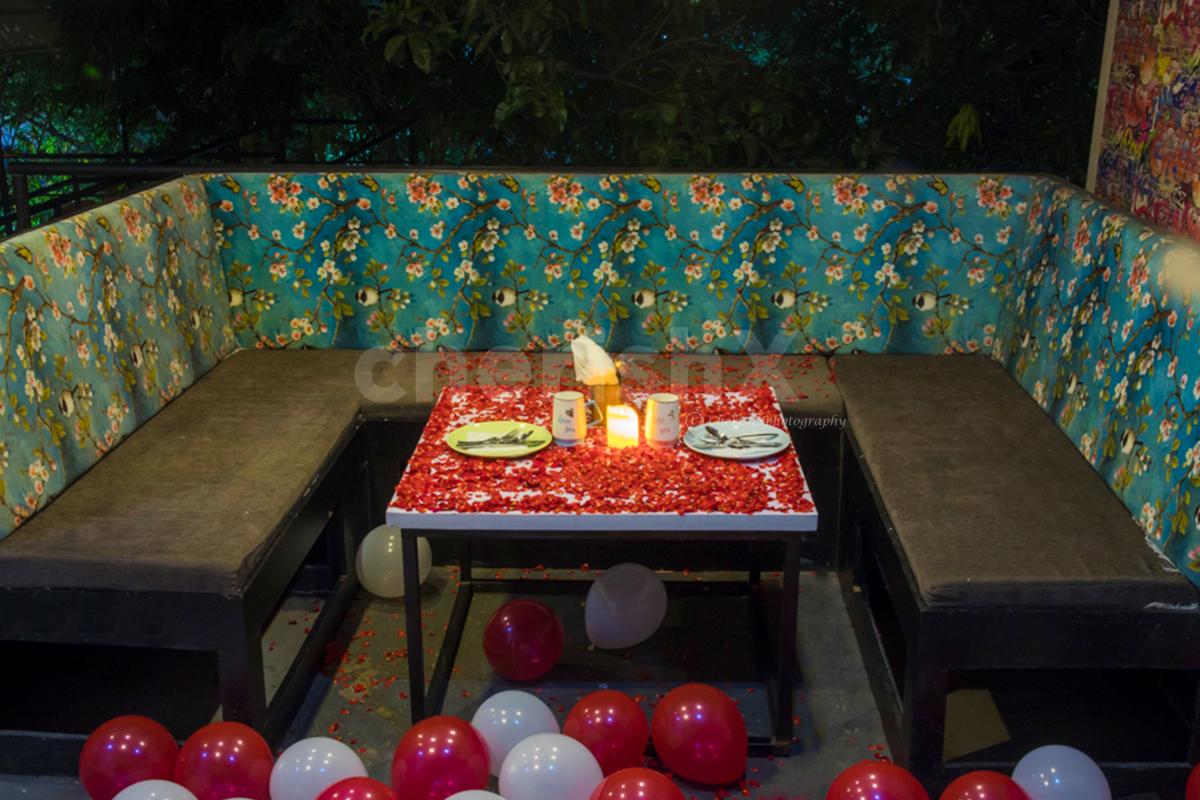 This starry private cabin candlelight dinner by Ootea cafe in Hyderabad gifts you an extremely well-setup private setting. The rose petals and candles brim fondness loaded with affection, you will feel the romance. This package includes mocktails, starters, one main course, and a small cake with a message.
Special Couple Dinner At Ellaa Hotel
Make your partner excited with exceptional special couple candlelight dinner experience at Ellaa Hotel, Hyderabad. Initiate this romantic dining experience as the beautifully decorated table awaits your presence. A private server will present you welcome drinks, 2 glasses of cocktail, a 5-course meal, and a dessert along with the ice cream of your choice.
Memorable Candle Light Dinner At Ellaa Residencies
Want to rejuvenate the romance? Nothing can convey love as well as a romantic and memorable candlelight dinner at Ellaa Residencies in Hyderabad! Treat your spouse to this luxury candlelight dinner and glow the light of love. To start with, get welcome mocktails to your table, huge variety of dishes and desserts. The outlandish food and service there, are flawless for any event of yours.
Why CherishX for Candlelight Dinner Date Ideas In Hyderabad?
At CherishX, we consider that surprises are a strong way to bring joy and excitement into our lives. Whether it's an amazing party for a loved one's birthday or a romantic surprise for your companion, we love assisting our customers to plan the ideal surprise.
To book, visit our official website or call us or just Whatsapp us and our team will get back to you earliest.
FAQs: Candlelight Dinner Dates Ideas In Hyderabad
What is the finest time to experience a romantic candlelight dinner date in Hyderabad?
The greatest time to experience romantic candlelight dinner in Hyderabad is during the winter season from October to March when the weather evolves to cold & pleasant. During this season, you can undergo a temperature between 15 degrees to 30 degrees Celsius as this city is known for its maximum heat so evade visiting during the summers.
What will be the right time for the Hyderabad candlelight dinner dates?
The timings of the Hyderabad candlelight dinner dates are from 7:30 PM to 11:00 PM approximately. You can appreciate two hours with your beloved and have a fantastic& romantic time at any one of the top-notch hotels.
What meals are incorporated in the Hyderabad candlelight dinner package by CherishX?
Generally, the meals that are included in the candlelight Dinner date ideas In Hyderabad are:
– Drinks: 2 Mocktails
– Food: 5 Course Dinner (Veg/Non-Veg)
– Dessert and ice cream
– Complimentary: cake with a formal message depending on the occasion
The public cuisines comprised in this package are European, South Indian, American, North Indian, and Continental ( depending on the restaurants).
What to carry for a romantic dinner date in Hyderabad?
Things that you ought to carry for the romantic candlelight dinner date in Hyderabad are correct government-approved ID proofs. The ID proof can be your Aadhar card or Voter ID and is mandated to validate your identity before you start with the dinner.