The craze of Bollywood movies made us all hopeless romantics. We Delhiwalas consider in grand & jaw-dropping gestures and take great pride in investing in some surprise candlelight dinner date ideas.
Besides, in today's hustle-and-bustle and equally stressful life, we get little time for leisure, which you would certainly want to make the most of, and treasure in the upcoming days. With a heap of life responsibilities, you may feel daunted to take out some time for your spouse.
Well, if you think that luxury dinner dates or a candlelight dinner at the poolside are now things of the past? Then, let CherishX rekindle your love with your special someone with great and unique dinner date ideas. So occasion or not, plan a super romantic candlelight dinner at your home. A first date, or even a blind date, whichever one it is, gets the best that it can be. If you are looking ahead to plan such an event, read on because this blog will help you arrange it to perfection.
Romantic Candlelights Dinner Date Ideas in the Best Locations of Delhi, Gurugram, and Noida
Candlelight dinner is the most exquisite and romantic date for any caring couple. Commemorate those blissful moments with your partner in the most precious way. As we are providing you with some significant romantic candlelight dinner date ideas here to make a memorable event for you and your partner.
Luxurious Dining by Holiday Inn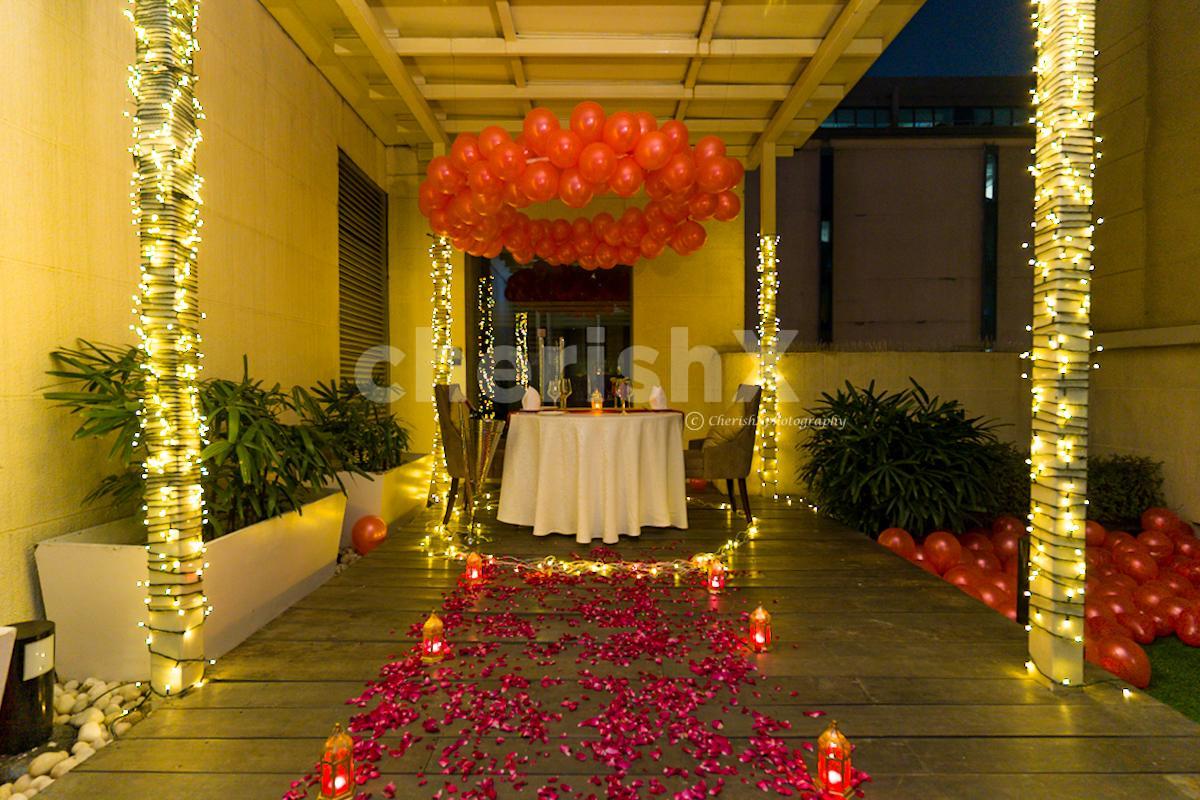 Give your spouse a luxurious dining experience at Holiday Inn, Aerocity! In this, you will get an open-deck private area exclusively designed for a lovely couple who wants to enjoy a romantic evening in a serene place. Without any distractions or disturbances, you can have a magical and memorable dinner. The package includes a decorated table and a PDR area with flowers, candlelight, and some music. Butler service with a glass of mocktail and a 4-course set menu.
Candle-Lit Dinner Under a Tree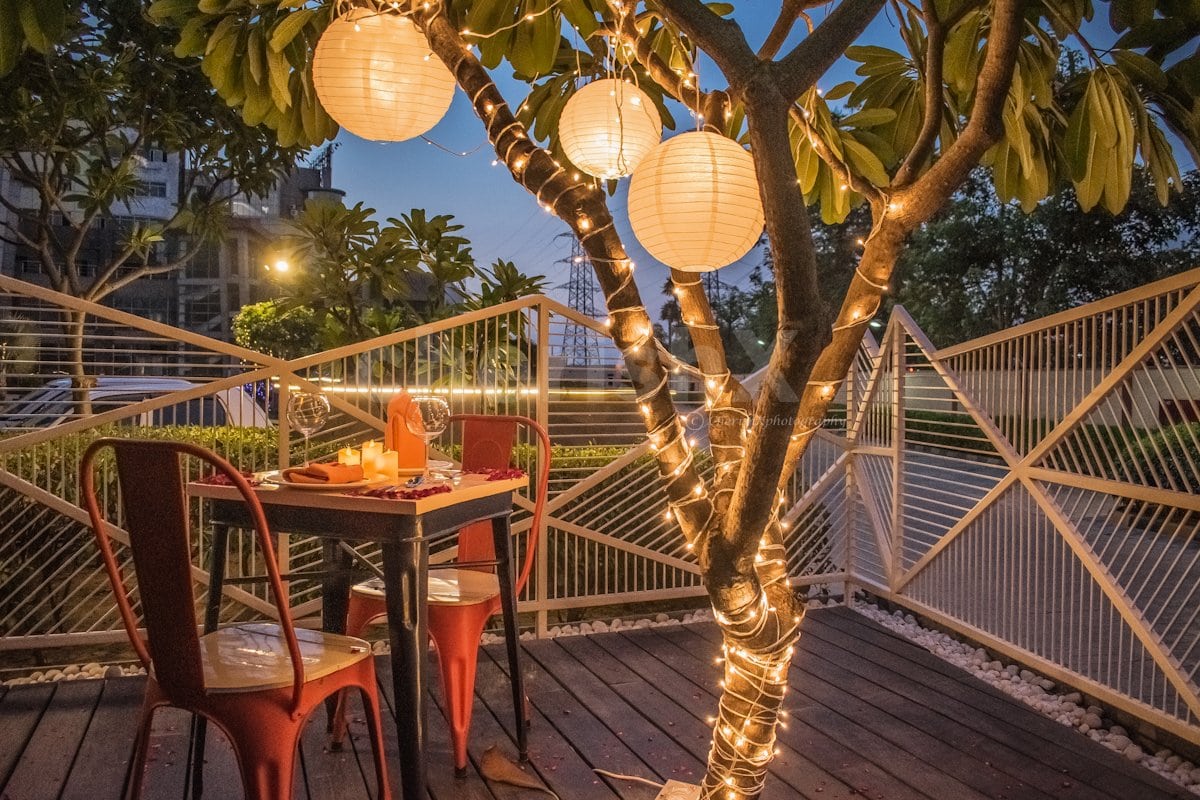 Plan that long-waited date with your partner at a stunning candle-lit dinner under a tree at the great Radisson, Gurgaon. Experience a beautiful open-air atmosphere with a table decorated with rose petals, scented candles, and lovely fairy lights and lanterns. Get refreshing mocktails followed by 3 courses meal-2 starters and 2 mains along with 2 desserts.
Romantic Cave Experience
Grab this unique and romantic cave experience with your partner at the "CavesbytheInderjeet", Delhi. Turn all your romantic fantasies into reality with this experience and get welcome drinks followed by six-course candlelight lunch or dinner. Also, avail of private access to the spa room and spice up things at the Jacuzzi tub. You can even stay in this beautiful cave to make more lovely memories with your partner.
Dining with Drinks at Bar Lounge
The perfect way to celebrate any occasion with your partner is by dining with drinks at the bar lounge. At Crown Place, New Delhi experience delicious cuisines, unique cocktails, and a vibrant atmosphere. With chic decoration- get three imported drinks and a platter.
Romantic Staycation at Country Inn
Book a romantic staycation at Country Inn and relieve all your ongoing stress. The location is in Gurgaon and offers you lavish rooms and lip-smacking food options. Stay in this for an overnight in a decorated room with a 3-course meal.
Poolside Dinner at Jaypee
To make love and togetherness, plan this beautiful evening with your partner- poolside dinner at Jaypee. With ambient music, the destination is located near Rajendra Place. Along with valet parking services, you will get welcome drinks, soup, delicious North Indian starters, and mains with desserts.
Check these Top 15 Mind-blowing Romantic Songs From Bollywood That Are Perfect To Play On a Date
Romantic Cabana Dining
Experience a romantic outing at the stunning Barish Moon Cafe, Noida with a Cabana setup. With a fantastic view, cabana setting, and live music your partner will surely fall in love with you all over again. The food menu includes appetizers, mocktails, a main course, and a dessert along with a decorated table to make the evening more memorable.
Private Gazebo by Umaro
Cherish the private gazebo and candlelight dinner setup at Umaro, Delhi. Experience beautiful scenic views with manicured lush green gardens. This gazebo package includes welcome mocktails, a 3-course meal with 2 starters, a 1+1 course meal (unlimited bread), and 2 desserts. Also, get a beautifully decorated table with rose petals, candles, and soothing music.
Chef at Home for a Romantic Date
If you don't want to leave your home and wanted home-cooked food, then grab this amazing chef at home for a romantic date. Now enjoy food like restaurants in the comfort of your home as this package includes a professional chef at home for up to 4 hours. The chef will make welcome drinks, 3 starters, 2 main courses, 2 types of bread, 1 dessert, curd, salad, and papad. Also, the package includes all the ingredients and serving the food on the table along with cleaning the kitchen ( not utensils).
Open Air Movie and Candlelight Dinner
Lighten your mood with this beautiful evening that includes an open-air movie and candlelight dinner experience, at New Delhi. A great combination of delicious food, and a romantic vibe at Aura44. A rooftop experience that entails a welcome drink, a detachable 4-course meal, a decorated table with candles, and ambient music to enhance the experience.
Don't settle for less, we have a wide- range of romantic candlelight dinner date ideas curated as per your needs and preferences.
Read more: 5 Signs You and Your Partner Need To Go Out For a Dinner
Why CherishX for Candlelight Dinner Date Ideas?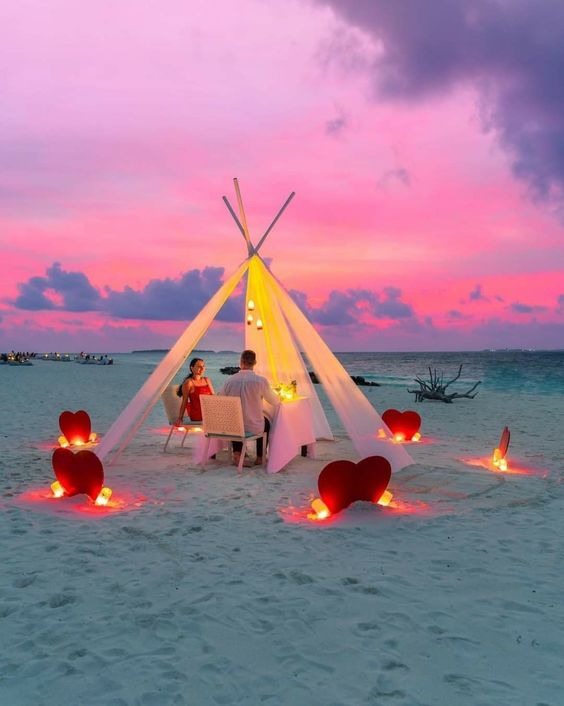 Still, confused about a romantic dinner date idea? Do connect with the experts at CherishX for some of the top-notch ideas that are going to leave you and your partner amazed.
Life is beautiful and you just need to plan some of the great moments to keep the charm and love alive in between you. CherishX is your go-to option if you are out of ideas while thinking about how to plan candle light dinner at home or anywhere.
We have a presence across all the major cities in India and we will be there to assist you in designing the perfect candlelight dinner plans with your special someone. In an easy, witty, hassle-free manner at an affordable price range.
To book any service, drop down your comment or WhatsApp us!
FAQs
How to arrange candlelight dinner dates?
If you are looking for ways to arrange candlelight dinners, we at CherishX have got your back! Our experts will be there to help you every step of the way and execute every small factor of your perfect dinner plans! We have numerous dining date experiences!
Can I avail rooftop dining experience in Delhi NCR?
Yes, with CherishX you can book an amazing rooftop dining experience in Noida, Delhi, and Gurgaon. We help you make your special moment unforgettable for you and your partner.
What to wear for a romantic candlelight dinner date with your spouse?
For a romantic candlelight dinner date with your partner, you can wear anything that makes you comfortable and enchanting. For boys- it is recommended to wear a suit or blazer and for girls- a chic dress.