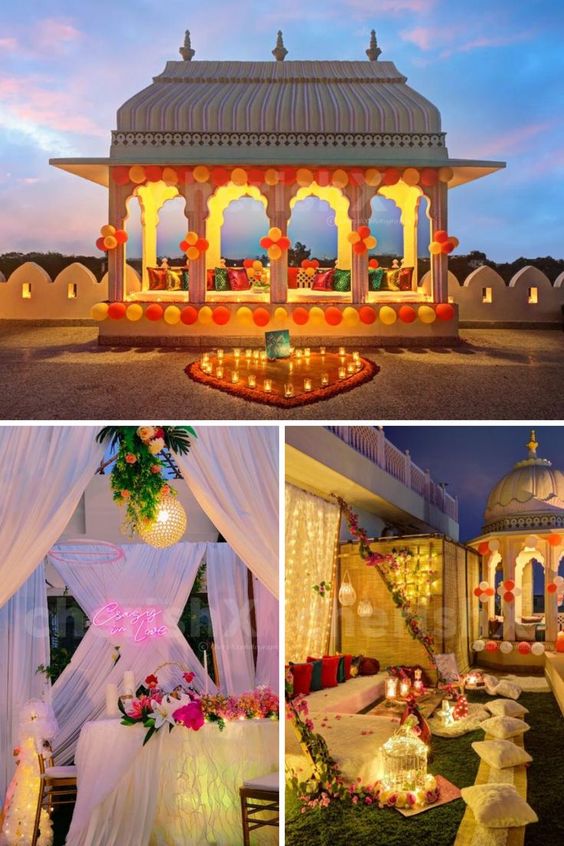 Jaipur is a captivating city that rouses love. With a starry history that supports this city, Jaipur has earned a tremendous following as a favored tourist destination over the years. So, if you are heading to Jaipur with your sweetheart on a romantic holiday, then it's time to consider romantic candlelight dinner date ideas in Jaipur.  Check out our attention-worthy list of all the hidden gems in Jaipur that you must see to let your love blossom under the crystal clear blue sky or at the century-old mansion that has been transformed into a heritage hotel.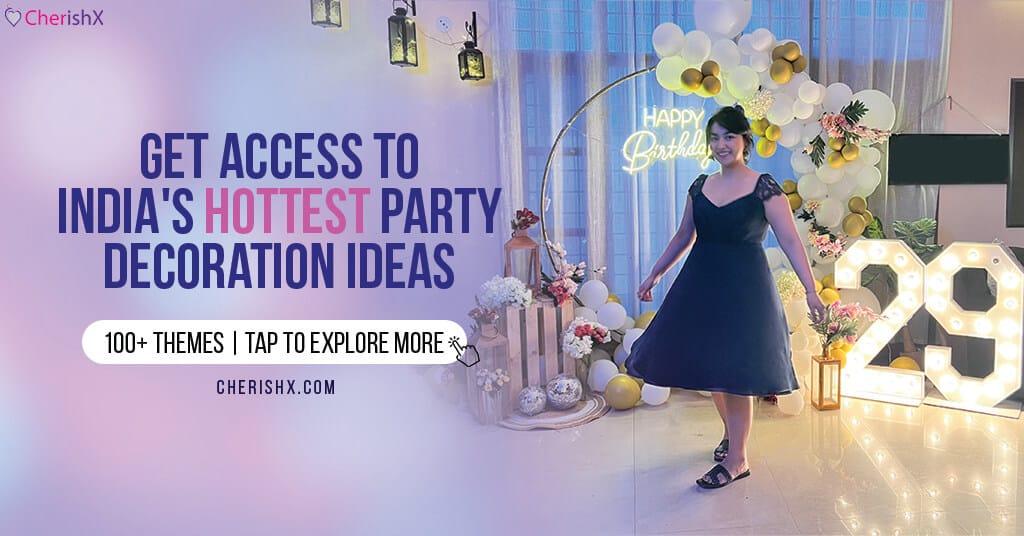 The times have changed and people have grown but the closeness and spark of candlelight dinners continue to rule in our hearts! See your loved one's eyes shine in the candlelight and experience the magic of true romance. Take our chance at the finest places for a candlelight dinner dates in Jaipur and show yourself a prospect to create an unforgettable love story!
Top 10 Romantic Candlelight Dinner Dates Ideas in Jaipur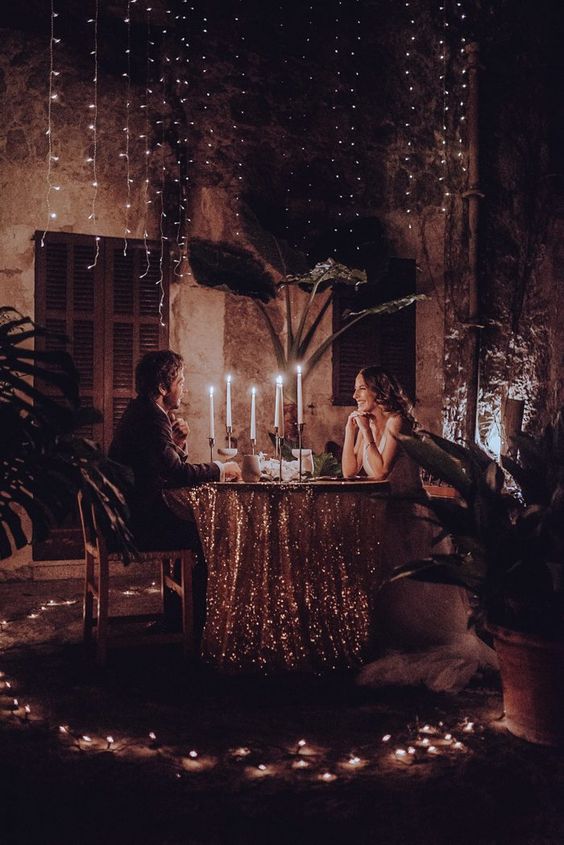 Discovering the most pleasing romantic hotels and restaurants in Jaipur can be a challenging task. Especially, when you are under pressure to deliver a top-notch outstanding experience to your loved one. Arranging for big dates to turn on the romance? We have curated a magically romantic candlelight dinner dates in Jaipur where you can take your partner for lovely dining with the prettiest ambiance and the most delightful food.
Private Movie & Cabana Dining
Enjoy a romantic candlelit dinner and a private movie in Rooms of Dreams in Jaipur. Bohemian Cabana, which is decorated with lights and overlooks the fascinating vistas beneath a starry sky full of stars. Flower chandeliers, fur, and rose pillows elaborate the cabana. You will love the food and kindness of the hotel staff. We guarantee that you will leave with many memories and remembrances. Along with welcome drinks, and a 7-course menu, you can enjoy any movie or your personal videos or pictures on the projector.
Skydeck Rooftop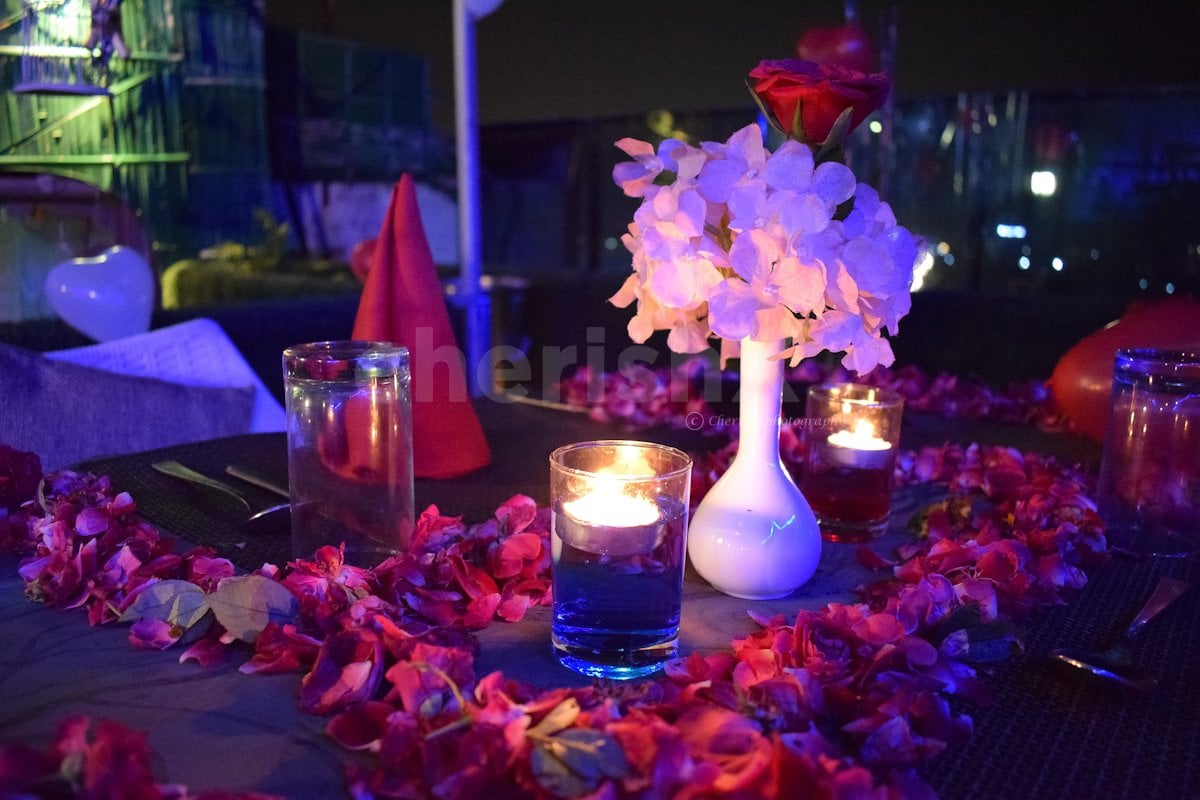 It is effortless to see why Skydeck Rooftop in Sita Bari Jaipur is ranked among the favorites for lovebirds who are just glancing forward to a luxurious dining experience under the starry sky. This rooftop barbeque has a comprehensive array of mouth-watering vegetarian and non-vegetarian barbequed delicacies to offer in a friendly and trendy setting while you two look into each other's eyes under the shining moon. To enhance the experience, a small cake is served along with welcome drinks and a 3- course dinner.
Moon Night Date by Eiffel Tower
Prepare to enchant your spouse with a romantic moon night date by Eiffel Tower in the beautiful air-conditioned space of the Rooftop Grand Gazebo in Jaipur. The dinner table is tastefully fixed with a LOVE Neon LED sign, candles in pearl glass jars, and lanterns covered with flowers for an exceptional eating experience. In addition, get Gazebo grand that includes the moon, Eiffel Tower, a love storyboard, and a Gazebo canopy.
Don't Miss Out: Best Private Candlelight Dinner Setups in Jaipur
Whimsical Canopy Dining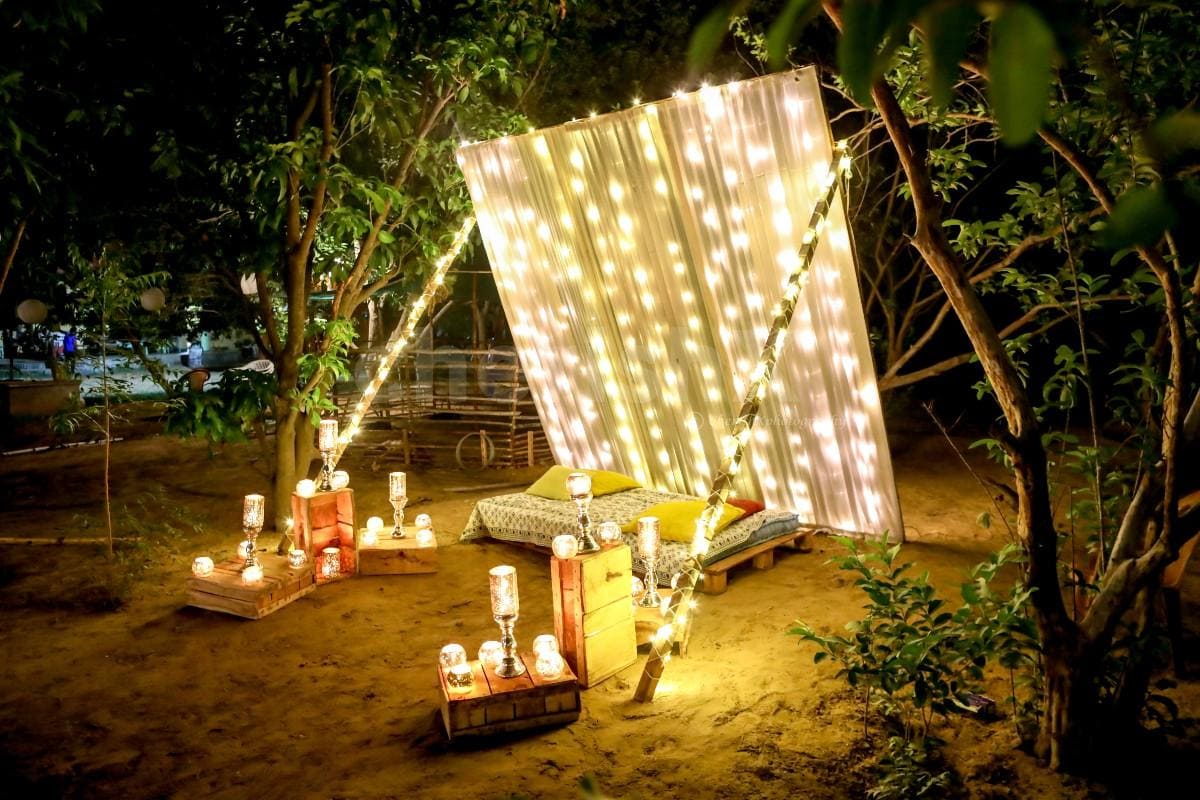 Enjoying its immaculate location within the Whimsical canopy dining on the Delhi-Jaipur highway is one of the most romantic destinations for couples. From its graceful architecture to grand vibes and sumptuous delicacies, it is every bit of a tempter in the city of Jaipur. Enjoy a romantic dinner date with your bae have welcome drinks, a 3- course meal, ambient music, and dining table decorations. Also, you can indulge in activities like basketball, frisbee, badminton, bow & arrow, and a lot more.
Open Air Boho Canopy Dining
Oen -air boho canopy dining is a one-of-a-kind heritage-style dining concept that delivers a unique environment and experience. Located on the Delhi Jaipur highway, the destination is custom-designed for each couple. Get the feel of bohemian culture with this package that includes welcome drinks, and a 3-course menu. The dining table is adorned in an ethnic style and will supply you with enough enjoyable moments to build a lifetime of memories.
Royal Affair by the Poolside
One of the most astonishing royal places to visit for couples in Jaipur is the Royal affair by the poolside. Located on MI road in Jaipur- this offers a romantic ambiance and bespoke service; it vows to spirit you and your date into a world of splendor. Create connections while peeking at the life of the royal highness. Enjoy the delicious 3-course menu near the poolside and make some great memories.
Don't Miss Out: Unique Cabana Dining Setups in Jaipur
Romantic Staycation & Candlelight Dining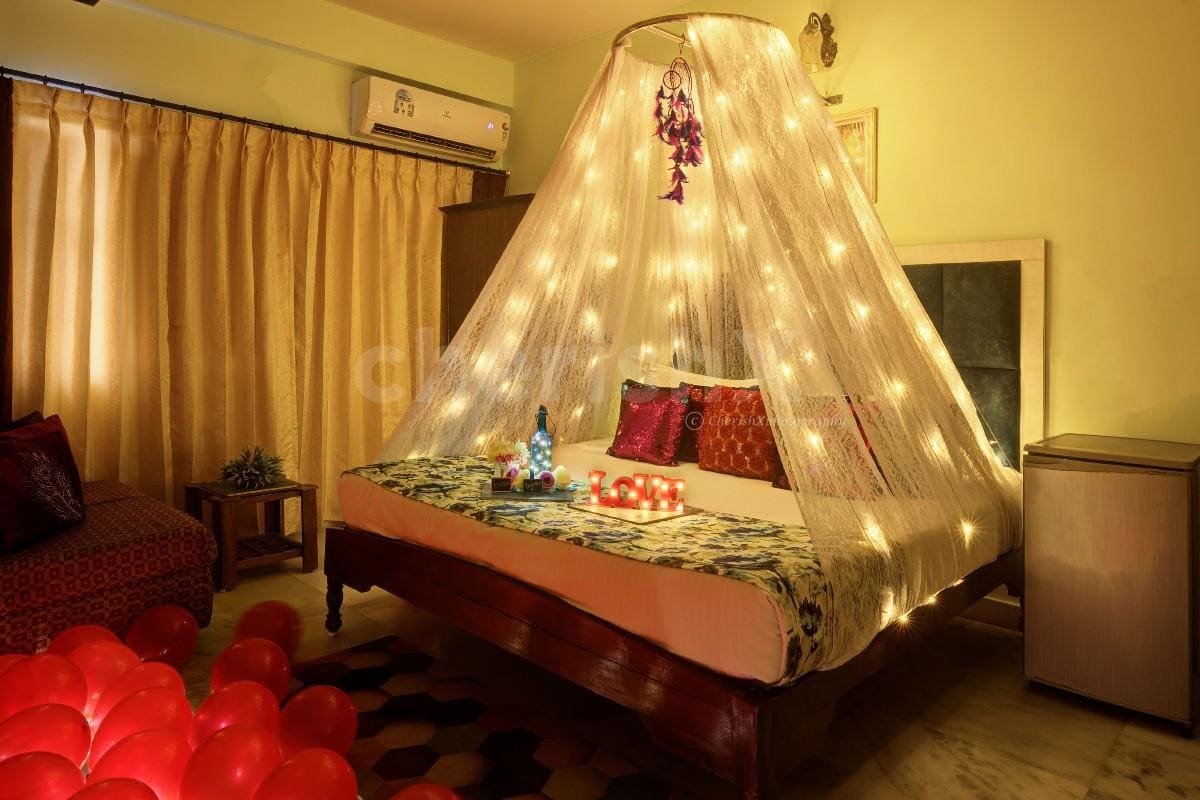 Romantic staycation and candlelight dining inside the Bohemian Cabana near Peetal factory Jaipur. Private candlelight dinner from the hustle and bustle; a rejuvenating escape from the mundane with a breath of fresh air. Enjoy welcome drinks, a 7-course candlelight dinner, a private butler, and ambient music. Also, during the staycation, experience illuminated lights on your bohemian cabana-styled bed, decorated bathtub, and beautifully decorated dining table. During your stay, you can watch movies on the large LED tv.
Te Amo Garden Dining
Bored of seeing hotels, restaurants, and cafes with cliched ambiance? Then head out to this exquisite garden-themed Te Amo garden dining for a welcome transformation. An atmospheric beauty, the interiors of the venue are brimming with wonder in every inch. Located at Subhash Nagar road, Jaipur that opens up to a picturesque setting with water sprinklers and greenery all over the place. Enjoy welcome drinks, an unlimited 7-course meal, soulful music, a candlelight-decorated dining table, a personalized easel board, balloons, a red carpet, and lantern decor.
Poolside Dine Setup
Are you planning a romantic date night near the poolside with a stunning view of Jaipur? So, treat your sweetheart to a romantic poolside dining setup for an unforgettable evening. The table with candles and rose petals adds a bit of romance. Located on Gopal Pura road, Jaipur, it offers a great outdoor setting. Also, welcome drinks and a 2-course meal along with desserts. Get cozy on the mattresses and cushions.
Tentrum Dine Special
The magnificent food and stellar live music make this place an excellent date night choice for lovers. In Tentrum dine special get all gussied up for your sweetheart for a perfect evening at the Gopal Pura Mode, Jaipur. With welcome drinks and a 3-course meal, get a ravishing tentrum setup. This includes candle props, a mattress, cushions, table props, rice light work, and Marry me neon light.
Check out the other great candlelight dinner date hidden gems in Jaipur.
CherishX Offers Unique Candlelight Dinner Date Ideas in Jaipur
There are plenty of stunning dinner date options available in Jaipur. So, do not get confused with alternatives. Book any of the above-mentioned destinations and plan a great evening with your spouse.
From food to decoration, we assist you in the best way possible. To book a memorable candlelight dinner dates in Jaipur. For more information, check out our official website.
FAQs
Which are the most romantic hotels, restaurants, and cafes in Jaipur for a date night?
If you are glancing for that quintessential dinner date with your partner in Jaipur, then check out various options provided by CherishX for your ideal candlelight dinner date ideas in Jaipur.
Is there a pocket-friendly romantic candlelight destination in Jaipur?
Yes, certainly! There are some pocket-friendly romantic destinations in Jaipur that you can book online with the CherishX team.
Where to head for traditional ad romantic Rajasthani cuisine?
In Jaipur, you will get a plethora of options to try Rajasthani cuisine. If you are looking for a perfect candlelight dinner date in Jaipur, do check out the great options offered by CherishX.