Are you looking for baby shark decoration ideas for your little one's birthday celebration? We know baby shark birthday theme is one of the most popular themes in 2023. If so, we have got you covered! Does your child super crazy about sea animals and loves watching Baby Shark on TV, the Internet, or Youtube? Then, this birthday gives your child a surprise party by coupling the Baby Shark theme birthday decoration and supplies. Let him/her experience the flow of water and be with his/her favorite cartoon. Get the perfect baby shark party backdrop, life size cutouts, and lots of more interactive games at the party. So, here's our baby shark birthday ideas for you to check out right away!
Kids love sea creatures, hence Pinkfong's "Baby Shark" latest cartoon song has become a viral sensation among kids. If you plan your little one's birthday according to these baby shark party ideas, this can be the theme party that your kid will never forget. 
So, plan for this lovely and unique Baby Shark Theme for your child's birthday and let your kid and guests sing "Baby Shark doo-doo-doo-doo" all evening. Make this craze all through your kid's birthday celebration and create unforgettable memories.
Need help organizing the theme party for your child? Don't worry we here have complied all baby shark theme decoration ideas.
Baby Shark Decoration Ideas
Are you looking for a fun inspired birthday theme under the sea? Then, get these ideas for baby shark birthday theme are lively, colorful, and with lots of fun that will fill the space with an air of exhilaration. For that remarkable decoration, add sand bucket food containers, balloon garlands, and baby shark centerpieces. With excellent baby shark decoration ideas, tie up the theme and create an awesome ocean-inspired theme party for your child. 
Baby Shark Theme Birthday With Balloons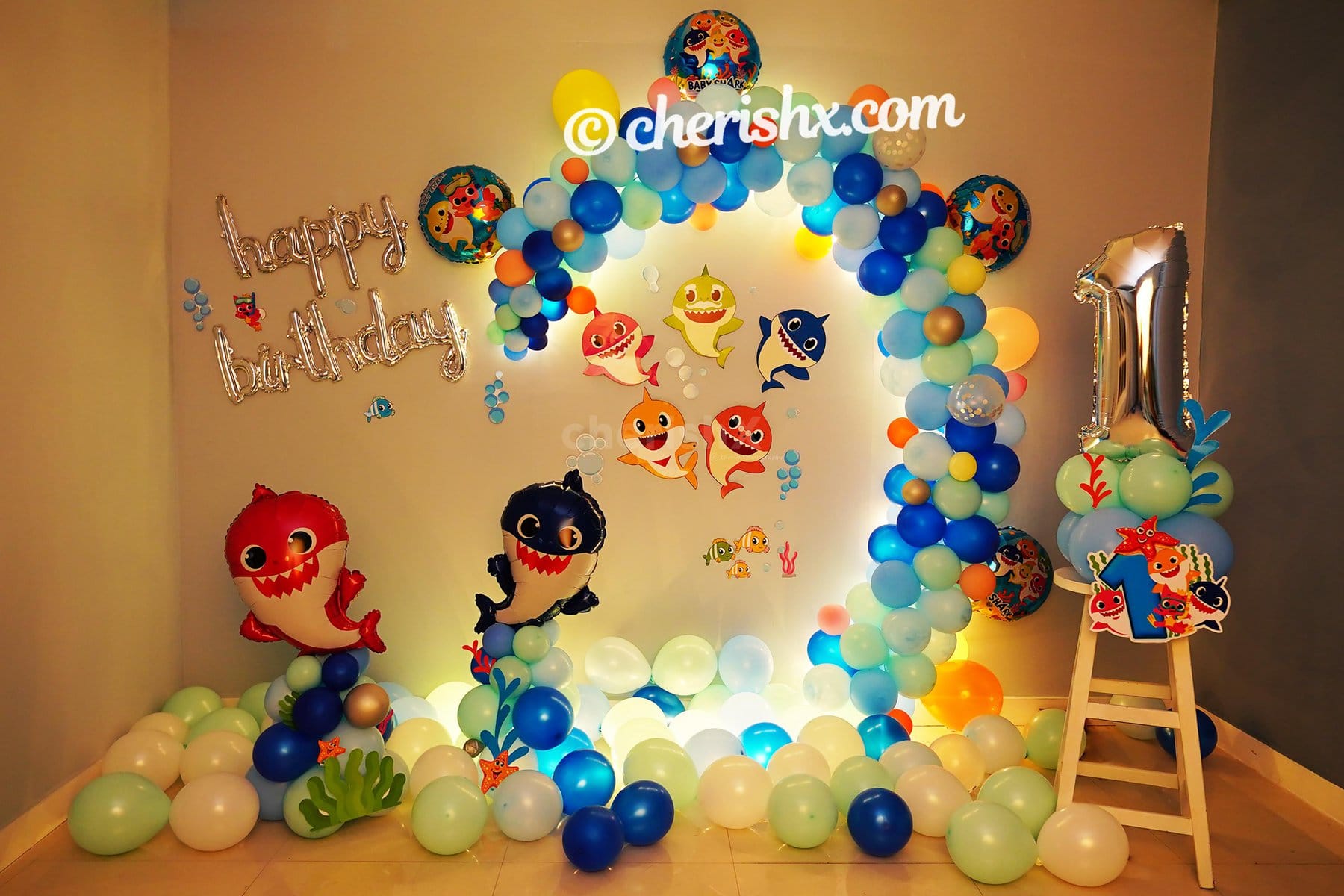 If your child's birthday is approaching soon, you may be all confused about how to plan and what to plan. To assist you in planning one of the exclusive theme parties, we here bring the Baby Shark Birthday Balloon Decor. This theme consists of an arch and pillars of balloons in the shades of blue, green, yellow, white, and golden, and with three silver confetti balloons. Also, with this, you will have a one digit foil balloon, a happy birthday silver cursive foil balloon, paper cutouts of baby sharks, fishes, bubbles, grass, fairy lights, pink and blue baby shark foil balloons along with various floating balloons. This is absolutely one of the most vibrant baby shark decoration ideas.
Adorable Baby Shark Theme Decoration Idea
Enhance your child's birthday celebration with this charming and unique and adorable baby shark birthday theme. This amazing decor consists of an arch and pillars of blue and green balloons, a happy birthday cursive foil balloon, floating balloons, fairy lights, a pink frill curtain, paper cutouts of grass, and small starfish. Besides, get a pink baby shark foil balloon, a pink heart-shaped foil balloon, and circle baby shark foil balloons. Go ahead and have a memorable birthday party for your child with this cute decor. 
Canopy Baby Shark Theme Birthday Decoration
Surprise your child with this amazing Baby Shark Theme Kids Canopy. Get this adorable set that has a 5ft canopy draped with white net and artificial flower strings. Also, a multicolor happy birthday bunting and an arch of balloons in shades of yellow, orange, blue, green, and white are part of the canopy. To make it more lovely, baby shark foil balloons, boxes with balloons, pixel lights, and floating balloons with bedsheets are added. This is one of the newest and trending baby shark decoration ideas you can consider for a house birthday party for your little one.
Baby Shark Birthday Theme Table Decoration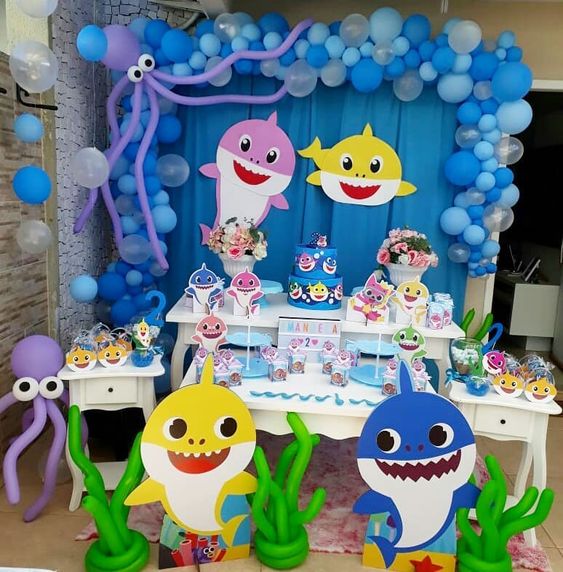 For perfect table decoration, you can set up a table with baby shark cutouts, colorful balloons, and table accessories like vases. Add this huge banner showing a lovely message for your boy or girl. You can add balloons on the sides and a tablecloth stick with blue color. For more enhancements, add flowers, baby pictures in decent frames, and pom poms. How can baby shark birthday ideas be complete without a perfect table decoration.
Baby Shark Balloon Decoration Ideas
Want something special for your child's birthday? Opt for the beautiful Baby Shark theme birthday decoration backdrops. Hang blue and white balloons and string them to the wall like a wave. Also, you can wrap the balloons with a fish net in order to give the backdrop a breezy look. Further,  use customized party banners with baby shark motifs in the backdrop. To give it a personalized touch, add your child's picture to the backdrop. Isn't this one of the unique baby shark decoration ideas?
Baby Shark Theme Costumes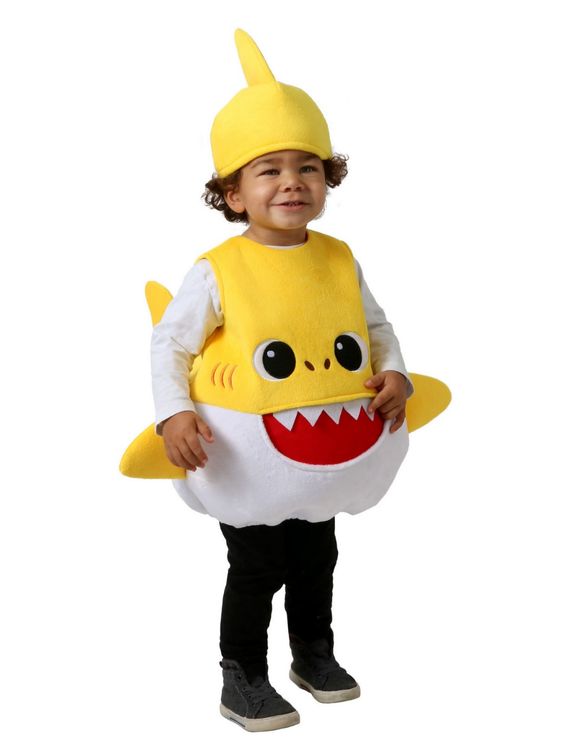 The best, most simple, adorable, and wonderful way to celebrate a baby shark theme party for your kid is to get a theme-aligned costume. Making your child's birthday even more special with a customized shirt is one of the perfect ideas.
You can even choose any blue or white dress for your child that will match the theme. Also, order a baby shark party hat that your kid will love wearing for the party.
Baby Shark Theme Invitations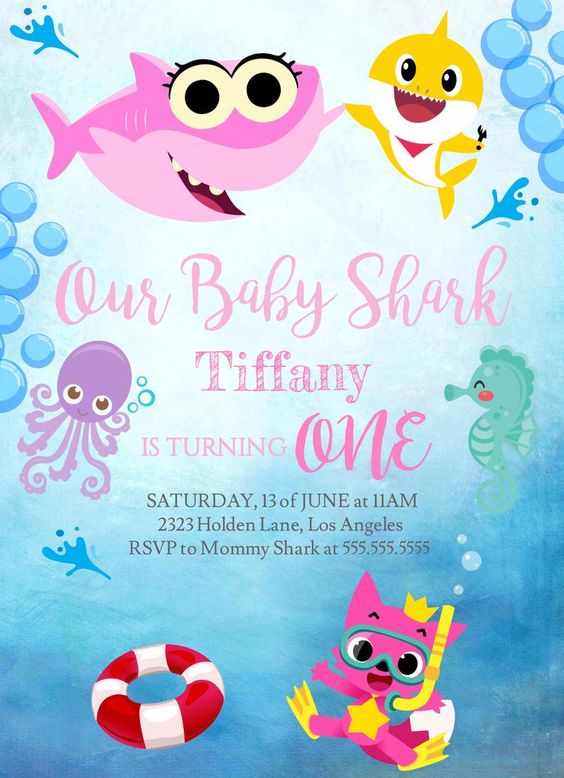 Invitations are the perfect way to excite and prepare your guests for the party. For this theme, you can opt for a pink and blue designed invitation that will feature the party details, and the back print the hummable lyrics of the Baby Shark song.
The next idea for your invitation can be in myriad colors: a template that is bright and features all the Baby Shark characters. Additionally, add a picture and name of your child along with other important information. A similar theme invitation is one of the most necessary part of a baby shark birthday theme
Baby Shark Theme Birthday Returns Gifts & Favors
Remember to give your little guests some token of gift as they cannot go empty-handed from the party. You can add some of the great baby shark party favors that will leave your guests with a big grin on their faces.
Apart from stationary or toys related to sharks, you can give them a bucket with stuffed sharks so that they can take their own pet shark home with a smile.
Make a small aquarium to gift them with a mason jar, some gravel, water, food coloring, and plastic sharks. All these are great ideas for return gifts. Moreover, wrap your gifts in blue gifting paper and hand them over to your little guests in a blue paper bag.
Activities/Games For Baby Shark Theme Birthday
Each theme birthday party is a hub of innovation and enjoyable activities that offers a striking experience to all the guests and your child. It's one of the fun baby shark theme birthday party ideas.
Keeping those tiny minds occupied during the party is a daunting task. Hence, you can try out some games and activities to make your party wonderful.
Start with a fun activity and game like pin the fin on the shark. This can be a classic twist to "Tail the Donkey" and make them engaged till the end. For this take a huge template of a shark on paper or cardboard and cut a fin. Then, blindfold each kid and let them stick the fin in the right place.
Another game for kids can be tossing the bean bags to the baby sharks. Alternatively, you could use baby shark cutouts on the floor and then give each kid a chance to land them on the sharks.
Placing some shark activity books will keep children engaged. Also, it will let them learn more about undersea creatures and their life.
Baby Shark Theme Food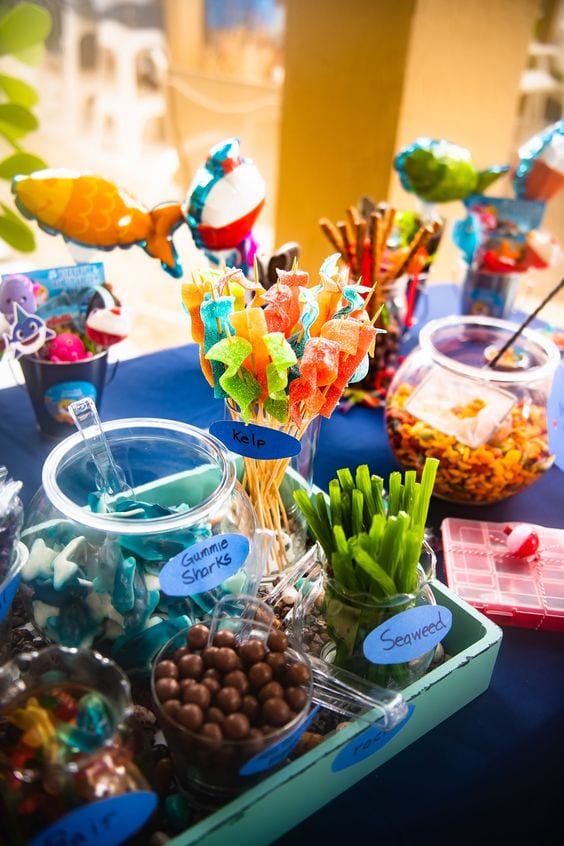 A baby shark theme birthday requires a touch of the theme. Customize the food and create a Baby Shark table for all your guests.  Start with Baby Shark punches and for that whip up a tropical party punch or any fruit juice and pour that into baby shark-themed cups and add gummy sharks to give a new twist. 
You can make Shark shaped sandwiches which is an easy-to-make snack and can be easily customized. To match with the theme, add printable tags on the sandwiches attached to toothpicks.
Prepare Shark popsicles that are a great addition to a hot summer day and include ingredients like lemonade, shark-shaped gummies, popsicle molds
For a healthy option, pick some veggies and prepare some salads by adding baby shark toppers to that.
To add a final touch, fill sand buckets with various snacks and treats, add baby shark cut tags on the handle and use beach shovels for serving the food.
Main Character
Book a live artist for your baby shark theme birthday decoration party. Those live artists will dress as the main character and will greet and play with the children. To make your party more lively and fun-filled, you can book these live artists in advance.
Baby Shark Birthday Theme Sitting Arrangements
For sitting arrangements and decorations of chairs, use blue color curtains. Use blue color sofa cloths and chairs covers as well. As a substitute use white covers and tie a blue ribbon on the chair to match the theme of the party. It's one of the coolest corners for your baby shark party ideas.
Besides, adding blue or baby shark customized cushion covers will surely inspire your guests and make them stunned by your creativity.
Welcome Board For Baby Shark Theme Decoration Ideas
Avail of this beautiful Baby Shark theme Personalised Welcomes board. This is ideal for any home location or outside space and is attractive to welcoming your friends and family members.
You can fill in the text box or write personalized notes and can add the baby's name, age, or any information you want to share with your guests.
Balloon Bouquets For Baby Shark Party Ideas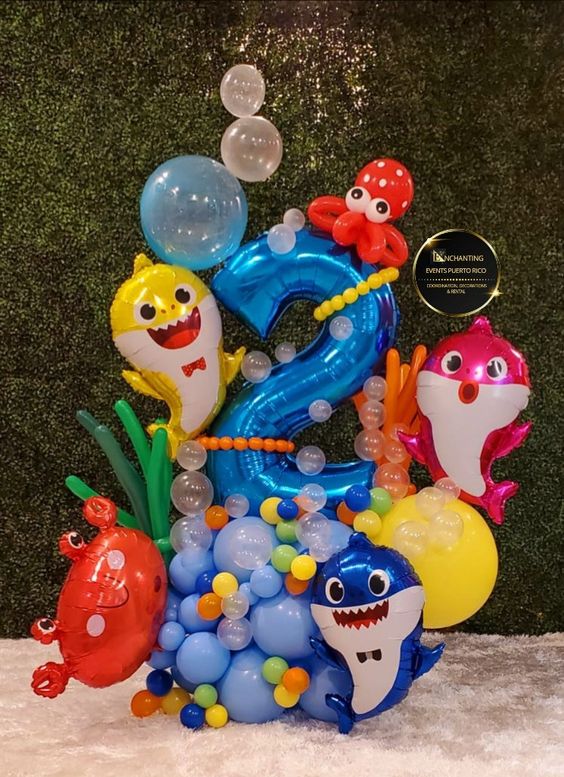 Baby Shark Balloon banquet must include foil balloons and ribbon rolls. These unique shark balloons can be filled with helium or gas and can float in the air. Order a massive and really beautiful one that kids just love and adore.
Babies can store these birthday balloons after decoration in their room and play with them. They must be huge and make everyone love them, opt for beautiful colors. Use them with party props and with different products like birthday banners, latex balloons, metallic balloons, curling ribbons, balloon glue dots, shark hanging decorations, age number balloons, and giant backdrop.
Baby shark balloons bouquets are the perfect addition for any birthday party small or big as they are just perfect. Explore balloon bouquets as they are of the playful baby shark decoration ideas that will add more charm to the decoration.
Baby Shark Theme Fondant Cake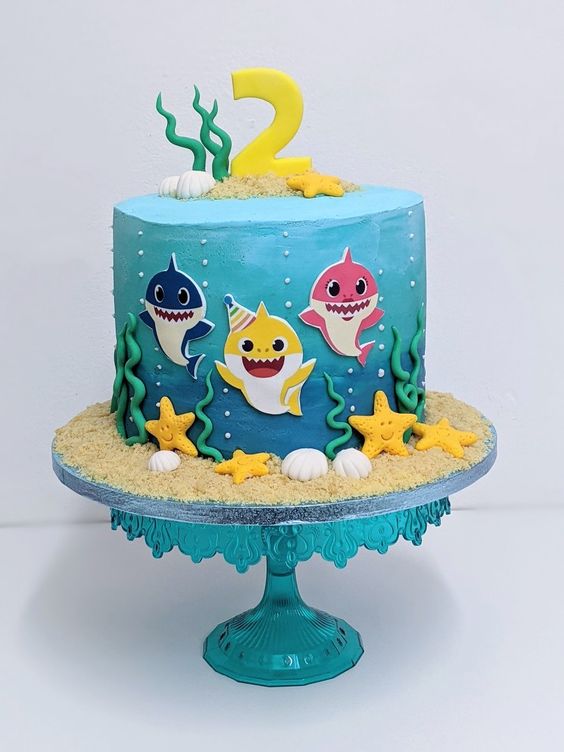 The cake is the central attraction of any party. Thus, I have to get the cake right. The cake for any themed party must match the theme and for that, get the Baby Shark characters featured on the top layer of the cake.
Also, a Baby Shark cake with a bright yellow fondant is an ideal addition to the baby shark theme birthday decoration for your child.
Baby Shark Theme Tableware – Cutlery and All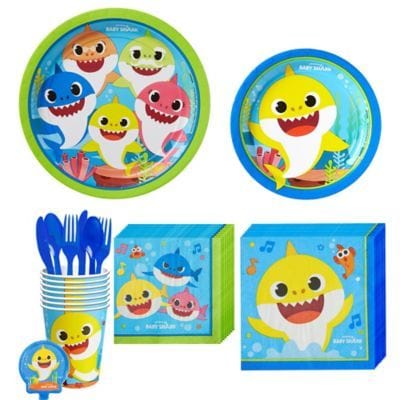 Keep every aspect of planning well in advance and get the utmost perfection to make your child's birthday an evergreen moment for you and your child.
The cheapest and simplest way to incorporate the bay shark theme into the party is through matching tableware and cutlery. Add cool paper napkins, dessert plates, cups, napkins, and dinner plates to make the party come to life.
Decorate for your child's birthday in this unique way so that not only your child but also your guests will look upon you for more such fun-filled parties.
Why CherishX?
Explore our baby shark decoration ideas and make your child's birthday memorable. Are you looking for different ways to celebrate your child's birthday with loads of fun-filled memories? But, with a short time not able to organize the party in a good way? Since your child's birthday comes only once a year, it has to be pomp and merriment for an unforgettable moment. We are sure that baby shark birthday theme will make your kid and his little buddies excited for sure.
We at CherishX are a team of professional birthday party planners that specializes in planning, organizing, and managing different parties. Started by a group of experienced and dedicated event professionals with the aim is to organize great events that everyone would enjoy to the fullest.
We keep in mind to devote equal attention to every aspect, right from the decorations, and entertainment to the food management. From assisting you in finding the right party cake helping you select the party theme, venue decorating, crafting attention-grabbing invitations, and organizing entertainment activities are services offered by us so that you are left with no burden except to enjoy the event.
We have the right amount of creativity and inventiveness to make it an instant hit at any event of yours. We stand above all because of our keen sense of timing, efficient organization planning, and coordination of multiple facets. Just by an understanding of your basic ideas, we work on the event to deliver results that can exceed your expectations.
We provide a plethora of activities which can be customized based on your needs. From us, you can avail yourself of services like balloon decoration, customized balloons, paintings on the face, stage artists and hosts, puppet shows, and customized cakes.
So, what are you waiting for now? WhatsApp us to make your event attractive and unforgettable.