Come on Barbie, let's go party! We all have heard this famous BARBIE song and sang that quite often in our teenage years. Girls love Barbie dolls irrespective of their age. So, throwing a Barbie theme birthday decoration party for your little princess is an excellent idea.
Everyone loves Barbie, accept that fact! Barbie has and always will be an inspiration for most girls. By showing us that diversity is beautiful, Barbie always teaches girls that they can become anything they want.
Kids, teen girls, and even grown-ups adore the Barbie theme party decorations. Thus, it's s time to honor your little princess's love for Barbie by organizing a Barbie-themed birthday decoration party to take her into a Barbie wonderland.
Create an unforgettable moment for her and her friends. Not sure how to plan this theme? We can help you with some Barbie party ideas!
For great ideas and excellent planning, keep reading this ultimate Barbie party ideas guide to help you in planning an exceptional party for your child.
Decoration
Are you looking for ways to host a Barbie theme birthday decoration party for your little angel? Then, your search ends here! We have remarkable theme ideas from decorations to return gifts and from cake to cutlery. A theme party must be perfectly aligned and for that choose from this great guide.
Shimmer Silver Sequin Barbie Decor
Your daughter will fall in love with this Shimmer Silver Sequin Barbie Decor on her coming birthday. Filled with all sparkles and shimmers, this decor includes a rectangular stand, a sequin backdrop, and a beautiful arch of balloons in shades of pink and silver. Also, get a bubble balloon, lipstick foil balloon, silver star-shaped foil balloon, pink heart-shaped foil balloon, pink star-shaped balloon, Barbie theme paper cutouts, and a pink photo booth decorated with a silver frill curtain. Surprise your baby girl with this perfect Barbie theme birthday decoration and make a memorable birthday for your child.
Barbie Theme Birthday Decor
Pick this top-notch Barbie Theme Birthday Decor to make your daughter's birthday extra special. This includes silver and pink frill curtains, and a beautiful arch of balloons in shades of pink, purple, silver, and white decorated with silver butterflies. Besides, with this theme, get a lipstick foil balloon, a silver, and pink star-shaped balloon, a pink heart-shaped balloon, a bubble balloon, a happy birthday silver cursive foil balloon, Barbie paper cutouts, and floating balloons and LED lights.
Canopy
Make your little princess's birthday unique and attractive by including this Barbie Theme Kids Canopy for her birthday. This entails a 5ft canopy draped with a white net, happy birthday cursive bunting, lipstick foil balloon, pixel lights, bedsheet, Barbie cutouts, and an arch of balloons in shades of pink. Also, the arch will be decorated with a pink heart, a pink star, a silver butterfly, and a small silver star. This canopy will add more charm to your birthday decoration and can be placed in your room, terrace, or any open area.
Table Decoration
One of the trendiest things in kids' birthday parties is the theme of Barbie! Your guests will love seeing so many fab Barbie theme decorations. Let's create Barbie Magic with a small army of real-life Barbies and a fab group of Barbie-loving guests.
For that include a center table and wrap it with a Barbie tablecloth, if you don't have one, go with a pink bedsheet. That will also match the theme. Further, place some cute Barbie dolls on the table or use some paper cutouts of Barbie to enhance the look. Also, you can sprinkle the sequins on the table and can add pink candles for your little baby girl.
Backdrop
Make sure to decorate the backdrop with Barbie's favorite colors which are pink and lavender. Also, you can use plenty of balloons and streamers in these colors and can tie pink ribbons around vases or other items to fit your Barbie party theme!
You can also opt for a Barbie theme party by placing Barbie dolls, furniture, cars, and other accessories near the backdrop. And, hang Barbie posters on the wall. Besides, you can make the paper flowers and paste them on board and hang them on the walls.
A Barbie theme party is incomplete without a Barbie Box! For a super trendy design element: an arched wooden panel backdrop wall decorated with fairy light can add the perfect finishing touches to your setup.
Costumes
Making a costume for your princess on her special day aligned with the barbie theme is not a big problem. Just any pink dress will go with the theme. For a Barbie dress-up, you just need to gather jewelry, tiaras, and anything pink. Besides, you can go with frilly stuff as well to make it more creative and beautiful.
Invitations
After the decoration part, the next step is to make invitations using bright pink cardstock and die-cut dress shapes related to Barbie.
You can use a pink gingham border, print Barbie pictures, and print invitations on paper of your choice. To add a more fun element, you can take photos of your child's Barbie dolls and paste that on the invitations.
To add a personal touch, take a photo of your child with her favorite Barbie doll and add it to the invitation. After your invitation is ready, sprinkle glitter or stickers on the front for an extra special and unique touch.
Returns Gifts & Favors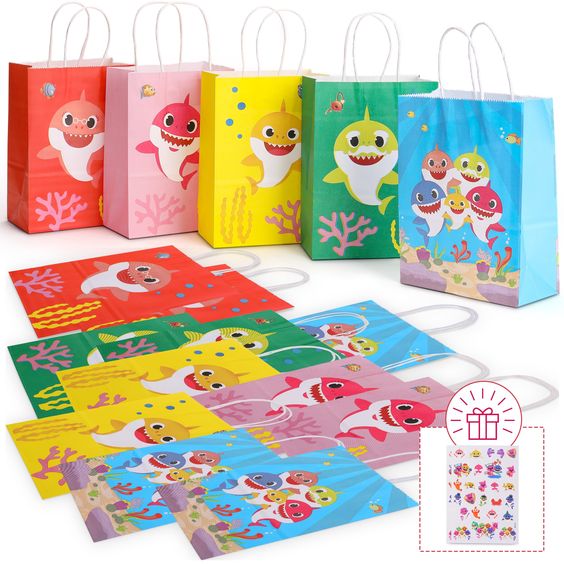 Ah! This is the crucial element that needs physical and mental work. You need to think of some great ideas for the return gifts as this will create a memory in your guest's mind. Some great gifting options can be Barbie toys & games, angry birds, Barbie dolls, building blocks, and Barbie stickers.
Also, you can opt for Pencils, temporary tattoos, pink feather boas, barrettes, and other hair accessories, bubble baths, makeup, nail polish, pink bubble gum, Barbie tiaras, sunglasses
And Barbie clothes.
Also, do not forget about the barbie gifting wraps and gifting bags. Add barbie stickers on the gifting bags to make them more lovely and presentable. Apart from all these, thank guests for coming to your Barbie theme birthday party. A great host is someone who respects his/her guests.
Activities / Games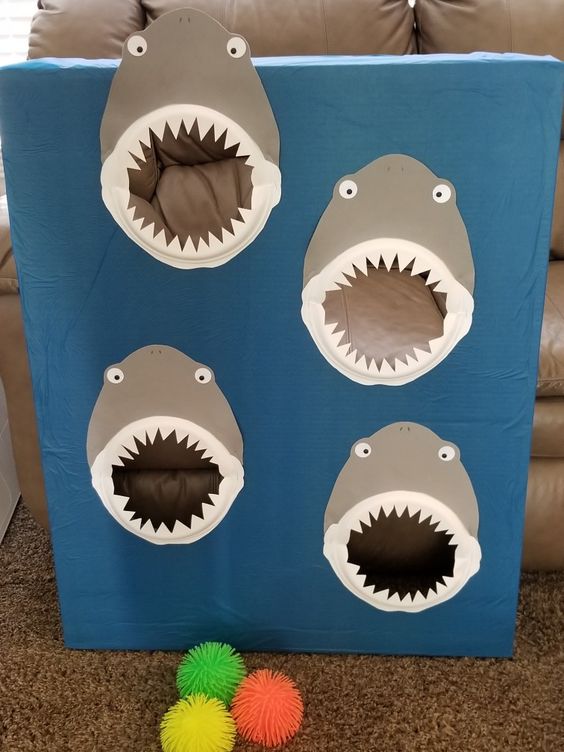 Just food and decoration are not sufficient for your guests. Keeping them entertained throughout the party is the key role of a host. For that, play some fun-filled activities such as setting up a game of Pin the Bow on Barbie.
Every Barbie lover must have plenty of Barbie shoes! So for that, you can store some shoes in a jar and let your little guests match the shoes with the Barbie dress.
Also, have a good quantity of Barbies with different outfits and accessories and plan a Barbie scavenger hunt. For this, give each child an undressed Barbie or Ken doll and a picture of that doll and ask them to dress and accessorize the doll respectively.
Furthermore, adding cute bracelets makes competition for your little guests, with this you can involve parents as well to help their child.
We all love Barbie's fashionable style! So, you can host a fashion show for your party attendees where your girl and her friends can catwalk on the floor. Take their pictures, and gift them giant sunglasses, head boppers, beads, and bow clips. This will give you adorable pictures and will boost your girls' confidence.
Food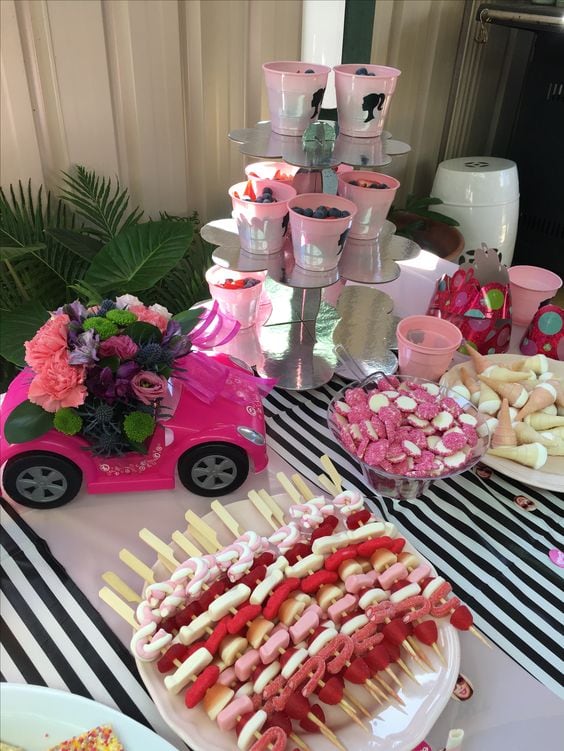 For your hungry guests, be creative with foodstuff. Add sandwiches to your menu by cutting with heart and star cookie cutters. Opt for mini-hot dogs, pink macaroni and cheese, strawberry yogurt, strawberry ice cream, pink lemonade, and cupcakes with pink frosting and sprinkles.
For the drink menu, go with pink lemonade and add Barbie toppers or straws for the final touch.
Main Character
Make your daughter's birthday party with all beautiful and fun-filled live artists. This will add to every moment to be fun and beautiful. The live artist will perform various plays, greet, and will play with children adding more laughter and happiness to your party. Any cartoon character or your baby's favorite character like Barbie can be available as per the requirement.
Sitting Arrangements & Decoration of Chairs
Giving proper space to your guests for eating and merry-making is very much crucial. For that, you need to arrange a proper sitting arrangement for your guests. To match your sitting space with your theme, stick with pink curtains, chair covers, and tablecloths. This will be the perfect element to inspire and bring smiles to your guest's faces.
Also, with the party guests all dressed up, take some happy snaps of them with this Barbie box party photo booth. You can customize this photo booth at your home or from any store. This will add great charm to your barbie theme birthday decoration.
Welcome Board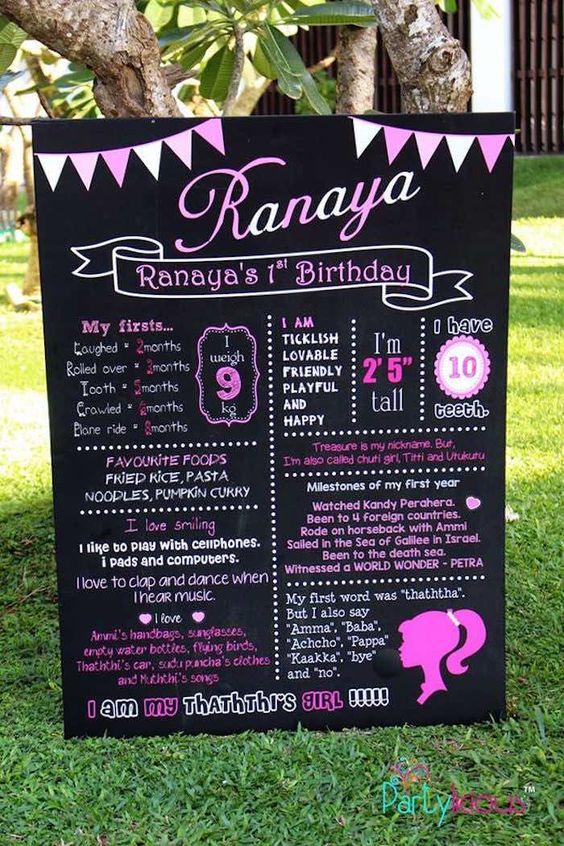 It's time to tell everyone where the barbie theme party is for your child. Welcome your friends and family with a Barbie theme Welcome board. Make the welcome board vivid and craft some fun designs on it. That will greet all of your party guests as they enter your party.
You can personalize the name and age of your child. Also, with that, you can sign on that personalized banner that can be hung at the entrance of your home saying, "Welcome to Barbie's Dream House."
Balloon Bouquets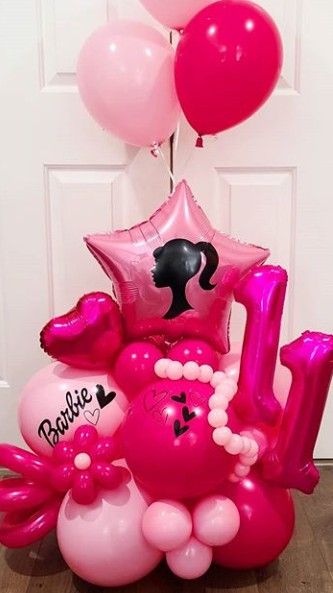 Every party's major attraction is the part of the balloon. Any balloon decoration scan enhances the event look and without balloons, any party looks dull and boring. Particularly, balloon bouquets are the major element of your theme birthday party. Make a bundle of pink balloons and add a barbie foil balloon to that. Place that on your center table or every corner of the room.
You can customize the balloon bouquet as per your requirements and creativity. So, let your creativity flow and decorate the space remarkably for your kid and guests.
Cake Decoration
It's time for a cake, come on! Your barbie theme cake must look so beautiful that guests will adore that before eating it. Your guests will compliment you that they have never seen a more chic Barbie cake than this gorgeous glammed-out masterpiece. Pick custom acrylic Barbie toppers and nameplates in soft white and sparkly pink.
Choosing a birthday cake with the desired flavor is a bit of a problem and a time-consuming task. Now, stop worrying about going from one confectionery shop to another in search of your preferred cake. Get amazing birthday cakes with great flavors and as per your theme.
Tableware – Cutlery and all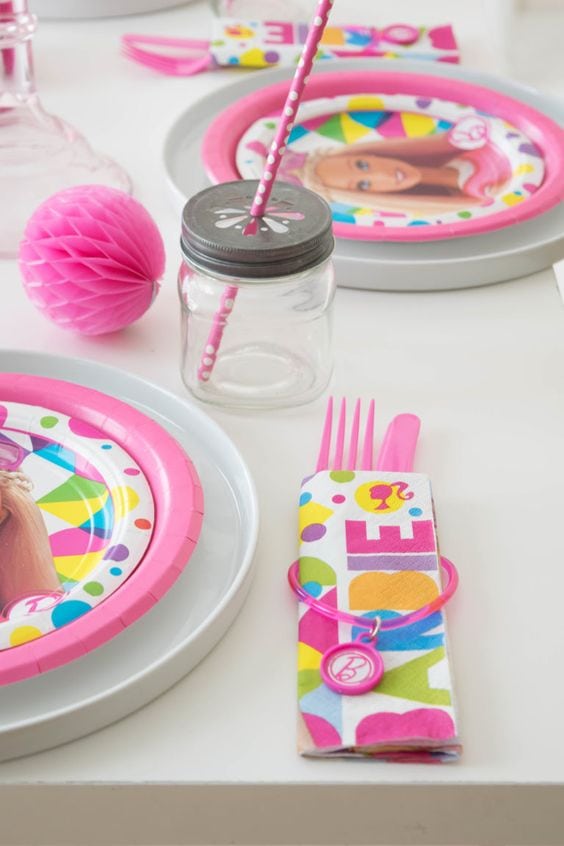 In addition to the basic Barbie theme birthday decoration, do not forget about the party supplies, like plates, cups, and napkins. Invest in some Barbie theme cutlery from the market or online stores like Amazon. If you are not able to find them, stick with the pink color as that will be the perfect option for a barbie theme birthday party.
Why CherishX?
With a simple aim to make your birthday or any occasion special and memorable, our team at CherishX works hard. We are committed to helping you make unforgettable memories with your loved ones.
This is why our team of designers and professional artists are always looking for new and creative ways to celebrate your event. From bringing the latest trends and styles, to producing exclusive themes and products that will make your guests fall in love with your party.
Yes, it's your special day and that's why we believe that it is worth celebrating. For that we cater, balloons, cake, decoration, canopy, and almost everything to assist you in the best possible manner. Making your event extraordinary is what we do.
So for more balloons, shimmers, and frill curtains, make your special occasion more memorable and cherishable with CherishX.
Celebrate every moment with our little help and guidance. Contact us for more information or any other ideas.