Sequins are trendy and add glamour to your celebrations. Besides, they also make great backgrounds for selfies and photos that your guests will line up to take pictures against it. So, what the occasion be, get a sequin balloon decoration for a memorable birthday, anniversary, etc. Choose one from the list below.
Glamorous Blue Sequin Balloon Decoration
This Glamorous Blue Sequin Balloon Decoration includes an Aqua Hue Sequin Stand against an arch of dark blue, beige, and white balloons. There are also two frills of light blue and olive green color hanging from the roof of the décor. The color combination and the frills give this Sequin Décor a very unique and partylicious look!
Lush Purple Sequin Decoration
This Sequin décor uses a white/ silver Sequin stand and purple and blue balloons of all sizes, from small cricket ball-sized ones to large balloons.
Golden Sequin Shimmer Décor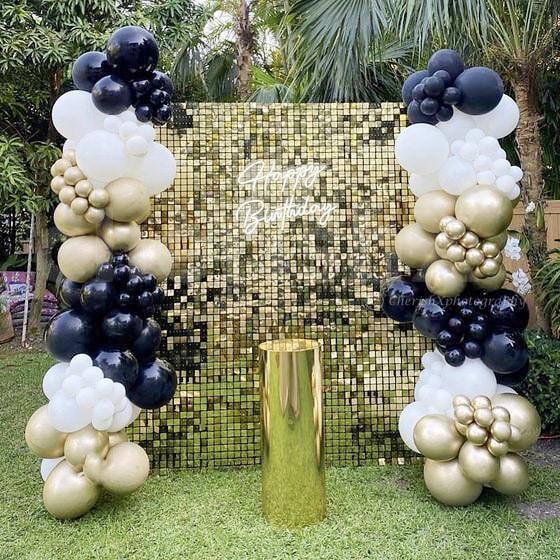 This Golden Sequin Shimmer Décor is classy and adds elegance to your celebration. It gives a party vibe with black and golden balloons and adds glamour to your birthday, anniversary, or whatever the occasion is. Get this Golden Sequin Decoration for just Rs. 7999.
Casa de Fiesta Rose Pink Sequin Décor
This Rose Pink Sequin Balloon Decoration uses a Rose Pink Sequin stand with a neon sign of "House of Party and some white, golden, and rose pink balloons. It also includes beautiful transparent balloons with golden glitter and some paper designs decorated on the Sequin stand. These elements make this décor unique and unlike any other on the list.
Pink Sequin Decoration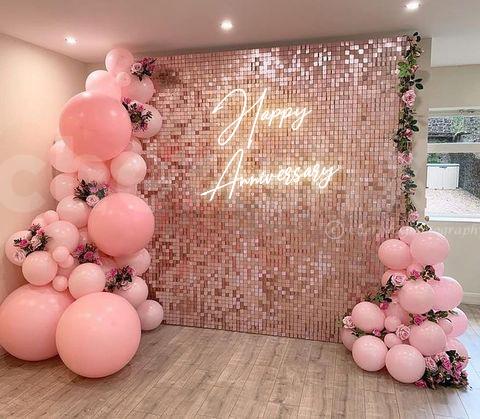 This Blush Pink Sequin Balloon Decoration is curated with a 6×6 ft Pink Sequin Panel, Neon signage, an arch of Pastel Pink balloons and Pink Macron balloons, and some artificial flowers. This beautiful Pink Sequin Décor is available in Delhi-NCR, Mumbai, Jaipur, Hyderabad, Gurgaon, and more cities for just Rs. 8999.
Have a Birthday coming up? Decoration Inspirations from Suhana Khan's Birthday Bash!
Sparkling Dessert Cart Setup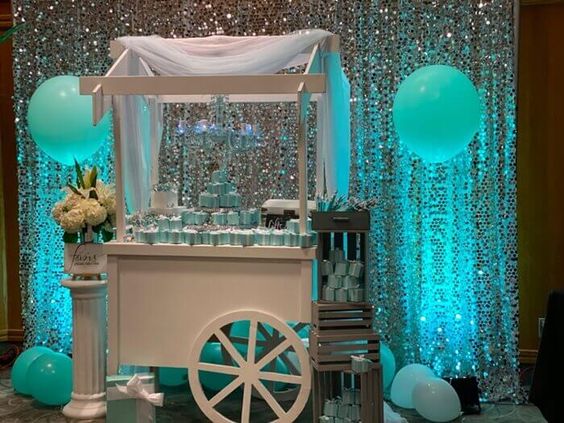 Accentuate the splendor of your baby shower with awe-inspiring décor. Hang Silver Sequin Curtains to create a dramatic backdrop for your dessert table. Lay a pillar stand on its side, adorned with cream chrysanthemums, and drape a white sheer lace cloth over the stand. A few ice blue latex balloons scattered on the floor and two enormous helium balloons on either side of the dessert cart complete this symmetrical look.
Rosegold Sequin Anniversary Decoration
This picturesque Rosegold Sequin Décor uses a Pink Sequin stand and white and golden latex balloons. It also uses two number stands celebrating the anniversary or birthday, as the case be. Get this Rosegold Sequin Décor for just Rs. 8999.
White and Pink Birthday Sequin Décor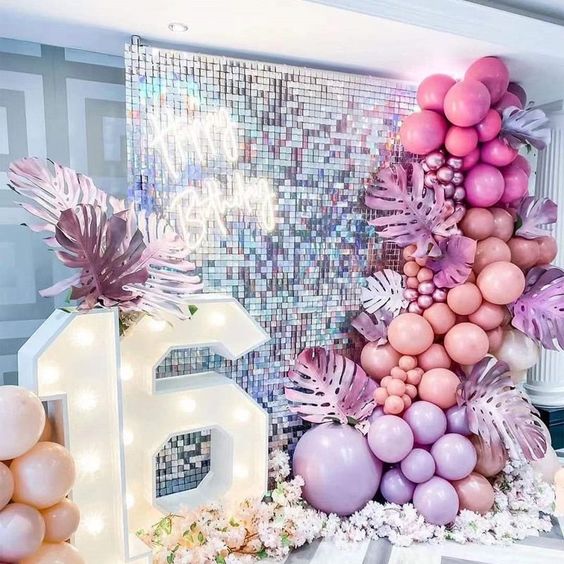 This over-the-top Sequin décor has so many decoration props and is so beautifully arranged that words probably won't do justice. The flowers at the bottom and the fake large purple gradient leaves are two things I haven't seen in any other décor.
Glamorous Pink Sequins Décor
This beautiful Golden Theme Sequin Decoration uses golden and dark pink balloons and a golden sequin wall of 6×6 ft. There is also a Neon signage which can be replaced with a happy anniversary or baby shower signage to suit the occasion. The material sequin used in this décor is small shiny round pieces of metal or plastic that are sewn onto clothing as decoration. Get this Glamorous Pink Sequin Decor for just Rs. 8999.
FAQs
What are Sequins made of?
Sequins are made of either shiny metals or plastic sewn onto a clothing piece. The cloth is then wrapped around some metal frame to make a Sequin wall.
How long do balloon displays last?
Balloons can last up to 6-8 weeks while indoors. Outside, under the sun, balloons can pop within a few hours depending on the inflation %.
Which balloon is best for decoration?
There are many types of decoration balloons, from simple colorful balloons to shiny latex ones. You can also use foil alphabet letters and number balloons for a Birthday or Anniversary celebration.
How can we protect balloons from the sun?
Use light color balloons as they will reflect back most of the sunlight.
Don't inflate the balloons to their full capacity. It thins the balloon's surface and makes it vulnerable to sun heat.
Don't set up the décor until only a few hours before the venue.