Republic Day is one of the major national holidays in India which is celebrated on January 26. The Republic day celebration fuels the spirit of patriotism in everyone. Thus, every school, office, college, university, mall, government, private building, society, or any other institution arranges for the 74th Republic day decoration and celebrates the festival with a lot of patriotism and pride. 
This day is honored nationally because the Indian constitution is formed on this day. It came into presence on the 26th of January, 1950, and was a significant day in Indian history. Besides, the day symbolizes our liberation from British rule. And our triumphing the Purna Swaraj as a sovereign and self-reliant republic.
Primarily commemorated in New Delhi, India's capital city. The festival is popularly known for formal tableaux and parades. Our Tricolour flag is raised to honor this great day.
So, if you looking for some last-minute ideas for your Republic Day decoration, We have everything you require.
Republic Day Decoration Ideas for Home, Office, School, Mall, and much more
We have gathered a roundup of last-minute Republic day decoration guides for you to make your celebration unforgettable and exciting.
Republic Day Decoration Package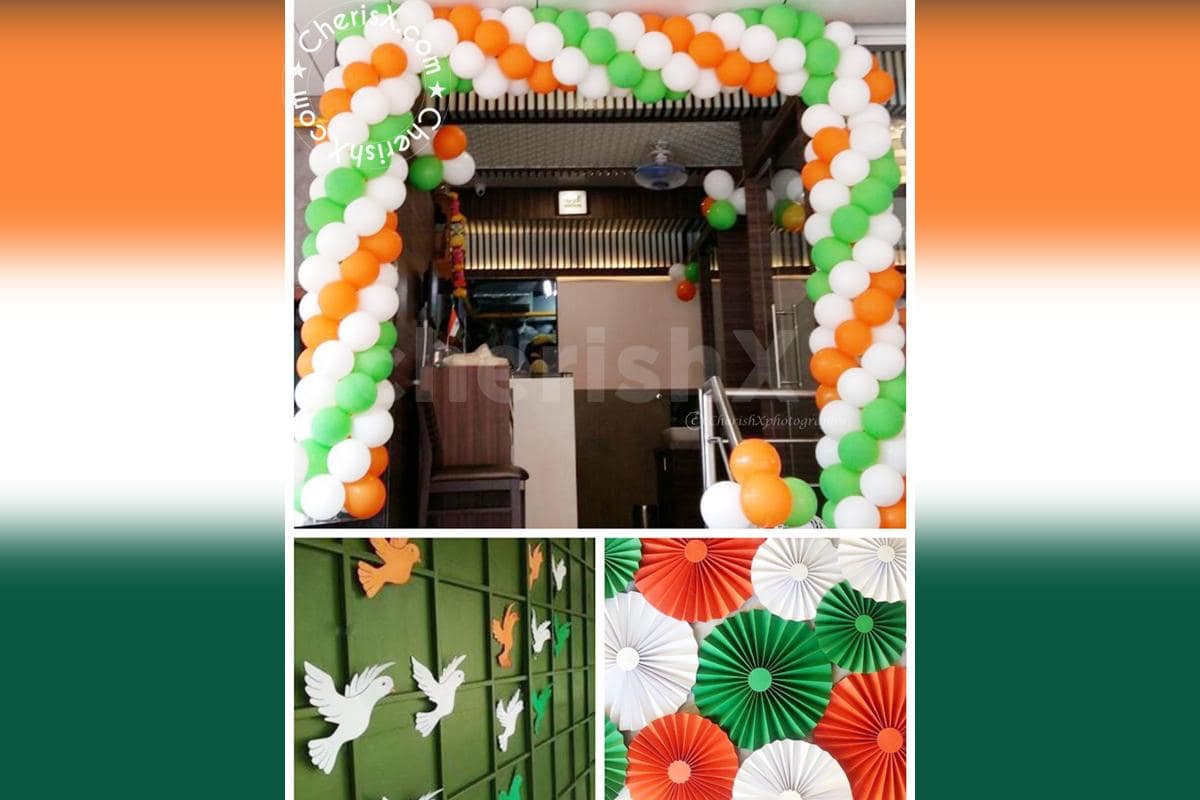 Every proud Indian celebrates Republic day with zeal and enthusiasm. If you are preparing an office decoration to enliven up the workspace, choose this Republic Day decoration package. This consists of an arch of tri-color balloons (orange, green, and white), tri-color rosettes (orange, green, and white), and dove paper cutouts.
You can decorate your office with these by hanging them on the office ceiling, sticking on work desks, and leaving them loose on the floor. With this beautiful decor, revamp the office space and celebrate the festival in a unique way. You can also customize this package as per your needs.
Republic Day Office Decor
Cherish our country by opting for this Republic day office decor by CherishX. The decoration covers everything from your cabin, and meeting room to the work desks so that the complete office beans with patriotic cheers.
For this Republic day 2023 decoration- choose a wall in your office and we will revamp the wall with a beautiful flag made up of 54 balloons. For a festive atmosphere, we make the best use of kites and flags. To encourage your employees and bring a lively work culture – this decoration is essential. As this will make your office look grand, celebratory, and exquisite. Further, customization is available, and booking is just a click away.
Tricolor Lantern Decor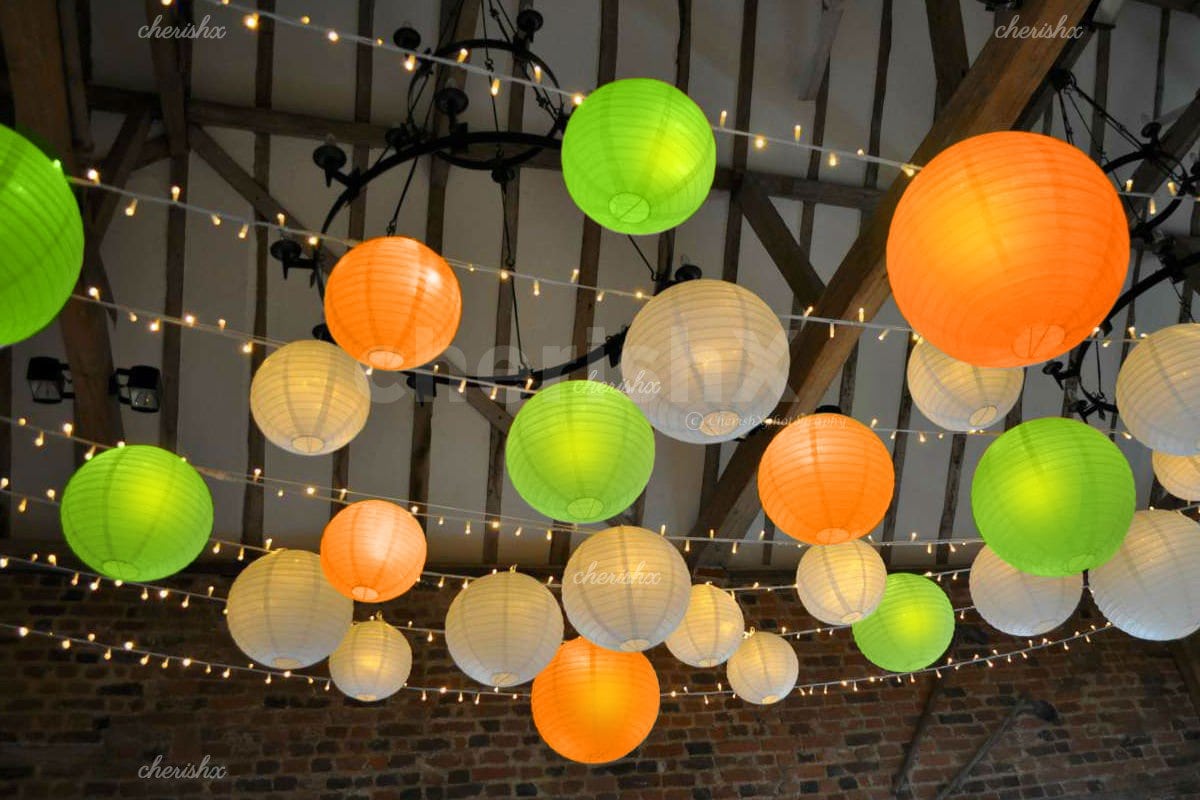 Celebrate the popular Indian holiday with a grand celebration by selecting the tricolor lantern decor By CherishX. This decor includes beautiful tricolor lanterns for a patriotic feel. To add more charm to this celebration, we offer a net of fairy lights hanging from the ceiling to deliver an ideal party glamour look.
This super unique and attractive decoration is perfect for your Republic day celebration at home. Invite your family and friends and give them this stunning atmosphere experience. Above all customization is available as per your needs and requirements.
Republic Day and Independence Day Flag Wall Decoration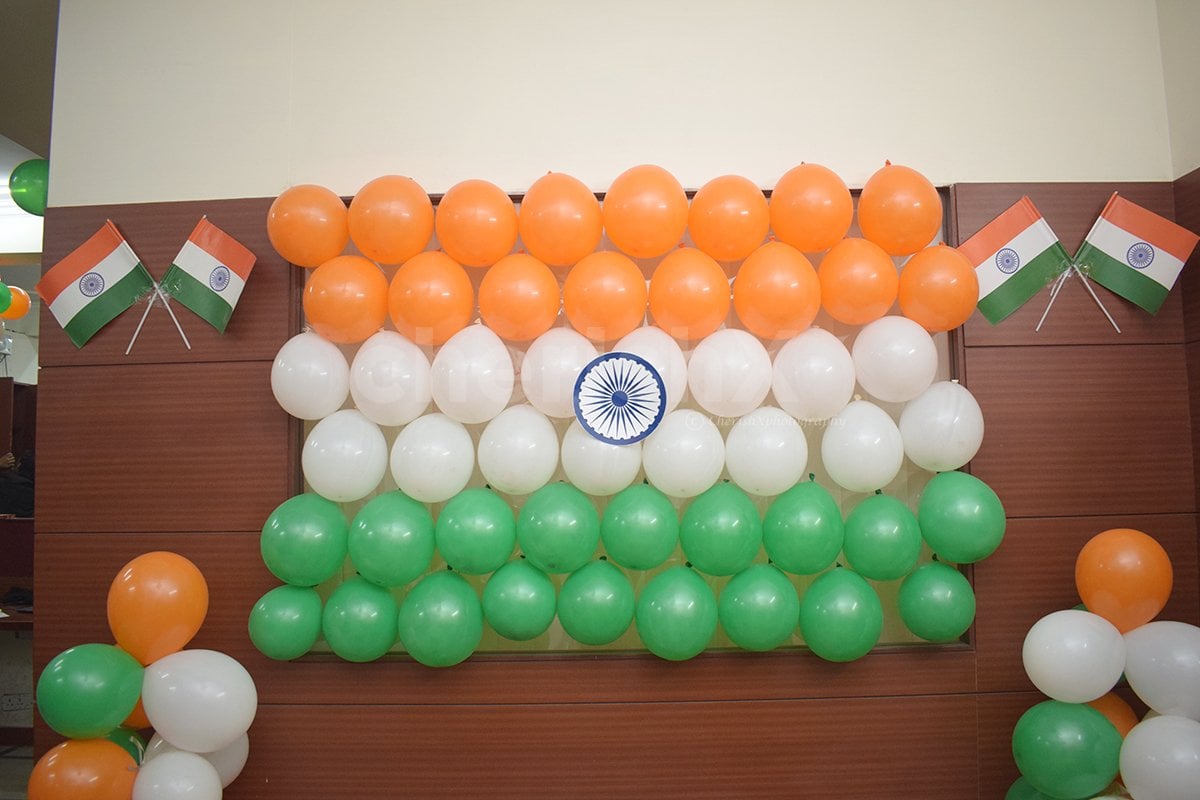 To show your patriotism towards your country, celebrating 26th January- Republic Day is crucial for every Indian. Particularly, for office work culture- it is vital to invest in some breathtaking Replublic day decorations. For that, opt for this- Republic day & Independence day flag wall decoration curated by CherishX.
This decoration includes 54 tricolor balloons representing the Indian flag. Just look for a clean and big office wall where this huge balloon decoration can be made. Along with this, this package includes tricolor balloon pillars, small tricolor kites, and flags. As per the office space and your requirement, we offer customization with this package as well.
Republic Day Decor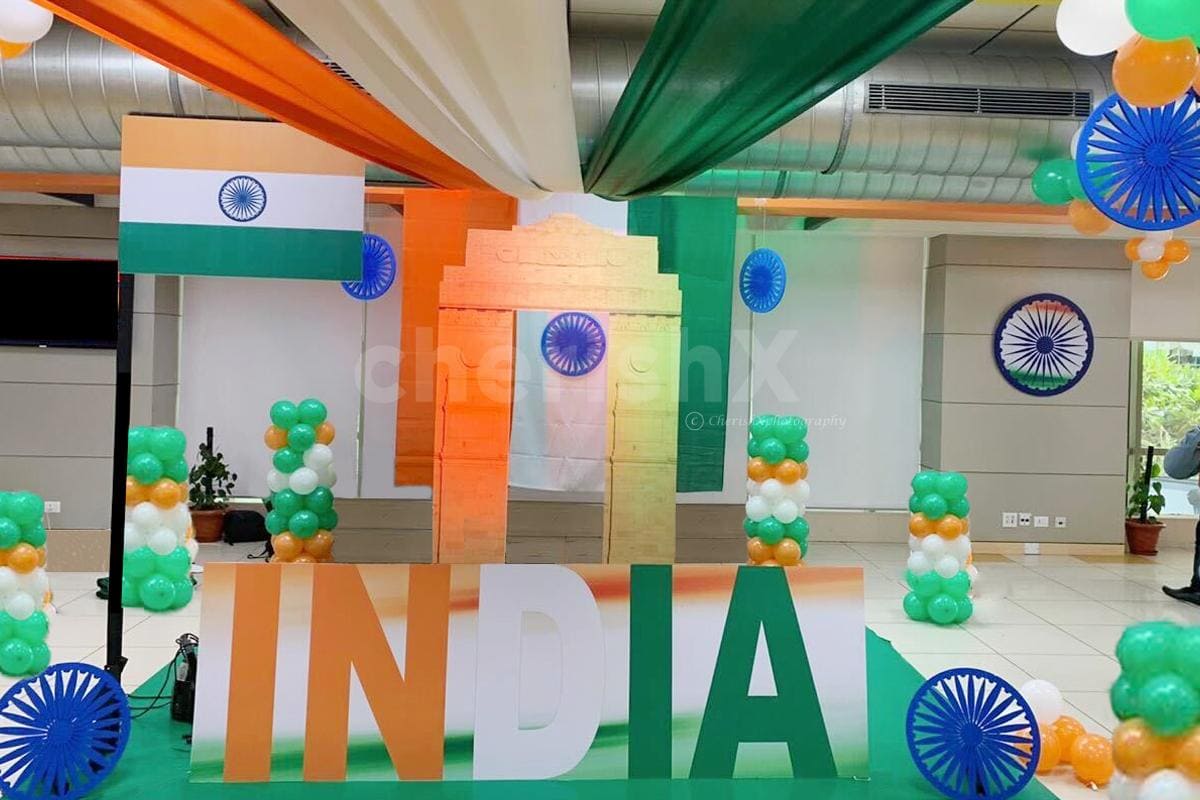 Opt for this Republic Day decor from CherishX to celebrate the day with enthusiasm. This decoration consists of tricolor fabric and balloons ( that can be hung on the ceiling, or pillars, or let loose on the floor). Also, get Ashok Chakra cutouts, India Gate sunboard cutouts with base stands, and one big Indian cutout.
Build up the patriotic atmosphere and revamp the office space by using these stunning Republic day decoration ideas. For booking, just visit the official website and select the date and time.
Other Ideas for Republic Day Decoration
Republic Day Flag Badges: Use paper, pins, color, and scissors, you can create easy badges that can be fixed over the chest of the dress.
National Symbol Rangoli: A classic Indian art of creating rangoli is massively popular. By benefiting and or powder, a rangoli with an attractive Indian flag can be composed in a pretty manner. For fun and zeal, you can make rangoli near your reception area for office decoration and for home at the main entrance.
Cute Flower Pots decoration: Aren't you speculating about a flower pot in order to trim the house with beauty? Opt for a simple and cute flower pot that demands glass tin, fresh flowers, and foil paper. India wrote on it shows tribute to our nation and it can be placed on the table, near the balcony and study desk.
Explore Republic Day Diy Decoration Kits and Party Material from FrillX
Republic Day dress theme: Along with your house and office Republic day decoration, you can choose to dress as well. Go for some tricolor dresses or a kurta to honor the nation's pride.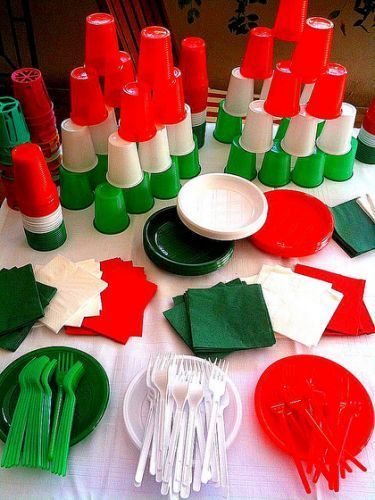 Last words on Republic Day Celebrations
Republic Day celebration occurs in every society, office, school, or any other institution. It is of the greatest importance to demonstrate your love and respect for the country that has brought us independence.
Apart from great decoration ideas, you can organize a cultural event for Republic Day ideas that are the finest way to pay tribute to the country's deep and assorted values.
Don't Miss Out: MUST-Know Republic Day Celebration Ideas for Office that will Bring Back the Spirit of Patriotism in You
Why CherishX for Republic Day Decoration?
We at CherishX promise to make any event or celebration memorable and grand for you. With our unique and attractive designs that are specially curated as per your demands.
We very well know that you are quite busy with your day-day chores and cannot take up the hassles of Republic Day decoration. Hence, our dedicated team is just a click away and can make any decoration live as per your dream idea.
If you want customization, we have that. Besides, for booking- to need to visit the official website, choose the ideal decoration as per your space, and make the payment.
For more information and guidance, call us at +91-8010679679 or Whatsapp us your requirements.
We wish you all a very happy Republic Day.
FAQs
Which Republic day we are celebrating this 2023 year?
We are celebrating the 74th Republic Day on the 26th of January 2023.
What are some of the best Republic day decoration ideas for your home?
Decorations are a great way to add festive charm to the celebration. For Republic Day decorations for home- get creative with tricolor balloons, kites, and flags. Make some great food items to serve to your guests. Besides, opt for the stunning and unique Republic day decoration from CherishX.
Can I avail of CherishX decorations for Republic day at malls or restaurants as well?
Yes, we offer our unique and attractive Republic Day decoration anywhere you want. Whether a small or big event, we ensure to offer the finest and eye-catching decorations to mesmerize your guests. Available at the most competitive prices, we are just a click away!