Republic Day is the most significant day for the nation. It calls for a celebration nationwide. Everyone gathers and expresses their love for the country by celebrating the day with Flag hoisting, decorations and more activities! 
The celebration is done everywhere; in schools, offices, and even shopping malls are decorated to spread patriotism. The Republic Day Celebrations not only bring joy but also let you indulge in activities that invoke a sense of pride and strength for your country!
From last year till now, no doubt the pandemic is still on the rise. This may hinder the planned celebrations but doing it in your way by keeping the safety standards in mind should be the perfect way to celebrate it! 
How have you planned this year for your Republic Day Office Celebrations 2022? Well, no need to worry if you are working from home or office, here you can find the perfect Republic Day celebration ideas for Office and Virtually- 
Republic Day In-Office Celebration Ideas 2022
Tricolour themed Dress Code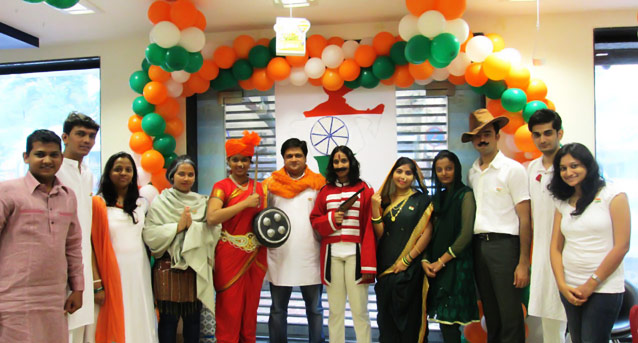 Choosing to have a Tri-colour themed dress code might be one of the most fun ways to celebrate Republic Day. The employees can wear any colour from the three colours in the Indian Flag. 
You can also ask your colleagues to wear traditional or ethnic clothes. This would represent the togetherness of the nation and the culture of India. 
Republic Day Decorations
Having Republic Day Office decorations is a great way to celebrate the most important day for India. You can decorate your office beautifully with tricolour balloons, flags, Rosettes and more fascinating Republic Day decoration items. You can have wall or cabin decorations such as these-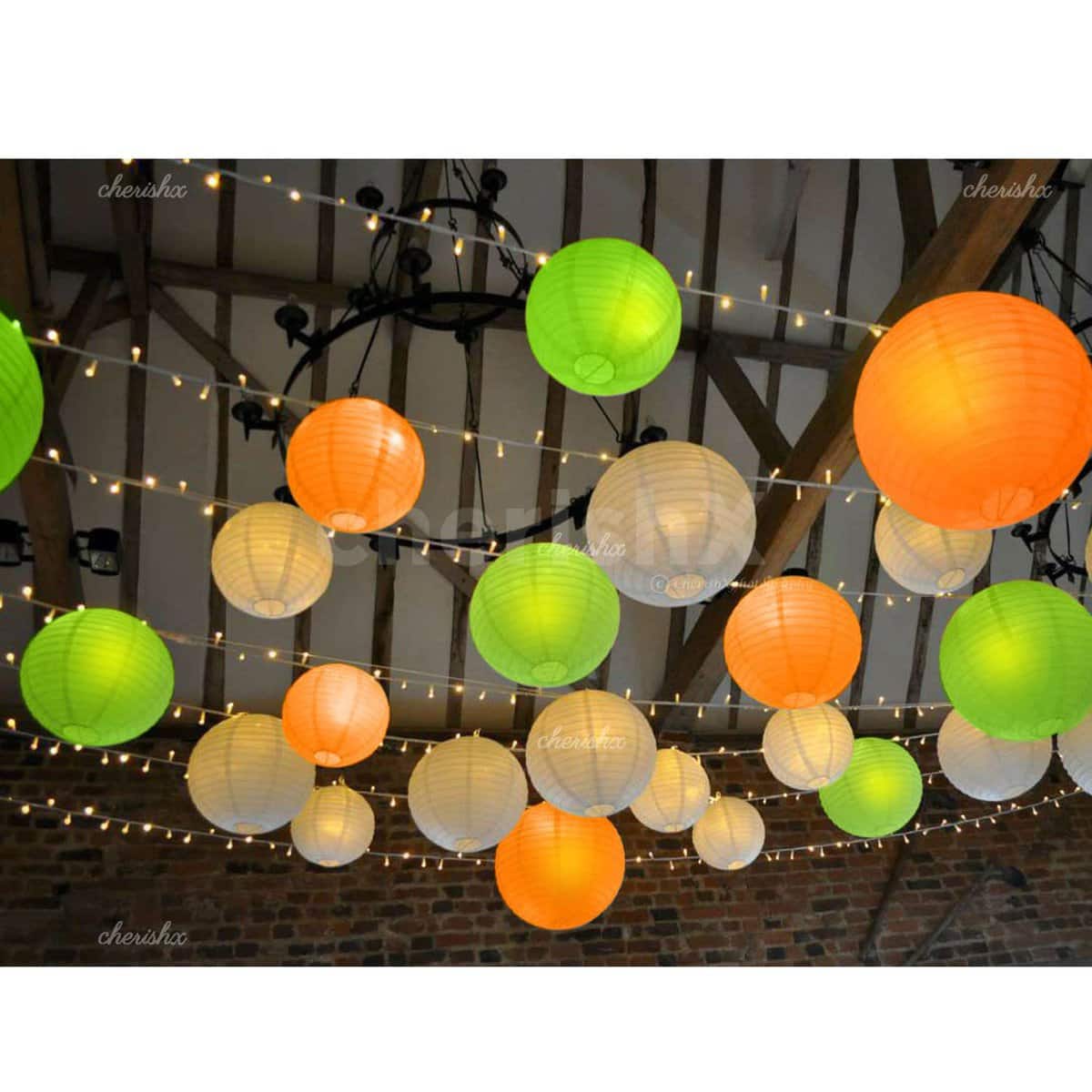 This Republic Day decor truly inspires the patriot in you and adds charm to your classic celebrations. CherishX's Republic Day Tricolor Lantern Decor includes beautiful tricolour lanterns to add to patriotic holiday decor. The charm of lanterns is enhanced by a net of fairy lights set up delicately on your ceiling to give the ideal party glimmer. It is one of the most illuminating decorations to have for your celebrations.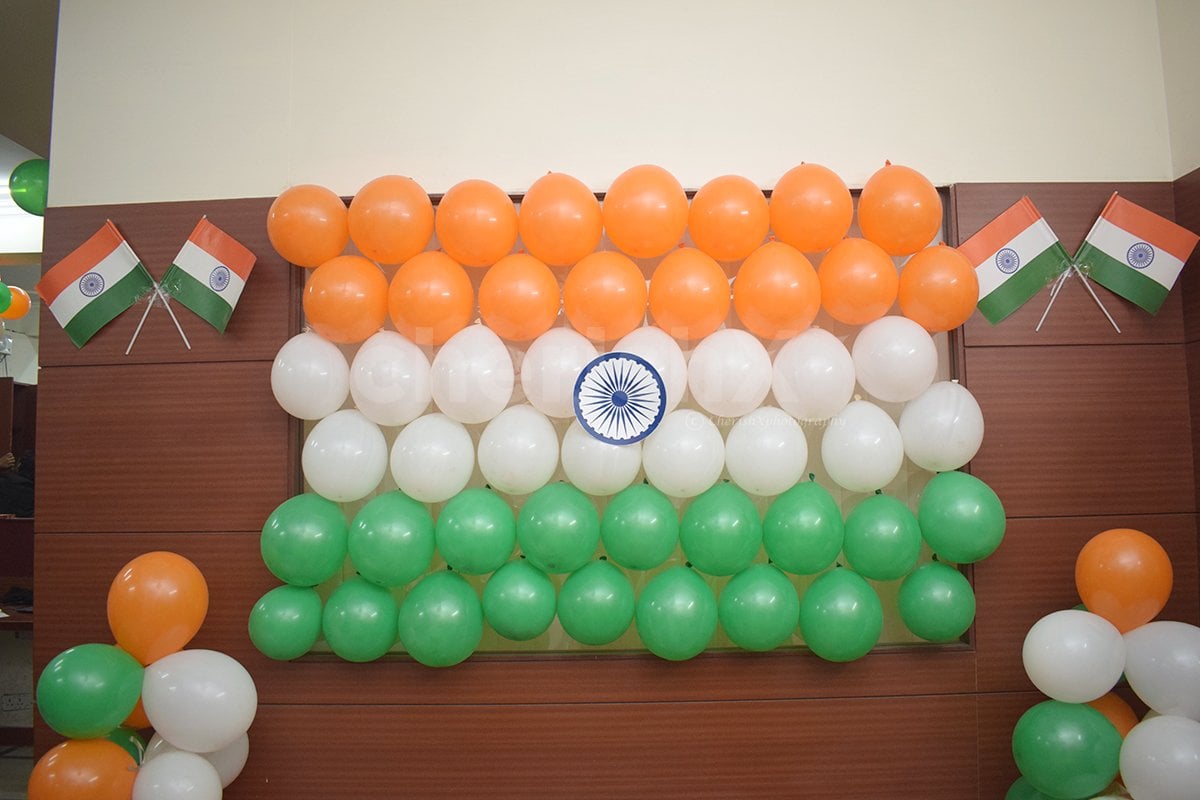 The whole country will be celebrating 26th January showing their patriotism towards their homeland. Don't let your office be left behind soaking into the patriotic sentiment! Bring in a new twist to the common decoration by this Flag Wall. Made up of 54 balloons showcasing the Indian flag, this one is surely gonna make the blood rush of all the employees with a feeling of nationalism when they see it!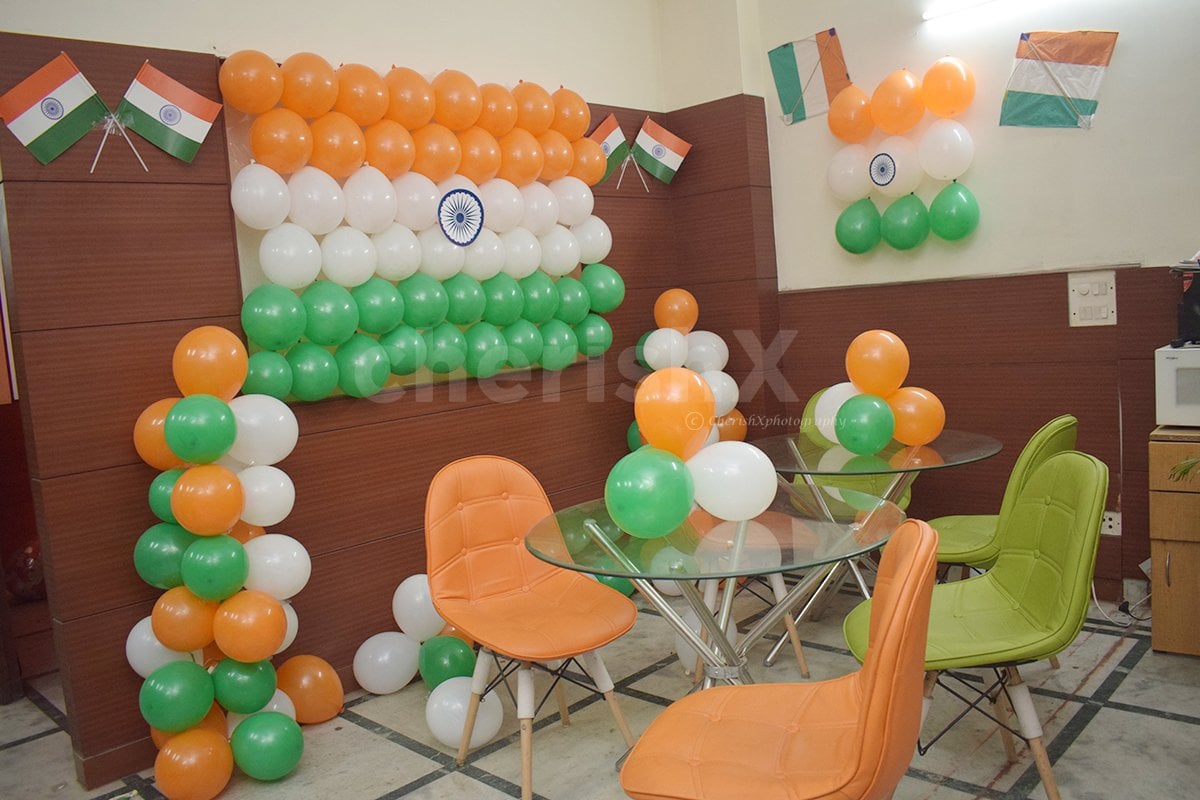 Republic Day is a great occasion for all of us to cherish our country and fuel our patriotism. If you are planning an office decoration for Republic Day to give your workspace a makeover, go for CherishX's Republic Day Special Decor. A decoration that will light up your whole Cabin and work area. Indulge in your office decoration by embracing this Republic Day balloon decoration!
A Get-together for a Little Party
Well, when you all work together and meet daily so why not plan a little party with sweets and great food! Celebrating the National Holiday with a party can be great. You can play together and enhance your team bonding. You can choose a variety of games and quizzes to play, reminding each other what this day is all about! 
Hoist a Flag 
Even if you have arranged for a little gathering, it would be wonderful to celebrate Republic Day with Flag Hoisting. Hoisting your Indian Flag in the air is the proudest moment for every Indian! 
Games or Quizzes
The Republic Day Office Celebrations would definitely be incomplete if you don't add fun elements to it! Games & Quizzes related to the history of India, are sure to bring enjoyment to your celebration. You can divide your colleagues into teams and play the games. This would be fun and would also let you enhance your team bonding! 
Republic Day Activities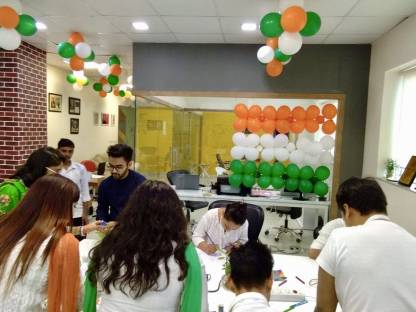 Don't forget to add wonderful activities for your Republic Day Gathering. Simply meeting will not add as much fun as games will. So, add games such as decoration competitions, Antakshari with only patriotic songs, recognize the freedom fighter, and more. Games such as these will take you to history thereby reminding you of the people who were there to make your country free of the Britishers! 
Republic Day Virtual Office Celebration Ideas 2022
If you are working from home then you don't need to worry! You can still feel patriotic by celebrating with your colleagues online. 

Follow a Dress Code 
No doubt, if your office is celebrating Republic day virtually, you are sure to sit in front of your Laptop screen for the celebration. Follow the set dress code by your employers and have a google meet with your colleagues. Everyone will look beautiful in traditional clothes. If you can not enjoy dressing for your in-office party, you can definitely enjoy the virtual Republic Day Party! 
Virtual Treasure Hunt
http://https://www.youtube.com/watch?v=Ei1DWwaYyPg
Playing a virtual treasure hunt is a great way to indulge in fun Republic Day Celebrations. You can enjoy solving the mystery hints and moving forward to solve the other levels. It is an engaging game that will help you bond with your colleagues better!
Sing National Anthem
Celebrate the national holiday by singing the National Anthem and feeling pride for your country. Make sure that you sit in the open for this activity and if not, then you can simply stand at your place to give respect to the National Anthem.
Online Games and Quizzes 
Quizzes are not only for fun but they also tend to enhance your knowledge. So, you can plan on having online quizzes on Freedom Fighters of India. This will be entertaining. You can find many different Games to play with your colleagues online! 
It doesn't matter where you are working from! Whether it's your home or office, having the patriotic spirit for Republic Day is what it all comes down to for an awesome Celebration. This year, celebrate Republic Day with your colleagues in the most amazing way by embracing these Republic Day Office Celebration Ideas! 
Moreover, don't forget to create the in-office Patriotic vibes on Republic Day by checking out the Decorations curated by CherishX!