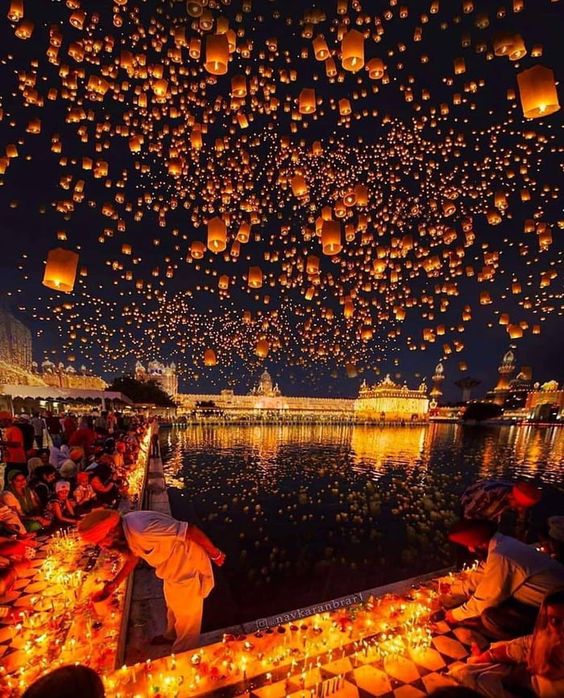 With Diwali around the corner, going a step further by taking our Diwali Lights Decoration Ideas up a notch with some easy tips and tricks will surely enhance your Diwali celebration.
Since this is a festival signifying the victory of truth over evil, Diwali decoration entails a lot of lights and bright decorations to mark positivity. People pray for prosperity and serenity along with cleaning and decorating their houses with lights, flowers, and Rangolis.
Whether you are a big family celebrating Diwali in an immense bungalow or a pair in your first rented apartment, some of the unique Diwali Decoration Ideas to style your home decor is much needed.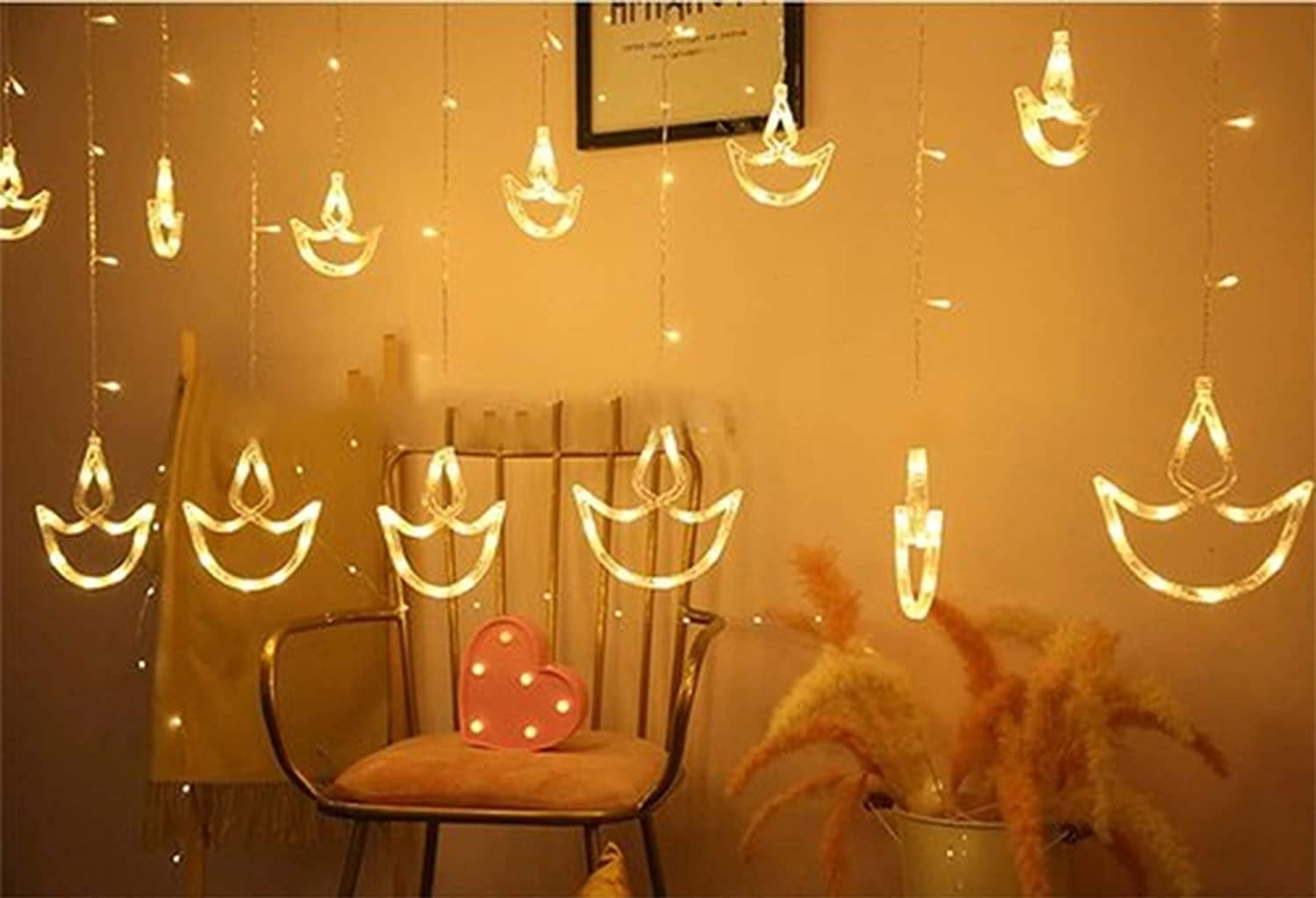 The festival of lights is the most awaited, valued and glorified Indian festival. A celebratory mood fills the air with sensation and brilliance. Diwali makes a whole nation go crazy with entertainment, excitement and fun. So, decorate your home with Diwali DIY Decorations and accessories to give a perfect vibe.
Take a look at this array of Diwali home decoration ideas for motivation and start decorating your house today. Also, Diwali falls on the 24th of October so, you get a long weekend to celebrate.
How to Implement Lightning During Diwali
Considered a big festival of lights, Diwali is a great occasion for you to showcase your design skills. So, instead of shuffling those traditional Diwali decoration ideas, all you have to do is start pairing the lights together to correspond to the decor of your home.
These glimmering and glittery lights are a wonderful way to adorn any surroundings. You can opt to use lights in ways or just use them merely for lighting colourful home decoration items.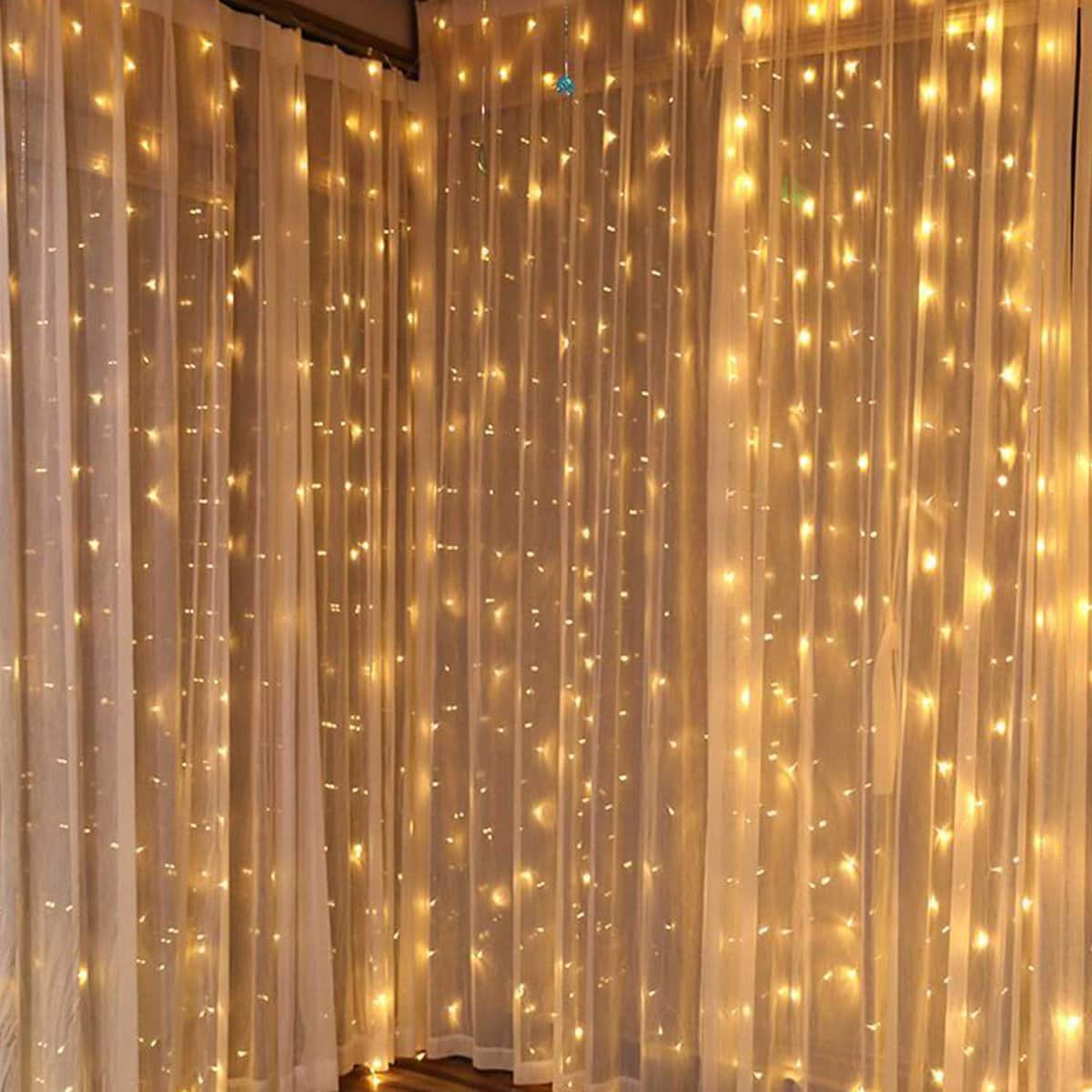 String LED lights are very famous as light decorations for Diwali at home as they are affordable and go indeed well with the bright vibe of the festival.
Unique & Interesting Diwali Lights Decorations Ideas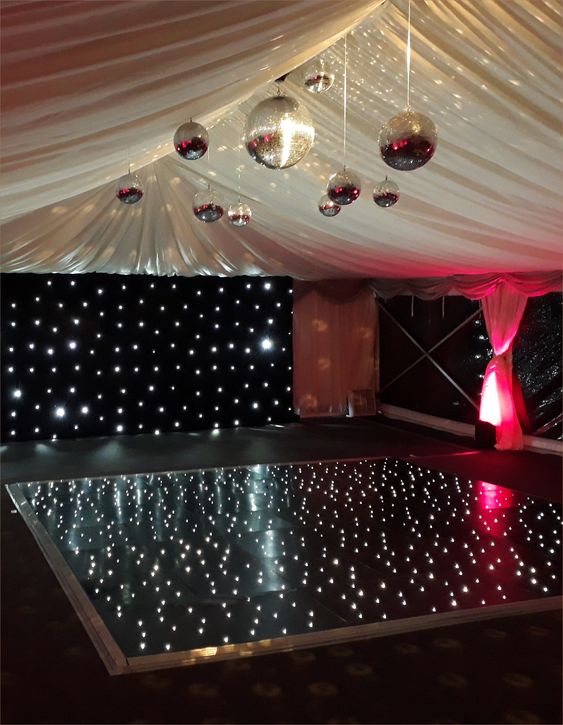 Sprucing up your home for Diwali can be easy with the wide range of designs and room decoration items that are available in the market. Maintaining a trendy decoration is an easy task with great ideas and services. Are you seeking inspiration to decorate your abode with Diwali house decorations? Look no more.
Here is a collection of the best Diwali decoration ideas for your home, check them out.
Decorating Ceiling & curtains
A star-lit ceiling decor provides a terrific and sort of euphoric look to your abode. You can push to cover your ceiling with lights and lamps for a beaming roof effect.
Also, the curtain covered with lights will light up your home like a dream and for this, you can use a bunch of fairy lights or mix up the string lights with flowers to enhance the overall look.
Creating a memorable space
A special space in your abode where you love to spend your time and always occupies a place in your heart. Let's decorate that by highlighting that spot with candles, earthen lamps, and tea lights.
Besides, you can arrange a central idol, plant, painting or any sacred item that can be a perfect Diwali decoration for the living room. Ah! Don't forget about those breathtaking floating candles and water bowls with flowers that are a fabulous way of devising a relaxing vibe. Additionally, you can add indoor water fountains and plants that have a similar effect.
Explore more DIY Diwali Decoration Items
Walls decor
Decorative wall plates and put a light source behind these; maybe a battery-operated LED. Perforated plates add glamour and texture to an otherwise plain wall.
Adding dhurries and rugs with Indian motifs can enhance the charm of your wall. Also, outlining the dhurrie with string lights and adding paper diyas and bells give an excellent cover to that empty wall with this unique aspect.
Play With Light In The Corridors And Passages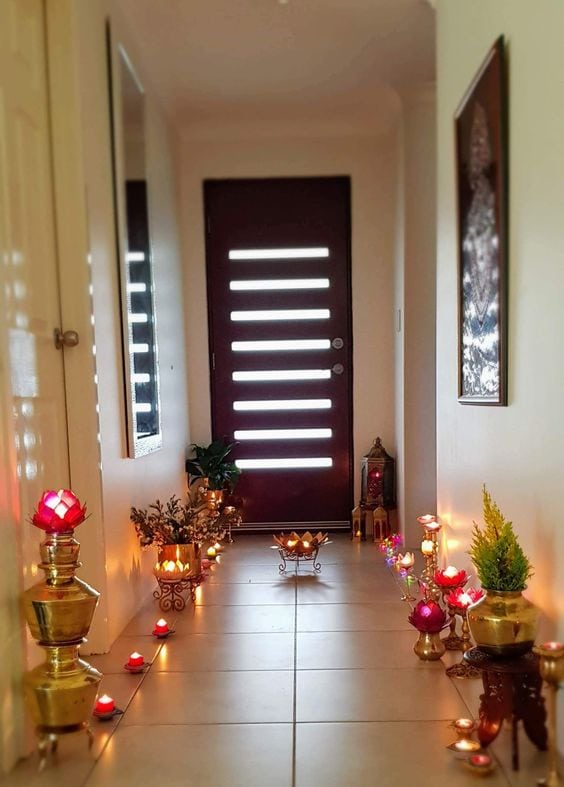 An entrance table at a doorway, in a corridor or passageway, spruces up the space with small details like adding simple white candles. Also, placing a geometric mirror placed behind the table can double the Diwali décor.
Outdoor Diwali Decoration Idea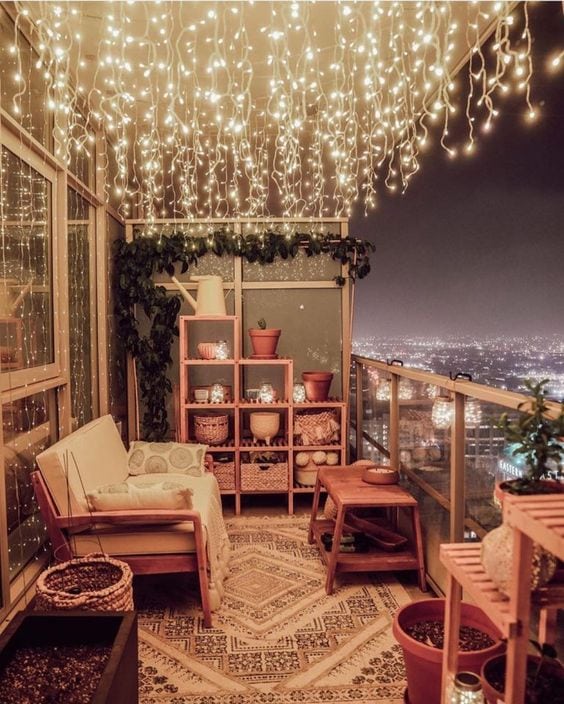 As the temperature cools down climate, you can even host a Diwali party outside your house like on a huge balcony or garden idea. From gardens in bungalows and independent houses to balconies or even the windowsills or ledges of apartments are perfect for any Diwali decoration party idea.
To pay homage to the festival of lights in your home integrate as many lighting accessories that work well with your décor. For the garden or on balconies, strings of fairy lights rode across walls or around plants or trees that look magical at night. Earthen divas or tea candles placed at doorways can bring good luck into a home on Diwali.
For outdoor decoration, invest in canopy decorations. Add great lightning to your canopy and put some artefacts in it for a more remarkable look.
Table Makeover With Diwali Light Decorations
Looking for ways to celebrate Diwali but not deck your home up and flood it with embellishments? Well then, we have a great idea for you. If you have a coffee or tea table, decorate that with candles and oil lamps.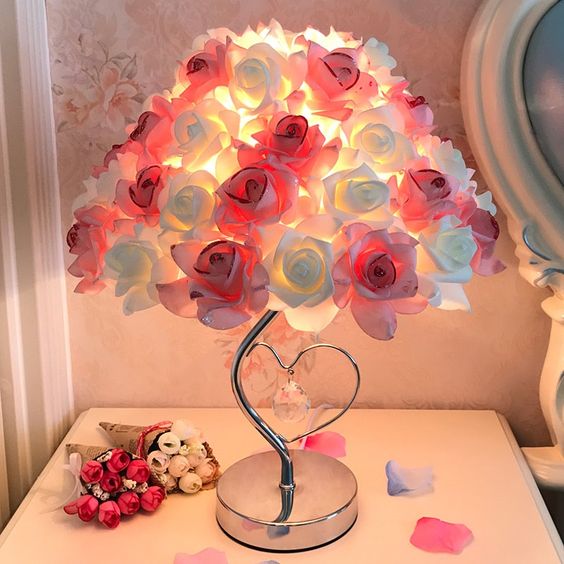 Get out the lanterns and medium-sized diyas and shroud your table with them. This light decoration will look astonishing and won't even take much of your time.
Colourful Lantern Decor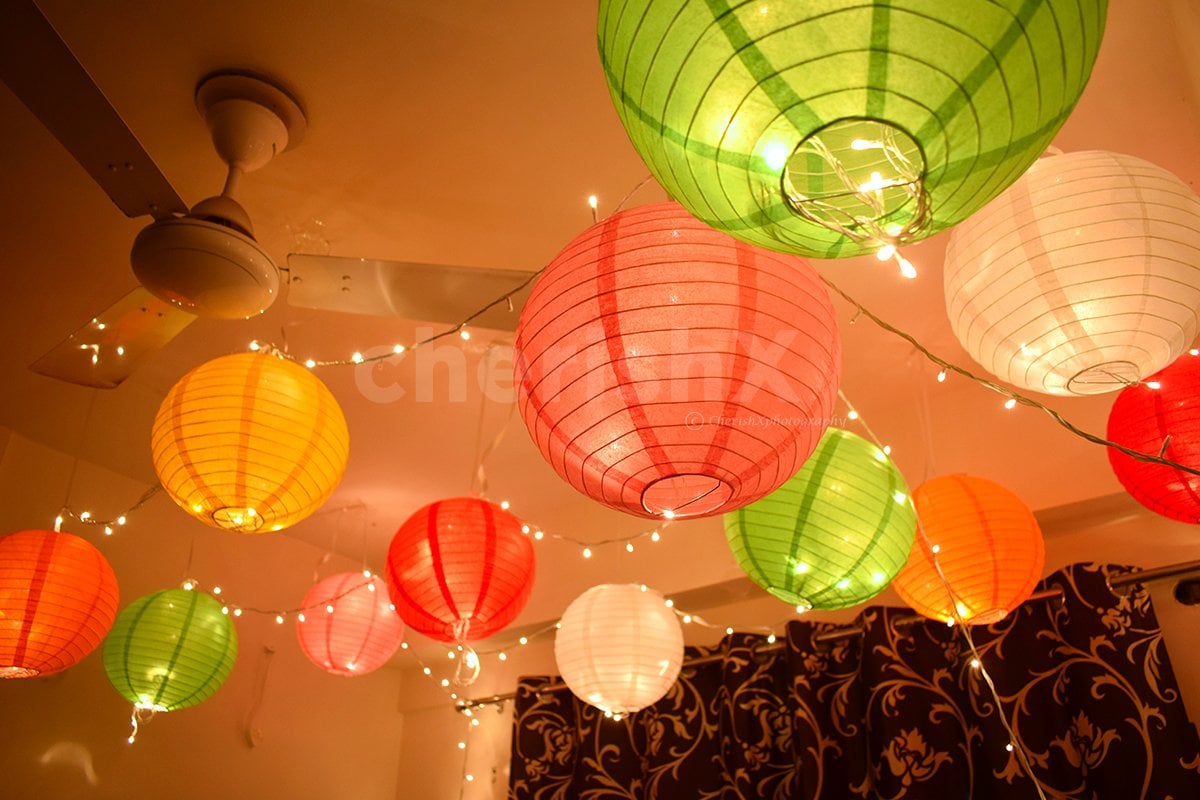 Give your beautiful abode a perfect festive makeover with colorful lantern decor by CherishX. This captivating and lively theme of Diwali decor brings all-new dreamy and enlightening charm to your home this Diwali.
With this extraordinary decoration, you can transform your home and even make some amazing memories with your loved ones. Hang these bright paper lanterns to embellish your decor. Add lovely fairy lights delivering a gorgeous illuminating space.
This absolutely stunning decor works best for Diwali decoration and can be booked by visiting the official website of CherishX and selecting your slot for the same.
Classy LED Lights and Garlands Decor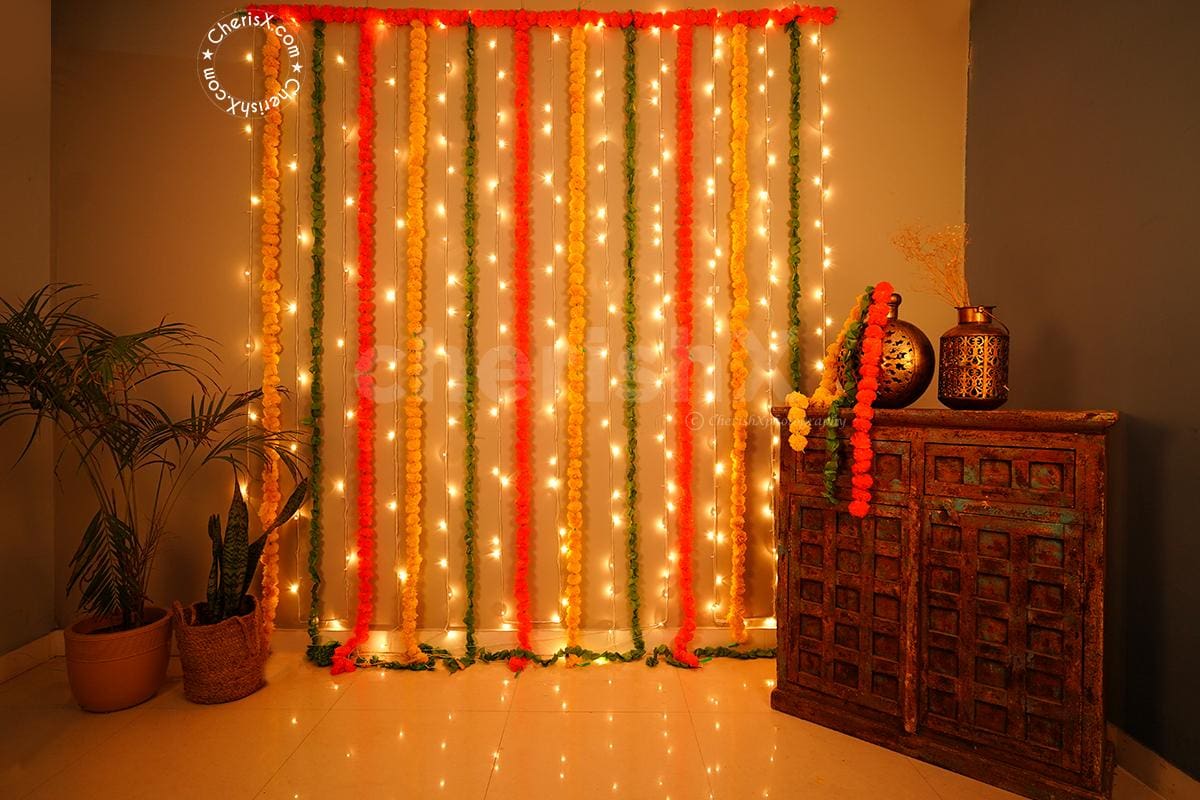 Diwali, a festival of lights is commemorated every year with flowers and lights. Thus, selecting these classy LED lights and garland decor for this Diwali celebration is an outstanding idea. This flamboyant decoration constitutes LED warm lights, orange, and yellow garlands, green leaf strings, and jointers.
Enjoy this ravishing lighting and colourful decor that make a cheerful and adorable environment for everyone in your home.
Diwali Theme Lantern Decor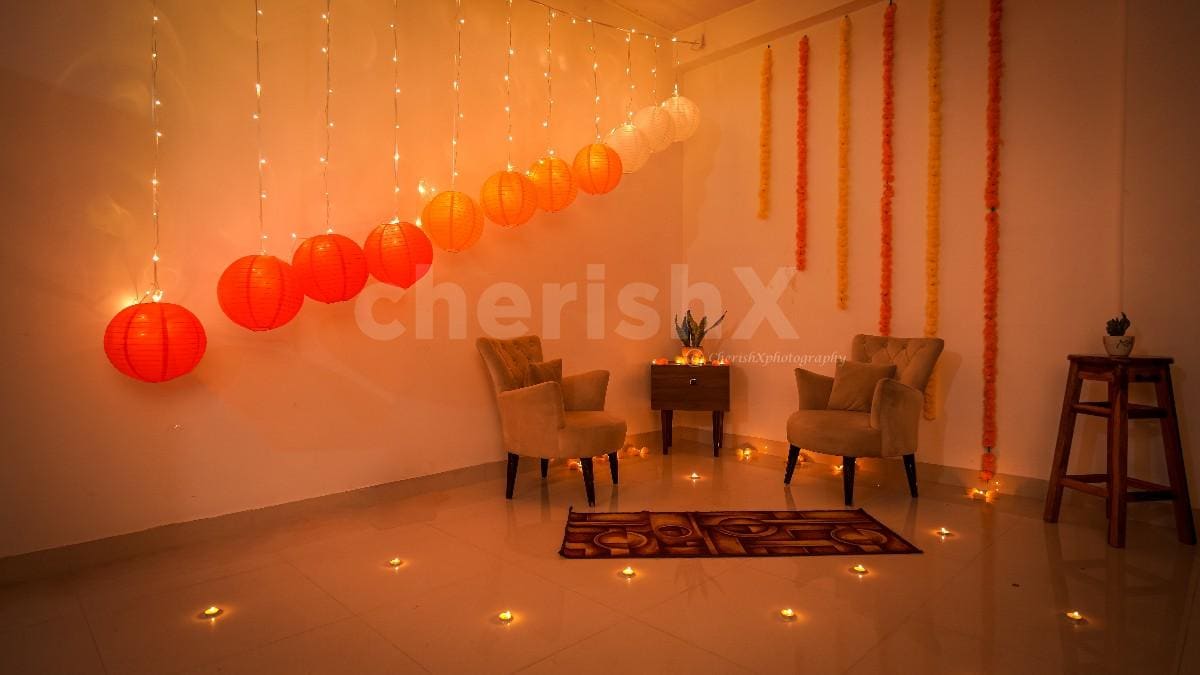 Diwali here comes with lots of celebration and preparations, so why not opt for this Diwali lantern theme decor? Bring positivity, charm, and glow to your workplace as this theme of lanterns includes paper lanterns of various colours like orange, white, and red. Also, get fairy lights, artificial garlands, tea lights candles, and a jointer to enrich the look.
Furthermore, you can customize this decor as per your needs and can easily book this decor with CherishX.
Fairy Lights and Lantern Surprise
Get astonished with these ravishing fairy lights and lantern surprise decor. This decoration is full of paper lanterns and bright fairy lights that will definitely be going to fascinate your visitors. You can add any other requirements with this decor as per your needs.
Diwali Decoration Items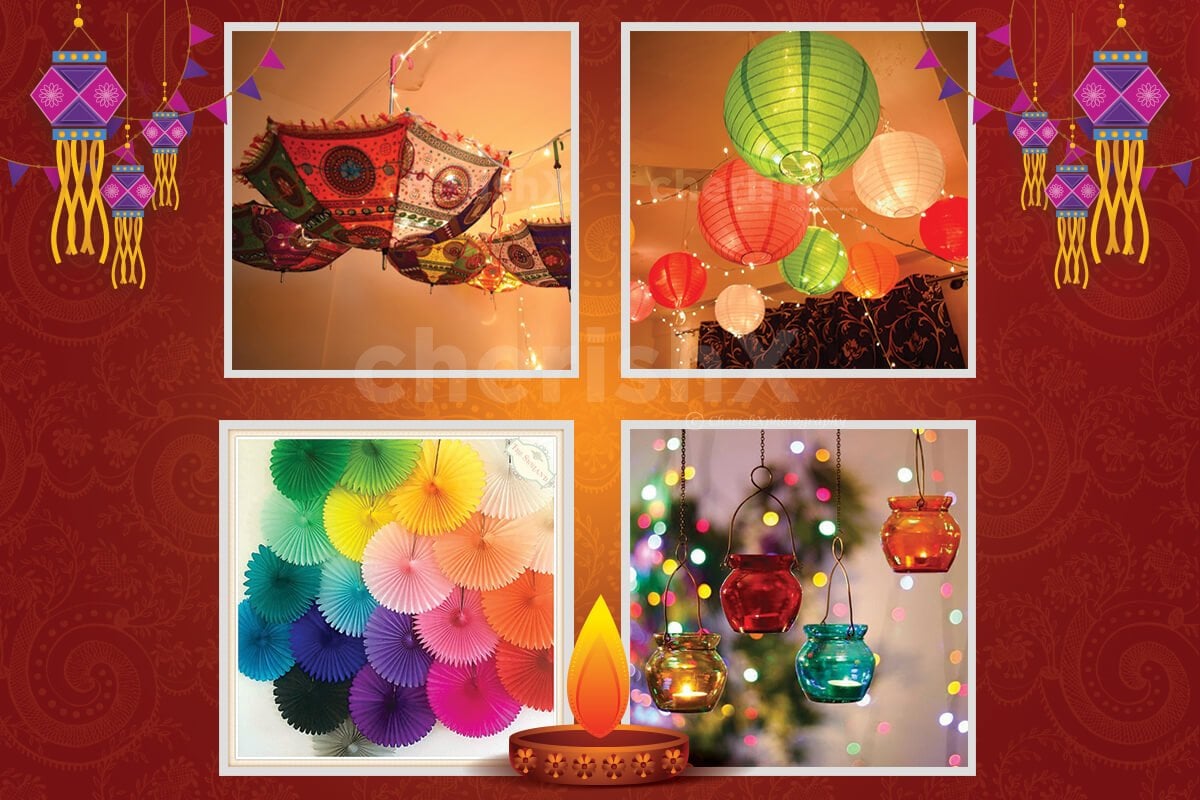 For decorating your abode this Diwali, invest in some decorations items that will surely add charm to your decoration. Here are some essential Diwali items that must be added to your list:
The Fairy And Pendant Lights
If you want to opt for an easy Diwali lighting idea then this one is just immaculate. Give your living space drop-down decorative pendant lights in the shape of a globe that light up the room in a different style. Also, you can drop down the fairy lights from the large bay windows delivering the windows with a glimmer.
With lights, you can decorate floor-to-ceiling units with shelves that will quite ideal to amplify the Diwali spirit.
Candle-Lit Diwali Light Decoration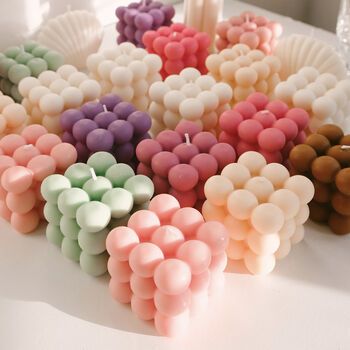 A scented and beautiful candle will surely help you to enhance your Diwali decor. Candles can be placed around a gorgeous rangoli made from powder of various colours or petals. Also, they can be arranged in the shapes of a diya or any shape that you desire and can be kept on the balcony or any other place at home. You can use an assortment of scented candles if you are big on the aroma.
Diwali Party With Lanterns
Are you hosting a Diwali party? Then adding some amazing Diwali light decoration is definitely going to steal the show! Decorate any table with glass and paper lanterns of different shades that bring an antique yet optimistic look into your home.
Lanterns can also be great for Diwali entrance décor. Invest in a kind of lamp that looks good during the day as well. Buy them in colours that complement the colour on your walls and ceiling.
Also, it is suggested that rather than hanging one large lantern, try to hang a bunch of four to five rounded lanterns. Then cover your entire ceiling area with colourful paper lamps with led lights inside it. Additionally, do not keep all the lanterns at the same height.
Rangoli with Diyas
The traditional art of rangoli is considered to be an auspicious element for the Diwali celebration. Apart from bright colours, fill the rangoli with petals of flowers. Also, you can decorate your rangoli with tiny diyas or tea lights to make visually attractive patterns.
Beautiful Torans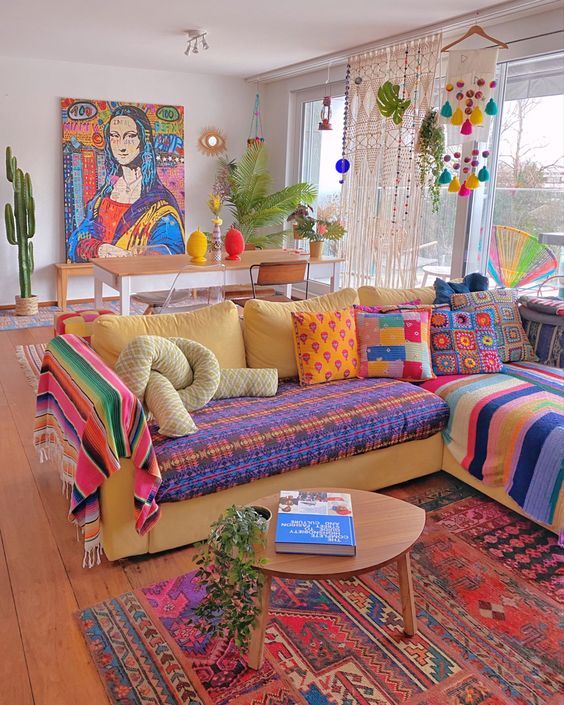 Add the 'Indian culture' element to your entrance as it is one of the original Diwali decoration items in India. Get earthy colourful door hangings and hung them with fairy lights.
Fancy Diyas and Candles
Diya and candles can also be used for home decoration with the help of string lights. Keep the mood festive by creating patterns using Diyas or hanging the lights on the wall for an uncomplicated and sleek Diwali light decoration.
Why CherishX For Your Diwali Decorations?
Décor your entire home with all these unique ideas or pick any one of them for every room – the choice is all yours. All the Diwali decoration ideas give your home a luminous and charming feel of the festival. Diwali is the festival of hope and also celebrates the commencement of new ventures and dreams.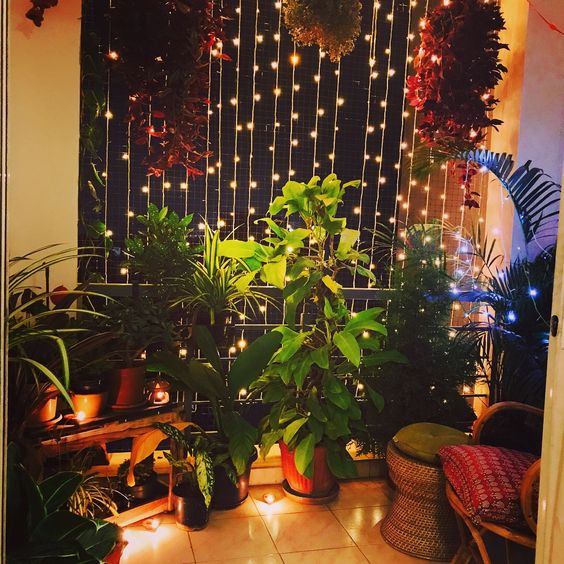 So, lets' all wish for all lovely times, and a pleased and delighted Diwali!
Looking for expert guidance to design your abode this Diwali? Let CherishX help you in the way you want.
For more queries or ideas for Diwali decoration, leave your comment here and receive a consultation call from our experts.
Hope you have appreciated our simple but useful Diwali light decoration ideas. A very happy Diwali to all. Stay lit, stay safe.
FAQs
Which colours of decorations can we use for the Diwali celebration at home?
The prevalent and good-looking colour choices for Diwali celebrations are yellows, oranges, reds and timeless whites, creams, and golds. Along with this, you can always mix and match a dull tone with a bright tone to get a balance to your decorations.
2. What is the easiest way to decorate your home during Diwali?
Diwali is the festival of light that can be celebrated with bright lights, candles, diyas, lanterns and flowers. Decorate your home with these Diwali items and enhance the look of your abode.
3. Can we decorate a balcony using lights on Diwali?
Yes, you can use light, flowers and diyas to decorate a balcony easily. Apart from drawing the rangolis on the floor, place diyas and put lights and flowers over the walls and use lanterns to hang.
4. How to decorate the outside space of your home during Diwali?
For the outside part of your home like gardens, use light, flowers and diyas. Try creating patterns with flowers and rangolis and hang an array of lights in different colour sequences wherever you can. Along with this, hanging colourful paper lanterns will surely going to add more charm to the decorations and make your abode look pleasant and classy.