Mother's Day gifts are one of the best ways to show appreciation and love towards your mom. You can also plan some exciting activities with your family on this day to celebrate it with special moments that will remain in her heart forever! So, planning and selecting the right Mother's Day gift idea should be done wisely to make this day memorable for your mom. It's not always easy to find the perfect gift that she will love, but there are many personalised Mother's Day gift ideas that can help you make her day extra special.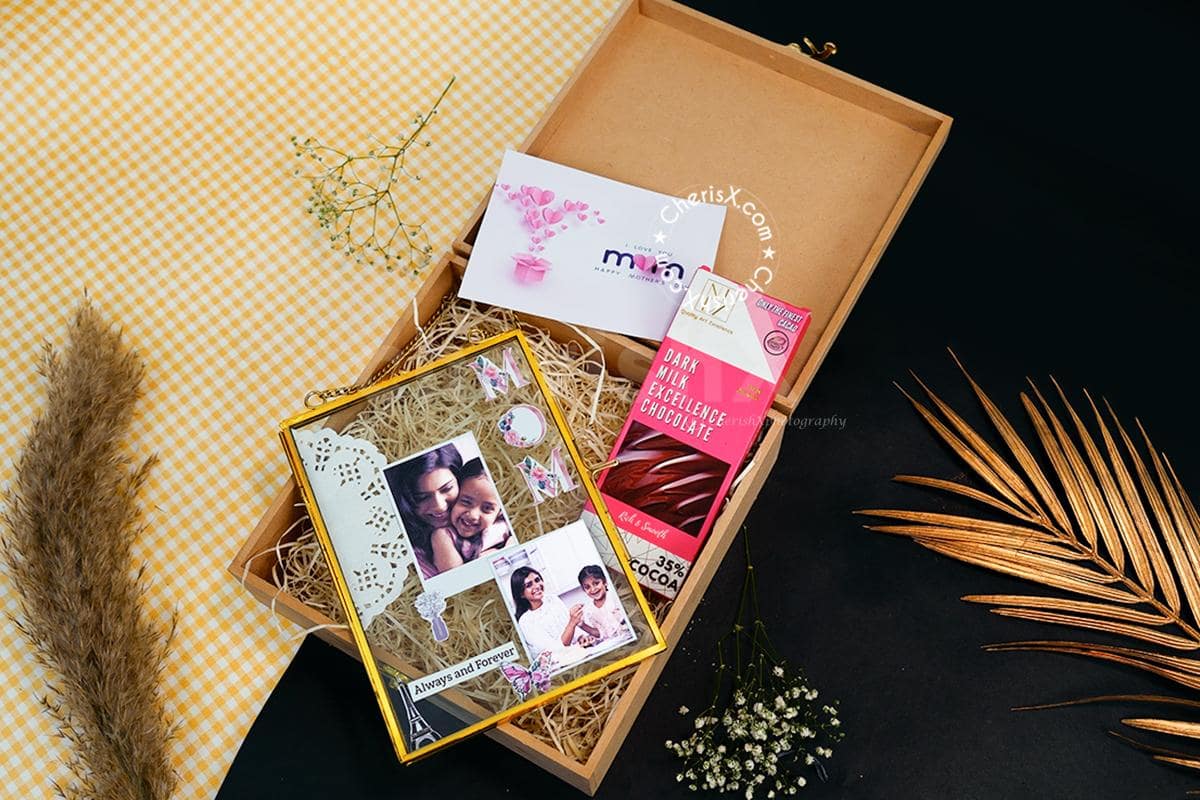 Choose this wonderfully designed Frame Gift on Mother's Day for your Mom. It's a unique gift and your mom is sure to love it! By giving her this, you can let her know how much you adore her for always being supportive and loving!
Mother's day is special not only for mothers but also for their sons and daughters. You get to plan surprises and let yourself get indulged in making everything perfect so that nothing lacks. This is why this breathtaking gift is here to make Mother's Day extra special. It gives a classic look so it surely will be a memorable gift!
This Mesmerizing Vintage Mom Frame Box is curated with a Wooden Box filled with white grass and tied with a ribbon bow, a Transparent glass frame with customized photos of your loved ones, and a Nid'z Chocolates and a Wish Card. All of this together makes it a great pick for Mother's day!
Wish your mother a happy mother's day with this fascinating CherishX's Mum Memory String. Collect your loving photos and get them enhanced by our designer. Your mother is sure to like it!
The mum memory string needs 12 photos which you would want to get them in the frame. Our designer collects and enhances them. They are printed in polaroid style to give a stylish at the same time natural memory string look. The memory string frame is one of the best mother's day gifts that you can give to your mother! This can be a great way to remind her of your loving relationship and the moments you spent together! 
Your Mom is your supporter, lover, and your lifelong hero. From teaching you how to walk to giving you her unconditional support in every walk of life- She does it all! So, frame those special memories of love, either childhood or the time when she celebrated your first win, in this wonderful Love You Mom photo frame and tell her how much you love her.
This loving photo frame for New Mom is appealing and is sure to put a smile on your mom's face. It's a perfect gift to send on Mother's Day, her Birthdays, or any other occasion. You can simply surprise your mom and make her feel extra special this Mother's day! Hang it on a wall and add a nice touch to your home with this amazing designer photo frame.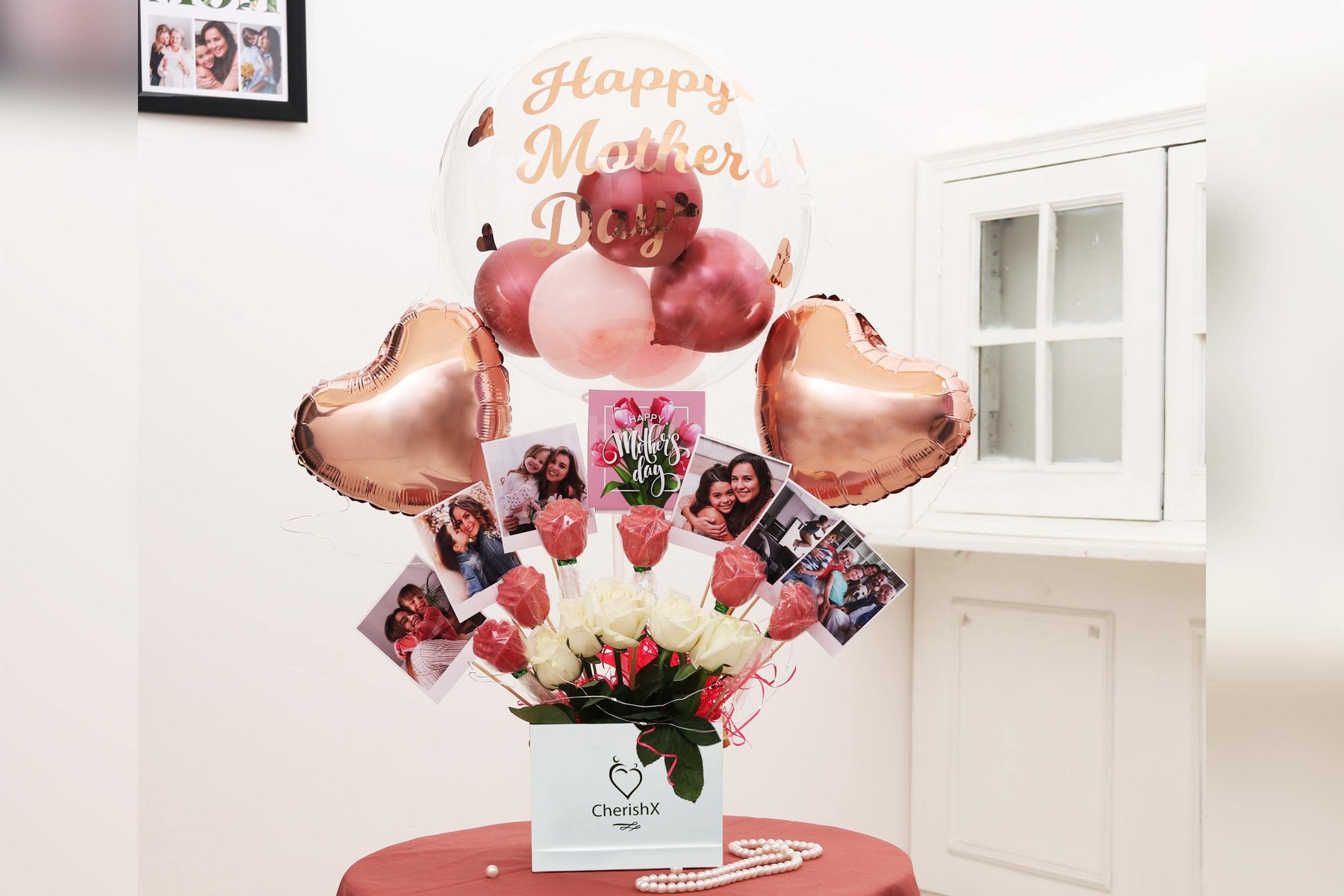 A Personalised bucket might surely be the best gift online to give to your mum. An Exclusive Rose Gold Personalized Bucket filled with balloons and more to help you make the day memorable for your close ones! 
No matter what, when Mother's day is here, your mom must be expecting something special. So, this amazing personalized Rose Gold bucket is definitely something to go for! 
Make Mother's Day special for your mom with an exclusive MOM Special Floral Frame in which you can have your and your mother's photos!
This loving gift is specially curated to appreciate your mother for the hard work she put in to nourish you and make you a good person. A beautiful present for your beautiful mother! This happy mother's day gift can also be gifted on a birthday. The present is a synthetic wood frame of A4 Size (approx 8.27 × 11.69 inches), and it displays 6 pictures. So, you can have favourite pictures of you and your mother together and let the frame have it. This overall gift is sure to make your mother feel loved. You should always make her feel special once in a while. This may be a great way to show your love and support to her! 
Everyone wants to be famous and be in the newspapers (for the right reasons, preferably). How about making your mom famous for being such an amazing woman with a virtual newspaper cover story written entirely for her?
This is one of those gifts that'll light up your mother's heart. No matter how much she scolds you, she is still going to love this beautiful gift. The frame is of A4 Size Frame (approx 8.27 × 11.69 inches), made up of Synthetic wood. It is professionally designed with things that define how much of an amazing person your mother is. Based on her nature, likes, and interests, the article can be entirely themed around her. 
Surprise your mom with a beautiful Mother's day Personalised Frame for your mom. It's one of the best mother's day gifts that will take her breath away. 
This breathtaking frame is a synthetic wood frame of A4 size (approx 8.27 × 11.69 inches. It displays 5 pictures. The frame also contains text saying "We Love You Mummy". With this attractive frame, you can express your love to your mother without any hesitation. It is created purely to make mothers feel special and happy. Whether it's a gift for mom from daughter or son, it'll give a heart touching feeling.
Get your mother a gorgeous Love Bubble and Pictures Bucket and make the day special for her. This picture bucket by CherishX is filled with all the loving gift items that will touch your heart. 
This online Mother's Day gift is perfect for any gifting occasion as it comes with a bubble balloon with Golden balloons inside, customizable vinyl printing, a picture bucket with pictures, and two customizable message cards.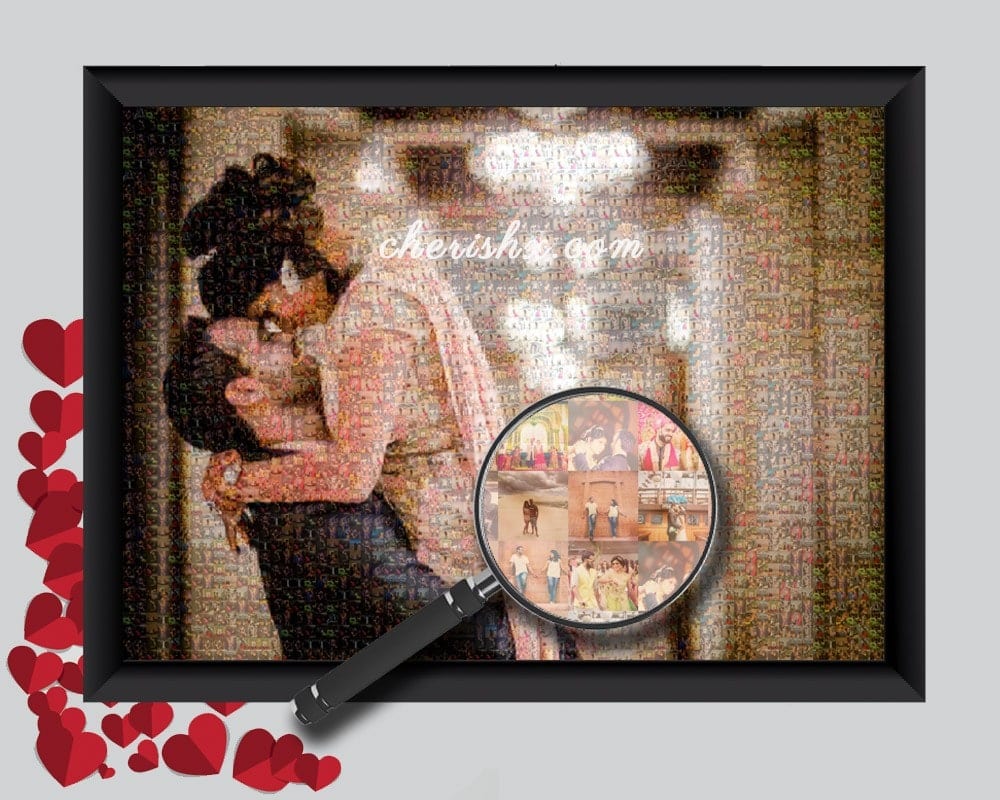 Express your love by gifting your loved one an epic picture! This is not just "a" picture, this picture made out of several smaller, hundreds of pictures! From a distance the big picture looks great, and up close you can spend hours looking at the smaller enjoyable pictures. You can surprise your mom beautifully with these pictures.
It's a great designer gift, artistically stitched hundreds of your photos to create a big memorable epic picture. This picture is then printed on a A3 size (approx 12 inch* 18 inch) big canvas frame as part of the standard package and is great in itself.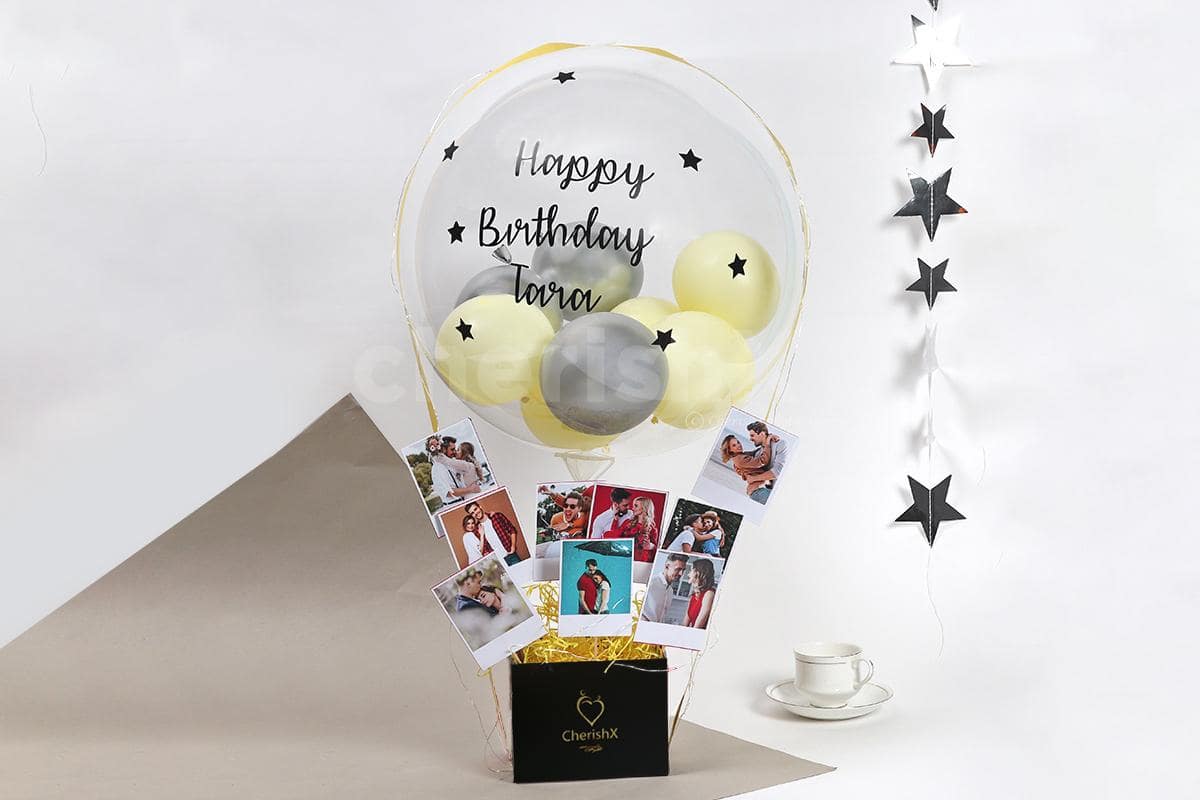 A unique balloon photo bucket could be something different and loving for your mother. You can make her feel extra special by getting her this pastel yellow balloon bucket gift. 
This gorgeous gift is curated with Chrome balloons, pastel balloons, bubble balloons and more. It's a  lovely bucket to send warmth and love to your mom from faraway. The yellow color signifies friendliness and approachability as well as encouragement. So, you can also send this bucket to wish your mom love and positivity.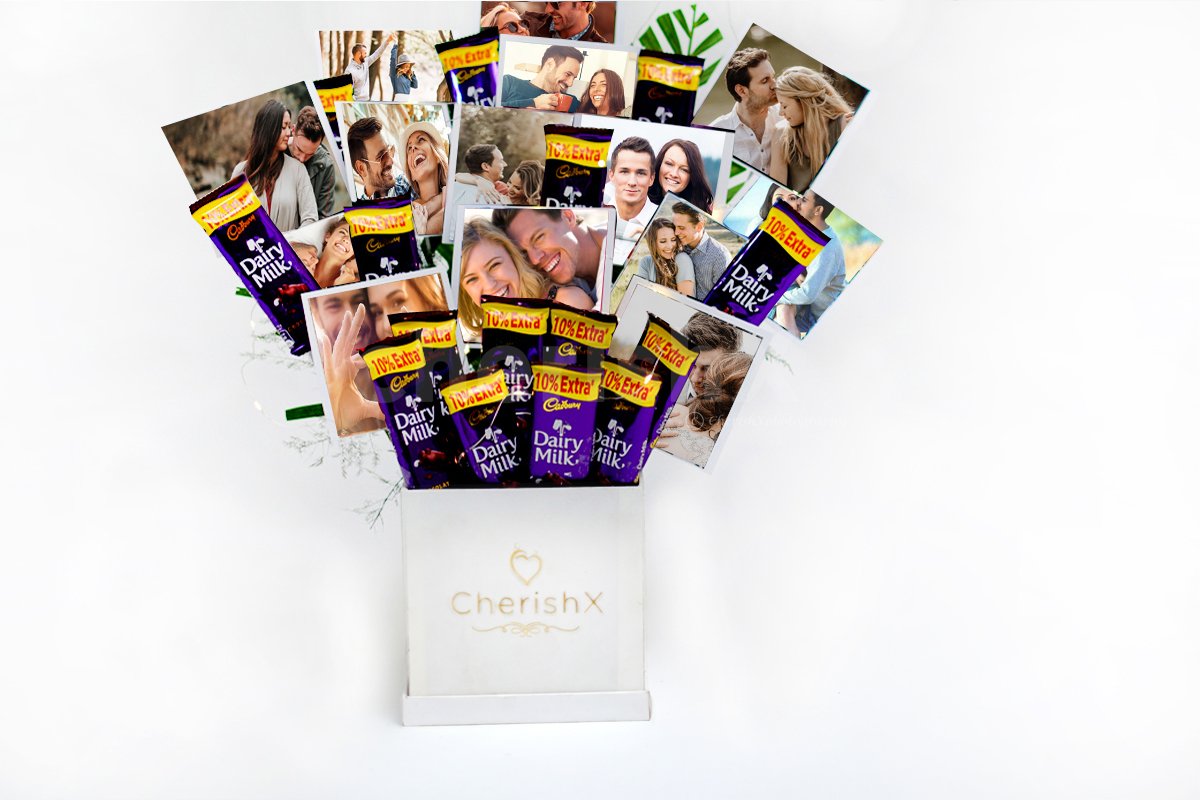 Does your mom love chocolates? If she does, then nothing could be perfect than this fascinating Chocolate floral bouquet.
This CherishX Signature Chocolate Bucket redefines tradition to create something that is classy, luxurious and at the same time super memorable. This signature Chocolate Bucket comes with classic Cadbury Dairy Milk Chocolates in a custom created a white colour square bucket. To make the present more personalised and memorable this Chocolate bucket includes an exquisitely created pop up of photos of your selection.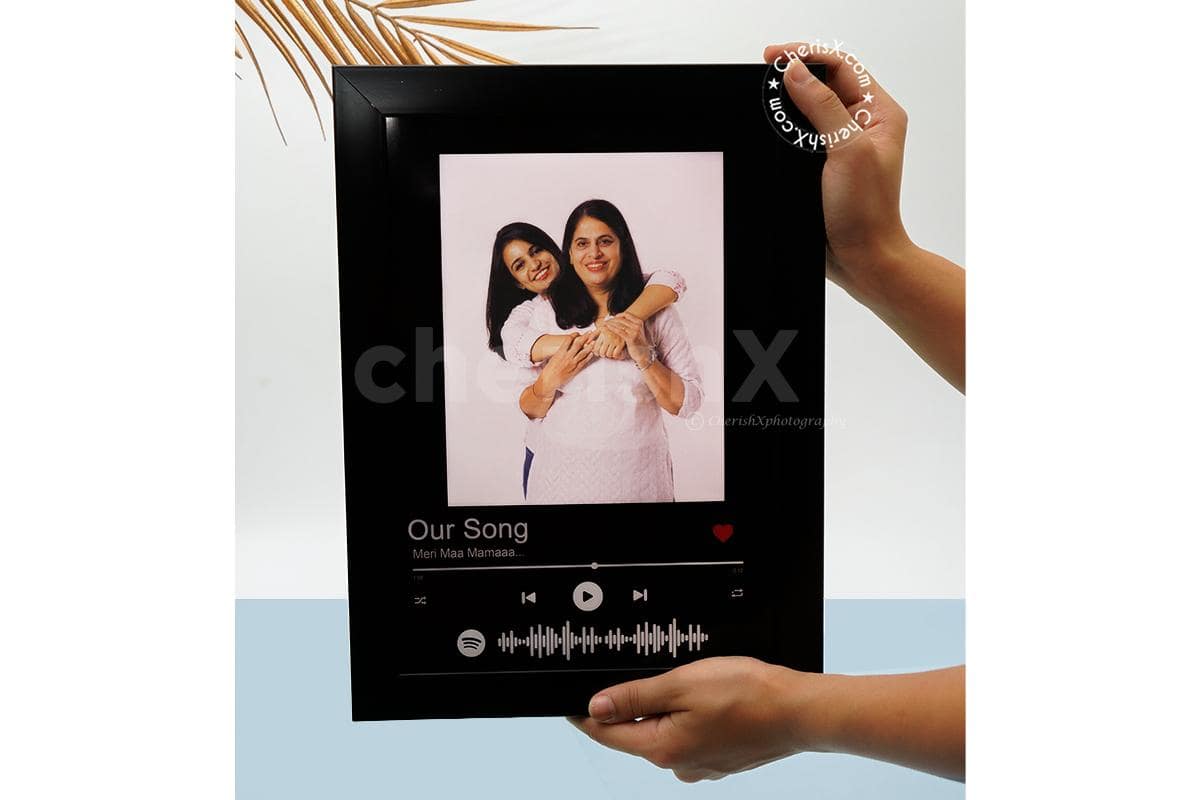 Spotify Frame is a trendy photo frame that can be personalized with their favorite song, artists and lyrics. It shows your mom's favourite song with her favorite photo. You can buy your mother a gift which she would like to keep near her all day long. A Spotify Frame makes for a great conversation piece when friends visit your mom's house as well!
You can also dedicate a song to her by getting it frames in this spotify frame. It would be exciting to follow a unique way of making her feel special! 
If you want to know more on how to make your feel extra special with different ideas then you can check out The Ultimate Guide on How To Make Your Mom Feel Extra Special
These were some of the best mother's day gift ideas to go for this Mother's Day 2022. These are classy, trendy and attractive, there's no doubt that your mom, grandma, mother-in-love will love it. 
CherishX offers you all these so that you can make her feel special and loved. Moreover, you can send it faraway too! Isn't it the best part? So, celebrate Mother's day with your mom beautifully by expressing your love through a personalised Gift!