Birthdays are special for every person. The excitement is always high and as a result, the planning starts ahead of time. If you're planning to have a house party then you definitely have to plan it out beautifully.
Keeping in mind each and everything is sure important. Whether it's food, decorations, music or anything else, knowing the status of each and everything is important while planning and executing. 
Often people get stuck with birthday room decorations as deciding what would be best for the party becomes difficult to know. Moreover, one needs to have ideas on how they can get the best of decorations for their party! 
So, to not get you in too much of difficulty, we have gathered some of the wonderful and trendy Birthday Decoration ideas for home that you can have and get easily for your house party in Hyderabad. 
Here are the top Birthday Home Decoration ideas-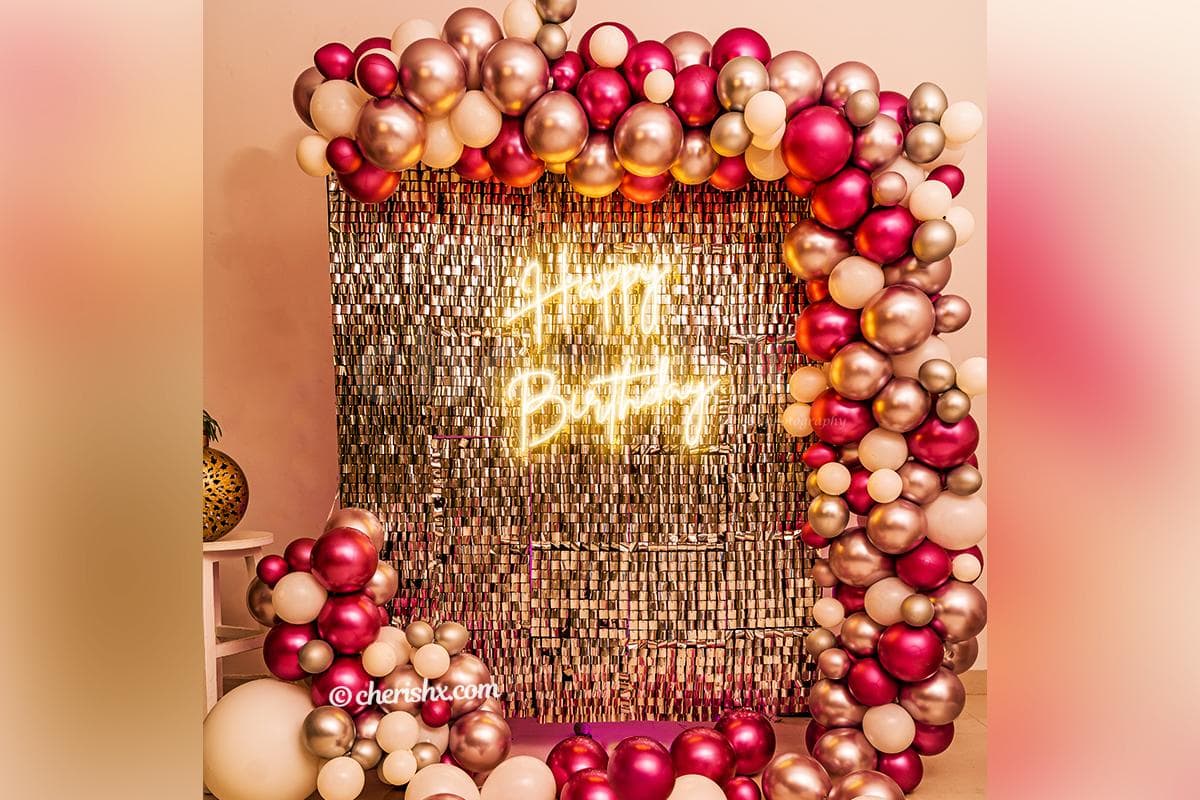 You must have seen cushions or dresses with sequin patterns but have you ever thought about a sequins decor? This is what the decor is all about. With a Pink sequin pattern, your home will look gorgeous. The best part about this decor is that it gives you the feel of the party. 
You get attractive silver neon lights highlighting the whole wall decoration. The material sequin used in this decor is small shiny round pieces of metal or plastic that are sewn onto clothing as decoration. Overall, it's a perfect happy birthday decoration in Hyderabad to have at your home. 
You can check out this decor at CherishX.com.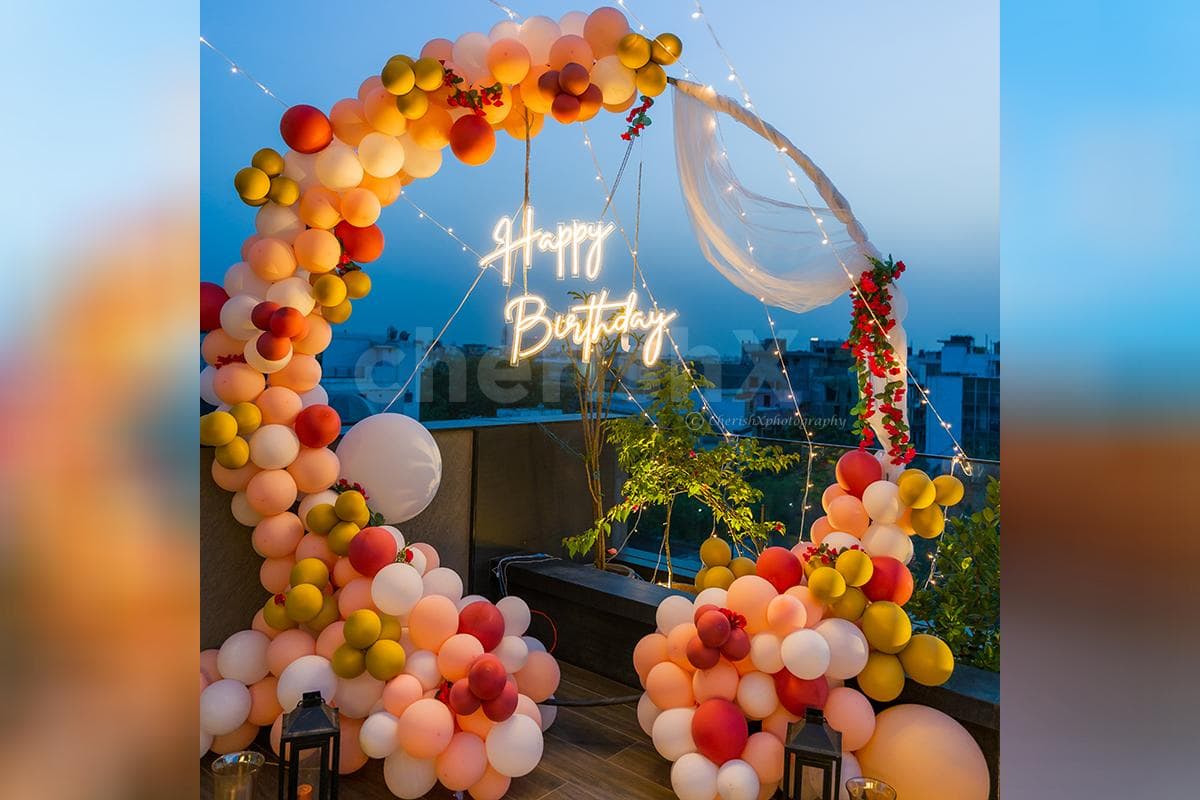 If you have thought of throwing a grand party at your terrace then this decor is what you need. The combination of neon lights and the ring with balloons give you the party feel. You can easily have it in Hyderabad at your choice of place.
This warm decor includes a Circular Stand with white net draping, Happy birthday warm neon signage, Leafs with red flower bunches, peach and a white macron balloon, rose gold chrome balloons, and more. Your guests are likely to be pleasantly surprised with this appealing decor!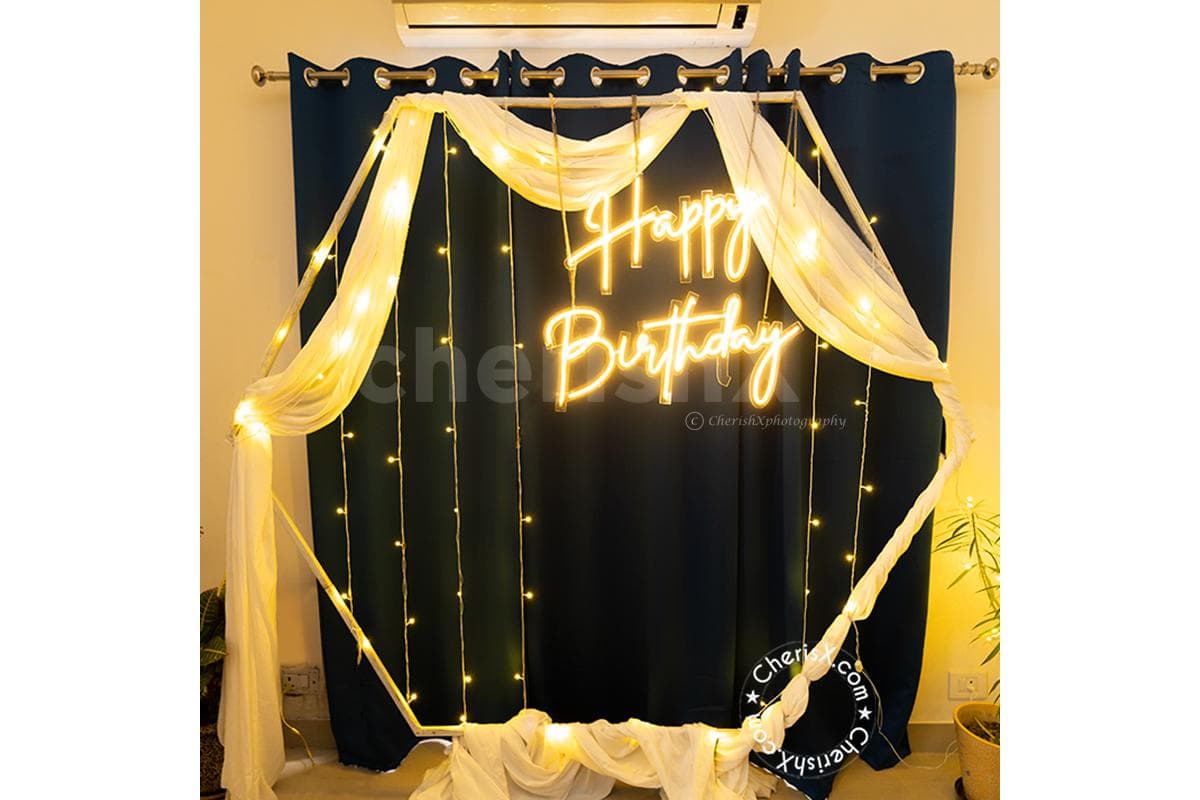 No doubt that neon lights are a lot in trend. This is why CherishX brings you this amazing White theme Neon Light Decor to make your birthday celebration worth remembering! You can throw a wonderful in-house party with this stunning room decoration. 
The neon signage gives a classy look to the whole decoration. It's a simple birthday decoration yet looks so elegant. Having this decor is surely a great decision to make.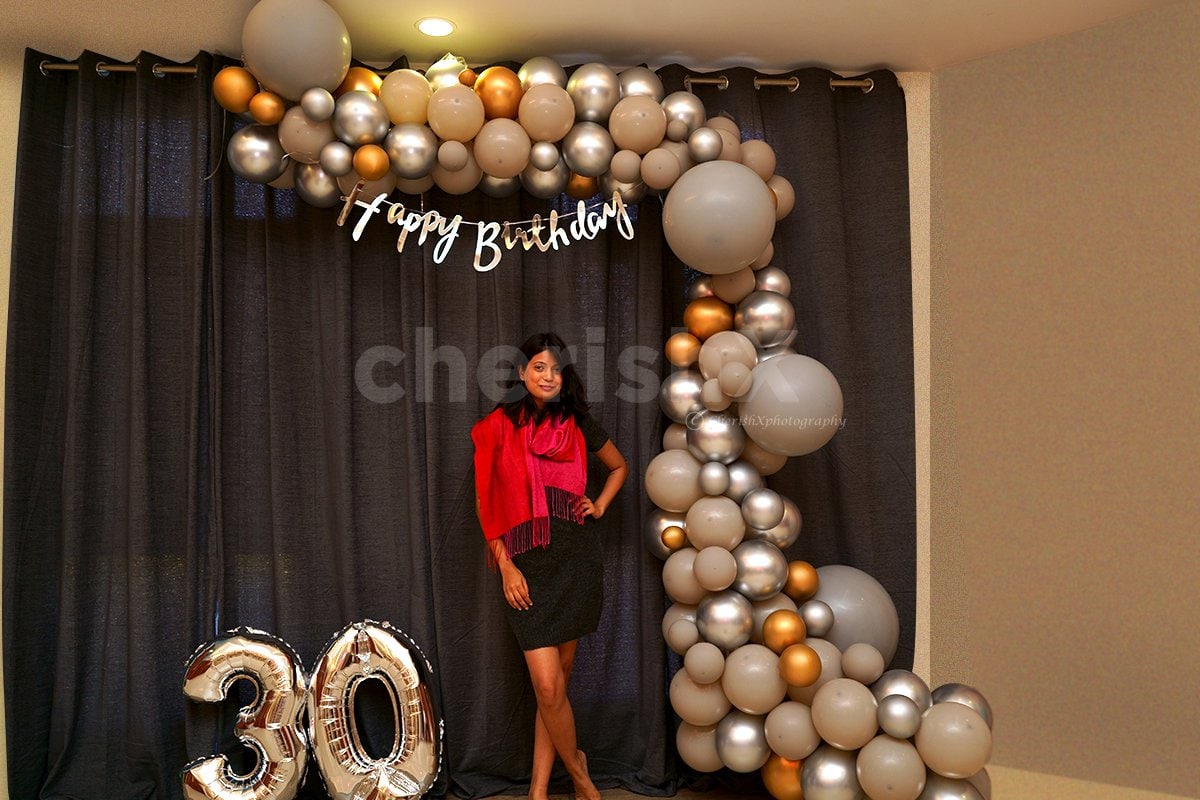 A premium decor makes your home look gorgeous. This is why if you choose to go for something like that then this could be the best choice to make. These balloons together give a classy look to the room. 
The birthday decoration materials that this decor has are different coloured chrome balloons, number foil balloons and a happy birthday cursive bunting. These colors and decoration items make the birthday decoration attractive and your birthday party unforgettable. 
It's not only about an adult's birthday if you are celebrating your kid's birthday. You can add some fascinating decorations.  
The Spider-Man theme will make your place look brighter. You kid will surely love this grand looking theme decor. It's colourful and brings out the perfect aura around your home. 
Happy Birthday, Neon light Decoration is also among the trendy decorations in Hyderabad that you can have for your birthday party. Whether you are planning to celebrate your 18th birthday or 20th, this Happy Birthday Neon Lights Decoration can be the best choice for your celebration. 
CherishX has specially curated this exclusive decor to give you the feels of a classy celebration! The decor is specially curated with the thought of putting something out there for you. This happy birthday warm neon signage in the decor gives an elegant look to the whole decoration. You can easily have this birthday balloon decoration at home in Hyderabad. This eye-appealing birthday neon light wall decor will make your birthday bash, an unforgettable event.
If you are planning a birthday party for your baby girl then you should consider this gorgeous Disney Princess Theme Decoration in Hyderabad. Make your little princess feel all the more special with this grand decoration. 
This pretty princess decor has the cut-outs of famous Disney princesses that she and your guests would surely love. Make your baby boy or baby girl feel special with this attractive Kid's Birthday Decor.
These wonderfully curated classy decorations will surely make your celebrations much more special. Whether it's your birthday or your kid's, these decorations will light up the party beautifully! 
You can check out these wonderful Birthday decorations in Hyderabad at CherishX.