Celebrations are special occasions that surely need to be celebrated with loving gifts that directly speak to the heart. Whatever the occasion is, celebrations are meant to be beautiful and memorable. There's no doubt that enjoying it with your friends and family becomes extra special when you add gifts and surprises. Seeing your close ones happy is something that everyone wishes for and as a result, we all want to do those little things that make them smile. 
So, what can you gift? There are so many things that you can choose for your close ones to wish them Happy Birthday, Happy Anniversary or any other special occasion but the balloon bouquets are one of the most unique gifts you'll find. 
Balloon bouquets look gorgeous and will make your close ones feel extra special. You can find balloon bouquets for birthdays, anniversaries, engagements, baby showers and more online in Hyderabad. You can get them with different items such as balloon bouquets with chocolates, flowers and with a variety of items. 
You can gift Balloon bouquets and buckets on any occasion in Hyderabad by exploring them online. Here are some of the best Balloon bouquet gift ideas for birthdays, baby showers, welcome baby, engagement and anniversaries-
Whatever the occasion may be, this Love balloon bouquet is what you need! It suits all occasions and is sure to make the recipient happier. You can gift it to your mom, dad, siblings, husband, boyfriend, girlfriend or wife. 
It's a lovely bunch of balloons stuck together to give you a perfect gift. It can appeal to your eyes thereby making you feel happier and delighted. It's curated with a Cursive LOVE Rose Gold Foil Balloon, a Bunch of colourful balloons (Pastel Purple, Pastel Peach, White Latex, Magenta Latex and Golden Chrome), Rose Golden Butterflies, White Artificial Flowers, a Battery-Operated Light and a Card Message.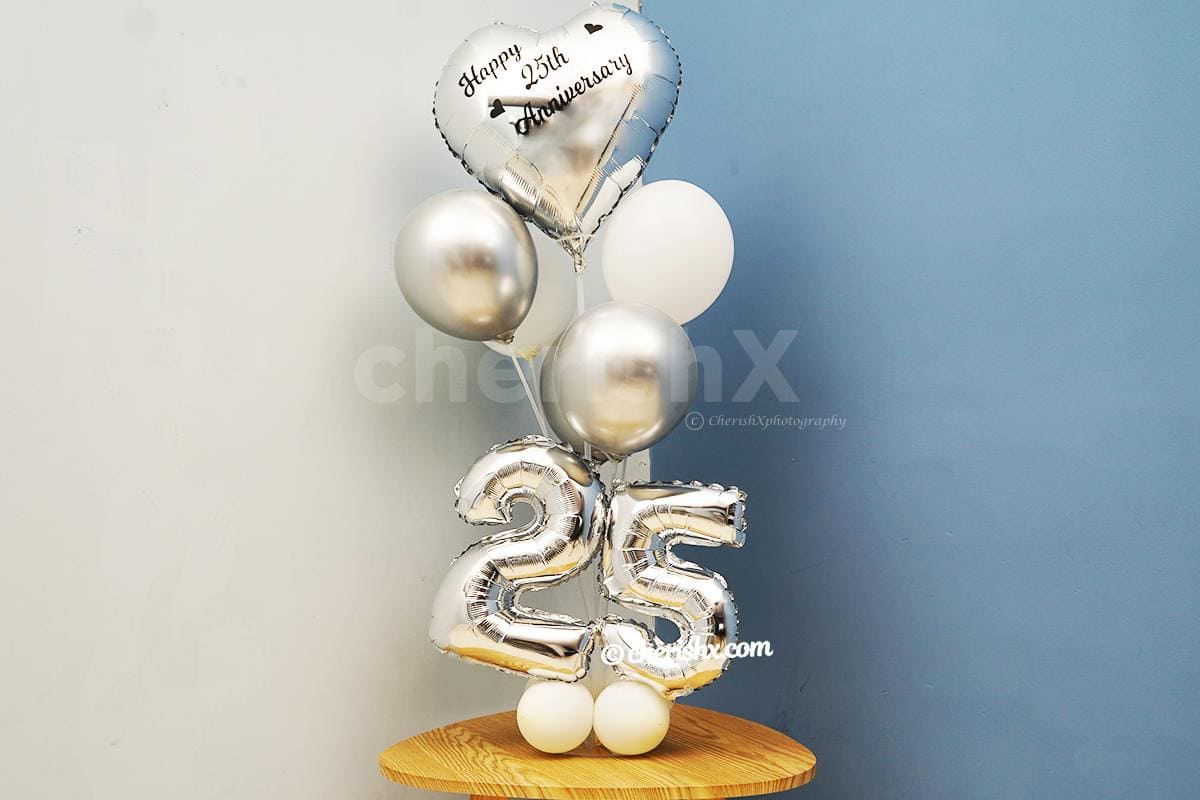 If it's an anniversary and you're looking for a gift then this classy balloon bouquet is the best choice to make. The attractive silver colour looks fascinating and is sure to make your close one feel extremely special. 
It is curated with a lot of effort. The party items used are number foil balloons, latex balloons and a balloon stand. You can gift this on the 25th anniversary or 50th to your partner, your parents, or your relatives to wish them a happy anniversary. You can find this online at CherishX.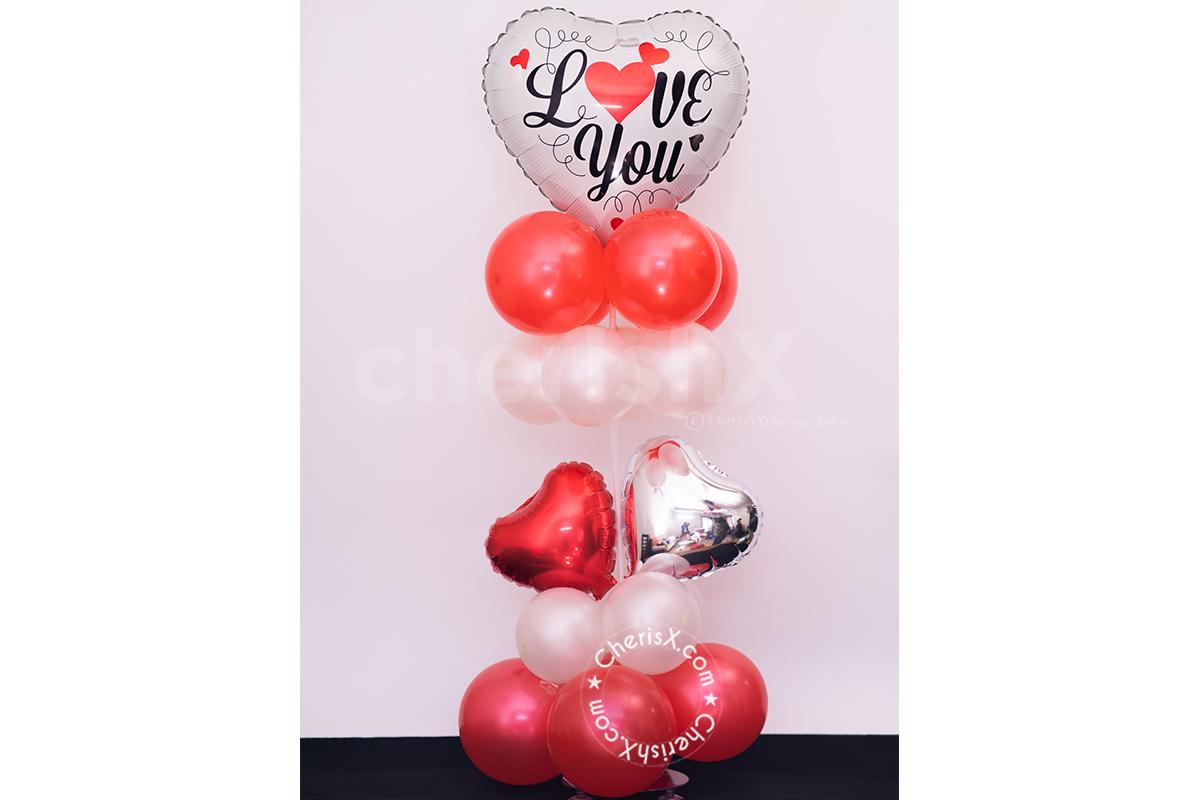 The White Love Balloon Stand is perfect to wish your close ones a happy anniversary or any special occasion. You can also simply make your special one feel loved with this cute stand bouquet. 
The attractive Love stand bouquet is curated with wonderful things. It includes a Balloon Stand, a White I love You heart-shaped foil balLoon, Red and White Metallic balloons, Red & Silver Heart-shaped foil balloons. The Balloon bouquet is curated with lots of love for your love! So, picking this might be the best choice you make!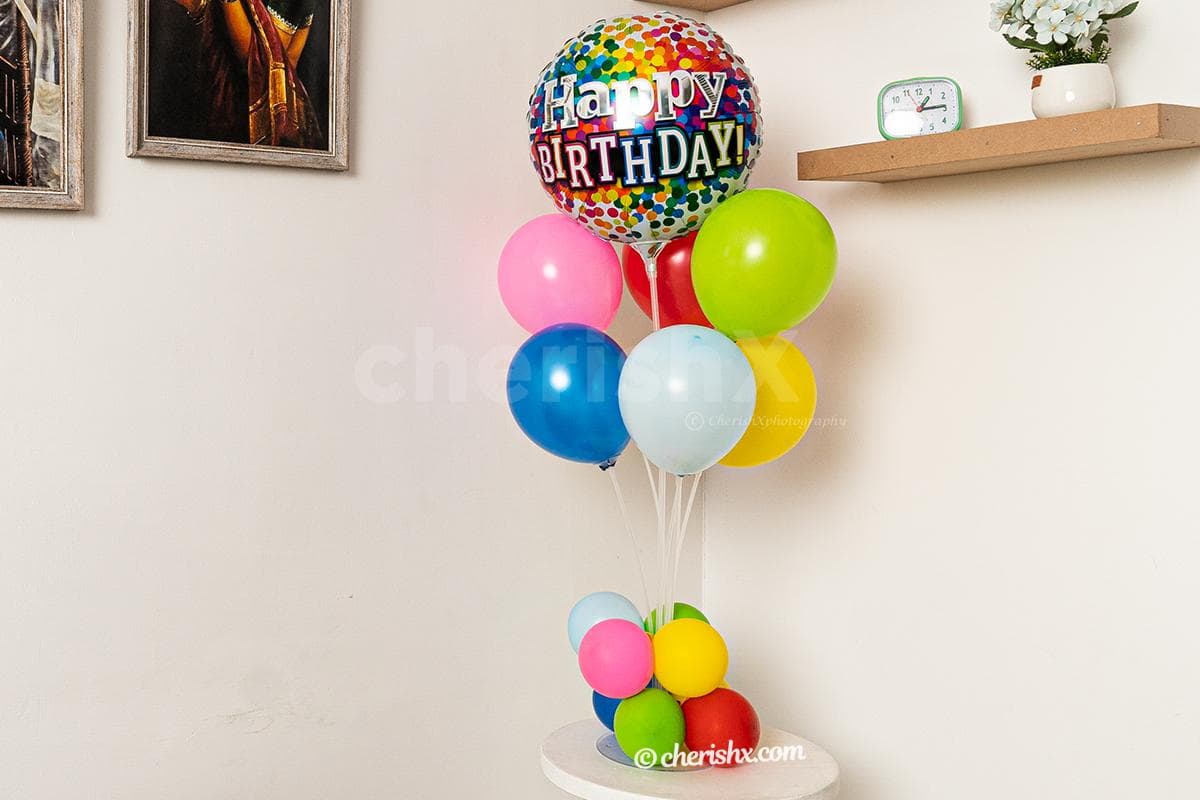 Wishing a birthday with this colourful balloon bouquet might be the best thing to go for! You can find wonderful items in this balloon bouquet. It's curated a Happy birthday foil balloon, balloon stand, and balloons of different colours- red, blue, yellow, light green, pink, and light blue. It also includes purple latex balloons and one purple ribbon flower to make it look extra pretty.
This balloon stand is perfect as a gift. It can make the corners of a room and hall look magnificent.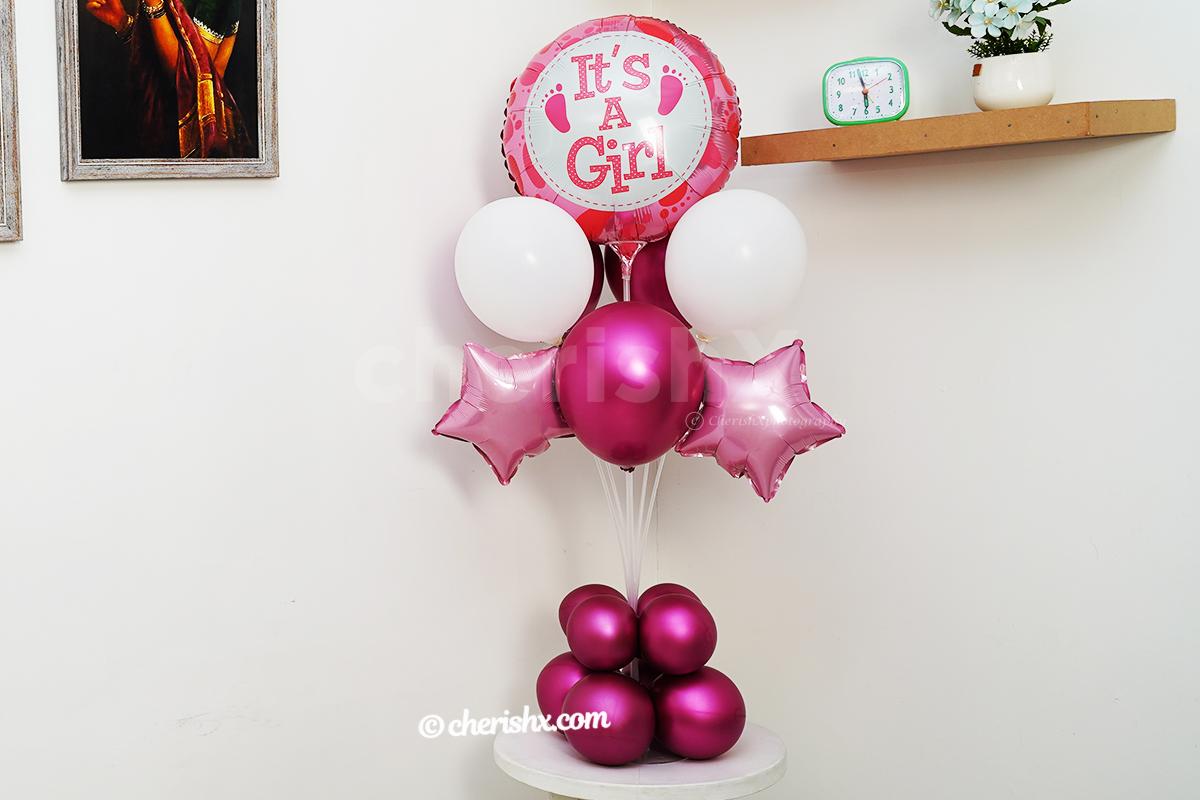 People often get confused about what to give their close ones to welcome their baby. So, this girl balloon bouquet is perfect for congratulating your close ones on the birth of a girl. 
It looks elegant and makes your close ones feel special. It's curated with fascinating party items such as a Happy birthday foil balloon, 2 light pink small stars, white & pink chrome balloons. All of this together brings you an exquisite balloon stand to make the celebrations beautiful. 
If you want to give something different in bouquets then this flower and photo bucket is what you should go for! 
This bucket includes Roses with photos and led lights. Gift this on birthdays, anniversaries, engagements and more to your friends and family. 
Wish your close ones a very happy birthday with the gorgeous Crown Birthday Balloon Bouquet. It's perfect for 25th, 30th, 40th, 50th birthday parties and more. You can send your close ones anywhere in Hyderabad. 
The best part is that you can easily find this bouquet online in Hyderabad.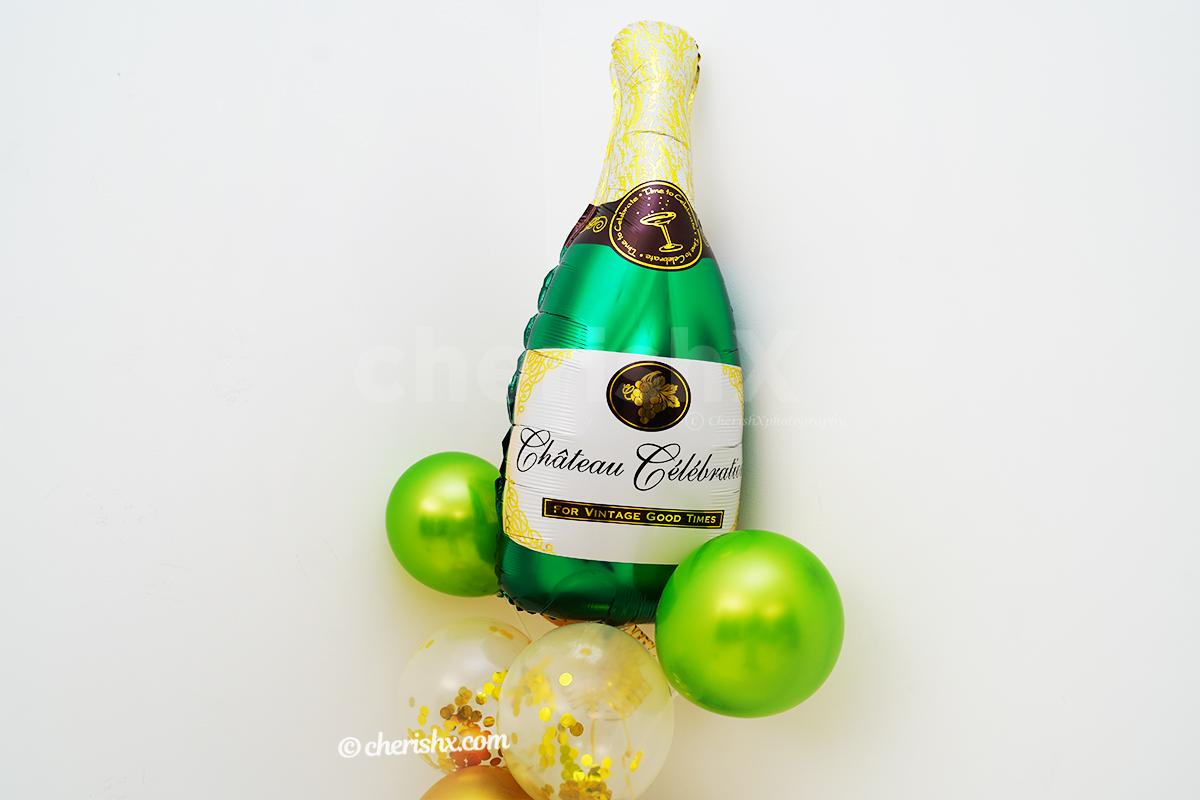 Champagne Bottle Balloon Bouquet is one of the best gifts to go for anniversaries, birthdays, engagements and more occasions. This balloon bouquet is the best gift to give at celebrations because the balloons together look pleasant to the recipient. It wonderfully includes a balloon stand with a Champagne Bottle foil balloon, a Golden chrome balloon, green chrome balloons, golden confetti balloons and a golden Ribbon, making it an attractive bunch.
It will add elegance to the corners of their home or room whoever you give it to. You can also have it customized as you want and make the bouquet as per your choice.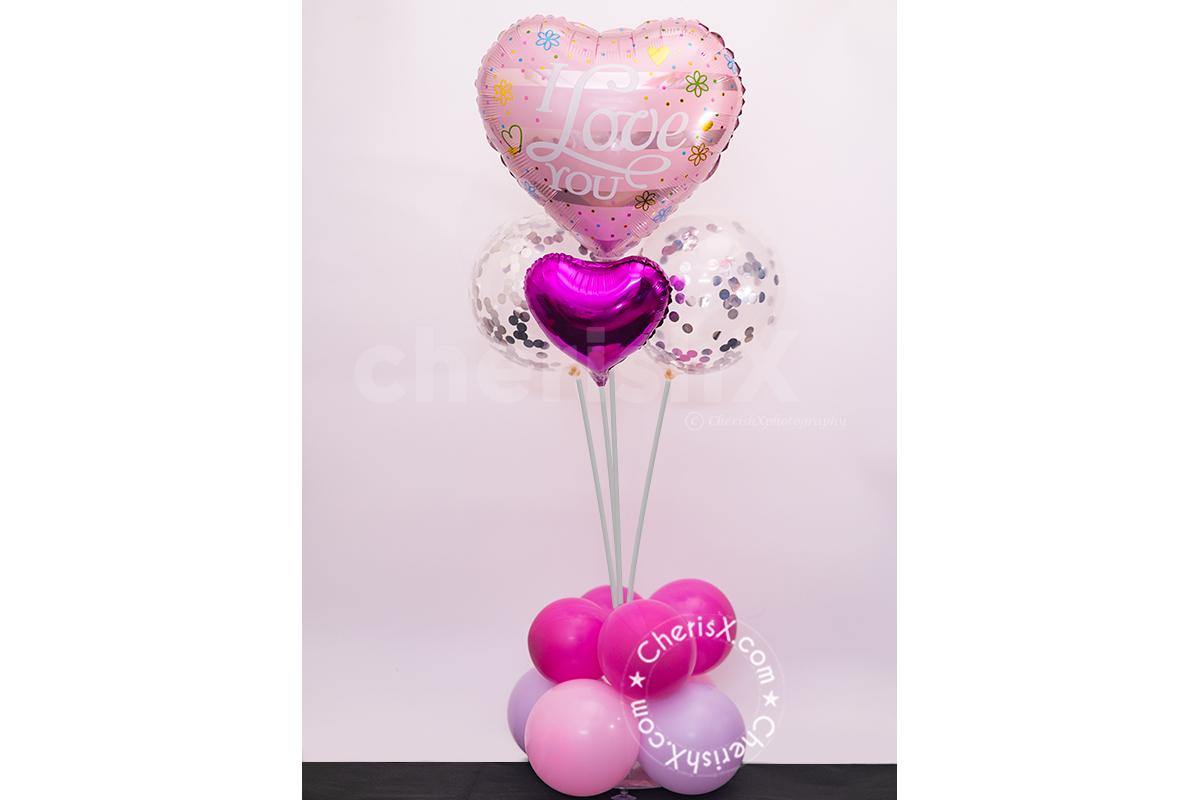 Gift this attractive pink bouquet to your special one. Send this lovely balloon bouquet to your partner, relative or friends. Whether it's a birthday, anniversary, engagement or any special occasion, you can gift to your close ones in Hyderabad.
This light-coloured attractive bouquet will make your celebrations much more special and memorable. This attractive bouquet includes a balloon stand, silver confetti balloons, pastel balloons, metallic balloons and more. 
All of these Balloon Bouquets in Hyderabad are sure to make your celebrations unforgettable. You can make all occasions special. These wonderful Balloon Bouquet Gift Ideas are perfect to surprise your friends, family, partner, relatives and whoever you want to.
Moreover, you can find these wonderful balloon bouquets in Hyderabad easily at CherishX.com.