The Festival of Lights is here already and Diwali decorations in home is one of the most important things. Isn't it? Like many, you may have also started the cleaning of your homes to decorate them beautifully. No doubt, Diwali brings a different kind of feeling and celebrating it adds to it more. Decorations make your home look more appealing and welcoming, and it's a given to have decorations on the occasion of Diwali. 
As the festival gets nearer, excitement rises and often people get confused wondering what new ways they can try to make their homes bright and beautiful. You can find many ideas to get easy and wonderful Diwali Decorations for Home! 
There are plenty of diwali decoration ideas for home 2023 that you can have a look at. The Ultimate Guide here includes all the answers to your questions that will make it easy for you to have the most beautiful decoration for Diwali. 
People often have doubts about decoration ideas and how to do it. To resolve it, here are some answers to their questions-
How Can I Decorate my Home on Diwali?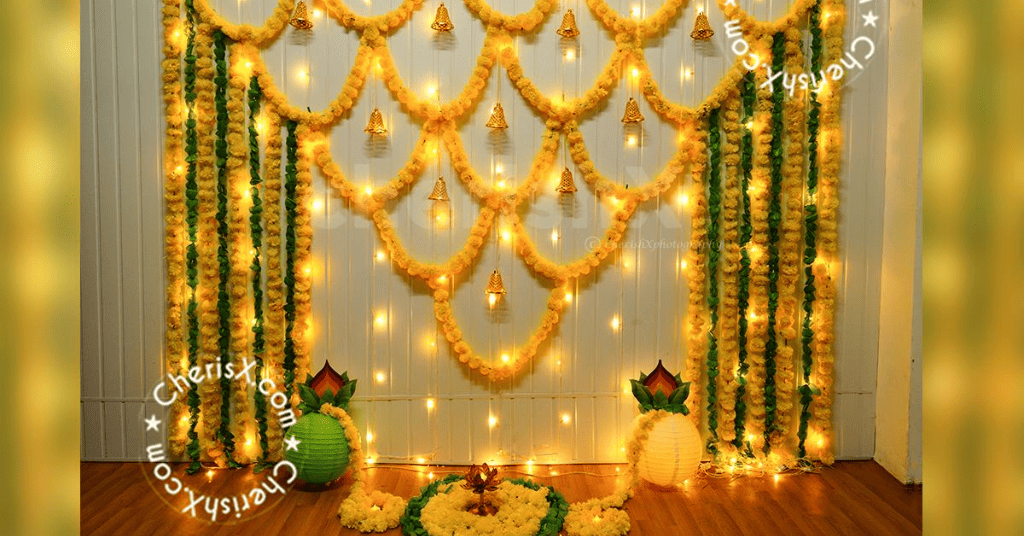 How can I Decorate for Diwali is one of the major questions asked by people today. Everyone wants to do their best for Diwali decorations in home. As a result, it's better to figure out what all things you want to include in your decor, whether it's fairy lights, lanterns, pom poms, garlands or any other decoration material. 
When you are done deciding on them, find different ways to put them together to give your home a vibrant look. On Diwali, homes are supposed to look brighter. This is why using items with bright colours is likely to give your home a warm and pretty look. Also have a look at these Diwali decorations at home if you're looking more for flowers and lights to adorn your house with. 
How Can I Decorate my Balcony for Diwali?
For Diwali decorations at home, balcony is a significant part of the house where you can plan to have a gorgeous decorations. Others can see your home's gallery easily from outside so you can choose to decorate the area with flower garlands, diyas, different coloured lights, flower petals and more. So, make sure to adorn your balcony this Diwali with earthen diyas, pixel lights, and more. 
What are the Decorations for Diwali?
You can have the special Diwali Decoration in house with different materials. Traditionally also, people decorated their homes the same way that they do now. The only difference is that more things have been added to the decoration. Different areas of your home can be decorated differently-
Diwali Decoration Ideas for Puja Room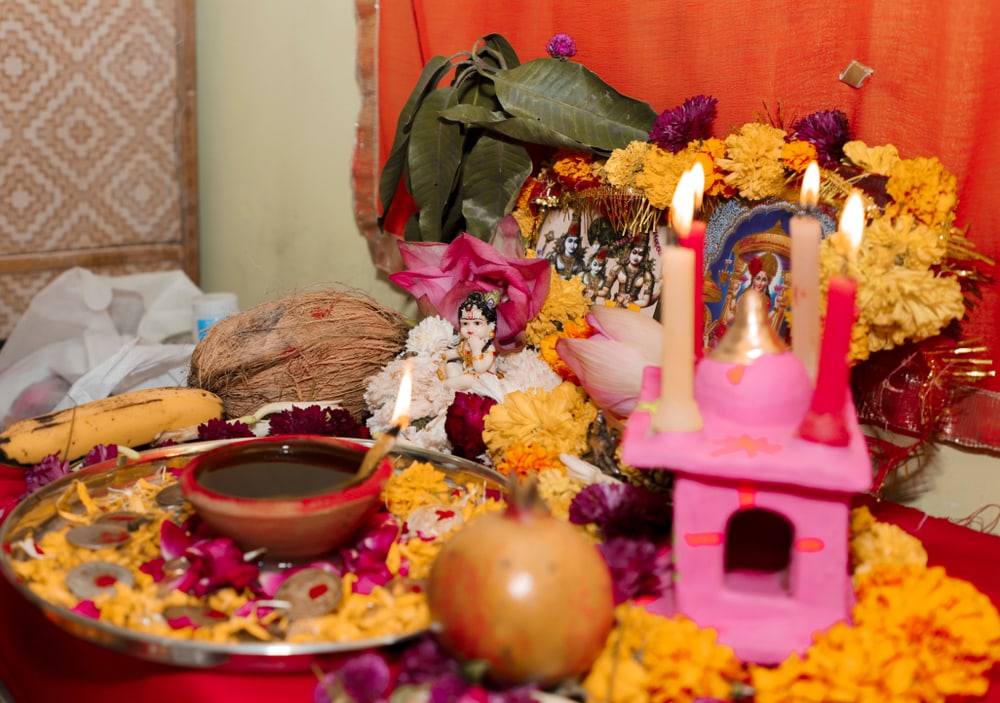 You can decorate your pooja room with flower garlands and diyas. Adding hanging bells will also enhance the decor and it would make it look more peaceful. Diwali is the festival of lights so you can also include tea lights or fairy lights to make the room illuminating. Moreover, you can also buy our special DIY pooja decorations at your house. 
Diwali Decoration Ideas for Home Outdoor
Decorating your home is easy when you have good ideas to go with. Diwali decoration ideas for home outdoor attract the attention of the people and also makes your home look beautiful. Diwali decorations need to have lights, of course. Without them, nobody feels like Diwali. That's why lights would be the first thing that you should add. You can choose to add further decorations such as diyas, candles, and garlands to make your outdoor area attractive. So, apart from Diwali decorations in home, get ready to give your outdoor space a festive makeover with pixel lights. 
Diwali Living Room Decoration Ideas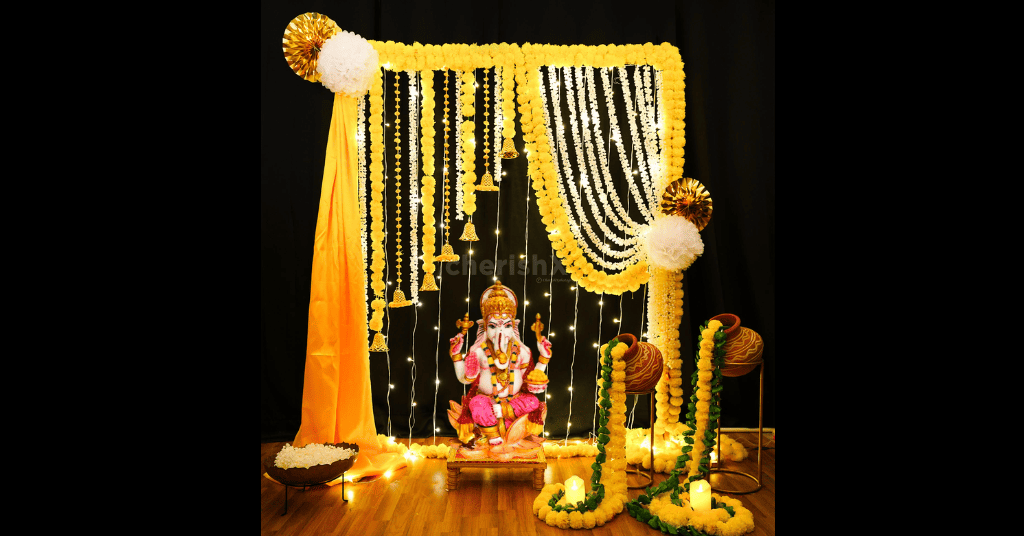 The living room is the place where your guests enter so it becomes important that you make it as comfortable as you can. With that, if it looks amazing then it's just like the icing on the cake. People don't add fairy lights in their living rooms so what you can do is place little amazing things such as plants, flower petals, hang garlands on the entrance, or place diyas at the corners. All of this will illuminate the room for a better Diwali Look. It's one of the best Diwali living room decoration ideas or you can also use it for pooja room diwali decoration ideas for living room
When Should Diwali Decorations be Put Up?
Everyone puts up their Diwali Decorations according to their choice. You can choose to put lights outside your home or on the walls before a few days of Diwali. All the families and homes around yours might start way before you. So, you can just put the lights 3-4 days before Diwali and the Garland of fresh flowers, you can put it on the day of Diwali. So, get your Diwali decorations in home and light up your house. 
What Decorations are used during/to-celebrate Diwali?
Diwali Special Decorations include lights, diyas, Garlands, Torans, and Rangoli. Many people also print the feet of Laxmi with hands and colours. These decorations together make the house illuminating and gorgeous.
How do you make Homemade Diwali Decorations?
Homemade Diwali Decorations are easy. The earthen pots can be decorated with colours and you can put designs on them so that you can make the corners of your home illuminating. You can also make garlands by yourself by watching some DIY Diwali Decoration Videos here. Everything is made easier when you have sources where you can learn to make decorative items at home.
What is the Best Colour for Diwali Decoration for Home?
There's no best colour as such to use on Diwali. Every colour is appreciated. In the case of lights, you can use any colour you want. But when you choose colours for flowers then it would be better to use Marigold Flower (Genda Phool), or white colour flowers. This is because they add brightness and freshness to your place. However, for Diwali decorations in home, make sure to go more with yellow, orange, and red color. 
Where to buy Diwali Decorations?
Diwali Decorations can be bought from your nearest shops or online. Websites such as Party store provide you with the whole Diwali Decoration online including kits as well as Diwali Decor items separately. You can get fairy lights, tea lights, and more items for your Diwali Decoration right at your place. Moreover, if you want more diwali decoration ideas for home or diwali decorations for home, you can even check out CherishX.
How Do I Put Lights on my House for Diwali?
If you are having difficulty putting lights in your home then don't worry! Our CherishX website also offers you the service of Booking Online the Diwali Decorators for your decorations. They can come to your place and do the decoration for you. All you'll have to do is sit back and enjoy!
What Gifts to Give to Relatives or Friends on Diwali?
Well, this might be one of the questions many people have. Nowadays, special Diwali Hampers are made which you can choose to give as a gift. IN addition to this, you can give a pack of dry fruits or sweets and chocolates. Something sweet is always preferred as a gift on Diwali. So, you can try doing that! 
Which Light is Best For Diwali Decorations?
There's not any specific light decoration on Diwali because all the lights look prettier on Diwali. There are many different Diwali light decoration home ideas that you can choose for the decoration of your house- 
Lanterns
Lanterns look way too beautiful when they light up. Putting them in your rooms or outside will brighten up the place. You get a variety of lanterns in the market as well as online. If you want only for Diwali then you can just go for paper lanterns. If you are choosing to keep the decoration then go for designer lanterns. This is the prettiest light decoration on Diwali.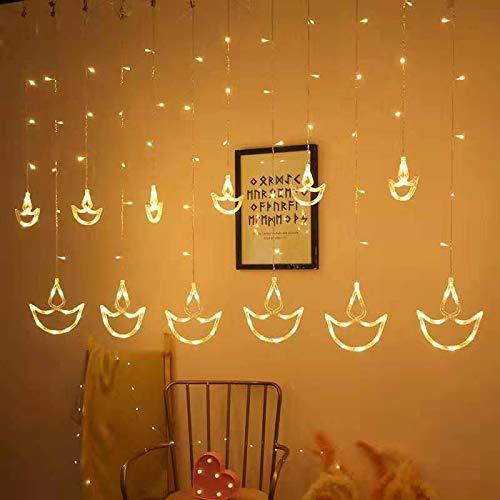 Diya curtain lights offer a curtain that you can put anywhere in your room, pooja room or living room. You can also choose to put it outside. This will enhance the aura and illuminate the whole place. Get this for Diwali decoration in home.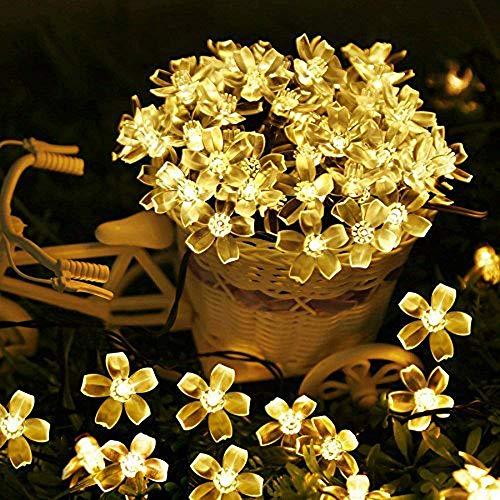 You can get amazing flower shaped lights for a unique look for your room or anywhere you choose to put it. A different and modern type of light is sure to take the attention of many. How's this beautiful diwali light decoration in home?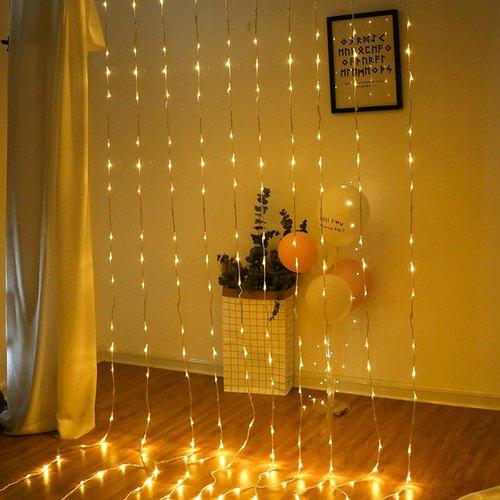 A unique and classy light that looks like a waterfall can be put anywhere at your home. You can also choose to put it on the terrace. Make it look gorgeous with just the touch of the LED Lights. It's a pretty diwali light decoration home that you can even do it in your living room. 
LED Lighting Diyas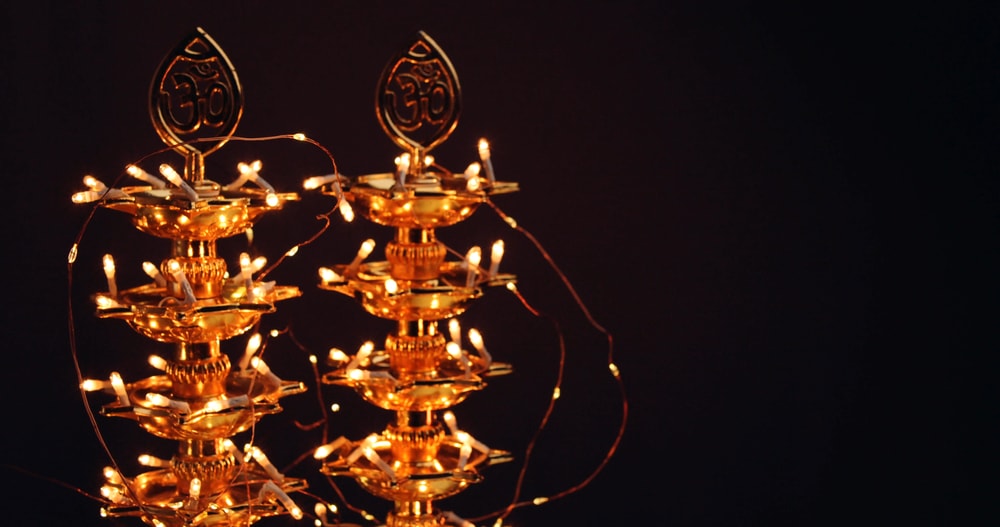 If you want to add diyas in your homes and are scared that it might cause fire then, you can use these Led Lighting Diyas. They are harmless and perfect to put in your homes. It's also safer if you have children at your home. This is also one of the great ideas for Diwali decorations in home. 
Led Swastik or Om Lights
You can enhance your puja room with bright lights structured in the shape of swastika or om. You can hang them near your mandir in the pooja room. This will add brightness and you can always leave them on at night. 
You can also go for Fairy lights, Star-shaped Led Curtain Lights, White Lamp shaped metal lights, Multi-coloured Crack Ball lights and more. 
Hopefully, this blog will resolve the overall problems that you have with Diwali Decorations in home. Not all people are familiar with decorating their homes on Diwali. Some learn from family and some do their experimentations. This is why here are given Diwali decoration Ideas for home Guide that you can refer to. All the important questions are answered. So, you can decorate your home beautifully during Diwali.