Festive season is on! So, are you looking for easy ways to decorate your house or pooja altar? We have come with the beautiful Ready-Made DIY festive backdrops for your easy Diwali decorations in home. It is a time for joy, celebration, and togetherness. It's that time of the year when every corner of your home comes alive with the glow of lights, the warmth of family, the fragrance of incense, and garlands of marigolds. Decorating your home during the festive is an age-old tradition. But what if we told you that you can now create beautiful DIY festive backdrops at home effortlessly? CherishX presents a range of DIY Pooja Backdrops and festive decoration backdrops to transform your space into a festive paradise. Let's dive into the world of CherishX's exquisite DIY Pooja Backdrops to make this Diwali truly special.
Redefining Festive Decor With Ready-To-Do DIY Festive Backdrops
CherishX, a name synonymous with creativity and innovation, brings forth a revolutionary concept in festive decoration. Be it Navratri, Dussehra, or Diwali decorations at home, we have introduced DIY Pooja Backdrops and beautiful decoration backdrops. Moreover, it's a delightful solution for those who love to craft their own festive atmosphere. These backdrops revolve around the art of decoration, empowering individuals to assemble their own home-based backdrop for pooja altar. Also it's simply to infuse that extra radiance into their festive decor. Bid goodbye to gathering numerous decor elements for Diwali decorations & welcome the DIY backdrop decoration kits.
Dropping 9 New Diwali Backdrop DIY
CherishX offers a splendid range of 9 DIY Diwali backdrop ideas, each with its unique charm and character. Let's explore these options and find the one that suits your celebration the best. Let's uncover the traditional and most prettiest Diwali decorations in home.
Lotus Bud DIY Cuboid Stand Kit
Turn your altar into a haven of timeless traditions. Craft a spellbinding setup that mirrors your distinct style and makes this festive season an unforgettable masterpiece. Our DIY Diwali decoration kit empowers you to transform your altar and puja space precisely as you envision it. Whether you're creating a sacred space for your idols during puja or aiming for festive backdrop, this kit is your key. The cuboid stand adorned with delicate white and pink flowers is the touch of elegance that your altar deserves.
DIY Delight Cuboid Stand Kit Shines With Net Latkans & Cheerful Bells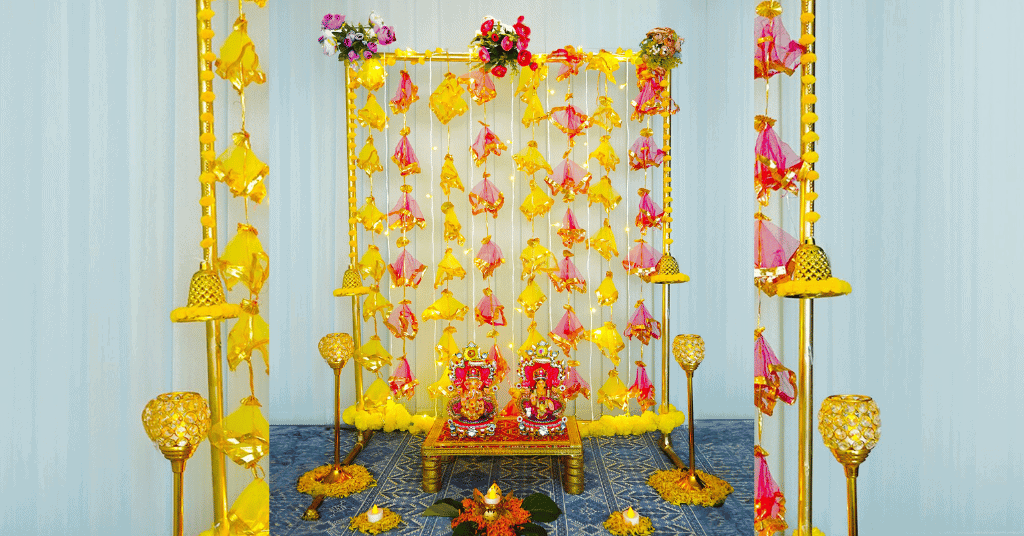 Transform your festivals in a cascade of colours and vibrancy with our enchanting DIY Tassel Backdrop, right within your home. Every corner of your abode can resonate with the jubilation of festive spirit with our special Tassel Backdrop. Crafted with affection and designed for ease, this kit empowers you to become the curator of your own unique space. Customize it to reflect your personal style, ensuring your decor embodies the true spirit of your festivalsi. Whether you seek to create an altar for your home temple or to bring a festive makeover to a corner of your house, this backdrop is the ideal choice. So, whether you're looking for DIY Diwali decorations at home or want to create a DIY Navratri altar at home, then this is a perfect DIY decoration.
Gold Magic Cuboid Stand Kit – DIY Diwali Backdrop Ideas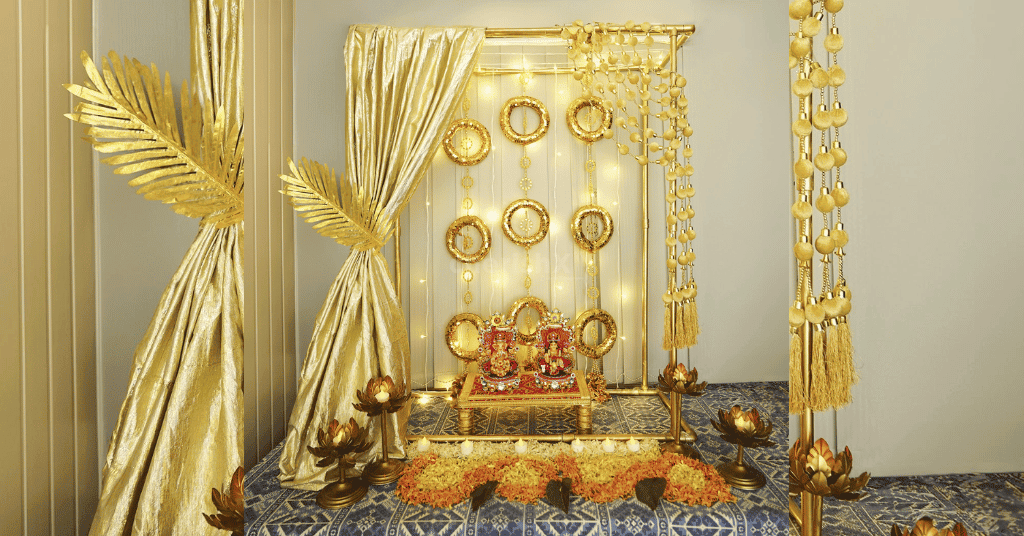 These festive months, your home deserves more than the ordinary. With our exquisite Golden Charm DIY Backdrop kit, elevate your Diwali home decoration to an entirely new level of grace. It can be one of the cheery Diwali decorations in home. Picture transforming your space with the captivating radiance of a gold-infused setup. Also, craft an ambience of regal magnificence that flawlessly captures the very essence of Diwali. We present the ultimate decoration kit, simplifying the addition of a touch of tradition to your home. This kit features cuboid stand, golden silk hangings, pixel lights, and more. With it, you can turn your home into a radiant haven. These are also great Navratri mandir decoration ideas at home or for Diwali decorations at home. Also, it's a beautiful diwali backdrop diy that gives out grandeur looks.
Suggested Read: 20 Trending Diwali Outfit Ideas That You'll Absolutely Love
Drapes & Garland Diwali Puja DIY Kit
This Diwali, let the radiant charm of our Garland DIY Puja Decoration set the corner of your home aglow. Isn't this one of the most vibrant Diwali Backdrop Ideas? If so, then Immerse your abode in the enchanting magic of the season with our specially crafted All-Ready decoration kit. Add radiance to your Diwali celebrations or Navratri celebrations envisioning your home adorned with this captivating backdrop that kindles positivity. The kit boasts Orange and Yellow Garlands, Green Silk Hangings, Diya Paper Cutouts, Pixel Lights, and more. All are designed to elevate your Diwali decor to a new level of splendour. Not to miss, even if you're short on time, you can get our DIY festive backdrop for perfect office decoration for Diwali or Navratri.
Colorful Festive Creation DIY Rectangular Stand Kit – Cheerful Diwali Backdrop Ideas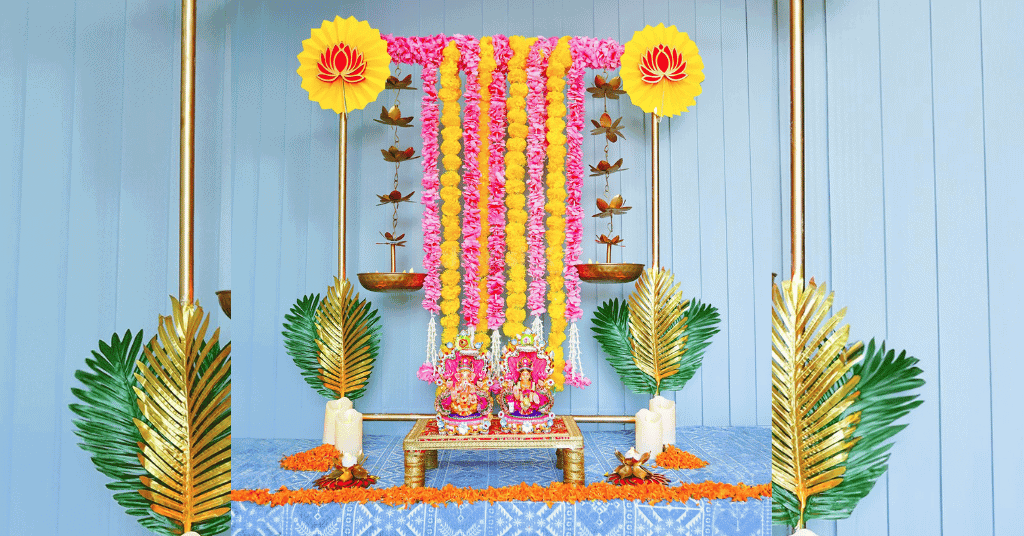 This festival, we extend an invitation to create a celebration that exudes nothing but grandeur. Our Regal DIY Garland Diwali Puja Backdrop is your ticket to transforming your home into a captivating haven. This is one of the beautiful Diwali backdrop ideas diy that features a rectangular stand, elegant pink & yellow garlands adorned with tassels, a lotus hanging, and more. This setup embodies both elegance and vibrancy, with the enchanting blend of pink and orange garlands casting an astonishing aura. Capture precious moments with photos against this artistic backdrop or use it as a sacred space for your cherished idols. Also, this is perfect DIY Navratri mandir decoration ideas at home or DIY office decoration for Diwali.
Ring In Festive Spirit Cuboid Stand DIY Festive Backdrop
Indulge in the world of creativity & spirituality right within the comforts of your home with our carefully curated DIY kit. It is designed to bring your Navratri or Diwali pooja decorations to life. This all-in-one DIY decor kit, born from love and meticulous attention to detail, unveils a serene and captivating backdrop. It features a white flower garland backdrop, encircled by a boundary of yellow and orange garlands. Also, it's adorned with tassels, all harmoniously complemented by the delightful addition of bells. Whether it's a festive backdrop at home or a sacred DIY pooja backdrop for your idols, this kit captures the true spirit any festival. So, enrich your celebration with a touch of elegance and spirituality. Moreover, with these pictures, you can also get a lot of DIY Diwali home decoration ideas as well. So, get perfect DIY Diwali decorations in home. 
DIY Rectangular Stand For A Simple Background Decoration at Home
Dive headfirst into the festive spirit and uplift your pooja experience with our versatile festive backdrop. This all-inclusive kit is meticulously designed to offer ultimate convenience. Also, it's a harmonious fusion of red & white that's not only pleasing to the eyes, but also infuses your home with a 5X dose of festive cheer. It's all about the Rectangular Stand, Pink and Green Silk Hangings, Jasmine Flower Strings, and a charming Flower Bunch. These elements can work wonders not just in your house temple but also in creating a dedicated space for your pooja backdrop, setting the stage for your cherished idols. However, it's one of the perfect diy diwali decorations kits for your Navratri altar backdrop. How's this Diwali backdrop diy?
DIY Delight – Festive Decor Kit With Garlands Lotus Urli Magic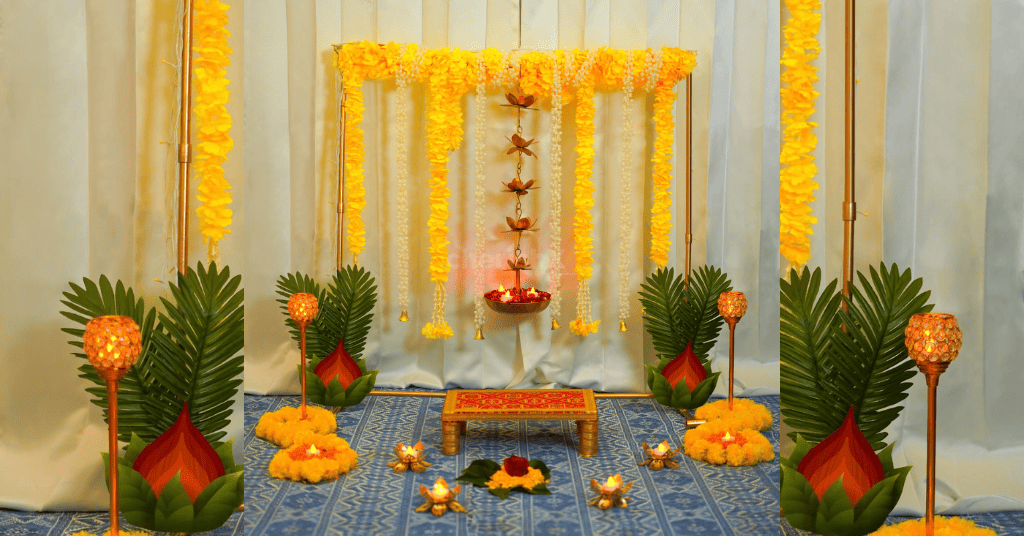 Elevate your home into a realm of sacred serenity with our DIY Auspicious Diwali Altar! Aren't these also great diy diwali decoration ideas? We recognize the whirlwind of activity that comes with Diwali preparations. Did you know that the colour yellow resonates with the very essence of festivals? This festive ambience revolves around vibrant yellow artificial garlands and a low-height backdrop, radiating an exquisite aesthetic that's ideal for your Diwali pooja or a Navratri Altar. Our all-inclusive kit features a rectangular stand, lively yellow garlands with tassels, fragrant jasmine flower strings, and more, creating one of the most captivating altars you'll ever encounter. Get this perfect DIY Diwali backdrop!
Festive Magic DIY Rectangular Stand With Lotus Decor Kit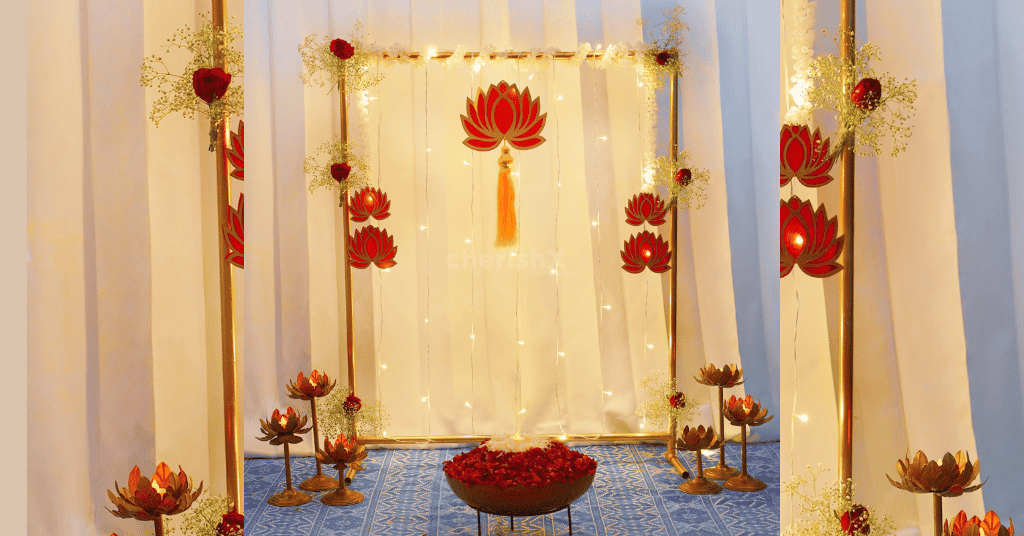 Don't settle for an ordinary Diwali celebration – let's elevate it with our captivating Diwali backdrop DIY! This DIY decoration kit breathes new life into the very essence of the festival, allowing you to embrace the festival of lights with unparalleled style. This decor masterpiece captures the essence of Diwali, transforming your home into an oasis of tranquillity and luminance. Since Diwali decorations in home is all about the radiance of lights, why not give a corner of your home a magical makeover with this exquisite decor backdrop? Our ready-to-go Diwali decor kit is meticulously crafted to make your pooja decoration effortless, infusing ease and sophistication into your festivities. This comprehensive kit boasts a classic stand adorned with flowing fabric tassels, a regal lotus centrepiece, and more, promising an extraordinary Diwali celebration.
Suggested Read: Top 12 Diwali Decoration Items For A Festive Makeover At Home
Why Choose CherishX's Diwali Backdrop DIY?
CherishX's DIY Pooja Backdrops are more than just decorations; they are a statement of your creativity and love for tradition. Here's why you should choose them for this Diwali or Navratri
Unique: Each DIY festive backdrop is designed with the utmost creativity, ensuring that your decor stands out. Be it Diwali DIY diy diwali decorations kits or Navratri pooja decorations, and more. We have got you perfect DIY diwali decoration ideas.
Easy to Set Up: The kits come with clear instructions, making it a breeze to create a stunning festive backdrop at home.
Personal Touch: With DIY backdrops, you can add your personal touch and creativity to your Diwali decor. Moreover, you can also customise these decorations as well and add more to it.
Variety: CherishX offers a wide range of options to suit different preferences and themes.
Quality: The materials used are of the highest quality, ensuring that your backdrop looks beautiful year after year.
Do you want to know more details about these DIY festive & pooja backdrops? If so, Click Below
Conclusion
This Diwali, let your creativity shine with CherishX's Diwali backdrop DIY for Diwali, Navratr, or more traditional festivities. Choose from the vibrant range of diwali backdrop ideas diy, set up your perfect altar backdrop, and make your festivals a truly memorable and unique celebration. We have redefined DIY diwali decorations kits and DIY pooja backdrops, making it easier and more enjoyable than ever before. Don't miss out on the chance to create your own festive magic this season with CherishX's DIY backdrop ideas for Diwali!
FAQs
Can I Keep The Decorations With Me?
Absolutely, we understand your desire to hold on to the decorations. After your event, you are more than welcome to keep the decor elements as a memento or for future use.
Is There an Additional Cost for Keeping the Decorations?
No, you won't incur any extra charges for retaining the decorations. Our backdrop decoration kits are designed with your convenience in mind, allowing you to keep and reuse them for any upcoming festivities, free of any additional expenses.
Can I Request a Decorator for Home Setup Assistance?
Certainly, we're here to make your experience as convenient as possible. If you find it challenging to set up the decoration on your own, we can provide you with a skilled decorator who will assist you in arranging the decor at your home. However, please be aware that this service comes with an additional fee, ensuring you receive professional assistance tailored to your needs.