As Diwali is approaching, you must have started searching for Diwali decoration items. Isn't it? Diwali, the festival of lights, is a time for joy, celebrations, and vibrant decorations. One of the exciting aspects of Diwali is adorning your home with beautiful decorations that add to the festive spirit and spread positivity. So, if you're looking for Diwali decoration ideas at home to give it a festive makeover, then you're at the right place. In this blog, you can uncover one of the most important Diwali celebration ideas with the most-used items.
Best Diwali Items For Diwali
Here are the top 12 Diwali items to ignite your creativity and make this Diwali truly special. So, get ready to uncover these diwali decoration items list!
Rangoli Powder For Diwali Decoration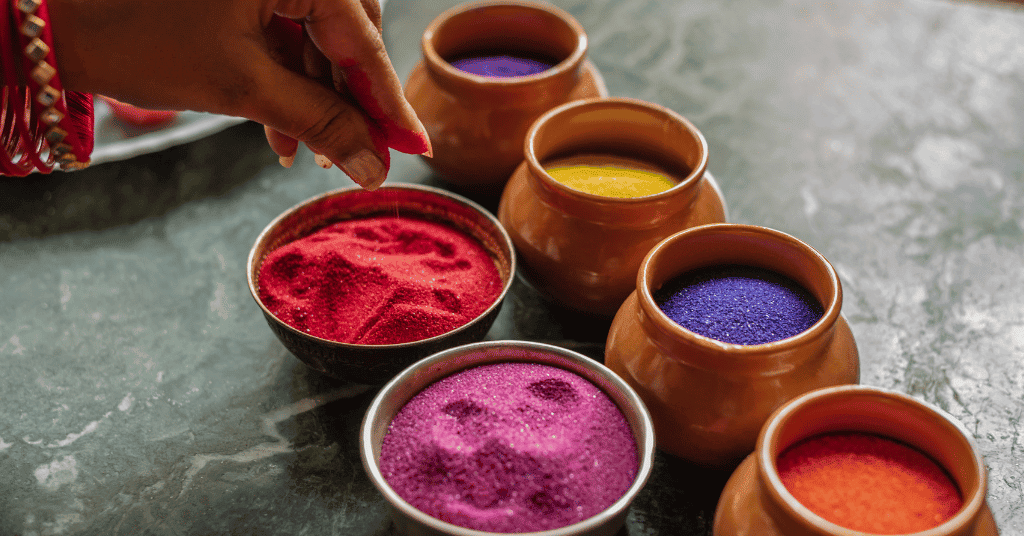 Rangoli is an intricate and colourful art form that holds immense significance, especially during the festival of Diwali in India. It is also one of the essential Diwali items. It is primarily created at the entrance of homes to invite visitors with open arms, creating an inviting atmosphere. It is believed that the vibrant designs not only attract guests but also bring positivity & good fortune into the house. Moreover, It is seen as a form of prayer and devotion, with intricate patterns and colours. Moreover, it is believed rangoli attracts the attention of deities, and inviting their blessings into the home. Many people create rangoli in front of their home temple or altar as a form of offering and devotion. So, rangoli colors are one of the important Diwali decorative items to add some vibrant hues to your home.
Diwali Rangoli Ideas
Explore an array of creative Diwali rangoli ideas to infuse artistry and tradition into your celebrations. Consider crafting a vibrant flower-themed rangoli, adorning your space with a burst of colors that evoke the festive spirit. Alternatively, embrace the beauty of a peacock-themed rangoli or a Diwali rangoli Ganesh, paying homage to the revered deity. You can also harness the natural charm of flowers to create a perfect, fragrant Rangoli. Also, a Rangoli make one of the prettiest Diwali decoration ideas for home outdoor.
Earthen Diyas & Candles – Most Important Diwali Decorative Items
So, one of the another important Diwali items are these diyas. The tradition of lighting traditional earthen diyas and decorative candles is a central part of Diwali celebrations. Also, it carries deep cultural and spiritual significance. It's also one of the other Diwali decoration items. These diyas and candles are much more than mere decorations; they hold a symbolic importance in the festival of lights. Moreover, lighting diyas during Diwali is a powerful symbol of light triumphing over darkness. Moreover, the warm and inviting radiance of diyas and candles adds a festive and aesthetic charm to the surroundings. They make the ambience more joyous and celebratory, adding to the overall atmosphere of the festival.
Diwali Decoration Material For Home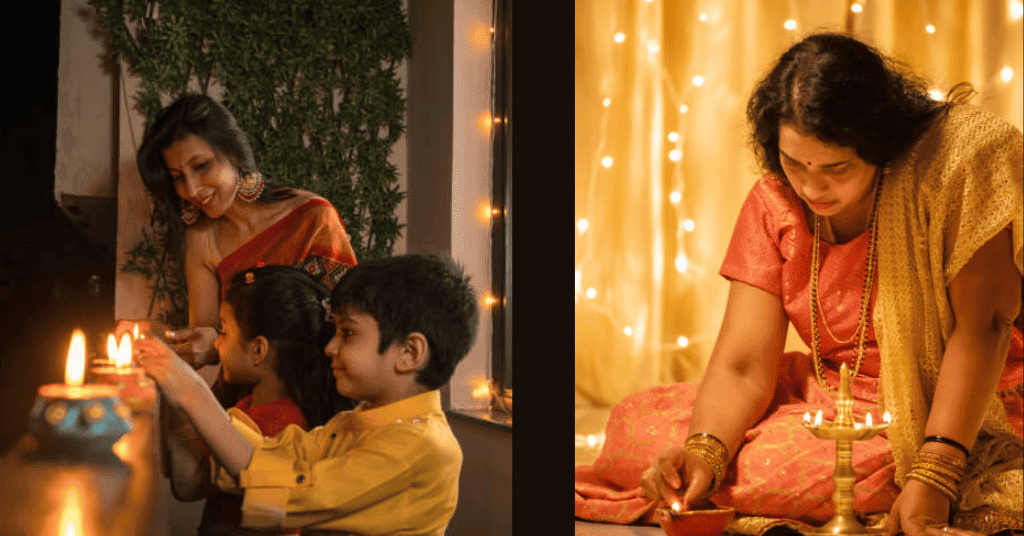 Embellish your home with creatively decorated Diwali diyas both indoors and outdoors. So, add a warm and festive glow to your surroundings. Arrange diyas on your balcony, place them at the centre of your hall, or incorporate them into your rangoli design. You can also experiment with various ideas sourced from an app, such as incorporating flowers and floating Diwali diyas, or exploring countless other innovative ways to enhance your Diwali decorations in home.
LED Lights/ Fairy Lights
Lights are also one of the important Diwali items. During the festive season of Diwali, the illumination of homes with LED lights in various shapes and colors adds a touch of warmth and joy to the surroundings. Lights are one of the most important Diwali decoration ideas at home. The use of lights goes beyond mere aesthetics; they bring a unique charm and positivity to the atmosphere, infusing it with a lively and celebratory spirit. Just as with earthen diyas and candles, the radiance of LED lights holds a special significance. So, it's one of the most important Diwali decoration items to consider. So, lights are also one of the most whimsical decorative items in Diwali.
Diwali Decoration Ideas for Home with Lights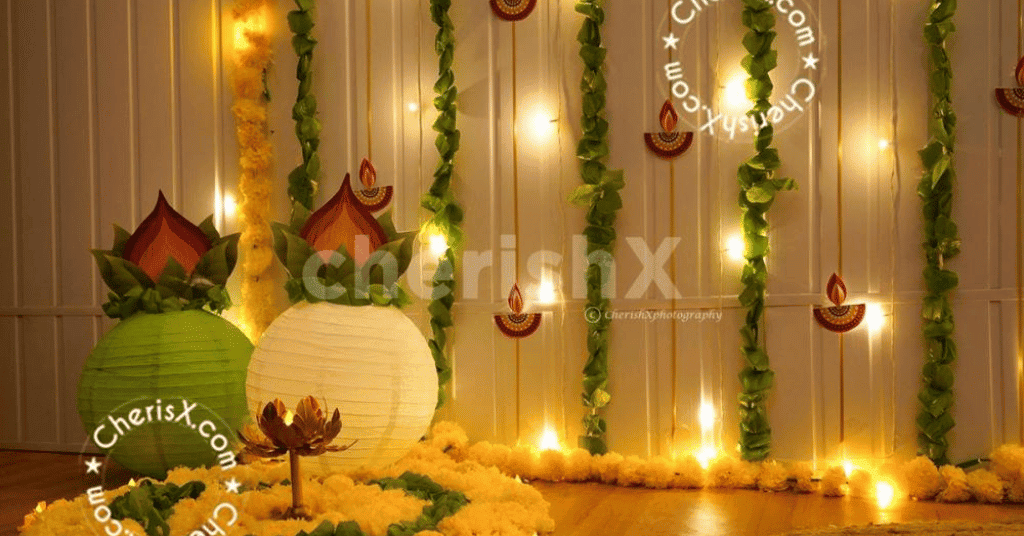 Drape your house with lights at least 15 days before the festival, transforming your home into a beacon of positivity. The soft, vibrant glow of LED lights not only brightens the interior but also spreads the festive spirit to the exterior. It's a delightful way to ensure that your home radiates positivity and joy, setting the perfect stage for the Diwali celebration. So, adorn your home with curtain-themed Diwali lights. Also, get your Diwali decoration ideas for home with lights below.
Suggested Read: Decorate your Diwali Office Party with these Lightening Decoration Setups
Door Hanging Diwali Torans
The tradition of adorning doorways with torans, typically made of marigold flowers, mango leaves, or colorful beads, holds a special place in Diwali items. These torans symbolize a warm and hearty welcome for guests and carry both cultural and symbolic significance. The choice of materials, like marigold flowers and mango leaves, holds cultural significance in India, as they are considered auspicious and are believed to bring positive energy into the home.
Toran Decoration – Important Diwali Decoration Items List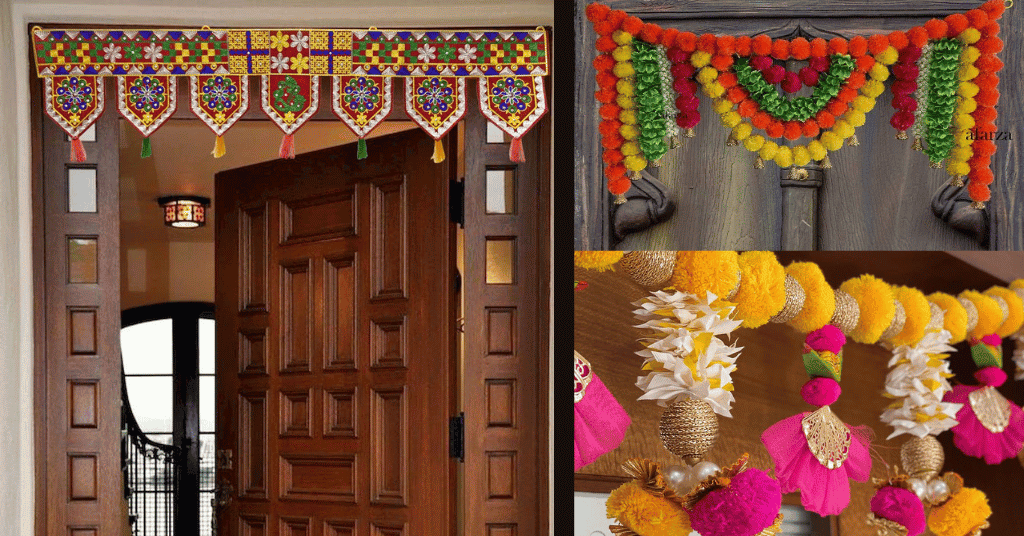 The use of beads and vibrant colors in torans adds a touch of festivity and liveliness to the entrance, setting the tone for the Diwali celebrations. By adorning doorways with torans, people not only embrace their cultural heritage but also convey their enthusiasm for the festival and their eagerness to welcome loved ones into their homes, making it a cherished part of Diwali traditions. These are also one of important decorative items for Diwali if you want to add a festive touch to your door. You can put flower torans or paper torans as well on the entrance of your home. So, don't forget to get these inviting Diwali items!
Decorative Lamps For Diwali
Enhance the ambiance of your home with a touch of elegance and tradition by incorporating decorative lamps into your decor. When you're looking to revamp your living space with the finest Diwali decoration pieces, don't forget to include these beautiful decorative lamps. It comes under one of the essential Diwali decoration items list. So, radiate your house with pretty lamps.
Lamp Decor – Decorative Items For Diwali
Fir Diwali decorations in home, elevate your decor by crafting your own DIY lamp decorations or purchasing decorative lamp lights to enhance the overall charm. Whether you choose to place a lamp inside your home or illuminate the entrance of your house, lamps serve as a stunning addition to your living room decor and also create an inviting ambiance for outdoor decorations.
Artificial & Real Flower Garlands – Important Diwali Items & Materials
Enhance the ambiance of your home by adorning your walls with a charming combination of both artificial and fresh marigold flower garlands. Flowers are also one of the most significant diwali decoration items. Moreover, flowers have long been associated with vitality and positive energy, as traditional wisdom advises us to welcome goddess Laxmi into our homes by embellishing the entrance with rangoli and vibrant blooms. Therefore, consider embellishing your house's gate or railing with fragrant, colorful flower garlands to infuse your living spaces with a delightful aroma and a burst of vivid hues. Garlands are one of the most important items for Diwali decoration.
Diwali Decorations With Flowers
Gather inspiration for flower decoration ideas for Diwali 2023 by checking out the images below. Garlands are integral decorative items for Diwali that radiate positivity throughout your home. You can adorn your house's entrance gate or bring the beauty of floral decorations indoors to enhance the overall aesthetic appeal. Flowers are one of the main component of festive decoration items. So, get your Diwali decoration material and start with your preparations. Another Diwali items include are flower garlands that are must to add for a festive makeover!
Paper Lanterns – Decoration Items for Diwali
Make the enchanting atmosphere with paper lanterns of various sizes and captivating patterns. Elevate your decorative charm with the allure of paper lanterns throughout your home. Elevate the appeal of your balcony with these delightful lanterns, and witness the transformation of your space into something truly remarkable. Lanterns are one of the aesthetic decorative items for Diwali.
Paper Lantern Decoration Item For Diwali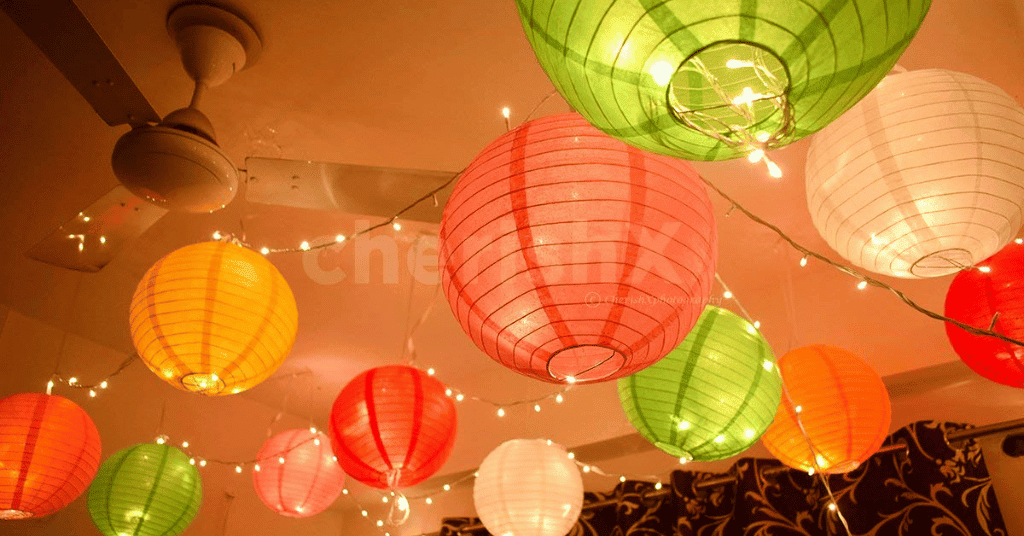 Adorn your home with a vibrant display of multi-colored paper lantern decoration ideas, placing them gracefully on your balcony or within your living space. Illuminate them with lights to create a captivating and aesthetically pleasing Diwali decoration that adds a touch of charm and allure to your surroundings. Also, it's one of the perfect Diwali decoration ideas for balcony. Isn't lanterns one of the most unique decoration items for Diwali?
Wall Hanging Torans – Enchanting Diwali Decorations In Home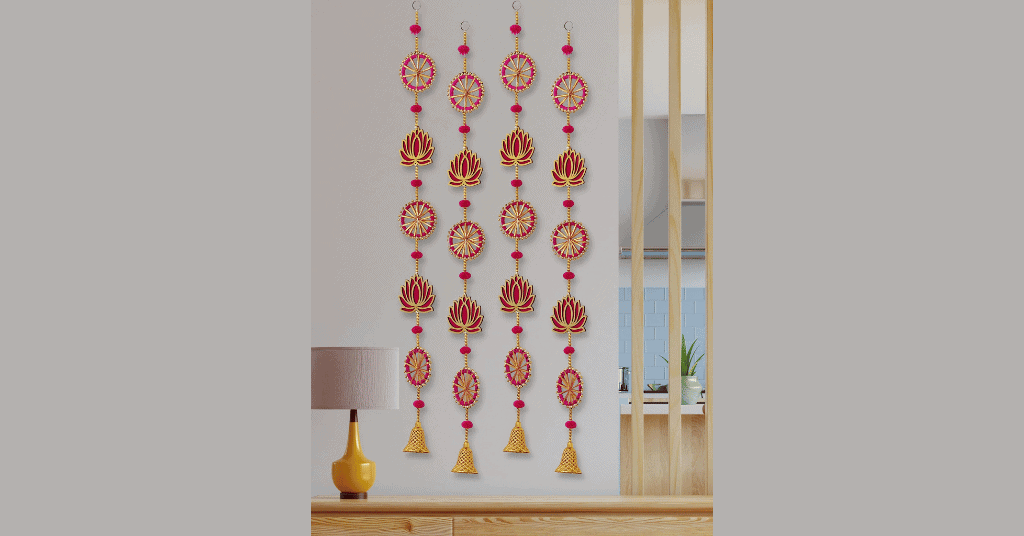 Capture the essence of adorning your walls with an array of decorative hangings to enhance the Diwali ambiance. It's one of the most beautiful Diwali decorations in home. From shimmering lanterns to colorful torans, the options are abundant. Moreover, transform your walls into a festive splendor. These hanging decorations will add a touch of tradition and modernity to your decor. Also, it will create an inviting and visually captivating atmosphere for your Diwali celebrations. Explore the endless possibilities of wall adornments to make this Festival of Lights truly special. These are also one of the beautiful and essential decorative items for Diwali.
Diwali Decoration Things For Your Walls
Enhance the ambiance with Diwali diya buntings or decorative ring-type wall hangings. Moreover, you can even add a touch of floral beauty to elevate the overall aesthetic of your space. For inspiration, take a look at the Diwali home decoration ideas photos. So, make your house look absolutely stunning with these Diwali decor items. All are these one of the most creative items for Diwali decorations in home.
Diwali Pooja Decoration Items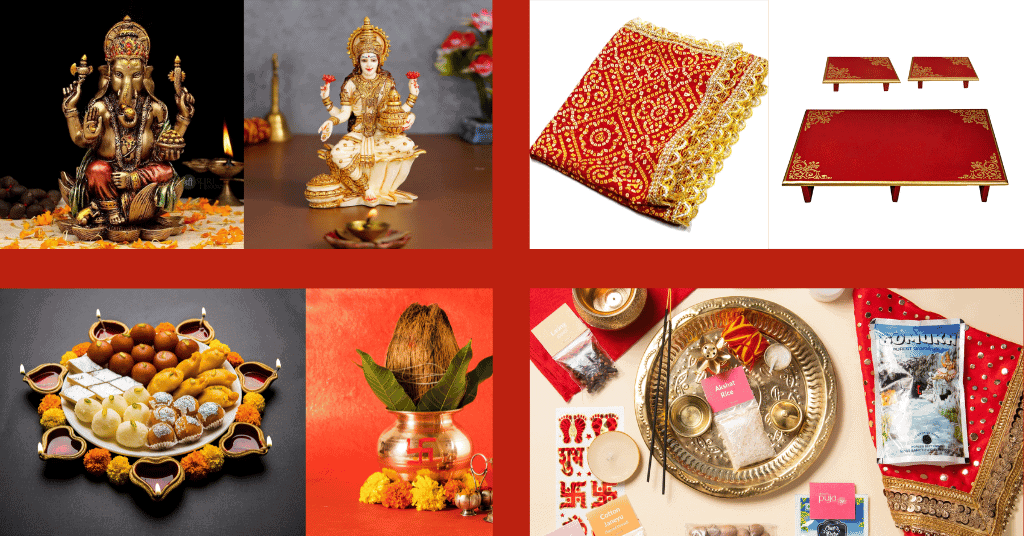 To prepare for Diwali pooja decoration, you'll require a new photograph of Lord Ganesha, Goddess Lakshmi, red cloth to drape the altar and adorn the idol of Goddess Lakshmi, a wooden stool to place the idols, traditional diyas, an assortment of sweets, and any other essential items by your customary practices. These are some of the most important Diwali decoration items for your pooja.
Suggested Blog: Diwali Lakshmi Pooja Samagri items list – A Complete Guide to the Essential Items
Diwali Pooja Decoration Ideas at Home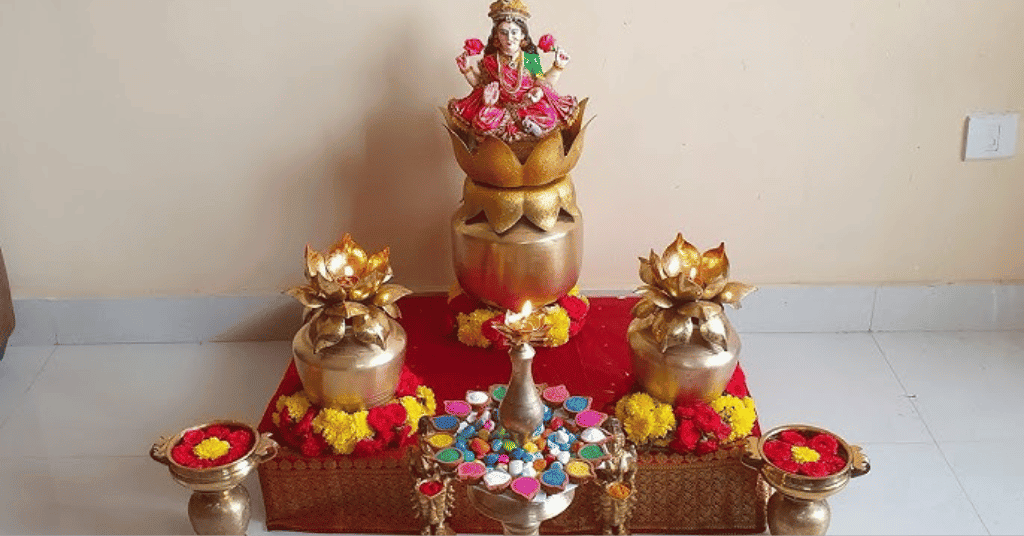 Diwali decorations in home for pooja" encompasses creative suggestions for adorning your home for the Diwali prayer ceremony. These ideas encompass a range of decorative elements, including beautiful idols, vibrant cloths, traditional lamps, and more. All these decorations will enhance the aesthetic and spiritual ambience of your sacred space during the Diwali festival.
Aromatic Incense Sticks and Holders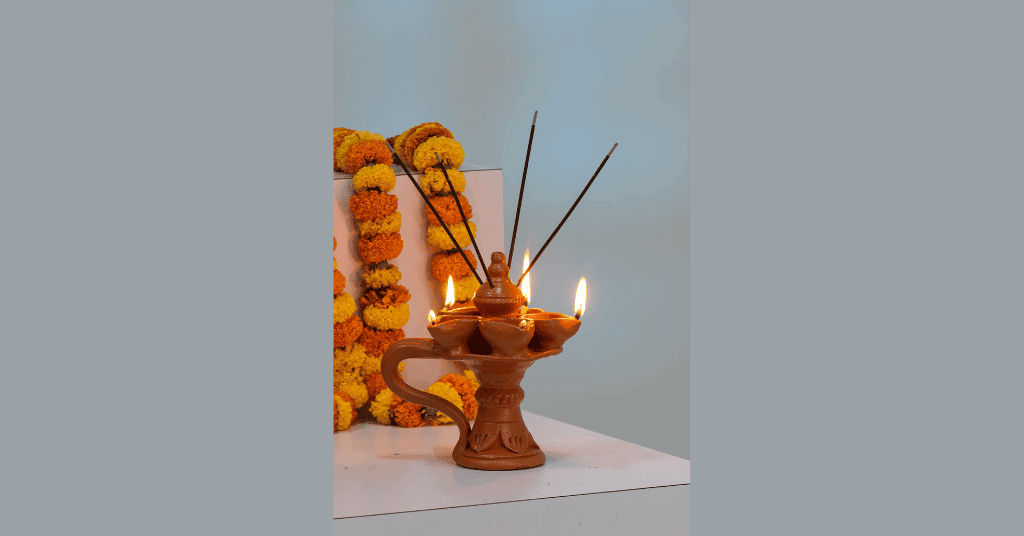 Elevate the ambiance with fragrant incense sticks and stylish holders to cultivate a serene and aromatic setting. This is also one of the important Diwali decoration items to infuse fragrance all the way at your house. Ensure that your home is not only spotlessly clean but also filled with the delightful fragrance of these incense sticks. It is believed that a cleaner and more fragrant home enhances your well-being and augments the likelihood of divine blessings.
Themed Decorative Cushion Covers For Diwali Decorations In Home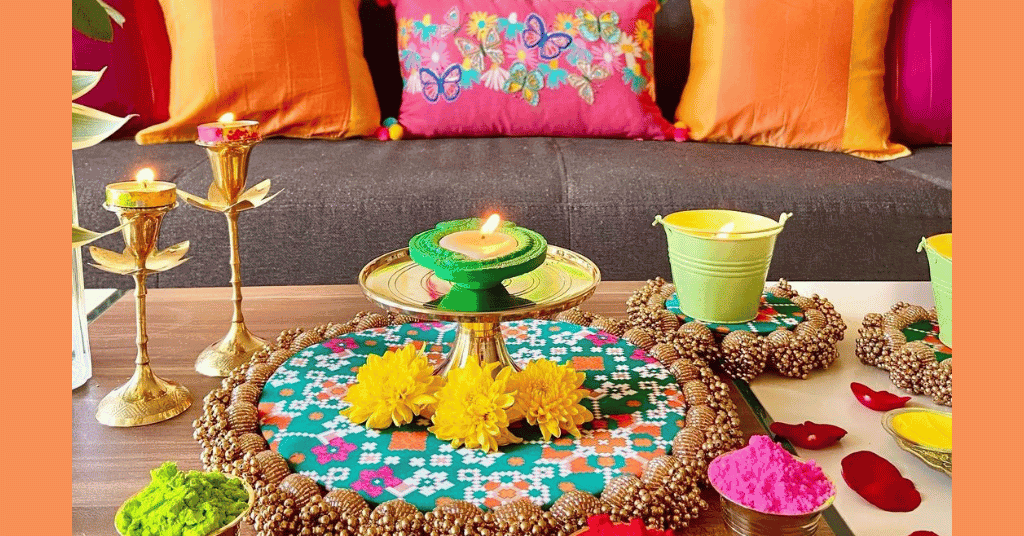 Elevate the festive atmosphere in your living spaces by introducing Diwali-themed decorative cushion covers adorned with vibrant hues. These are also one of the important Diwali decorations items to add more joy to your celebration. Moreover, Diwali is the season for transforming our homes with additional decor elements to enhance their aesthetic appeal. Therefore, consider acquiring themed cushion covers and fresh curtains to rejuvenate your interior decor. So, bestow a rejuvenated charm upon your living spaces.
Diwali Table Centerpieces
Elevate the elegance of your Diwali celebrations 2023 with captivating table centrepieces that showcase the essence of this festive occasion. Craft intricate arrangements featuring the warm glow of candles, the natural beauty of fresh flowers, or the cultural richness of traditional Diwali figurines. These centrepieces not only serve as focal points of your decor but also embody the spirit of Diwali, adding a touch of grace and charm to your festive gatherings. So, for Diwali decorations in home, get such Diwali decoration material to add beauty to your house.
Suggested Read: 15 Unique Diwali Office Party Ideas- Decorations, Games, Activities, Culinary
Conclusion
These Diwali decoration items a vibrant and versatile, offering a multitude of choices to brighten and enrich your festive celebrations. From the elegance of diyas to the intricate beauty of rangoli ideas, from the traditional charm of torans to the modern appeal of decorative cushion covers, these items provide endless opportunities to infuse your home with the spirit of Diwali. Whether you're seeking to honour tradition or explore contemporary designs, the array of Diwali decor options allows you to create a unique and enchanting atmosphere that perfectly reflects the joy and light of this auspicious occasion. So, go ahead and check out these Decoration items for Diwali to make your celebration special.
FAQs
What are the Diwali decorative items?
The main decorative Diwali items are:
Diyas (oil lamps)
Rangoli (decorative floor designs)
String lights
Lanterns
Flower garlands
Torans (door hangings)
Candles and candleholders
Decorative paper and fabric
What is the best decoration for Diwali?
The best decoration for Diwali in home often includes a combination of traditional elements like beautifully designed diyas, vibrant rangoli patterns, and colourful flower garlands. Adding a mix of modern touches such as elegant string lights and creatively crafted lanterns can enhance the overall festive ambience.
How to decorate for a Diwali party?
For a lively Diwali party ambience, you require diwali celebration items. So, start by adorning the entrance with a vibrant toran. Inside, arrange a central space with a large rangoli design and surround it with diyas and flower garlands. Hang decorative lanterns and string lights to illuminate the area. Incorporate elegant candleholders and ensure a cosy seating arrangement with colourful cushions and fabrics to enhance the festive spirit.
Why are Diwali decorations important?
Diwali decorations hold significant cultural and spiritual value. They symbolize the triumph of light over darkness and good over evil. The vibrant colours, diyas, and lights are believed to welcome prosperity, harmony, and positivity into homes. Moreover, decorating during Diwali is a way to express joy and gratitude, fostering a sense of togetherness among family and friends.
What flowers are used for Diwali?
Marigolds (orange and yellow flowers symbolizing auspiciousness)
Roses (red and white roses often used for garlands and decorations)
Jasmine (fragrant white flowers used in garlands and hair adornments during Diwali)
Lotus (considered highly auspicious and often used in decorations)
Chrysanthemums (vibrant flowers used in floral arrangements and rangoli designs)