Discover the best birthday party decoration ideas at home for him. You know how important he is to you. He completes your world and is the source of your constant happiness. He never forgets your birthday and always gives you the best surprise ever.
Now, it's time that you give him an amazing birthday surprise that he remembers forever. So let's check out the amazing birthday party ideas in home and make him smile. 
But amazing doesn't mean you have to go out and book a five-star hotel or something.
You can plan a spectacular birthday party for him at home too with the help of these exquisite decoration ideas.
From beautiful balloon arrangements to illuminating fairy lights—these decorations will create a festive ambiance, perfect for an unforgettable celebration. 
Party Decoration Ideas at Home For Him
As the name suggests, this surprise decor is loaded with balloons. Have this wonderful decor in your living room or bedroom to get the best of it. When he steps inside he will find glossy balloons lying all over the floor. Awaiting his gaze is the mesmerizing ceiling that is covered with a sea of stunning balloons with curly ribbons that hang beautifully from the top. Tied at the bottom of those ribbons will be your favorite pictures. Add up some rose petals, candles, and fairy lights to take it up a notch. It's one of the most enchanting balloon party decoration ideas at home to throw a surprise party for your partner.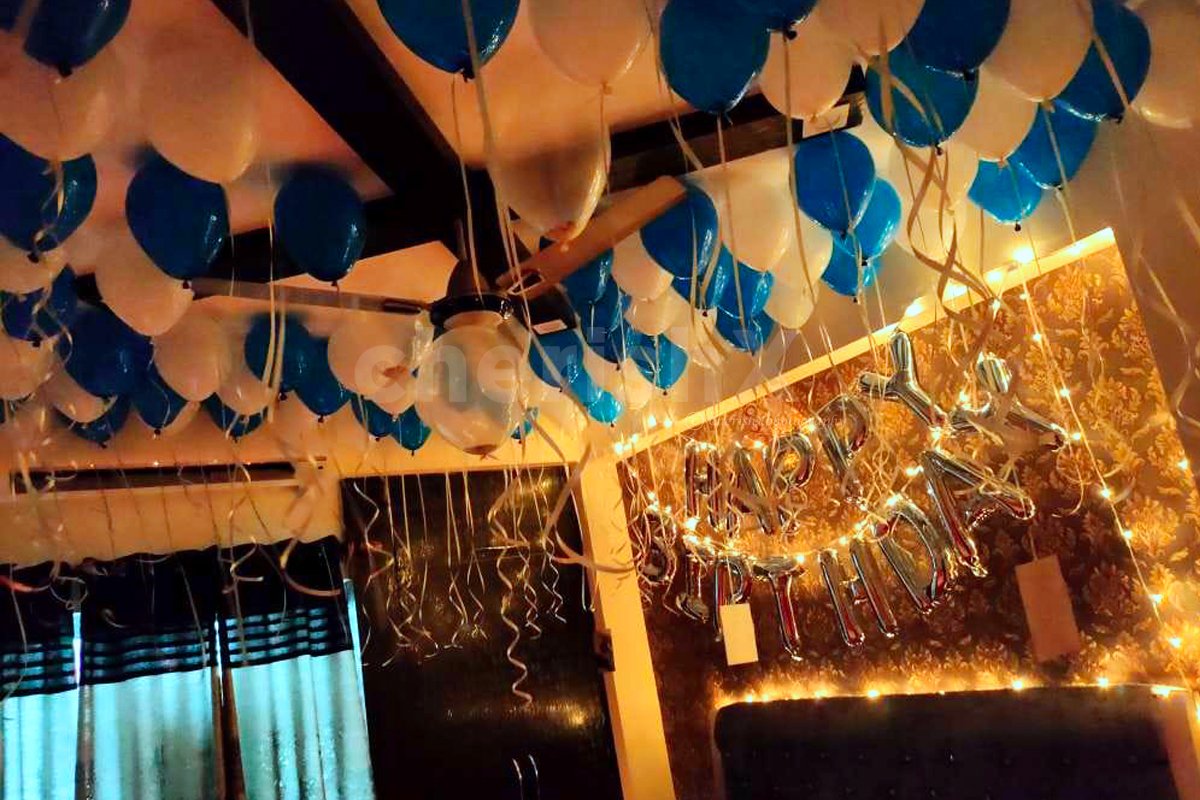 Recreate the magical ambiance of Disney's tangled at your home with this dreamy decor. Plan a fairy tale birthday for him as delicate paper lanterns adorn the ceiling. It's one of the magical decoration ideas for party at home. Accompanying these lanterns are bright fairy lights. Make it more special and personal for him by getting letter foil balloons of his name. Also, if you're looking for birthday lighting ideas, then this is one of the most joyful birthday party decoration ideas at home.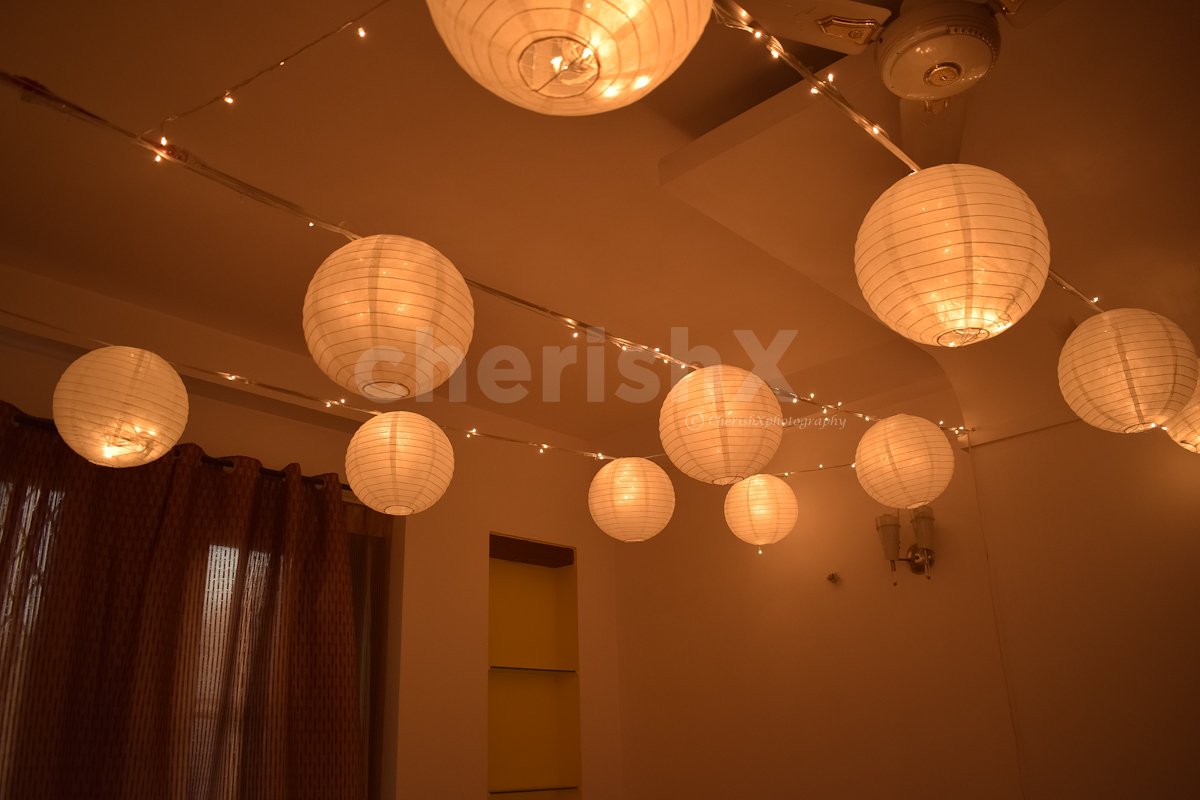 Perfect for a fun birthday party, this flamboyant decor is popping with scintillating decorations. Also, it's one of the enchanting birthday lighting ideas.There are cute pastel balloons, beautiful rosettes, confetti balloons and so much more. But the most eye-catching element is the amazing multicolored balloon arch. Invite some friends over and wish him an exciting birthday. If you want to make something more vibrant, then it's one of the great decoration ideas for party at home.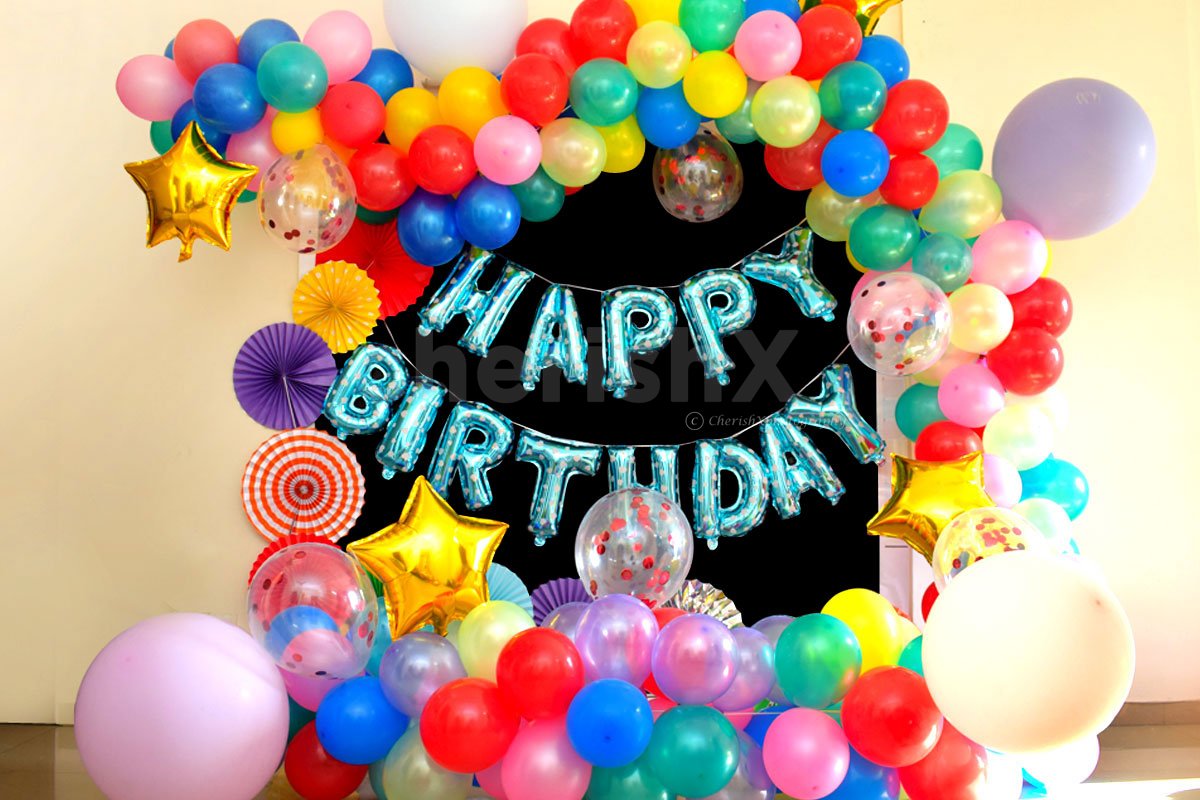 Surprise him and plan a dazzling party with this elegant "Golden Champagne" decor. We all know that celebrations are incomplete without the touch of that bubbly champagne. That's why this decor brings that festive jubilation. It comprises of Happy birthday foil balloons, gold and silver balloons, and Champagne foil balloon. With the addition of the fairy light, the golden balloons put on a showy spectacle. So, get dressed in your classiest clothes and party like movie stars. Also, you can check out for  birthday light decoration ideas with this decoration. It's one of the best birthday decoration ideas for boyfriend at home. We assure you that your partner will love it.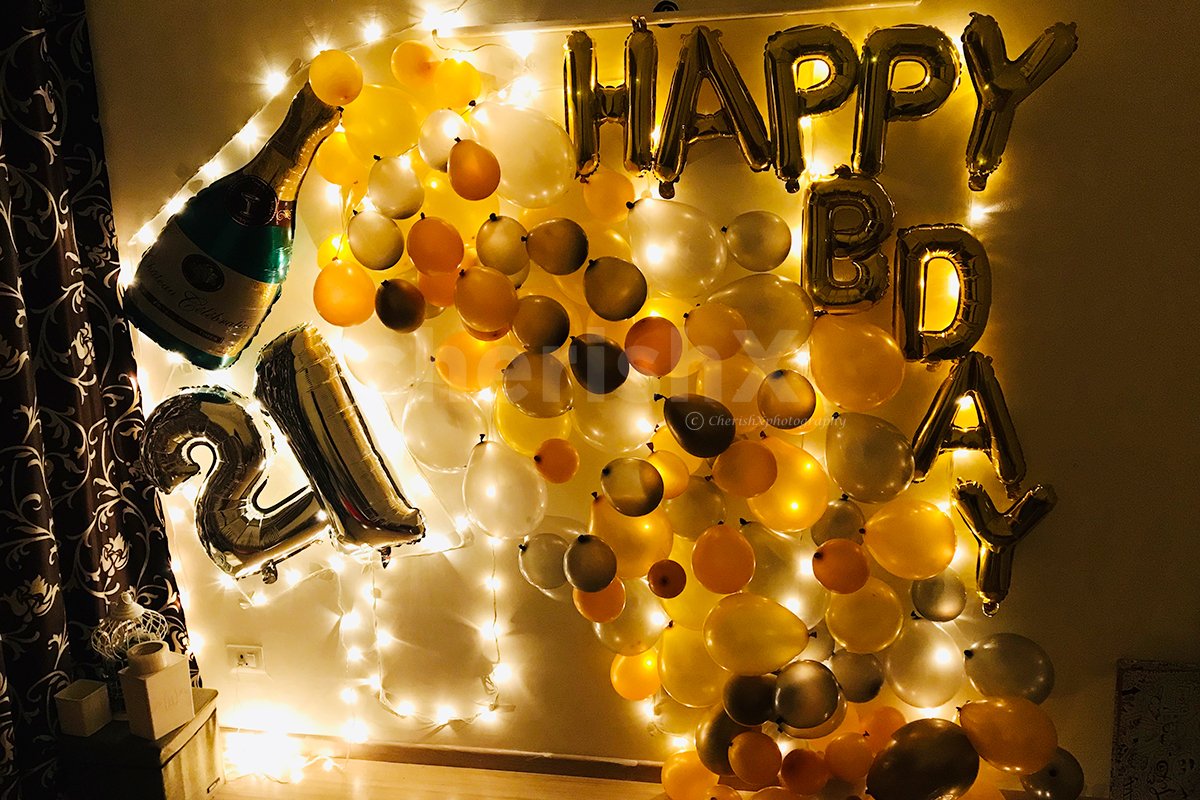 If you're looking for one of the magical birthday surprise ideas at home, then sweep him off his feet on his birthday and take the romantic route. This one of the perfect birthday lighting ideas. Plan this at midnight or evening to create the perfect mood. For a surprise effect, blindfold him. It's one of the most party decoration ideas at home. When he takes the blindfold off he will be greeted with a magnificent display of glowing umbrellas on the ceiling. The ivory white umbrellas are embellished with fairy lights and vines, resembling the forest canopies. Have a cozy candlelight dinner under it. Put on some romantic music and slow dance the night away.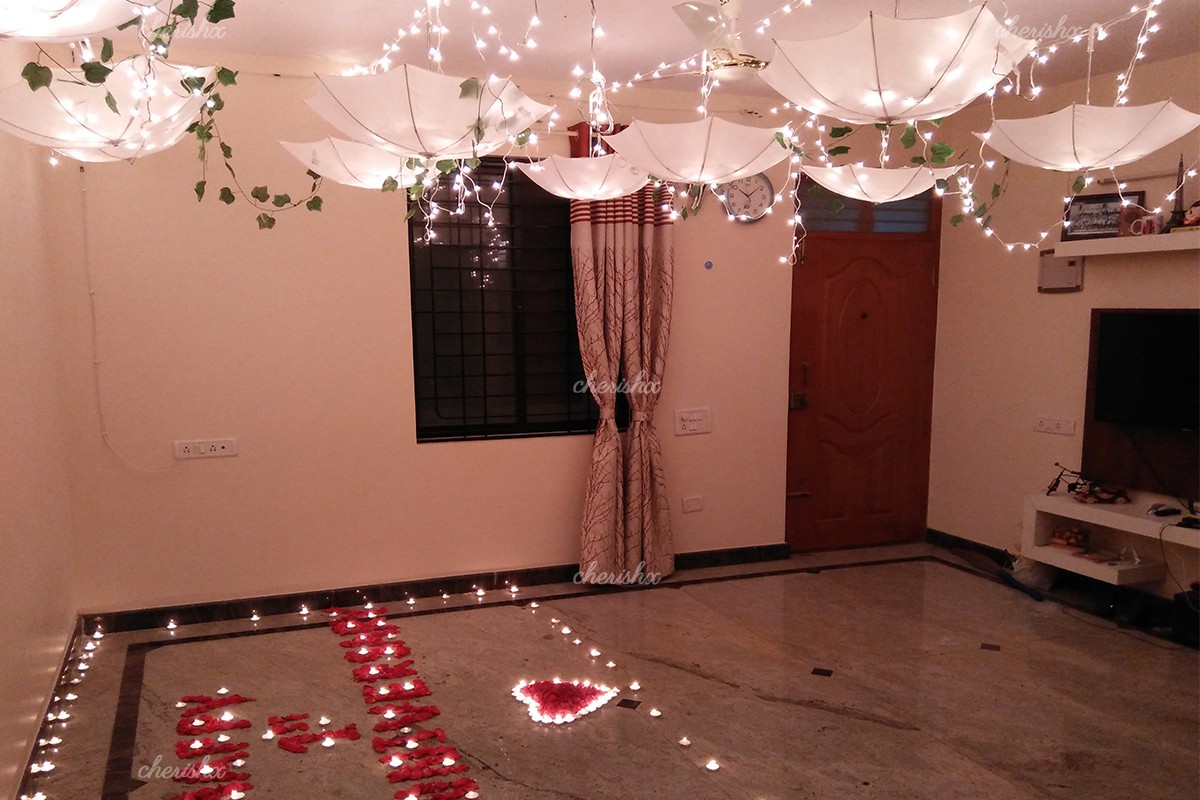 Have a blast at his birthday with this phenomenal balloon decor. Awesome for a big celebration where friends and family have all gathered up to wish the birthday boy. This decor has the ceiling tastefully decorated with a large number of balloons and ribbons dangling exquisitely. If you're looking to just decorate your room with floating balloons, it's one of the great home decoration ideas for birthday.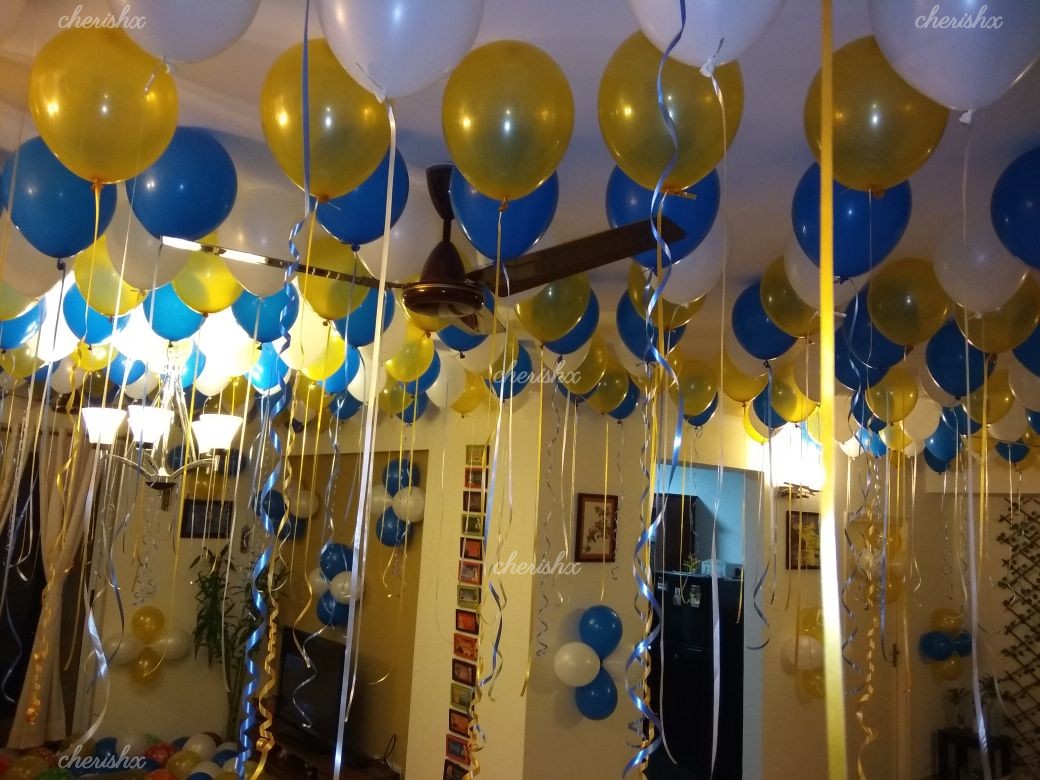 Birthday is the perfect opportunity to tell him how much you love him. Do that with the help of this romantic birthday balloon decor. Surprise him and express your love as stunning red heart balloons, candles, and rose petals form a romantic ambiance. Greet him with a rose bouquet, combine it with a thoughtful gift and make his birthday memorable!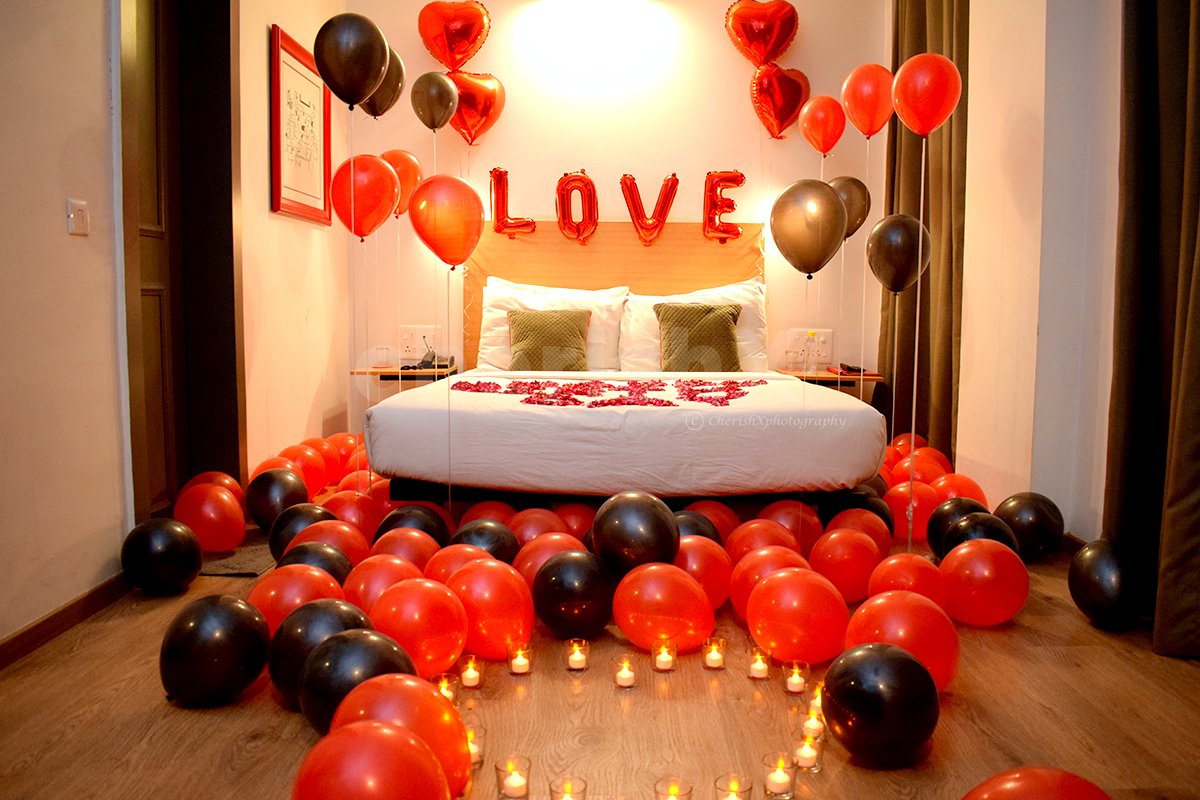 Check out for more birthday decor ideas at home? Throw a blue themed party for him and invite his friends over for a fun boys night celebration. The water-themed Blue & white balloons, silver happy birthday bunting, along with champagne bottle-shaped foil balloons call for an epic birthday party.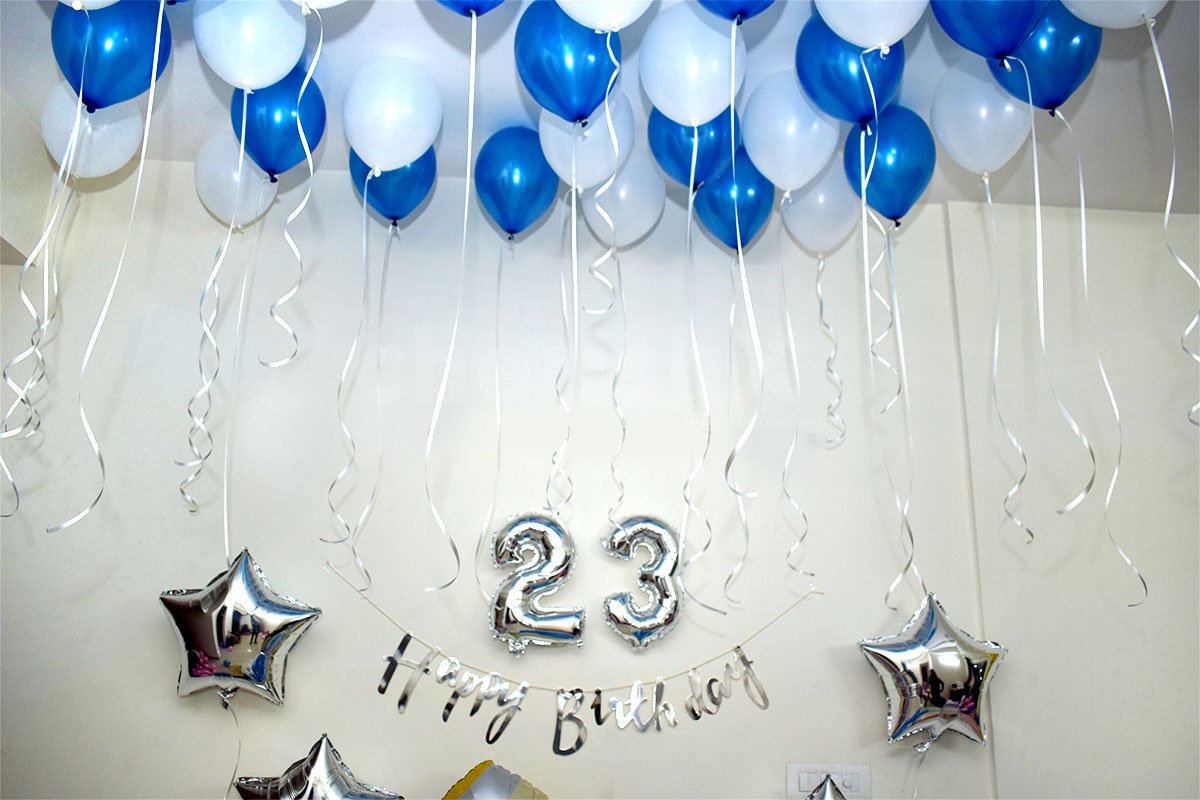 It's one of the most unique home decoration ideas for birthday. Give him a unique surprise in the form of the stunning glowing birthday decor. Ensure the lights are off and it's all dark in the chosen room. When he steps inside, he'll be amazed by the glowing LED balloons on the ceiling. Invite your friends over, put on some dance music—and you have an electrifying party right at your home!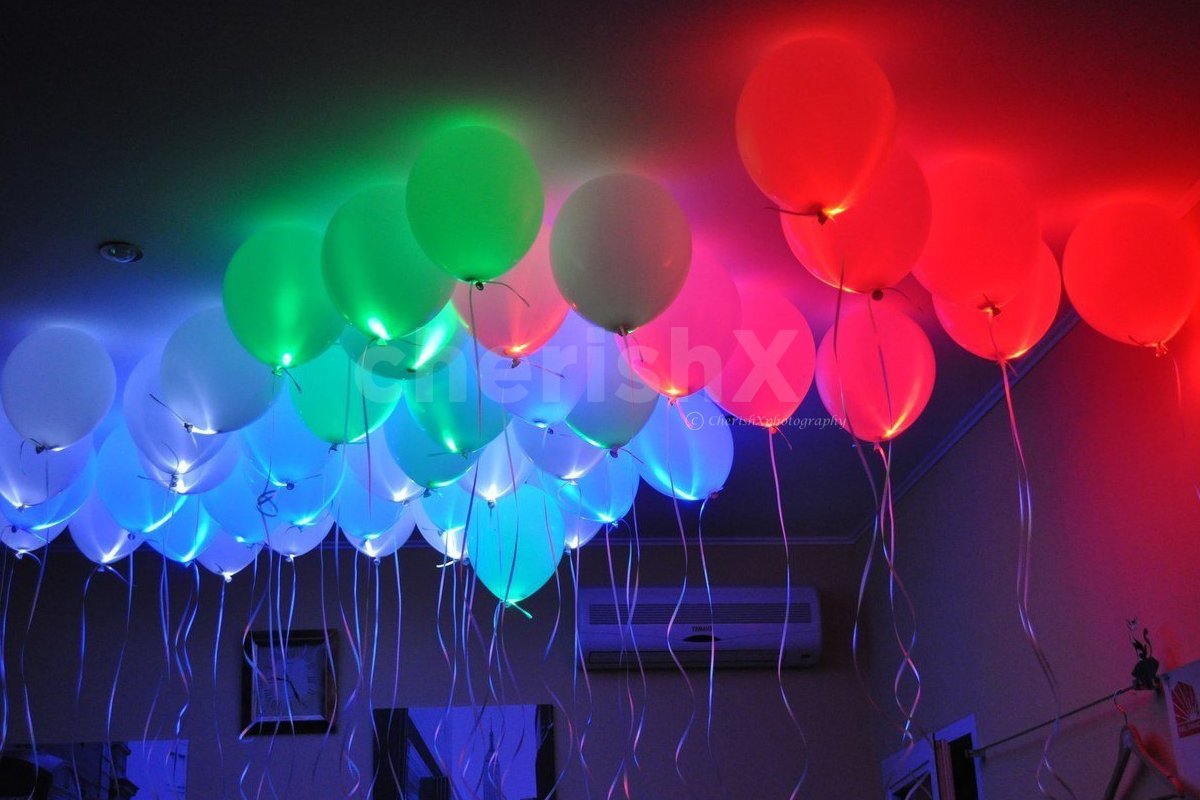 Conclusion
You don't need to go to fancy places to give him an awesome birthday surprise. Now you can throw an exciting birthday party at your sweet home with these amazing and unique decorations. 
Get a little creative on his birthday, plan a spontaneous performance or write a song for him and make his day special! So, check out our party decoration ideas at home.