Want to know Top 7 Irresistibly Awesome Teddy Day Surprises for Valentine's Day? Well you have landed on the right article!
Valentine's Week is already here. The time to celebrate your love with your special one is here. You must have been planning for great surprises for your partner. Celebrating each day in Valentine's Week brings another level of happiness. Finding ways to wish your better half each day creates more and more excitement.
Most of the people know what to do on each day except for one day i.e., Teddy Day. Everybody gifts their loved ones a Teddy Day but what more can you do to make this day more special. This is why everybody feels. Teddy Day is not only about gifting teddies, you can make it much more grand and surprising! Wishing your special one a Happy Teddy Day in a different way this year than you did in the last can make a lot of impact.
There are many Teddy Day surprises for your Valentine that you can plan! Here are some of the best ones that will make your partner's heart melt-
20 Red & Pink Roses Bouquet With A Teddy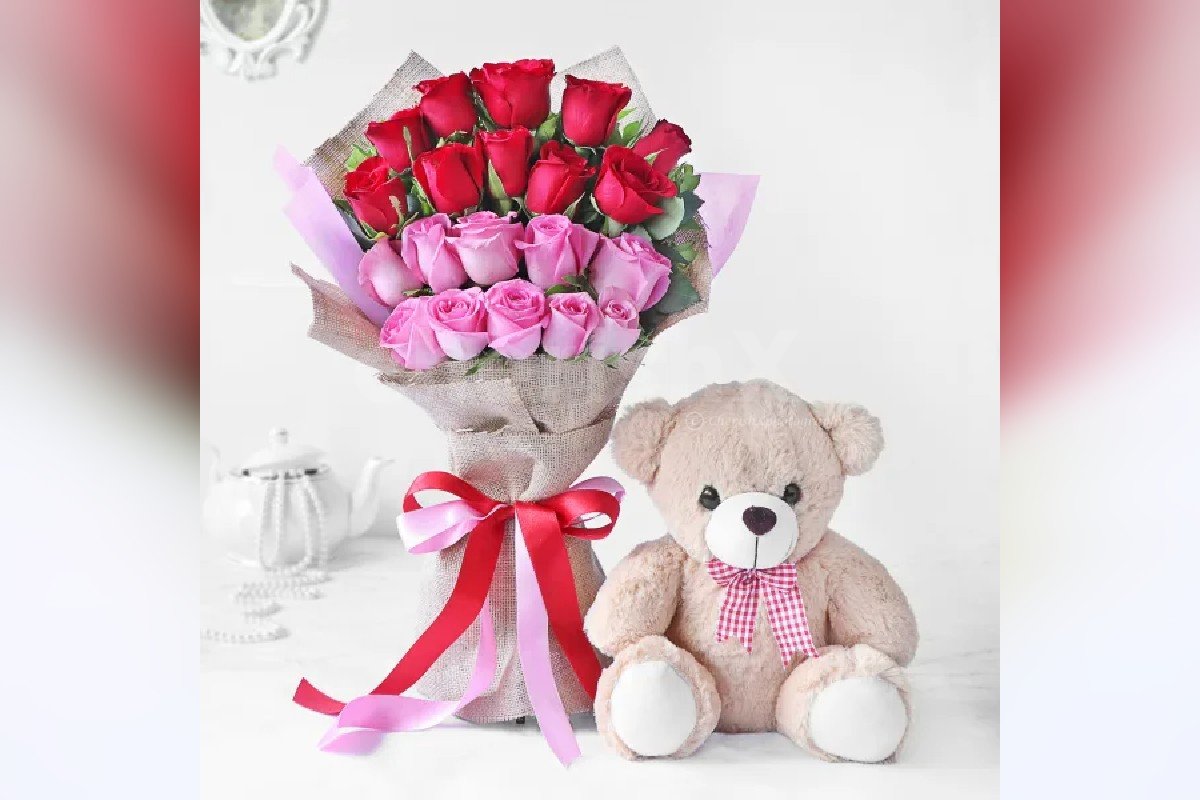 Wish Teddy Day to your special one in a different way. Don't just do cliche things. This year go a bit different! If your special one loves teddies then with it gift something more special to her. You can gift her this loving 20 Red & Pink Roses Bouquet With a Teddy. This is one of the great ways to wish your partner a Happy Teddy Day!
The best part about this surprise is that he/she will be getting more than just a Teddy. So, make your Valentine's Celebration filled with the fragrance of roses!
V-Day Week Special Surprise Combo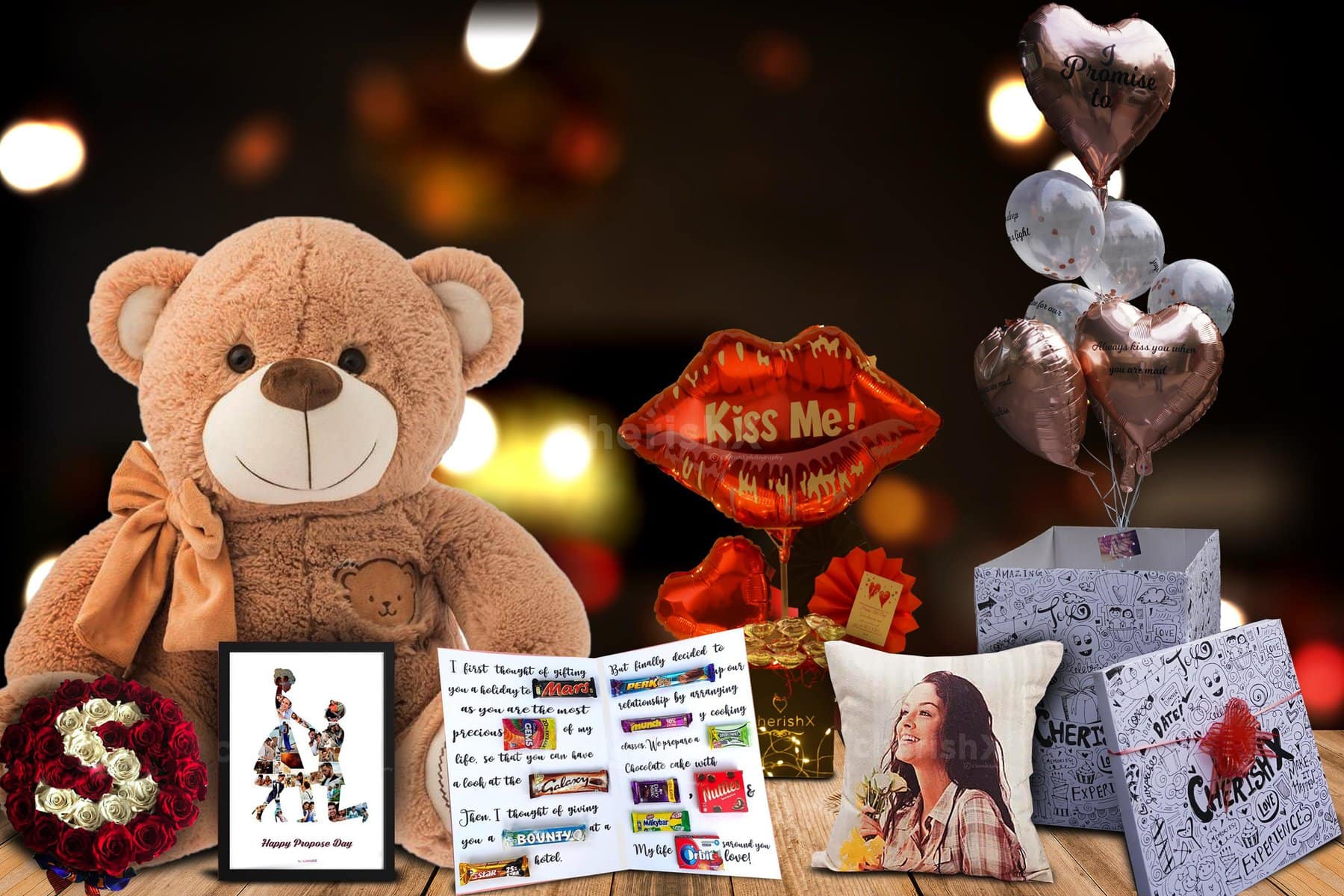 Who says you can't surprise your loved one with Valentine's Combo on Teddy Day? Prepare this Valentine's surprise ahead of time for your special one and make each day memorable. Whether it's teddy day or a promise day, you'll have everything you need to give him/her a loving surprise! This V-Day Week Special Surprise Combo will make it way easy for you!
In this special surprise combo, you get the name initial letter in Rose Bucket, Propose Day photo Frame, personalised chocolate card, 4 Feet Big Cute Teddy and 7 promise surprise box! All of this in one combo. So, make the Teddy Day Celebration an unforgettable one!
Teddy With Balloon Bucket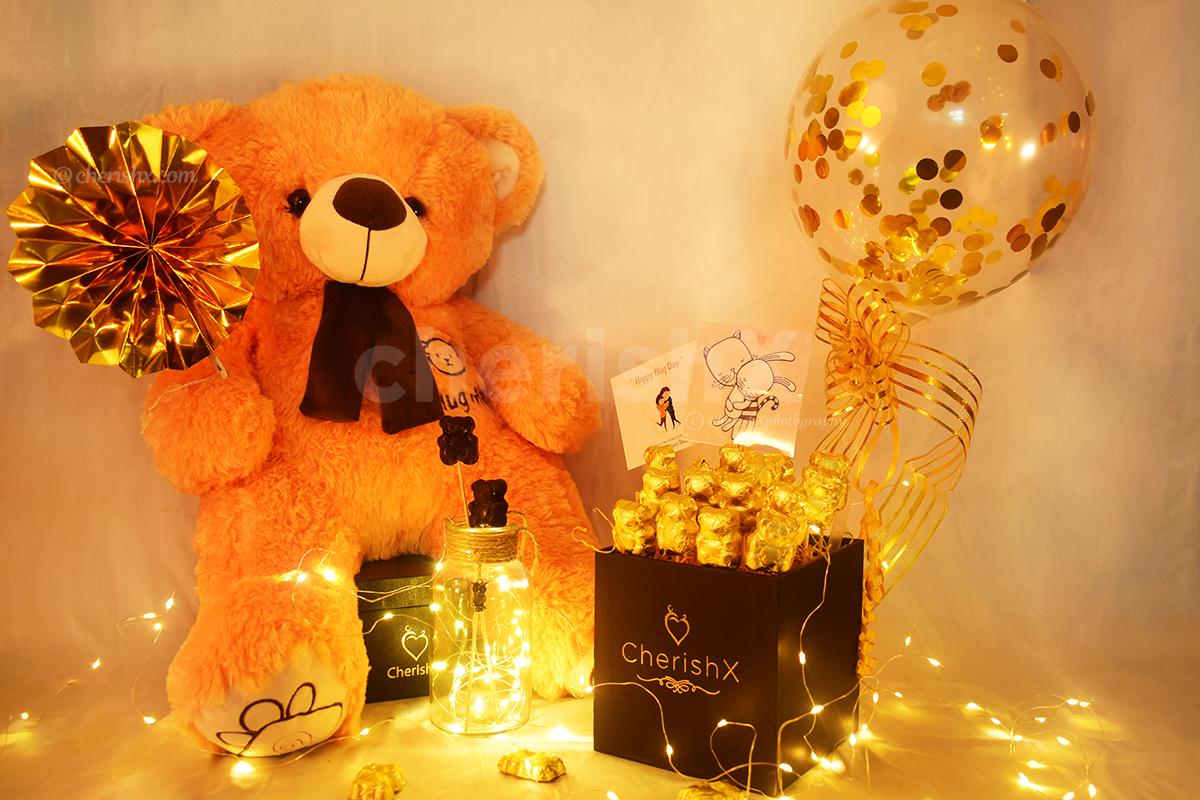 So, not only Teddy this Teddy Day! Gift your partner this Teddy With Balloon Bucket Surprise and make the celebration adorable. This cute balloon bucket will make him/her happy. People do expect teddy on a teddy day but they don't expect something like this. So, surprise them with cute little Teddy with Balloon Bucket.
Romantic Red Love XO Decor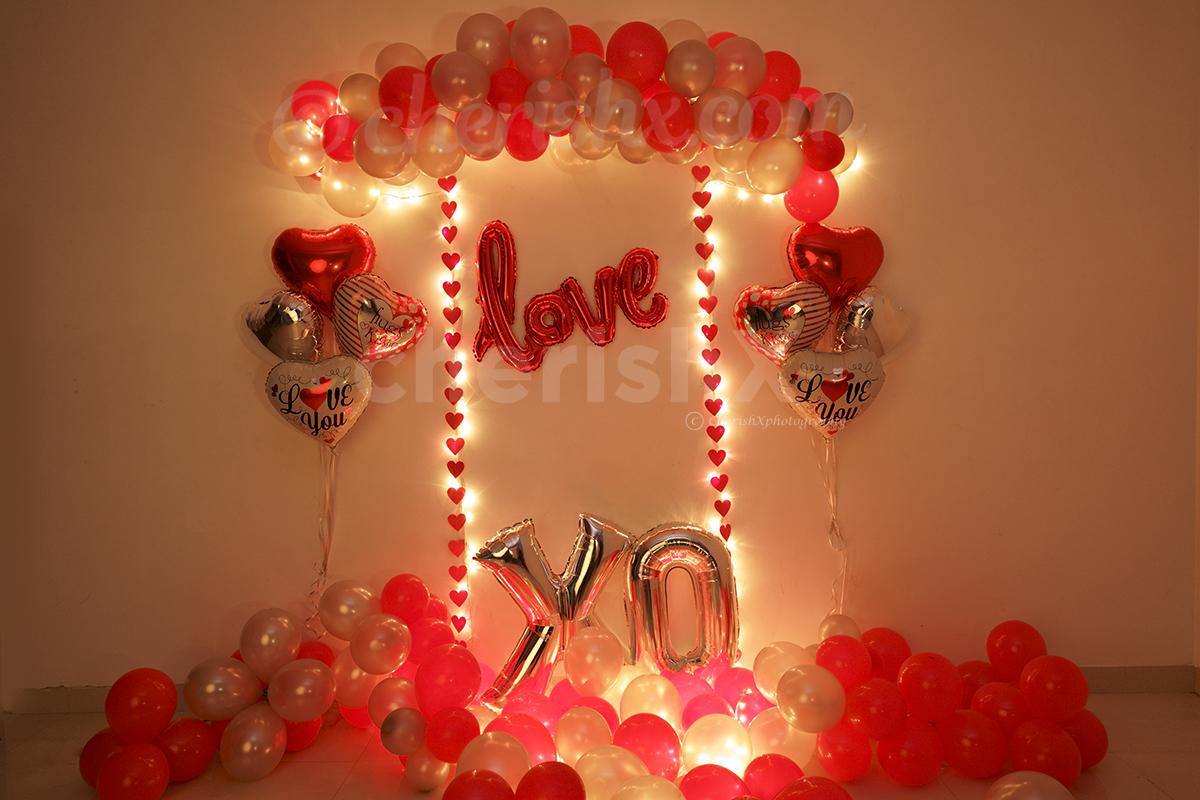 This Surprise contains 2.5 ft Teddy and a bucket full of Teddy Shaped chocolates. It also holds special Teddy messages for your loved one. With added balloons, this surprise will make your partner's heart filled with love.
If you want to add on to your Teddy Day Celebration then you can do that with a lovely decor. Romantic Red Love XO Decor will let your special one feel loved. This decoration will make your celebration more special. Instead of just gifting a teddy you can surprise your partner with this beautiful decor.
You can feel the love in the air. You can get this decoration in your room with the help of the CherishX team. Under this decor, you can choose one out of Romantic Red Love XO Decor or Rose Gold Love XO Decor. You can also choose to go for the Hearty Balloon Wall! This beautiful decor will take your partner's breath away. So, surprise him/her with these gorgeous decors!
Cute Teddy and Chocolate Box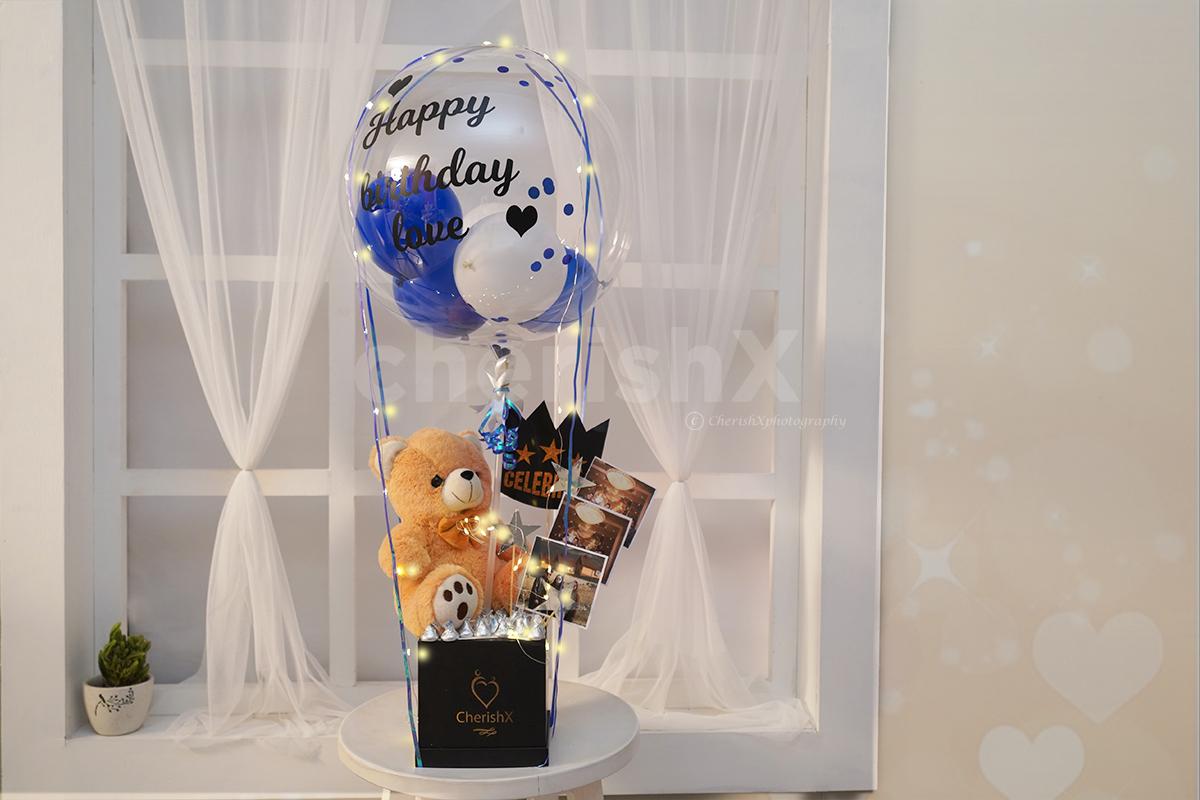 This Teddy Day, surprise your love with this Cute Teddy and Chocolate Box. You are not just doing the same cliche thing this time! This cute teddy comes with a luscious chocolate filled box. What more can someone ask for? You don't have to think too much as to what you should give more. This can be one of the perfect gifts to give to your Valentine.
A box filled with luscious chocolates is likely to melt your partner's heart. So, give this surprise to your Valentine and celebrate beautifully!
Valentine's Cabana by Taj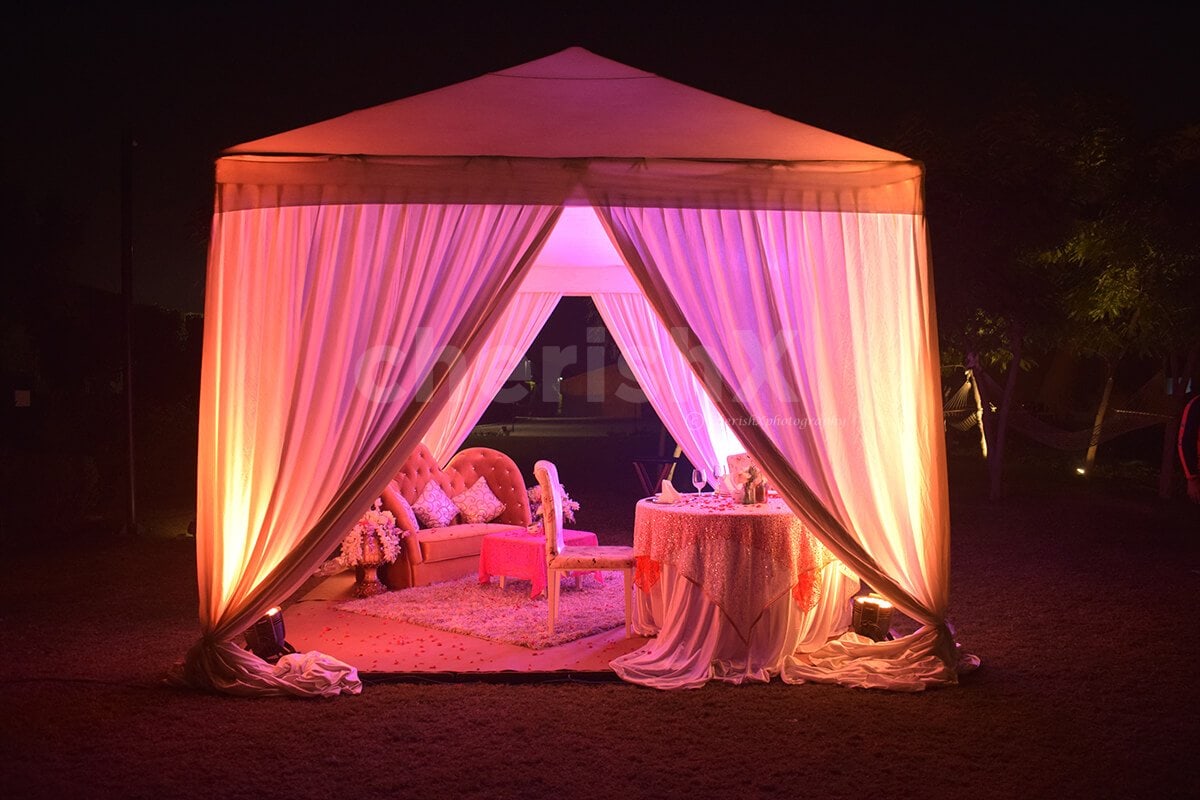 If you're looking for a totally different surprise then you should go for this amazing Valentine's Cabana by Taj. Nothing can be better than this pleasing surprise for your love. You can take him/her out on this beautiful date and wish them a Happy Teddy Day. Having dinner with your partner always feels special. So, preparing a surprise like this can be a beautiful experience for the both of you.
This fascinating experience is arranged at the Taj Hotel. This experience includes decorated tables for two of you along with welcome mocktails, 4- course meal, bubbly & romantic music to let you know that love is in the air!
Love Surprise Box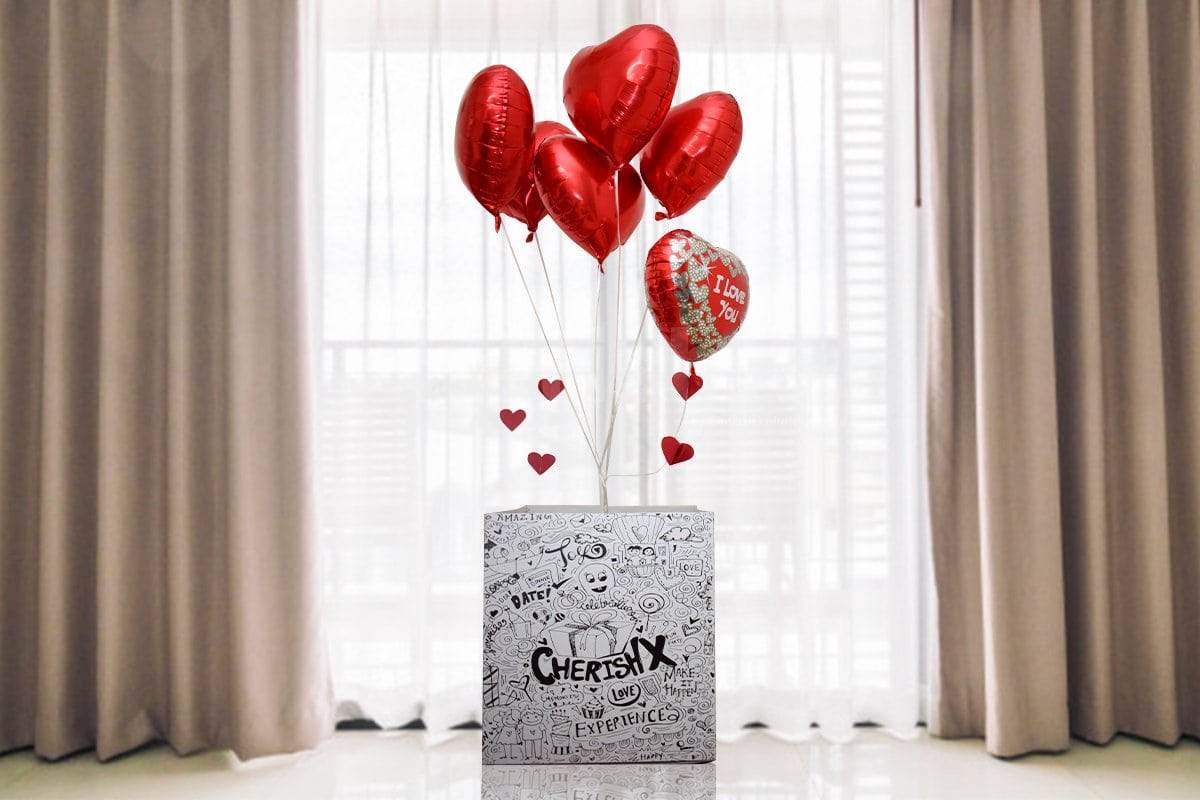 Unbox your love with this beautiful Love Surprise Box. Give him/her this charming surprise. This box contains balloons that will make your partner cheerful. These love balloons will help in spreading your love towards your special one. These love balloons are heart-shaped and look lovely attached to the strings. With this you can choose to add a cake, cookie box, rose bucket and many more things. So, shower your love with this gorgeous surprise box and let him/her feel your love!
These were some of the best surprises that you can give a special one this Teddy Day. Celebrate your love differently this year. Make it special by not doing the same old cliche things and doing something new. Express your love the best way you can this Valentine's 2023. Celebrate each day of love with breathtaking surprises and decorations!
I hope you liked our article on Top 7 Irresistibly Awesome Teddy Day Surprises for Valentine's Day, if you have any comments or suggestions do share them in the comments below.