Want to know 10 Safe Places to go on a Date this Valentine's Day? Well, you have landed on the right article!
The terror of covid-19 and Omicron is still on the rise. As Valentine's is approaching, people have started to plan on where to go, what to do and which place is safer in these times. To make it easy for others, many places have been made safer to visit.
Jaipur, also known as the pink city, is full of beauty. It's the most attractive tourist spot that people all over the world want to visit. Being a resident of a beautiful city like it gives you many advantages for the perfect date.
In these times, it may seem difficult for you to find out which places are the best to visit in the Pink City. So, to ease your difficulty, here are some best places that you can visit in Jaipur during Valentine's Week. You can have a great time with your loved one!
Let's have a look at the 10 safe places to go on a date this Valentine's Day 2023 in Jaipur-
Treebo Trend Natraj Hotel
Natraj Hotel is one of the safest places to go on a date this Valentine's Day 2023 in Jaipur. It is located at Motilal Atal Road, Jaipur. The interior of this hotel is filled with trees and plants. It gives the perfect look for you to have a date. Having a dinner date here will make you feel as if you're spending time amidst luxury with each other.
This can be a great place for you to have your Valentine's date. The staff takes care of all the safety for you and your partner. This place will provide you with delectable food and drinks! So, give this place a try!
Alsisar Heritage Hotel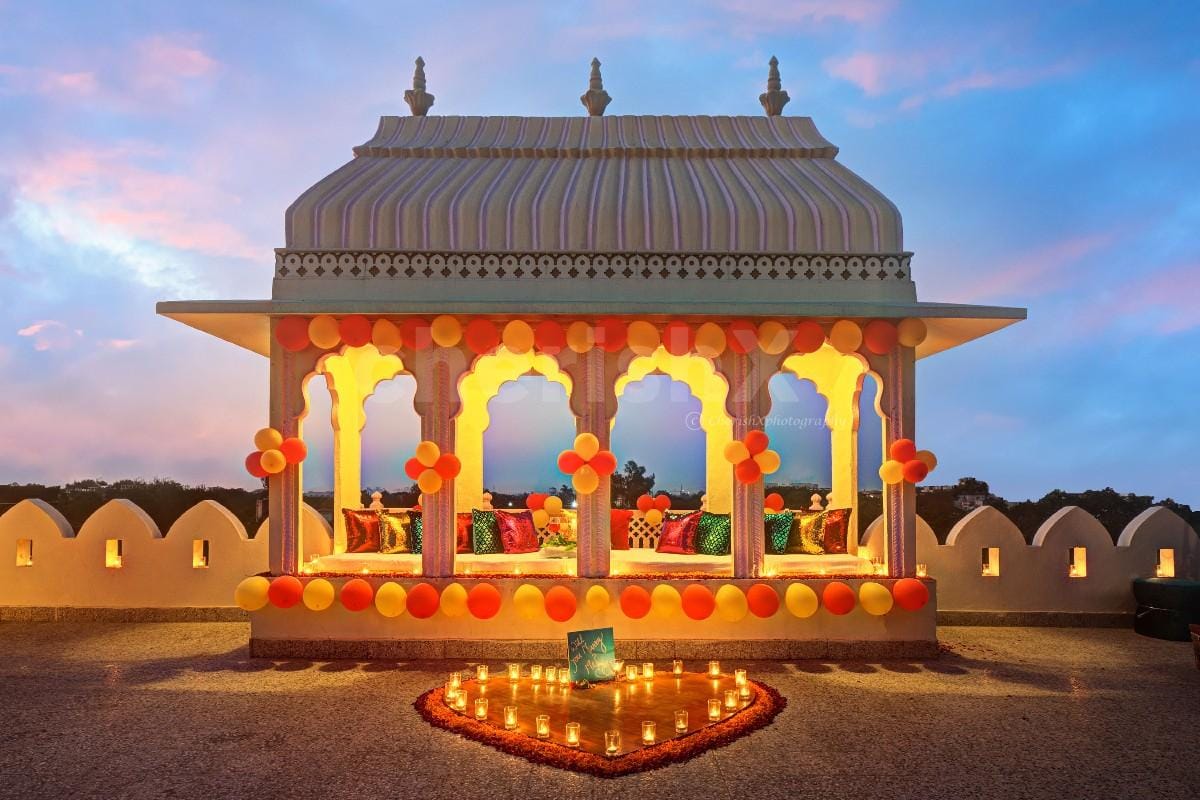 Alsisar Haveli is one of the oldest and magnificent places to go to. This heritage hotel is a beauty that you sure wouldn't want to miss! Why this Hotel? Because you can have the perfect date here. This majestic mansion will give you the feels of Maharaja. You can plan a dinner date herewith decorations from CherishX.
You can have a romantic 7-course private dinner with your loved one. In the style of Baradari, you can have a unique date. CherishX arranges everything for you from decor to dinner. You can have a private moment at a beautifully decorated place. The place is also made safer for people to visit carefree.
Nahargarh Fort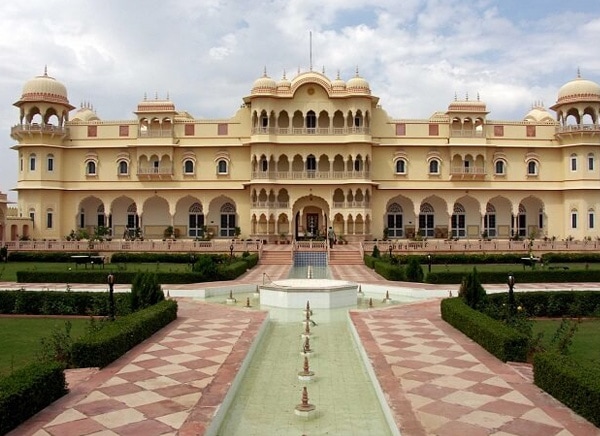 Nahargarh Fort is one place that you should visit if you are planning to have a date. It is a beautiful fort with a name that means "abode of tigers". It is located at the edge of the Aravalli Hills near Amer Fort and Jaigarh Fort. If
The fort is a wonderful place to visit with your partner. You can walk hand-in-hand with your loved one on Valentine's Day. Also, there are many nearby eateries such as Padao Restaurant that you can visit with your better half.
Also, if you want to enjoy the beautiful views of it, you can choose to go on a Romantic Rooftop Cabana Dining at Subhash Nagar Road.
Nirbana Palace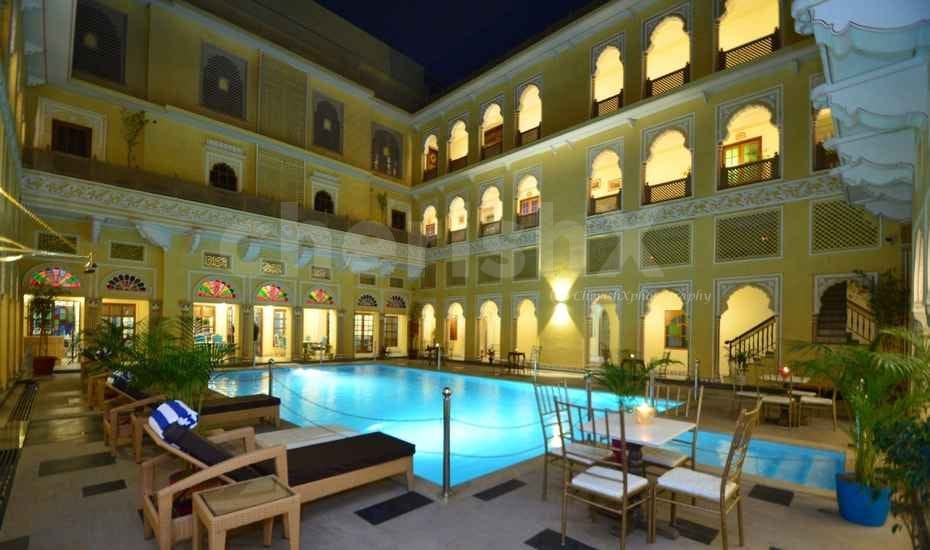 Nirbana Palace is a heritage hotel with rooms and a restaurant. Having a date at a place like this will be pleasing. You can take your partner here on Valentine's Day. This beautiful hotel is located at Khasa Khoti Circle, M.I. Road, in Jaipur.
You can plan an appealing lunch or dinner date with the help of CherishX. Your date will become royal as soon as you reach the palace. The table will be decorated with flower petals to give a romantic feel. The ambience of the restaurant will take your breath away. It's elegantly constructed. You will have a great time.
Hotel Laxmi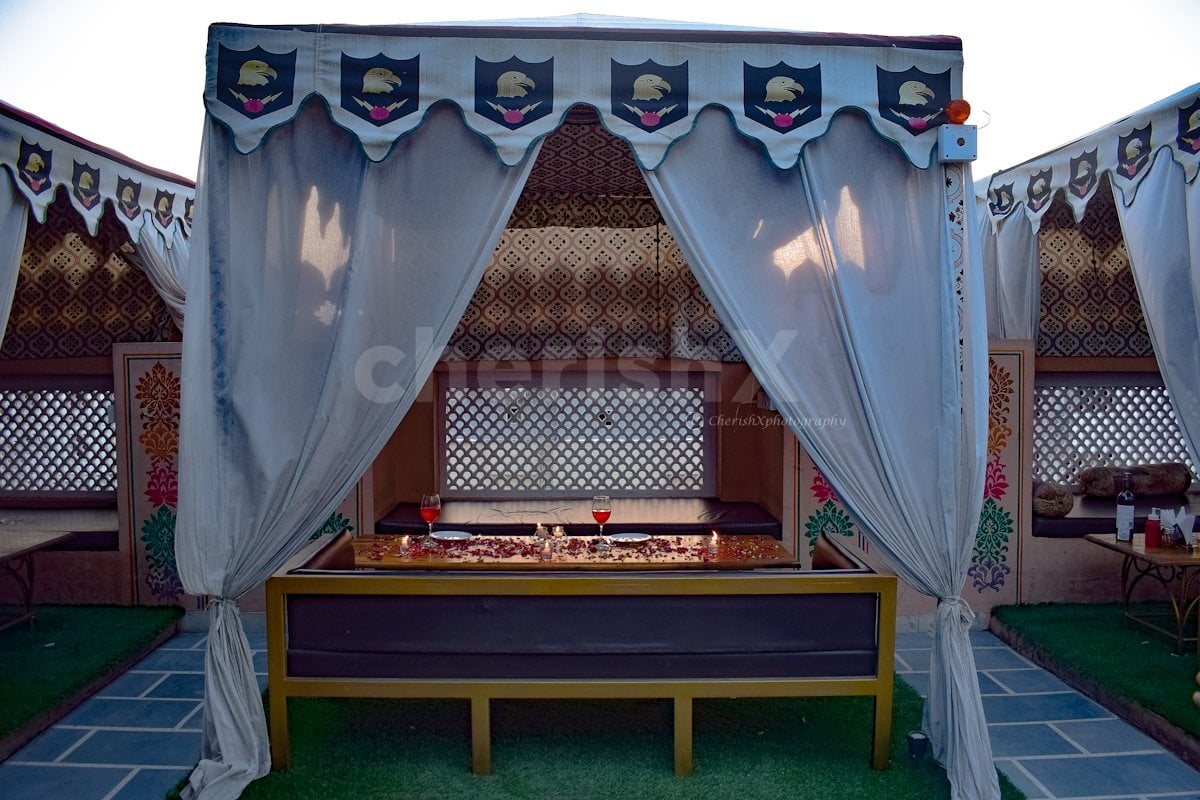 Located near Vivek Metro Station, the Hotel Laxmi is one of the fascinating places to go on this Valentine's Day 2023. The staff of the place takes safety measures so that there's no problem for their customers. You can have a great and safe date here.
The Hotel Laxmi consists of a variety of food and drinks. From Modern Indian to Chinese, you'll find everything! This elegant restaurant will create a romantic appeal for you and your partner.
Topaz Restaurant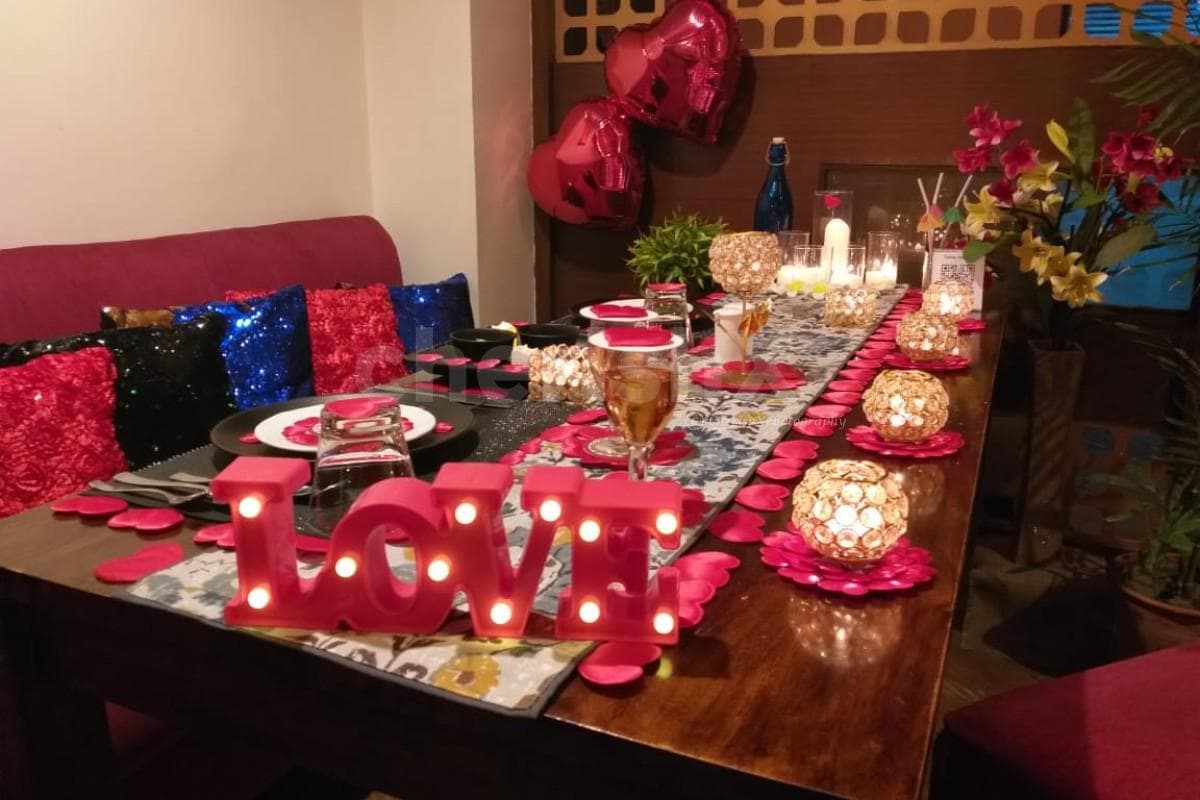 Topaz Restaurant is the perfect place for a candlelight dinner date. You are likely to get mesmerised by the beautiful ambience. Also, you can arrange with CherishX a charming candlelight dinner with decorations. This restaurant and CherishX together make sure that you get what you want. Everything is arranged according to your wish. Also, you can wish to add cakes or more.
Having Valentine's date in this restaurant will be a memorable experience. So, why wait? Plan a wonderful date with your partner this Valentine's in this exquisite restaurant.
City Square
If you want to have an experience of fun and romance, you should go to City Square Mall. This Mall is full of beauty and elegance. If you want to have a casual date, then this is the perfect spot for you. With beautiful Ambience, the mall can be the best choice for your date. Moreover, you can have a poolside candlelight dinner date, what else can be perfect that this!
You can also get your place decorated with petals and candles. This will create a romantic aura all around you and your partner. So, try this Valentine's a beautiful experience.
Samode Palace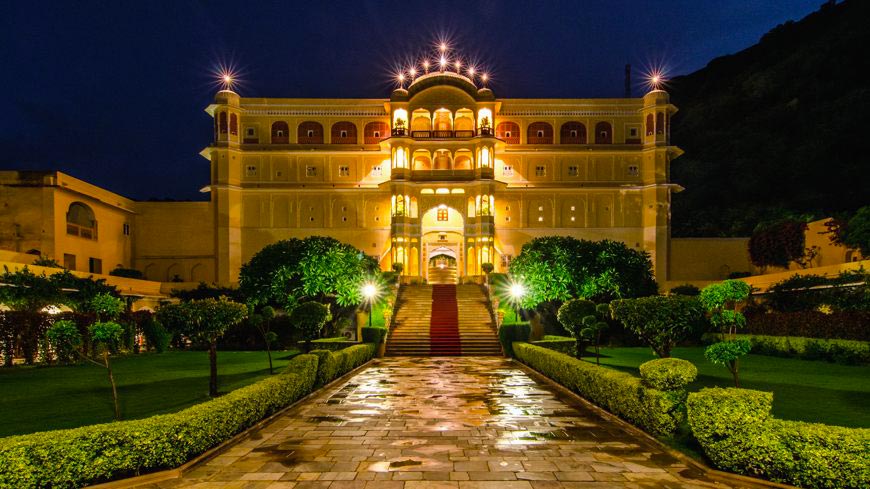 The Samode Palace is one beautiful place that has the architecture of Mughal and Rajput styles. This magnificent palace is 475 years old. If you are planning to have a stay-in date then this place is perfect. With beautiful rooms and scrumptious food, you'll have a great time.
You can enjoy the luxury and the aura of royalty. Also, this place is highly conscious of the safety of its customers. So, take your partner this Valentine's on a romantic and luxurious date at Samode Palace!
Le Meridien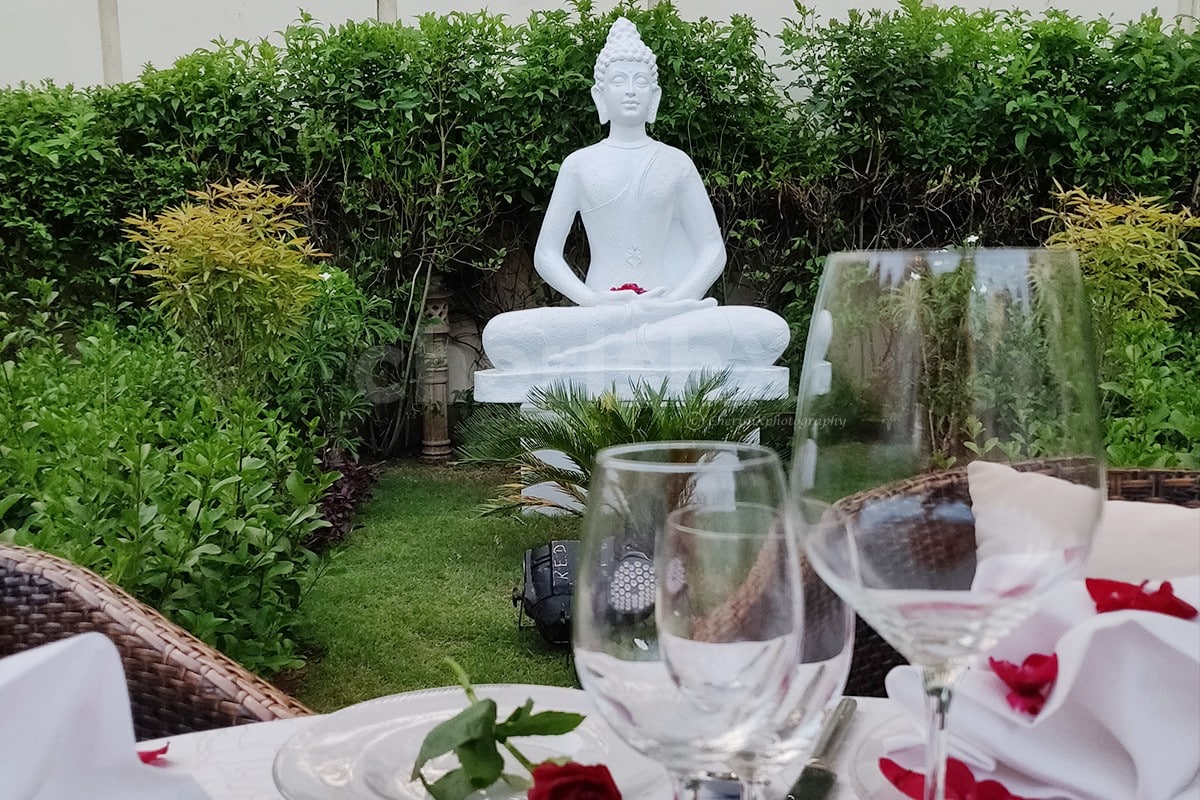 Le Meridien is a brand of resorts situated across India. The Le Meridien Resort in Jaipur is one luxurious place to go to. It pays homage to the Indian Architecture. You can have a beautiful Valentine's Day Celebration here. The best part about this place is that it represents architecture with peacock arches. The place looks luxurious..
Having your date here will be exciting. Also, this place takes all the safety measures to keep you safe. So, don't wait! Try this new and different place for your date on Valentine's Day 2023 in Jaipur.
Royal Baradari
Royal Baradari is one great place that you can choose to go for your date. This was a royal cafe designed by the royal family but later on, this was renovated into a new place. The Baradari cafe provides you with delectable food and drinks. Located in the heart of the city, it offers you not only contemporary food but also traditional Rajasthani food. So, you can enjoy the taste of different things here. Also, this place takes all the safety measures so that you stay safe. With exquisite interior and food, your date will be perfect. All you have to do is take your partner to this magnificent place!
These were some amazing and safe places to go on a date this Valentine's Day 2023 in Jaipur. You can have the best time. So, try these places and celebrate your Valentine's in a new way!