Are you looking for some spooky ideas Halloween decoration at home? We have got you covered with the classic ideas that go beyond carving pumpkins, clinging fake spiderwebs, and swinging orange string lights.  If you are looking for the spookiest entrance in the neighborhood this year, or are hosting a costume party for friends and family, check out these creepy and easy Halloween decorations that will wow your guests. 
These Halloween decoration ideas party are adorably creepy in the finest ways and make the best use of candy corn, carved pumpkins, bats, spiders, and more. Along with this, re-invent spooky characters with a fun twist that will frighten all who dare to ring your doorbell on October 31. So, let's know the Halloween party ideas adults.
Ideas for Halloween Decoration at Home
From Halloween wreaths to no-carve pumpkin decoration ideas and paper garlands, these halloween decoration ideas party cover all budgets. Needless to say, these Halloween decoration concepts will result in tons of compliments from party guests. Get DIY Halloween Party Decorations for Home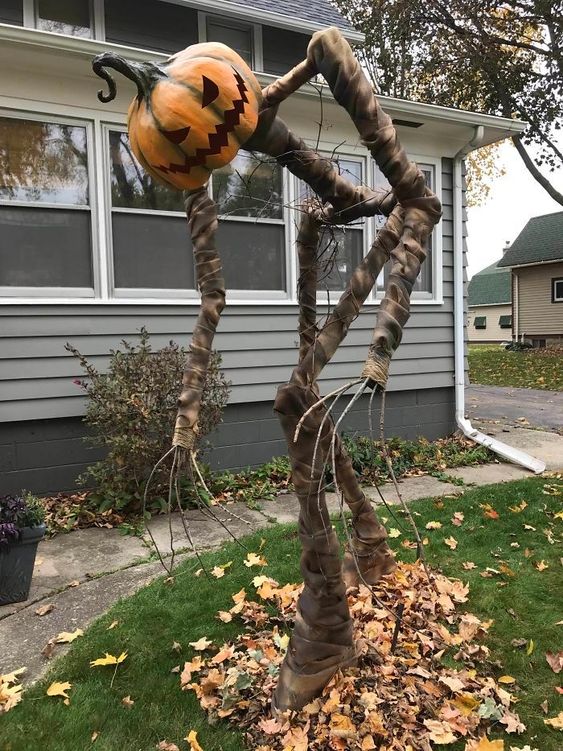 Let's take a dig at some of the wonderful, spooky, and simple Halloween party ideas adults.
Upgrade Your House Space For Halloween Decoration at Home
It is imperative to clean the house before start decorating it. While cleaning you can change the arrangement of the furniture to create the wanted look for the festival. So, you can upgrade your bedsheets, pillow covers, and much more to kick in the vibe for Halloween decoration at home.
Create a dead Archway For A Halloween Decoration Ideas Party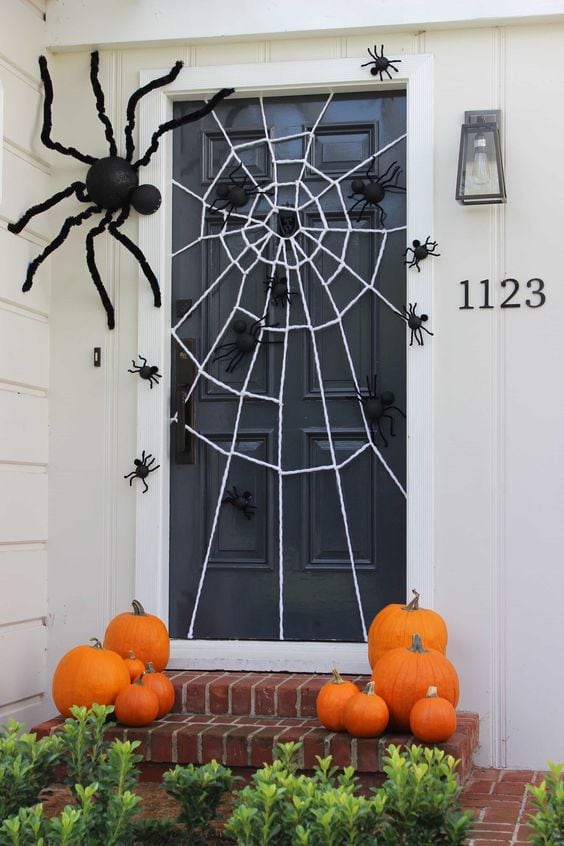 Begin the party with a stunning entrance to receive guests. For this, you can fix two branches on any side of the door and bend tops together and ties them with garden string. Then, bend and sculpt the branches by wrapping them with cobwebs. Also, you can add a touch of skeleton crew near that. Isn't this one of the great Halloween party ideas adults? So, get the entrance more spooky with such ideas.
Outdoor Halloween Party Ideas Theme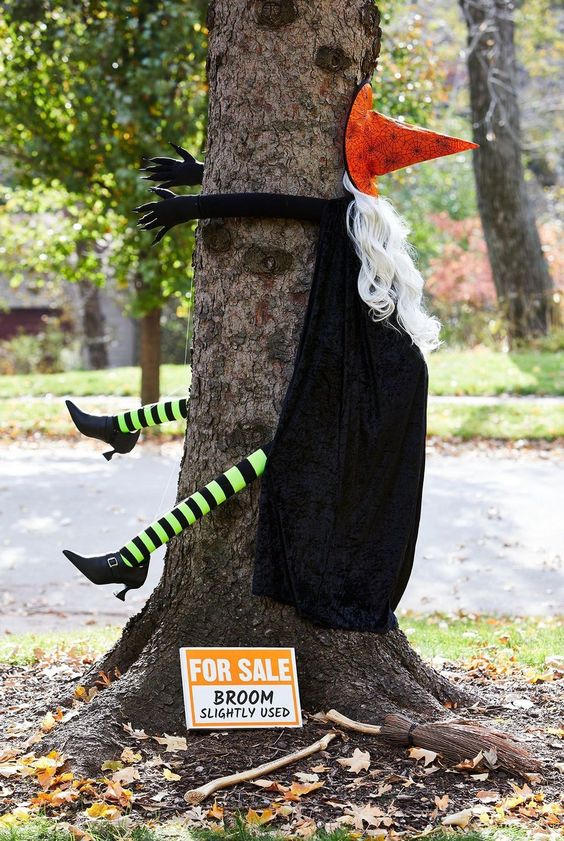 If you have a large tree in your yard, opt for this outdoor Halloween decoration in which you can hang floating ghosts from fixtures! Gather the right amount of wackiness with the support of ghosties made of fabric starch and gauze cheesecloth. To upgrade the eerie atmosphere, brighten the entire tree with string lights. So, for a tree near your house, make something like this and set for the best Halloween decoration ideas party.
Trick or Treat Halloween Decoration At Home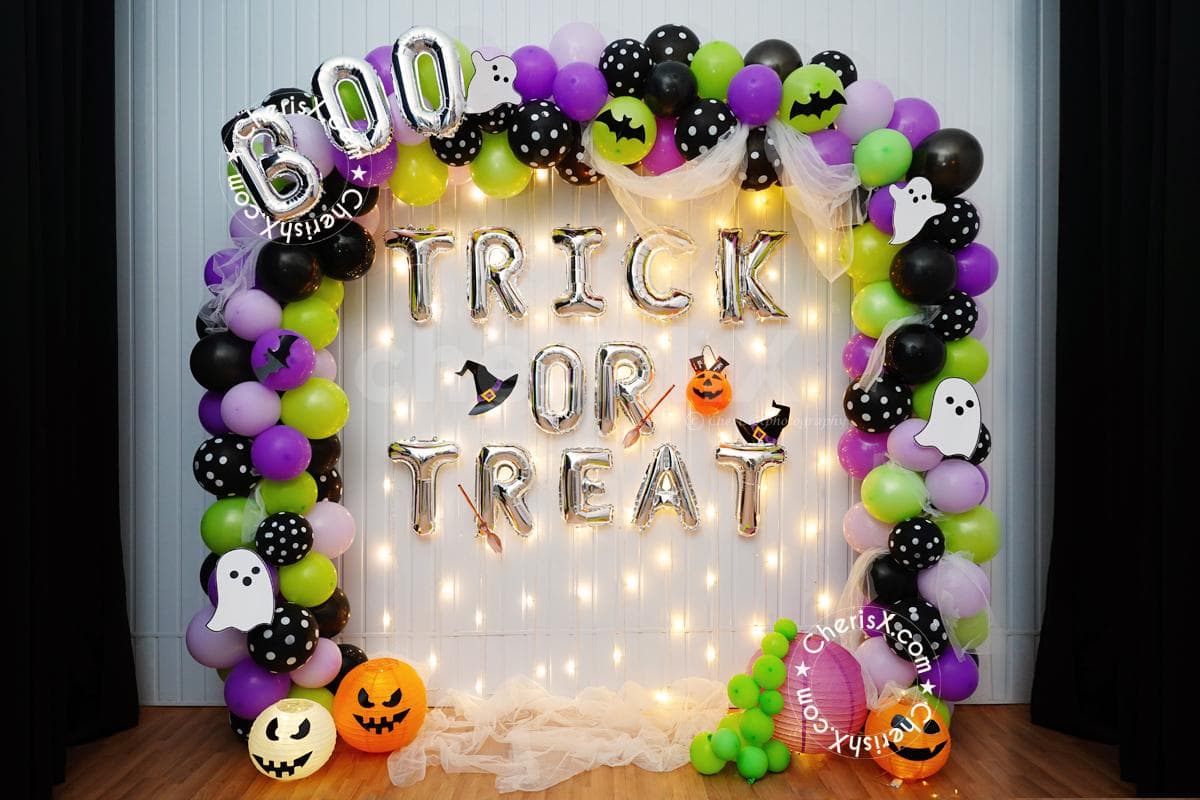 It's Halloween and you are supposed to have fun, eat lots of candies, and act to be a murdering clown or a scary witch. And, for decoration ideas, go with this spooky Trick or Treat Halloween decor and host an unusual Halloween party for your friends and family this year.  This is such a spooky Halloween decoration at home.
For your home or any place of your choice, this wall decor contains an arch of 140 balloons of color black latex, polka dot latex, orange latex, and orange polka dot latex balloons. More, it comes with Happy Halloween golden foil alphabet balloons, Halloween theme bunting, Halloween theme paper lanterns with ghost faces, and pixel light. Let your guests be astonished at this menacing decor. So, get one on with you Halloween decoration ideas party.
Spooky Wall Decor For Halloween Decoration Ideas Party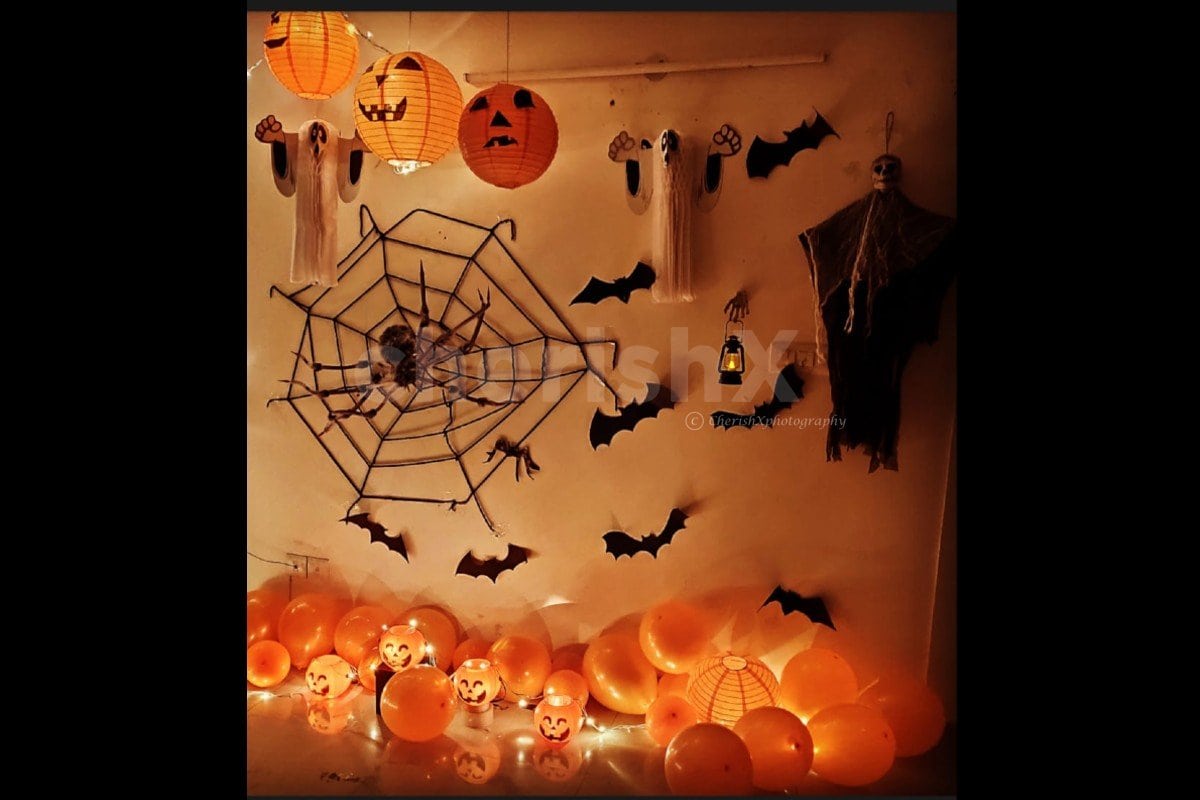 If you want a spooktacular get-together to truly stand out, combine impulsive yet cultured spooky Halloween wall décor. This will convert your Halloween party into a frightful and fun holiday event. This decor entails orange paper lanterns, a big spider web with spiders, haunting paper bats attached to the wall, and scary paper ghosts. Also, get orange balloons, plastic jack-o-lanterns, fairy lights, hand, horror skull props, and spooky Led lamp lanterns with this decor. For the Halloween party ideas inside your home, get these decorations for sure!
Orange & Black Theme Halloween Decoration At Home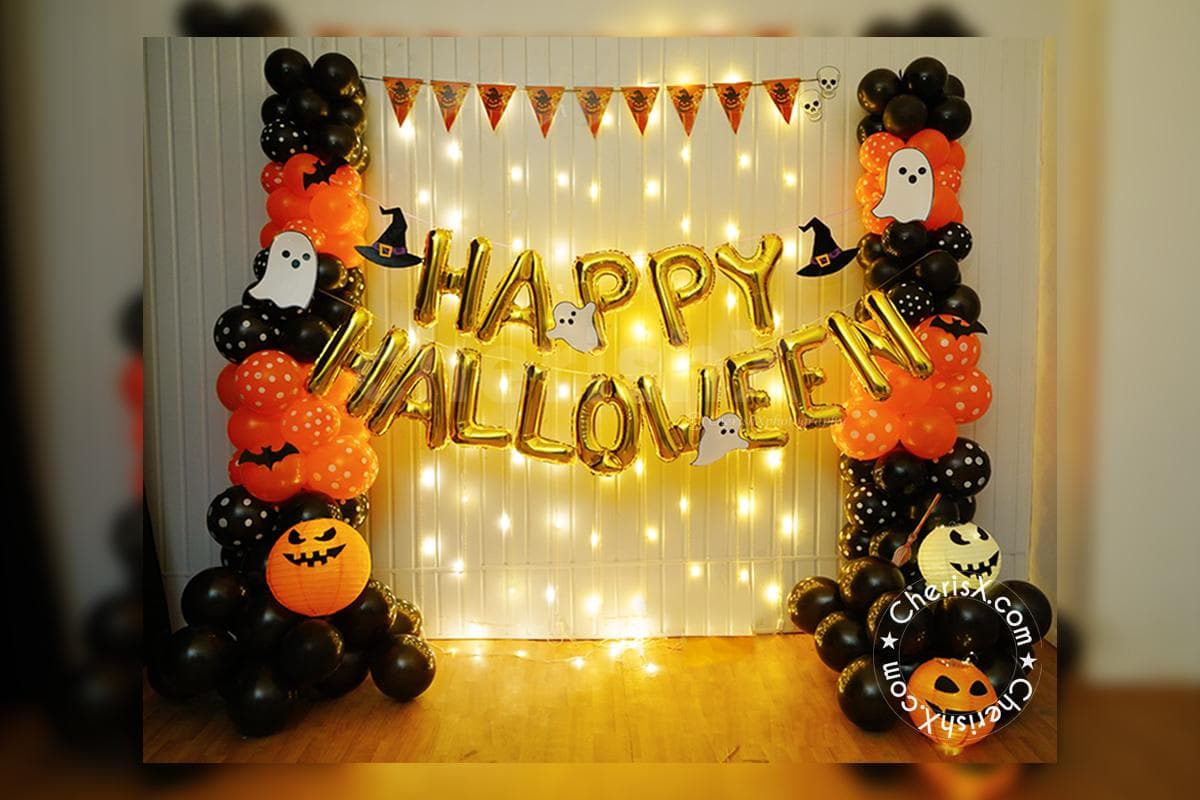 For a perilous Halloween party ideas adults, get this orange and black theme Halloween decor which can be done at your home or any place. This comprises an arch of balloons of color black latex, polka dot latex, orange latex, and orange polka dot latex balloons. Also, with this decor get Happy Halloween golden foil alphabet balloons, Halloween theme bunting, Halloween theme paper cutouts, 3 Paper lanterns with ghost faces, and pixel light. 
Try this DIY Halloween Balloons Garland Kit
Fang-Tastic Halloween Decoration Ideas Inside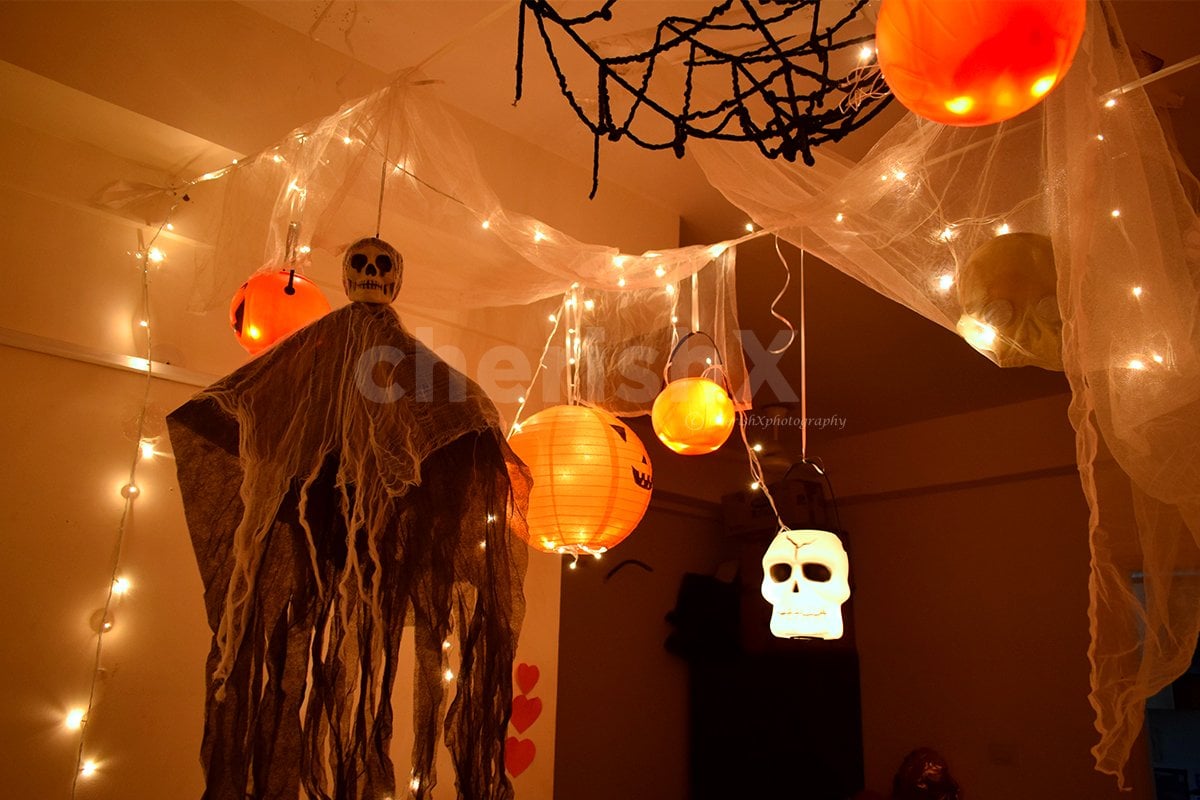 Surprise your guests with this unique Fang-Tastic Halloween home decor. This cool and wonderful-looking theme includes a range of jack-o-lanterns that can be hung on the ceiling, dangling ghost cutouts, white cloth, and fairy lights hanging all on the ceiling. This will definitely give your family and friends a startling experience. This is one of the most spookiest Halloween day decoration ideas.
Halloween Pumpkin Theme Decoration At Home
Celebrate this Halloween like a pro with this ghostly Halloween Wall decor with Halloween Pumpkin Theme Decor. This striking decor can be done at your home or any place and consists of an arch of 200 balloons of color orange latex, green latex balloons, orange pastel frill curtains, BOO golden silver foil alphabets (16-inch), and Halloween theme paper spirals. Besides, you will get Halloween theme paper cutouts, paper lanterns with ghost faces, ghosts, skulls, a white net to form webs on the arch, and pixel light. Get this cutest Halloween decoration at home and kick in for a fantastic party with our mains.
Haunted Windows For Halloween Party Ideas
Make your front entrance creepy by sticking stenciled designs of skeletons, spider webs, rats, and bats on your stared windows. You can also add a tattered drapery and lantern with some plants and pumpkins. This will result in an excellent haunting scene at night on your windows. So, for Halloween decoration ideas inside, get started started with this!
Hovering Witch Hats For Halloween
Witch is the crucial element for any Halloween decoration for your home for this hang some tapered cones/witch hats from the ceiling near the veranda area. Boost the look with the help of floating spiders or candles.
Dreadful Halloween Entrance Decoration
You are not allowed to leave your main door plain this Halloween season; rather, fix some Halloween decorations such as outdoor brooms confronting opposite ways or Horror novel graffiti to complete the touch. Get a gothic Halloween wreath of detailed feathers, a chic crow, and a sizable black bow. Using pumpkins to get started with your Halloween party at home.
Besides, hanging a straightforward and creative signboard idea is an outlandish Halloween decoration of all times. Make realistic-looking grave markers and use boards or foam sheets and spread some crimson paint around to depict blood on the same. See Unique Spooktacular Decorations for Halloween 2022
Eerie Living Room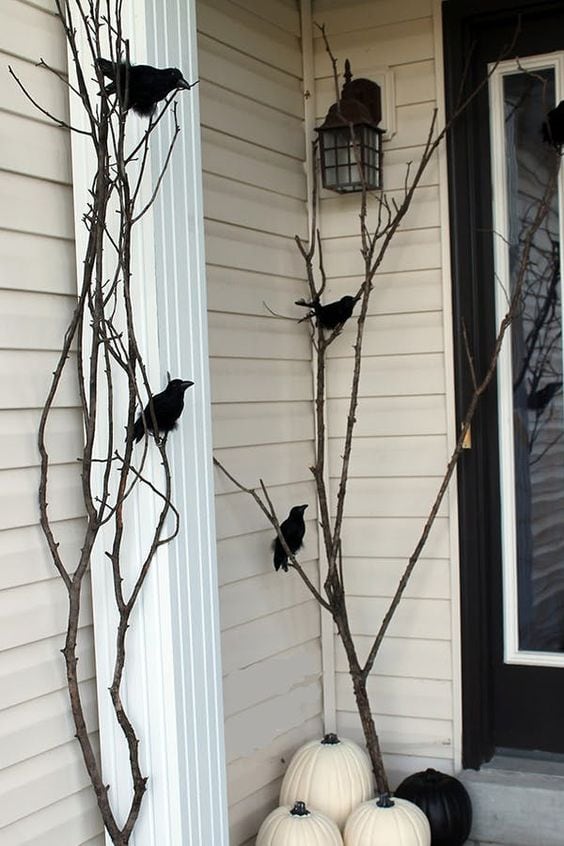 A simple yet dreadful living room will surely spread terror among your guests this Halloween. For this, you can use sheet-draped chairs to create the appearance of destruction in your room and then drape a cheesecloth "cobweb" across a mirror. Use museum wax to stick curly willow branches on candlesticks.
Ghostly Dining Chairs For Inside Halloween Decoration
Offer your dining table's chairs a haunted look and use cheesecloth or cotton gauze cloth to wrap the dining chairs and make them ghost chairs. Also, you can opt for a white colored cloth and make eyes and mouth with black color to make a ghost out of it. Isn't it one of the best Halloween party ideas themes?
Haunted Stairs For Halloween Decoration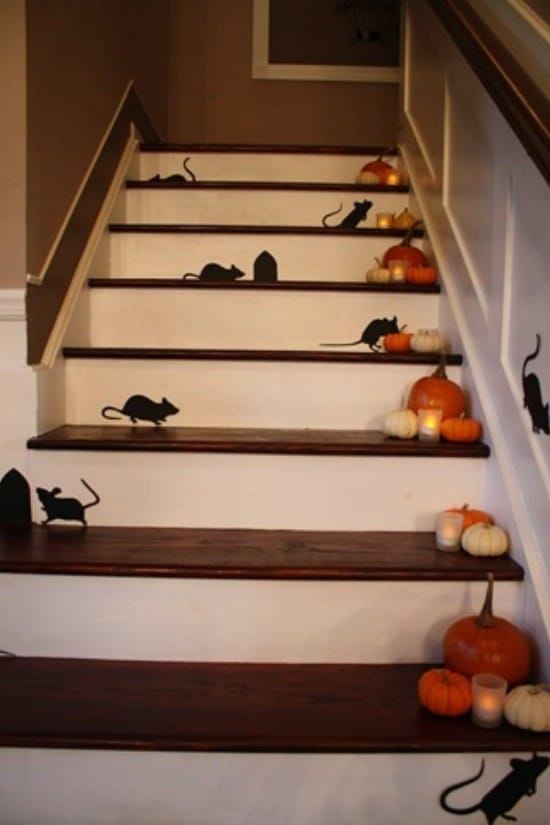 For haunted stairs look- stick a mouse made of black cardboard. Along with this, you can also keep Jack-O-lanterns on the stairs to give a more terrifying outcome. Place these Warm LED Tea Lights on your stairs to enhance your Haloween feels at home
Jack-O-Lanterns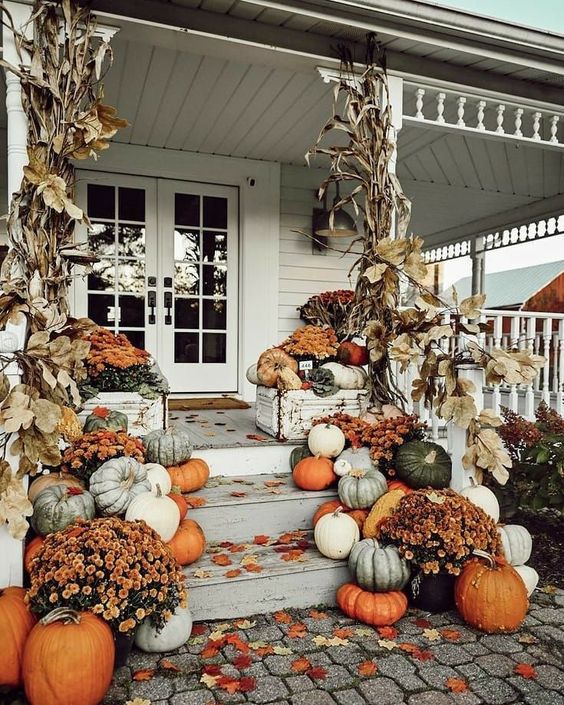 This prevalent and old tradition at Halloween is making "Jack-o-Lanterns" which is based on the folktale of stingy jack, who flourishes in tricking evil to pay him a drink. Create as many jack-o-lanterns as you want and place them on the front porch, in your living room, on the dining table, etc. Also, hang them in the lobby.
Spooky Ragged Curtains For Halloween
For this decoration, take a cheesecloth and cut it with some torn parts to give a mysterious tattered look to your curtains. Hang them near the front door or in the living room to create a haunted atmosphere. You can hang this Scary Skull Head Prop around your curtains.
Halloween Decorations with Broomstick
We all have witnessed witches riding broomsticks in animated movies. Thus, if you are peeking for a last-minute Halloween decoration, simply tie ribbons to the broomsticks and attach them to the door or keep them beside the door. This will surely add a more terrifying look to your home. 
Halloween Garlands with Spider Web
Halloween decorations ideas are incomplete without Halloween garlands, make these garlands with paper and give them any shape of your choice like pumpkins, bats, spider webs, flowers, skulls,` or ghosts. This will add spookiness to the decoration and brighten your spaces and give your home a truly festive vibe. This is the best DIY Halloween decoration at home for you to try at home.
Spooky Food Ideas For Halloween Party
Another last-minute and easy Halloween decoration is a monster décor. Create a monster simply with white colored paper buntings and give the effect of teeth. Stick eyes above it to give a monster look. Explore 55 Easy DIY Halloween Decorations That Are Actually Cool
Final Thoughts
Being one of the oldest festivals, Halloween never halts to capture the interest of both adults and kids and sends chills down their spines! Halloween is the most promising time to embrace your wickedness in a playful manner. Decorate your home to show your unique style and some creepy Halloween decorations.
Why Book Halloween Decoration At Home With CherishX?
To make any event special and memorable, book your Halloween decoration ideas setups by CherishX. With our experienced and skillful team, we promise to deliver only the best goods and services to you.
Let us be part of your memory and make your festival super grand and effortless. We also provide customized services contingent on your needs and requirements. So, get ready to book the best Halloween decoration at home.
So, what are you waiting for? Book our services via call or email today!
FAQs
Question 1: What are some of the best Halloween decoration ideas at home?
Placing skeletons in any place in your home is the most prominent form of decoration idea apart from spider, bat, pumpkin, witch, and ghost themes.
Question 2. What are some affordable Halloween decoration ideas from CherishX?
Trick-or-treat Halloween decor, Spooky Halloween wall decor, Orange and Black Theme Halloween decor, Halloween Pumpkin Theme decor, and Fang-Tastic Halloween Home decor are some of the affordable and finest Halloween decoration ideas from CherishX.
Question 3. Which are the most dreadful Halloween decoration ideas?
The most dreadful Halloween home decoration ideas are haunted scene setters, candle trees, odd-shaped candles, scary pumpkins, neon lighting, and animated props. Besides, paper lanterns and paper ghost cutouts are also some of the spookiest Halloween decorations.
Question 4: Can I have Halloween decoration at home?
Yes, obviously. Making and celebrating Halloween decorations at home is economical and effortless. Just invest in some basic materials like glue, scissors, paper, cardboard, colors, and others. Apart from this, you can book slots from CherishX for unique and creative Halloween decorations.