O
ne couldn't deny the fact that Delhi's love for food is imperishable and every now then, many new astonishing and stupefying cafe's and restaurants keep popping up in our National Capitol. The earlier "Sit and Go" eating out experience has transformed explicitly as people now not only head out in lieu of finger-licking food but also for the ambience and good quality time. People want to feel special and with the restaurants taking their creativity to the next level and flourishing the market with themed restaurants, it has made possible for people to reconnect with their favourite TV and movie characters and shows. The very feeling of connectedness to that particular theme drives you to go there often and savor the amazing food and music.
So. let's find out about these exotic places:
AMALFI
Ciao Amico! Preserving and presenting a tranquil ambience in both of its sitting sections, AMALFI; an authentic Italian restaurant located in Greater Kailash, Sector-2 is a place worth going and spending time and money. Their terrace is a highlight and apparently, it is a great place for a romantic date. Liven up as you enjoy the soothing Italian music with some wine and mouth-watering Panzerotti and Lasagna.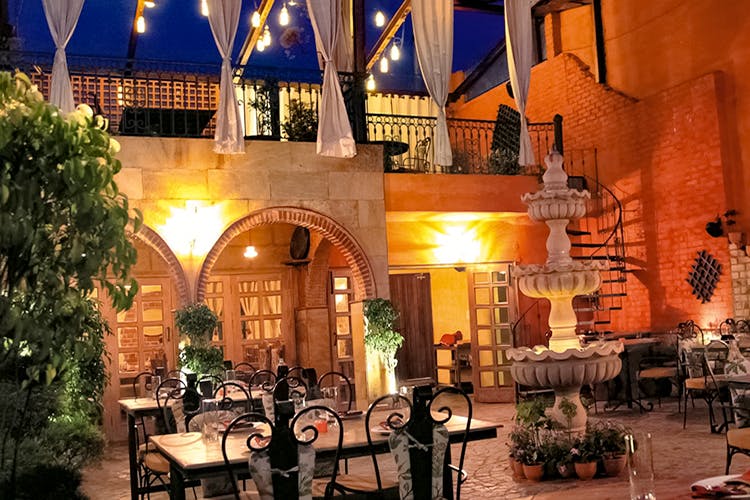 AMRIK SUKHDEV
With the motto of never letting the concept of Dhabas dying, Amrik Sukhdev, Murthal is a place worth mentioning and checking out. Surprisingly, it is more than just a dhaba and is open 24/7. A good place to eat with family and friends and trust me, them Parathas with lots of white butter and Kulhad Masala Chai will not fail to surprise you. Psst..here's a tip..dont miss the crunchy cute little sugar-dripping jalebis! Diet another day!

GRAVITY SPACEBAR
If your love for Interstellar and 2001: A Space Odyssey has made you into a believer of astronomical events and a cosmological freak, well wouldn't chilling in a Space-themed Restobar be an experience worth living. Visit Gravity Spacebar in Gurugram, Sector-29 to get the ultimate experience of getting in shoes of an astronaut and also enjoying lip-smacking shakes and cocktails. If you plan to visit, must try Jama Masjid Chicken Tikka.
GUPPY BY AI
Guppy is a plateful of yummy goodness and then some. You will fall in love with this Anime-inspired cafe located in Lodhi Colony and their claim for the Best sushi in Delhi is undeniable. It is a Japanese cuisine-centered cafe and will leave you mesmerized as soon as you enter in with its prismatic sculptures, wall textures and contrasting color combinations. If you are an Otaku, then visiting this place ought to be on your Wishlist.

ORIENT EXPRESS
Well, the name is self-explanatory It is the most exotic and lavish restaurant and is themed around the world-popular train that travels across Europe. It is in Taj Palace and has been awarded several times for its astoundingly amazing European cuisine; hors d' oeuvres sorbets, and desserts. No wonder it is going to be expensive but an experience to remember.

So, summers have finally kicked in and it is the right moment to step out and discover these extraordinary places. Don't wait- it's time to unwind and treat your tastebuds at the same time!
CherishX has also got some exciting and unique experiences which you can cherish for the lifetime.