Birthdays are an event like festival celebrations. They come once a year and give you a reason to pamper yourself or your loved ones. It is a moment to retrospect how much a person has evolved and brood about the years ahead. It's more than just decorating your home and partying with friends. It is about doing things that are self-reflective and everything else fun. It's about finding good ideas for your birthday.
Some prefer to work and not make a great deal about their birth. In contrast, others try to keep things extra and sumptuous. Some people act like an alarm clock to their friends as the birthday approaches. It is out of their league to contain the excitement. That's one more reason for jotting down a list of fun things to do for a birthday.
Indeed, you can come up with the best birthday decoration ideas at home and plan a party. But adulting is hard, and doing something crazy expensive isn't lucrative anymore. Also, planning a party doesn't seem much of a smooth-sailing thing. Of course, you would be the center of attraction at your party. But there are other cool ways to make your birthday fun.
So here we are with a comprehensive list of all good and fun things to do for a birthday with friends, family, or alone. And you are never going out of fun birthday celebration ideas. We aim to make the birthday plan as wholesome as you can fathom and make you live to the fullest.
Fun things to do for a birthday
What's better than a same-old house party for a birthday? Trust us! We love any reason to party hard, but there are more pleasurable activities that could make your special ones worth every minute. With all the chaos and commotion of our everyday work life, making time a few days before our birthday and relishing every moment of each day is something everyone deserves. So for all the birthday peeps, here are some golden birthday celebration ideas to do:
Activities
Wondering what activities are worth the time to make the birthday a fun event? We will give you all the right ones, and you wouldn't want the day to come to an end:
The fun Karaoke Night
Who doesn't love a good Karaoke night with friends? At a bar or your house—any place becomes fun when you have some good old song lyrics playing on the screen and have to sing them out loud. It isn't the time to be shy and hide behind people in a bar or sit in one corner of your living room wondering how pathetic you would sound singing because you ain't got the voice. But who cares? It's your birthday. So sing your heart out and make the most of the night with this fun birthday celebration idea.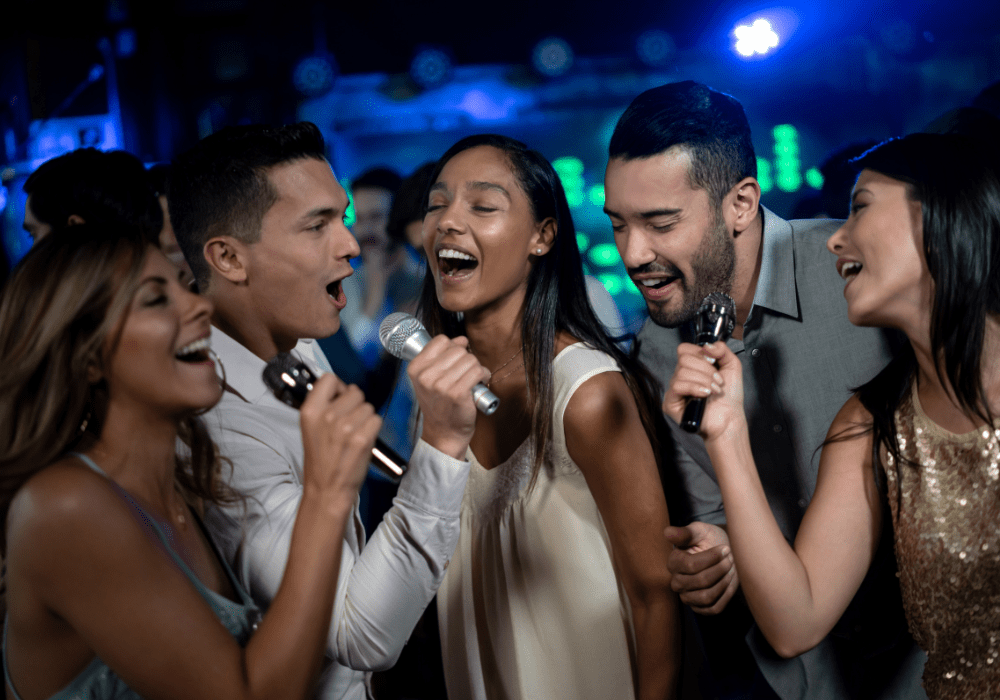 A movie marathon with friends
Have you got a friend with a home theatre, or do you have a smart TV at home? Because there is nothing better than a movie marathon on the weekend before your birthday or on your birthday night. Maybe curate a list of movies you have always wanted to watch alone or with friends; either way, make the day count. Watch horror flicks, jump on the couch or have a burst of light laughter watching all the sitcoms. It is your personal silver screen, so you get the choice to make.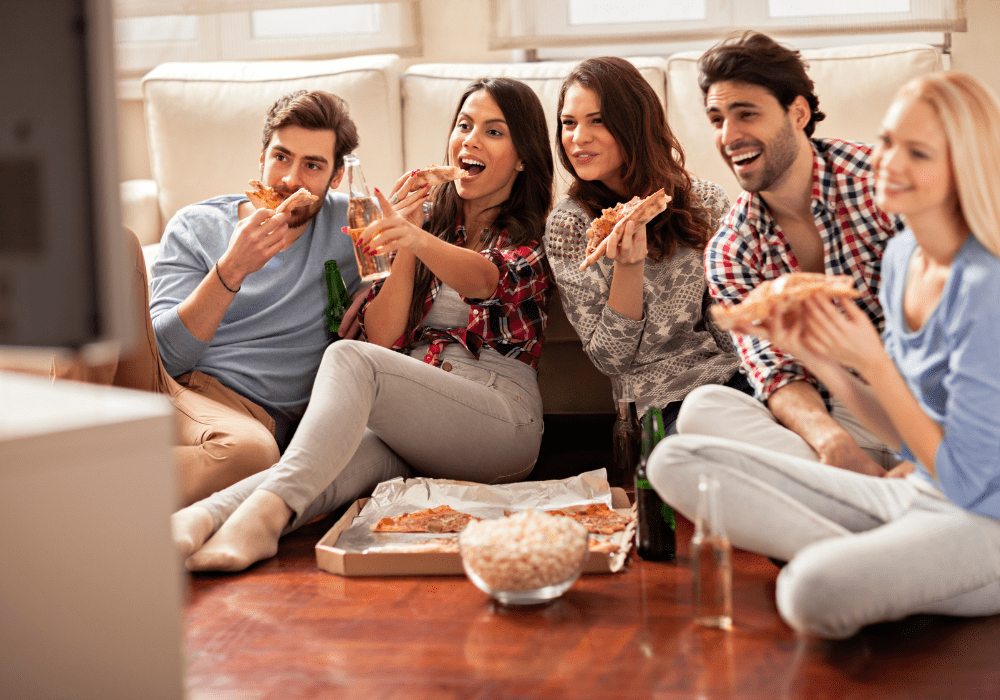 A pajama party night
If your gal (or guys) gang feels like ditching the entire semi-casual look or dressing up, why not feel a little comfy with a pajama party? While everyone pulls their pajamas up, arrange loads of beverages, booze, snacks, and some take-in pizza and plan the most exciting night. Watch rom-coms, crack jokes, discuss some ghost tell-takes, and dance the whole night. Make the birthday pajama night full of memories to reminisce about later.
A fun day out at Amusement Park
Next on the list of fun things to do for a birthday is a fun day out at an Amusement park. Whether it is a kid's birthday or an adult's, rides are one thing that continues to fascinate us irrespective of age. Of course, a merry-go-round might not be a good idea for the weak-hearted, but how about shouting from the top of the Giant Wheel? Sound fun, right? For someone who wants to have fun with the child inside them, ditch the party plans and go out to an amusement park, get on bumper cars, scream wildly on a rollercoaster, take a stroll through the arcade store, and have a hearty meal.
Go on Camping
Are you looking to spend some time in nature close to your birthday? Why not plan a camping trip with friends on the outskirts of your city? Light the bonfire, pitch the tent, and feel natural on your skin. There is nothing better than being in the wilderness and feeling rejuvenated. If you or someone special are an adventurous soul, then camping is a perfect plan where you plan to be part of some outdoor fun games, go on a hiking trail, and spend the night under the stars.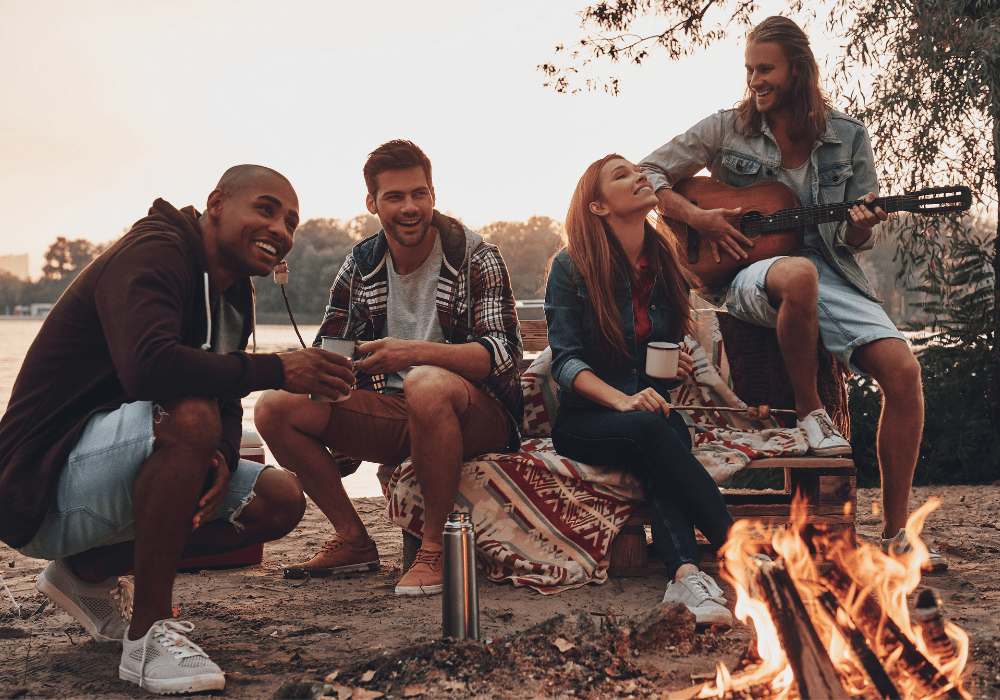 Plan a dance party
How about a plain old dance night without a professional DJ, but just some music tuned on the stereo or, even better, a Bluetooth speaker? Create a list of some party tunes on Spotify and get, set, go! Of course, load your dinner table with some good snacks and beverages so that when you are drenching in sweat after performing all your dance moves with friends, you can relax with chiller drinks and filling snacks.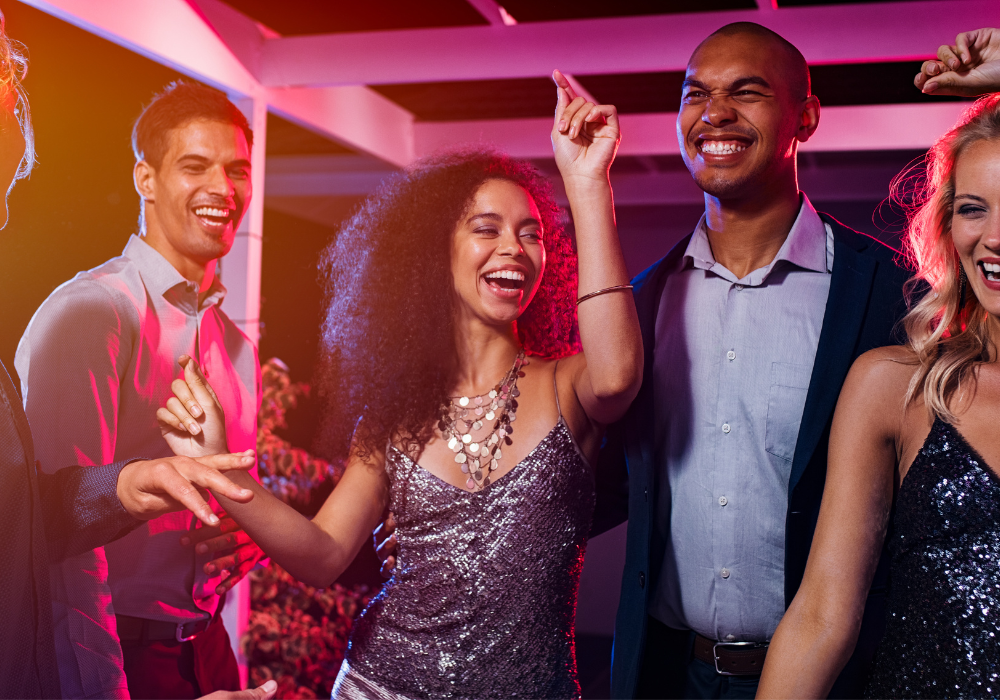 Pamper yourself with a Spa Day
Pampering yourself is the best fun thing to do for a birthday. Adulting is hard, and with every day's mad rush of responsibilities, professional life, and other not-so-amazing things, we forget to cut ourselves some slack.
But on birthdays, you deserve it, and there is no better way to spoil yourself a little than spending a wholesome day at the spa. The feet massage, a stress-busting head massage, a mani-pedi, and a shining new facial. Whatever calm your nerves are the best thing to do.
Jog your mind with a fun scavenger Hunt
And no, this isn't only meant for a kid's birthday party, and adults can have a good time rushing around the backyard to find the planted clues. A treasure/scavenger hunt played in a team of two is fun, especially if a prize is waiting for the winning team at the end. As part of some birthday celebration ideas, a scavenger hunt forces our rusty minds to observe and tap on our brilliant cognitive skills to find clues that complete the game. So next time, plan for it.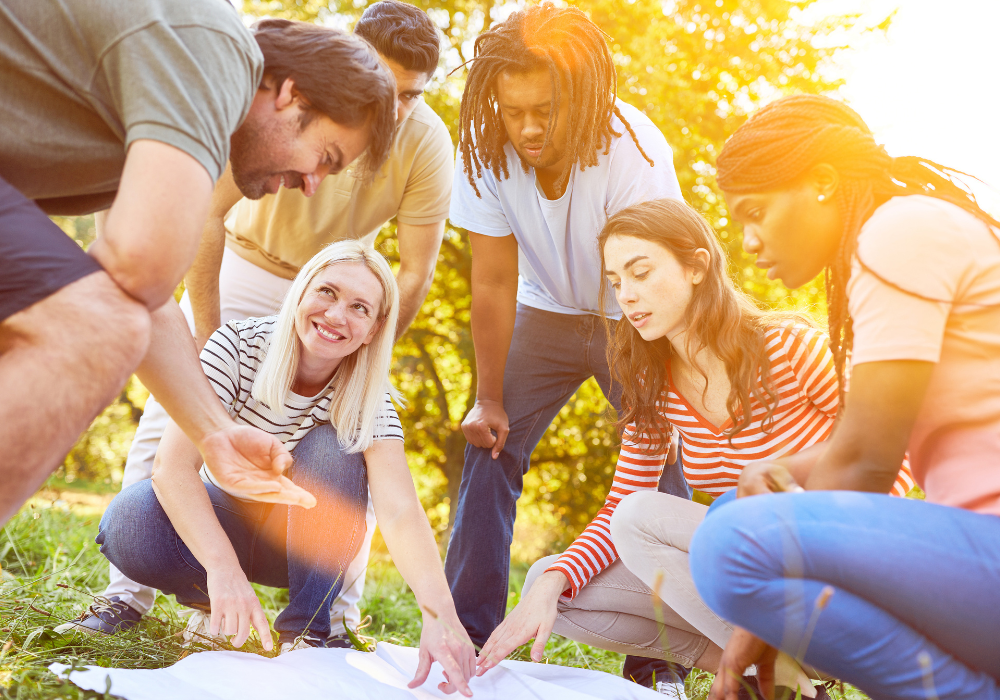 Retail Shopping Spree
Retail therapy is the best way to relieve all your stress, especially for all the women out there. Isn't strolling through the retail store our favorite hobby? We can never deny going to buy some fashionable silhouette for us. Even though we don't need an excuse to go a little crazy with our 'shopping needs', birthdays are special so how about going out and spending a little extra?
A fancy stay at Lavish Hotel
While we are discussing spending a little extra on a birthday but not a birthday party, a pleasant stay at a luxurious hotel might do it for you. Maybe save a little for this one and book a room at a 7-star hotel in your city. Make your entrance into a lovely room with a view, have a nice bubble bath, wrap a robe around, and order-in room service on your comfy bed.
A much-awaited vacation
Birthday is the perfect time to think about all those vacations you have planned, but your work madness and other commitments just become a tremendous roadblock. No more planning, but an impulsive birthday trip getaway is what you would need. This gives you the time to have fun with friends, roam around a place where you always wanted to go, click a lot of pictures, make memories and cross another wish from your list.
Donate to a good cause
With all the fun things to do for a birthday, why not be a little caring and spend somewhere that matters? While we live our life generously and have our privileges, birthdays could be a good time to be thankful for it and share your resources with someone. Maybe sign up to donate to a cancer trial or hospital, generously arrange a feast at an orphanage, donate a sum to an Old-age home, meet old folks there who are practically like your grandparents, or be there for anyone who needs your help.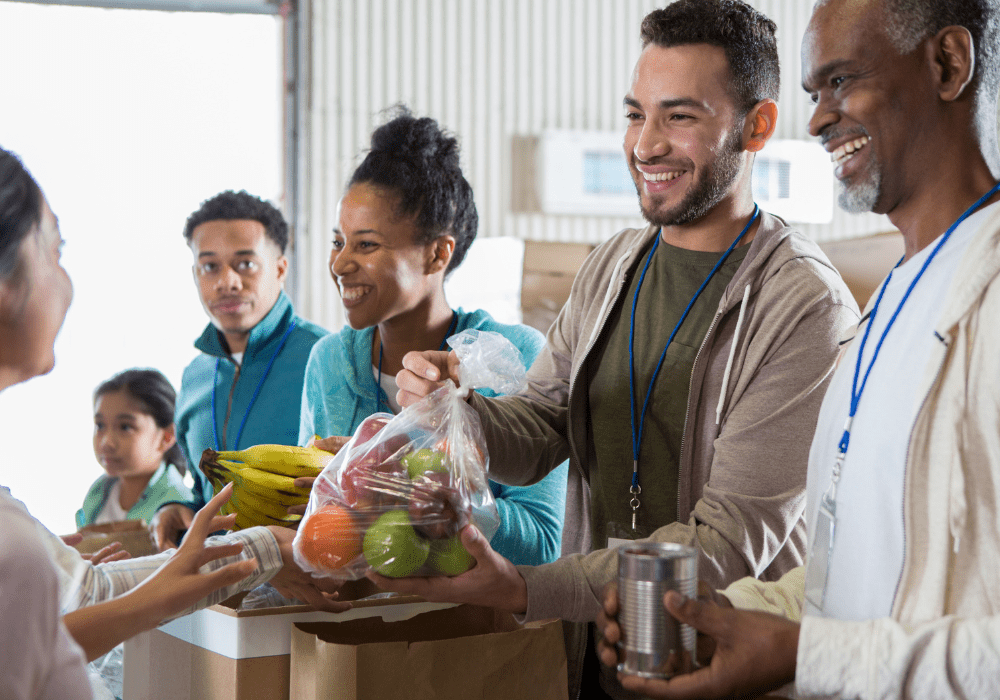 Adopt a Pet
While you think about celebrating your birthday, it is an excellent time to welcome a new member home. Adopt a pet of your choice. It could be a parrot, a dog, a cat, or a hamster. Having a pet has several benefits, such as making yourself emotionally available and your mental well-being. So consider it one of the fun things to do for a birthday or just someone to have with you and care about them.
Host a Game Night with your friends
Playing indoor games with friends is a positive thing to do. Come along to have a good game night when you are finished with dancing, partying, and other stuff. You can bring down all the board or card games you have and vote on which one to play. Our favorite is playing UNO cards because the feeling of throwing +4 is just another level of fun. So get going and plan a fun game night on your birthday.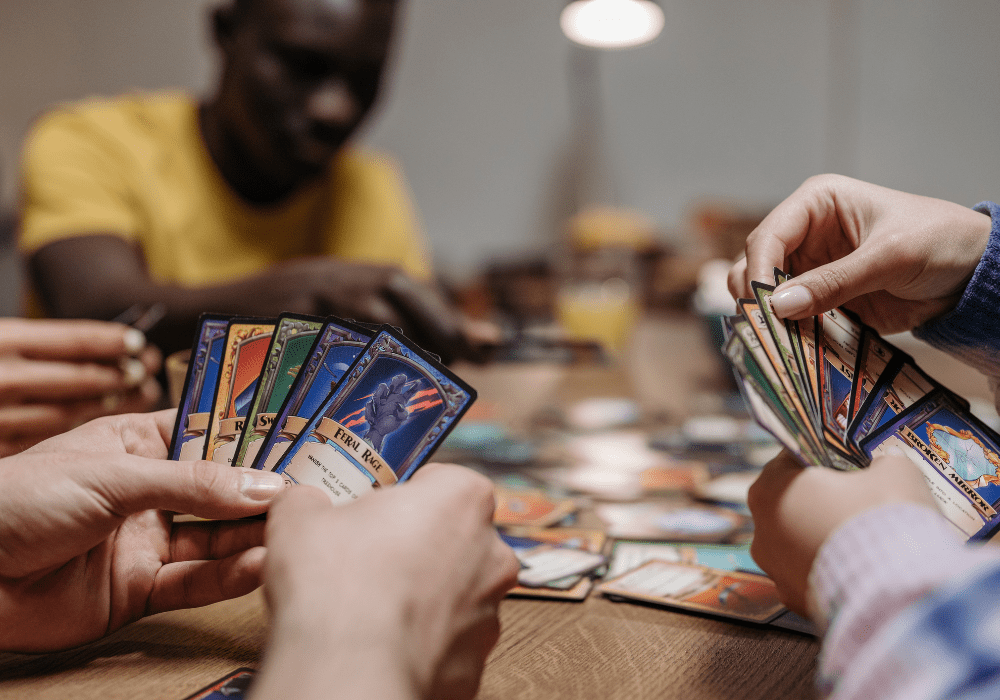 The Barbeque Night
We all love a good grilling any weekend night, but the effort and time it would take would make you keep the idea back into the box. However, birthdays are a special event, and setting up a barbeque grill in the backyard and cooking up some excellent courses is another one of those fun birthday celebration ideas. Put on some feel-good music in the background, take out those grilled meats or cheese and maybe cook a new special meal. The idea is to have fun while you plan this event with your pals.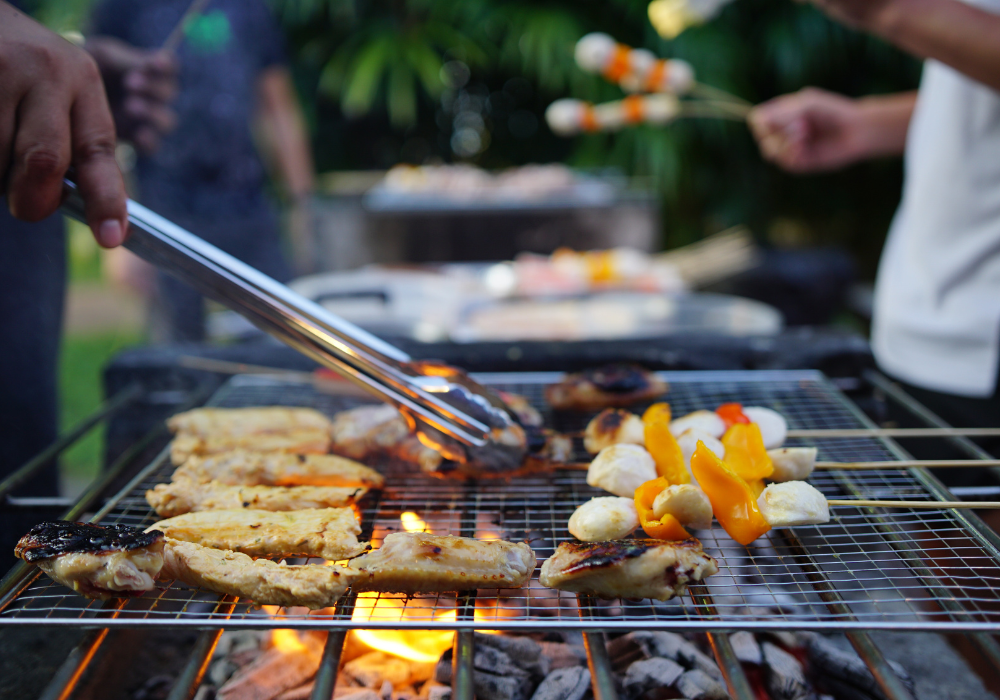 Decorations
Next in line are some of the best birthday decoration ideas at home. For this one, you can have your DIY creativity in place or maybe choose to take the help of a party planner if you are all in for your or someone else's special day. Anyway, we are here to help you take a peek into the best birthday room decorations and blow the mind of your guests:
Sequins Backdrop Decor for Party
A backdrop filled with shimmery sequins is something one can choose when celebrating a girl's birthday. It is a perfect way of glamorizing a party by setting up a spot with a sequins frame at the back and neon-signed happy birthday or happy birthday foil balloons.
The picturesque sequence panel would be a perfect spot for all your guests to pose and post a series of snaps on Insta. So hop onto this trendy birthday room decoration, pair the decor with syncing balloon colors, and place them in an arch shape.
Embellished Balloon Decoration
Wondering what embellished balloons are? This is where you prepare your DIY skills and find all the artsy materials at your home, or you can just get one from a DIY birthday kit supplier. The choice is entirely yours. Either way, embellished balloons look cute and pretty not to have on a birthday, especially if you are planning a birthday room decoration for a child.
Cut out tissues in the shape of flowers or cartoon characters favorite to your child and stick them to a colorful balloon. Tie the balloons in pairs and hang them on the table where you would keep the cake, and you are good to go.
Photo-Op Prop Decoration
Do you like the concept of a photo booth? Of course, who doesn't? It is a perfect place to get a series of picture stamps and cherish them for years ahead. While a photo booth might be difficult and expensive to bring to a house party, how about a Photo-op? You can include a photo-op as part of a birthday room decoration. A hula hoop would be perfect to turn into a photo op decorated with a balloon or a flower arch.
Having a Theme Party
What's better than a theme party? It is a perfect choice for adults and kids both. Based on the liking, age, and gender, plan a 70s theme party, a favorite cartoon character theme, or even a Halloween theme. You are decorating and designing a similar event based on a person's personality.
Boho Love Canopy Decor
Are you planning to propose to your partner on their birthday? Then this boho love canopy decor is a perfect birthday room decoration. You can ask event planning experts to set a canopy in your backyard, terrace, or living room. Regardless of your preference, they look perfect with fairy lights and some heart-shaped balloons flying around. This ambiance is precise to go down on your knees and get on with the marriage proposal.
Neon Ring Background Decor
A ring decor backdrop is the trendiest thing to have for a birthday celebration idea. A photo-op decorated as a frame with fairy lights wrapped around highlights the big Happy Birthday Neon Sign. Neon lights on a ring frame are a perfect piece for a party. They appear even more marvelous when paired with confetti balloon-arch decorated on the neon ring stand.
Unicorn Theme Party
Planning a theme party for your child's birthday? What better one to select than a cute unicorn-themed decoration? Unicorns are every child's favorite mythical character, especially girls who love their pony stuffed toy, school bag, pencil box, etc. Choose a shiny sequin panel for the backdrop and a giant unicorn foil balloon as an embellishment. You can also decorate the room with pastel balloons for a cute look. Oh, and don't forget to order a unicorn-theme cake.
The Chrome Birthday Balloon Decoration
Birthday parties today have a preferable decoration of chrome balloons, and they sure look fancy. Colors like Golden chrome balloon decoration look classy and light up the ambiance of your house. Paired with fairy lights all around the house, chrome balloons tied to the ceiling look heavenly. It is another of the best birthday decoration ideas at home.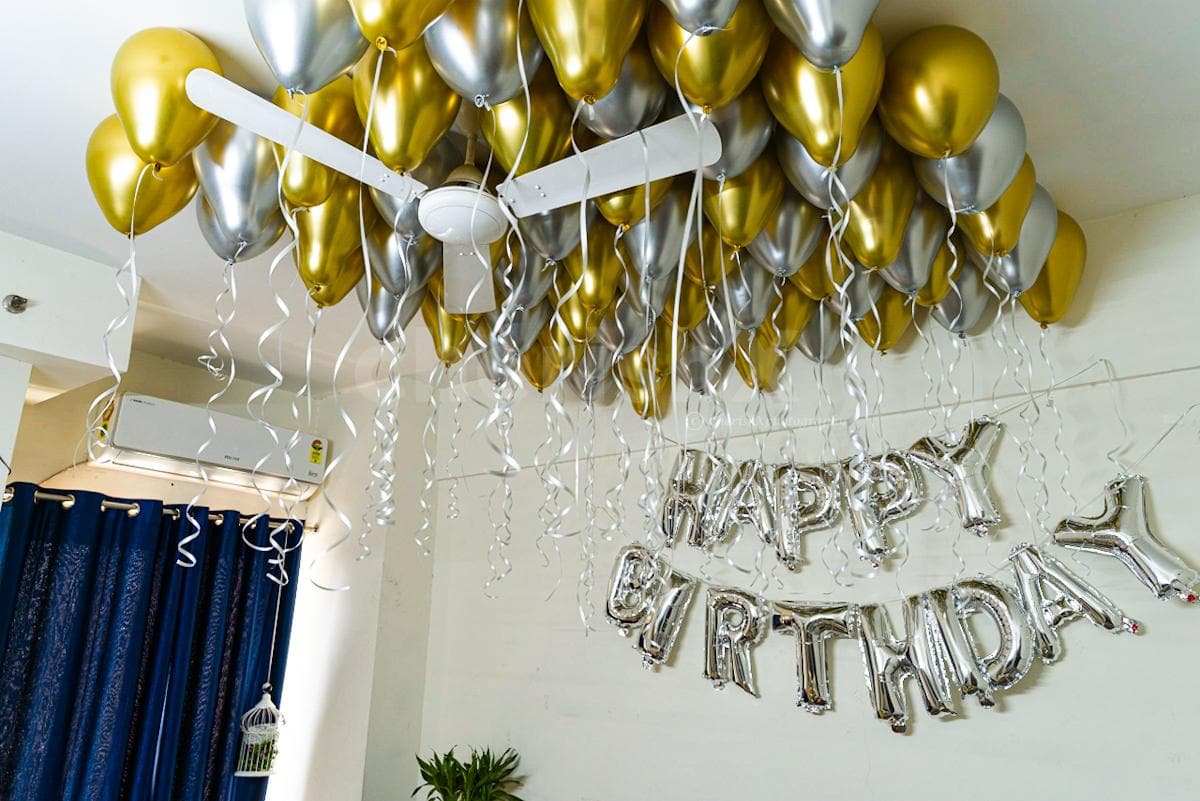 Birthday Cake Ideas
A list of memorable birthday ideas isn't complete without birthday cake ideas. Everyone loves to savor a delicious cake. But how to find the right flavor or design for a cake that goes well with the decoration? Here you go with some details:
Getting The Unicorn Birthday Cake
Unicorn-themed birthday parties are a perfect birthday surprise for your child. And pairing it with a unicorn-themed birthday cake is a cherry on the top. Select the White fondant layering for the outside and a rainbow of flavors for the inside. With a unicorn horn on the top, it would be a sight for sore eyes.
Chocolate Drip Cake
How mouth-watering does a dripping chocolate sound? Everyone loves a reason to savor some dripping chocolate. Plus, it could be a perfect birthday cake idea for baking at home. After baking and icing the cake, freeze it. Then it's time to melt some chocolate chips and drip them over the cake's edges.
The Classic Chocolate Cake
How about a good-old chocolate cake? There is no way it would become outdated to add to the list of birthday cake ideas because it is classy and the easiest one to bake at home. But if you order one, make it as dense and thick as possible. The melting, thick chocolate inside your guest's mouth should be the second highlight of the day after witnessing fantastic birthday decorations.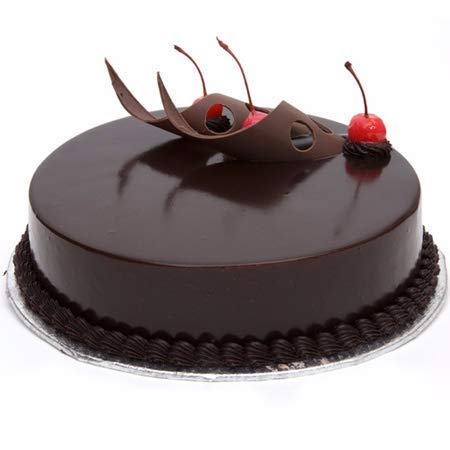 The Birthday Explosion Cake
A single small tower of six layered birthday cakes with fillings of candies, sprinklers, and gems inside. That would be one hell of a birthday cake idea for a kid and an adult equivalent. As you cut the cake, a volcano of chocolate, candies and other fillings flow out, making it worth every penny. Choose to decorate as a rainbow cake from the inside, a chocolate cake layered with cream cheese, or a red velvet cake layer. Whatever feels more like you or the birthday's guest of honor.
The Photo Cake
A picture of your partner imprinted on a cake is a new birthday cake idea preferred by many. Why not you get in line too? A photo cake with a picture of a person whose birthday you celebrate is a special surprise. Add this to your best-cake-ideas-for-birthday list.
Since we gave you a comprehensive list of ideas to plan the next best birthday, how about taking up the struggle of decorating the party too? At CherishX, we have the best designs and ideas to execute a memorable birthday decoration for you or your loved ones. You get the choice of customizing your plans the way you want. Find the best ideas on our website out front.