Are you looking for unique 21st birthday balloon decorations? If so, then you're at the correct place. There are two birthdays in one's lifetime that is significantly more important than the rest. They're the 18th and 21st birthdays. Your 18th birthday marks a coming of age and it's often the age where you leave your home for college. On the other hand, your 21st birthday is when your adulthood truly begins. It's when you start your first job. In India, it's also the legal age for marriage for men. These birthday balloon decorations will make for picture-perfect backdrops and a memorable 21st birthday.
Unique 21st Birthday Balloon Decorations
Sparkling 21st Birthday Balloon Decorations With Neon Lights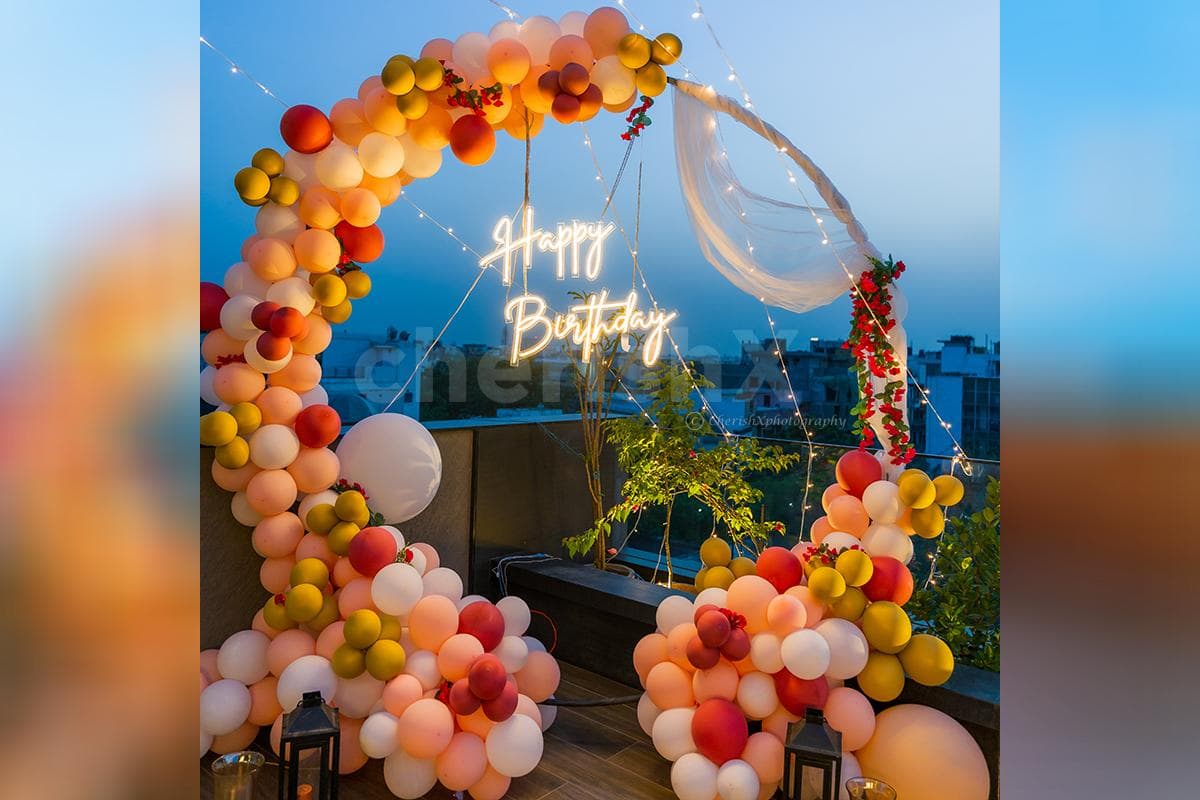 Planning a rooftop birthday party? This Sparkling Birthday Neon Lights Décor will perfectly suit an evening of friends, fun and boozes. It's one of the most enchanting 21st birthday decoration ideas.
Glorious Black & Golden 21st Birthday Decoration Ideas
Golden Chrome and Black is probably my favorite color theme. They look good together and especially with a fairy light decoration as in this décor. Get this Glorious Black and Golden Birthday Décor for just ₹2199. It's one of the charming 21st birthday balloon decorations that will melt your heart for sure.
Happy Birthday Rosegold 21st Birthday Balloon Ideas
This is a beautiful Rosegold Theme Birthday Decoration made with frill curtains, golden and silver balloons, star foil balloons, and a Happy Birthday cursive foil. Can you believe getting all this for just ₹1799? The floating 21st birthday balloon ideas at home are super magical.
Elegant Birthday Arc Balloon Decoration
Your 21st birthday calls for some gorgeous photoshoot. This Elegant Birthday Arc Balloon Décor is curated against a deep black curtain which makes for a beautiful backdrop. The arc is made of golden and silver balloons of different sizes. If you're looking out for something more classy and elegant, then this is a perfect balloon decoration for birthday at home. So, it's one of the sexiest 21st birthday decoration ideas that you should look upto.
21st Birthday Golden Chrome 21st Balloon Decoration Idea
Here's a queen-like birthday décor for the queen that is you. This 21st Birthday Golden Chrome Balloon Décor even comes with a crown shape foil balloon. Wear the crown and claim your world. Moreover, if it's a one of the dope 21st birthday balloon ideas for people looking to surprise their wife/gf with birthday decorations at home.
Pink Sequins & Balloon 21st Birthday Decorations
Speaking of luxury? Here's a Glamorous Pink Sequins Décor to help you celebrate your 21st birthday just the way you deserve. It's one of the apt colors for 21st birthday decorations.
Makeup Theme – Unique 21st Birthday Decorations
Want to glam up your 21st birthday party? Well, get party-ready with this Gorgeous Makeup Theme Birthday Décor. This magnificent décor is made of pink theme balloons, a lipstick foil, a Happy Birthday bunty, and a pink frill curtain. It's one of the simple birthday decorations for a woman who loves makeup. This decor is also one of the most unique 21st birthday decoration ideas.
Silver Theme 21st Birthday Decoration
Your 21st birthday calls for memorable pictures. This Silver Theme Birthday Décor is put against a black curtain which makes for perfect selfies.
Final Words
I tried to put some of my favorite birthday decorations on this list and hope you also liked some of them. We have hundreds of more birthday decorations on our website to make your 21st birthday a special one.
FAQs
Why is 21st Birthday Special?
A 21st birthday is special because it signifies a significant milestone in a person's life. It marks the transition from adolescence to adulthood, often accompanied by newfound independence, responsibilities, and opportunities. This birthday is a time for reflection on one's personal growth and achievements, as well as a moment to celebrate with friends and family, creating lasting memories and setting the stage for the exciting chapter ahead in life.
FAQs
What is special about a 21st birthday?
In India, it's the legal of marriage for men. Moreover, many of us complete our bachelor's and start our first job at around 21-22. So, it's truly the age of 21 when you begin your adulthood.
How does it feel to turn 21?
21 is a milestone in anyone's life. You've just completed your bachelor's, or are about to, and have or will start your first job. It calls for a celebration before you truly begin a life that, we hope, will be full of fun and growing up.