There is barely any individual who could say NO to chocolates. And, the love for chocolates cannot vacate the brain and heart. Therefore, on Chocolate Day i.e 9th February, you have every reason to eat more chocolates. And pamper your better half or partner with distinctive chocolate day gifts. If you are looking for Chocolate Day Gift ideas, here is a list of incredible ideas.
As the month of February is approaching soon so, the breeze of love is all around. The month itself represents love due to Valentine's day. The one week of valentine's enjoyment will start with Rose Day heeded by Propose Day, Chocolate Day, Teddy Day, Promise Day, Hug Day, Kiss Day, and ending with Valentine's day. Hence, this is the finest week of the year to make your partner feel unique.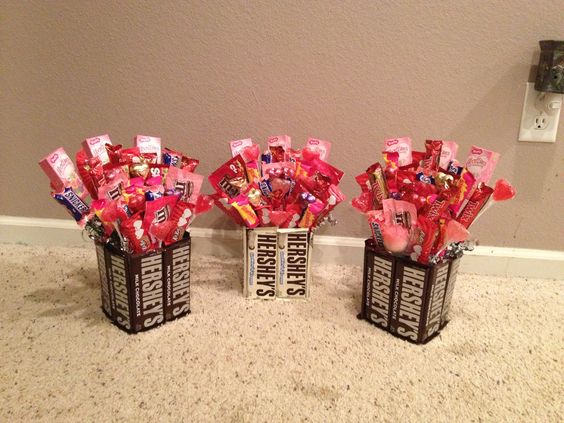 Chocolate day is celebrated on the third day of Valentine's week and the couples articulate their adoration and care by giving and sharing chocolates. Not only for couples, but this day can also be celebrated with family, friends, and colleagues.
For a chocolaty gesture, a heart-melting, and to bring a beautiful wide smile to your better half's face, gift them some unique chocolate gifts. You can scroll down to get a few chocolate day decoration ideas to make the day extraordinary with Chocolate Day surprise gifts.
Unique Gifting Ideas For Chocolate Day Celebration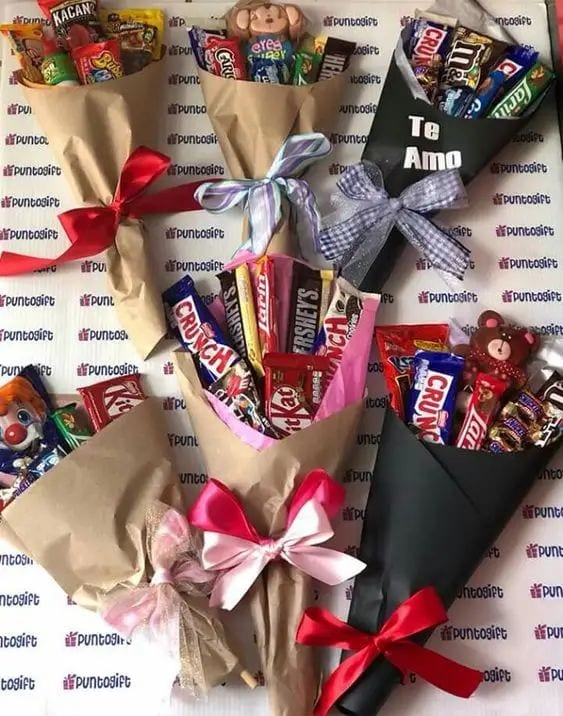 Explore the amazing and memorable chocolate day gifting ideas from the team of CherishX. From chocolates to flowers and balloon buckets to customized options, they have everything to cater to your unique demands and needs.
Check out the entire range below:
Mesmerizing Chocolates Buckets Surprise Gifts
Make this Chocolate day extra special by sending your loved ones love in Cute Customisable Buckets and Balloon Bouquets.
Cute Chocolate Parachute Bucket
Gift this wonderful hamper to your partner this chocolate day and make them special. Filled with exciting things, this cute chocolate parachute bucket includes a white parachute formed by a black bucket filled with white grass, a white lantern on top, and a lot more. Red hearts, red butterflies, nutty chocolate, teddy-shaped golden chocolates, and Ferrero rocher are part of this beautiful package.
Along with all these, a small teddy, a diary in a form of chocolate, a beautiful standard wish card, and a battery-operated light- filled in the lantern and the bucket. A perfect gift to give to someone special in your life. Further, it can be customized to your requirements.
Delightful Chocolate Bucket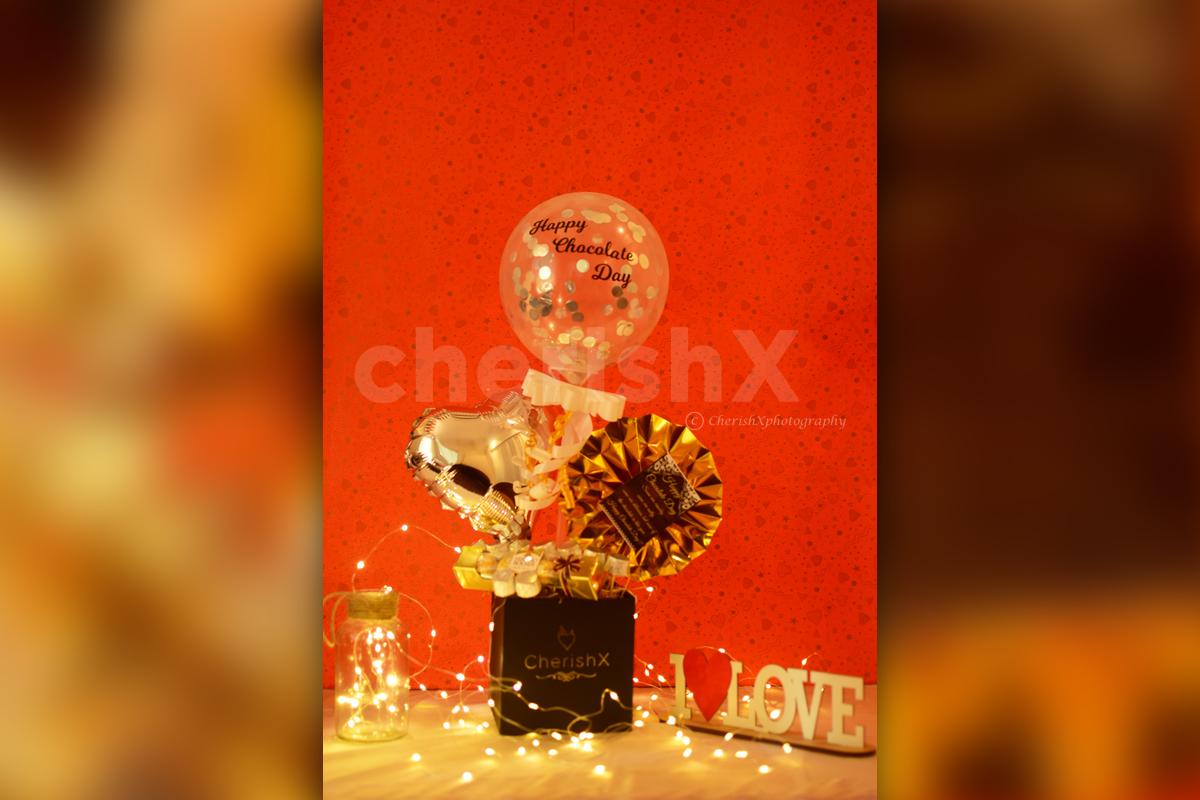 A perfect delightful chocolate bucket gift that you can give your loved ones. With all the uniqueness, we have curated this hamper that consists of silver confetti balloons with the wish in vinyl print, a Ferrero rocher, a small silver heart-shaped foil balloon, and silver chocolates.
Also, to make your partner super excited, it has a golden rosette with a special message. All these are further decorated with battery-operated lights.
Exotic Flowers in Balloon Bucket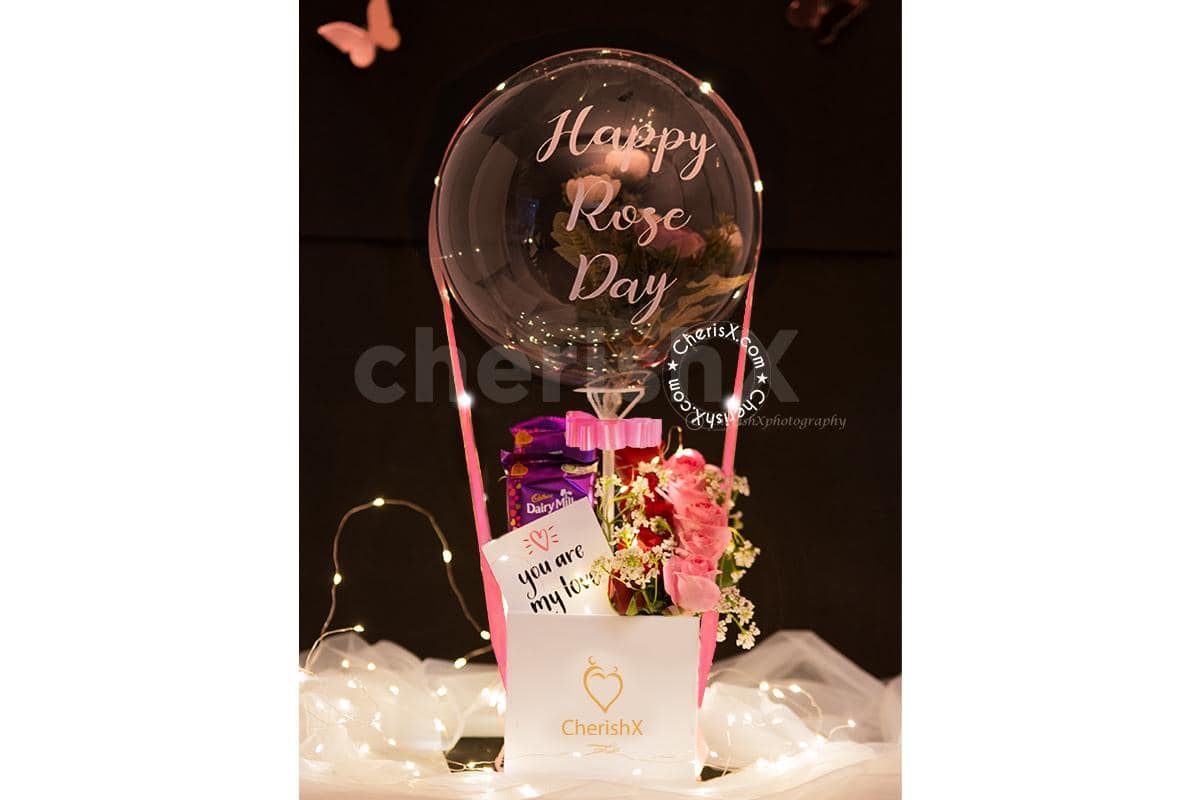 An ideal gift for any occasion, these exotic flowers in a balloon bucket are the right chocolate day surprise gifting option. Swoon your partner with this mesmerizing bucket that includes a customizable white vinyl printing message on the bubble balloon, a white box filled with white grass, and a big size bubble balloon filled with purple and white flower bunch.
For chocolate cravings, you will get Cadbury silk heart pop chocolate, red and pink roses, a beautiful standard wish card, and a battery-operated light.
Hearts of Love Bucket
Celebrate the chocolate day with one of the cutest hearts of love buckets organized by CherishX. This includes wonderful items to pamper your spouse and has a black box filled with bunches of white gypsophila and white grass. It also, includes a silver heart-shaped foil balloon, a red heart-shaped foil balloon, nutty chocolates, a small teddy bear, a beautiful standard wish card, and a battery-operated light.
Hugs and Kisses Bucket
Surprise your loved ones with a wonderful hugs and kisses bucket from CherishX. To deliver the warmth of love and affection, this bucket includes hug and kisses foil balloons, a small silver-shaped foil balloon, lip-shaped chocolates, and a rose rosette. For attractive lighting, it has a battery-operated light.
Rose Bucket With Chocolates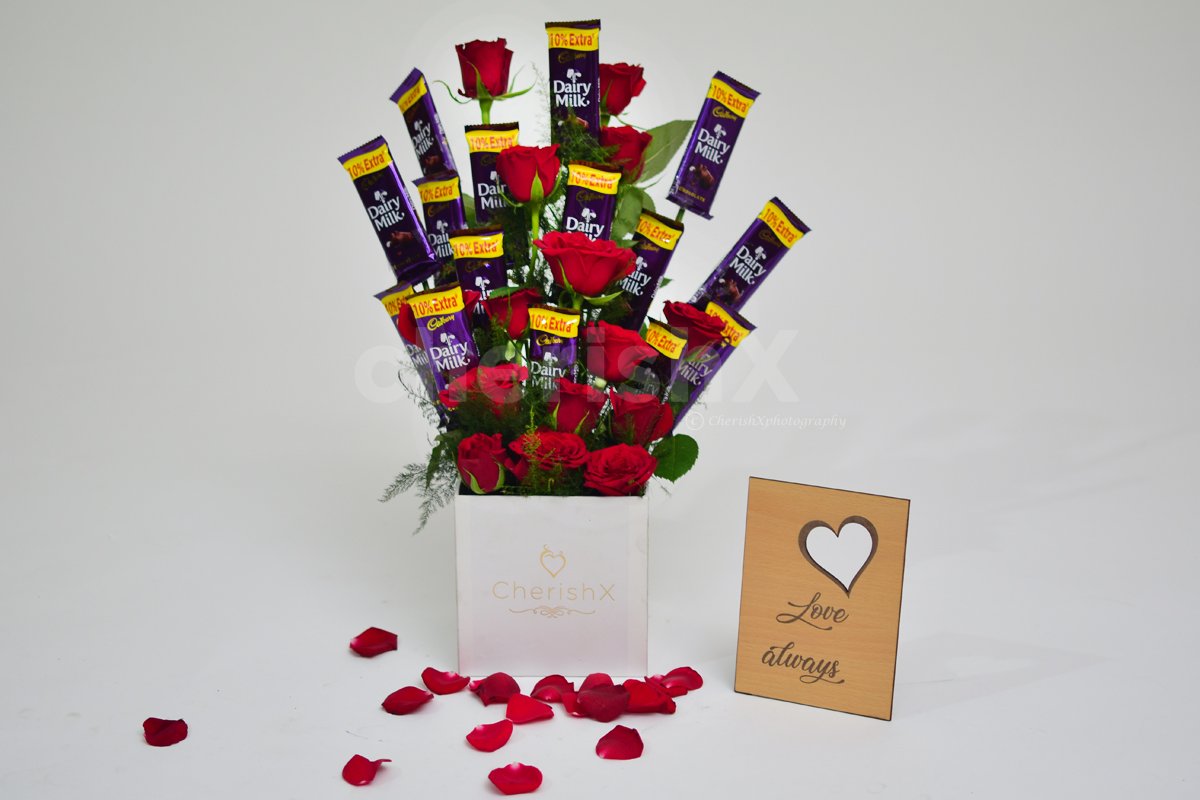 Gift your loved ones this Chocolate day something classy, luxurious, and memorable. The rose bucket with chocolates comes with fresh, fragrant, and booming roses in a custom-created a white color square bucket. Also, the bucket includes chocolates styled exquisitely to melt your partner's heart.
Delicious Chocolate Day Cakes
When we talk about chocolates, how can we forget about cakes, particularly chocolate cakes? Let's dig in some mouth-watering chocolate cakes for Valentine's Day.
Belgian Chocolate Cream Cake
On this chocolate day, indulge in some tasty treats and order this Belgian Chocolate cream cake. Available for both eggless and egg in any quantity of your choice.
Love Infused Chocolate Cake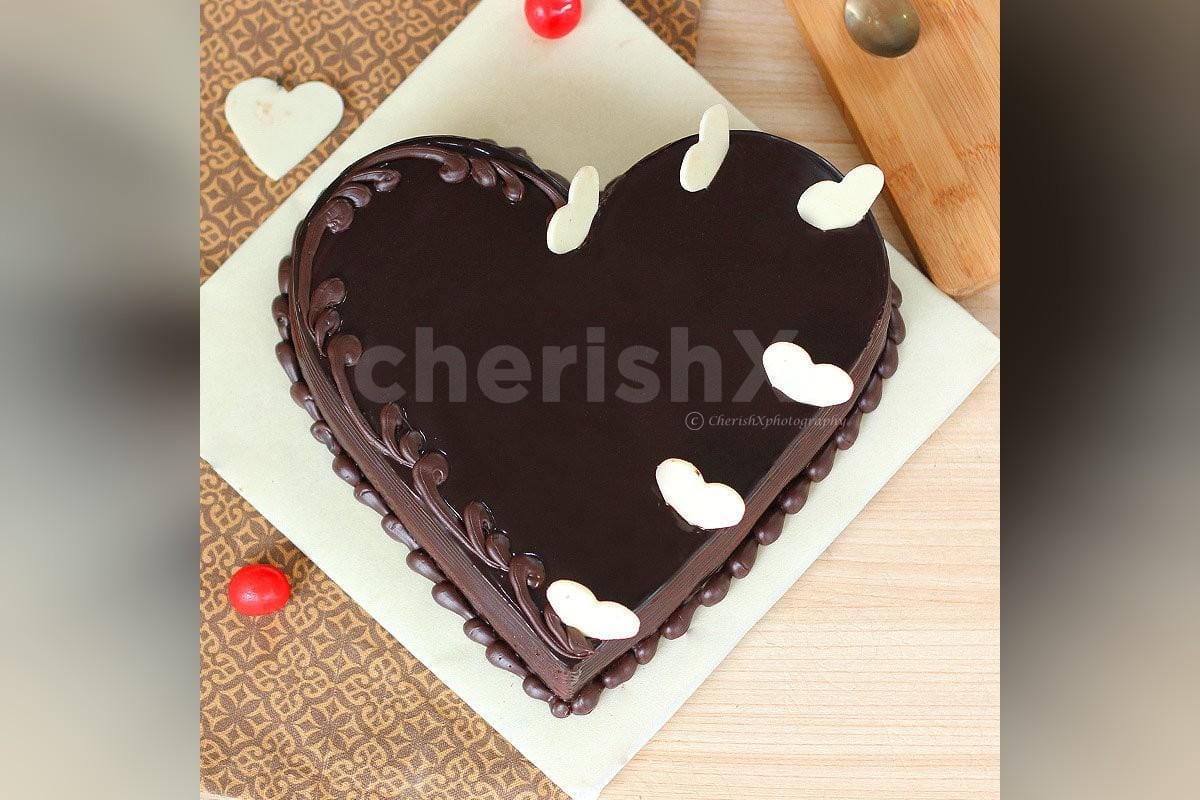 To cherish your love, order this beautiful love-infused chocolate cake. Baked with complete love and hygiene, you can avail of this cake anywhere you want. Same-day and midnight deliveries are also available.
For more delicious and wonderful cakes for the chocolate day celebration, book from CherishX.
Present Some Unique Chocolate Bouquet Gifts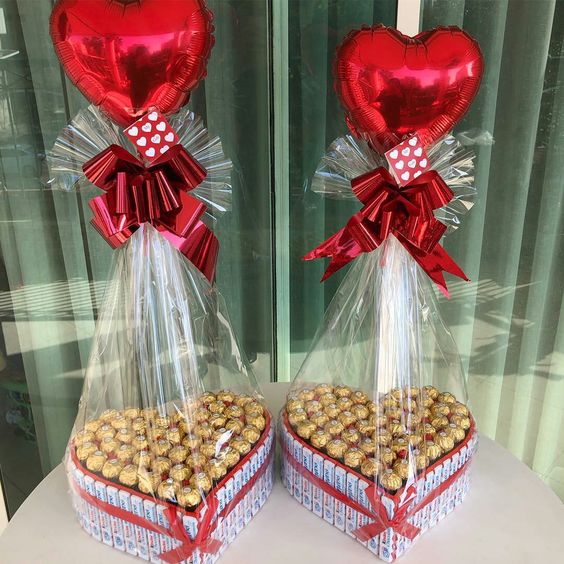 Be imaginative and give an exotic arrangement of chocolates to your mate. Go for the lip-smacking chocolates that are organized beautifully in a bouquet-like display.
A Chocolatey Flower Bouquet
The combination of flowers and chocolates is the best to surprise your loved ones on this Chocolate day. Grab this chocolatey bouquet that has exclusive and beautiful fresh flowers of red and yellow roses with delicious KitKat chocolates. In a cute basket, find decorative leaves all around the flowers and chocolates.
A perfect gift for not just your bae but also for your family or friends. Make them smile with this perfect, small, and affordable chocolate day gift. Customization is available as per your needs!
Kitkat Gems and Roses Combo
Kitkat gems and roses combo is a perfect chocolate day gift hamper curated by the team of CherishX. The fresh flowers are picked from the farm and packed in beautiful paper packaging along with a delicious and beautiful looking kitkat gems cake.
Check out some of the other great Chocolate Day gifting options that we have on our website: Chocolate Day decoration and surprises.
Wrapping up
Design some melting moments on this sweet day by exchanging scrumptious chocolates with exquisite gifts. You can find diverse chocolate day gifts online, which you can avail of with just one click. Get the best surprise gift and have a Happy Chocolate Day.
Also Checkout: The MOST Unique Valentine's Day Gifts for Your Partner
Why Cherish X for your Chocolate Day Gifts
Chocolate Day gives a remarkable reason to pamper your loved one in sweetness.  We are here with a range of various chocolate gifts and gifting ideas that includes some of the best flavors. The range of chocolate hampers includes flowers with chocolates with flowers, chocolates with cake, chocolates with soft toys, chocolate teddy bears, and much more.
If you are perplexed and worried, we have got you protected as we, at CherishX.com have a wonderful selection of chocolates like Dairy Milk, KitKat, Ferrero Rocher, etc. We provide amazing Chocolate day gift hampers and flowers, cakes, and other gifts.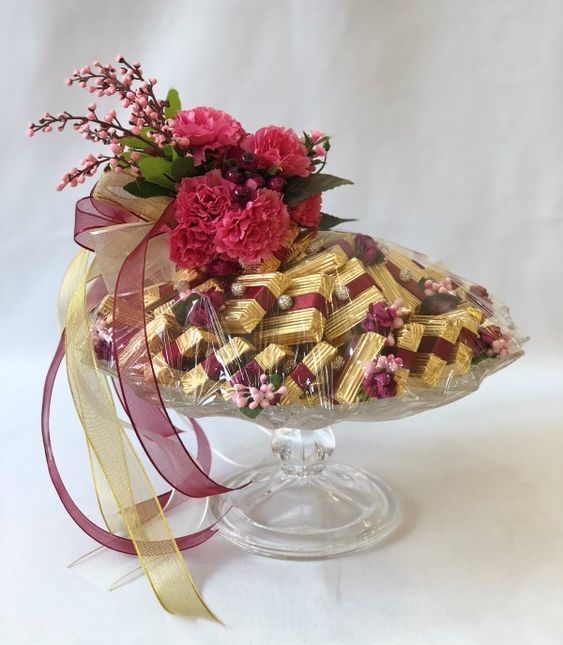 In the age of online shopping, it is soundest to send gifts to your loved ones online. With our special services, we will ensure you have the best gifting experience. Also, we are a perfect Valentine's shopping guide for you as we assist you to choose the best valentine's gift for your special someone. Avail of our extraordinary services like same-day delivery and experience hassle-free gifting.
We provide gifts at a pocket-friendly price and understand the requirement of every type of recipient. All our products are hand-picked, handcrafted, and assembled under the guidance of in-house curators.
FAQs
What are some special Chocolate day gifts for boys?
To celebrate the love, CherishX has curated some of the finest chocolate day gifts for boys that include a chocolate initial rose bucket, personalized chocolate card, chocolate bubble surprise, and a lot more.
What are some of the finest Chocolate day gifting options?
The market is flooded with the awesome chocolate day gifting range. To make your special someone feel loved and show your care, you can check out the amazing, unique, and affordable chocolate days gifts. Like a flower bucket, flower, and chocolate bouquet, hamper of different items, and a perfect amalgamation of flowers, chocolates, and teddies. 
How to order the chocolate day gifts from CherishX?
To book chocolate day gifts from CherishX, you just need to follow some easy steps. Visit the official website, choose the combo online as per your preference, select the date and time of the delivery, fill out the required details, and make the payment.
That's it! Now just sit and relax with your chocolate day gifts will be delivered to your respective address in the allotted time period.