Get ready for a dash of colors with a splash of water coming your way. Yes, it's "Holi", India's most cherished festival is around the corner.  And, the Holi celebration is here to make some of your days colorful. So, get ready with trendy Holi outfits!
The most expected festival is approaching; after the winter chills, Holi is on its way to fetch the feel of summer and its warmth. Many people organize Holi parties at their homes with Holi Theme Decorations to commemorate this cheerful occasion.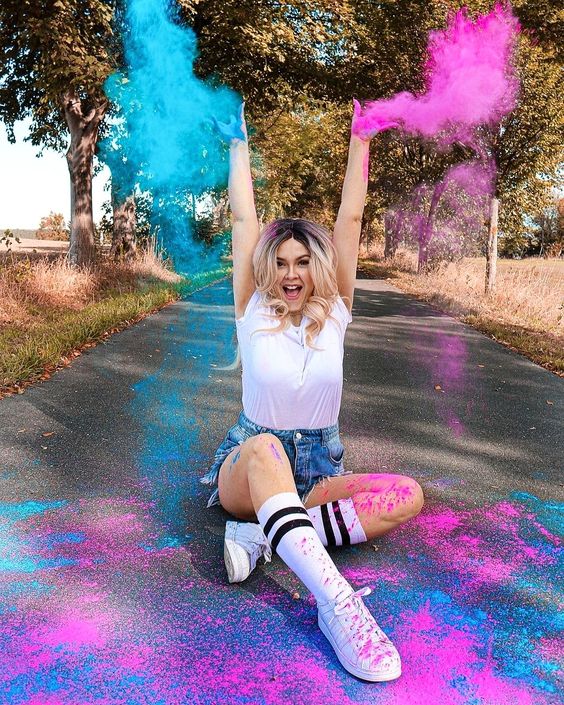 The common scene you will observe on Holi will be something like this- wearing a white Kurta, all dipped in colors, having a glass of bhang, gujiyas are frying in the pan and little babies are pointing water guns at each other. Did that precious moments bring a smile to your face?
If yes, then it's time to get super ready for Holi with your wardrobe. Well, let's dive into some fashion tips and tricks to assist you to become the Holi 2023 fashionista.
Top Holi Outfits To Celebrate Holi in Style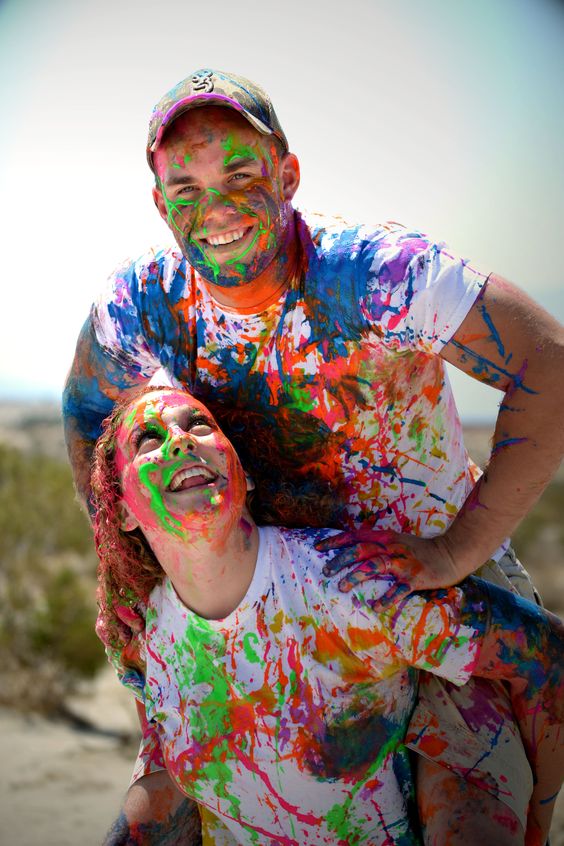 Many people believe that Holi is a festival that doesn't require a lot of dressing up, but that's not true. Nowadays, dressing up stylishly on Holi is as influential as it is for Diwali. So, if you worrying about finding the right Holi outfits that make you look trendy and appropriate give you the right Instagram Holi OOTD! Keep on reading with us!
Colorful kaftans
Kaftans are the most comfortable style piece as you can walk, run and dance freely in them. Being a perfect piece, you can choose a knee-length kaftan, pair it with funky flip-flops, and you are ready to rock!
Hot pants and a full-sleeved loose tee
Denim hot pants are our favorite effortless style piece. You can pair them with vests, tees, long tees, or shirts for that cool and casual look. You can go for a full-sleeved loose tee, as the tee wouldn't stick to your silhouette after getting all wet and won't make you uncomfortable.
Crop top with palazzo or skirt
Crop tops are still quite much in vogue, and for a Holi celebration, picking a skirt with a crop top will add an ethnic touch to your look. This will also make you super comfy while dancing on some of the Holi mashups.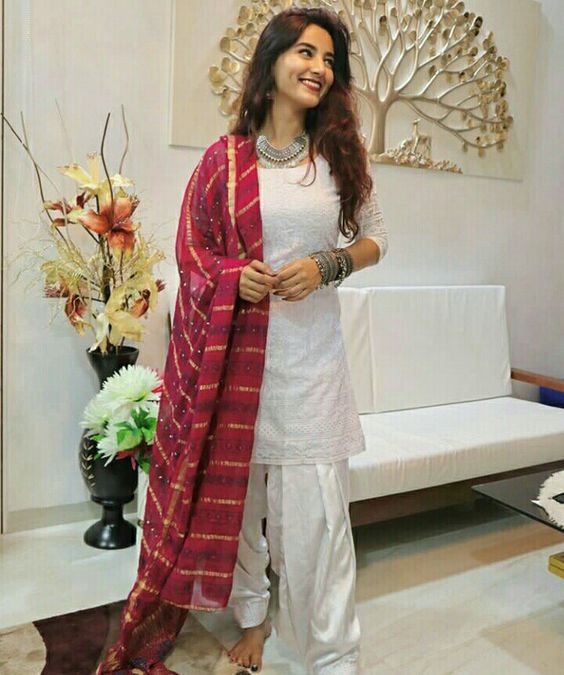 Kurta with flared pants
This is undoubtedly the safest style as it amalgamates the essence of traditional wear and comfort. Pick a brightly colored kurta with a pair of dark-flared pants and add some bangles and cute chappals.
Old denim with cool tees
A pair of distressed denim must be part of everyone's wardrobe. Then, take that oil denim that you never wear and see the light of the day. Find a cool cartoon or superhero tee and match it up with rough denim. This look will make you super chic! Also, boys can carry this look as this is an effortless and simple outfit idea.
Saree
There's nothing that can beat the look of a saree. Though you require a lot of confidence to pull out the saree perfectly. Do not choose anything too blingy or bright rather select shades like yellow, navy blue, bottle green, maroon, purple, etc. This will definitely be going to represent your Bollywood diva avatar.
Some must-have Holi accessories for Holi Celebration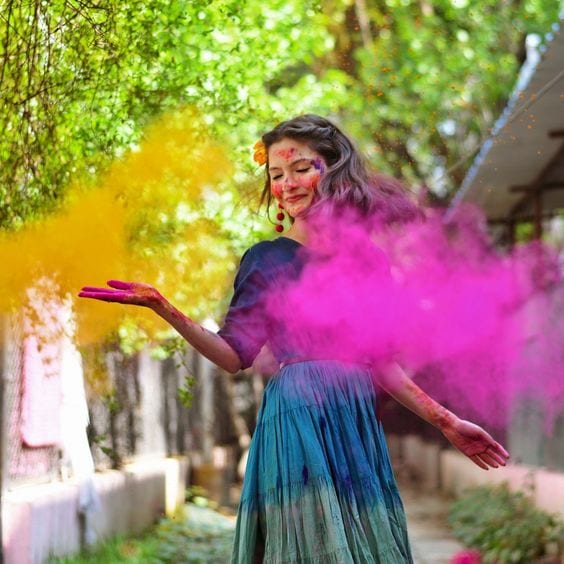 After discussing thoroughly Holi outfit ideas, let's give equal importance to accessories. However, our recommendation is to keep accessories minimal and fairly handy for the day. Also do not opt for anything too expensive or not water-resistant. Some of the best Holi outfits accessories ideas are:
Eyewear: Investing in a good pair of eyewear is very essential as they cover your eyes appropriately to keep you safe from dry colors or any allergies.
Bandana: Tie your hair in a bun or ponytail and wrap them with a cool, colorful bandana. This will protect your hair and give you a cool look too!
Flipflops: A funky flip-flop is an ideal companion for a Holi party. Your feet would ought something comfy like a flip-flop.
Cool cap: A cap will enhance your t-shirt or tea-bag vest look and also save your hair from potential damage by color.
A pair of bangles: Remember the cute and trendy iron bangles that were quite prevalent in the early 2000s? Let's bring them back. These bangles would look nifty and cool with all of the outfits aforementioned. They stand out for their ethnicity and bring the modern-day look as well.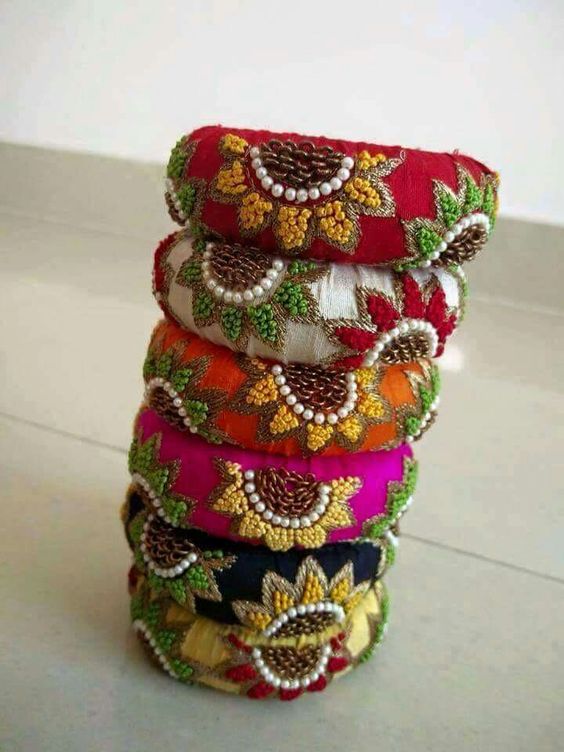 >>Tap to checkout exciting DIY Holi Party Supplies for your Holi Party<<
How to prepare for a grand Holi celebration?
Now that you have decided what to wear on Holi, let's take you through a trail of prepping-up tips. Prepping up for Holi is a tough task as you have to get a lot of stuff ready if you're preparing to play Holi on Dhulendi. Here are some wise tips:
• Oil your skin- One of the important tips to keep your skin protected from Holi colors is oiling it before moisturizing it. Pick coconut oil for the same and the moisturizer on top will be a protection for your skin.
• Oil your hair- This is a piece of basic advice. If you don't want to look greasy, opt for baby oil.
• Say bye to contact lenses- Holi is not the time to wear contact lenses. The colors can get into your eyes and ruin your lenses giving an allergy to your eyes. Instead, wear your glasses and carry a wipe to keep them clean all time.
• Go for purple or black colored nail paint- If you don't want multi-colored nails, paint your nails dark. Pick black and purple nail paint instead of any light shade.
Hope these tricks and ideas will help you to get rolling for your Holi celebration, and you will look stylish!
Happy Holi Folks
Holi Celebration with CherishX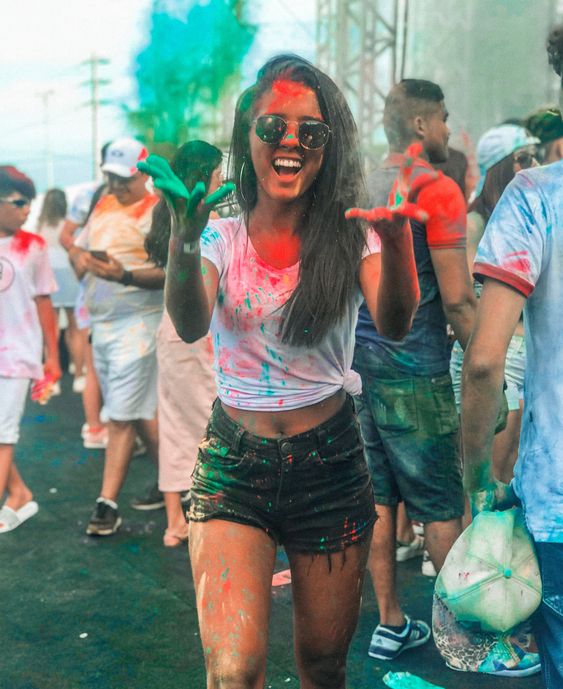 Now be prepared to wash off your fears and fill your life with bright colors this Holi festival. Dress up and look dapper for Holi. Mind these tips and tricks, and be keen to welcome a train of praises.
Want to get amazing Holi Decorations ideas as well? Well, get in touch with the CherishX team and make every occasion grand and memorable. 
Wishing you all a very Happy Holi in advance.
FAQs
Why do we prefer to wear white-colored clothes on Holi?
When we think of dressing up for Holi, the first color that comes to our mind- is white. It's a flawless color to wear on Holi. It's one of the most preferred colors when women go shopping for Holi. Do you know why? Well, it's quite simple. Holi is a festival that paints you in colors, So, be the perfect canvas and paint yourself with beautiful and bright colors.
Also, white makes us look peaceful and happy, pleasant and tranquil. And, Holi is about spreading happiness. Wearing white as a sign of peace and having colors adorn your clothing as a mark of cheerfulness completes the festival.
How do look fashionable at a Holi party?
There is nothing better than ethnic wear for any Indian festival. Also, it is important to match the outfit with the mood of the event. Holi mood is something beyond; it makes you feel drunk even when you are not. So, you can wear some above-mentioned outfits that will make you comfy and stylish.
What to Wear on Holi?
A pair of jeans, a kurta, and a dupatta is your best pick for Holi. This is something that most women choose.