Are you longing for a getaway with your partner? Look no further. Check out the staycation in Delhi NCR that promise a perfect weekend escape or staycations for couples. Break free from the monotony of daily life, celebrate a special occasion, or simply cherish quality time together. Let's explore these exquisite hotels and resorts in Delhi NCR.
Best Hotels In Delhi NCR For A Perfect Staycation or Daycation
1) ITC Grand Bharat
Nestled in the picturesque Aravalis, the ITC Grand Bharat Resort is a masterpiece of luxury. With 103 opulent villas and suites, this all-suite retreat promises a lavish experience. Indulge in world-class amenities, including a 27-hole Jack Nicklaus Signature golf course and a royal spa for holistic wellness. What's more, this is one of the finest resorts in Delhi NCR that offers private pools for relaxation and rejuvenation. So, if you want to spend some time with your loved one amidst the luxury, spend time hand-in-hand with your partner in lush-green areas, then this is one of the top 10 hotels in Delhi NCR. Moreover, if you are also interested in playing golf or getting a rejuvenating spa together, then yes! don't miss out on one of the luxurious staycation in Gurgaon.
Address: P.O. Hasanpur Tauru, Gurugram, Haryana 122105
Suggested Read: Best Places for Candlelight Dinner In Hyderabad for a Perfect Romantic Evening- 2023 Edition
2) The Radisson Blu, Sohna
Experience the epitome of luxury at the Radisson Blu Hotel & Resort, Sohna. It one of the top 10 hotels in the Delhi NCR region. Their rooms are designed to offer you the finest in comfort and style. Each room is equipped with modern amenities. Relax and unwind by their inviting pool, complete with a swim-up bar. Moreover, sip on your favourite beverages while soaking up the sun. Their dining options are a gastronomic delight, offering a variety of cuisines to tantalize your taste buds. If you're in the mood to explore, you'll find excellent restaurants just a stone's throw away. Their fitness gym centre is at your service. And for the ultimate relaxation, indulge in a rejuvenating spa session. At Radisson Blu Hotel & Resort, Sohna, we believe in exceeding your expectations at every turn. Have a great time at the luxury staycations near Delhi.
Address: Main, Badshahpur Sohna Rd Hwy, Block S, Sector 49, Gurugram, Haryana 122018
3) Country Inn, Gurgaon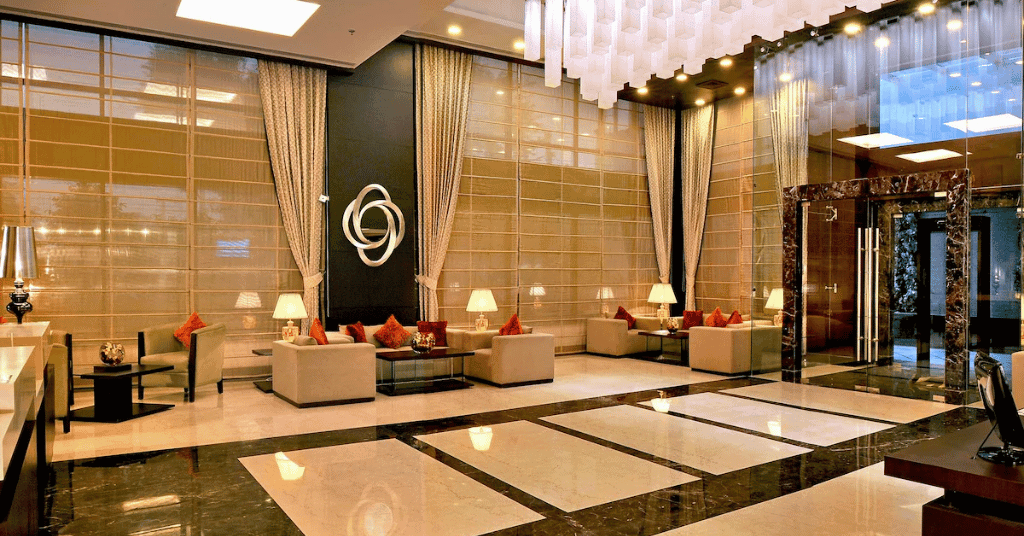 Experience unparalleled luxury at Country Inn, where opulent accommodations and exquisite dining await your arrival. As you plan your romantic getaway at one of the top 10 hotels in Delhi NCR, prepare to immerse yourselves in a world of relaxation and comfort. This 4-star gem is strategically located, making it an ideal hub for exploring some of Delhi's most iconic attractions, including Qutub Minar, Chattarpur Temple, Lotus Temple, and more. Upon entering your well-appointed room, you'll discover an oasis of tranquillity featuring deluxe bedding, a spacious seating area, and a luxurious suite bathroom. It's the perfect setting for a rejuvenating staycation in Gurgaon with your beloved.
For those travelling with family, Country Inn offers an enticing outdoor pool area complete with a supervised kids' pool – ensuring fun for all ages. Satisfy your culinary cravings at the Mosaic restaurant or unwind with a refreshing drink at the Big Shot Bar, where delectable meals and sumptuous beverages await. So, if you're constantly living under work pressure and unable to find time for your partner or to spend time with them, then this is your sign to book one of the best resorts in Delhi NCR.
Address: Plot No-301-302,Old Delhi Road, Sec-12, 122001 Gurgaon, India
4) Fortune District Centre, Ghaziabad – Staycation Delhi NCR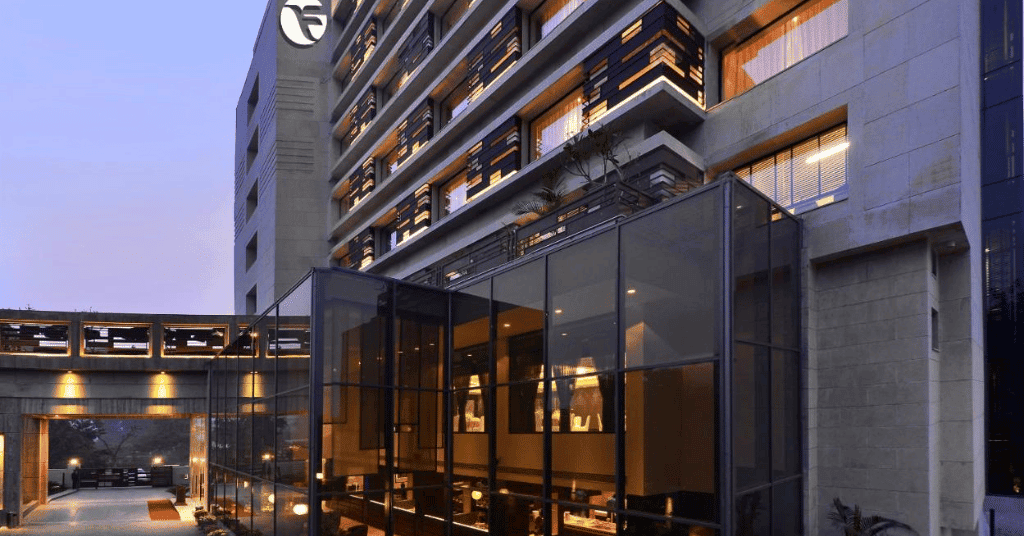 Fortune Inn welcomes couples with open arms, offering a delightful blend of luxury and warmth. It comes at No. 4th on our list of top hotels in Delhi NCR. CherishX can make your experience even more magical, crafting a tailored staycation or daycation package where you and your partner can immerse yourselves in romance and create lasting memories. Moreover, you can also enjoy recreational amenities such as health clubs, an outdoor pool, and a rejuvenating sauna.
So, apart from staying in their comfortable rooms with all the facilities, you can also have fun with your partner in the pool, and get refreshing vibes and energy. They also provide you with transportation services if you want to explore near the place or want cab service to reach the property from your current location. It will be a perfect staycation for you with your family. Embark on a romantic journey at this luxury staycation near Delhi NCR and enjoy your time with your partner.
Address: Plot No.1, District Centre, ALT Road, Duplex Flats, Block P, Sector 23, Sanjay Nagar, Ghaziabad, Uttar Pradesh 201002
5) Manesar Rosa Sangeet – A Great Staycation Near Delhi NCR
Escape to the tranquillity of Manesar Rosa Sangeet, a fully serviced homestay oasis tucked away just a short drive from Gurugram. Their exquisite abode boasts a private pool and enchanting lush green surroundings, providing couples with one of the perfect backdrops for romantic staycations in Delhi NCR. Inside, you'll be captivated by chic interiors that redefine luxury, setting the stage for lavish gatherings with family and friends.
Modern decor and sprawling green spaces offer endless possibilities for relaxation, while their inviting pool beckons you to unwind. Indulge your taste buds with exquisite cuisines prepared in their kitchen, and don't miss the chance to book a candlelight dinner for an intimate evening. Villa living at Manesar Rosa Sangeet promises a truly royal experience, complete with stunning garden views that provide a refreshing escape.
Capture every moment with photos and create memories that will last a lifetime in their garden-view villa. Indulge in a romantic getaway like no other at Manesar Rosa Sangeet, renowned and comes under one of the top hotels in Delhi NCR for couples.
Address: B9 Uppal Farms, Bilaspur, Chowk, Manesar, Gurugram, Haryana 122413
6) The Westin Resort & Spa, Gurgaon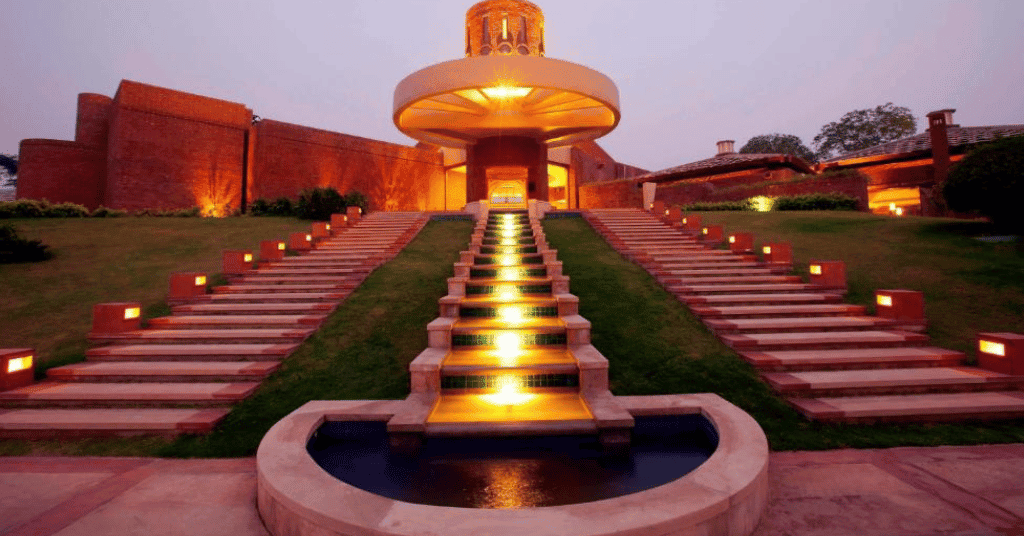 Escape to a haven of tranquillity at The Westin Sohna Resort & Spa. It's one of the most serene resorts in Delhi NCR. This 5-star resort in Delhi NCR is gracefully nestled in the midst of the peaceful countryside surrounding Sohna and Manesar. Moreover, this place is spanning vast acres of lush greenery and this is a family-friendly resort.
Here, you can rejuvenate your mind and body with revitalizing treatments at the Heavenly Spa by Westin. Moreover, you can also stay active at the well-equipped Westin Workout Fitness Studio and indulge in diverse dining options. Also, don't forget to partake in a range of recreational activities suitable for the entire family. It's one of the top 10 staycations in Delhi NCR where they offer spacious and pet-friendly rooms and villas. The best part is that you can also get your own private pool for rejuvenation with your partner. It's one of the perfect staycation resorts near Delhi.
Address: 1 Mg Road, Sector 29, New Delhi, Ncr, Gurugram, Haryana 122002
7) Heritage Village Resort, Manesar, Gurgaon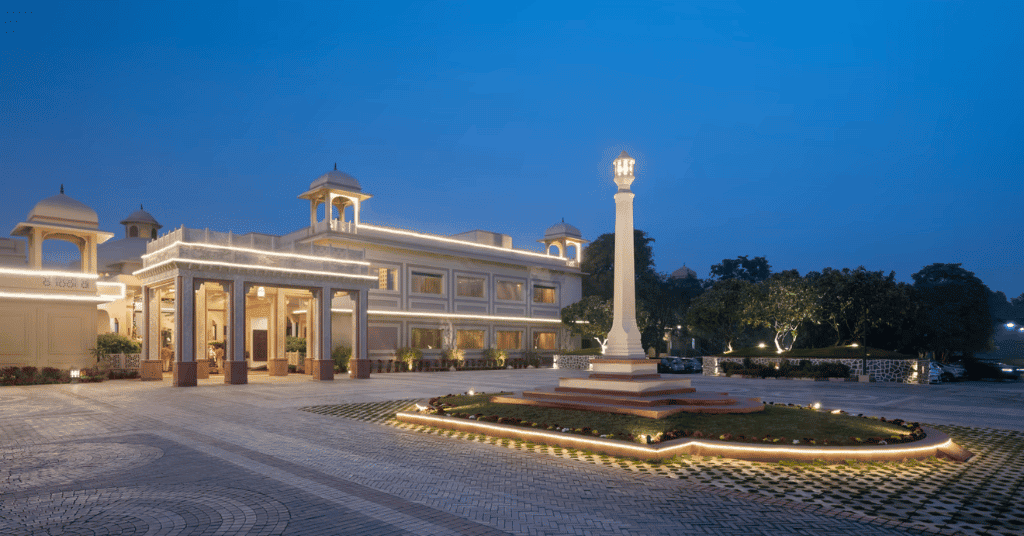 Did you know that Heritage Village Resort is counted among the finest pet-friendly resorts near Delhi for staycation? Imagine the joy of spending a splendid weekend getaway with your beloved pets by your side. If you're in search of a staycation near Delhi that exudes the charm of Rajasthan, this is the one. Also, they allow you to come with your pets. It is amidst lush green landscapes, with serene pools and a multitude of dining options. Furthermore, Heritage Village Resort offers an authentic Rajasthani experience right near Delhi.
Here, you can relish delectable cuisine while basking in the refreshing outdoor ambience next to the inviting pool. To add to the fun, there's an array of recreational activities, including exciting games at the Cheer Fit Zone, a dedicated play area for kids, and a variety of sports and games to keep everyone entertained. Heritage Village Resort is where memorable moments, relaxation, and the company of your pets come together for an unforgettable escape. Do visit here because it comes under one of the top 10 hotels in Delhi NCR.
Address: Naharpur Rd, Manesar, Gurugram, Haryana 122050
8) Karma Chalets, Sector 80 Gurugram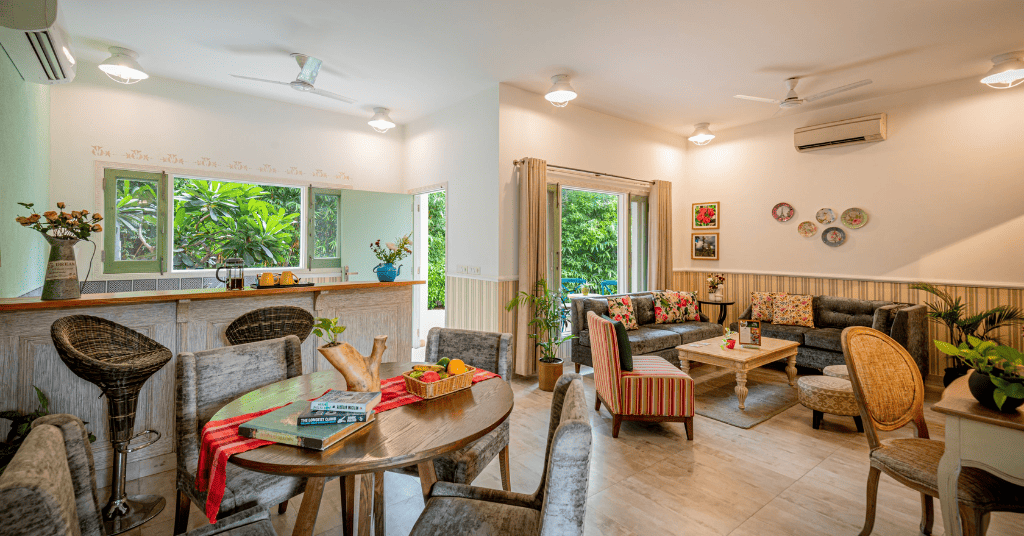 Karma Chalets in Gurugram sprawls across a vast 300-acre expanse within the enchanting Karma Lakelands. If you're seeking a luxurious setting for a rejuvenating staycation with your partner or family, then Karma Chalets is the perfect one. It's one of the most lavish and beautiful resorts in Delhi NCR. So, if you're looking for some good resorts in Delhi NCR, then this is the one! It's no surprise that Karma Chalets received the Traveler's Preference Award in 2022. The lush garden area here is a delightful haven of relaxation and recreation. It's one of the great staycation near Delhi Ncr.
Whether you're basking in the warm sun, enjoying a winter sunbath, or engrossed in a captivating book while swaying in their inviting hammocks, there's something for everyone. During the summer months, the pool becomes the hub of enjoyment for you and your partner. The beautifully landscaped lawns offer the perfect backdrop for capturing memorable photographs. Additionally, the resort boasts a scenic nature trail, ideal for leisurely evening strolls, making it a quintessential weekend retreat in Delhi.
Address: Karma Lakelands, Sector 80, Gurugram, Haryana 122002
9) The Roseate Staycation Delhi NCR
Discover the perfect escape from the hustle and bustle of city life at their serene oasis. It comes under one of the top 10 hotels in Delhi NCR. It's an idyllic retreat where couples can indulge in quality time together amidst luxury and natural beauty. Picture yourself by the pool, basking in the warmth of the sun and taking refreshing dips whenever you please. Their lush green gardens provide a picturesque backdrop, inviting you to explore and enjoy open-air strolls hand in hand with your partner, where the gentle breeze carries whispers of romance. It's a great staycation Delhi NCR.
When it's time to satisfy your culinary desires, their luxury romantic dining experiences await. Dine under the stars with exquisite cuisine that will ignite your senses, setting the stage for an unforgettable evening. It's surely one of the most breathtaking resorts in Delhi NCR. Their suite rooms offer a haven of comfort and privacy, ensuring that your stay is nothing short of exceptional. And for those seeking true relaxation and rejuvenation, Aheli Spa & Wellness is your escape. Moreover, their spa treatments use essential oils like safflower, camphor, and eucalyptus, carefully chosen to promote recovery and inner peace.
Address: Asset 10, Northern Access Rd, Aerocity, Hospitality District, Indira Gandhi International Airport, New Delhi, Delhi 110037
10) Golden Tulip, Gurgaon, Sector 29 – Staycation In Delhi Ncr
Golden Tulip is not just any ordinary place; it's among the top 10 hotels in Delhi NCR. Located just 1km away from a metro station, it offers unparalleled convenience. Situated in close proximity to Appu Ghar and Ambience Mall, it's the perfect destination for those looking to enjoy shopping, leisurely strolls, or even a water park adventure. When you step into this splendid hotel, you'll find warmly furnished rooms with all the amenities and facilities you could desire. Also, it's one of the luxurious staycation in Delhi NCR.
Whether you need tea and coffee-making facilities, or you prefer the spaciousness of their suites, they've got you covered. Additionally, there's a refreshing outdoor swimming pool where you can take a dive to wash away all your stress. But that's not all; this hotel offers a delightful dining experience with an on-site restaurant and bar. And if you're worried about transportation, they provide airport pick-up services. So, for the perfect staycation where you can relax and unwind with your partner, look no further.
Address: 285-286, Millennium City Center, Sector-29, Gurugram, Haryana, 122001, India
Conclusion
these top 10 hotels in Delhi NCR boasts a splendid array of top-notch hotels and resorts, offering a wide range of experiences for travellers and locals alike. Whether you're seeking a luxurious staycation in Gurgaon or Noida, a serene escape amidst the tranquillity of nature, or a place that provides easy access to bustling city life, Delhi NCR has it all. So, book the best staycation in Delhi NCR.
From the grandeur of heritage-inspired hotels to the modern comforts of contemporary resorts, the options are diverse and cater to different tastes and preferences. The top 10 hotels in Delhi NCR offer not only comfortable accommodations but also exceptional amenities, exquisite dining, and a chance to unwind and rejuvenate. So, plan a staycation with your partner or family in any one o these top 10 hotels in Delhi NCR promises an unforgettable experience.
Suggested Read: 5 Best Romantic Candlelight Dinner Restaurants In Pune
FAQs
What Are The Best Pet-Friendly Hotels or Resorts In Delhi NCR?
The Westin Resort & Spa, Gurgaon and Heritage Village Resort, Manesar, Gurgaon are the best Pet-friendly resorts in Delhi NCR.
What are the best hotels with a spa in Delhi NCR?
The Radisson Blu, Sohna, Country Inn, Gurgaon, The Westin Resort & Spa, Gurgaon, and The Roseate are the best hotels with a spa in Delhi NCR.
Are these hotels in Delhi NCR suitable for special occasions like anniversaries or birthdays?
Yes, many of the featured hotels offer special packages and amenities to celebrate occasions like anniversaries and birthdays.
Are there any activities or experiences offered for couples at these hotels in Delhi NCR?
Yes, most of these hotels provide romantic experiences such as couple's spa treatments, candlelit dinners, and private excursions.
Can I get special arrangements for a surprise proposal or candlelight dinner at these hotels in Delhi NCR?
Absolutely! When you book your staycation with us at hotels like Radisson Blu Hotel, Country Inn Gurgaon, Manesar Rosa Sangeet, or Golden Tulip, we offer comprehensive packages that include the option for a delightful candlelit dinner during your stay. Additionally, if you desire any surprise room decorations to enhance your experience, our team is here to make your day exceptionally special.
Suggested Read: 5 Amazing Poolside Candlelight Dinner in Bangalore