Are you looking for a way to celebrate Independence Day? This year, it might be less about the fireworks and more about taking in the beautiful saffron, white and green colors of India. If your friends and family are planning a party or just spending time with you on this Independence Day, consider adding one of these seven Independence Day balloon decorations to lighten up your office, school, or any other venue.
Tricolor Balloon Welcome Gate
This Tricolor Balloon Welcome Gate is a must for a shop, a school, or any other office or commercial place on the occasion of Independence Day. It is made of saffron, white, and green balloons put together in an arc shape.
Independence Day Decoration Package
Independence Day is a wonderful occasion for all of us to cherish our country and fuel our patriotism. If you are planning an office decoration to liven up the workspace, opt for our Independence Day Décoration Package. It includes an arch of 250 tricolor balloons, 15 tri-color rosettes, and 20 Dove paper cutouts.
Add color to the office ceiling through these tricolor balloons in bunches, stick some on the work desks, and leave others loose on the floor. Build up the atmosphere and intensity of Independence Day with this décor.
Independence Day Office Décor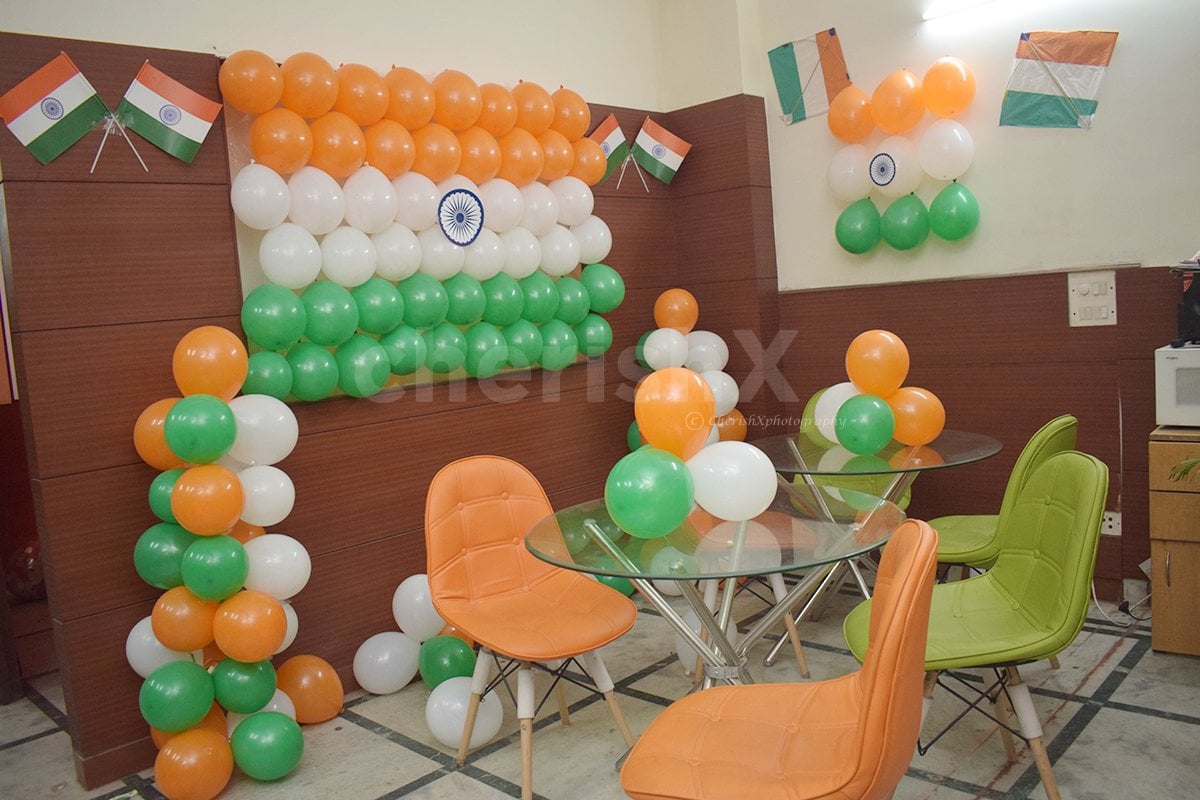 This simple yet elegant Independence Day Office Décor uses 300 tricolor balloons, and some flags and tricolor kites.
Independence Day Stage Décor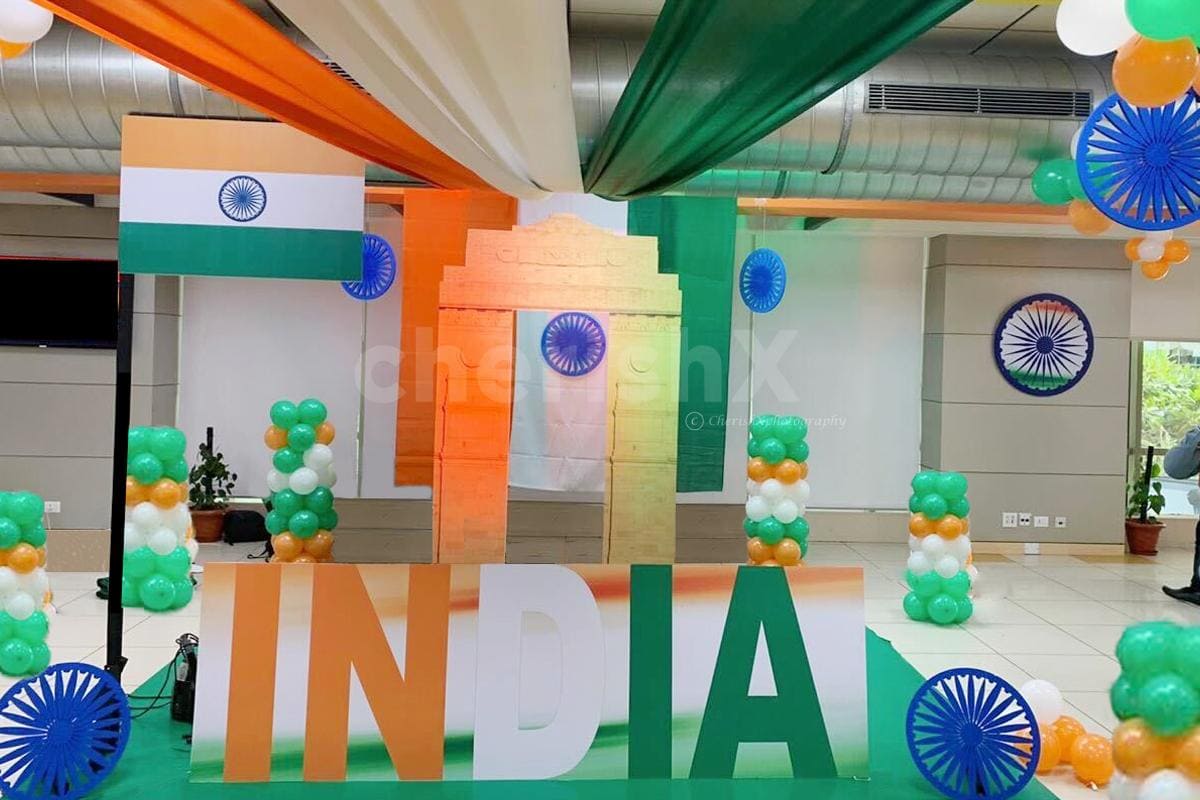 This premium Independence Day Décor uses tricolor fabrics (4 meters each), tricolor balloons, and paper cutouts of India Gate and letters spelling "INDIA". It also includes a large Indian flag. Put together, they all result in a beautiful venue that fills our hearts with pride and patriotism.
Independence Day Flag Wall Decoration
Lighten up your office cabin with this beautiful Independence Day Flag Wall Decoration. It uses tricolor balloons to make an Indian flag on the wall. Besides, it also comes with four paper flags to be decorated on each side of the balloon flag.
Tricolor Lantern Décor
Celebrate one of the most popular national holidays of India in a grand celebratory way. There's no better occasion to host a perfect get-together with family and friends than a National holiday. This Tricolor Lantern Décor can truly inspire the patriot in you and add a charm to your classic celebration. It includes some tricolor lanterns to be hung from the ceilings and fairy lights to add more charm to your venue.
Conclusion
The tricolor balloons add a festive spirit to the occasion. Whether you plan to display them for the ongoing Independence Day celebrations, or for other times of the year, I hope that you find these decorations useful. Happy holidays!
FAQs
What decorations are used on Independence Day?
Anything saffron, white, and green goes well with the Independence Day décor. Place some tricolor flag and the Ashok Chakra, and celebrate with jalebi or some other sweet.
How do I decorate my room on Independence Day?
A simple idea is to replace your curtains with some tricolor curtains. Alternatively, you can make a tricolor flag with balloons on your wall. Also, place some Indian flags on your desk/ bedside table.
How do you make Independence Day accessories?
Paint anything with saffron, white, and green colors and that is a good-to-go accessory for Independence Day. Some Independence Day accessories ideas are paper caps, tricolor wrist bands, tricolor earrings, and tricolor ethnic wear.
What should I wear on August 15th?
Anything ethnic suits well on August 15th. However, if you can get your hands on some cool tricolor ethnic wear, that'd lighten up any spirit on Independence Day.