Currently, the most popular kids' birthday party theme is CoComelon, it is a musical TV series targeting toddlers. So, whether you are organizing a birthday celebration for a son or daughter 1st birthday or a 4th, get the event started with CoComelon theme party decoration ideas
The lovely Cocomelon TV characters make an excellent choice to try out for your child's birthday. There are a plethora of options to try out with Cocomelon theme party ideas. Children and their parents will surely fall in love with this new type of themed party.
Furthermore, to make the essence of this party more outstanding and vivid, you can opt for the cocomelon custom die-cut stickers. These stickers can be stuck on the cake boxes, paper cups, and invitation cards, and can also be used as decoration in the room. To surprise your kid and leave a deep impression on guests, you can have these stickers personally designed with the kid's name or photo.
Still, confused about the Cocomelon theme party decor? Now no more with us, as we assist you with some trending 2022 theme-party ideas and materials to help you to the core. Turn your kid's birthday into a success.!
Cocomelon Theme Party Decoration
As it is a cocomelon birthday theme party, hence, the decoration should always offer a sense of it. For that, decorate the space with all or some of the characters from the show and choose the color to decorate the playground area also. Check out some of the top-notch Cocomelon Theme Decoration Ideas below:
Cocomelon Ring Birthday Decor
A unique and amazing Cocomelon Ring Birthday Decor that consists of a big size ring stand covered with cocomelon characters and a birthday boy/girl name. Also, a beautiful arch of blue, green, red, orange, yellow, purple, and light blue balloons. 5 theme cocomelon foil balloons, one bus sun board, and a traffic signal cutout board with a digit LED marquee to kick off a grand celebration for your child.
Cocomelon Theme Pastel Birthday Decor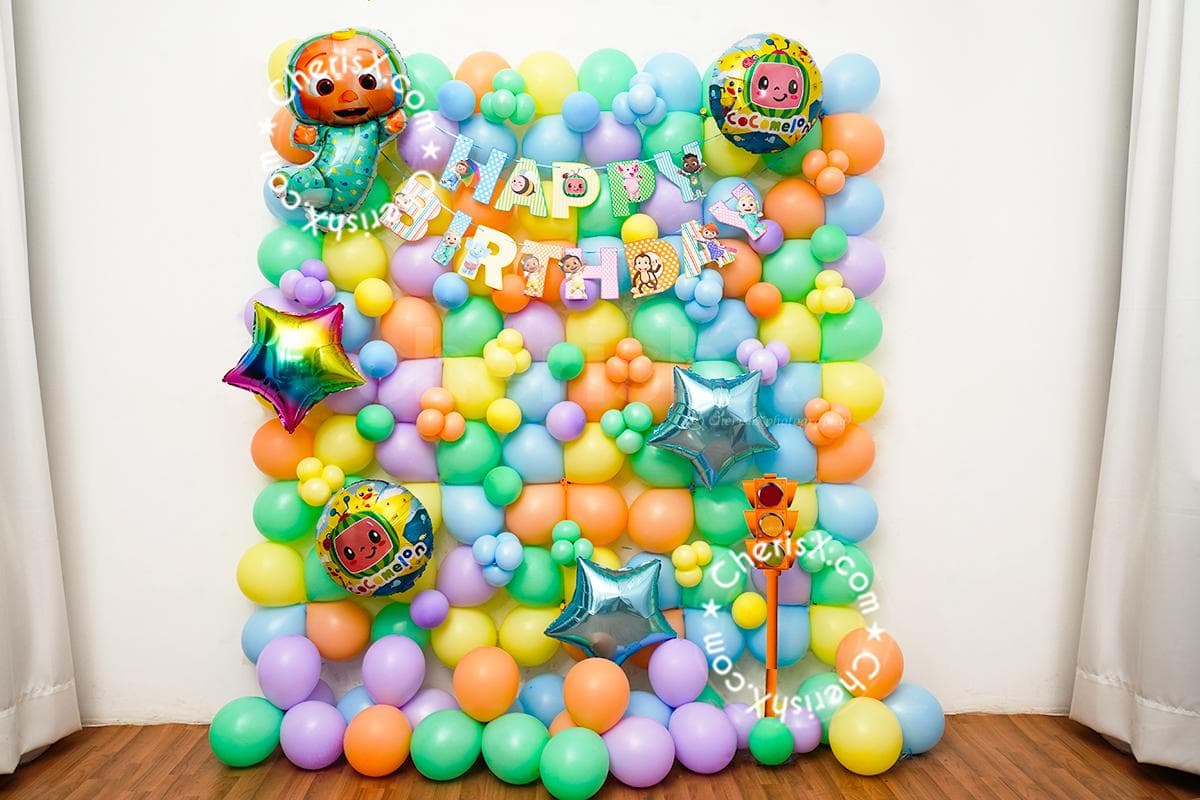 This cocomelon Theme Pastel Birthday Decor is surely a hit among all. The bright and fun-filled colors will definitely attract all your guest's attention. With this, get a balloon wall having purple, green, yellow, and peach pastel balloons along with a cocomelon theme foil balloon, rainbow star foil balloon, and a traffic light ballon stand to complete the overall look of the cocomelon cartoon series.
Cocomelon Birthday Surprise Decor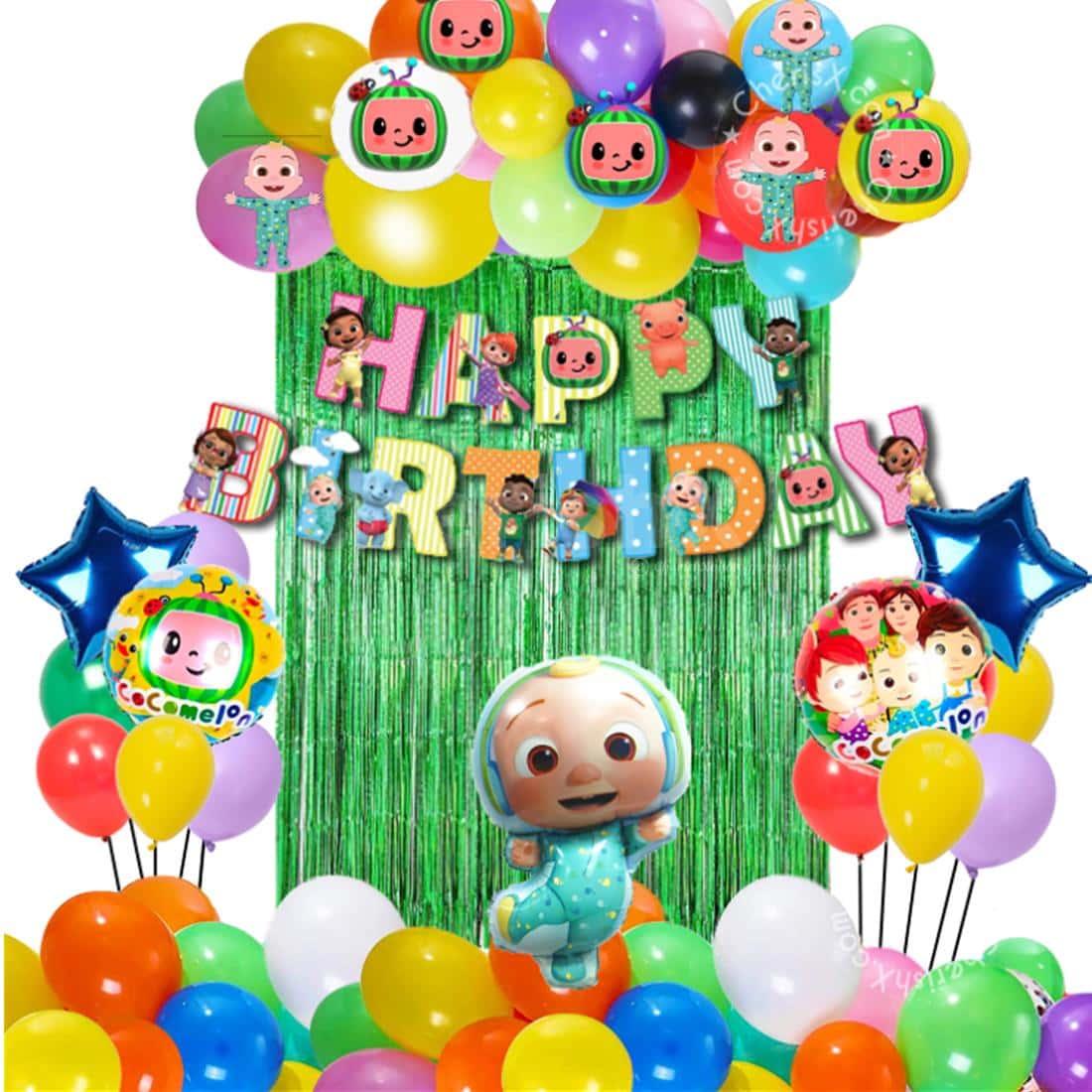 To give your kid the feeling of its favorite cartoon, opt for this Cocomelon Birthday Surprise Decor that has a green frill foil curtain, and balloons of different colors like green, red, blue, and purple, white, and metallic green. Also, with this, one can have pixel light, cocomelon theme foil balloon sets, and cocomelon theme paper cutouts.
Cocomelon Theme Birthday Decor
This fun and exciting cocomelon Theme Birthday Decor can amaze your kid and guests. This entails decorations with an arch of balloons( red, yellow, green, orange, and blue), cocomelon's character cutouts sticking to your wall, cocomelon sunboard cutouts, and cocomelon theme flex for the backdrop, and various balloons free-floating here and there.
Table Decoration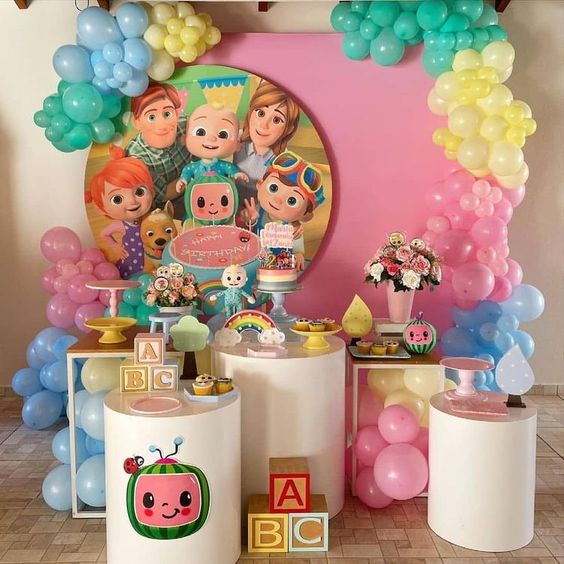 We all know that at a kid's party, things will get messy. For that, we suggest going for a single-use table cover can be a great idea. Buy cute and colorful paper tablecloths and create a great backdrop to all that colorful and tasty party food.
Also, you can decorate the table with centerpieces of their favorite characters from the Cocomelon cartoon series. Your little guests will love looking at those decorations. These decoration pieces come together and are a quick & easy way to spread the CoComelon theme across tables.
Cocomelon Theme Party Decor Backdrop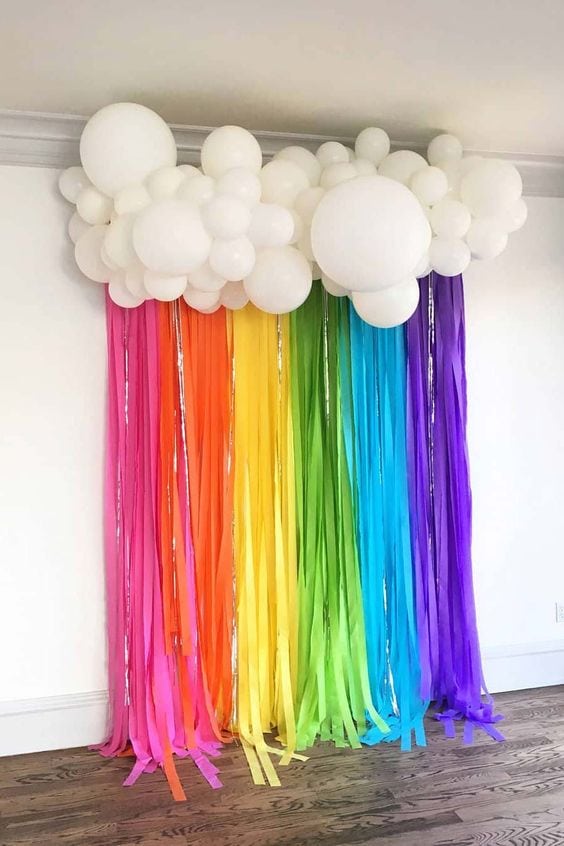 These vinyl backdrops linked with the cocomelon theme party decorations will instantly set the mood for your guests. Hang a cute happy birthday banner for a lovely food table backdrop or photo backdrop. You can even be personalized with a name and age. Choose the banner with a Cocomelon theme.
Besides, the exceptional quality and look of foil balloons will keep your Coomelon birthday theme afloat! Then, compliment them with multicolored latex balloons that can easily be crafted into balloon garlands and columns.
Also, you can make your little ones excited before they enter the party with classic hanging characters. The cocomelon characters with the help of glue dots and a ribbon can be hung on the main door. You could effectively stick these characters around your house using the ribbon.
Costumes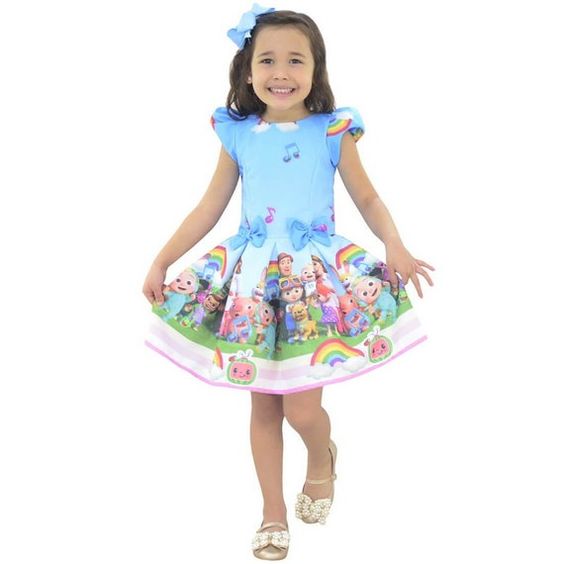 Obviously, your birthday girl needs attention on her special day, and for that, a special outfit for her themed birthday party including a three-piece CoComelon set (onesie, tutu, and headband) is just the right thing. You can customize that dress with her name and age.
And let's not forget the birthday boy, to align with the theme, buy a two-piece CoComelon tracksuit and ensure you get the little man of honor dressed quickly and smartly.
Also, to boost the experience of cocomelon birthday theme decor, parents can wear a customized t-shirt with a cocomelon character picture on it. Also, the birthday boy or girl too can wear a customized t-shirt or frock respectively. This will give more justification to the theme.
Invitations
A cocomelon theme birthday decor is incomplete without proper and trendy invitations. So make an impact without breaking the budget! With the help of some design tools, create your own invitation card. You can go with a personalized digital printable invite created keeping the cocomelon theme intact. Then you can choose whether to text it, email it, or print it for the purpose of mailing it to your loved ones.
Returns Gifts & Favors
Your little guests will feel like winners while leaving your party with a goodie bag. After all, who doesn't like returning gifts? So, let's keep that simple and ditch the candy and small, cheap toys. Rather, go for bubble wands, a crayon or two, a Play-Doh tub with a fun cookie-cutter, CoComelon stickers, multicolored goldfish crackers, or even another one of those rainbow cookies.
You can wrap these gifts in a cocomelon wrapping paper if you find it, otherwise, go for any wrapping paper and add just the stickers to it. Or, you may opt for a small bag having a theme of cocomelon characters.
Activities / Games
Make your guests entertained with these cute and simple gaming options:
You can begin with the first game which is cocomelon piñatas. These are exceptional easy games for small kids and require to release of strings. Children can turn by turn and pull on the strings to win what is inside of it.
An easy and simple indoor game for kids is bingo. In this game, children play against each other and learn different modes and words. Use some vibrant paper graphics to seize kids' attention.
Everyone including adults loves that colorful Potato Sack Race. But, this time let kids have all the fun. Buy some cute small bags to recreate a favorite party game and gift them some cocomelon stuff after winning.
Last but not least, you can entertain children by starting a painting competition. Kids love colors then why not keep them busy with colors only? Give them some colors and ask them to draw their favorite character from the cocomelon. Also, to avoid the strain on their dresses, you can make plastic aprons for them!
Another party game that everyone loves is a musical chair. For kid's musical chair, you play some rhyme from the cocomelon series that kids will surely love. For adults, you can go with any Bollywood song.
Food
When we talk about the Cocomelon birthday theme food, all you need is to bring plenty of vibrant colors to the food table– like donuts, buy some ready-to-eat donuts and turn them into rainbows of deliciousness! You can cook homemade or buy watermelon-like cupcakes for kids and decorate them with watermelon candies.
Next up for rainbow food ideas is vibrant sugar cookies! Make your food preparation a little easier by investing in some cupcake toppers for your store-bought or homemade cupcakes. These toppers will surely drawcard of your cupcakes.
To balance out all sugar levels, opting for rainbow food can also be healthy. A rainbow fruit platter is a simple birthday party idea.
Main Character
Get a live cartoon artist for your kid's birthday party and make it memorable for your kid and guests. Add this entertaining service to make the party much more happening. Make your kid's party fascinating by availing the live cartoon characters joining you.
Sitting Arrangements & Decoration of Chairs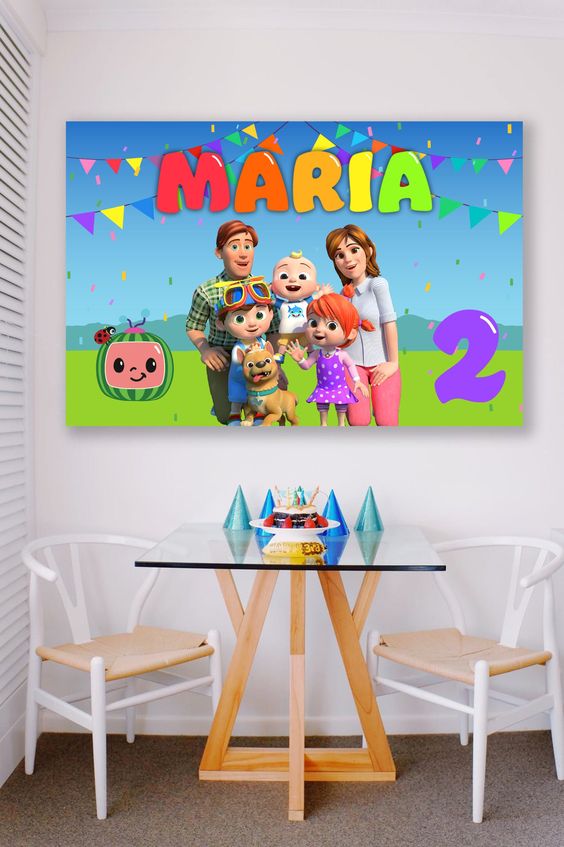 For sitting, you can decorate your tables and chairs with balloons or easily crafted pom poms. Many small cocomelon character cutouts are also an ideal option to add fun to your party.
For a more enchanting experience, you can set up a four-piece scene with Cody, Nico, Bella, JJ, and Nina, hand out the fun character props, and pop on your CoComelon soundtrack. And, enjoy the little ones dancing, singing, and posing to their heart's content.
Welcome Board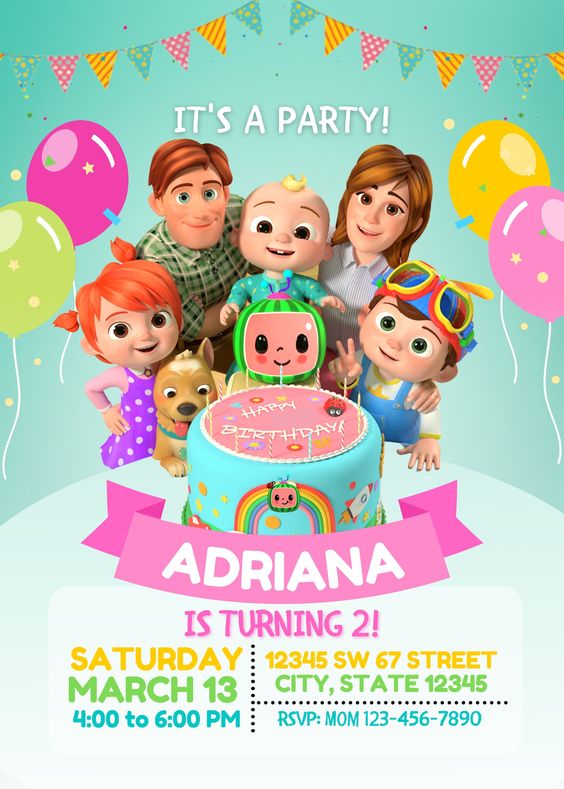 A personalized welcome board at your kid's birthday party will not only make your kid happy but also your guests amazed. Do not forget to keep the theme intact. Go for blue welcome boards with all cocomelon characters on them.
Add your kid's name, age, and direction to the party will complete the board. If you want you can add your names as well as hosts.
Balloon Bouquets
Get exclusive and elegant artistic balloon art on a large scale to give the WOW effect to your cocomelon theme birthday decor! The balloon bouquet looks stunning and is great for birthday party decoration.
You can place them near a sweet table, or use them as a photo backdrop for an additional impact. You can even customize it as per your needs and requirements.
Cake Decoration
A perfect theme-based cake is the highlight of the cocomelon theme birthday decor. Choose a rainbow cake that is a perfect accompaniment to a CoComelon cake topper. Get a fondant birthday cake according to your theme at an affordable price in easy and splendid packaging.
Tableware – Cutlery and all
Going with the flow is essential, so how can one forget about the theme-based cutlery? Buy cocomelon birthday supplies including confetti, hats, napkins, cutlery, etc. If we have a cocomelon party theme then all should match with each other. Select the color of the cutlery according to the color displayed in the show.
Kids love drinking from straws! Opt for colorful old-fashioned paper swirly straws by adding a special birthday touch to your CocoMelon party. You can also decorate some little water bottles with these CoComelon labels and line up your straws next to them. Besides, these straws are great options for goodie return bag treats.
A CoComelon theme birthday decor party requires adorable party supplies. The paper plates, napkins, forks, paper cups, and spoons are super cute options to add more value to your theme party. The table supplies are so vibrant that every kid in your party will love that.
Cocomelon Theme Birthday Canopy Decoration
Get one of the best surprises for your kid's party and include this cocomelon theme birthday decor canopy in your list. It's perfect for a girl or a boy with jaw-dropping decorations on it.
A 5ft canopy draped with white net and white artificial flower strings along with an arch of different colors balloons will give a perfect shade of cocomelon theme decoration. You can place this cocomelon theme kids canopy in your room, terrace, or any spacious place.
Why CherishX?
From decoration ideas to actually helping you in making any event of your life memorable, CherishX is all about its customer's happiness. We have a large catalog of theme-based birthday party decoration ideas, cakes, and much more.
Our proficient team will never leave any stone unturned to make our customers fully satisfied with our services. With a simple goal to provide happiness throughout the world, we make every celebration new experiences, unique surprises, and excellent customer service for our lovely clients.