Planning to pop the big question and looking for cool proposal ideas or set-ups? Proposing your partner is a momentous event in anyone's life, and finding the perfect way to do it can be both exciting and nerve-wracking. If you're looking for creative and unforgettable proposal ideas, you've come to the right place. In this blog, we'll unveil nine cool proposal ideas that not only guarantee to melt your partner's heart but also make for unforgettable memories. From the picturesque to the quirky proposal ideas, we've got proposals that cater to a variety of tastes.
Coolest & Unforgettable Proposal Ideas That'll Melt Their Heart
Discover the cool proposal ideas, each one designed to warm their heart and create lasting memories.
A Scenic Hot Air Balloon Ride – Cool Proposal Ideas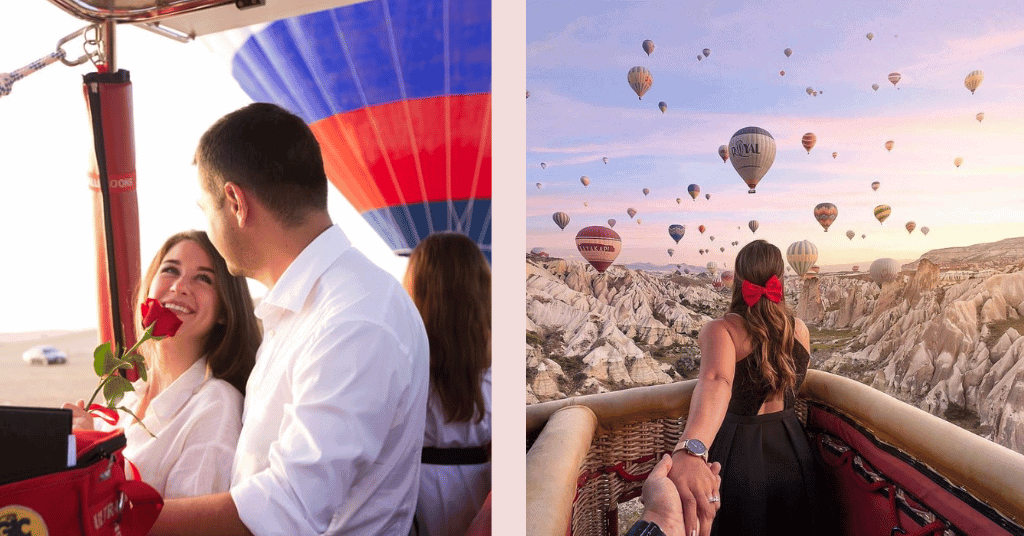 Looking for one of the unforgettable proposal ideas? If you're aiming for a proposal that's both romantic and breathtaking, consider a hot air balloon ride. Soaring high above the world with your loved one and the stunning landscape beneath you is a memorable experience. As you reach new heights, take this opportunity to ask the most important question of your life with a ring.
A Beachside Sunset Proposal – Proposal Ideas Outdoor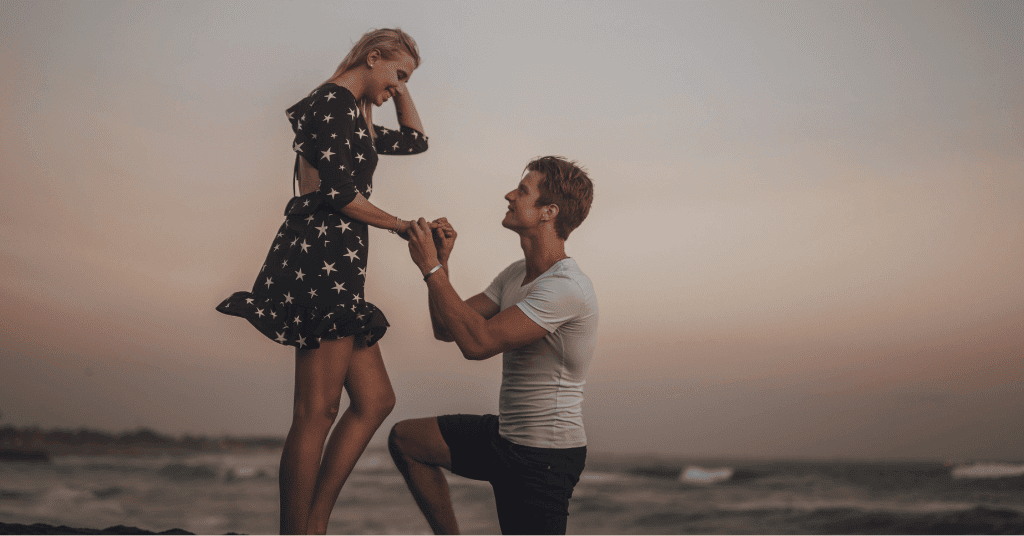 What about the proposal ideas on the beach? Sunsets at the beach never fail to create a magical atmosphere. Take your partner for a stroll along the shore and, as the sun starts its descent, get down on one knee and propose. The sound of the waves, the warm glow of the setting sun, and the feel of the sand between your toes make for an idyllic proposal setting. Make sure to set up a camera behind! So, if you're looking for proposal ideas outdoors, then what can be better than this?
A Personalized Scavenger Hunt
Image Credits: Etsy
Make the proposal an exciting adventure with a personalized scavenger hunt. Create clues that lead your partner to significant locations from your relationship, and at the final destination, have a surprise proposal waiting. It's a fun and engaging way to pop the question while reminiscing about your journey together. It's also one of the cool proposal ideas.
Under the Northern Lights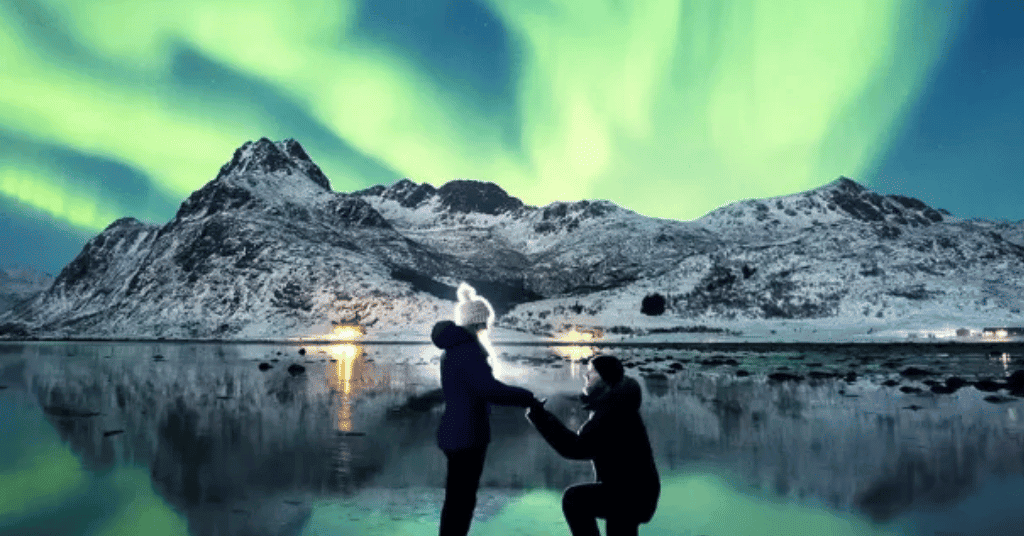 Image Credits: Aleteia
For a proposal that's truly out of this world, head to a location where you can witness the Northern Lights. The mesmerizing dance of colours in the night sky sets the stage for a proposal that's as unique as your love story. For proposal ideas romantic and cool, how about popping a question under Northern lights?
A Private Movie Screening
Rent a private movie theatre or set up an outdoor screening under the stars. Create a custom film that tells the story of your relationship and ends with your proposal. This cinematic experience will leave your partner in awe and tears of joy. This is also one of the unforgettable proposal ideas for you to consider.
A Flash Mob Surprise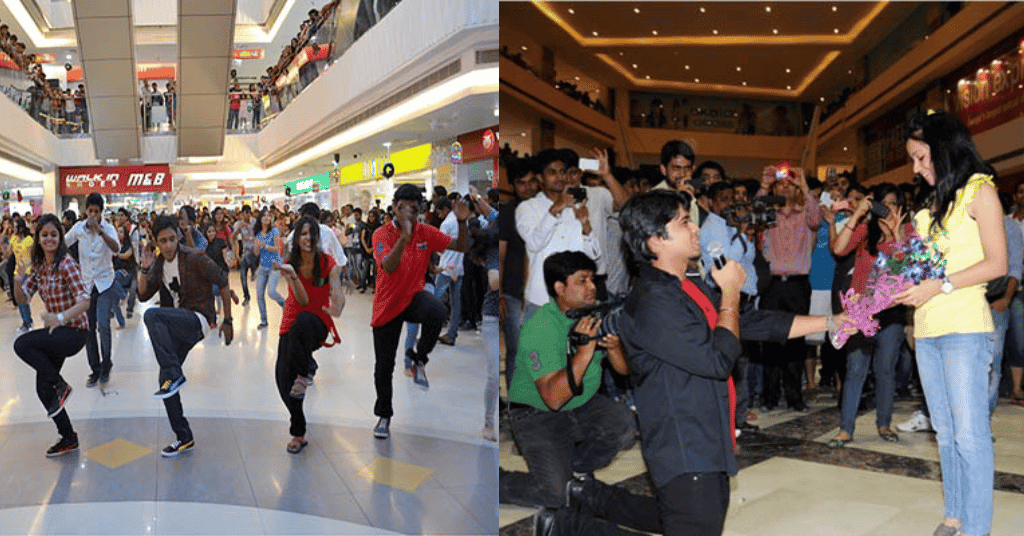 Gather a group of friends and family to stage a surprise flash mob. It's a fantastic way to showcase your love and creativity. Plus, the element of surprise will make the proposal even more memorable. So, if you've been searching for one of the cool proposal ideas, then planning a flash mob is the one!
A Rooftop Dinner
Book a reservation at a rooftop restaurant with a stunning view of the city skyline. As the two of you enjoy a sumptuous meal, propose against the backdrop of the sparkling city lights. It's a classic yet timeless proposal idea. So, if you're looking for one of the romantic surprise proposal ideas, then this is the one for you!
A Romantic Hike to a Hidden Spot
If you and your partner enjoy the great outdoors, plan a hike to a hidden and scenic spot. When you reach your destination, with nature as your witness, pop the question. The effort and adventure will make the moment all the more special.
A Puzzle Proposal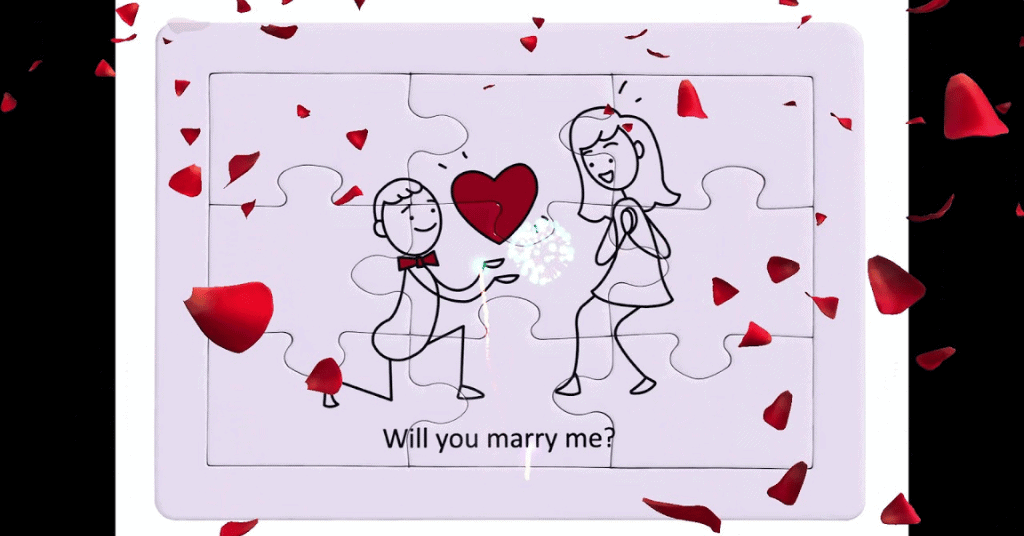 Image Credits: Proposal Puzzles
If your partner loves puzzles or brain teasers, create a customized puzzle with the proposal message. Whether it's a jigsaw puzzle, crossword, or a riddle, this unique and engaging proposal idea will keep your loved one entertained and surprised.
At A Concert
Music has the power to evoke emotions, and what better way to propose than at a concert of your partner's favourite band or artist? As the music plays and the crowd sways, get down on one knee during a song that holds special meaning for both of you. It'll be a proposal serenaded by the tunes you both adore. It's one of the coolest surprise proposal ideas for you to consider!
Tree House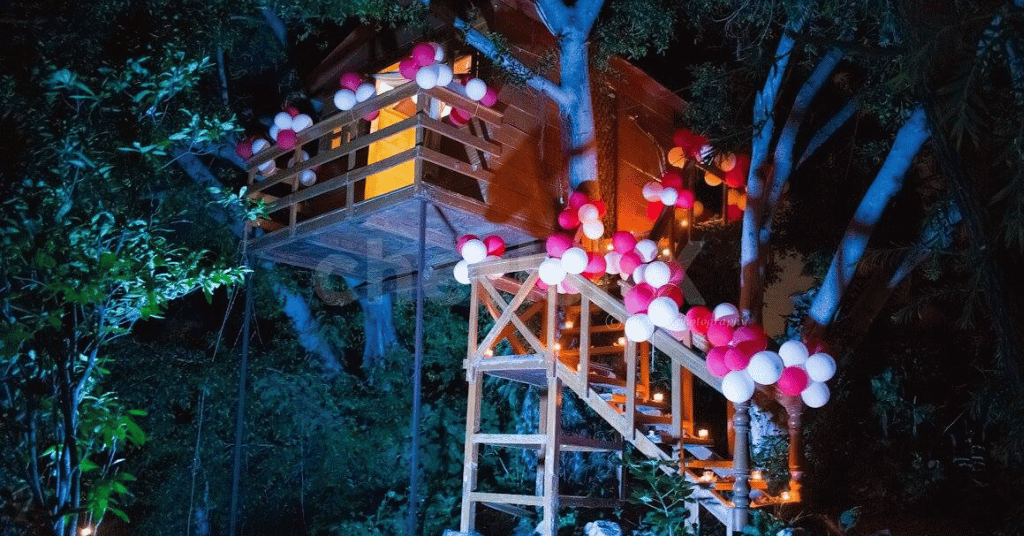 Surprise Propose her/ him in a tree house. For a whimsical and romantic proposal, consider a tree house setting. Whether it's a childhood treehouse or one you build just for the occasion, this unique location provides a dreamy backdrop for a memorable proposal. The charm and nostalgia of a tree house make for a fairy tale moment. It's also one of the cool proposal ideas to make your beloved's day for sure.
In A Mall
For a proposal that combines surprise and excitement, take your partner to a shopping mall and stage a flash mob or choir performance. As the crowd gathers, you can make your grand proposal gesture, leaving your partner in awe of the public declaration of your love.
Waterfall Proposal
Image credits: Nick Levine Photography
Looking for proposal ideas romantic? Nature lovers will appreciate the magic of a waterfall proposal. Take a hike to a waterfall and, with the cascade as your backdrop, ask the big question. The sound of the rushing water and the beauty of nature will create a memorable, intimate moment.
Arrange Fireworks
Image Credits: A. Harris Photography
Light up the night sky with a surprise fireworks display. Choose a scenic spot and time it so that the fireworks go off just as you're proposing. The dazzling spectacle will add an extra layer of magic to the moment. Also, it's one of the most dreamy proposal ideas outdoor and cool proposal ideas as well.
In A Temple
For a proposal that's steeped in tradition and spirituality, consider proposing in a temple or place of worship that holds significance for you and your partner. It's a meaningful and respectful way to ask for their hand in marriage.
Top Of A Monument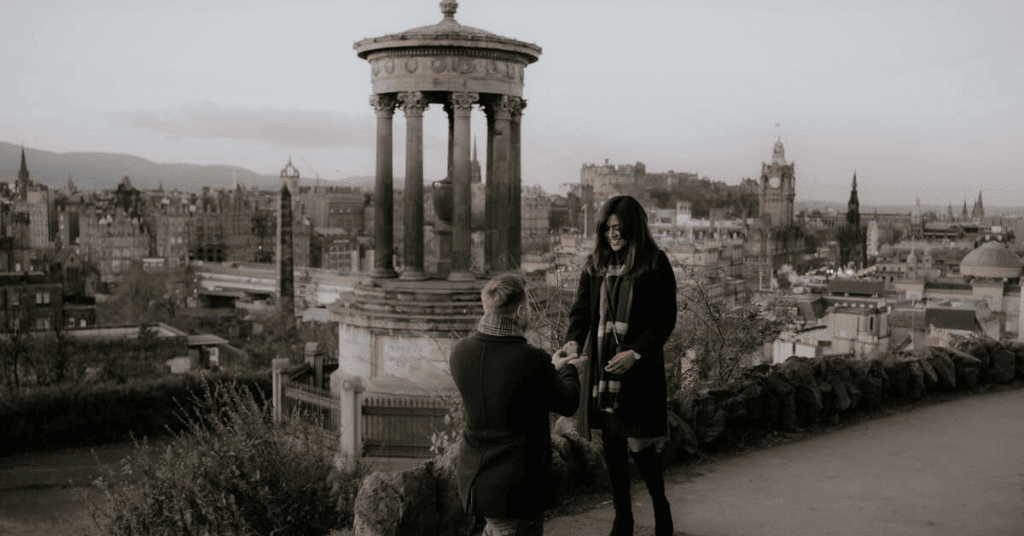 Image Credits: Natalia Swiader
If you have access to a significant monument, such as the top of a lighthouse or a historic tower, plan a proposal at the summit. The stunning views and the sense of being on top of the world make for an unforgettable moment. It's also one of the cool proposal ideas to try out. If you live in India, plan to climb India Gate after permission for a proposal.
Hide A Ring In A Food – Unforgettable Proposal Ideas
Arrange a special meal at a favourite restaurant and, with the chef's help, have the engagement ring hidden within a dish. When your partner discovers the ring while enjoying their meal, it will be a delicious surprise that they'll savour forever. This is surely one of the unforgettable proposal ideas to plan for your loved one!
Conclusion
In the world of marriage proposals, there's no one-size-fits-all approach. The key to a memorable proposal is personalization and thoughtfulness. These unforgettable proposal ideas offer a range of options to cater to different preferences and personalities. Whether you choose the drama of a hot air balloon ride or the intimacy of a rooftop dinner, make sure your proposal reflects the love you share and the journey you've taken together. Regardless of the idea you choose, the most important element is the love and commitment behind it. So, go ahead and plan that unforgettable proposal to create a memory that will last a lifetime.