Completing the first milestones are always memorable. And, when it comes to completing a year of your toddler, it becomes a recollection of a lifetime for you and your family. First-year birthdays are the perfect events that you wish to capture and later show to your little one when he/she is all grown up.
From 1st birthday party decorations, themes, games, food, costumes, invitations, and even cake; everything requires well planning.
Whether you are opting for a big bash or want to keep things more intimate, honing in on a mickey mouse theme party can make your kid and your guests feel special. Also, it is the perfect way to stay organized with your celebration.
Knowing that the party is all about a particular theme will help you make better decisions regarding snacks, decorations, invitations, cake, costumes, and much more. A little extra planning before the birthday party will make the occasion filled with cute birthday decorations, activities, and more memorable moments.
Mickey Mouse is a cartoon character that is loved by every kid irrespective of gender. And, having a mickey-mouse theme will definitely make an ever-lasting impression on your guests. Besides, your toddler will adore all the stuff related to his/her favorite cartoon and will be astonished to see the cartoon character live.
To help you plan the dream celebration, we share some tips and tricks to make the baby's first birthday party stress-free. For that perfect decoration, food, games, cakes, costumes, return gifts, and much more, keep reading this blog.
Mickey Mouse Theme Party Decoration
One of the major elements of a birthday celebration is decoration. You can plan and install a lot of ideas and be creative when it comes to the first birthday celebration decorations. Also, your little one will be happy once he/she is a grown-up.
Mickey mouse swirls or paper garland decorations are perfect for a Disney theme party. Along with this, choose the right colored Mickey Mouse happy birthday banner or happy birthday golden letter foil balloon. Besides, several sizes of mickey mouse cutouts can be added to the decoration to give an elegant and marvelous look.
Don't forget about the balloons, children and even adults of any age love balloons and every celebration is incomplete without the perfect use of balloons. For this mickey mouse theme party, you must opt for yellow, black, red, and light blue balloons matching the theme.
A big round 28inches mickey mouse foil balloon will definitely become the showstopper of the party. Every individual will look upon that and wish to click a picture with that.
With assured quality in every object for Mickey Mouse Theme Party Ideas Decoration,  you will never be going to be disappointed planning this themed birthday party for your kid.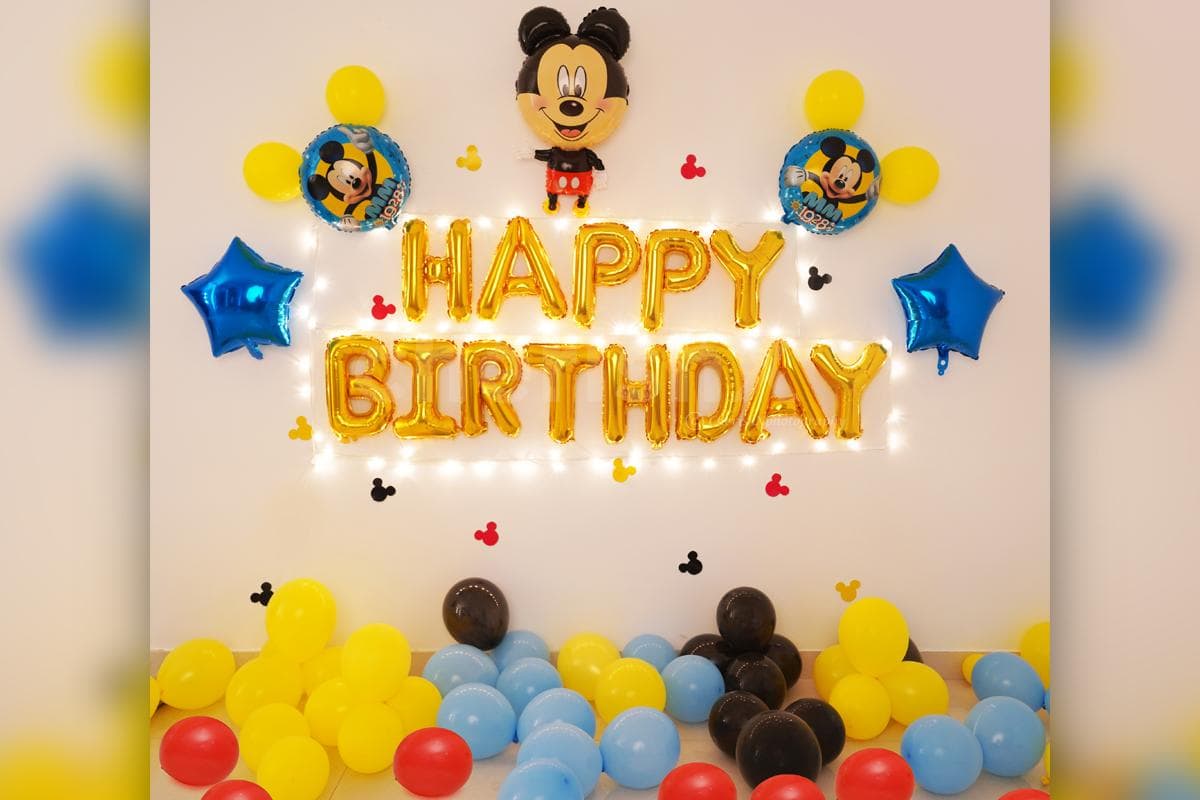 Mickey Mouse Birthday Theme Decor– Surprise your loved one with this colorful birthday theme. This delightful theme consists of an arch of balloons of red, black, yellow, red polka dots, and black polka dots balloons to capture the eyes of your little ones.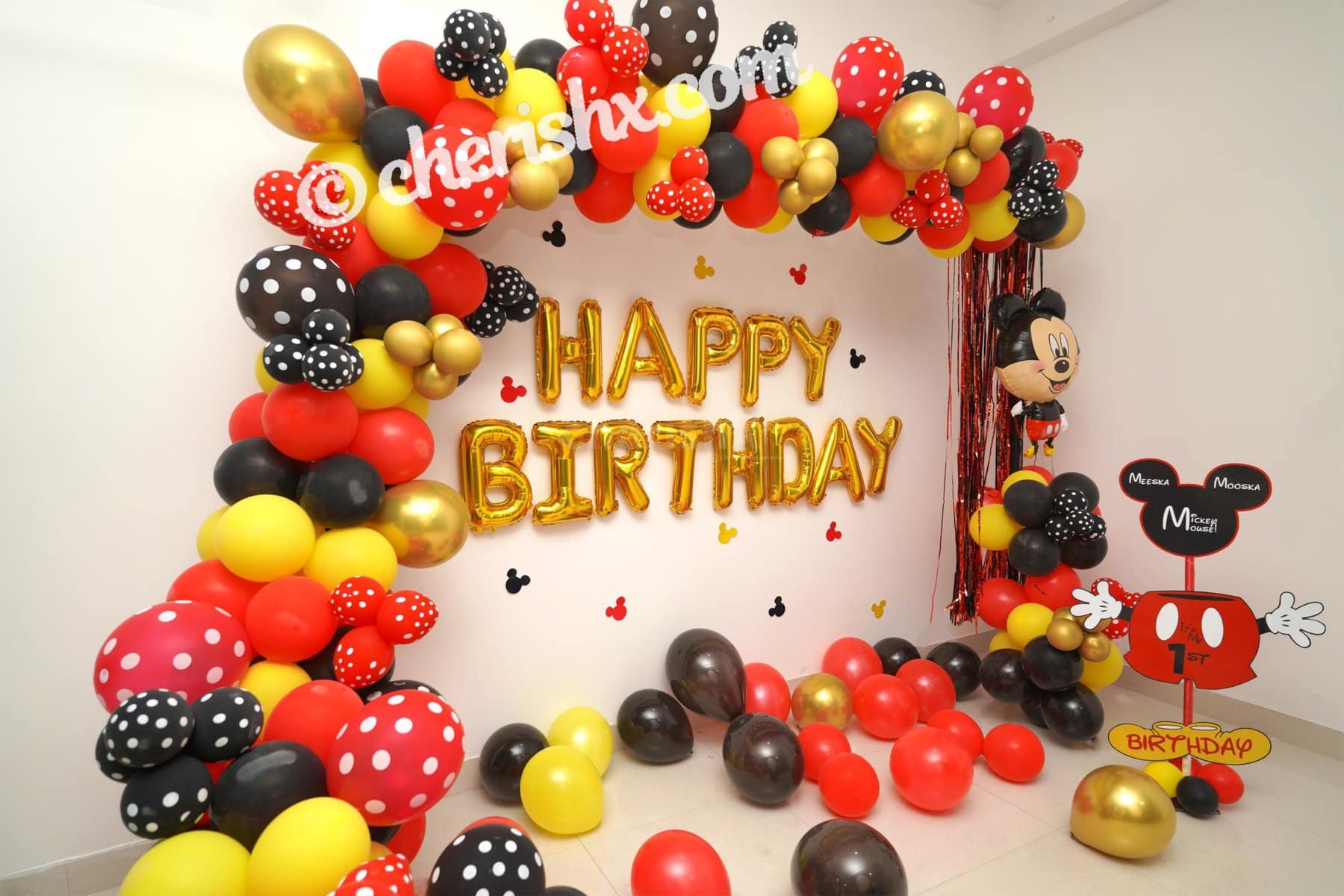 Minne theme birthday decoration- It's the first birthday of your baby girl and you want to surprise your daughter with her favourite Minnie Mouse Theme Decoration. In this, you can pick the pink and purple pastel color balloons and can make the arch.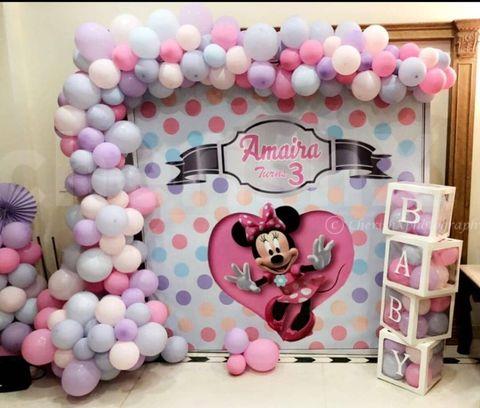 Later use a big Minni cutout to place in the center along with this go for baby transparent boxes filled with different colors of balloon. You can place them near a wall to give an overall wonderful feel.
Mickey Mouse Theme Party Table Decoration
The second element is the table decoration which is as crucial as your wall decorations. After all, the tasteful and exceptional cake needed to be placed at that. How can we forget decorating that?
Well, start with setting a pink, yellow or red tablecloth aligned with the Disney theme. And, to make it more unique, get the figurine foil balloons based on the theme and hang them on the table.
This can be a great add-on for your toddler's 1st birthday theme party. You can also some cutouts of the Disney character that will attract your kid while cutting the cake.
Mickey Mouse Theme Party Backdrop
The backdrop is the crucial element that will make a huge impact on your photos. For this, you can play with photos- everything first of your baby is always special. Creating and capturing the beautiful journey from the day he/she was born is a terrific idea to boost your guest's amazement.
Apart from adding some shimmering curtains, poms, balloons, or balloon arch, you can fix a collage poster with the crazy moments of your toddler. Let everyone enjoy the sight of those special moments.
You can be creative with this, make that poster or frame with the borderline of mickey mouse to give an appropriate look to the theme party.
Mickey Mouse Theme Party Costumes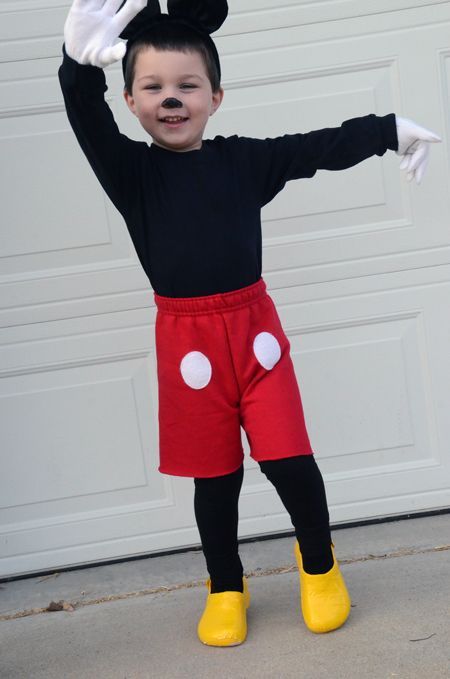 Apart from decorating your space, your showstopper the birthday boy/girl also needs special attention. Then, why not customize their dress with the theme? Not just you, but even your guests will go in awe of seeing your cute toddler in that Mickey or Minnie mouse costume.
Yes, you can buy the Mickey mouse or Minnie mouse costume online or at any market near you. Go for a soft and high-quality headband, body suit, gloves, and boots. For a girl, a simple pink and black dress with a headband will be a perfect choice.
Mickey Mouse Theme Party Invitations
Before you consider anything else, think about the guests who you want to invite to your child's first birthday party. The guest list will influence everything else, like what food and drink to buy and prepare, what kind of entertainment or games need to add, etc.
It is suggested that it is best to limit the number of people you invite as your baby might get overwhelmed with the sheer number of strange faces. You can limit the party to close friends and family only, so the baby is familiar with everyone.
After guests lists, try to make a beautiful invite for your guests. Your invitation must include your child's name, the inviting person name, the date, start and end time, and the location. Also, you can share some extra information they might need ahead of time.
The ideal time of the celebration is around nap time and feeding time. You know your baby better than anyone, so choose a time when your baby is wide awake and can enjoy the party with all guests.
To not forget about the theme, craft the invitation having a mickey mouse character on it. Or go for a mickey mouse structure invitation.
Mickey Mouse Theme Party Returns Gifts & Favours
Small, meaningful return gifts for your guests are much more appropriate for a 1st birthday party. You can choose great options from theme bouncing balls to a fun puzzle set, to stickers, tattoos, and bubble wands.
Mickey Mouse coloring books, pencils, and stickers are all fun-filled ideas for kids of all ages.
Additionally, you can gift wrap the package in a Mickey Mouse-themed bucket, backpack, or return gifts bag.
You can include sunglasses, beads, jewelry, and other goodies for the girls to get glammed up.
While the bouncing balls, army men, dinosaurs, and squirt guns will keep the guys entertained.
Also, a selection of candy, cookies, and other sweet treats are perfect gifting options.
Mickey Mouse Theme Party Activities / Games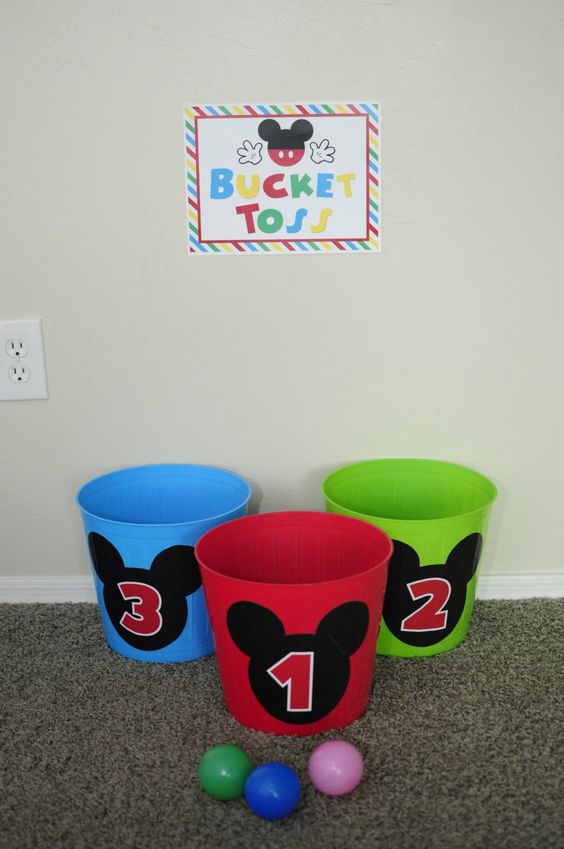 To keep your guests entertain, organizing some fun activities and games is a top-notch idea. For that, you can plan as many games as you like, just keep in mind to include easy and fun games.
1. Smashing bubbles – An effortless game in which kids need to make a big bubble and then enjoy catching and smashing them.
2. Free painting – Little ones love to paint and what's better than giving this freedom? For this, create a special play area spread with all waste sheets and cardboard boxes.
3. Get a CD of Mickey Mouse songs to play while enjoying games like pass the hot potato and musical chairs.
4. A treasure hunt is a fun-filled Mickey Mouse party idea. Share with the kids a treasure map and a few clues for them to solve the problems. Hide cutouts of Mickey around the party hall and send the kids to find all of the hidden secret mickeys.
Mickey Mouse Theme Party Food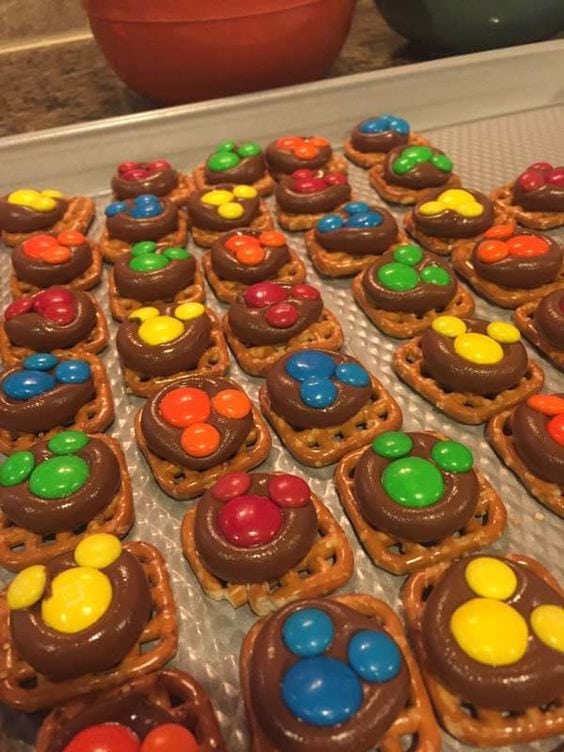 Food is the topmost thing that guests look for even before the decorations. So, why compromise with that? You can make Mickey cupcakes, with Oreos for his ears this will become a fun choice that everyone.
For Mickey Mouse cookies on a stick, attach the mini Oreos to the larger cookies, with melted chocolate and insert a popsicle stick into the larger Oreo, and dipped in chocolate.
Besides, you can include a selection of Mickey Mouse-themed candies and cookies, comprising sugar cookies decorated with Mickey sprinkles. Mickey Mouse cupcake baking trays are an excellent way to get custom cupcakes for your birthday party.
Some other ideas for food include a fruit tray, fresh vegetables, pastries, deli meats, cheeses, and of course chips and dips giving them a lookalike of a Disney theme. Also, try to include a few dog biscuit-shaped treats to remind your guests of Pluto.
Mickey Mouse Theme Party Main Character
Add the main live cartoon character to your theme party and let your guests particularly all the kids enjoy its presence.
Mickey mouse's main character will surely amaze the kids as they will be surprised to see their TV character live with them. Children can greet and play with them.
Sitting Arrangements & Decoration of Chairs
Add poms as they are vibrant and look super cool & versatile too! Make your kid's 1st birthday decoration ideas while adding some pompom to the chairs and tables with other decoration items. They are easy to hang and look great.
Another thing you implement is the fairy lights that have been traced in every celebration, event, and festival.
Make your kid's 1st birthday decoration shine as bright as the versatile lights. Add them to windows, inside party spaces with balloons and banners, and in between your sitting spaces.
With that, add a mickey mouse photo booth as well for an enchanting experience for your kids and guests.
Welcome Board
Start a unique and impressive Mickey Mouse birthday party when you pick a Welcome Board! The vivid colors and fun design of the welcome board will greet all of your party guests as they enter.
You can personalize that welcome board with the name and age of your toddler or can include any vital information you want to have your guests be aware of.
As stated, have a Mickey Mouse Welcome Board or design any Disney cartoon on the board to give your guests the feel of the theme party. 
Balloon Bouquets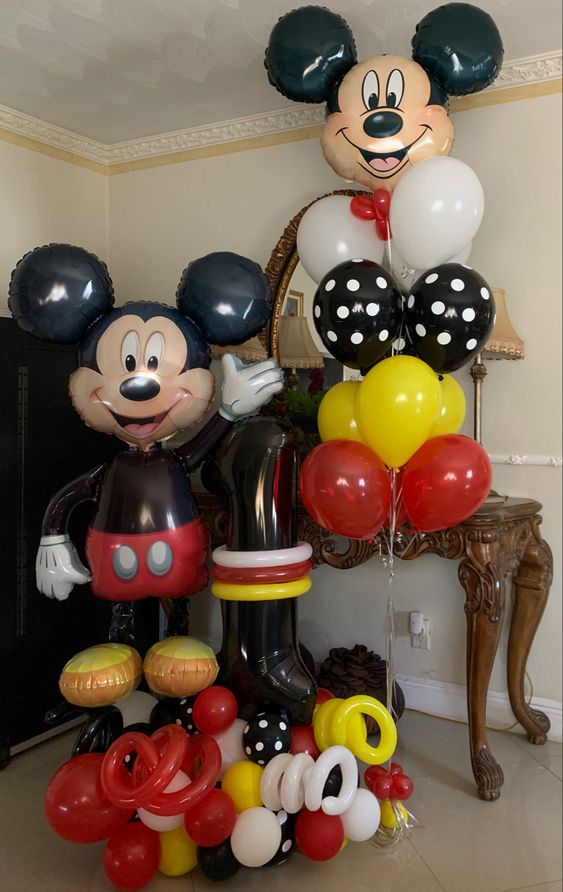 Balloons definitely create a bright and fun atmosphere in your celebration. Walking into a home or at a party filled with balloons immediately lets guests know that this is a colorful, fun event to enjoy.
For that, you can have mickey mouse balloon bouquets that are quirky and budget-friendly to help you celebrate a stress-free party.
The best part of balloon bouquet decorations is that they look stunning and are simple for decorations. Additionally, setting vibrant colored red and black balloons placed at the base and the top gives an attractive look to the decoration.
Cake Decoration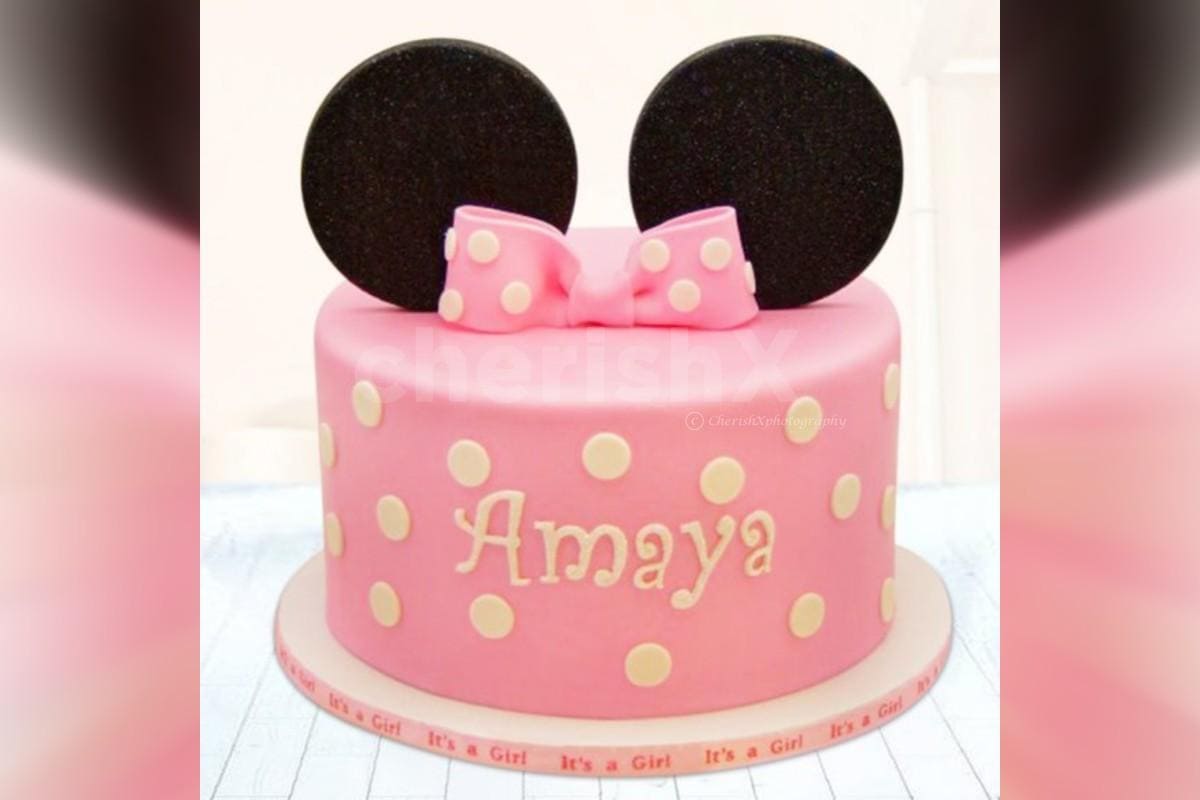 An imperative part of the party is, of course, the cake. Although your baby will probably drop cake more on the floor than in their mouth, still you will remember your baby's first cake forever.
It's entirely up to you whether you make the cake at home or hire a professional or pick one up from the supermarket.
But whatever you choose, remember to choose from the plenty of options out there to make your baby's first birthday a special one. Opt for a Disney-theme cake that can impress everyone.
Tableware – Cutlery and all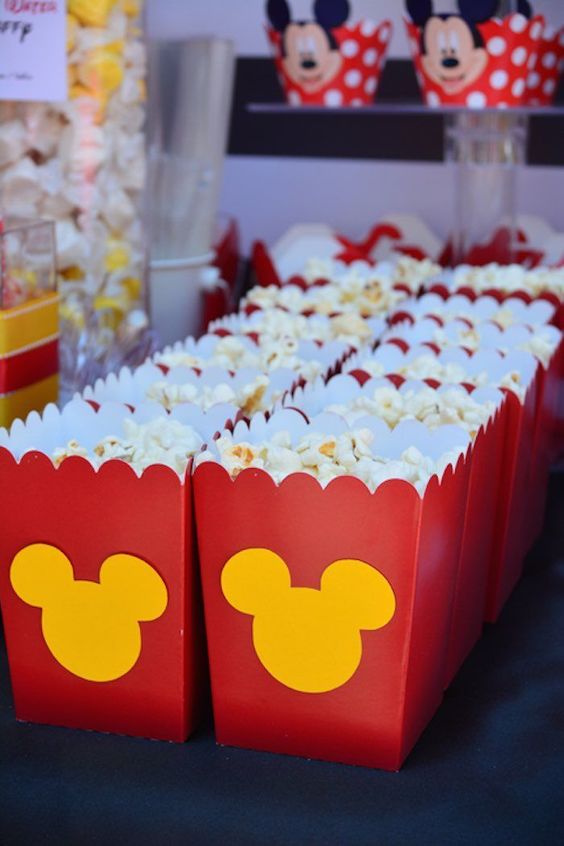 It is fun to coordinate the paper plates, cups, serving dishes, napkins, and other cutlery with your theme to keep the feel going.
Remember that even if you cannot be able to find the exact Mickey or Minnie mouse pattern. Just buy some solid colors like black, red, pink, purple, and white that are all good choices for your Mickey Mouse birthday party.
Why CherishX?
Planning a birthday party but confused with the preparations? Let CherishX help you with all the beautiful and unique ideas. We have everything you need to host a fun-filled first birthday bash, from invitations to banners to cupcake toppers and much more.
We not only make your celebration a memorable event for you and your guests, but with our professionals, the decoration will be top-notch. With the help of advanced methods.
Plan your special events and cherish that for a long.