Lohri is probably one of the most awaited festivals for Sikhs and Punjabis. But who doesn't like an evening with family besides the warmth of the bonfire? Even if you aren't Sikh or Punjabi, the festival of Lohri is a great way to enjoy the winter season in the warmth of the bonfire with your loved ones.
The festivities of Lohri are an embodiment of gratitude to nature as represented by the Sun god. They are also symbolic of a spirit of brotherhood, unity, and gratitude, with family reunions generating happiness, goodwill, and cheer. Of course, Lohri celebrations, get even bigger if you're celebrating the arrival of a little one in your family or if it's your first Lohri celebration post your wedding. To add to your celebrations we've figured out ideas that will make your festivities even more grand and gorgeous with special Lohri Decorations!
Lohri Decor with Colourful Kites and Lanterns:
Bright colors, festive music, and delicious food are the essentials of every Lohri celebration. Adding colorful and vibrant kites will make your venue look festive and celebratory. Kites will be quirky and different additions to your classic Lohri celebrations. The traditional look of kites set up delicately along with colorful lanterns is the perfect way to brighten up your Lohri celebrations. You can try CherishX's Garden Lohri Decoration to have decor full of lanterns and kites.
Our pro tip would be to play some Bollywood music like the Lohri song from Veer Zara as your guests enter the venue to get everyone in the celebratory, fun, and festive mood!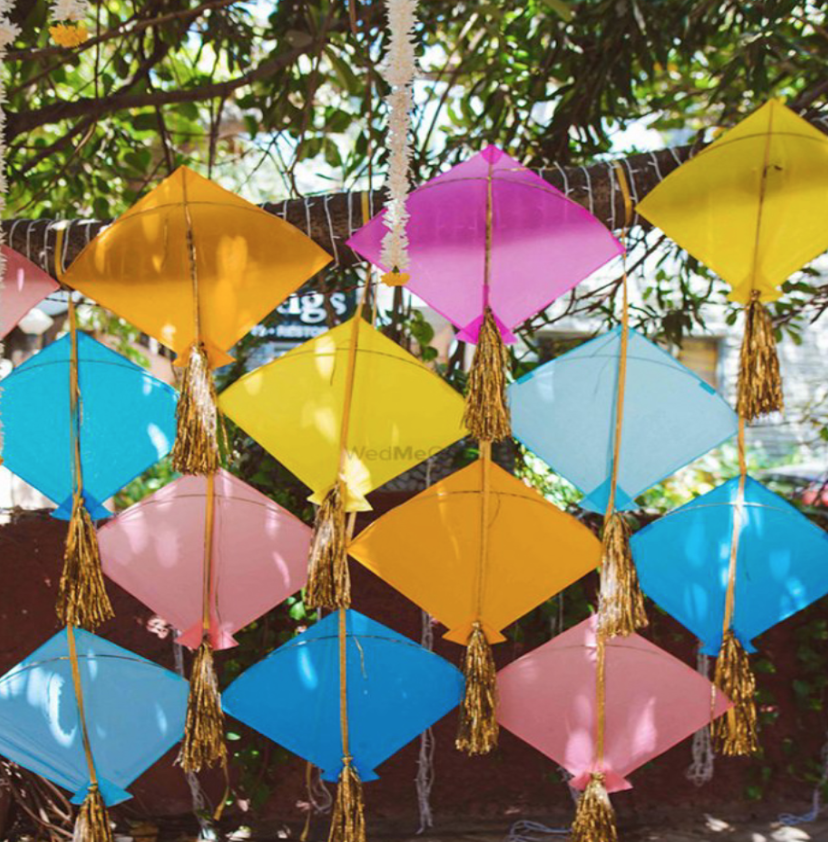 Cloth Drapes and Dupattas: 
Dig out your mom's gorgeous old dupattas and use them to set up your colorful Lohri venue. You could also use bright drapes. Traditional dupattas and fabrics draped exquisitely around doors and walls add a glamorous yet festive vibe to the venue. You could also use them on the doors or set them up on the walls. The color palette which goes best with Lohri decor would be shades of yellow, pink, and red. You could also add green dupattas to add a different element to the decor. 
Decorate the Holy Bonfire:
Decorating the bonfire will definitely be a very unique twist to your decor. The Holy fire is the centerpiece of your celebration, so why not make it grand? You could use stones to create a beautiful design around the fire. Along with that, you could use artificial flowers and rangoli colors to add to the design. However, make sure you don't place anything that is flammable like fabric and cloth around the bonfire to avoid any hazards. 
Traditionally Embroidered Umbrellas:
Rajasthani umbrellas are exquisitely embroidered umbrellas that can be used to create your perfect traditional Lohri decor. They are bright, and colorful and the mirror work definitely makes them look extra gorgeous and festive. Just place these umbrellas on the floor or carefully place them on the ceiling and you're all set with your festive Lohri decor. Add some fairy lights to the decor as they make the embroidery on the umbrella stand out at night.  Tap here to check out this Rajasthani Umbrella Decor by CherishX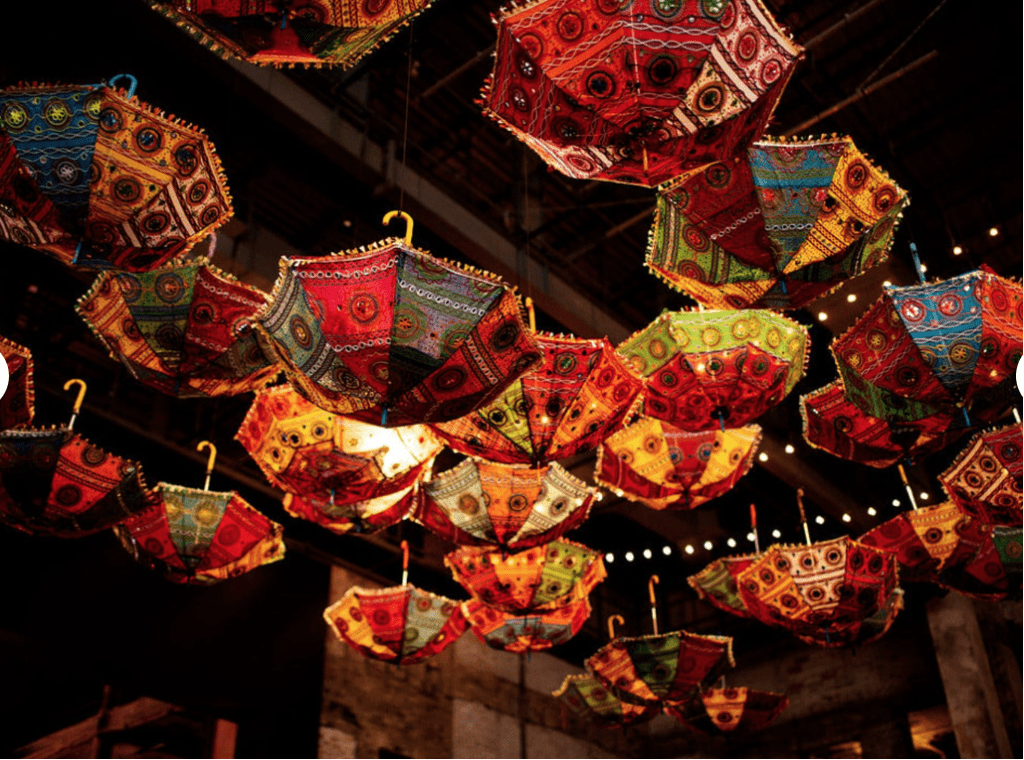 Lohri Themed Photo Booth:
A photo booth is a great way to add to the fun of your Lohri celebration.  Plus, they make great additions to the Lohri decorations as well. You'll get a chance to capture memories that your family will cherish for a lifetime. A fun twist to the decor would be funny hashtags and photo booth props. You could also add Lohri-themed cutouts to make it an exclusively Lohri-themed photo booth. Get unique Lohri Photo Party Props from FrillX
Festive Popcorn Cart:
Til, gajak, jaggery, peanuts, and popcorn are classic offerings for Lohri celebrations. They are also the most delicious things to munch on in winter. So to add an element to your food and decor, set up a unique popcorn cart. The festive cart could have different types of popcorn that you could eat. For instance, classic salted, cheese, caramel, and peri-peri are flavors you could add. You could also set up a cute traditional cart for jaggery and gajak as well. 
Earthen pots are easy to find and make great additions to traditional Lohr decor. You could paint them with bright colors and add some real flowers to create the look below. These pots could be placed anywhere in the venue to make your Lohri even more festive and grand. 
If you're wondering how you'll get all these decorations to your Lohri venue amidst all the other work, don't worry,  we've got you covered! Just contact us at CherishX and we'll be on our way to make any of these ideas (and many more) a reality for your grand and gorgeous Lohri celebrations! 
Don't Miss Out: Ultimate Guide to your Awesome Lohri 2023 Celebration