Diwali is a time when people adorn their houses with diyas, flowers, rangoli designs. It's not only a celebration of the triumph of light over darkness but also a time for families to come together in reverence and joy. It's one of the best times of the year when people exchange love and happiness with gifts and sweets.
As Diwali 2023 approaches, it's an auspicious occasion to prepare for the grand festival by understanding the significance of the Diwali Puja Muhrat (auspicious timing) and the sacred Puja Vidhi (rituals). In this guide, we will explore the Diwali Pooja Muhrat for 2023 and the Puja Vidhi that will help you usher in the divine blessings. Moreover, Diwali decorations are the soul of this festival, ensuring your Diwali celebrations are not just bright with lights but also brimming with spirituality and devotion. Join us on this enlightening journey to discover the perfect time to conduct your Diwali Pooja and the rituals that will connect you to the deep-rooted traditions of this beautiful festival. Let's make this Diwali a time of illumination not just for our homes but for our souls as well.
Diwali Pooja Muhrat 2023
The Diwali Pooja Muhrat, known as the choice of an auspicious time to perform the Diwali Puja, is a significant aspect. This timing is usually varies from year to year. In 2023, the Diwali Pooja Muhrat falls on a specific date and time. It's essential to consider this timing for your Puja to maximise its spiritual significance and effectiveness.
According to the information on the Hindu calendar, Diwali laxmi puja at home will be conducted on Sunday, November 12, 2023.
Here are some additional Diwali Pooja Muhurat details you should know:
Vrishabha Lagna Diwali Puja Muhurat (evening) – 05:39 PM to 07:35 PM
Duration – 01 Hour 56 Mins
Simha Lagna Diwali Pooja Muhurat (midnight) – 12:10 AM to 02:27 AM, Nov 13
Duration – 02 Hours 17 Mins
Amavasya Tithi Begins – 02:44 PM on Nov 12, 2023
Amavasya Tithi Ends – 02:56 PM on Nov 13, 2023
Auspicious Time of Lakshmi-Ganesh Aarti – 06:12 PM to 08:12 PM
Suggested Read: CherishX Introduces DIY Festive Backdrops for Dazzling Decorations At Home
Diwali Puja Vidhi 2023
During Diwali, we venerate Lord Ganesha and Goddess Lakshmi, gracing our homes with their divine presence. It's a belief rooted in the Puranas that Goddess Lakshmi, the harbinger of prosperity, visits every earthly abode. Therefore, preparing our homes becomes a sacred duty to attract her blessings. As we celebrate the Diwali puja, we follow a series of meaningful rituals.
Steps for Diwali Puja Vidhi
Central to this celebration after the Diwali pooja Muhrat is Diwali Puja Vidhi, a set of rituals and practices performed by families to invoke divine blessings and usher in prosperity. In this guide, we delve into the essential steps of Diwali Pooja Vidhi, allowing you to embrace these age-old traditions and infuse your Diwali celebrations with a deeper sense of spirituality and devotion.
Cleaning
Before Diwali, clean your home nicely and sprinkle holy water on the floor. You can also decorate with clay lamps, candles, and colourful Rangoli designs.
Prepare a Sacred Space
Find a table or stool, cover it with a red cloth, and put a handful of grains in the middle. This is one of the most important steps of Diwali Puja Vidhi.
Place the Kalash
In the centre of the grains, place a pot filled mostly with water. Add a betel nut, a marigold flower, a coin, and some rice to the Kalash. Put five mango leaves around the pot.
Suggested Read: Top 12 Diwali Decoration Items For A Festive Makeover At Home
Set Up Idols
Put the statue or picture of Lord Ganesha on the right side of the pot, facing southwest. In the middle, place the statue or picture of Goddess Lakshmi. Make a small mountain of rice on a plate, draw a lotus flower with turmeric, and add some money in front of the idols. Also, make the space holy by sprinkling Holy water on the idols.
Bring Financial Items
Put your account book and other money-related things in front of the idols.
Offerings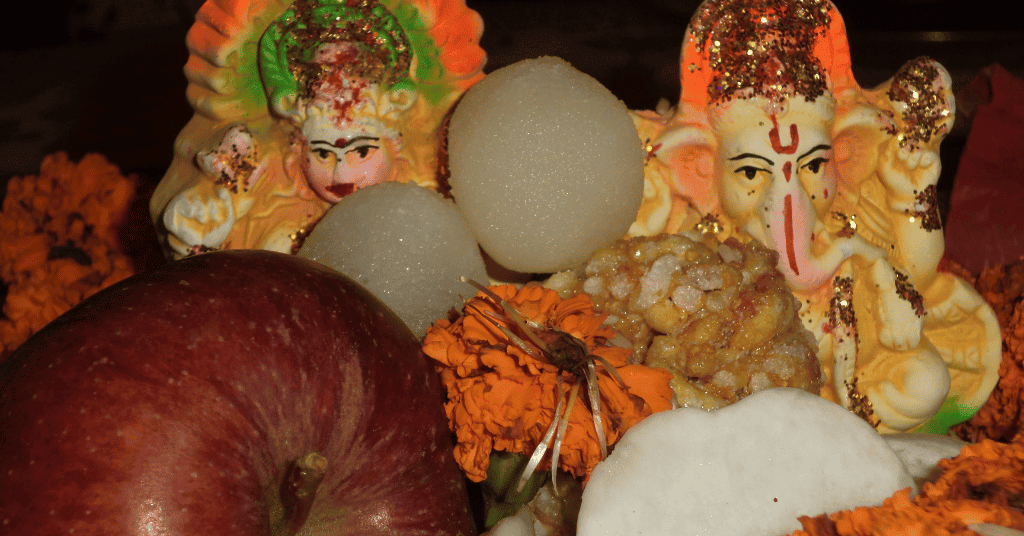 Put a mark on your forehead (tilak), offer flowers, and light a lamp in front of the idols.
Prayer
Hold a flower in your hand, close your eyes, and say a special prayer.
Blessings
According to the Diwali Pooja Vidhi, join your hands in prayer, say the Diwali prayer, and give the flower to Ganesha and Lakshmi.
Special Offering
Offer a special panchamrita to the Lakshmi idol using a mix of milk, curd, ghee, honey, and sugar. So, offer panchamrita to idols during the Diwali pooja and after pooja gives it to everyone as a parshad.
More Offerings
Give the deities some food, kumkum (red powder), and turmeric. Light incense sticks and a special kind of incense in front of them. Moreover, offer white or red Akshat.
Moreover, devotees offer white rice as plain rice to God and mix red rice with kumkum to offer to Goddess Lakshmi, Durga, Lord Ganapati, and other deities.
Coconut and Sweets
Bring a coconut, betel nut, and a paan leaf in front of the idols. Offer fruits and delicious sweets. Place a garland and some money in front of them.
Also, offer Prasad to Goddess Lakshmi, making saffron rice with the addition of makhana or preparing kheer, or offering fruits like water chestnuts and pomegranates. During Diwali Puja, devotees offer 16 types of Prasad to Goddess Lakshmi.
Recite the following mantras for Goddess Lakshmi during the Diwali Puja:
Perform Lakshmi Aarti
Finish the puja by singing a special Lakshmi aarti, holding a lamp and ringing a bell. Afterward, share food, sweets, and blessings with others. Make sure to do Kapoor Aarti and say mantra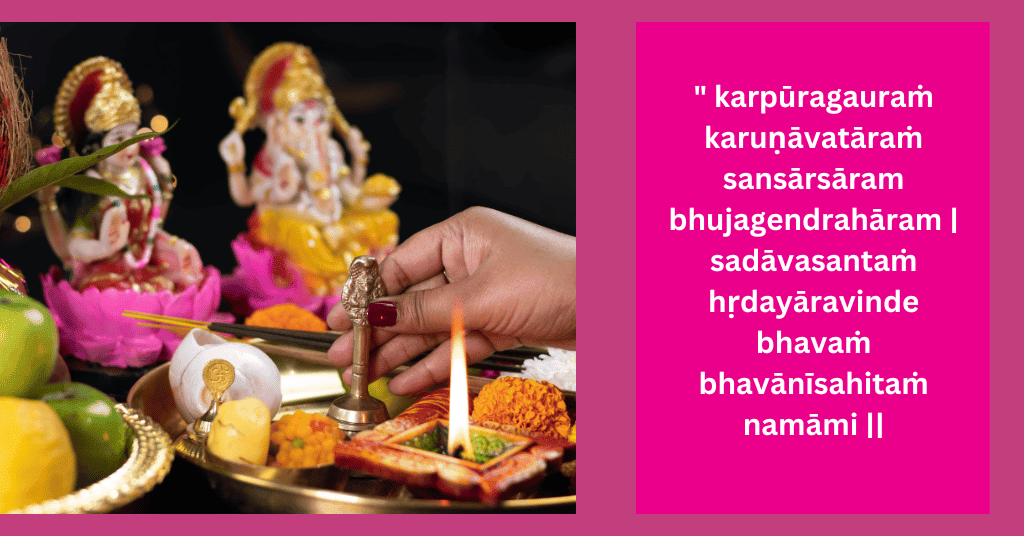 Now, you can go to someone's house, and distribute the sweets to someone.
Suggested Read: 20 Trending Diwali Outfit Ideas That You'll Absolutely Love
Conclusion
In conclusion, as we approach Diwali in 2023, understanding the Diwali Pooja Muhrat and Diwali Puja Vidhi is essential for those seeking to celebrate this beloved festival with the depth of its rich traditions. It's a time to purify our hearts, illuminate our homes, and seek the blessings of deities that symbolize wisdom, wealth, and prosperity. Observing these rituals not only connects us to our cultural roots but also instills a sense of unity and spirituality among families.
The Diwali Puja Vidhi 2023 is a sacred pathway to celebrate the triumph of light over darkness, good over evil, and the endless journey towards self-improvement. So, as the golden rays of the Diwali diyas dispel the night, let us all come together in spirit and light, embracing the essence of Diwali and spreading joy and love. May the divine blessings obtained through these sacred practices continue to guide and enlighten our lives throughout the year. Wishing you a radiant and joy-filled Diwali!