Christmas is a festival that brings light and happiness not only in homes but everywhere. Preparing for the festival much ahead of time is always exciting. Buying Christmas Trees, lights, Christmas Gifts is something that has become a tradition from long ago and it always excites adults as well as the little ones.
The celebration of Christmas is much more delightful for those who have started their office after long work from home. No doubt that the Pandemic took away all the fun for the employees and employers. But this time, it might be a lot of fun as you'll get to spend time with your staff and enjoy the Christmas Party.
Bringing back the smiles to these faces is what Christmas Office Celebration is all about! It not only enhances the bonding but also creates a warm and pleasant atmosphere in the office.
Celebrations become exquisite when you add decorations to them. So, if you are planning to throw a Christmas party or celebration in your office, it would be wonderful to add some fascinating Christmas Office decorations.
Planning for Office Decorations for Christmas will be easier when you know all about these things-
Christmas Decorating Ideas for Office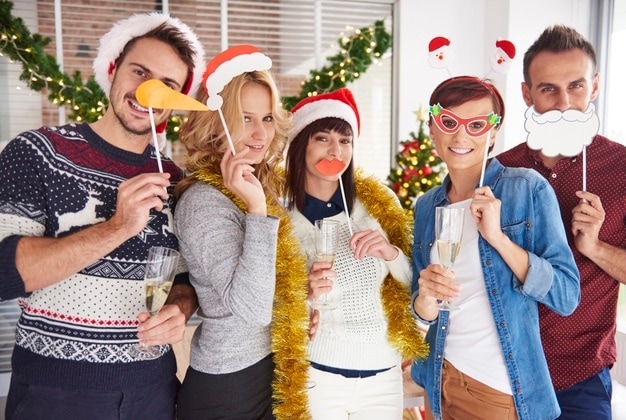 Getting Classy Office Christmas Decorations is what every staff wishes for! Running around and finding nothing that takes your breath away can be exhausting. But there are always ways that you can go without exhausting yourself!
There are many Christmas Decorations, offered by CherishX, that you can choose for your Office-
Christmas Office Decoration
Get this beautiful Christmas tree and decoration for your office. When it comes to holiday cheer and decorations there's no better time than Christmas. With this Christmas Holiday Decoration for your office, leave the job of giving your office a perfect Christmas makeover to the CherishX team. With the entire city in the Christmas holiday vibe- we're sure this Christmas decor will make your office and your mood merrier
From the cabin to your meeting room, you'll get decorations for everything. Having this decoration creates a fun and festive environment thereby enhancing the gifting and celebration spirit. You can also add backdrops for your walls which will be a great background for your pictures.
X-Mas Decor (Silver Pack)
This decoration is perfect for your workstation and meeting rooms. You can decorate the corners or the reception with this gorgeous silver pack. Set the Christmas Vibes with a Christmas Tree, Christmas socks, Santa Caps, Green Moss Frills and more.
You can make your office decoration prettier with this decoration. CherishX offers you decoration right at the location of your choice. The Christmas Tree is likely to grab the attention of your staff. Moreover, it will act as a perfect background for your photos.
You can make your Christmas celebrations exquisite with this breathtaking X-mas Decoration. A Backdrop for your wall with Hangings, Fairy Light & More. You also get a Christmas Tree to add to your decoration.
You get a 6 ft Tall Christmas Tree along with beautiful ornaments to install and decorate at your chosen location. You can adorn any room or corner in your office. This Xmas decor is sure to create a perfect festive aura at your office.
Office Christmas Themes
Themes are a major part of the Christmas Celebration. Although, everyone knows that the colour theme stays the same because the Christmas feels can only come with the usual colour theme of Red, Green and White.
Whether you have Christmas Decoration at Office or Home, the decorations are done with the same colour themes. This is because these three colours give the perfect feel of Christmas.
Having an Office Christmas Party is exciting and getting decorations with these theme colours will make it extra special. You can use a variety of Office Christmas Themes for arranging the perfect party for your colleagues!
Here are some of the Office Christmas Theme Parties that you can have-
Dress Theme Celebration
In this theme, everyone can wear outfits of red or green colour. This will create a perfect Christmas Vibe all around your office. You can choose any colour theme you want related to Christmas and be ready to rock and roll!
Virtual Theme Party
If your company is still asking for work from home, then it would be wonderful to have a Virtual Theme Christmas Party. Everyone can wear themed Christmas Clothes and sit in front of the screen or you can plan a virtual theme.
Scavenger Theme Party
For a fun celebration, you can do the scavenger hunt with the staff. The scavenger hunt is sure to enhance the bond between everyone thereby making your celebration memorable.
Decoration Game Theme Party
Christmas Office Party Games always bring fun to the celebration. Adding a decoration game to your party will bring laughter and wonderful memories. What you can do is divide the staff into teams and give them a section of your office to decorate. This is sure to bring team spirit and make the bonds stronger.
Office Dinner Party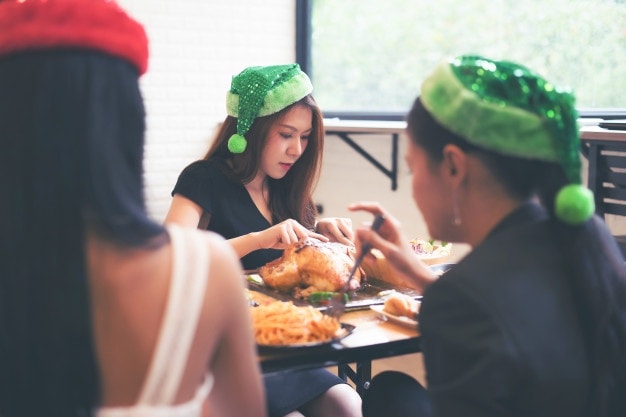 The teams in your office can choose to have a dinner party to bond with each other. No doubt, having food together brings so many conversations to the table which enhances the professional as well as personal bonds.
Office Award Theme Party
If you have planned the celebration party, then you can add the Award theme to it. Office awards help to motivate the employees to work harder. There can be many categories you can divide the awards into. Awarding Gifts to the employees will not only encourage them but will also add a fun element to the party!
Secret Santa Theme Party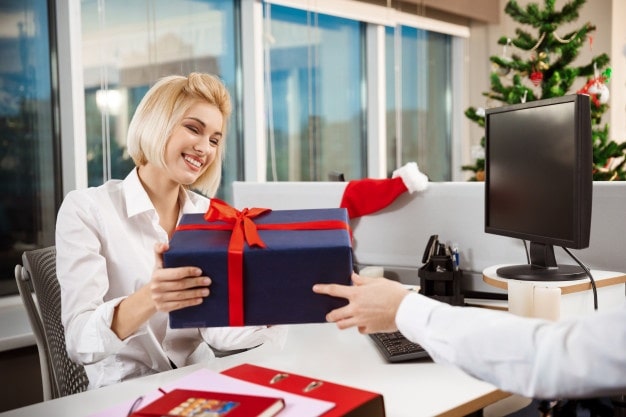 Every Christmas party should involve gifts and Secret Santa is all about that. What you can do is give everyone the name of a member to whom they have to gift something. The other person who is to receive the gift will not know the giver i.e, the secret Santa. This is a fun way to enjoy Christmas and feel the fun of Gifts as if sent by Santa.
Christmas Office Party Game Ideas
Celebrating Christmas with your team can be a great stress reliever and adding games to it is just like icing on the cake. You can add a variety of games for a wonderful and unforgettable celebration.
Some of the best Christmas Office Party Games that you can try in 2022 are-
Improv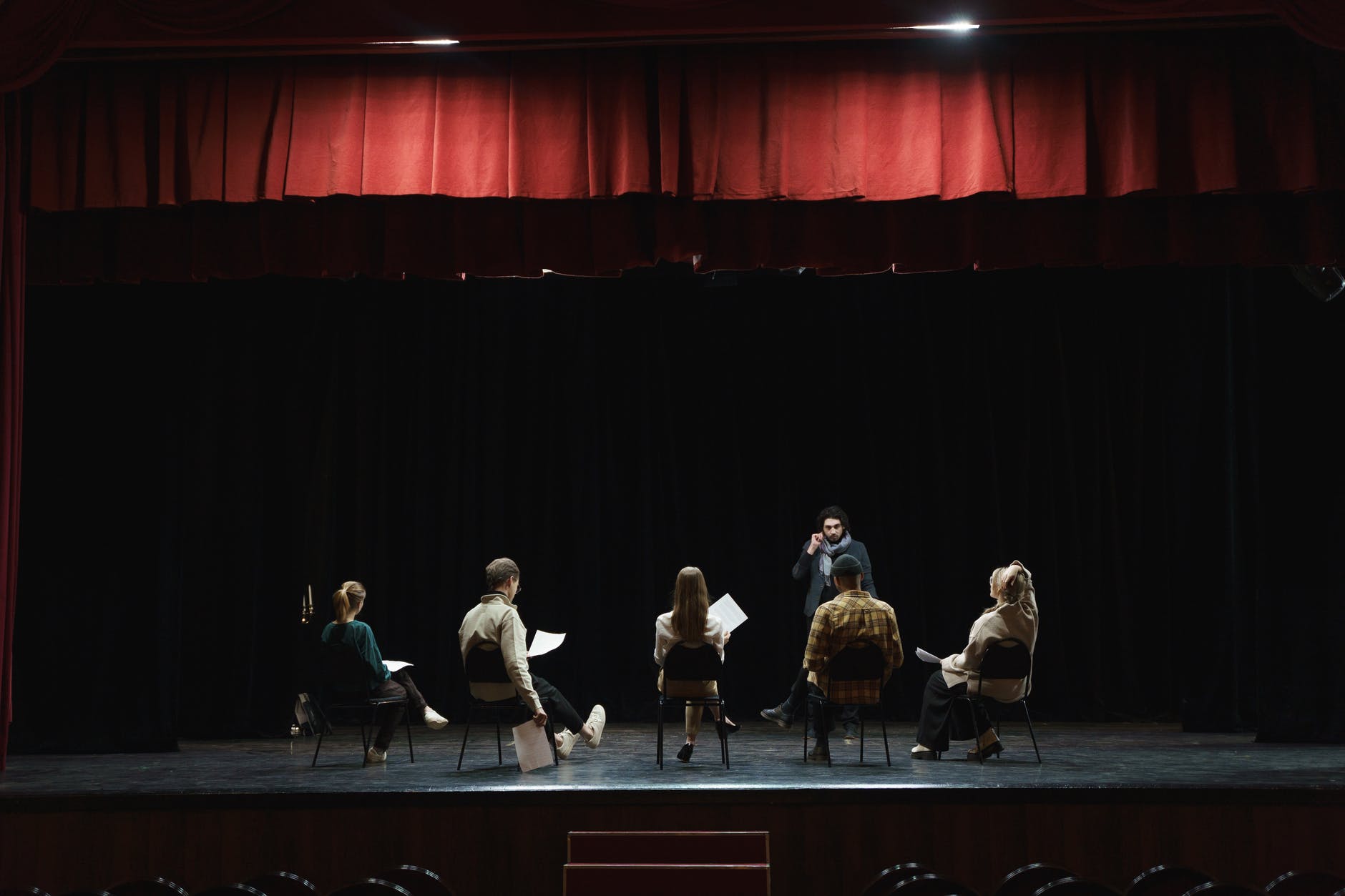 Getting together to create an on-the-spot plot and act on it, is a game you need to involve in your Christmas Party. This kind of game will erupt laughter and enhance the bond of the team.
Rock, Paper, Scissors
Rock, Paper, Scissors are a fun way to involve everyone in the party games. You can also keep prizes or gifts to give to the winner. This way, the staff members will be more interested to play.
Beer Pong
Beer Pong is a great game to play as it invites enjoyment and fun to the table. In this game, you can place the cups and pour beer in them and put them on both sides of the table. On both sides, each member can play and put a ball in the cups of the other one. Whoever's cup has a ball will drink the Beer. So, you can choose to include this game after your working hours.
Karaoke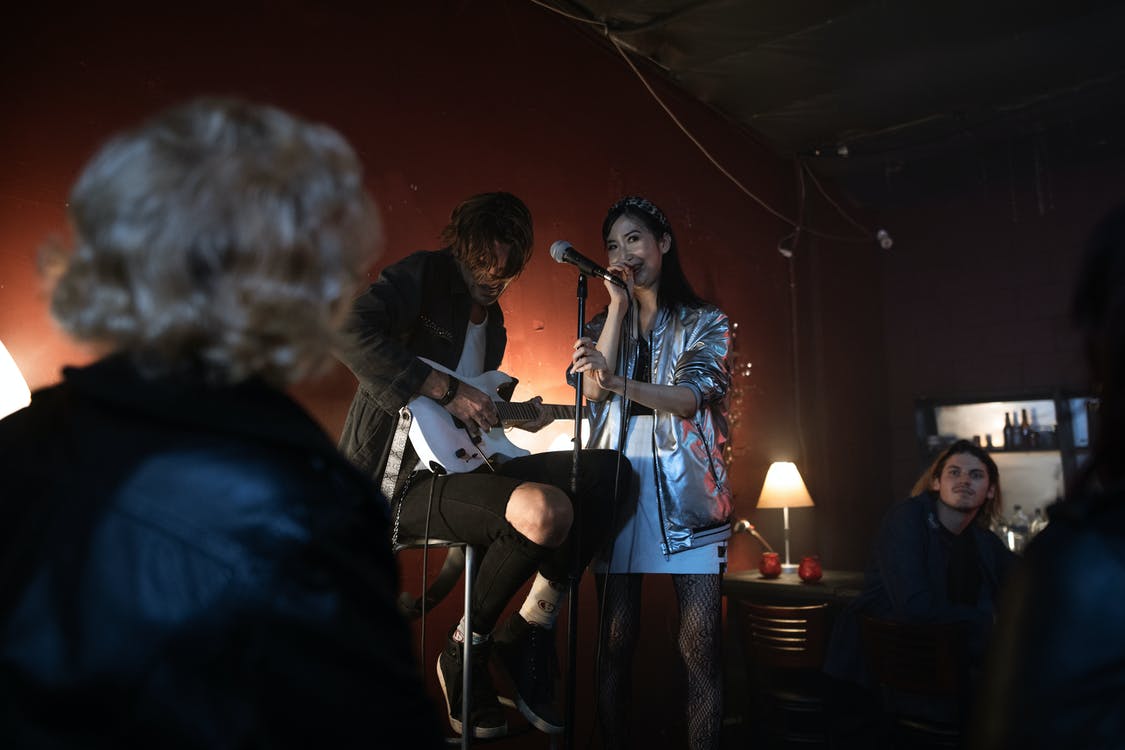 Sing together songs with your teammates and have the most fun time. No doubt, karaoke is fun for everyone; dancing, singing and playing together enhances the bond and helps release work tension.
Pictionary
Pictionary is a very exciting game to play with your colleagues. The fun element comes when people draw weird images on the board so that others can recognize them. No doubt, that it's a game worth playing!
Dumb Charades
One of the oldest and wonderful games is Dumb Charades! Playing dumb and recognizing the hand gestures makes it much more interesting! You can sit and play Dumb Charades for long without getting tired.
Christmas Office Decoration DIY Items
Christmas Office Decoration DIY Items can be used wonderfully for your decoration. You can choose a variety of items and put them together for a breathtaking decoration. Decorating your office becomes much easier when you know what items you can use to enhance your Office Decor.
Here are some of the Best Christmas Decorations DIY Items-
Christmas Tree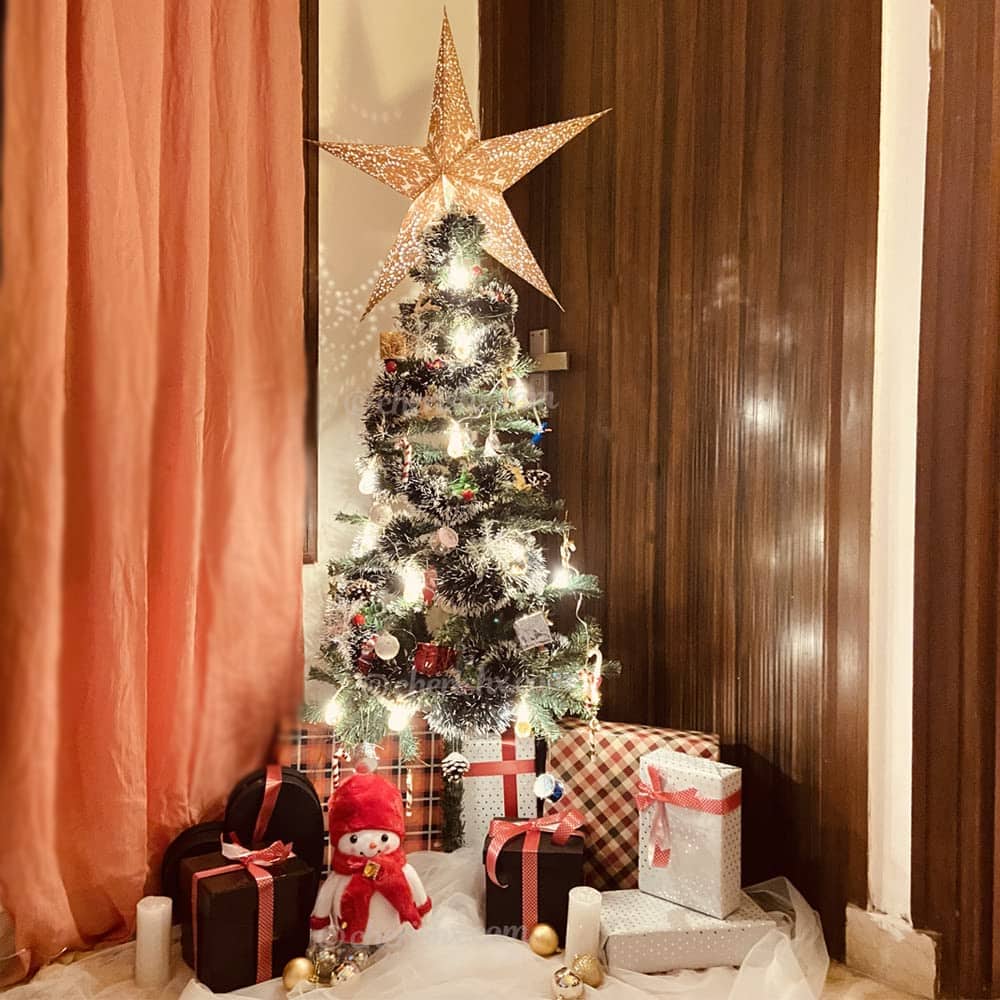 The Christmas Tree is the main attraction of Christmas. Decorating a tree is fun when everyone comes together to do it. Adding gifts, bells, stars, and balls to the decoration of the Christmas tree will enhance the look of your cabin or rooms and will also spread the feel of Christmas.
Christmas Snowflake Lights
Christmas calls for a lighting decoration! Whether it's the Christmas Tree or your office, decorating it with beautiful lighting makes it feel more like a celebration. It also helps to light up your office area. You are sure to like the Christmas Snowflake lights that give the snowy effect to your decoration.
Christmas Stockings
Stockings represent Christmas Vibes. You can decorate your reception area, Cabins or workstation by hanging Christmas Stockings all around. Usually, people hang these decorations near the fireplace in homes but they can also be used in offices. They spread the Christmas Vibes perfectly all around the area.
Christmas Wreath
You can use a Christmas Wreath at the entry door of your office. It welcomes the people and spreads warmth and festive vibes. So, you can add this to your Christmas decoration items' list.
These are some of the common items that you can use in your celebration!
Whether you are planning a Christmas Party or Games, here's everything that you need to know. The above-mentioned details are sure to give you the best party of a lifetime. A great party should have beautiful decorations, delectable food, and fun games. These will not only enhance the bonds but will also make your snaps awesome!
Also Have Look at our new blog Merriest Christmas Gift Ideas to shop for your loved ones in 2022