With the holiday season coming to an end, we all want to spend New Year's Eve in a way that we could cherish for the entire year. As we kick start 2023 with New Year resolutions and promises, it's also very important to go out and have fun before the year ends!
While celebrating New Year's Eve with your family and friends is always fun, figuring out the right place to spend your New Year's could be a complex and frustrating experience. Don't worry, to sort your New Year plans in Delhi for 2023, we've figured out the most amazing and finest ways to spend your New Years. Whether you want to spend your New Year's with a special someone in a quiet place or want to attend a crazy New Year bash with your friends, these experiences are perfect to kick-start 2023 in Delhi:
Intimate and Cozy Dinner with Bae:
If you're looking to escape the crowd and noise but still looking to make your New Year's special, take your special someone out for a romantic and grand dinner celebration. Bring in New Year's Eve as a couple allows for some heart warming wishes while reminiscing about all the good times you've had over the past year. However, make sure you don't let the celebrations don't get too boring. Add a special element to your celebrations by dining by the poolside in an exquisitely decorated table with candles or a beautifully decorated private cabana.
New Year's Eve on a Farmhouse:
New Year's Eve at a crazy farmhouse party in Delhi instead of an overcrowded club is the perfect way to have both-a crazy yet warm evening with your friends. The sumptuous food around a bonfire along with some great music make for great New Year plans. The ambience is ideal for celebratory New Year vibes if you're a large group of friends. Even if you're in a small group, a farmhouse bash is a great venue for the fun party vibe. Plus, you could time interact and make some new friends.
Our tip will be to choose farmhouses that are in Delhi and not very far-to make sure your New Year's celebrations are safe if you're driving back home. However, you do have farmhouses bashes where you cold snuggle and crash at cozy tents at the venue itself !!
Luxurious New Year Eve:
Enter 2023 in a lavish way by hitting one of the luxury resorts in your city for a New Year party followed by a relaxing staycation in Delhi. Nothing feels better than waking up on a comfortable hotel bed after a crazy night filled with dancing. While we understand this could be financially inconvenient in Delhi, we've figured out a 5-star celebration that won't burn a hole in your pocket.
Check out the New Year Bash hosted by Taj Vivanta, Dwarka, Delhi! Mouth watering delicacies, unlimited artisan cocktails and an amazing vibe make these the ideal new year plan if you're looking to have a good time along with quality food and drinks. What makes this plan perfect is the relaxing staycation that follows the night. So you're sure to enter 2023 in a truly grand and luxurious way.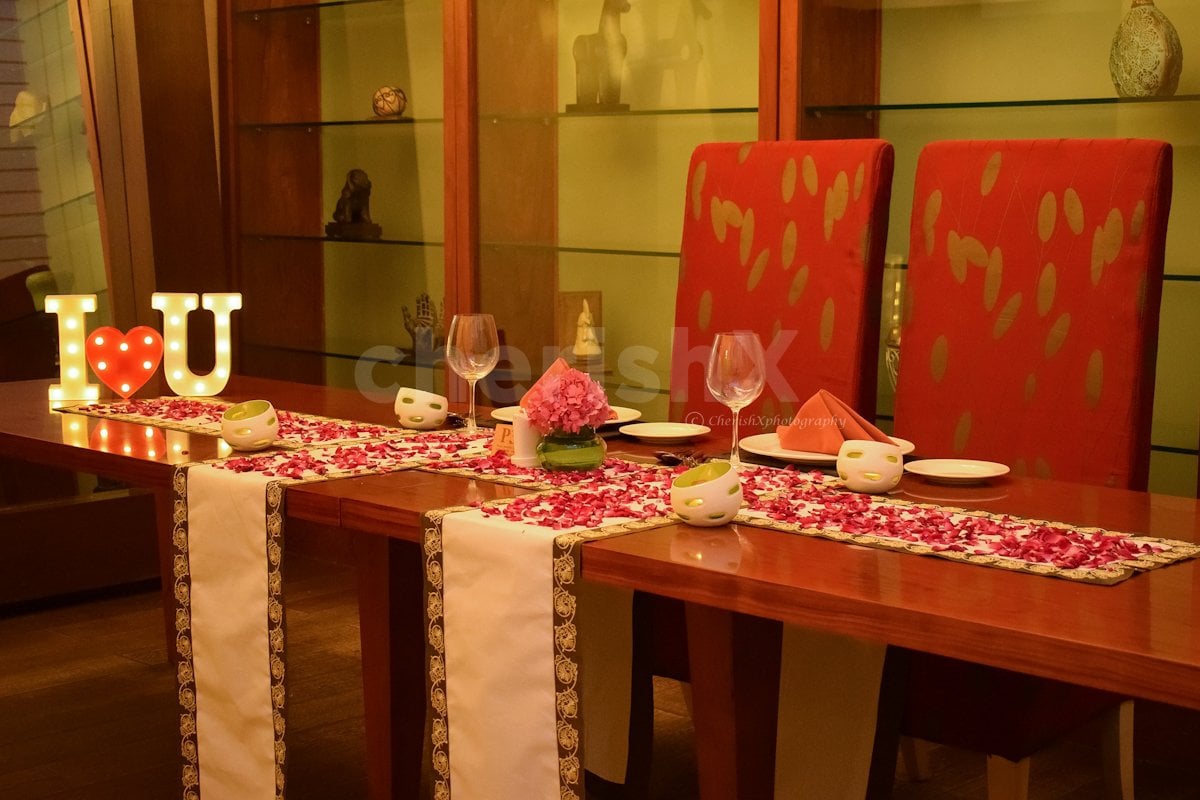 Fun and Romantic New Year Celebrations:
This idea is for all you couples who love suspense and good challenges. If you're looking to celebrate New Year's at home, you don't have to watch the boring new year television show to spice up your celebrations. Using cards, sticky notes and inside jokes, write a series of clues that connect to each other and scatter them around the house. Lead your partner to a special prize- whether it's you, ready for your New Year's kiss, or their favorite dessert, or a fully decorated living room ready to celebrate the New Year in.
Your decorations can be classic white lanterns and fairy lights as you open a bottle of champagne or quirky couple themed romantic decorations.
Host A Potluck Party:
A New Year's house party sounds like a great plan, however, arranging a grand New Year party can definitely turn expensive. Make your party a little economical by making it into a Potluck party!
Have each guest bring a dish and beverage of their taste so that you don't have to arrange all the food. This would add a twist to your celebrations and moreover you'll have lots of food to enjoy. Our pro tip would be to prepare mulled wine for the guests as a classic drink for the evening. The hot mulled wine on the cold New Year Eve will surely be everyone's go to drink at the party. To make your party stand out, make sure you turn your house for the perfect venue for New Year celebrations by choosing party decor to transform your house.
Whether you decide to stay home or go out for your New Year celebrations don't forget to have a safe, happy and of course cherish-able New Year's Eve!