Balloon Bouquets are in trend these days. Some might even argue that balloon bouquets have overtaken flower bouquets to be our first choice for gifts. But, for sure, balloon bouquets are a unique gift to surprise your loved ones. Check out these cool balloon bouquet ideas.
Luxury Golden Balloon Bouquet
Surprise your mom with this beautiful Golden Theme Balloon Bouquet. This bouquet uses golden and beige balloons tied with a net cloth ribbon. The large transparent balloon on top has a beautiful golden ring around its circumference with some small balloons inside it.
Doodle Surprise Balloon Box
Random plans and uncalled surprises never fail to astonish us! This Doodle-art Wrapped Gift Box opens to a flurry of prismatic helium balloons flying out with your message. You can put some additional chocolates, jewelry, or any other surprise gift inside the box for a bonus surprise.
Pink Balloon & Chocolate Bucket
https://in.pinterest.com/pin/750623462903006051/
What kind of girl wouldn't melt on a bucket of assortment chocolates let alone with a bucket of beautiful pink balloons?
Balloon Flower Centerpiece
https://in.pinterest.com/pin/108367934772993358/
Surprise your sister, daughter, girlfriend, or mom with this Balloon Flower Masterpiece. It looks stunningly beautiful and the man in the video makes it seem an easy DIY, which, I believe, many of us can have a hard time putting up together on our own!
Luxury Pastel Balloon Bucket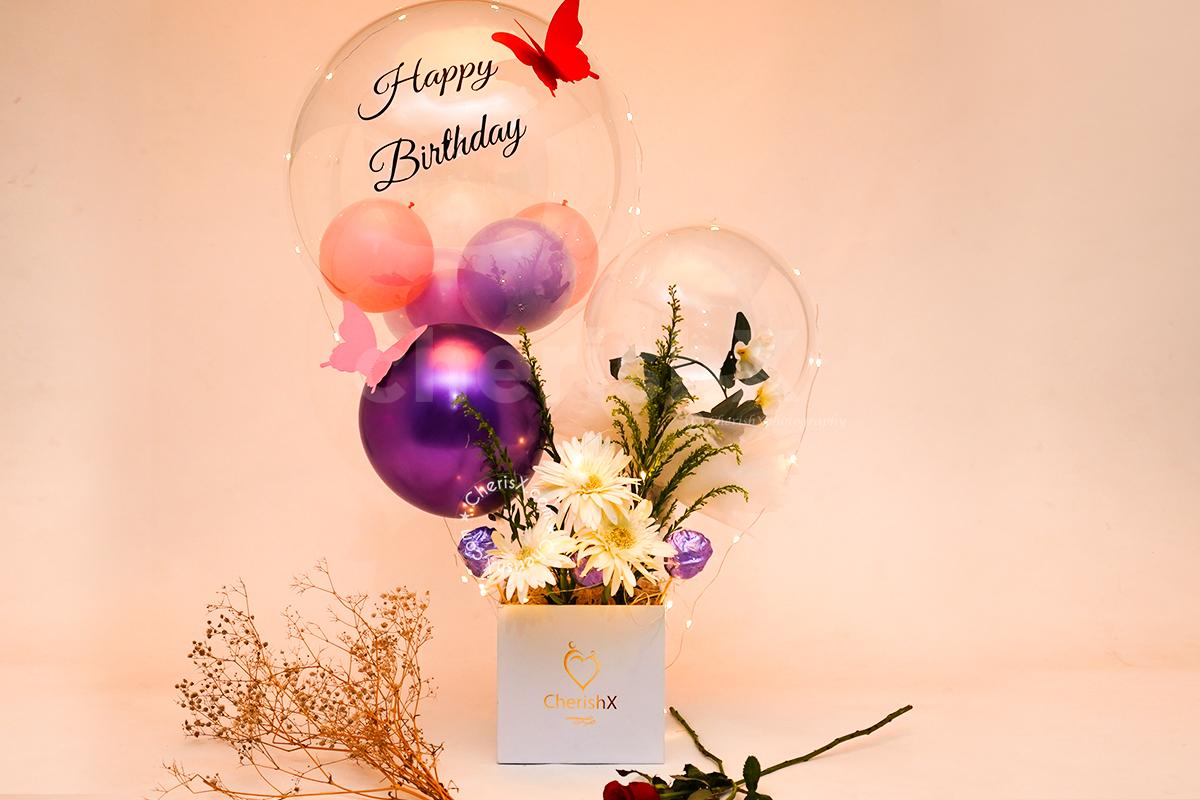 This Luxury Balloon Bouquet stand is curated with a customizable vinyl printing message on the bubble balloon, a big-sized bubble balloon filled with white latex, pastel purple, and pastel peach balloons, some artificial flower strings, and some chocolates. The bucket further has a purple chrome balloon and a battery-operated light. All this creates a beautiful gift for just Rs. 2199.
Unicorn Birthday Balloon Bouquet
Surprise your sister, daughter, or girlfriend with this beautiful Unicorn Theme Bouquet. This bouquet is made of grey and orange balloons tied with some foil ribbons, giving it a unique look. It also includes foil balloon numbers celebrating the age/ anniversary.
Looking for DIY Balloon Decoration Guide?
Pastel Grey and Peach Balloon Bouquet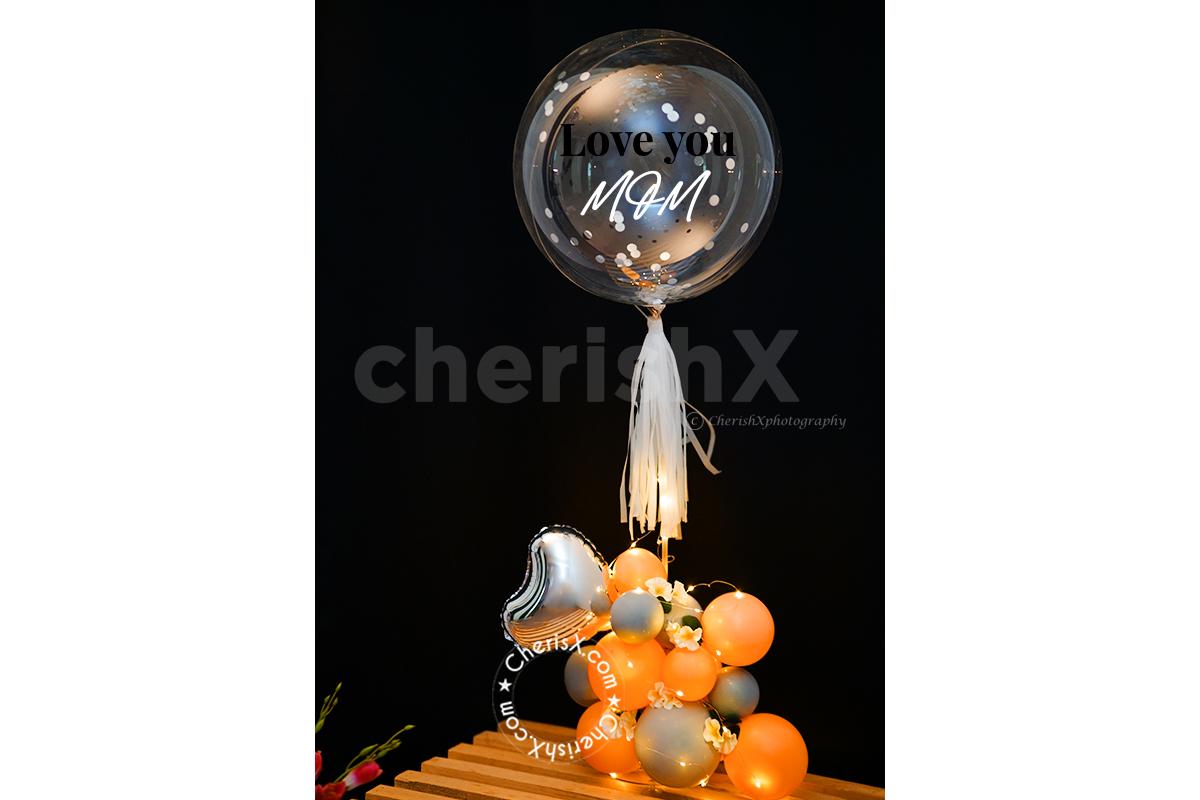 This beautiful Grey & Peach Balloon Bouquet is curated with a balloon stand with a white tassel, a customizable vinyl white printing message, a bubble balloon filled with silver confetti, bunches of peach pastel, and grey balloons, some artificial flowers, a heart-shaped foil balloon, and some battery-operated LED lights. The combination of these elements creates a stunning globe-like bouquet gift.
Pastel Theme Arc Balloon Bouquet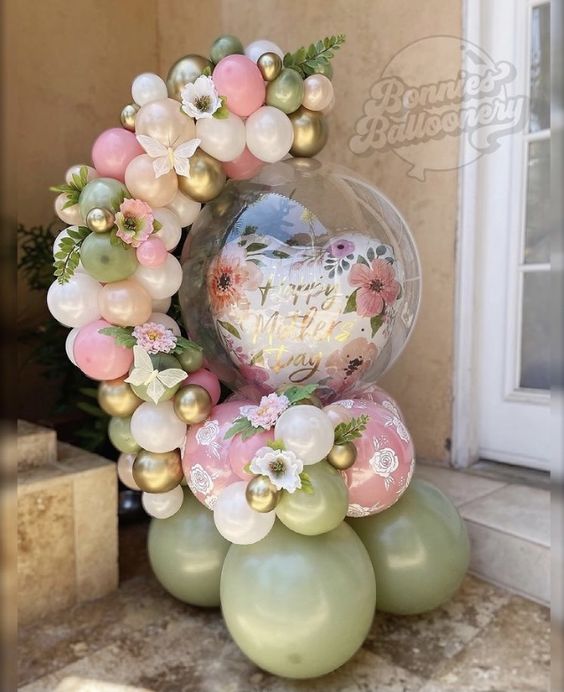 This bouquet combines the peace of olive green with the beauty of pastel pink and latex white. The large transparent balloon at the center has a printed heart-shaped balloon inside of it. This is by far my favorite bouquet on this list.
Balloon Bouquet with Teddy Bear
She isn't talking to you? I'm sure she'll listen to this cute teddy bear. Send your apology or just surprise her on her birthday with this colorful pastel theme balloon bouquet.
Gold Heart Balloon & Photo Bucket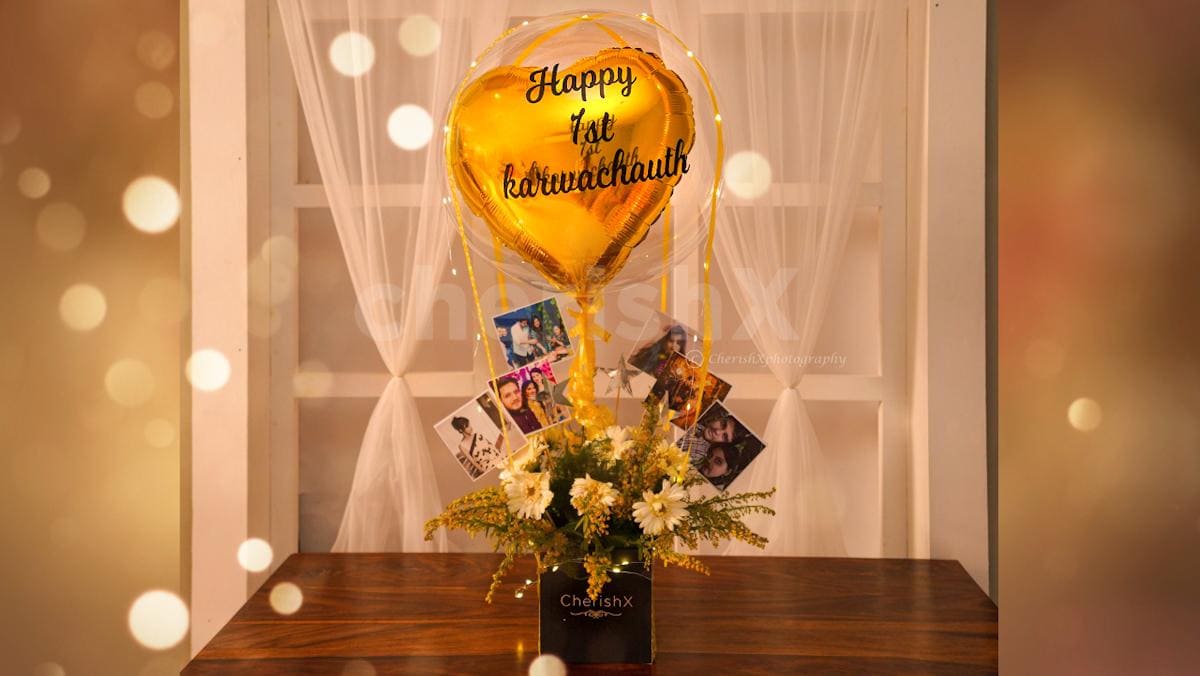 Surprise your better half with this Balloon & Photo Bucket on your anniversary or their birthday. Share your best beautiful memories with them in pictures and express your never-ending love with a Golden Heart Foil Balloon. This bucket comes with some battery-operated warm yellow LED lights, which adds to the beautiful surprise.
FAQs
What is a balloon bouquet?
A balloon bouquet is a bundle of balloons tied together in a beautiful wrap. Imagine a flower bouquet but with balloons.
What do I need to make a balloon bouquet?
A bunch of beautiful balloons of a color theme of your choice.
Some cloth/ foil balloon ribbons to tie balloons together.
A balloon centerpiece.
How many balloons should be in a bouquet?
People use as few as 5 balloons to make a bouquet to as many as 20+ balloons. It totally depends on the size and design of the bouquet.
How do you make a balloon bouquet without helium?
Helium balloons are great for balloon bouquets as they float in the air. However, you can just as well make a beautiful bouquet without helium. Simply take a bunch of balloons and tied them together in an arch. Remember to tie a balloon centerpiece as well.
How long do balloon bouquets last?
A balloon bouquet will start falling apart as soon as one or two balloons in the bouquet pop or deflate. Generally, a balloon lasts up to 6-8 weeks when kept indoors. So, don't worry about that bit.